Last updated on November 26, 2023
Explore the myriad possibilities of a G-shaped kitchen layout because, with its added counter space and flexible design, it might just be the perfect solution for your culinary needs.
"I am proud to have conceived and crafted these unique G-shaped kitchen layouts, and I sincerely hope you derive as much inspiration and enjoyment from exploring them as I did creating them."
The G-shaped kitchen layout, a versatile configuration, maximizes space and storage, offering a practical solution for those who love to cook and entertain. It comprises three walls of cabinets or appliances, and a partial fourth wall that can be used for additional storage or an extra work surface.
This layout provides plenty of space for cabinetry, making it ideal for homeowners who need extra storage. It also creates a lot of counter space, which is perfect for meal preparation.
A G-shaped kitchen can also include a peninsula, which can be used for casual dining or serving, adding functionality to your kitchen.
This article delves into various G-shaped kitchen layout ideas, providing you with a comprehensive guide on how to best utilize this layout to suit your needs.
What's Inside
Open-concept G-shaped Layout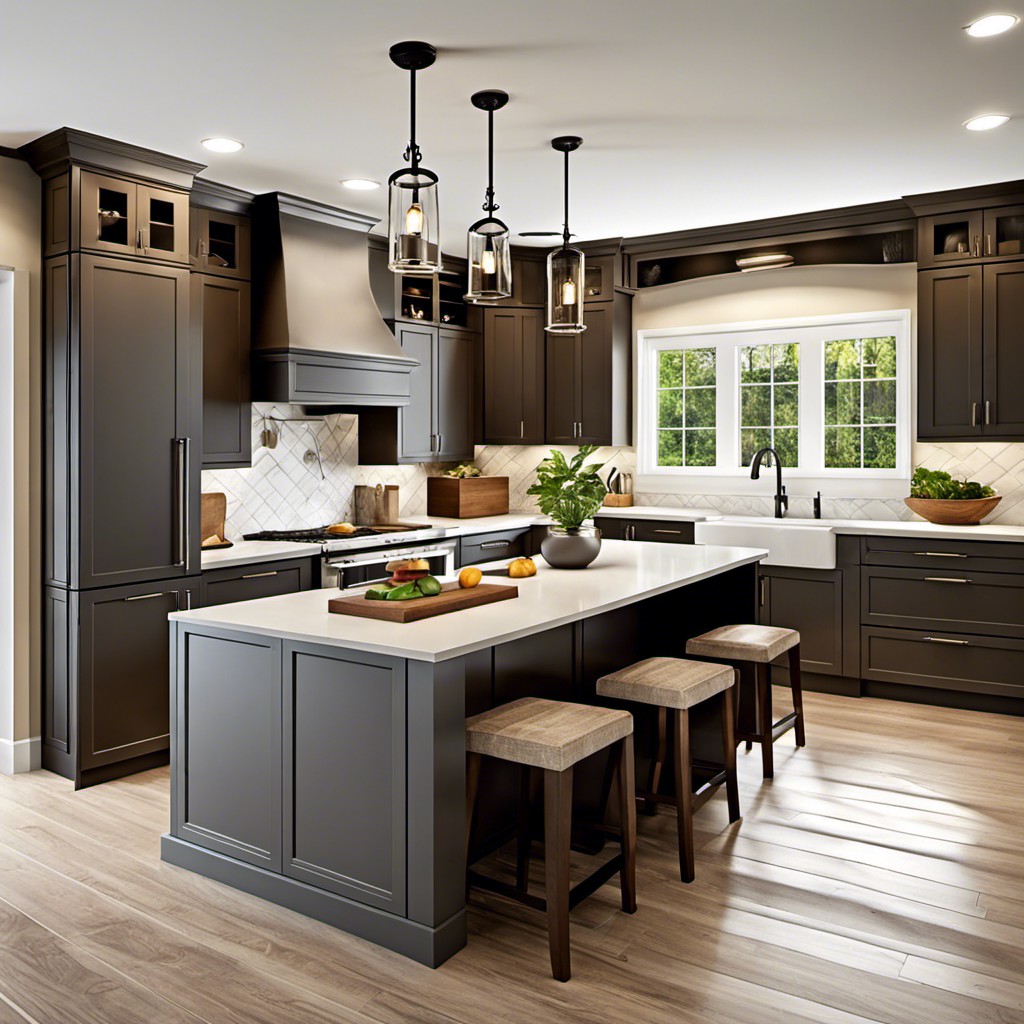 Embracing the open-concept design, this layout offers great functionality and fluidity. One arm of the G serves as a natural barrier, separating the kitchen from the rest of the living area.
1. Space Maximization – An open-concept G-shaped kitchen allows you to effectively use available space, as it removes unnecessary walls and opens up the floor plan.
2. Increased Social Interaction – This layout fosters interaction between the chef and guests or family. While preparing food, you can still entertain and engage in conversation.
3. Built-in flexibility – The design readily accommodates any kitchen equipment or feature you may want to incorporate, giving you more freedom in personalizing your culinary space.
4. Enhancement of natural light – Without walls to block off the kitchen, natural light from the rest of the home can easily flow in, creating a brighter, more inviting space.
5. Efficient workflow – With countertops and storage on three sides, every kitchen feature is just a step or two away, allowing for smooth workflow and cooking efficiency.
G-shaped Layout With Island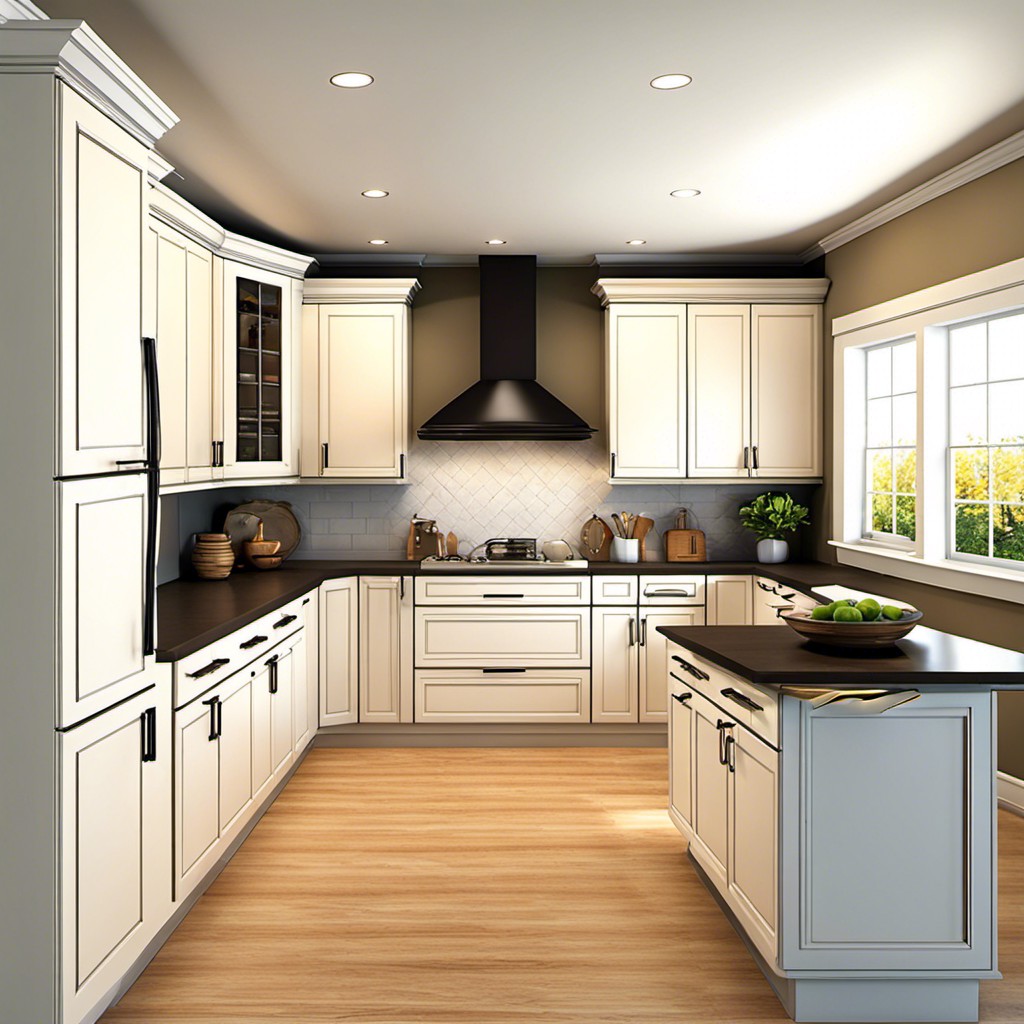 The island, an essential element of this design, effectively acts as the vital fourth wall. It helps to separate the kitchen from the remainder of the open space, providing a distinct area for preparing and cooking meals.
Always leave a minimum of 42 inches between the island and surrounding cabinets to facilitate easy movement around the kitchen space.
This layout optimizes the island by including built-in appliances or additional storage facilities underneath. Strategic placement of a sink or cooktop on the island can enhance efficiency. The top of the island, usually a different material like butcher block or marble, can serve as a food prep station or casual dining spot.
Adaptable and versatile, this layout can even integrate a wine fridge or bookshelf into the island, creating a stylish and functional centerpiece. Careful planning helps maximize the potential of the G-shaped layout with an island, combining beauty with functionality to create the perfect kitchen space.
Modern Industrial G-shaped Kitchen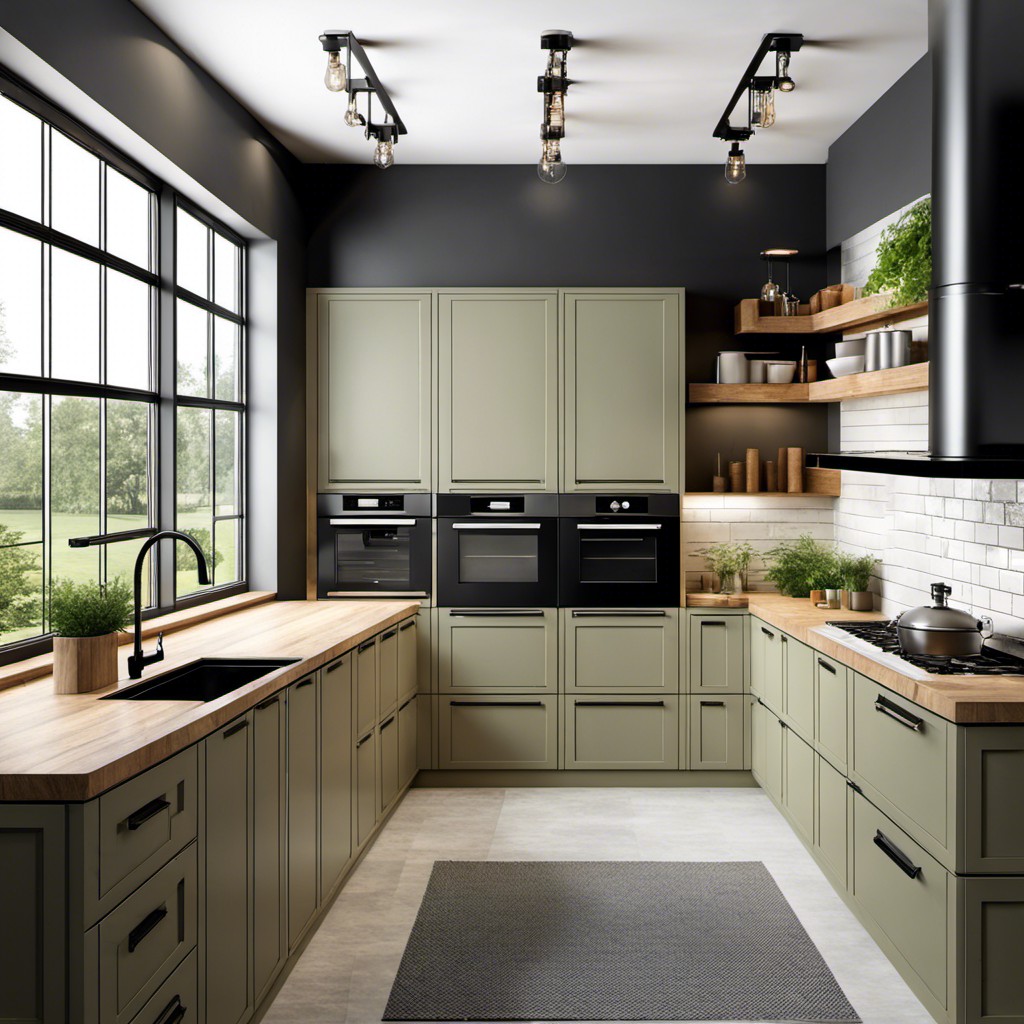 In such a layout, exposed brick walls and metallic accents merge with a streamlined G-shaped design. It stays true to the industrial theme while maximizing cooking and storage space.
Here's how to bring the theme alive:
1. Opt for cabinets with a metallic finish– stainless steel or otherwise.
2. Exposed brass or copper pipes can add a characteristic industrial touch.
3. Pendant lighting fixtures, especially with Edison bulbs, carry the industrial theme beautifully.
4. Incorporate elements of raw, distressed wood to contrast the metal accents.
5. A concrete island or countertops embody the simplicity and ruggedness of an industrial style.
6. Incorporate open shelving units to expose dinnerware and appliances, adding a utilitarian charm.
Remember, to keep the trade-off between functionality and industrial style balanced. Always hone functionality through the convenience of the G-shaped layout, and tweak aesthetics through industrial decor.
G-shaped Layout With Breakfast Bar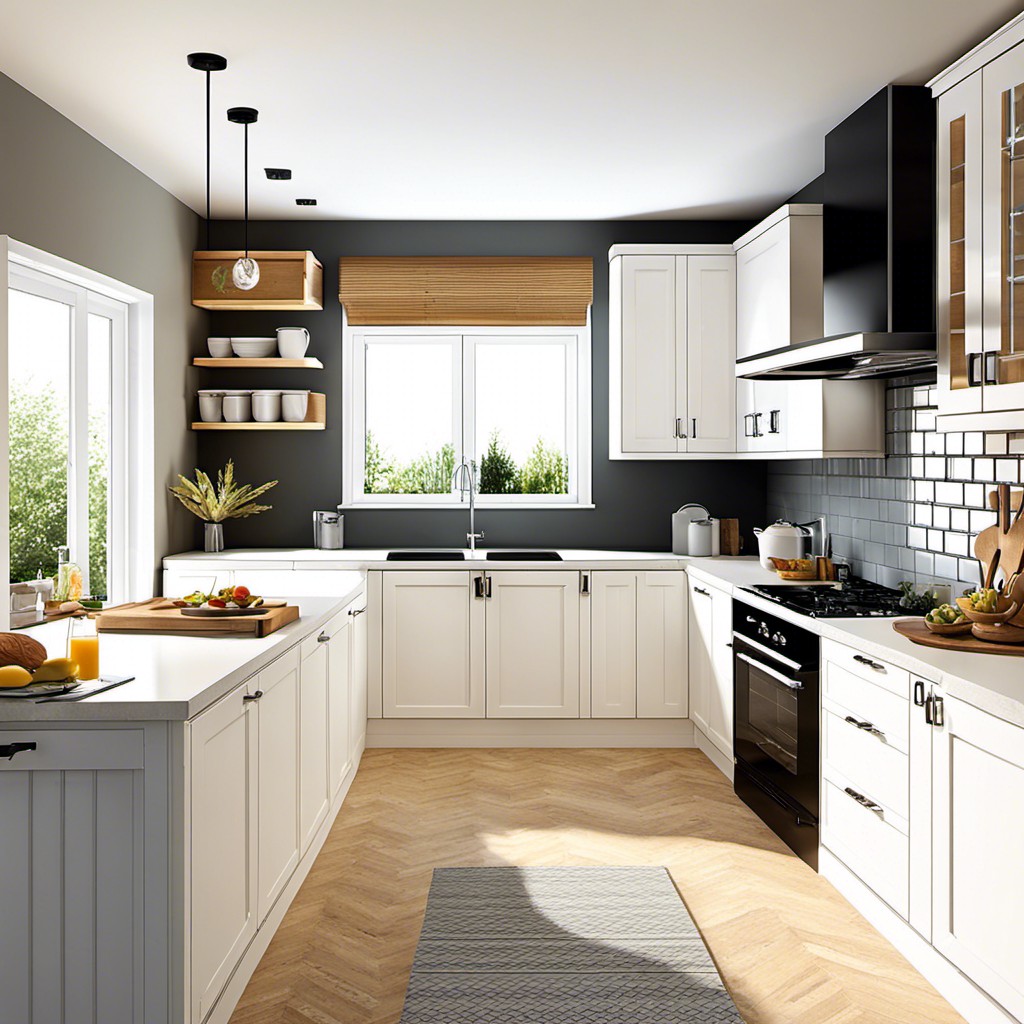 Reconfiguring the extra arm in a G-shaped kitchen as a breakfast bar offers increased functionality. This not only provides an additional area for food prep but also creates an informal dining space.
Here are four key points to consider when implementing this design:
Seating: Ensure the breakfast bar is wide enough to comfortably accommodate seated users. The standard bar top width is about 16 to 20 inches.
Height: The standard height for a breakfast bar ranges from 36 to 42 inches. Lower heights are more child-friendly and wheelchair-accessible, while higher heights offer more legroom.
Positioning: Place the breakfast bar away from high-traffic areas. This allows for a smoother workflow around the kitchen, keeping seated users safe from cooking hazards.
Lighting: Plan adequate lighting over the breakfast bar, not only for aesthetic appeal but also to ensure visibility during meals and food preparation. Pendant lights or under-cabinet lighting can serve this purpose, adding a warm and intimate ambiance to the space.
G-shaped Layout With Double Sink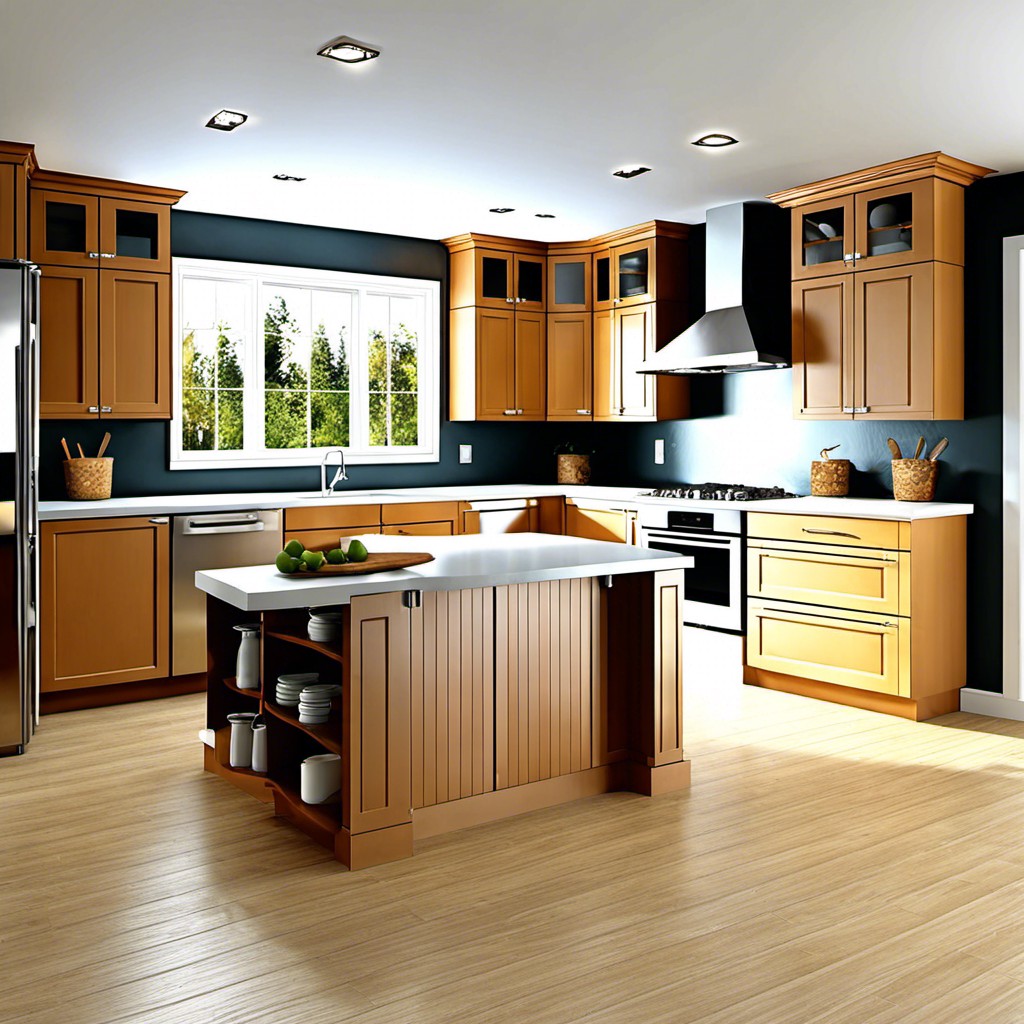 Diving straight into the heart of the G-shaped layout, installing a double sink is a practical and efficient choice. It not only provides ample space for meal preparation and dishwashing but also enhances your kitchen's overall functionality.
1. Space Optimization: Position your sinks strategically. One near the stove for easy access during cooking, and the second near the refrigerator, for cleaning fresh produce. This evenly distributes work zones and minimizes cooking interruptions.
2. Enhance Workflow: A double sink can serve multi-functional purposes. Use one sink for dirty dishes and the other for food prep, improving hygiene and workflow in the kitchen.
3. Ease of Use: The G-shape allows easy movement within the kitchen. The inclusivity of double sinks supports this by providing distinct workspaces to handle separate tasks simultaneously.
Remember to choose a double sink design that complements your kitchen décor and meets your specific needs for a remarkable G-shaped kitchen transformation.
G-shaped Kitchen With Window View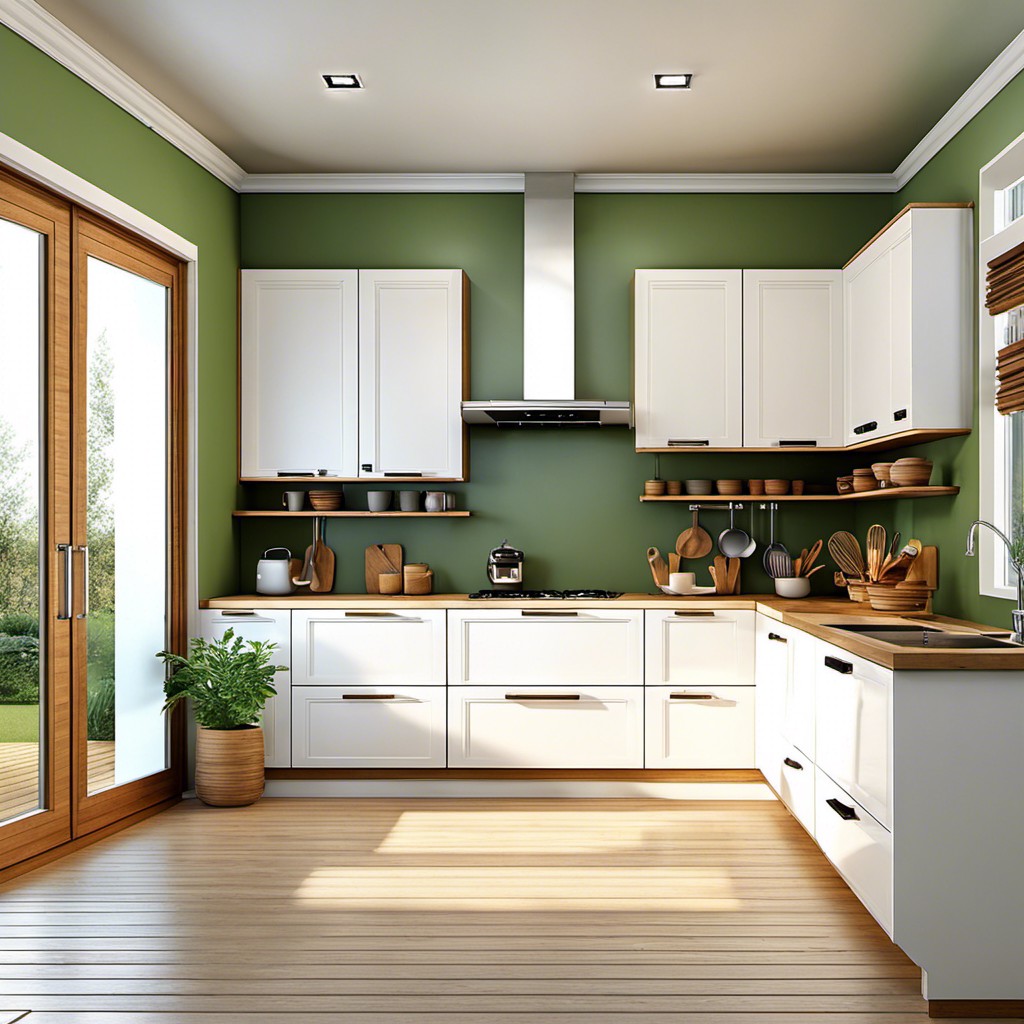 Utilizing a window view in your kitchen layout can create an airy atmosphere and provide an abundance of natural light. With mindful positioning of the main features like the sink or the stove beneath the window, tasks can be made enjoyable with a pleasant view.
1. Natural light: Sunlight can significantly brighten up your space during daytime, reducing dependence on artificial lights.
2. Mood elevation: A beautiful outdoor view can lift your mood and assist in reducing stress while cooking.
3. Ventilation: Windows aid in circulating fresh air, reducing kitchen odors and maintaining a comfortable temperature.
4. Indoor plants: The window sill can house your indoor kitchen herbs, which will thrive in the sunlight.
5. Energy Saving: The natural light reduces energy consumption, making this design both environment-friendly and cost-effective.
An aesthetically pleasing and functional window can transform your G-shaped kitchen, making chores much more enjoyable. Opt for a large, single pane window for an unobstructed view, or consider a garden window to add depth and additional shelf space. Choose window treatments that complement your kitchen decor while providing the necessary privacy and light control.
Copper sinks or faucets can add a touch of elegance and contrast against the backdrop of an outside view. Ornaments or colored glass on the window sills can further enhance the aesthetics. Remember, less is often more when dealing with window-centric designs. Your G-shaped kitchen will look larger and more welcoming with a strategically planned window view.
G-shaped Layout With Under Cabinet Lighting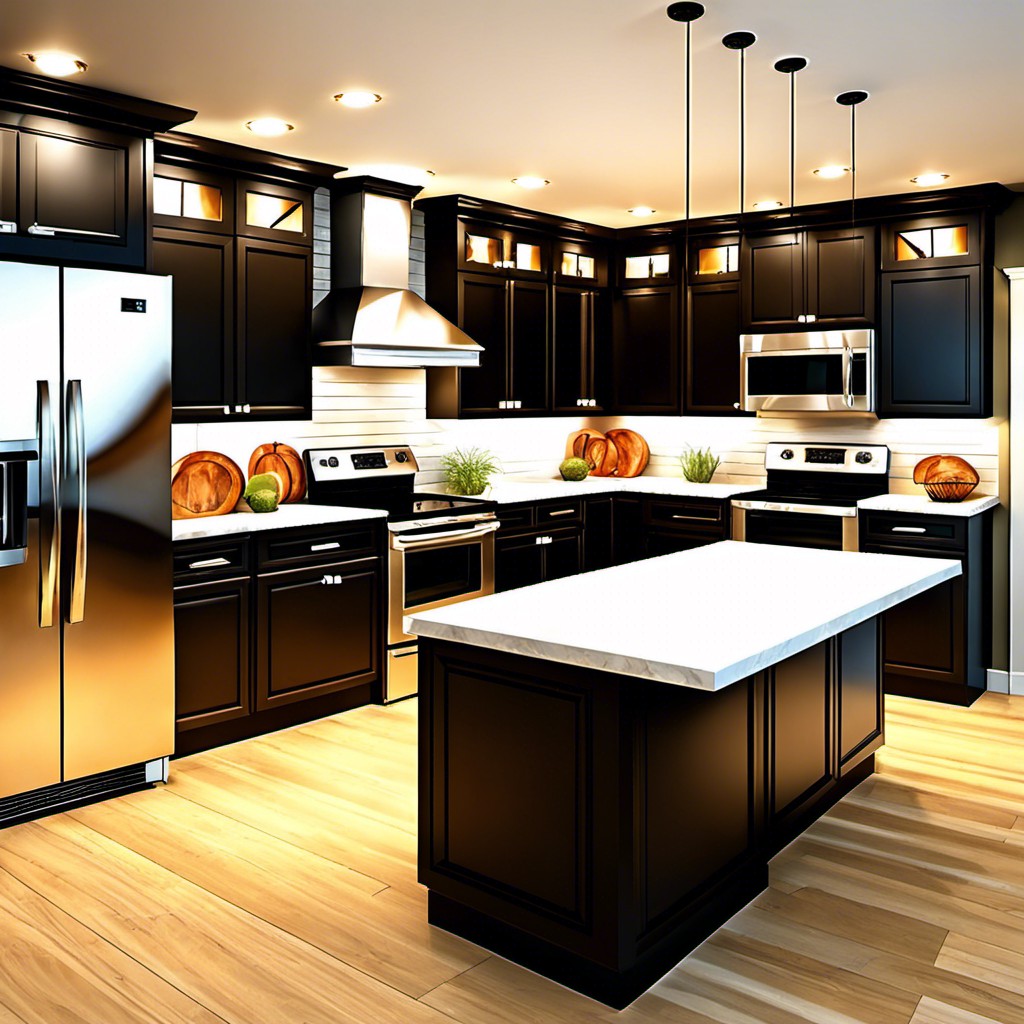 Providing an atmospheric touch, under-cabinet lighting brings practicality to the G-shaped kitchen. It focuses illumination where it's most needed – on the countertop, enhancing visibility during food preparation.
1. LED Strips: These are superb for task lighting, offering a continuous stretch of bright light. Additionally, they are energy efficient.
2. Puck Lights: These round, hockey puck-shaped lights provide more focused brightness. Great for highlighting beautiful countertops or dishes on the stove.
3. Light Bars: If uniform lighting across the length is preferred, light bars work wonders. Plus, they ensure a contemporary look.
Even the narrowest spaces can be lit up with under-cabinet lights, brightening up the overall kitchen ambience. When carefully coordinated with the overall design, it adds flair to the functionality.
G-shaped Layout With a Pantry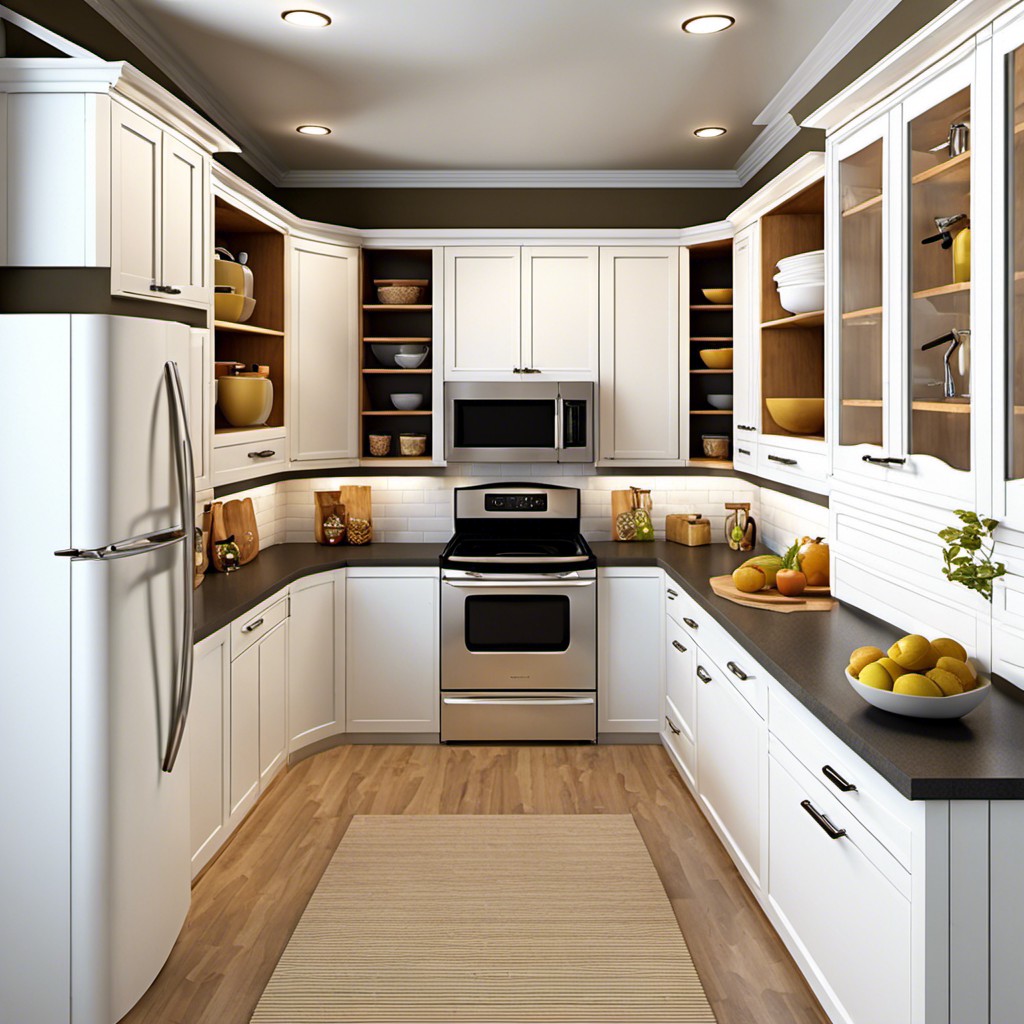 Incorporating a pantry into this design can significantly boost your storage options. With a well-positioned pantry, essentials are within easy reach yet neatly hidden. You might choose a corner pantry to utilize the space effectively, or opt for a pull-out model for slim, longer spaces.
Open shelving's also an option, ideal for those stylish, can't-hide-them appliances and your favorite crockery sets. Remember, the key is organized storage. Proper shelving, dividers, drawers, and baskets can ensure everything has a place, from food items to kitchen tools.
Compact G-shaped Layout for Small Spaces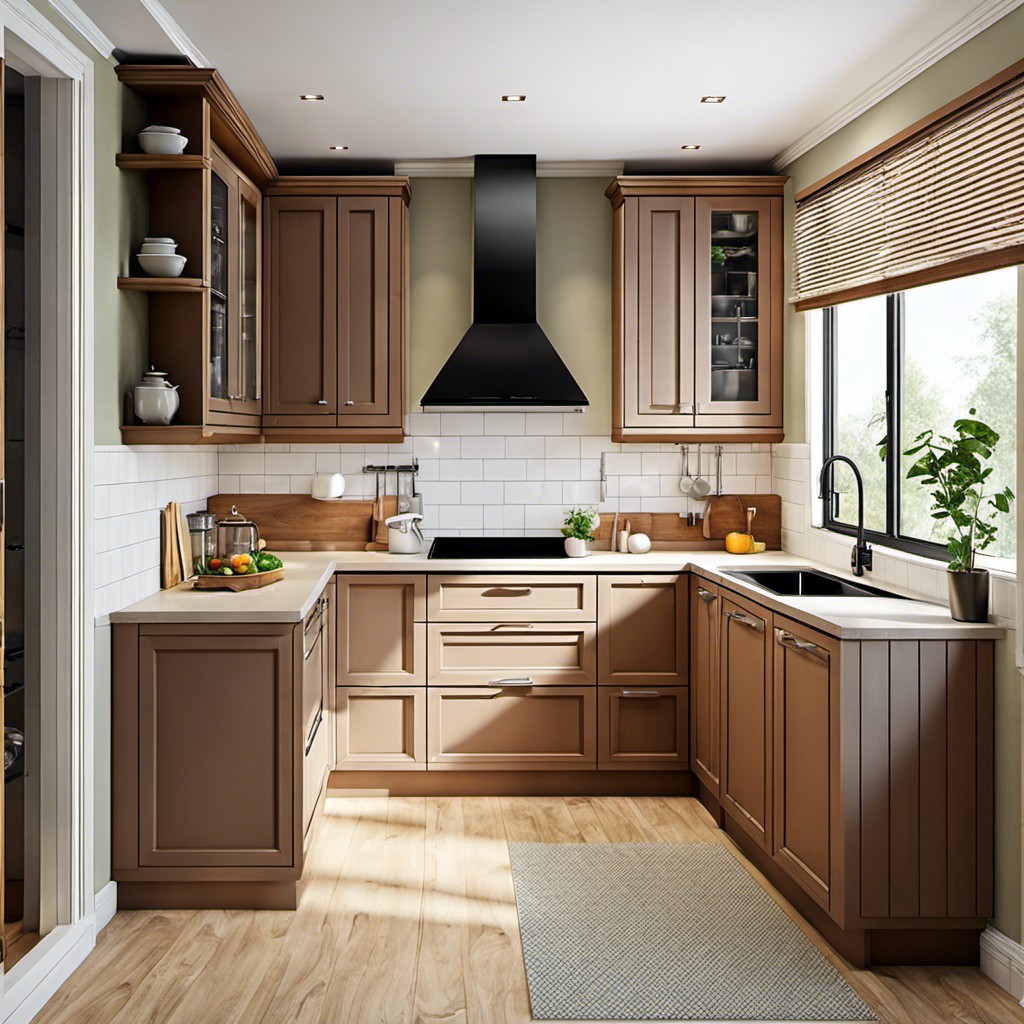 In smaller spaces, optimizing every square foot is crucial. Consider designing the counters and cabinets along three walls, while using the fourth for opening into the dining or living area. This optimizes flow and makes cooking and dining less claustrophobic.
Utilizing vertical space is also essential in compact G-shaped kitchens. Creating storage up to ceiling height draws the eye upward, making the space feel larger. Include a step stool, neatly tucked away, for easy access.
The choice of materials can make a big difference. Light-color cabinetry and reflective surfaces like glass tile backsplash or stainless steel appliances will help bounce light around and make the kitchen feel more expansive.
Corner pullout cabinets, swing-out drawers, and other space-saving solutions will make it easier to store and find your kitchen items. A small movable island can serve as an additional work surface, storage, and even a dining area.
The compact G-shaped kitchen layout will ensure that even the smallest of spaces is utilized advantageously.
G-shaped Layout With Skylight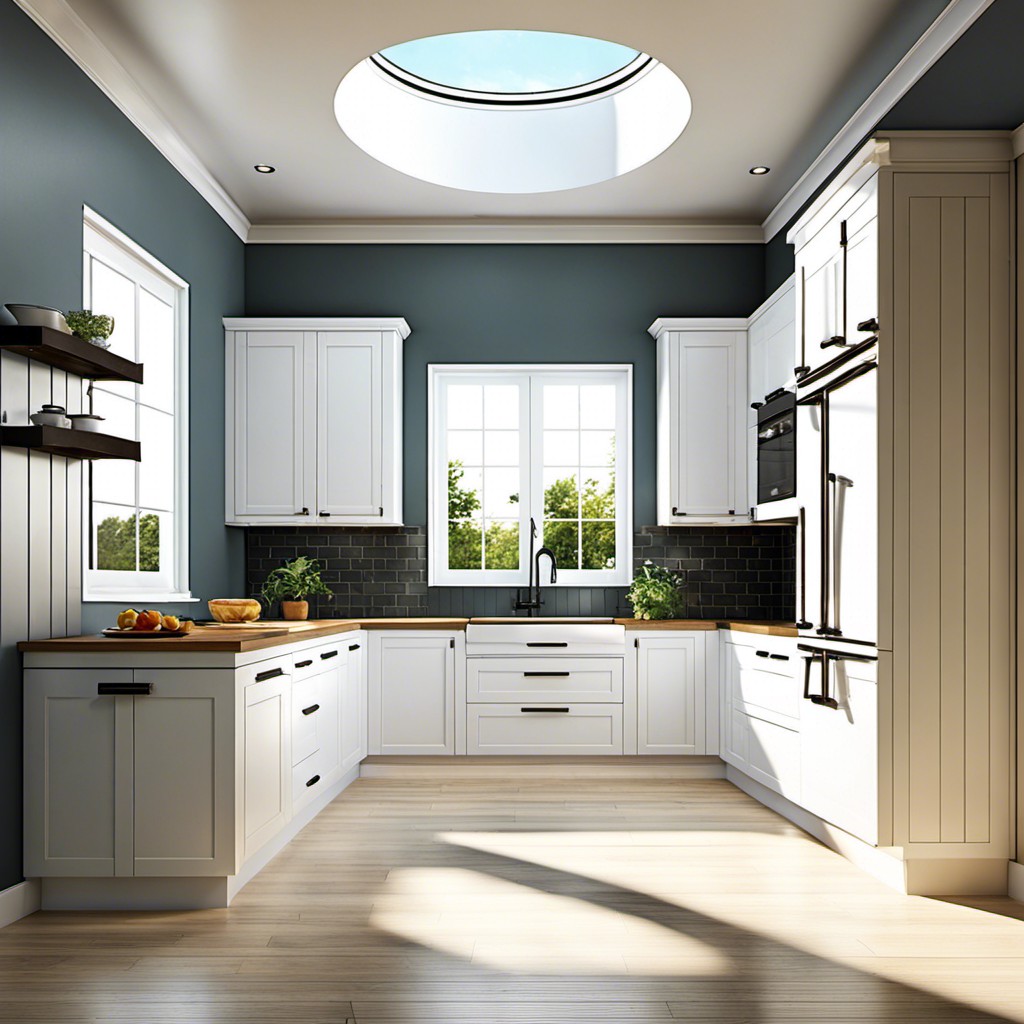 One striking feature of this design is the skylight. This helps to enhance the natural light in the space. The result is a bright, airy, and welcoming kitchen environment, even in the core of your home. Here, daylight exposure is optimized, reducing dependence on artificial lighting and aiding in energy conservation.
Design-wise, a skylight also amplifies the room's structural aesthetics, showcasing high ceilings and architectural details. It can be beneficial in highlighting specific areas – like your cooking space or breakfast nook.
An important consideration in this layout is the position of your skylight. It must be placed strategically to ensure the light doesn't cause overheating or discomfort. Also, the choice between fixed, vented, or tubular skylights can influence the kitchen ambiance and functionality. Lastly, remember to consider the ease of maintenance and weather durability for long-term benefits.
Pairing these elements with the G-shaped design maximizes storage, counters, and appliances space while allowing room flow and enhanced kitchen activities, like prepping, cooking and serving meals. A skylit G-shaped layout presents a perfect fusion of functionality and aesthetics.
G-shaped Layout With a Farmhouse Style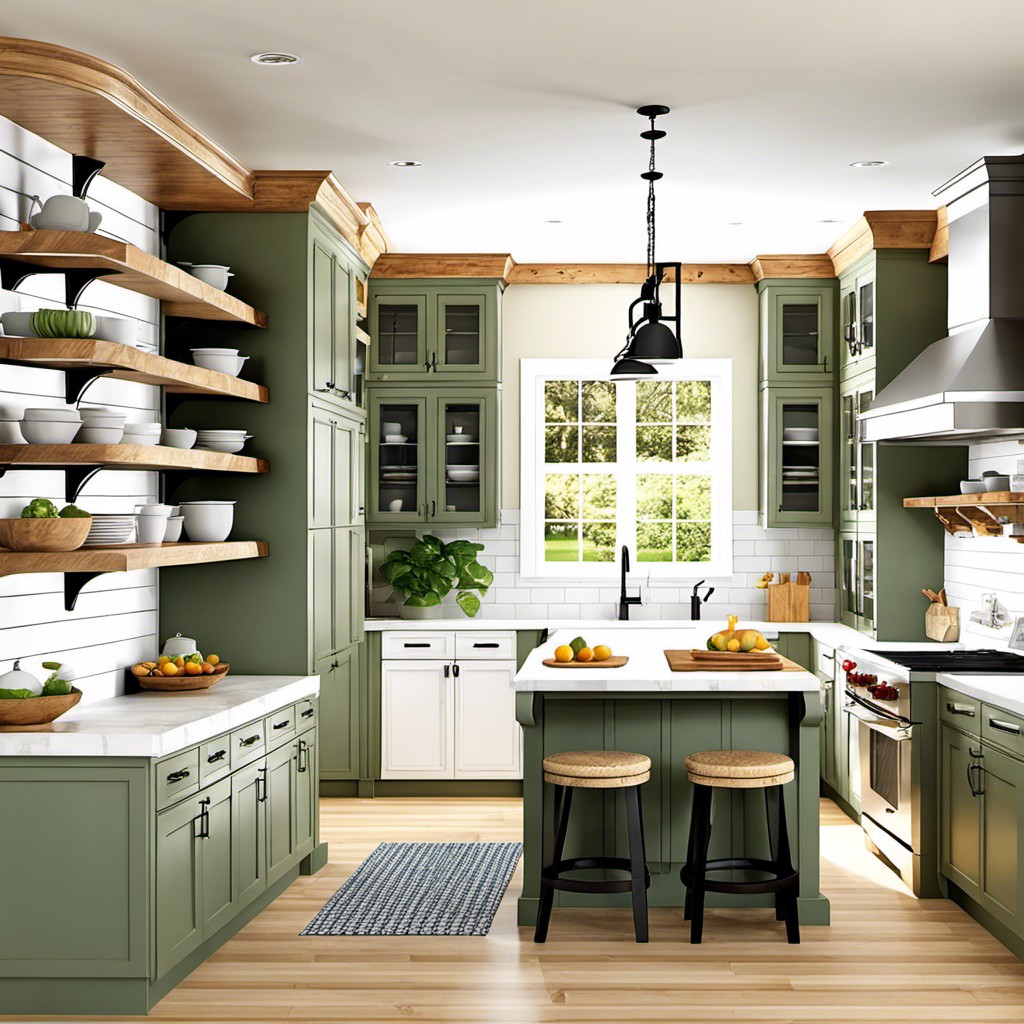 Embracing traditional wooden features, this design provides a warm, homely feel. Shaker-style cabinets are a popular choice, with their clean, simple lines reflecting the practical, unpretentious nature of the farmhouse style. Go for natural materials when picking out countertops. Wood or stone, such as granite or soapstone, lend a raw, rustic touch to the kitchen.
While this layout brings a taste of the countryside, it's versatile enough to incorporate modern amenities. You can intersperse high-end appliances with open shelving, full of neatly stored jars, or antiqued pots and pans. Wrought iron drawer knobs and pulls add a fitting vintage touch.
Proper lighting is a must in any kitchen, more so with the G shape. Consider pendant lights to provide ample illumination while also reinforcing the farmhouse aesthetic. To complete the look, a ceramic apron-front sink is a classic choice for a farmhouse style G-shaped kitchen. This not only maximizes kitchen functionality but beautifies the workspace. Remember, as with any design, balance is key, ensuring the space maintains its functionality while portraying its rural allure.
G-shaped Layout With High Gloss Cabinets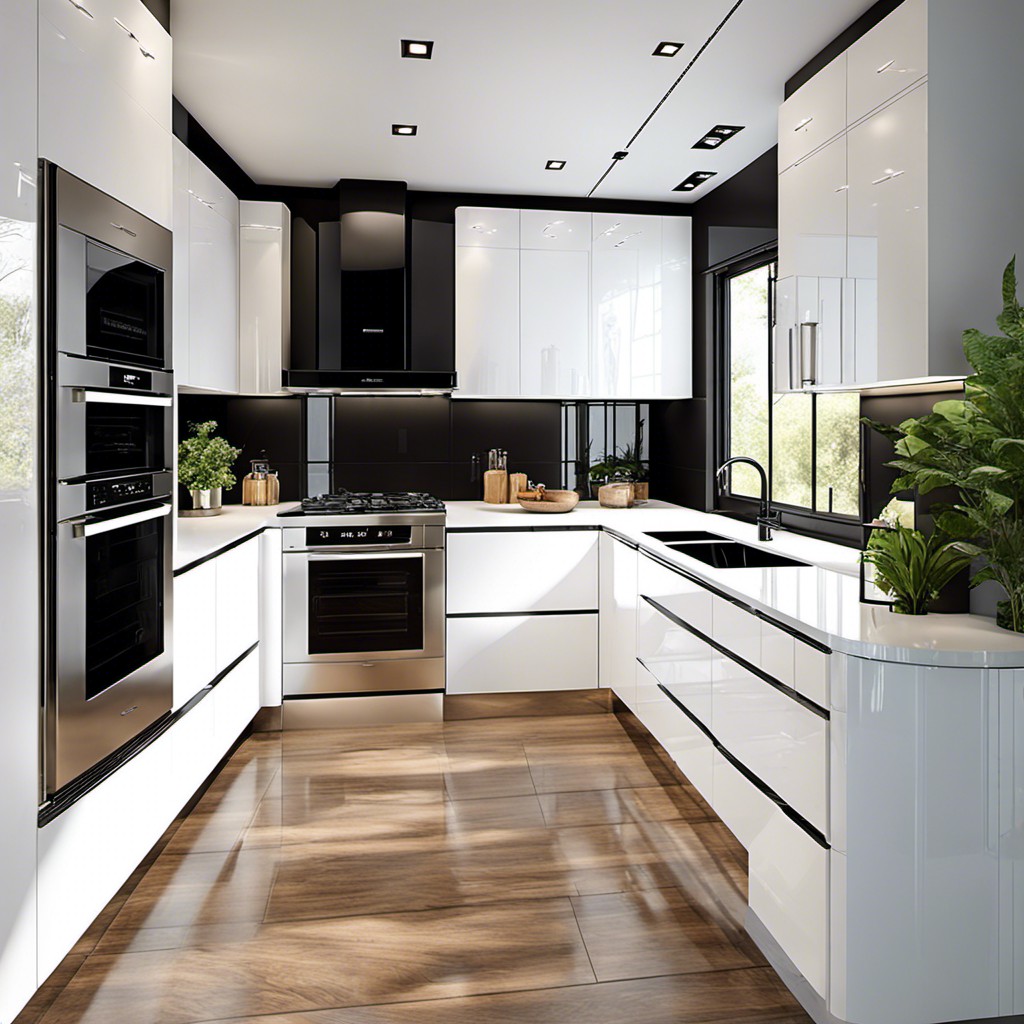 High gloss cabinets are the showstopper in this layout. Their reflective surface amplifies both natural and artificial light, filling the kitchen with a luminous glow. The gloss produces a sleek, modern aesthetic and provides an illusion of increased space, which is ideal for smaller kitchens.
Moreover, it's a breeze to clean, making it a practical choice. Remember, dark-colored gloss cabinets show scratches more easily than light colors, so choose accordingly.
Play around with lighting options to accentuate the glossiness further, like installing under-cabinet lights or placing a large pendant light above the kitchen island.
G-shaped Layout With Hanging Pot Rack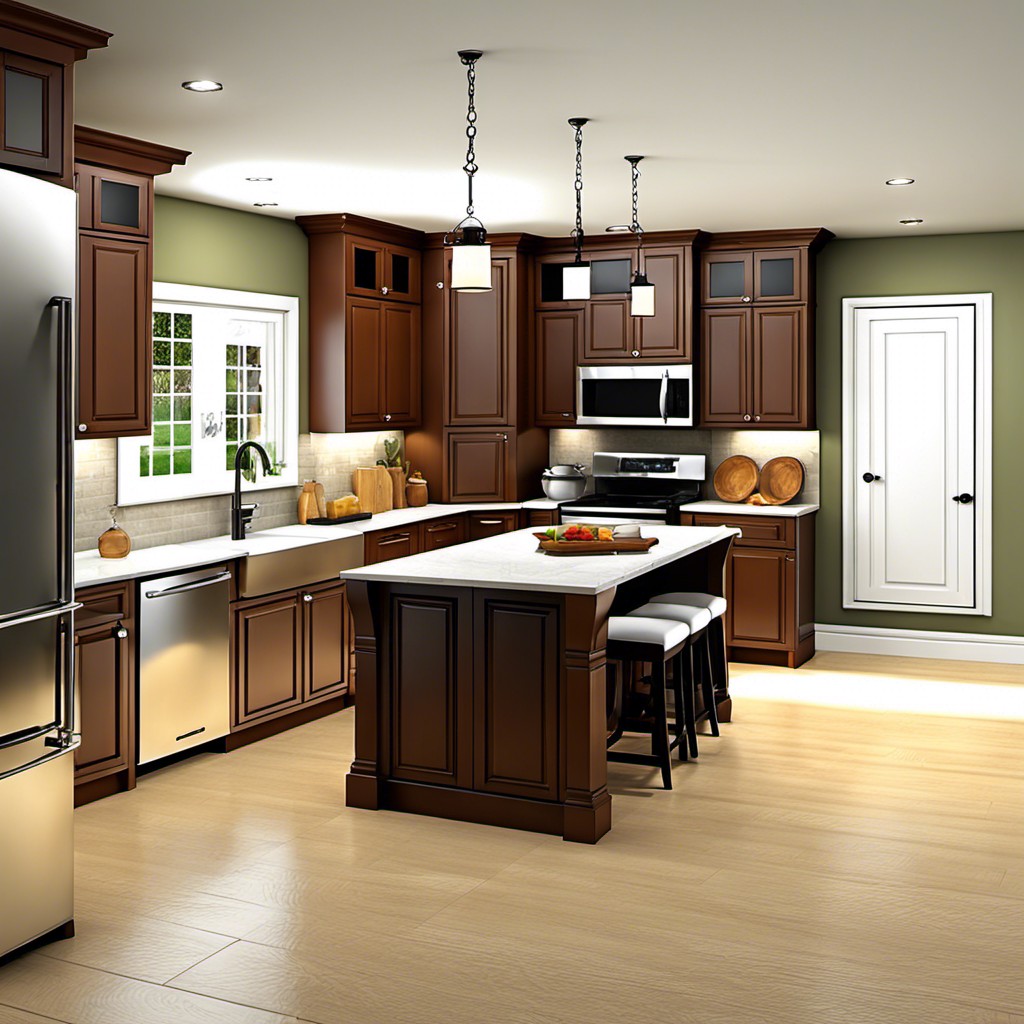 Incorporating a hanging pot rack into your G-shaped kitchen layout introduces more storage opportunities while also keeping your essential cooking tools easily accessible. This functional and design-savvy feature can be installed over the island or stove, where it would prove most practical.
The rack provides an engaging visual as well. Depending on your individual style, choose from a variety of rack materials such as wrought iron for a rustic theme, copper for a vintage look, or stainless steel for a sleek, modern aesthetic.
Lighting can also be integrated into the pot rack to accentuate your cookware collection. With the correct design and positioning, a hanging pot rack transforms your kitchen from purely functional to a showcase of your cooking passion.
Retro Style G-shaped Kitchen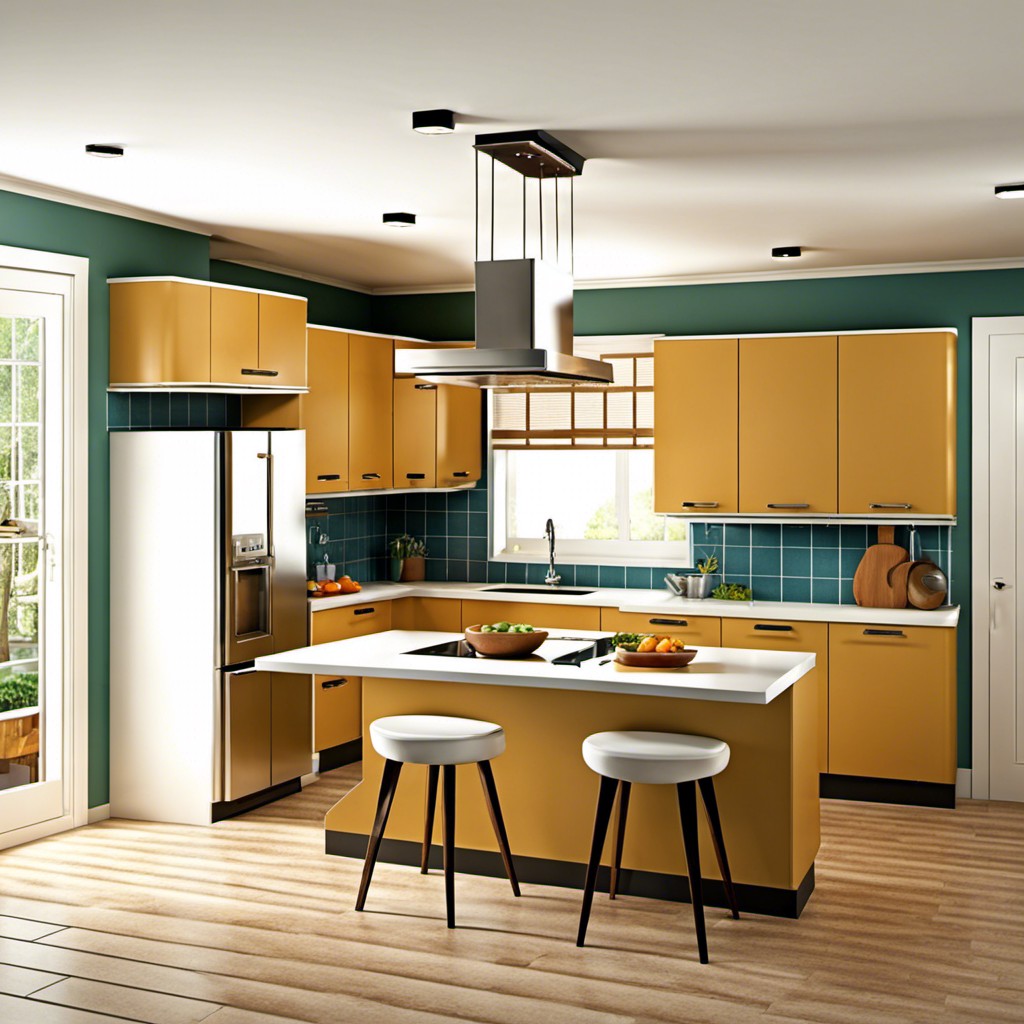 Taking a step back in time, this design approach embraces nostalgic elements that commonly feature in the 1950s to 1970s kitchens. Chrome accents, vintage appliances, checkerboard patterns on the floor, or bold colors on the cabinets epitomize this theme.
1. Furnishings: Opt for retro-styled appliances, Formica countertops and chrome-rimmed tables to reproduce the authentic retro experience.
2. Palette: Incorporate vibrant shades such as avocado green, mustard yellow or hot pink. To balance these striking tones, use neutral colors, like white or cream, as the primary color.
3. Detailing: Add distinctive retro elements such as a wall-mounted rotary dial phone, vintage tin canisters, or polka-dot curtains.
4. Flooring: Checkerboard patterns or linoleum floors will harken back to the bygone era.
5. Lighting: Pendant lights or chrome-rimmed ceiling fixtures will add the perfect finishing touch.
G-shaped Kitchen With Two-tone Cabinets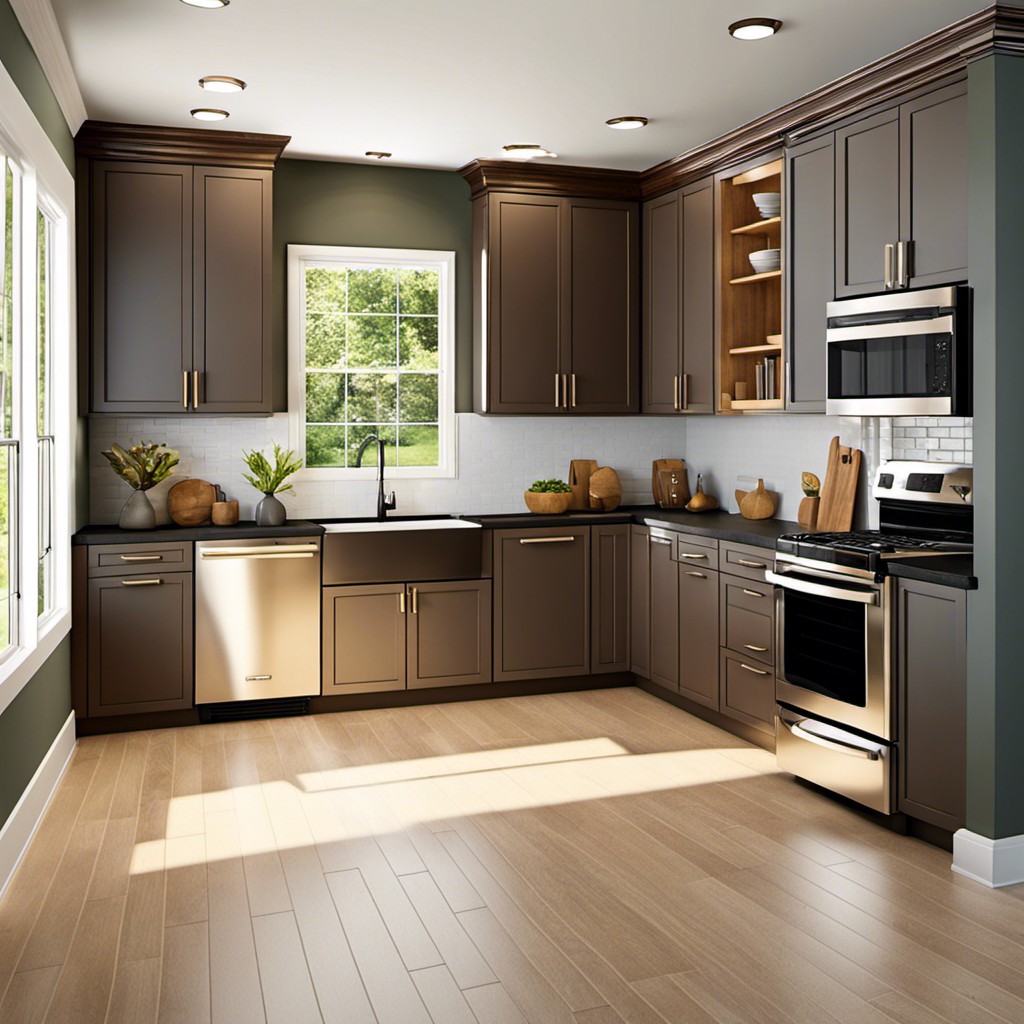 Incorporating two-tone cabinets into a G-shaped kitchen brings in a lot of visual interest and depth. Mix vibrant and neutral shades for a balanced and personalized aesthetic.
Lighter tones for upper cabinets can provide a breezy and open feel, while darker tones for base cabinets anchor the kitchen. It's all about creating contrast.
This design approach breaks up the endless line of cabinet doors typically seen in a G-shape kitchen. For materials, consider combining wood with glossy or matte finishes. Glossy finishes bounce light, luminating the kitchen, whereas matte finishes absorb light, offering a muted and sophisticated look.
Bold hardware choices on the cabinets can further add to the appeal. Remember, in a kitchen this size, smart storage like corner cabinets and pull-out racks will enhance functionality.
Lastly, always keep continuity with the rest of your home décor to ensure a harmonious look.
G-shaped Layout With a Built-in Fridge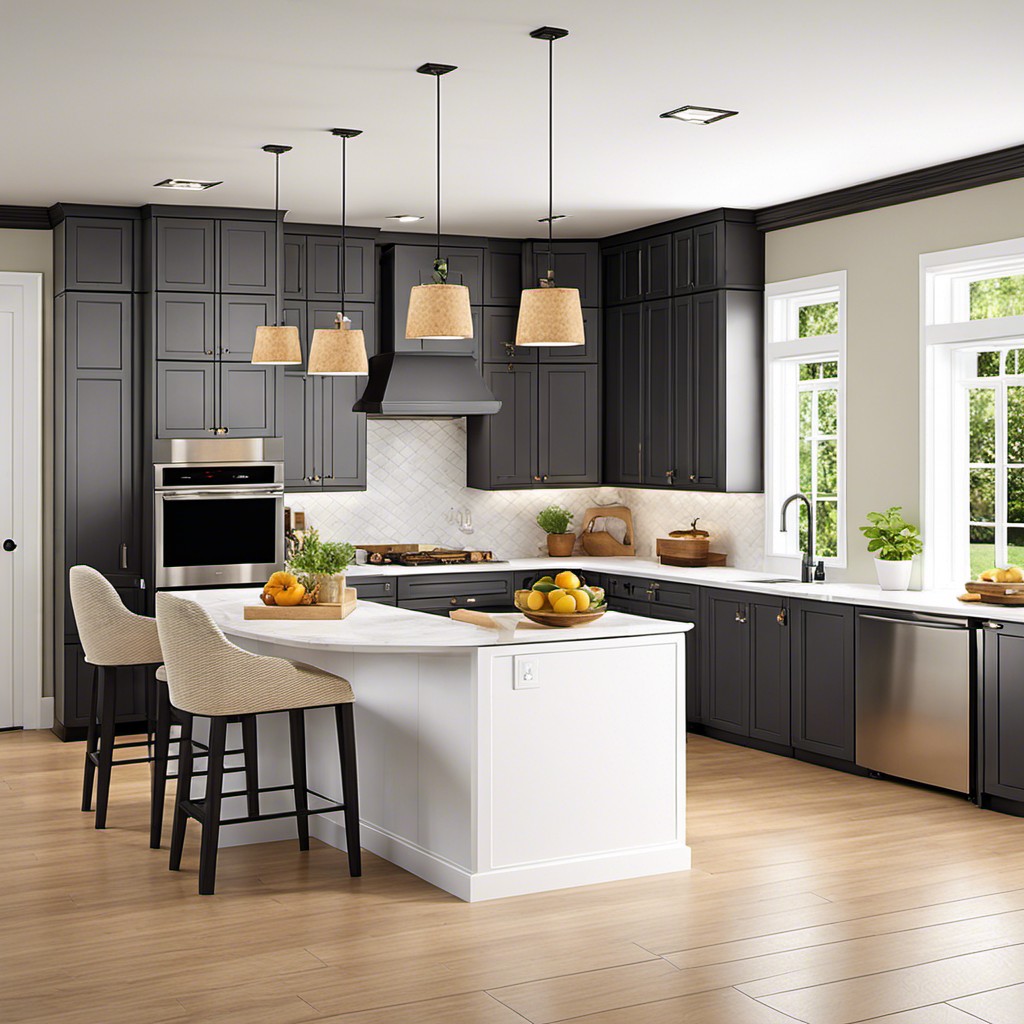 A built-in fridge optimizes space and increases functionality in a G-shaped kitchen. This layout features the refrigerator integrated within the cabinetry, creating a streamlined look. Placing the fridge at one end of the 'G' allows easy access and efficient movement while cooking.
The key features include:
Increased storage: Utilizing space effectively drives this layout. The built-in fridge provides homogenous aesthetics and ensures there are no gaps or wasted spaces.
Seamless design: The appearance is smooth with uninterrupted lines. It creates an elevated, modern feel and allows for additional design elements such as hardware matching the cabinetry.
Access Efficiency: The fridge placement aids in a convenient workflow. This design reduces the distance between key workspace areas, resulting in a smoother, more efficient cooking experience.
Customization: Built-in fridges come in various styles, sizes, and finishes. These can be tailored to preferences, whether it's a stainless steel finish or a cabinet-front design for the utmost integration.
Minimalist G-shaped Kitchen Design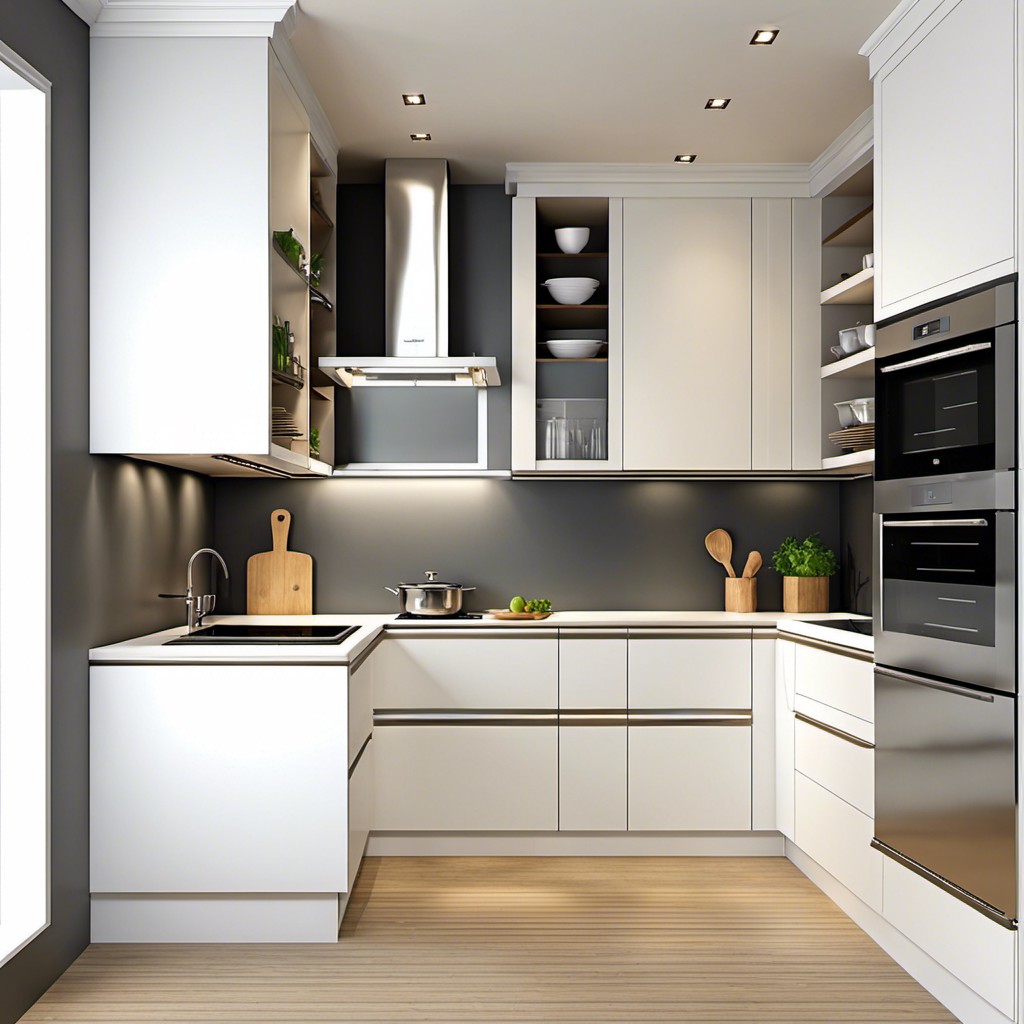 Embracing a minimalist approach in a G-shaped kitchen focuses on the 'less is more' principle. Start by selecting monochrome or neutral tones for the cabinets and countertops. White or light grey hues are particularly effective in enhancing the feeling of space.
Remember to limit decorative elements. Here simplicity reigns supreme.
Streamline your kitchen with handle-free cabinets for a sleek and smooth look. Opt for built-in appliances to maintain continuity and avoid a cluttered appearance. Lighting also plays a key role in minimalist design; consider recessed lighting or simple pendant lights.
Lastly, smart storage solutions are essential to maintain clean lines. Implementing pull-out drawers, integrated spice racks, and hidden trash bins help to keep counters free of excess objects while illustrating the purposeful design of minimalist aesthetics. Remember, every element in a minimalist kitchen should combine functionality with sophisticated design.
G-shaped Layout With High Back Stools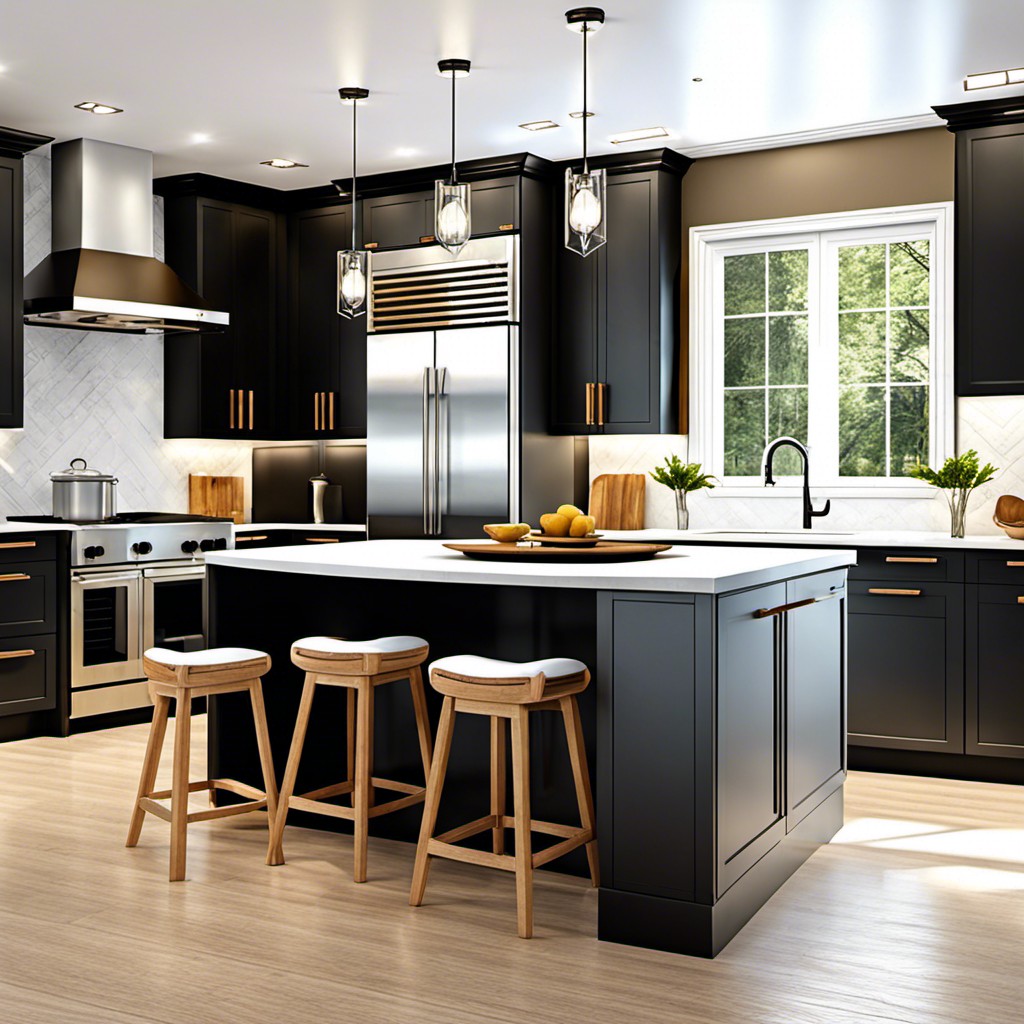 High back stools can add a touch of class and elegance to your G-shaped kitchen layout. They provide a long line of sight and create an illusion of a more expansive kitchen space. Not only functional, they can also enhance the overall aesthetic, and serve as a complementary central feature.
Their position can greatly capture the convenience of the G-shaped layout. They can be excellently placed at the peninsula – the fourth arm which is an added feature of a G-shape layout – to create a great space for casual dining or a relaxing coffee break.
In terms of the materials, consider matching the stools not just with the kitchen decor, but also the height and design of your counter. Leather, wood, or even metal can change the feel and look of your kitchen entirely. Stools with adjustable heights can also provide extra flexibility for family members of all ages.
To maximize space, stools that can be tucked under the peninsula when not in use are a stylish and practical choice. This can make the pathway around the kitchen clearer and more open.
Lastly, for a harmonious design, match the color of your high back stools to your cabinets, countertops or kitchen accessories, or use them to introduce a pop of color to brighten up your G-shaped kitchen.
G-shaped Layout With Ceiling-mounted Range Hood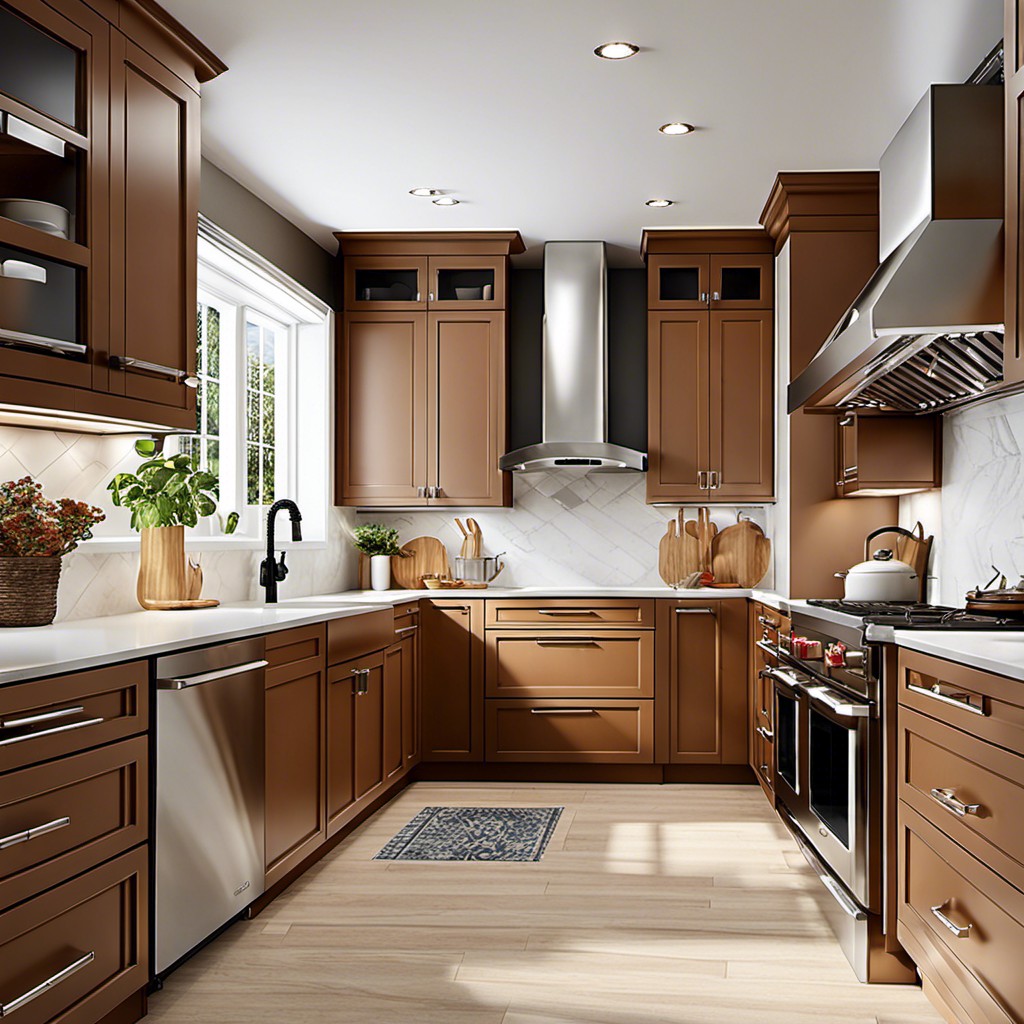 Utilizing a ceiling-mounted range hood offers more than just a stylistic bonus. It provides practical benefits such as improved air quality by venting cooking fumes, smoke, and heat out of the space. They also work admirably with G-shaped kitchen layouts where the cooking area is often located at the center of the space.
Keeping this in mind, here are key pointers to understand:
Space Enhancement: By hanging from the ceiling, range hoods save considerable counter space and enhance the overall space efficiency.
Convenient Positioning: Located above the stove or cooktop, they capture and expel fumes more efficiently due to their central position.
Aesthetics: They add a modern and sleek touch to the kitchen, acting as a focal element against the typical backdrop of a G-shaped layout.
Lighting: Most ceiling-mounted hoods come equipped with built-in lighting, improving visibility while cooking.
Noise Reduction: Suspended further from the primary workspace, they tend to be quieter than standard hoods.
Remember, the key to a successful kitchen layout, G-shaped or otherwise, lies in maximizing utility and comfort without sacrificing style.
G-shaped Layout With Concrete Countertops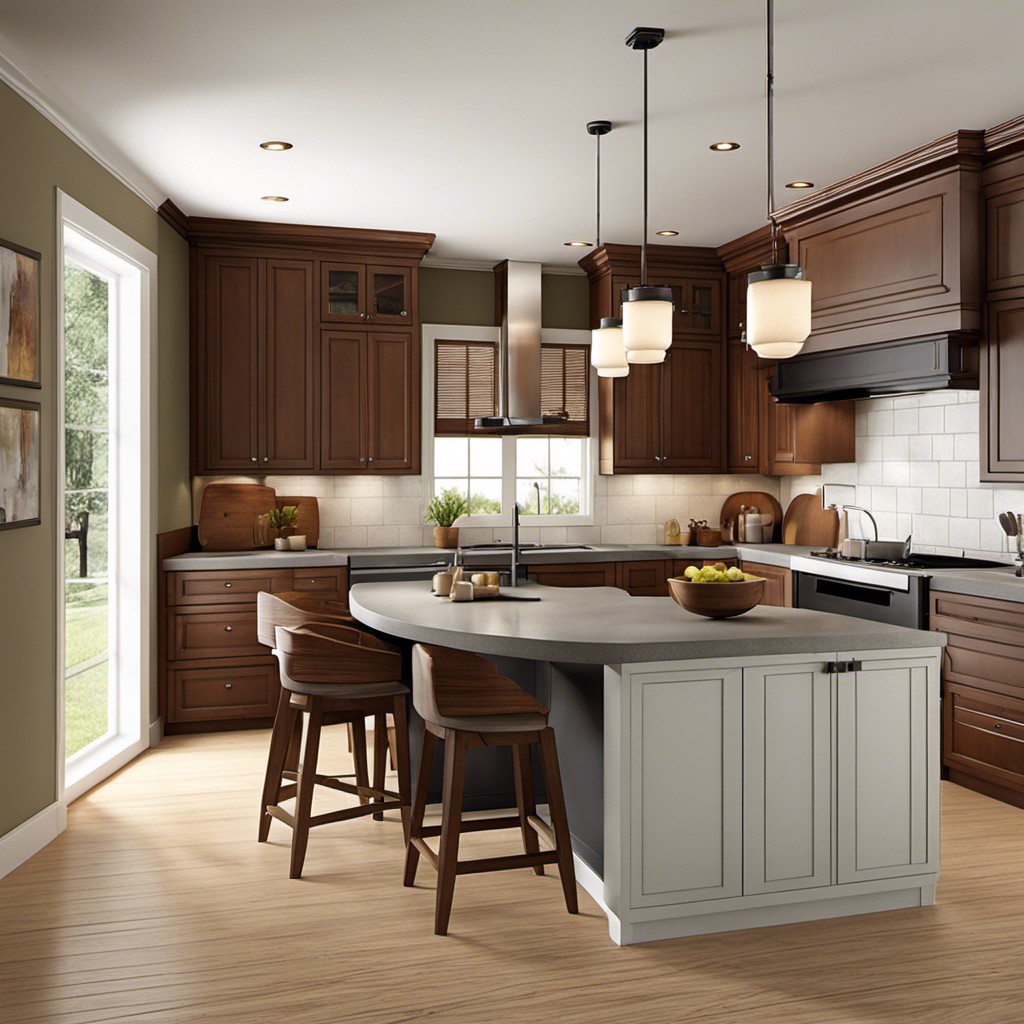 Durability is the watchword when it comes to concrete countertops. Every cooking enthusiast craves a kitchen top that can take a beating. The unique texture and finish offer an industrial-chic appeal that pairs well in a G-shaped layout.
Keeping up with this practical and stylish feature doesn't have to be a chore; regularly seal and wax them to maintain their sheen and robustness.
For a trendy visual twist, consider tinting the concrete with your preferred color or embed unique elements like recycled glass or pebbles. Another advantage is its endless customization. Its form can be crafted to incorporate in-built sinks or draining boards providing a seamless look across your kitchen.
Combine them with bold colored cabinets or, for a more contemporary feel, matte black finishes. Use under cabinet lighting to help illuminate the surface as it beautifully reflects light, enhancing your workspace visibility. Concrete countertops certainly bring a robust yet stylish edge to your G-shaped kitchen layout.
Continue reading: