Last updated on November 28, 2023
Game room design ideas are not a matter of creativity.
They're a matter of practicality.
Putting your needs first is an excellent way to pick the right items.
And you're on the right page to start.
This article discusses different ideas for your game space that fit different types of spaces, games, and gamers.
Let's dive in.
What's Inside
TL;DR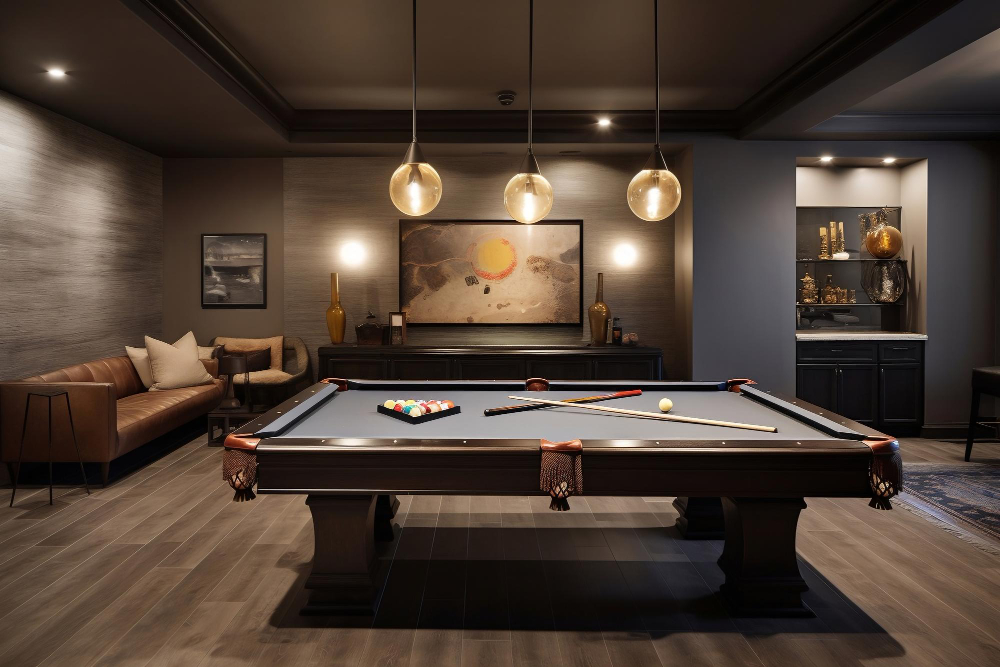 Sports memorabilia can strengthen your motivation and bring you closer to your idols.
A bar is perfect for social games.
Consider a sofa if you want a comfortable place to sit during long game nights.
Large game rooms can benefit from pool tables and arcade game machines.
Lighting is essential for your gaming experience.
A sound system can enhance any game room.
How Should I Design My Gaming Room?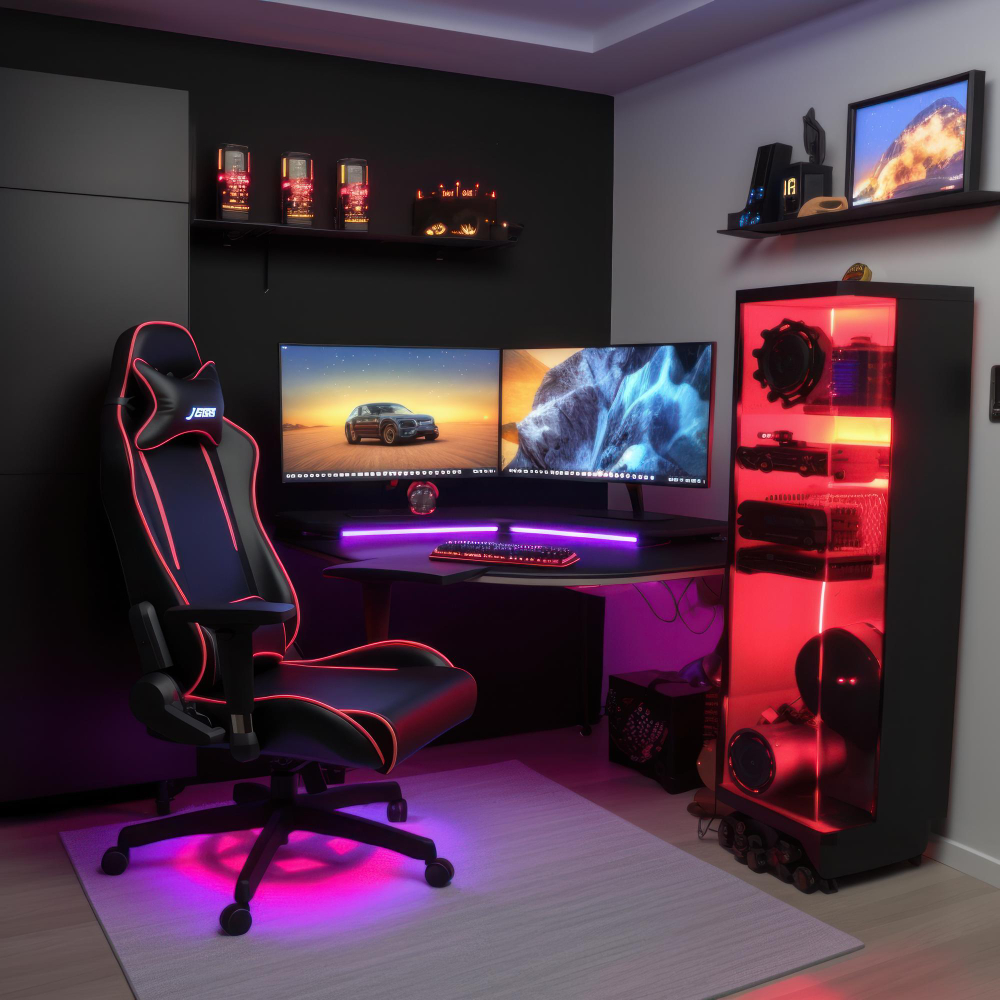 You should design your gaming room with your needs in mind.
For example, if you're playing chess with your kids, you need different lighting than playing pool in the basement with your friends.
Similarly, the type of game matters, too. Video game room ideas are completely different from pool game room ideas.
So, create a room decor that will accommodate your needs.
Here are your main goals:
Design a game room that feels comfortable.
Create a place that gives you privacy to play the game of your choice with the people of your choice.
Ensure the entire room reflects your personality.
And before you look for gaming room ideas online, it's important to understand what you're working with.
The factors to consider are:
1. Space
A large entertainment center gives you more wiggle room – pun intended. You have more space for furniture or memorabilia that would enhance your overall gaming experience.
But you can make even a tiny space work.
In this case, you must prioritize your room ideas based on importance.
2. Lighting
Ambient lighting can make or break even the best game rooms.
Let's say you create a family game room with a foosball table in the center. Well, poor overhead lighting can ruin your gaming experience.
Or let's say you've decided to buy a cool wall art celebrating your favorite sport.
If your surrounding light is poor, that wall art won't reach its purpose.
3. Game Type
The type of game you're playing dictates the room ideas you're looking for. Video gaming might require an ergonomic desk chair and computer desk, plus a few shelves with your favorite games.
But if you're playing board games with your family and friends, you need a comfy couch with throw pillows and a large game table.
Long gaming sessions also need more ergonomic furniture compared to shorter gaming sprees.
4. Participants
Considering your game night participants is essential before creating a dedicated game room.
For example, if you're playing board games with your family, you need a kid-friendly family room. If you're playing pool with your college friends, you may need a bar.
And if you're playing video games alone in your man cave, you may only need some peace and quiet.
With that in mind, let's move on to some game room ideas you can consider.
Nine Game Room Design Ideas for Your Castle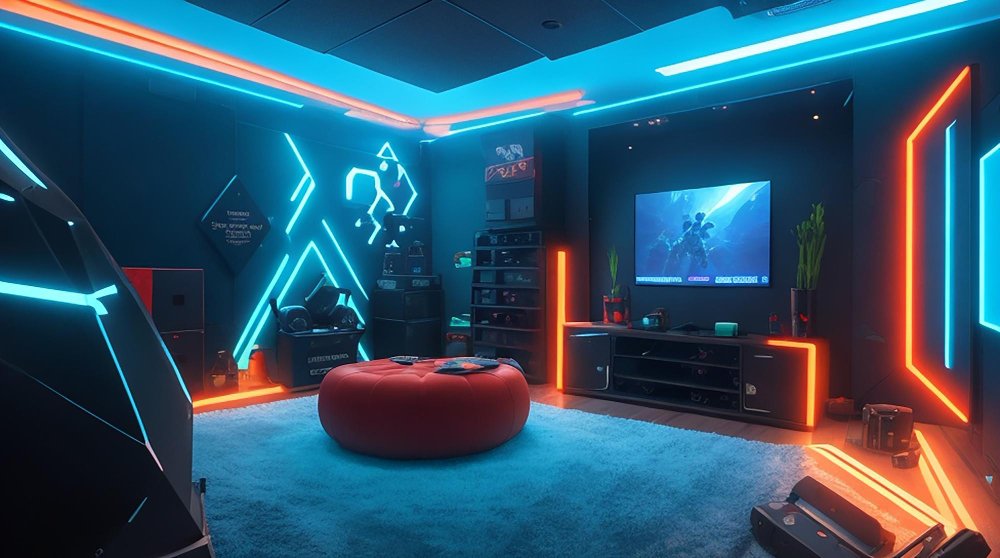 Gaming rooms are different, so consider the ideas below through the lens of your needs.
Add sports memorabilia
If you're a sports fan, some sports memorabilia may enhance your game room decor.
And they will make you feel more at home or even more motivated playing in the presence of your idols.
You can consider pictures of the sportspeople you admire, their autobiographies, or something they signed.
Imagine being a snooker fan and having a ball signed by The Rocket O'Sullivan in your game room. Or being a gamer and having a Star Wars poster under a neon sign.
Remember to adapt these memorabilia to your gaming area; a small room can get cluttered easily. Also, consider your wall and furniture colors before adding a new item.
Include a bar
A bar can be great for your gaming area, especially if you're playing with other adults.
Pool rooms, poker rooms, and other social game rooms can definitely benefit from bars.
However, if you're mostly video gaming, you don't necessarily need that bar. Gamers prefer to have their drinks on the table in front of them and take fewer breaks.
And if you have a family room, a food bar with a mini-fridge would be better than a drinks bar.
Get a comfy sofa
A comfy sofa is great for children and adults alike.
But, you must consider the type of game you're playing, your room size, and the overall decor.
A huge sofa in a small room can ruin your gaming setup.
Also, if your room is painted in neutral tones, your sofa can have a neutral or bright shade. But if your room is brightly colored, your options are more limited.
And, of course, consider your poison. If you're playing pool, cards, or family games, that sofa will come in handy. If you're a solo video gamer, you might need that couch in your cave or shed.
But if you're playing video games with your friends or if you're only there sporadically, you might not need a sofa in your gaming room.
Add a pool table
If you have a wide room with different games, consider adding a pool table. But pool tables take up quite some space, so get the right one according to your room size. 
That said, a good pool table can enhance your gaming setup along with board games, game consoles, and card games.
That way, your game night will never be boring again.
Add a TV stand
Getting a TV stand might be great when you just don't have the oomph to play.
You may also need a TV if you play team video games and want a better experience than your laptop offers.
Or, you might just be the first to lose extended board games with your family. And if you're not in the mood to keep watching them, you can catch up with your favorite TV show instead.
Include a stone fireplace
A fireplace is one of those game room ideas that aren't for everyone.
First, you must have the space.
Second, you must consider if this fireplace enhances your game room decor.
For example, kids may love the look, especially if you're always there with your whole family and friends.
A fireplace may also look stylish in a pool room with a bar.
But if you're short on space and crave a modern design, this addition might not be best.
Arcade games
Getting an arcade game machine in your gaming room can be fun. Imagine playing Star Wars with your friends and family like you did as a child.
But you definitely need the space for this, especially if you have a lot of furniture or other games inside the room.
Consider your lighting
Lighting is essential in any room of your house.
But it depends on the game, the room style, and the people you're playing with.
For example, games you play with small kids typically require natural light.
Conversely, pool and poker are best played in a room with rustic track lighting that creates an old-fashioned decor.
And neon lights may seem great for video game rooms, but they can strain your eyes in the long run.
Plus, consider your wall color and overall room style when choosing the type of lighting to add. If you have a modern room, consider pendant lights If you have a rustic or ornate game room, create an elegant atmosphere with a chandelier.
Include a sound system
A sound system would be a great addition if for video game nights and Arcade games.
You might even need a sound system if you want to set the perfect atmosphere for board games.
Or if you want to enjoy classical music while playing pool with your friends.
However, consider the space you have in your game room.
Also, consider the wall color. For example, white walls may not go well with a black sound system. And in that case, you can either paint your walls a different color or get a different sound system.
FAQs
How much does it cost to decorate a game room?
The average price of decorating a game room is $3,000. However, the cost depends on the items you're buying and whether you're starting from scratch or need to make any renovations.
What colors should I pick for my game room?
The colors you decide on depend on the time of day and the game you're playing. While a pool room looks great in a room with neutral tones, red and blue colors create a better atmosphere for video games.
What memorabilia fits a game room?
Consider collectibles from your favorite sports players. These may include photos, trading cards, jerseys, or balls.
The Takeaway
This article took you through different types of game room ideas.
But the most important thing is to consider your needs.
Pick items that enhance your gaming setup.
Don't choose things that take up space unnecessarily and become the focal point. Remember that your gaming experience should come first.
So whether you're choosing a fun neon sign or an ergonomic sofa, make sure it will accommodate your needs.
Continue reading: