Last updated on November 26, 2023
Explore rustic track lighting ideas because these unique, timeless designs can effortlessly transform your space from ordinary to incredibly atmospheric.
I thoroughly enjoyed curating these 20 rustic track lighting ideas and crafting unique designs to illustrate them, and I truly hope you find as much inspiration and fun in them as I did during the creation process.
Rustic track lighting is a unique way of illuminating your home while adding a touch of charm and character. This lighting style, which blends seamlessly with country, farmhouse, or industrial décor, can be used in various settings, from the kitchen to the living room.
It offers a versatile and functional solution to your lighting needs, providing focused light in areas you want to highlight. This article will delve into various rustic track lighting ideas, discussing different designs, materials, and installation tips.
Whether you're looking for a simple wood track light or a more intricate wrought iron design, you'll find all the necessary details here. So, let's explore the world of rustic track lighting together.
What's Inside
Mason Jar Track Lighting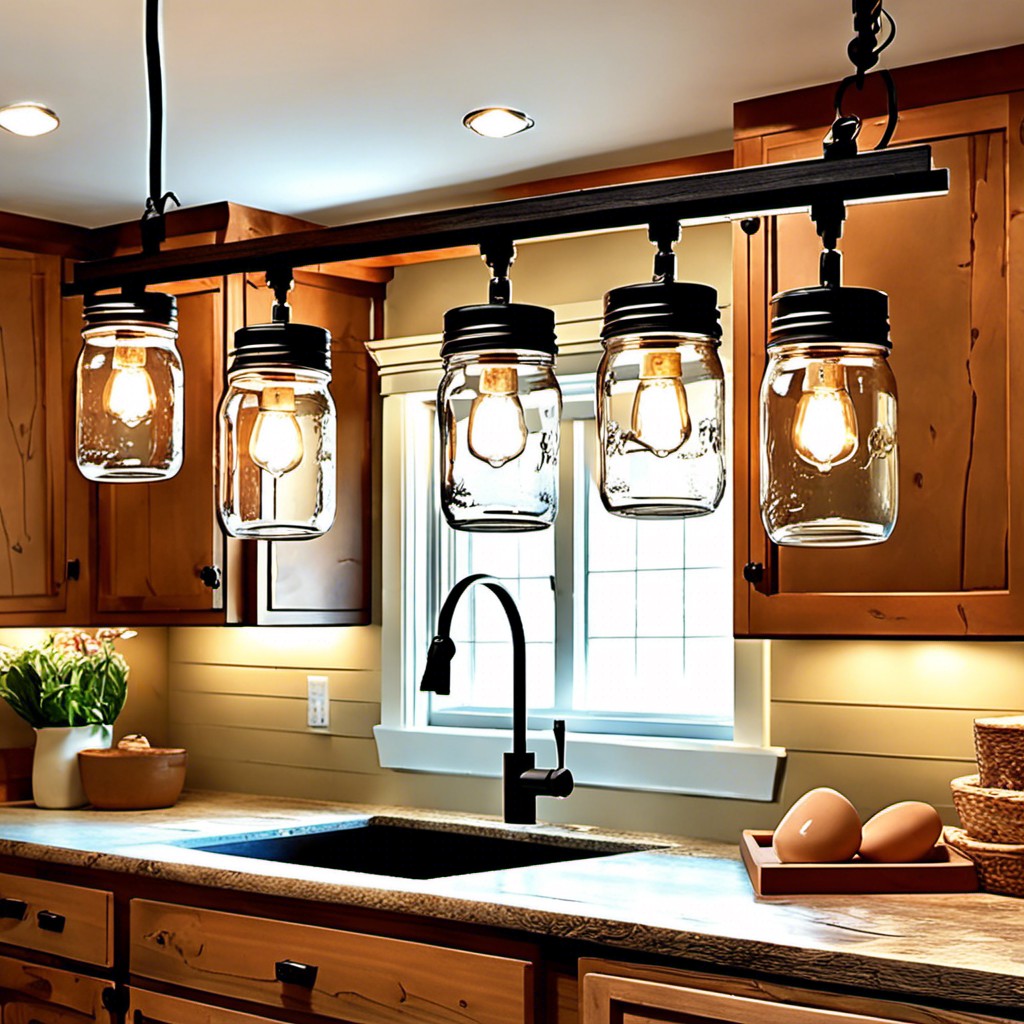 Unearth the beauty in seemingly mundane household items with this illuminating decor option. Aptly fitting in any rustic-themed space, these quirky light fixtures offer charm and function simultaneously.
To transform mason jars into stylish track lights:
Secure a bulb holder inside the lid of the jar.
Use the jars as shades by fitting them over the bulbs.
Attach the lid-bulb fixture to a tracking rail either directly or by adjustable cables for controlling the light's direction.
Choose jars of varying sizes and tints to add dynamism, or adorn with frosted paint designs for a whimsical touch.
This idea effectively blends the simplicity of country living with a modern twist, casting an inviting glow that radiates throughout the room. It incorporates resourcefulness and creativity, key elements in achieving an authentic rustic aesthetic.
Hand-painted Wooden Track Lights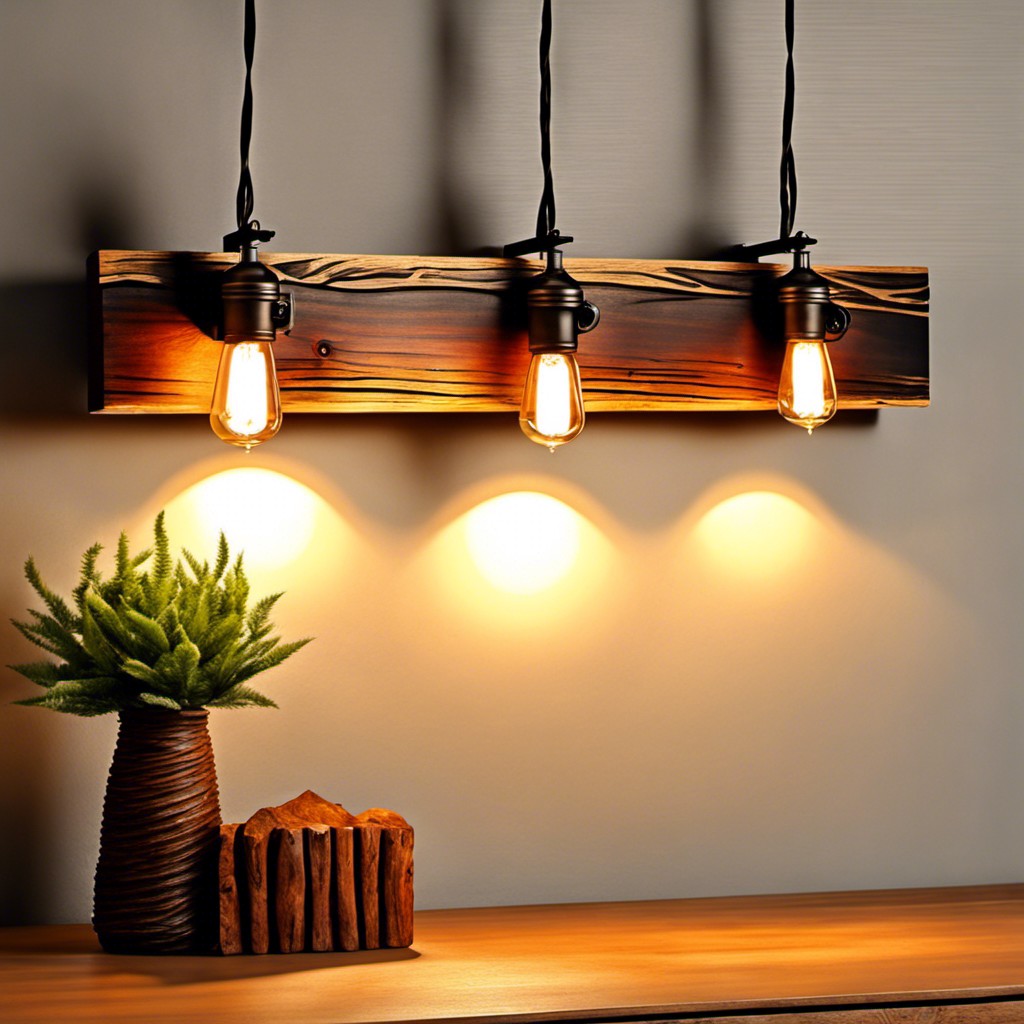 Infusing a personal touch into your lighting, this option offers a myriad of creative possibilities. They can be decorated with any design or pattern to match the theme of your space, making them a versatile choice.
Some key points to note:
Unique look: Hand-painted lights allow you to have exclusive designs, making your track lighting a one-of-a-kind.
Customizable: You can use any color scheme, allowing it to seamlessly fit into your interior design.
Variety: They aren't limited to only rustic charm. You can opt for whimsical patterns, modern stripes, or even traditional motifs.
Environmental-friendly: Wooden track lights are an eco-friendly option because they can be made out of reclaimed or recycled wood.
Easy to Maintain: They can be easily dusted or wiped clean.
Despite the hand-crafted element, it's essential to ensure compatibility with your existing electric fittings. Always consult with a trained electrician before making any modifications.
Vintage Industrial Track Lighting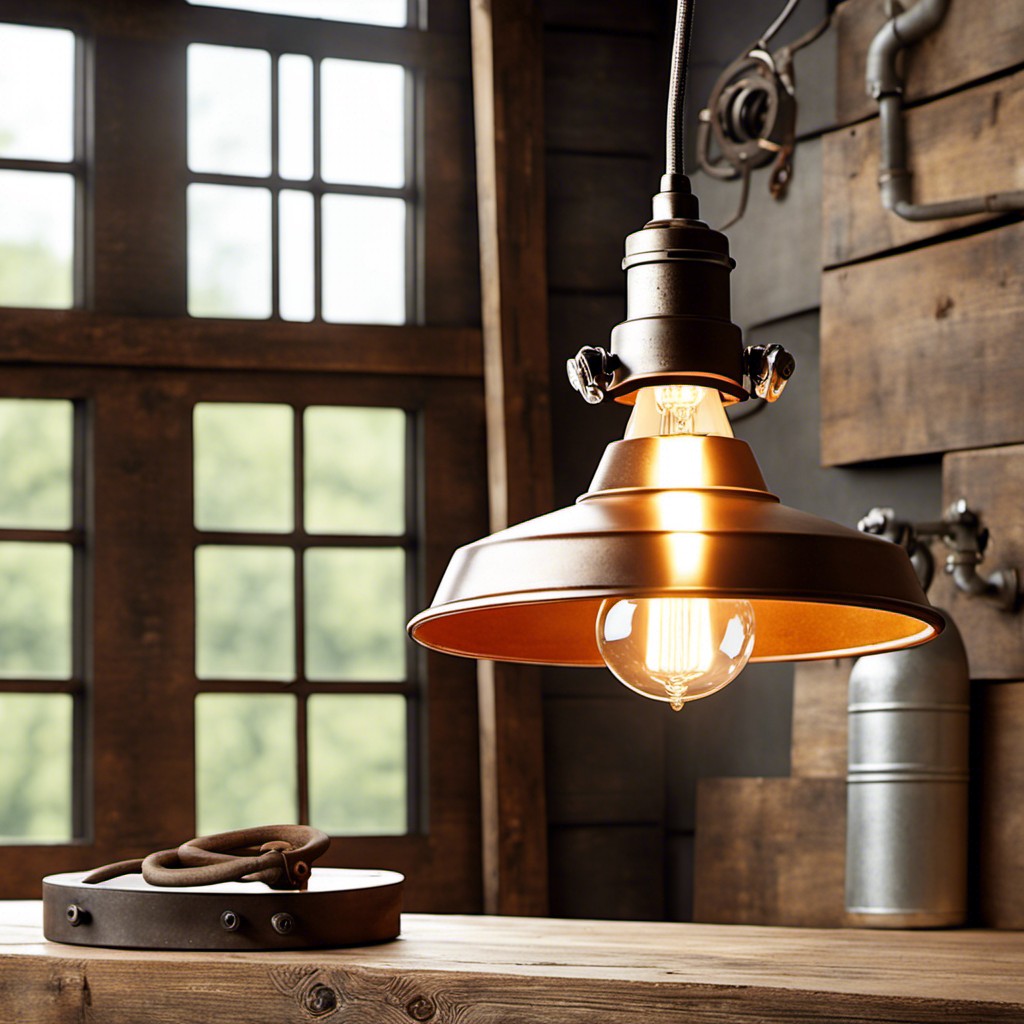 With their distinct character, these types of fixtures become a focal point in any space. They flawlessly merge the robust features of industrial design with the warmth of vintage aesthetics. Here are a few pointers to note about this concept.
1. Metal is predominantly used, exuding a minimalist raw vibe, with emphasis on object and function.
2. Shades are often in darker hues – black, brown, or bronze.
3. Shapes are kept simple with a nod to bygone eras, referencing factory or warehouse lighting.
4. Visibly displayed bulbs are common, often Edison style to enhance the vintage atmosphere.
5. The track system makes them versatile in positioning, allowing you to direct light wherever needed.
6. They suit spaces such as kitchens, dining rooms, and workspaces quite well, particularly in rustic, loft, or industrial styled homes.
7. Depending on the chosen design, they can either subtly complement other elements in the room or become a standout feature.
8. Some fixtures incorporate elements like pulleys, cogs, or aged wood for a more pronounced vintage-industrial look.
Copper Pipe Track Lighting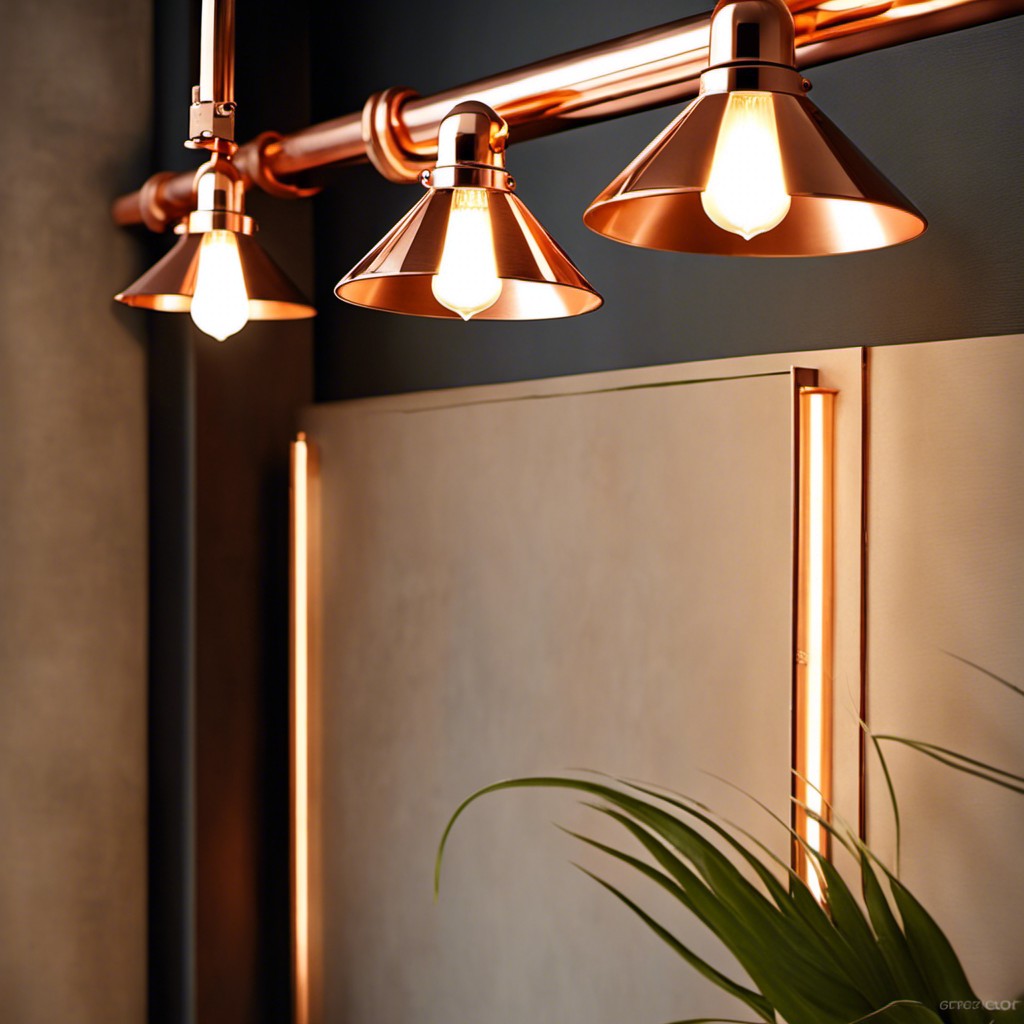 Emerging as a trendy choice for rustic settings, copper pipe lighting adds an authentic industrial touch to the living space. There are several ways to integrate this design to reap maximum aesthetic appeal.
1. Placement: Consider hanging these lights over kitchen islands or dining tables to bring out their charm.
2. Complement the decor: Pair them with antique copper utensils or accessories for a unifying element in the room.
3. Light bulbs: Edison-style bulbs can accentuate the vintage look.
4. Matching finishes: If other elements in the room include copper finishes, this lighting serves as a perfect tie-in.
5. Spacing: Allow ample spacing between lights for optimal illumination and visual impact.
These points can guide you to harness the beauty of copper pipe track lighting in your rustic home decor.
Black Smith Forged Iron Track Lights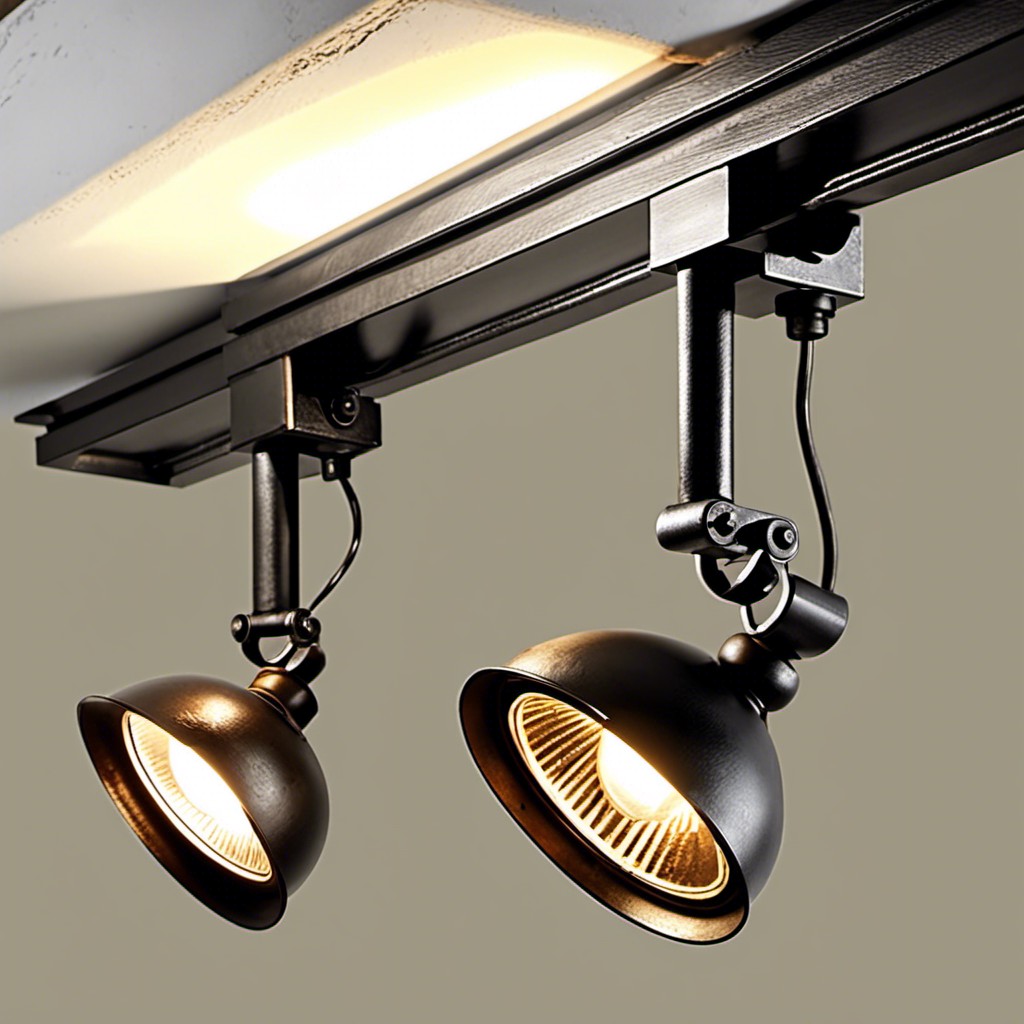 Crafted using traditional metalworking techniques, these lights bring a unique sense of character and strength to the decor. There's a certain beauty in the imperfection of hand-forged iron; each hammer stroke is visible, adding texture and individuality to the piece.
Typically finished in dark, rich tones, these lights often feature striking designs, such as twisted iron or spiral elements, elevating them to more than just functional pieces.
These lights blend seamlessly with other rustic materials such as wood, leather, and stone. Moreover, they are highly adaptable, suiting a variety of interior styles, from farmhouse kitchens to industrial dining rooms.
Finally, the longevity and durability of iron make these lights a sustainable choice, proven to stand the test of time.
Weathered Wood Track Lighting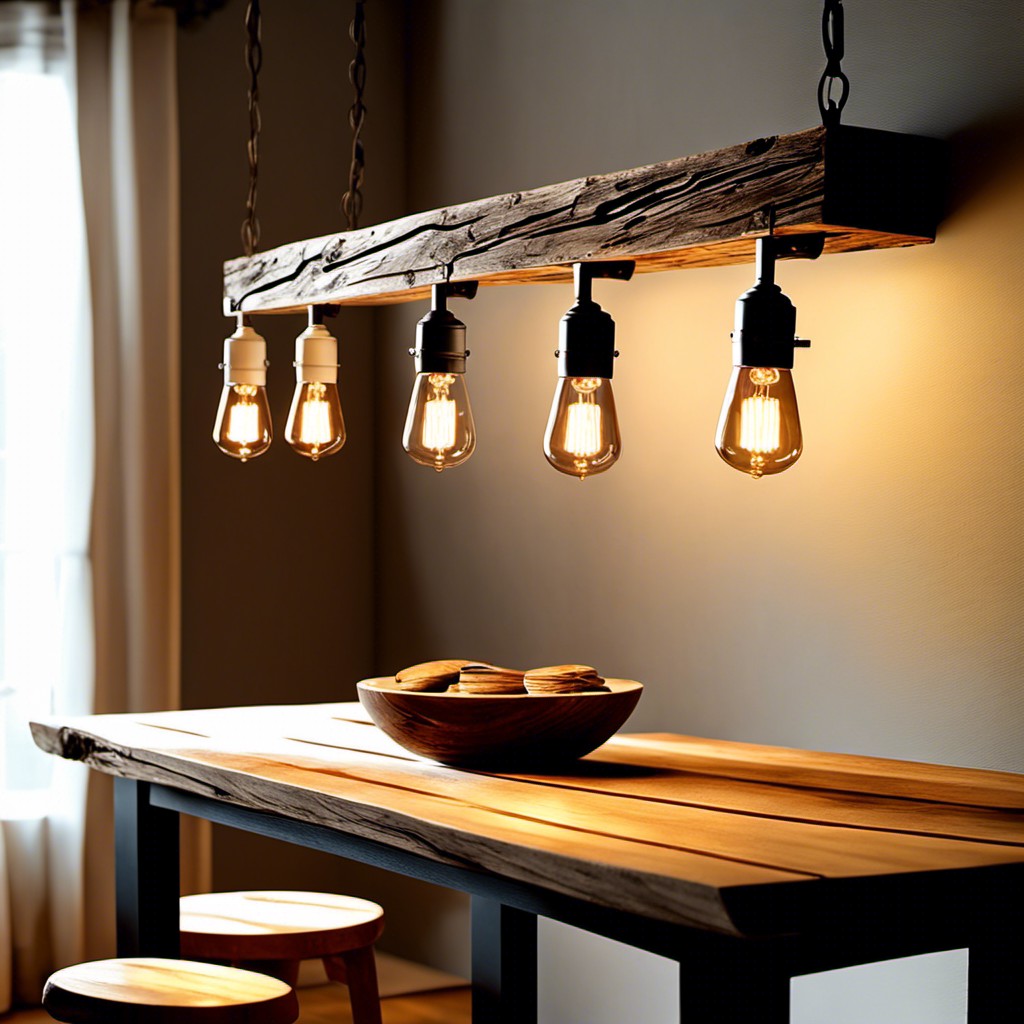 Embracing an authentic charm with distinctly grounded textures, this lighting style offers a classy addition to any rustic space. To create these, heavily distressed wooden planks are often repurposed, with light fixtures installed either directly onto the wooden base or hanging from it using chains or ropes. Variations can include abstract wood designs, embellishments or even stenciled patterns for artistic impact.
Since wood grains differ, each piece stands as unique, showcasing intricate character and offering a notably warm, inviting ambiance. This type of lighting works exceptionally well in living rooms or kitchens, bringing an inherently cozy feel.
For an enduring look, ensure the wood is treated for longevity. Meanwhile, combine with Edison bulbs or yellow-tinted lights to maintain the vintage appeal. Always remember, an experienced electrician's installation is required for safety and effective functionality. The intimacy in weathered wood track lighting truly endows an inviting, lived-in rustic feel.
Rustic Chandelier-style Track Lights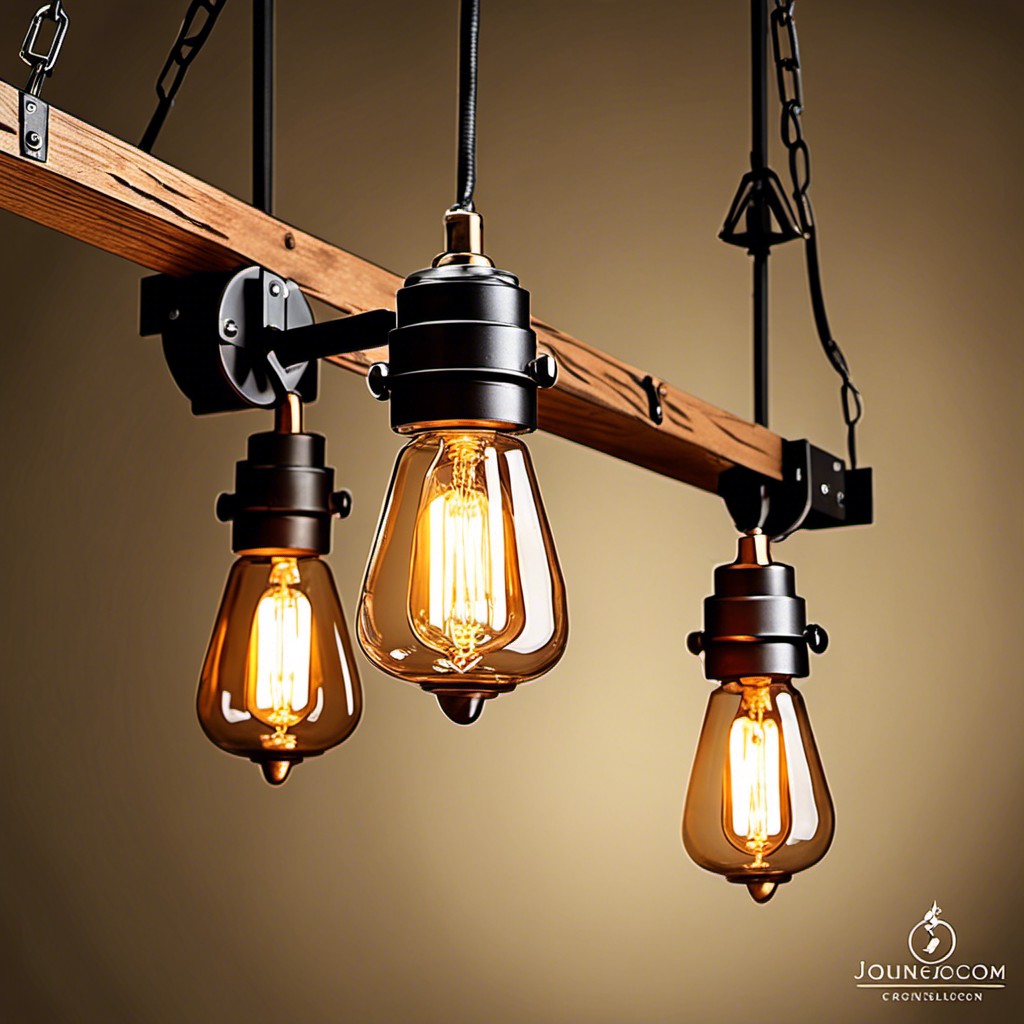 A marvel in rustic aesthetics, these lights add a touch of regality to any room. With a merger of intricate detailing and weathered elements, they retain a touch of the old-world charm, perfect for a vintage-inspired space.
1. They usually feature multiple light sources, enhancing the overall illumination.
2. Framework made of darker materials, such as iron or brushed bronze, imbues a sense of strong craftsmanship and sturdy design.
3. Crystal embellishments can often be spotted, adding a surprising, yet delightful contrast with the rustic framework.
4. The beauty of these lights lies in their versatility – they work in perfect harmony with a high-ceilinged space, yet can also serve as a magnificent focal point in rooms with standard ceiling heights.
5. They look equally stunning with both soft white and warmer yellow lights. Try using dimmable bulbs to establish the desired mood and feel.
The right combination of design, placement, and lighting can transform these pieces from mere light sources to conversation starters.
Barn Door Style Track Lighting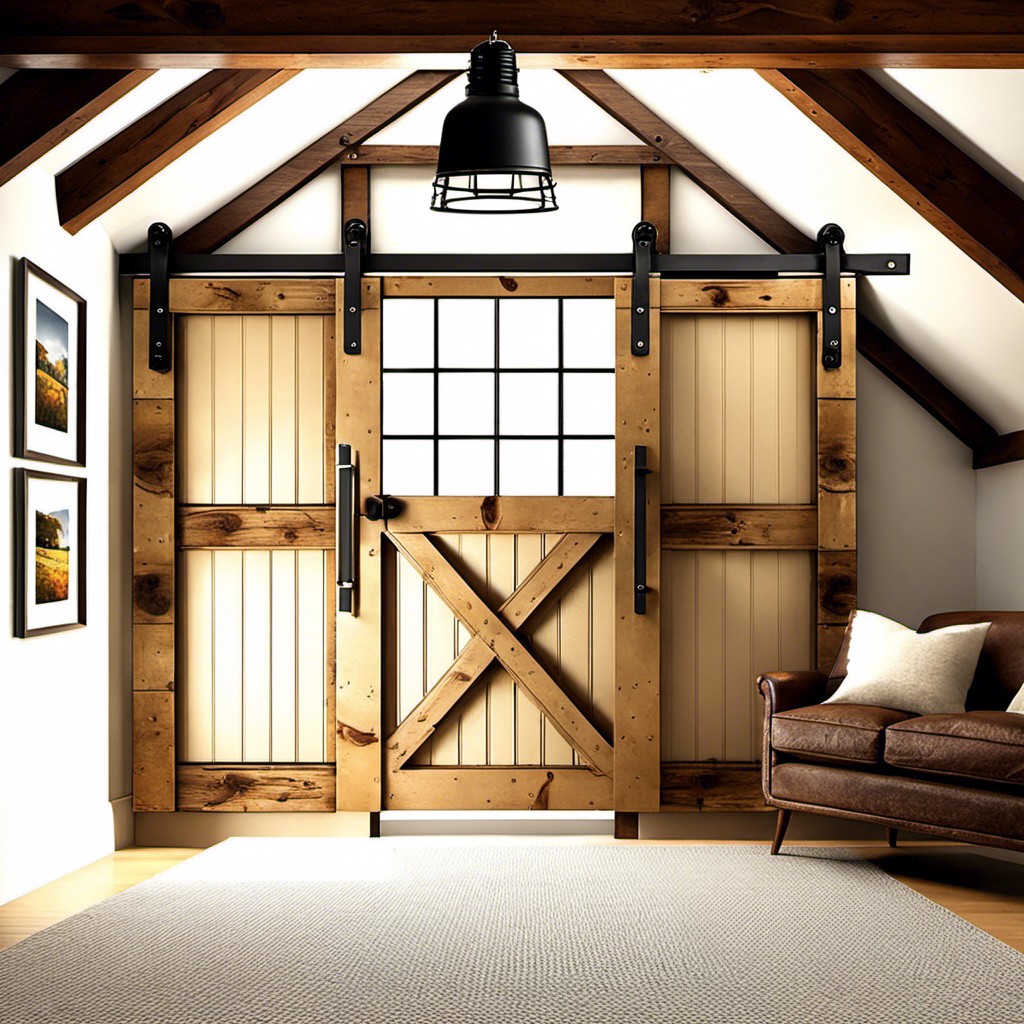 Taking inspiration from classic rural settings, this style showcases a tasteful mixture of old world charm and modern functionality. Key elements to consider include:
1. Typically made from weathered wood and metal fixtures capturing the rustic essence flawlessly.
2. Characterized by sliding apparatus shaping the light direction which adds a unique, functional aspect.
3. Usually fitted with incandescent light bulbs to bring warm, cozy illumination, reminiscent of old barn houses.
4. Ideal for living rooms, hallways or dining areas, as it adds both focused or ambient lighting.
5. Versatile in designs offering both minimalistic to elaborate styles, fitting into any existing decor seamlessly.
6. Installation can be adjusted to suit your ceiling height, avoiding obtrusive positioning.
The final aesthetic achieved is a beautiful dance between nostalgic rural simplicity and modern interior practicality.
Rope-wrapped Track Lighting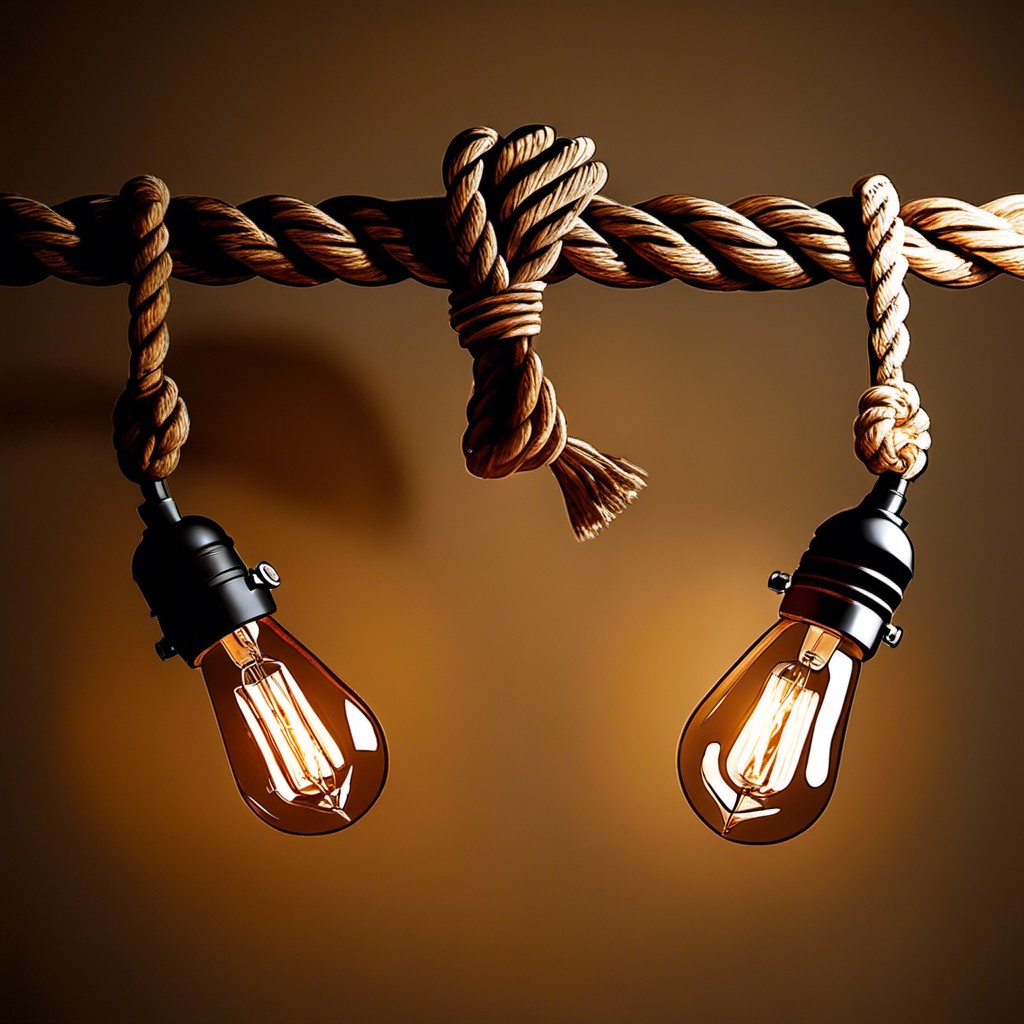 Designed to add a uniquely nautical touch to your space, this lighting option takes inspiration from marine aesthetics. Steel tracks are expertly wrapped in thick, coarse rope, creating beautifully contrasting textures.
Integrating these into your rustic decor brings dual benefits. First, it imbues every room with the mystique of distant seashores. Side by side with typical rustic elements, they introduce an unexpected yet harmonious theme. Second, the rope serves as a visual buffer. It softens the industrial hardness of steel, helping your track lights merge better with softer, more earthy rustic elements.
Adaptable to a range of settings, they work well in living spaces that embrace open-plan designs. Especially against exposed brick or wooden ceiling beams, their complementary ruggedness shines through. Several manufacturers let you pick from a variety of ropes – sisal, manila, hemp, or even synthetic fibers, according to your preference.
In essence, rope-wrapped track lights bridge the gap between the frequently visited territories of rustic appeal and uncharted seascape whimsy. Their installation guarantees a unique lighting perspective that keeps your rustic interior well-lit yet boldly distinctive.
Wine Barrel Track Lighting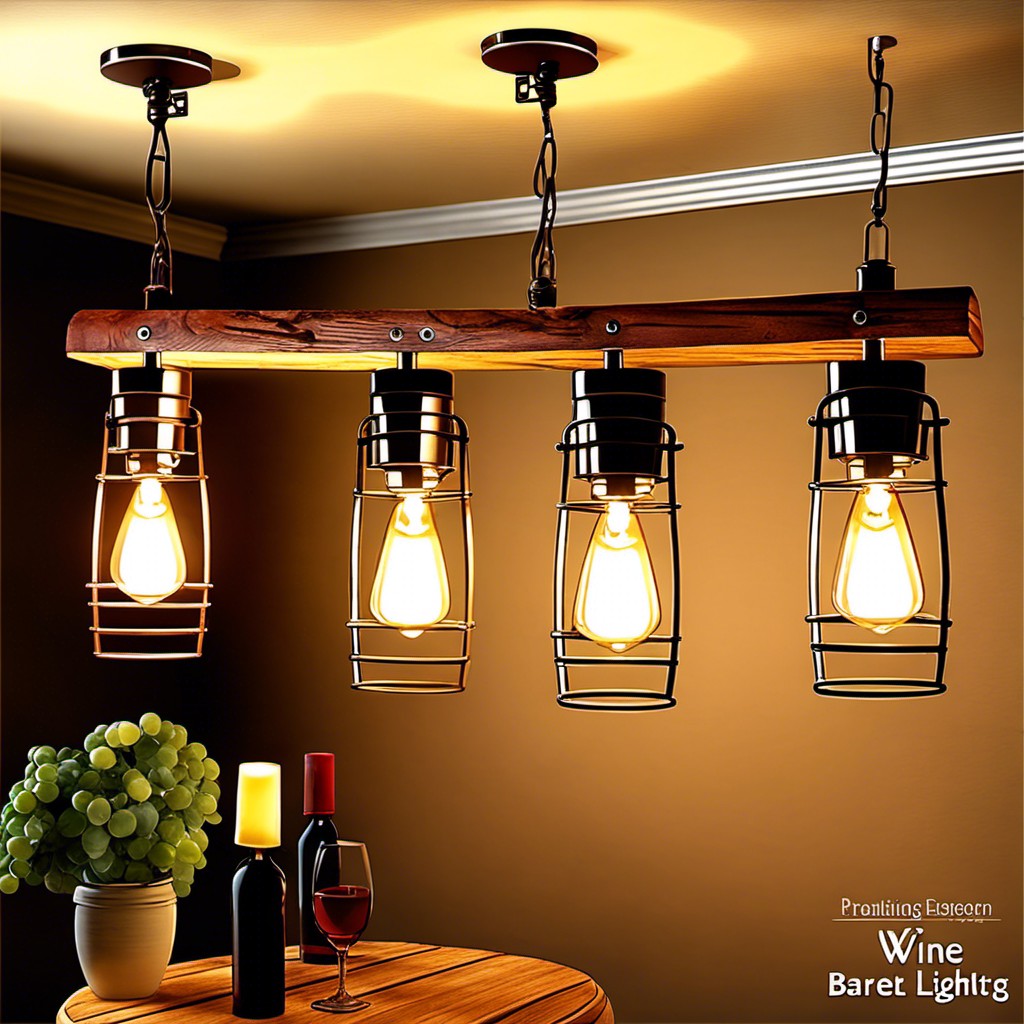 Offering a nod to the rustic charm of old-world wineries, this unique design combines functionality and aesthetics in a novel way. Antiqued oak barrels, often sourced from authentic vineyards, serve as the base, lending an irresistible touch of authenticity.
1. Shape and Size: Given the roundness of a barrel, these lighting fixtures spread ample light across the room. They're ideal for spaces that need wide light dispersion, like kitchens or dining rooms.
2. Originality: The uniqueness of wine barrel design brings an element of surprise in decors. The barrels, showcased in their original condition, exude raw, untamed charisma, making your lighting a standout decor piece.
3. Material: Because these fixtures use real wine barrels, they're inherently eco-friendly. This sustainable decor can be a great addition for those keen on reducing their carbon footprint.
4. Customizability: Each barrel, with its unique markings and color tones, adds distinction. Some designs even incorporate wrought iron or buffs of staves to personalize the look further.
5. Installation: Although heavier than most traditional lighting options, a sturdy ceiling box and a couple of extra helping hands can ensure a seamless installation process.
Antler Track Lighting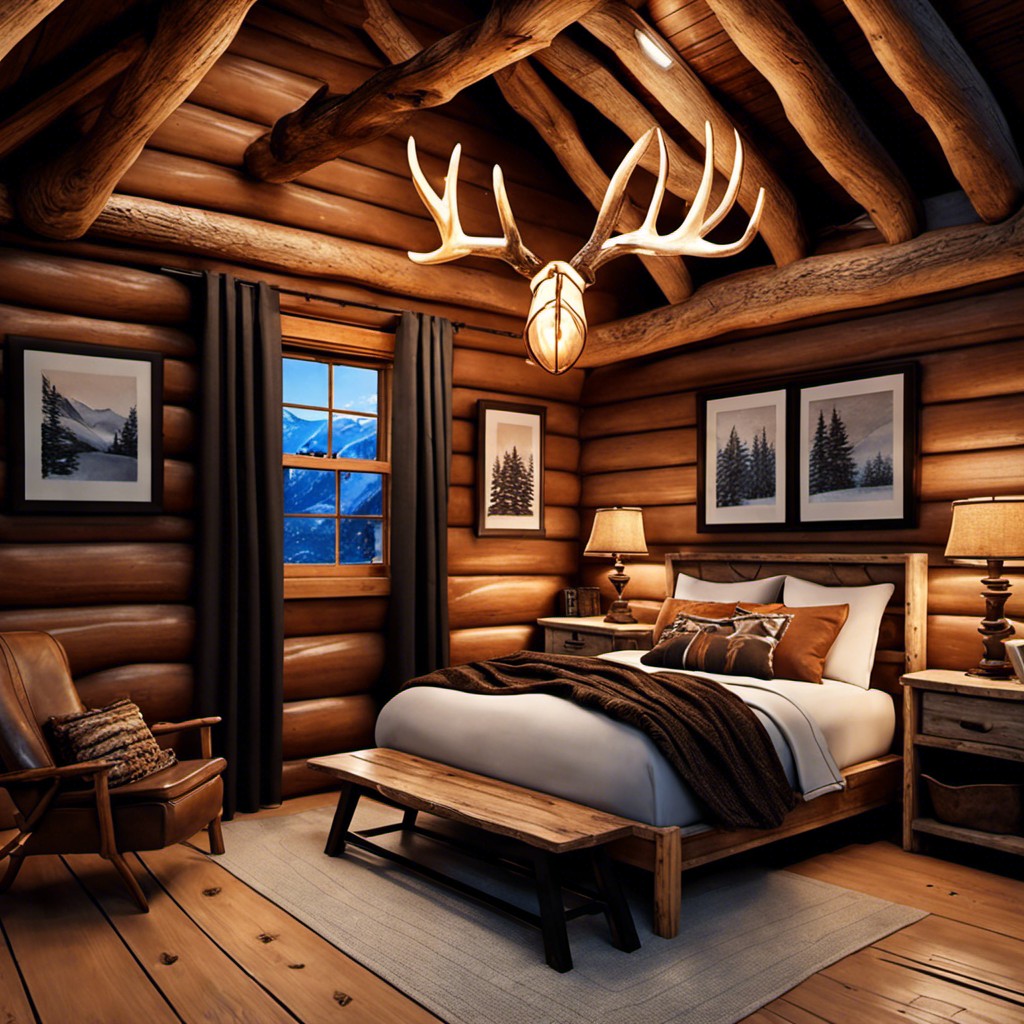 Casting a warm, inviting glow, this lighting style embodies the rustic wilderness theme perfectly. It employs real or faux antlers, often from deer or moose. The distinctive branching pattern lends itself naturally to spreading light across a room.
In design, some may feature a central chandelier-like structure with multiple lights hanging from the antlers, or a simpler use of a single antler with one or two lights.
These fixtures promise durability and uniqueness, particularly with real antler designs. Faux options, on the other hand, offer affordability and accessibility without compromising the aesthetic. Regardless of whether they're real or artificial, these lights bring the grandeur of the great outdoors right into your home.
Perfect for spaces like a living room, dining area, or a game room, these track lights infuse the area with a rugged charm reminiscent of a cozy cabin. Pair them with complementary décor like reclaimed wood furniture or a wildlife theme for a cohesive look. However, selective positioning is key to optimizing impact and avoiding overwhelming the room with too many focal points.
The bulbs you use can greatly influence these lights' appearance. Soft, warm lights bring out the texture and color variations in the antlers, enhancing their natural beauty. LED bulbs offer energy-efficiency paired with longevity, wrapping practicality and style into one appealing package. Don't shy away from experimenting with the choice of bulbs for the best fit as per the room's ambiance. The potential customization can turn the antler track lighting into a stunning bespoke piece.
Reclaimed Wood Track Lights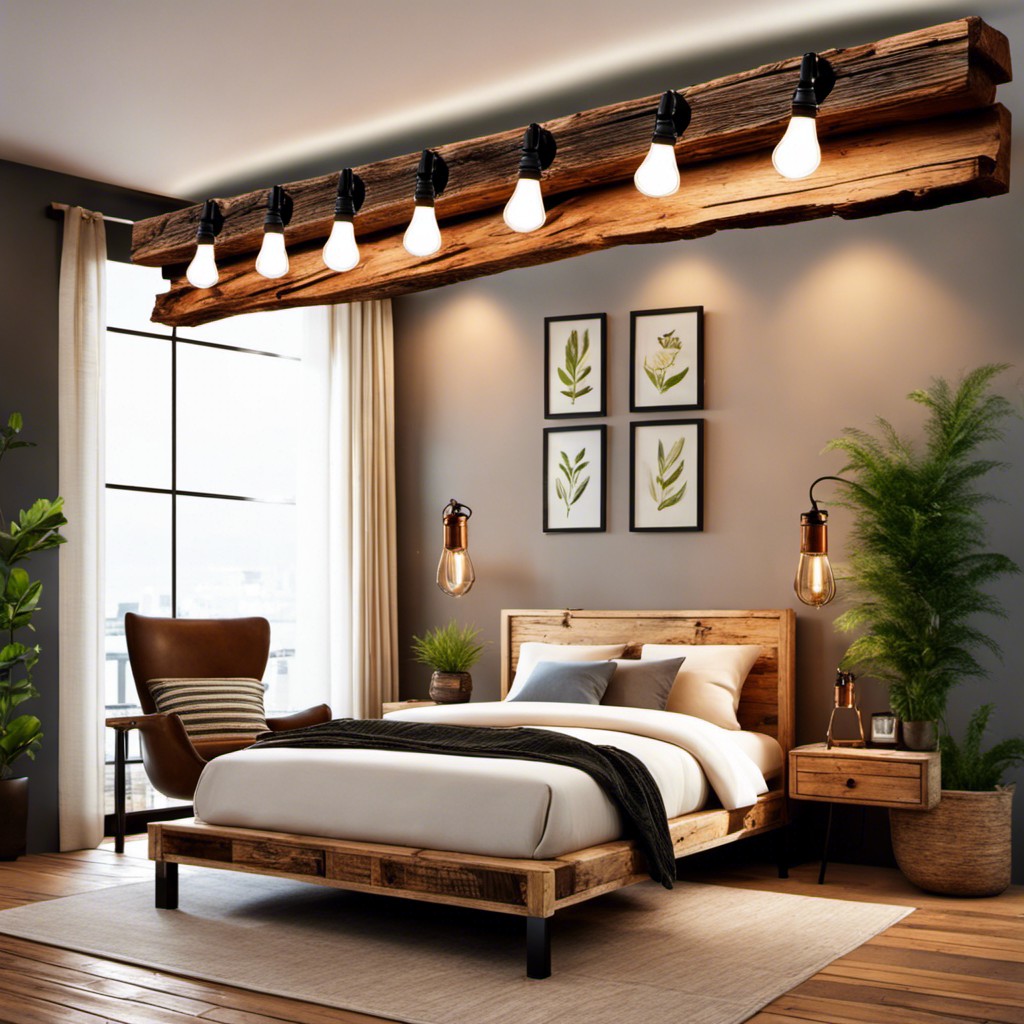 In an effort to combine both sustainability and style, these fixtures utilize lumber with a past life, adding genuine historic charm to your décor. The aged wood patina, varying knot patterns, and nail holes offer a distinct, one-of-a-kind aesthetic.
Here's what sets them apart:
Adds Historic Charm: The previous life of the wood lends a unique narrative to each piece, adding depth and conversation-starting power to your space.
Eco-friendly: Re-purposing lumber reduces waste and supports sustainable design practices.
Versatility: Ranging from bleached, weather-beaten driftwood to deeper walnut stains, the look can adapt to your existing home decor.
Textural Variety: The grain and texture of reclaimed wood bring an organic touch, softening the look of the lighting fixtures.
To maintain the aesthetic, pair these lights with vintage-style Edison bulbs. This can help enhance the warm, inviting glow that's perfect for a rustic setup.
Railroad Lantern Style Track Lights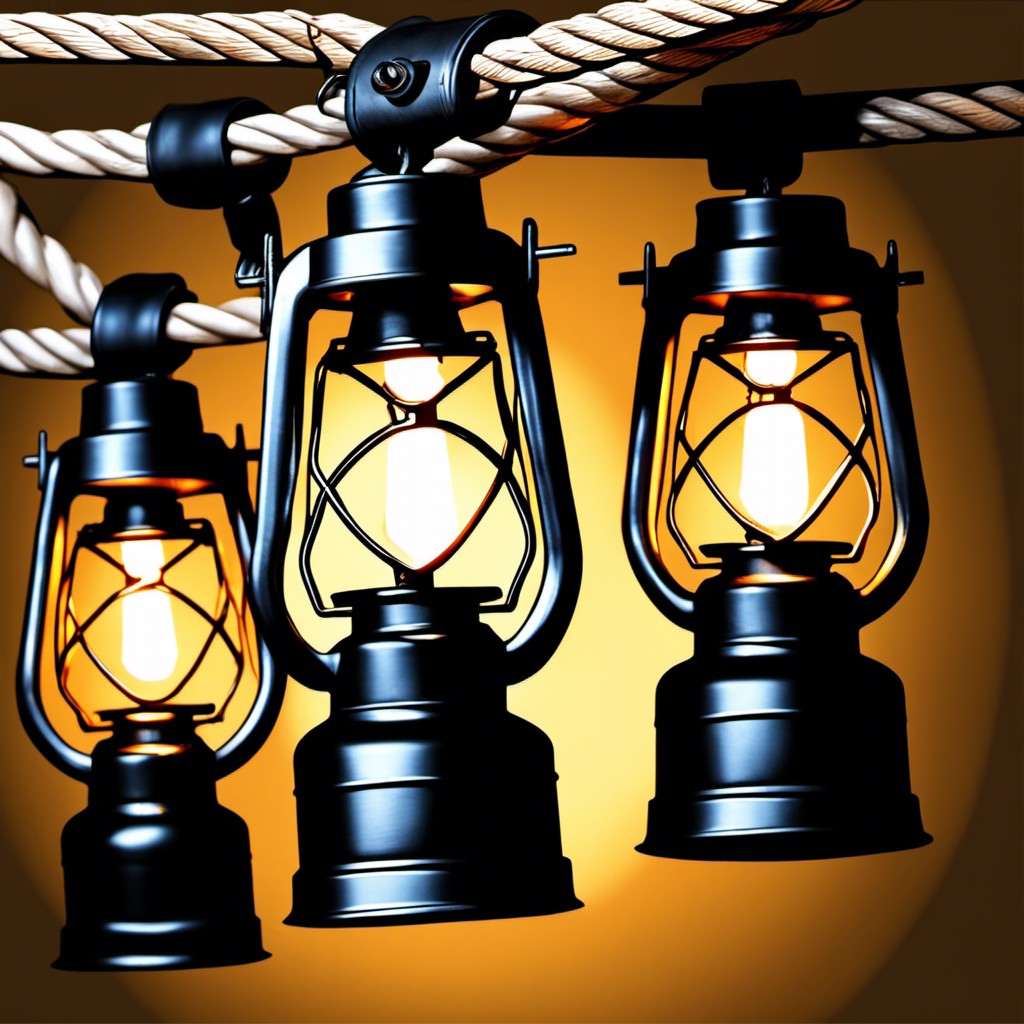 Crafted with a quaint, antique finish, these lights draw their inspiration from the luminous lanterns used in the bygone era by railroad workers. In these models, each individual light fixture is designed to resemble a handheld lantern, artistically reflecting the mood, style, and charm of the vintage railroad era.
Here are a few specifics to understand this concept better:
1. Ornamentation: They often feature an intricate wrought iron or weathered brass frame, imbuing the space with a classic old-world appeal.
2. Warm Glow: Generally, the light is diffused through frosted or amber glass, offering the room a warm, ambient glow just like actual lanterns.
3. Versatility: Despite their vintage aesthetics, they pair exceptionally well with modern interiors too. For instance, mixing this lighting style with an industrial decor theme can create an attractive contrast.
4. Easy Installation: Usually, they come with adjustable height options which make it quick and easy to install.
The allure of Railroad Lantern Style Track Lights lies in their ability to create a strong statement while simultaneously diffusing a warm, intimate light, truly a brilliant combination of style and functionality.
Rusty Metal Cage Track Lights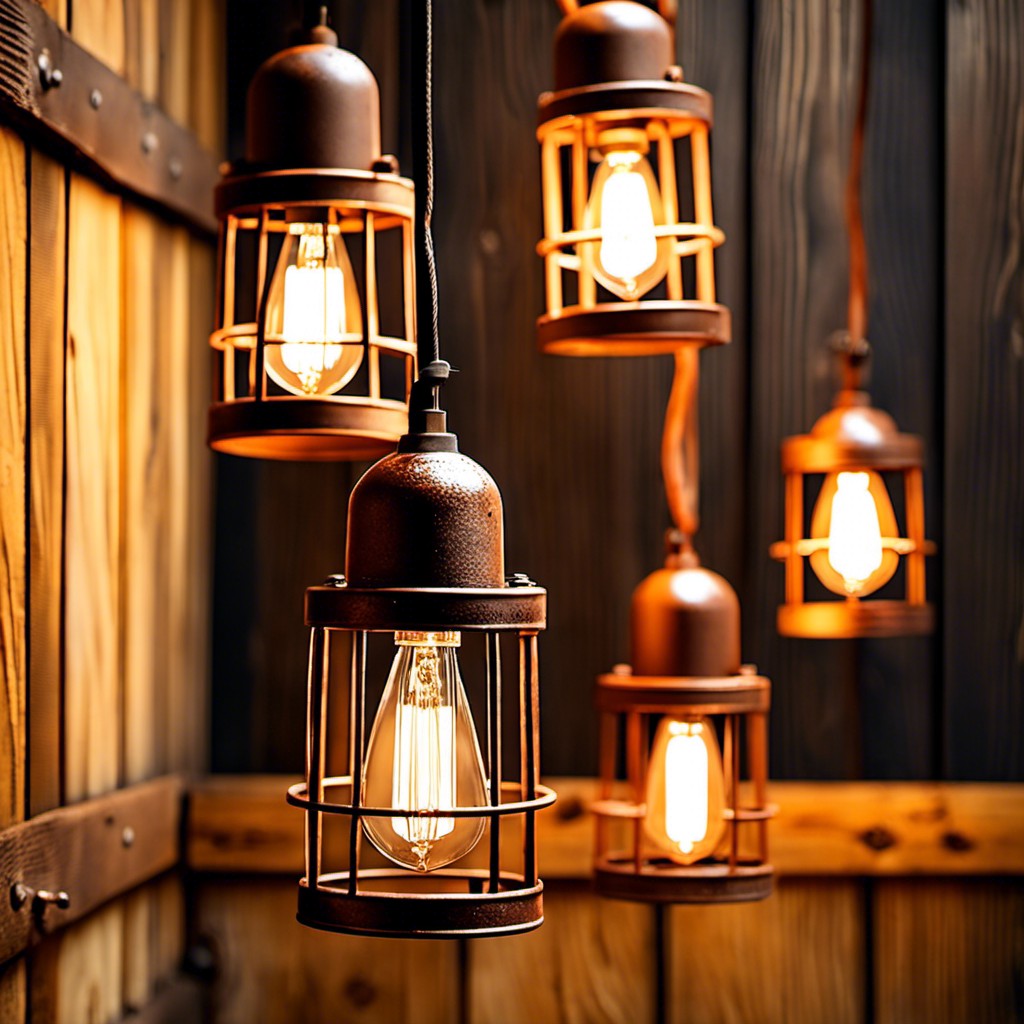 Highlighting an intriguing blend of old and new, these luminaires are made from oxidized iron cages that enclose the light bulbs. This feature creates a distinctive patterned effect when the light filters through the cage's gaps.
In terms of fitting, they are versatile, functioning just as beautifully in a kitchen over an island bench as they do in a living room or hallway. They are adjustable, allowing the directional light where needed.
Their tough look echoes the appeal of finding beauty in the aged and worn, a core element of rustic decor. The aesthetic is casual yet sophisticated, becoming a focal point in any space. However, despite their aged appearance, rest assured that these lights come with the best modern wiring for safety and efficiency.
Think about pairing them with Edison-style bulbs, which offer an additional sense of nostalgia while reinforcing industrial vibes. Regardless of where you place them, these lights effortlessly inject rustic touches into interior decors while providing practical illumination.
Wire Frame Bulb Track Lighting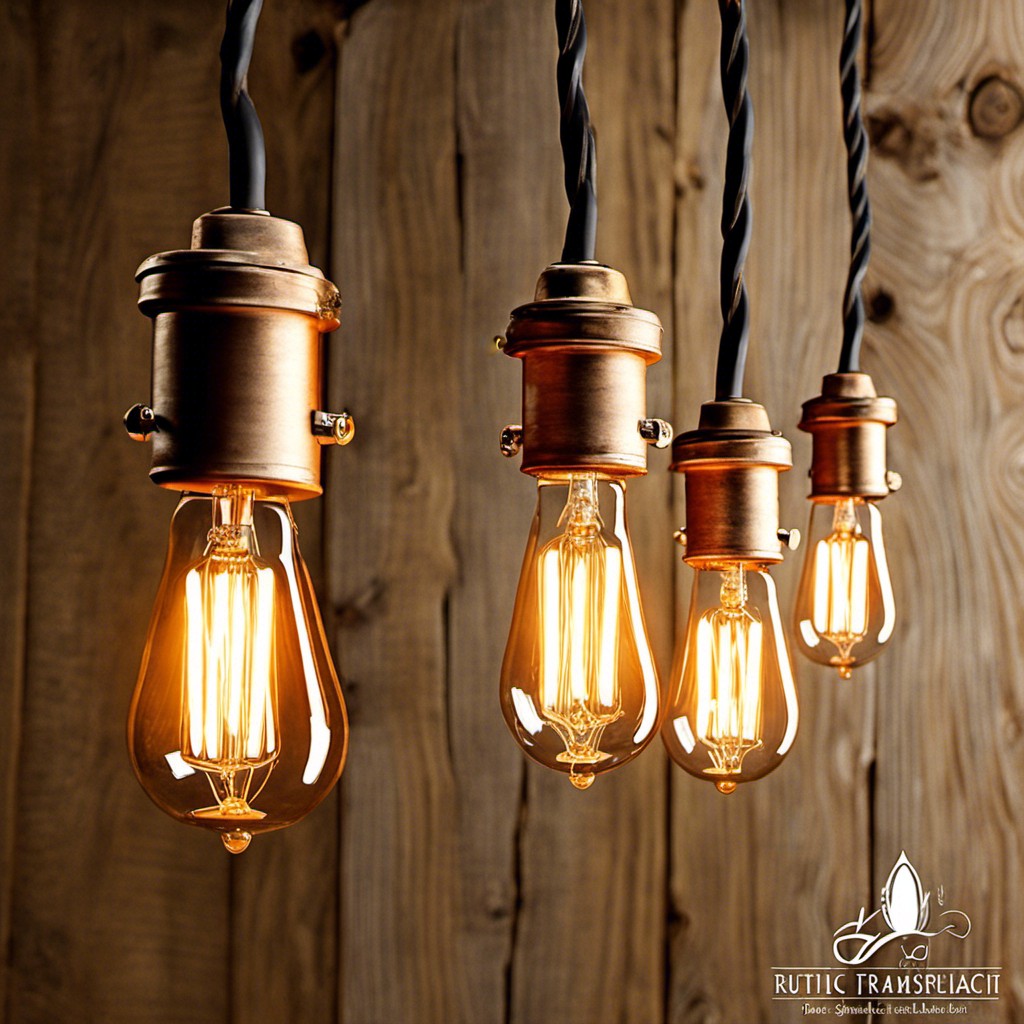 This type of track lighting gives an industrial touch that works beautifully with rustic decors. The focus is on the light bulb, encased by a minimalistic wire frame, typically in a geometric design. This provides an open, airy feel while still making a bold design statement.
Key features include:
Raw Materials: Often made from black iron or dark metal, the wire frame offers robust durability.
Minimalistic Design: Clean lines and a simple geometric shape allow compatibility with a variety of room styles and sizes.
Spotlight Effect: These lights excel in highlighting specific areas like artwork, architectural features, or the kitchen countertop.
Bulb Choice: The visible bulb allows for interesting design possibilities. Using Edison bulbs can enhance the vintage appeal.
Easy Installation: These light fixtures can be installed without too much hassle, offering a quick decor update.
Adjustable Farmhouse Track Lights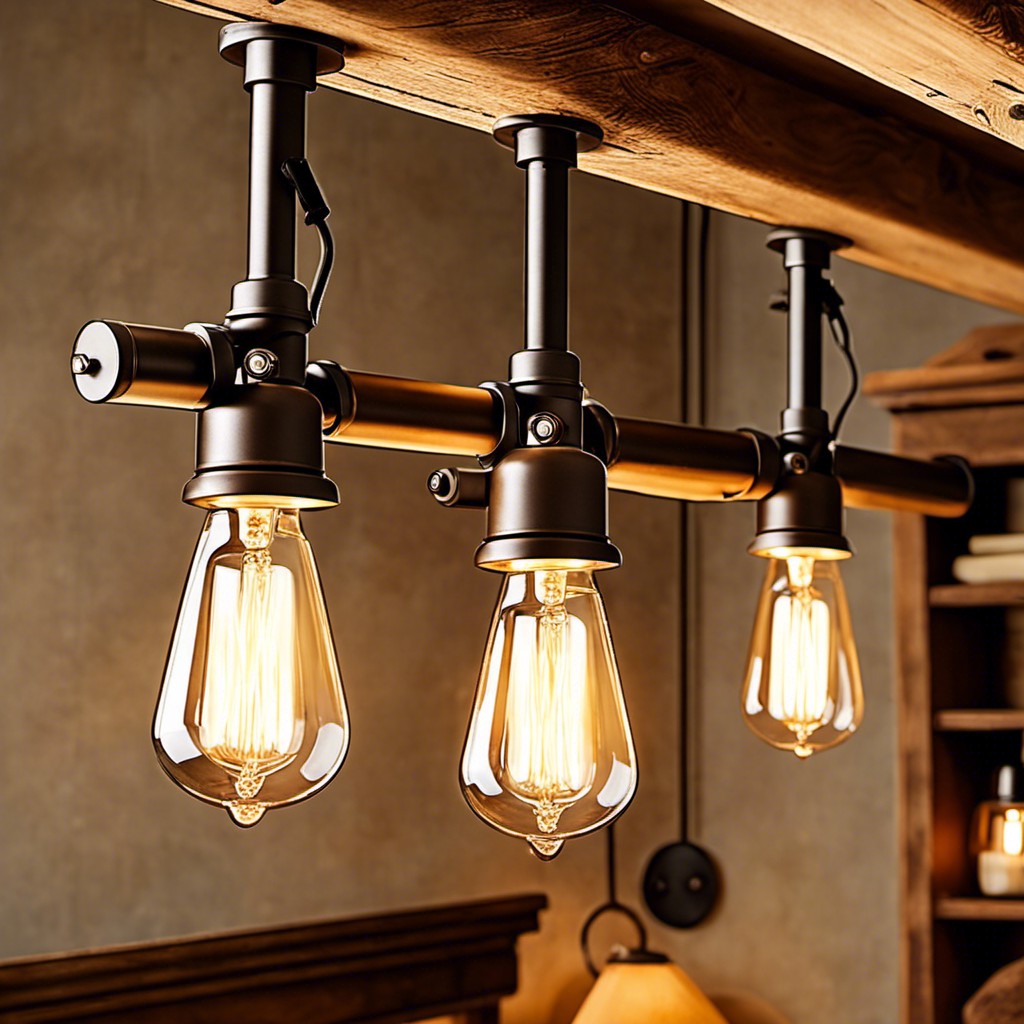 While exuding rustic charm, these lights offer versatility and adaptability with their adjustable spotlight heads. The focal points can easily be repositioned directing light to areas you want illuminated – be it artwork on walls, kitchen islands, or cozy reading corners.
Their timeless, farmhouse style can seamlessly meld with various design aesthetics. With finishes typically available in black, bronze, or antique brass, they add a touch of industrial elegance complementing wooden interiors, distressed furniture, or exposed brick walls prevalent in rustic design.
Installation options vary, they could be mounted on walls or ceilings, catering to room size and ceiling height. Built from sturdy metals, these lights are durable, ensuring long-term use. With an addition of vintage style bulbs, the warm ambiance they create will add to the cozy homely feel of your rooms.
Whether your space is a classic country house or an urban apartment with rustic decor, adjustable farmhouse track lights are an excellent choice.
Bamboo Frame Track Lights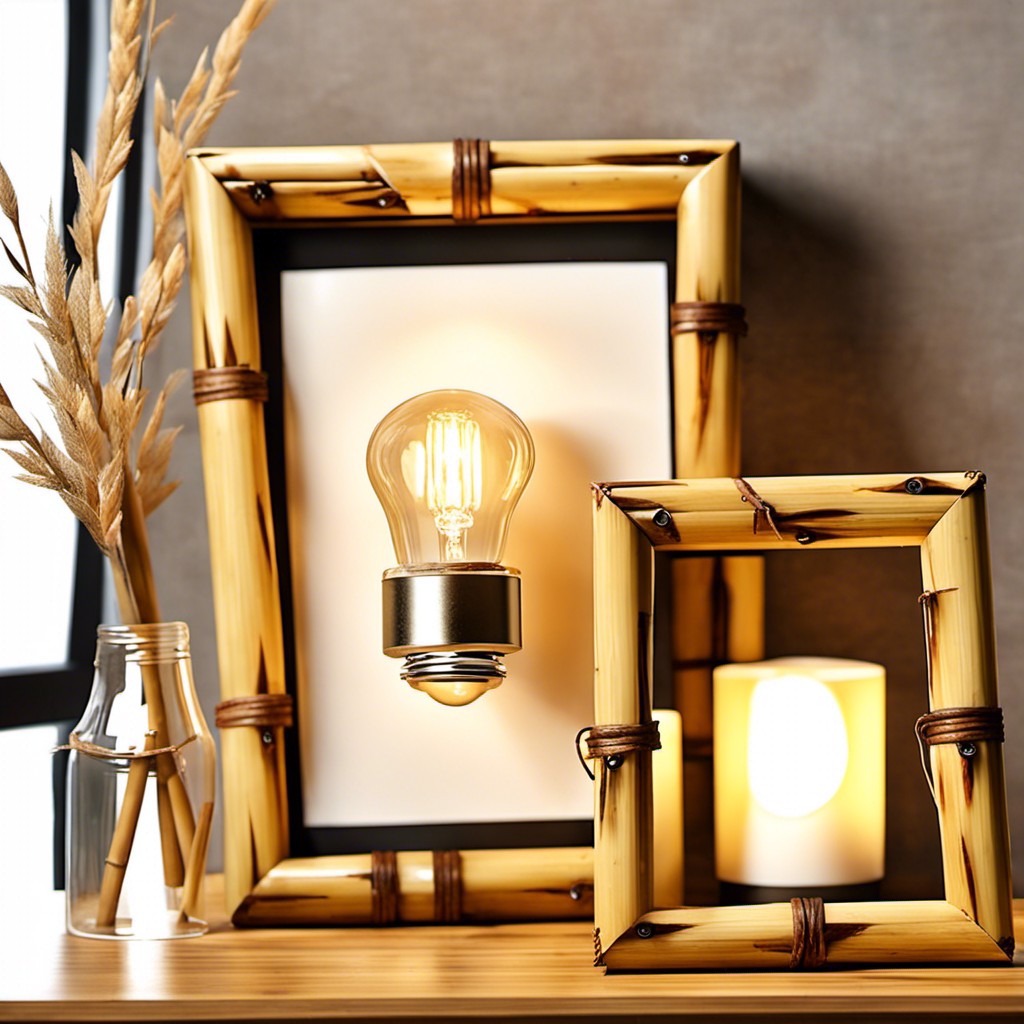 Bamboo Frame Track Lights provide a unique blend of natural beauty and contemporary design. Bamboo, being lightweight yet sturdy, provides both durability and ease of handling. As a sustainable resource, it's also an eco-friendly option.
1. Aesthetic Appeal: Bamboo's natural texture and warm glow lend a relaxing and inviting ambiance to any space, complementing the rugged rural elements of rustic decor.
2. Versatility: These lights can be paired with a variety of bulb styles, from vintage Edison bulbs to more modern LED options, seamlessly blending past and present.
3. Easy Maintenance: Bamboo is easy to clean and resistant to wear, making these track lights a low-maintenance option for busy households.
4. Eco-Conscious: By choosing bamboo, you're making a green choice, causing minimal impact on the environment due to its rapid regeneration rate compared to other woods.
Incorporate these bamboo frame track lights to bring a touch of the outdoors inside, while maintaining a modern aesthetic that aligns with your rustic decor.
Rustic Footed Lantern Track Lights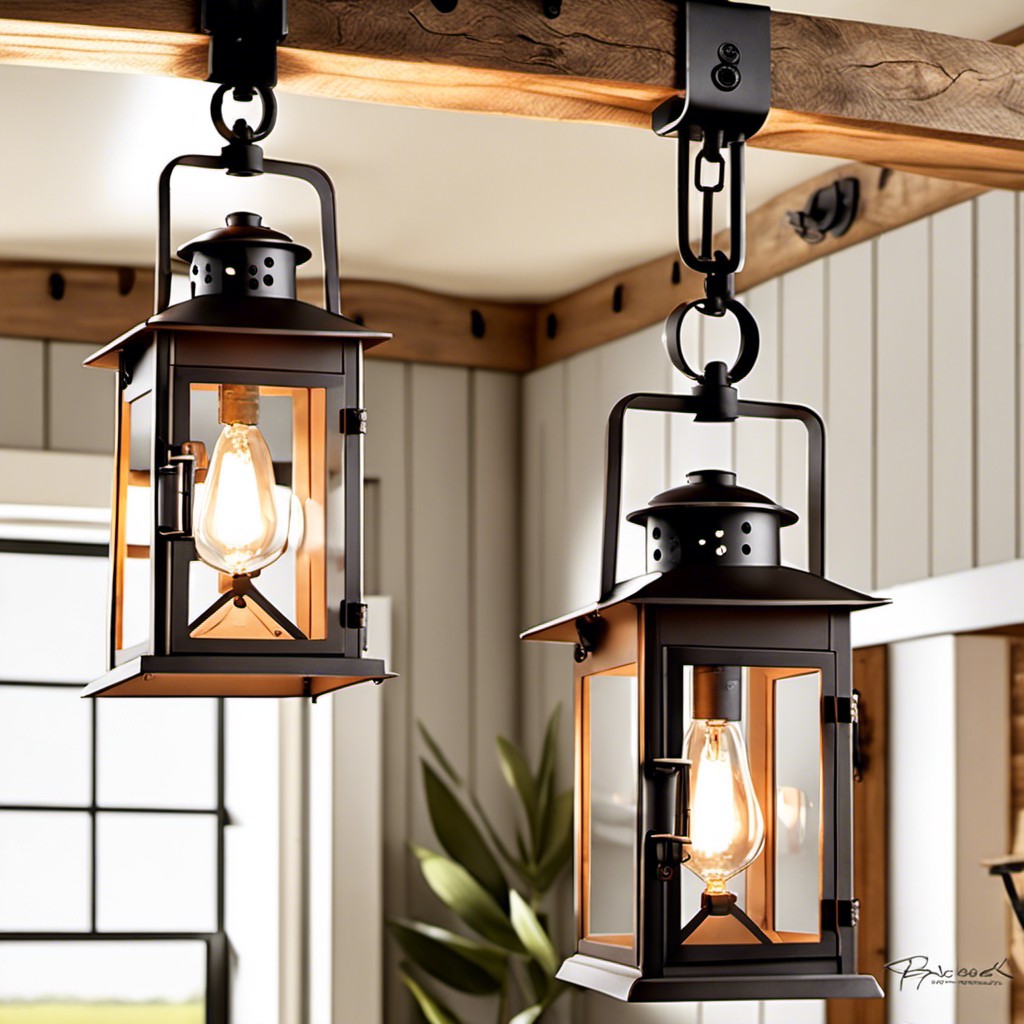 Rustic footed lantern track lights, highlighting their charm with feet accents, bring an old-world allure to modern homes. Sturdy and robust, these fixtures are typically made of weather-resistant materials like wrought iron or bronze, ensuring longevity.
Implementing these lights brings about a countryside flavor, reminiscent of streets lit by gas lanterns in days of yore. They cast a warm, dimmed glow, creating an inviting and serene atmosphere. Furthermore, they work beautifully with other rustic elements such as exposed brick and wooden beams, providing a harmonious blend between illumination and decor.
The versatility of footed lantern track lights enables customization to fit every room dimensions, hanging at just the right height for optimal lighting. Adjustable tracks ensure you can modify the lighting direction as desired, focusing on specific areas or spreading a broad, even light.
In terms of cleaning and maintenance, their design provides ease, requiring occasional dusting and light bulb replacements. As energy-saving provisions, consider implementing LED bulbs for longer service and lower electricity consumption.
They fit well not only in living rooms and kitchens but also work creatively in hallways or large bathrooms, adding a rustic touch to these spaces. Remember, several small footed lanterns usually create a more balanced visual appeal than a single large one.
Votive Candle Style Track Lights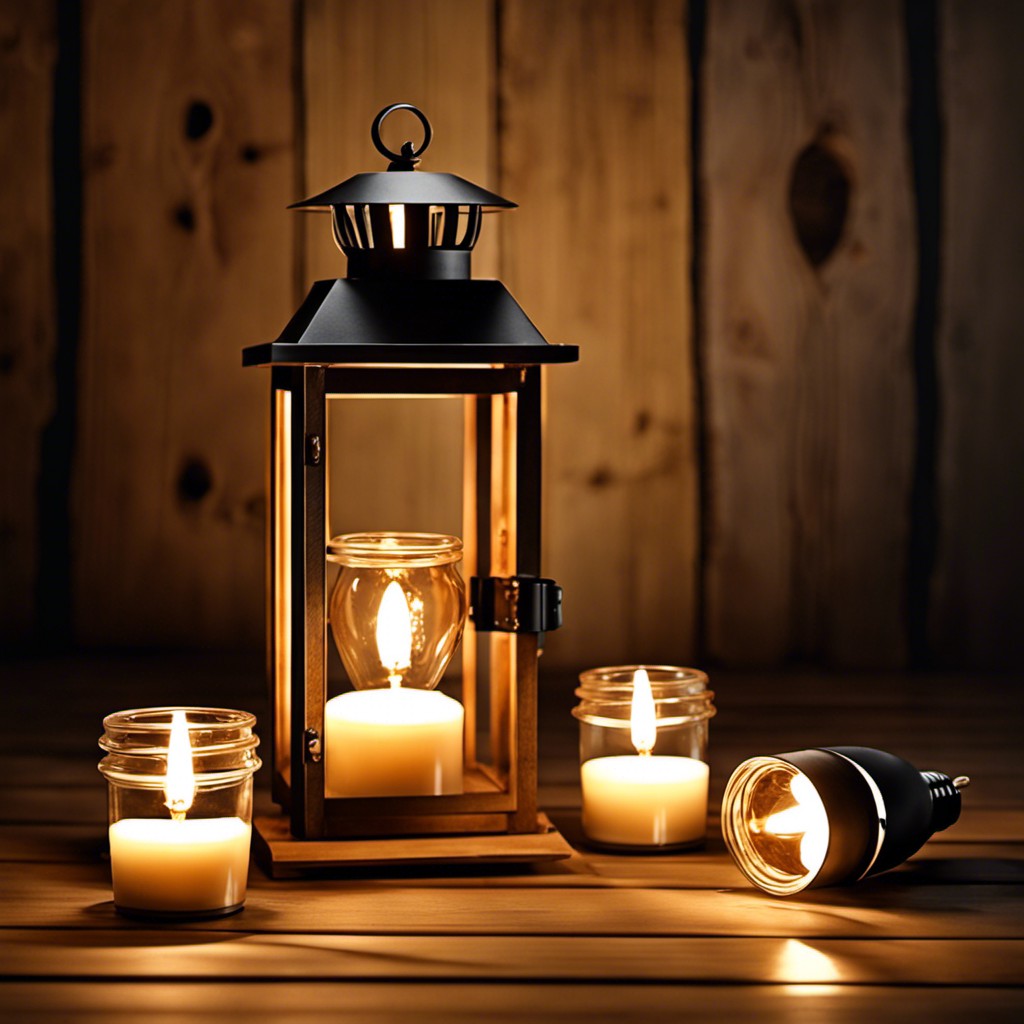 Emulating the gentle glow of actual votive candles, these track lights provide a romantic and serene touch to any space. They usually consist of several small, carefully crafted faux candle lights, each housed within a protective glass or acrylic enclosure. To maximize their charm, they are typically lined up on a track made from a rustic material such as weathered wood or blackened iron.
Here are some key points regarding votive candle style track lights:
Their soft lighting can create a warm and inviting atmosphere, perfect for cozy spaces or rooms where relaxation is key.
They often feature dimmable bulbs, allowing you to adjust the ambiance.
The rustic special material track adds a contrasting, rugged element to these delicate lights.
Maintenance involves replacing the faux candle lights when they go out, which is easy and cost-effective.
Their versatile style can complement various spaces such as the dining room, living room, or bedroom.
They usually allow for flexibility in terms of arrangement and number of candle lights, offering individualized design freedom.
Rustic and romantic yet practical, votive candle style track lights can lend a charming, ambient glow to your home.
Distressed White Wood Track Lights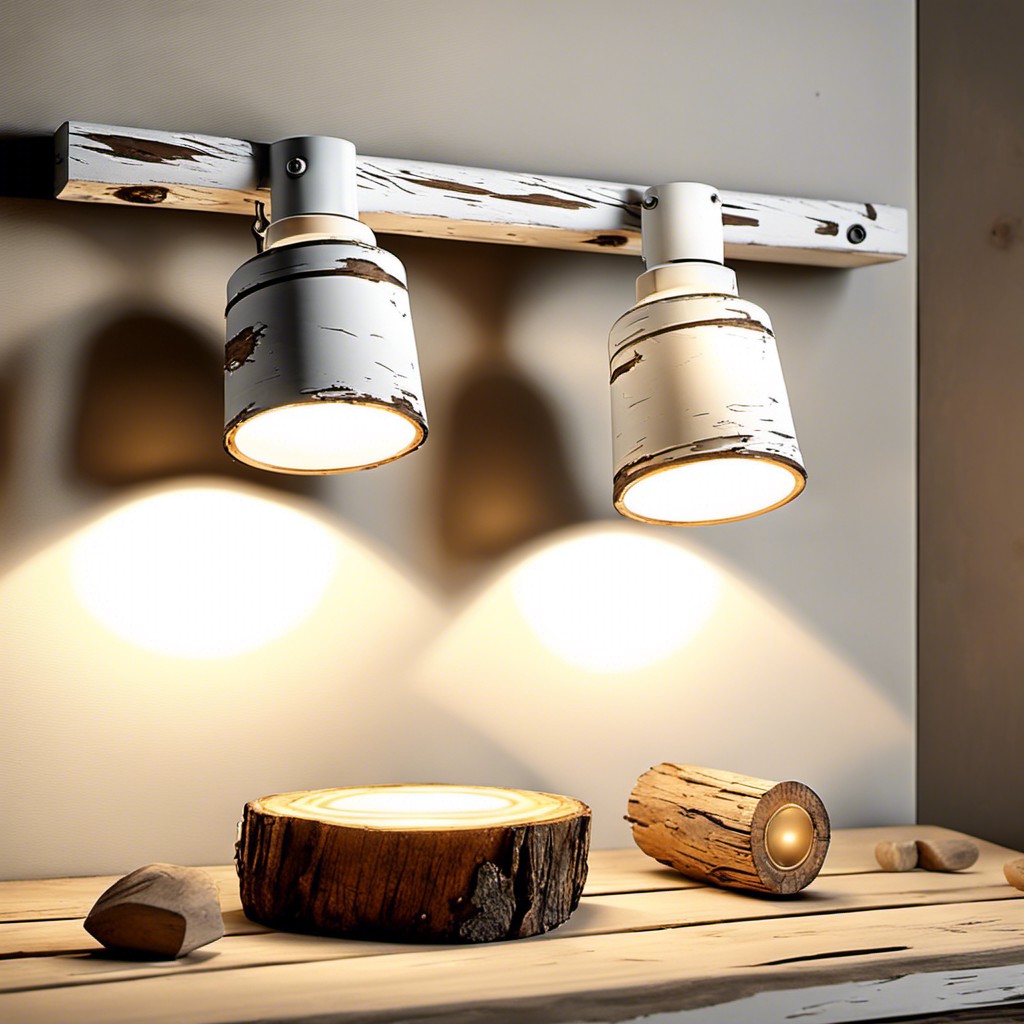 Embracing an elegant sense of old world charm, these lights readily adapt to both modern and classic interiors. The white paint, configured intentionally to appear weather-worn, projects a delightfully shabby-chic aesthetic.
Key Concepts:
Versatility: Their neutral tone marries well with any color palette being used in your interior design, making them a versatile choice.
Ambiance: The distressed finish diffuses the light emitted, creating a soft, warm, inviting glow which is ideal for setting a relaxing, homey mood.
Durability: Despite the distressed aesthetic, these track lights are often made from robust, high-quality wood, ensuring longevity.
Styles: The fittings come in a variety of shapes and sizes, allowing homeowners to pick according to their preferred style or space requirements.
Installation: They can be mounted on any part of the ceiling, making installation adaptable to your room's architecture.
Environment-friendly: Using reclaimed or recycled wood in their construction, these track lights also present an eco-friendly lighting option.
Continue reading: