Last updated on August 13, 2023
These gray bathroom ideas will prove that gray is the new beige in the modern interior design. Is your bathroom modern enough to feature this color?
We've seen it all. Over the years bathroom colors have gone through the range of the rainbow. And while it's gone from colorful pastels in the middle of the last century, to earthy beiges in the eighties through nineties, finally settling on clean minimalist whites in the beginning of the new millenium.
Today, we are head over heels in love with grays. So much so we have a full range of designer paints that embody this color. We have much more than fifty shades of gray, so to speak (yes, you saw the reference coming). Better yet, gray lends itself to ample of color schemes to make decor interesting.
We'd like to explore this versatile color in every aspect of the bathroom in this article. From vanities to cabinets, from tiles to wall paint. Let's see what works and what doesn't. We will give you the essential ideas to work on your own design at home.
What's Inside
Gray Vanity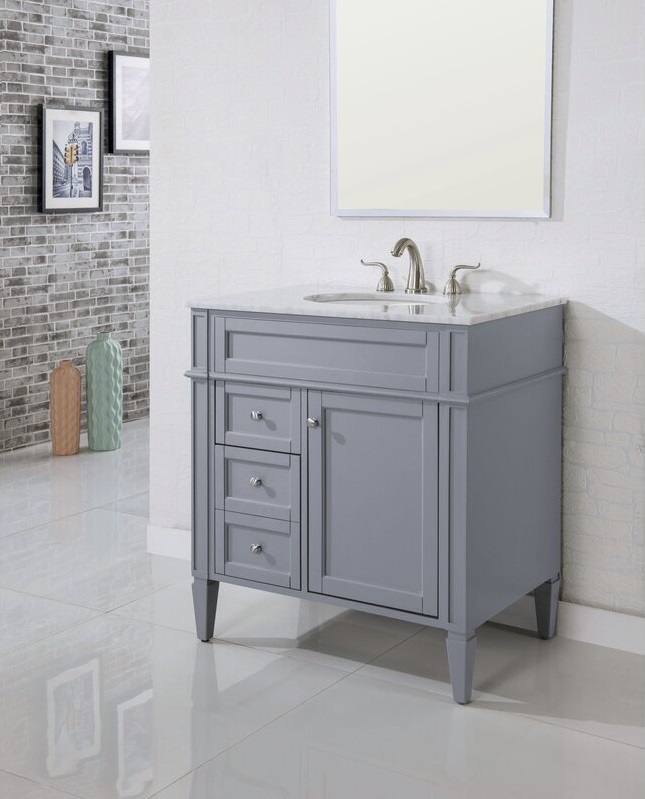 Gray bathroom vanities come in many styles for your gray bathroom design theme. From palest gray to a gray that's dark as you can get, you have more vanity choices than 50 shades of gray.
Consider the benefits of a Porter bathroom with a double sink vanity. If space is a problem, choose a single, but you can make it upscale with a vessel sink. A gray Antionette 32″ Single Bathroom Vanity Set is a great choice for space-challenged bathrooms.
A double sink marble vanity set in gray makes a wonderful focal point for bathroom design.
Displayed above: a small vanity with cabinets from Wayfair, sporting a pale shade of gray. It's the ideal background for metallic hardware and accents.
Gray Bathroom Cabinets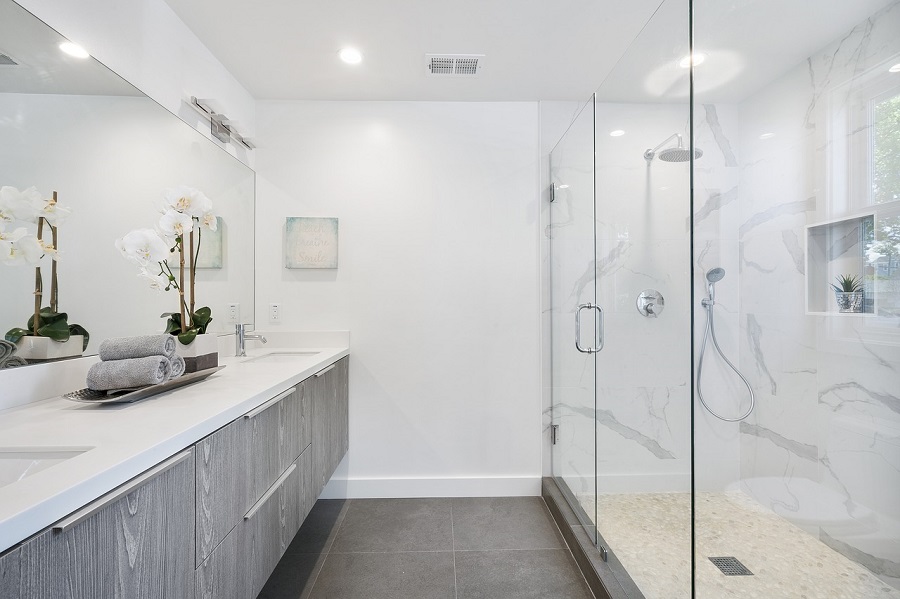 The number one piece of furniture in the bathroom that can be gray are, of course, the cabinets. That includes vanities. It's the go-to choice when it comes to a neutral background for your personal decor.
Wayfair offers some stunning choices of gray bathroom cabinets, and the choices include the Somerset Wall Mounted Cabinet and the Ventnor Wooden Storage Wall Mounted Cabinet with lattice-style doors.
Other choices include the asymmetrical Ashland Cabinet with a shelf, drawers and a larger storage space that takes up half of the vertical design.
The Banbury Wall Mounted Cabinet features an attractive door that draws inspiration from a barn door with wrought iron hardware.
Shown above: a gray painted wooden cabinet doors exposing the natural wood grain. Such a combination of the natural texture and modern paint makes a brilliant decor feature.
Gray Tile Bathroom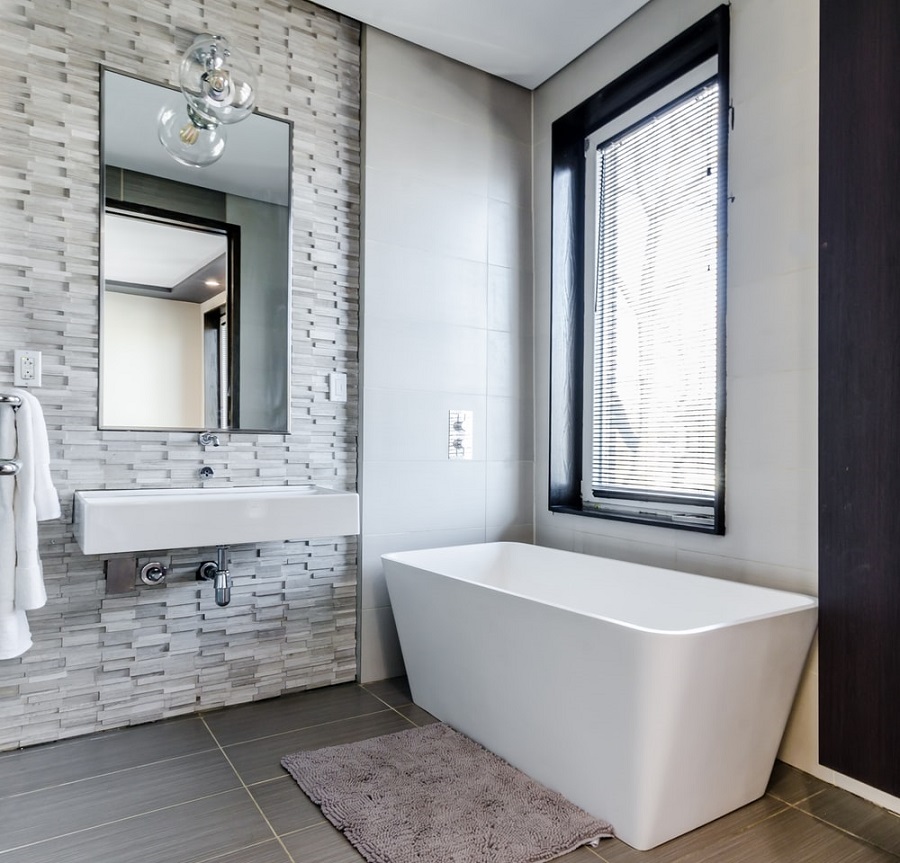 Gray bathroom ideas using gray tiles are perfect for designing a neutral bathroom space that men and women can both enjoy equally. Gray tile evokes the sea and ocean voyages, instead of bad weather.
Consider laying tile in geometric patterns and different shades of gray to brighten the bathroom. You can accent the bathroom with splashes of color that will pop because of the muted background colors.
Different shades of gray can be used on the walls, shower space and borders for the bathtub, which creates an oasis of serenity that's ideal for long tub soaks and restoring your energy.
Get inspired: the above picture shows gray tile in a 3D pattern. It's a unique take on making neutral colors more interesting.
Likewise, think about how you can use patterns instead of color to create visual interest. Such decor is timeless and it will not be pushed out by another color of the year.
Gray and White Bathroom Tiles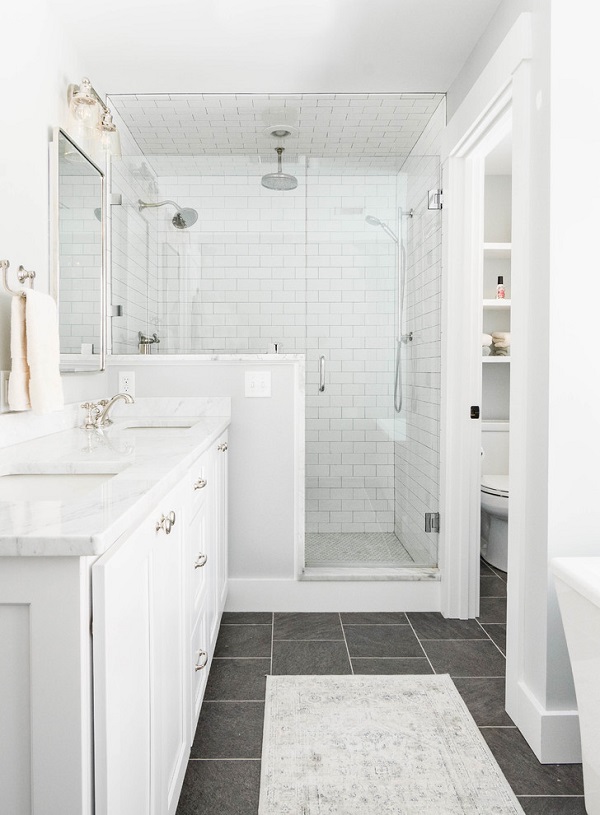 This combination is classic and timeless. You are most likely to use white with gray than any other color.
Gray and white bathroom tiles offer chic decor that matches any overall decorating scheme in your home. Gray and white are perfect for accenting decorative features, such as freestanding tubs, large windows, custom cabinetry or window alcoves.
You can also choose multiple tiles in gray and white, such as marble, ceramic and slate. There are thousands of designs to inspire your creativity when you use white and gray tile for a clean, modern look.
You can accent the bathroom with special tile features, such as subway tiles, sculptural white bathroom tile, 3-D tiles, large format tiles and wall and floor lines in various geometric patterns.
Light Gray Tile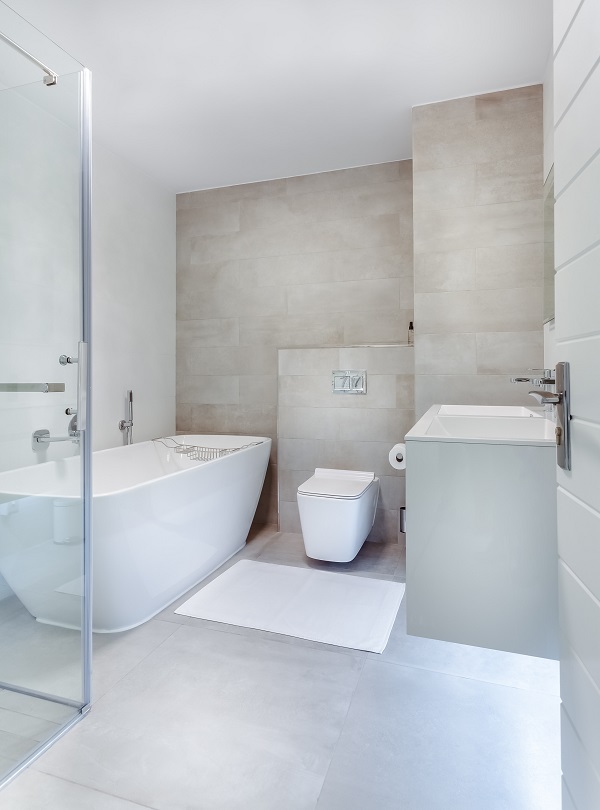 A deviation from the above theme is using cooler tones with light gray. This shade offer more depth to the room.
Using light gray tile offers many decorating benefits because the muted color makes design features pop. The focal point might be a special accent tile, subway tile or an extraordinary bathroom feature, such as a gray-veined marble tub.
Bathrooms that use shades of gray should feature no more than three types of tile. Choose your focal point color first, and choose other tiles to complement your focal color. For example, you might choose a fun tile for the bathroom floor while keeping the walls and accents more muted.
Gray Bathroom Paint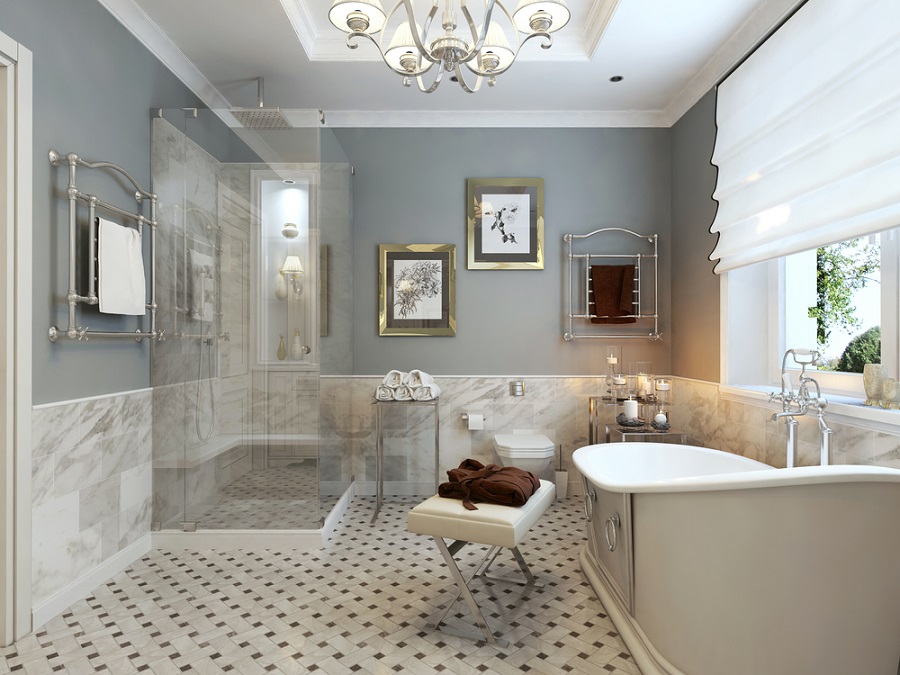 Your choice of paint for gray bathroom ideas is critical for a successful decorating scheme. The size of your bathroom comes into play when choosing the right shade. Small bathrooms appear larger with bright colors, but light shades of gray or pearl gray can be just as brightening as yellows and reds.
Gray has become the new beige, and it's in high demand for modern and sophisticated decorating strategies. Silverish-gray can look luminous – especially when paired with white. Medium gray pops when paired with yellow accents. If the furniture in the bathroom has shades of blue or purple, gray shades with cool undertones will create a bluish or greenish appearance.
Pictured above: a classic bathroom interior with luxe accents. The gray walls give way to subtle and classy features, such as the marble wainscotting, gilded picture frames, and pattern floor tile.
Gray Bathroom Decor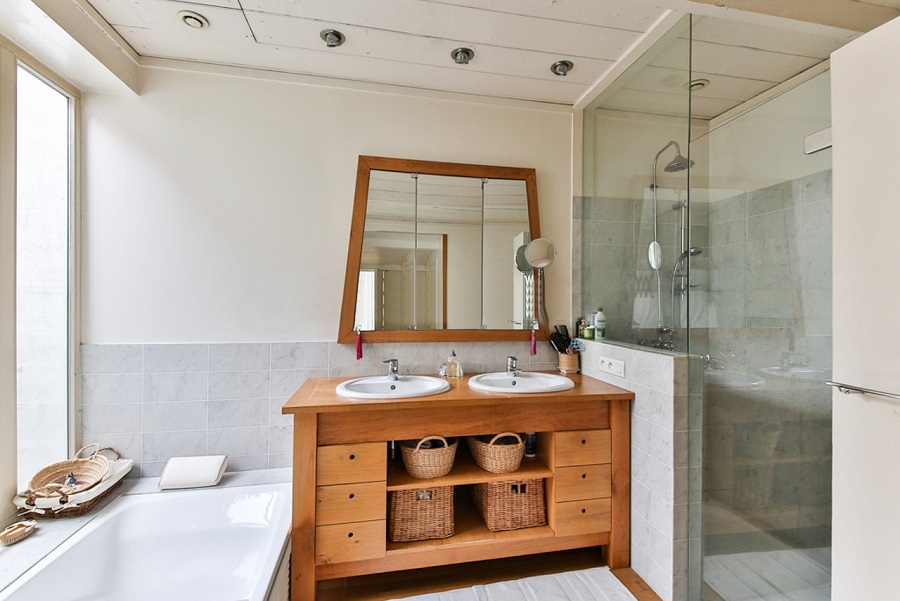 Decorating a gray bathroom is perhaps the easiest task compared to any other theme. Anything pops in this shade as the background – it's more powerful then white in this regard.
What are your options?
Create patterns. Gray bathroom ideas include gray decor to create contrast or complement a gray color scheme. A neutral gray can wash out the room's color, but dark gray accents can create a space that shows why gray has become a popular color trend.
Rustic accents. Rustic gray bathroom decor, gray wall shelves, gray Turkish rugs and gray bottles of cosmetics on a gray tray are great choices for bathroom decor that pops against brighter colors and muted grays.
Metallic hardware adds a luxe accent. It's a great way to add some pizzazz to the space.
Use multiple shades of gray to create more depth in the room.
Make the floor pop. Gray is ideal to feature any type of floor.
Introduce a vibrant accent color. It's a great way to create drama even in small rooms.
Use wood. Wooden furntiure and panels lend themselves to create a warm look that is full of character.
Modern Gray Bathroom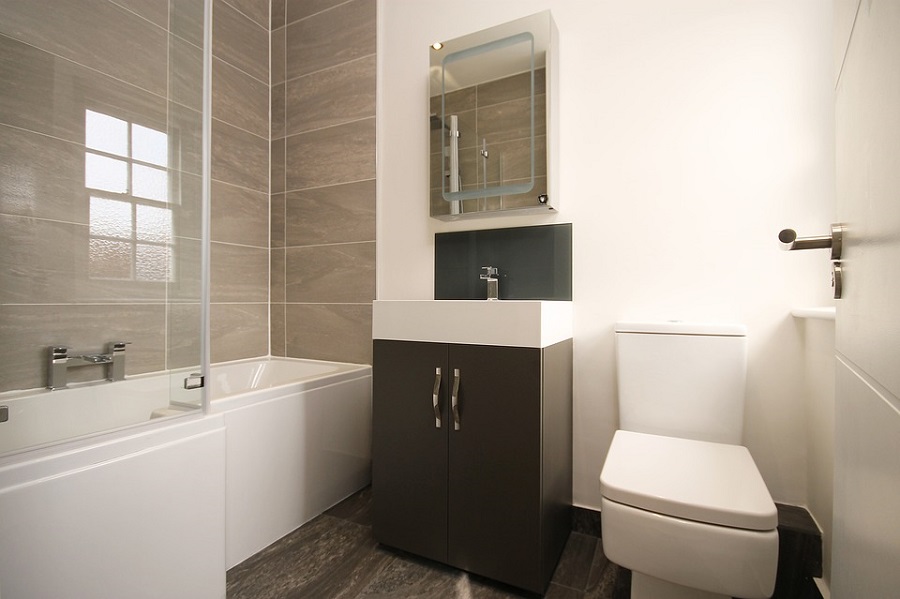 Modern gray bathroom ideas run the gamut from rustic, natural grays to elegant bathrooms featuring gray tile and porcelain or pebble-tile floors.
Minimalist gray bathrooms have become tremendously popular for those with limited bathroom space. Concrete floors are also a good choice for minimalist design, and vessel sinks, wood cabinetry and alcove showers are great features to complement a gray-themed bathroom.
Shown above: a clean look that has started the gray trend. You can see the full range from whites to dark greys working in a winning combination.
Color Schemes for Bathrooms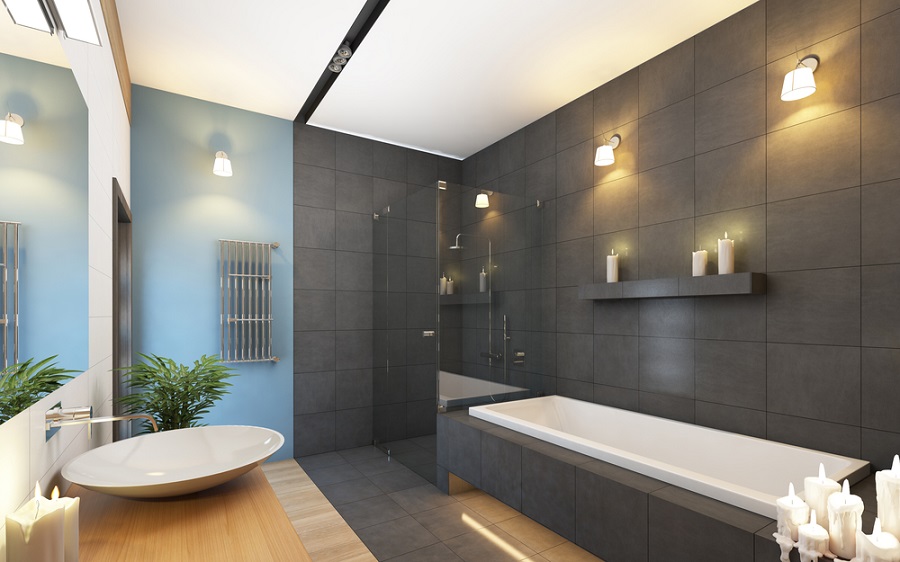 Matching gray colors in your bathroom is easy because it's a neutral color. Depending on the overall color scheme, your bathroom can be charismatic and contemporary.
Blue and gray, white and gray and orange and gray are great color schemes.
The subtle use of orange is really impressive. Keep the use of orange light – for example, use it on window frames or sink backsplashes.
Pink and gray bathrooms work very well.
Let's explore some of the most popular combinations.
Paint Colors that Go With Gray Tile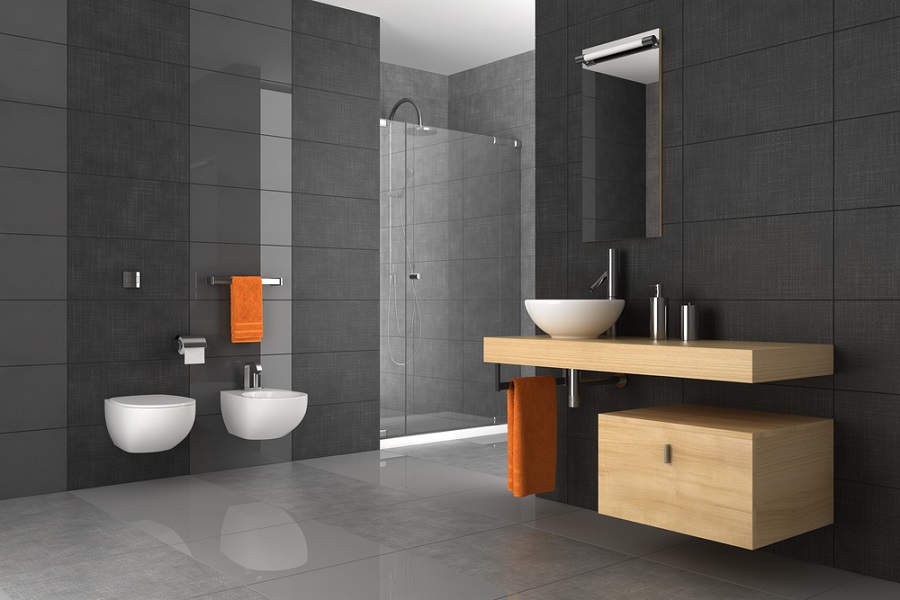 Almost any paint can complement gray tile on the floor or walls of your bathroom. Eggshell white and shades of sky blue complement gray for a seashore feel. Blue and pink fixtures provide a great contrast and spots of color that go well with gray.
It's best to avoid aqua and turquoise because these shades have too much green. If the tile has a greenish tone, add a warm, vibrant color – especially red.
Displayed above: a dark gray bathroom with pops of bright orange. The natural wood vanity also works as an accent as enabled by the neutral color scheme.
Accent Color for Gray and White Bathroom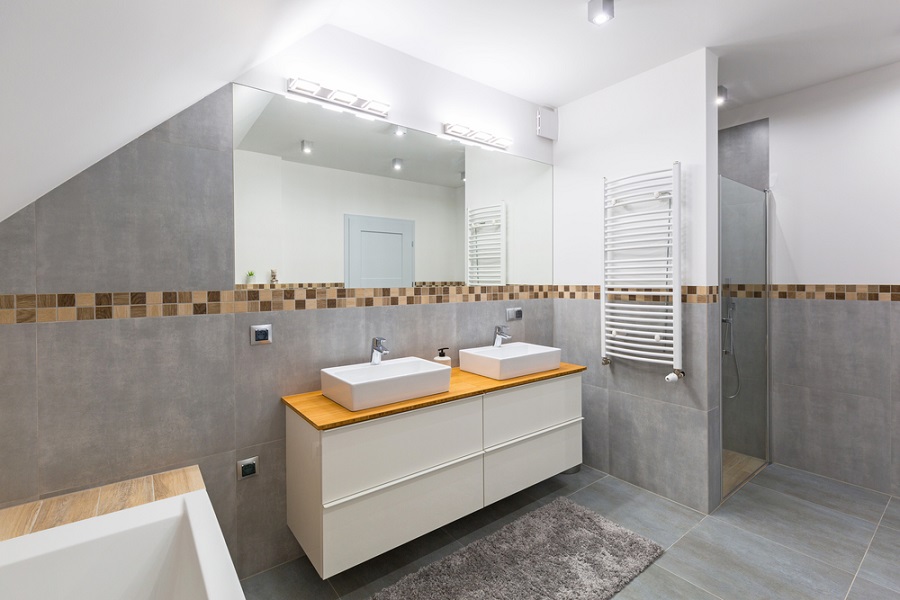 Gray and white bathrooms create compelling designs that only need a splash of color to make them stunning. Consider bright-colored accents in navy, red, yellow and orange.
Seafoam green can work as an accent for white a silverish-gray surfaces. Dark gray grout can liven up the look of monochromatic white tiles.
Shown above: beige being used as the accent color for white and gray. You probably won't find beige being used this way nowhere else.
What Paint Color Goes Well with Gray Flooring?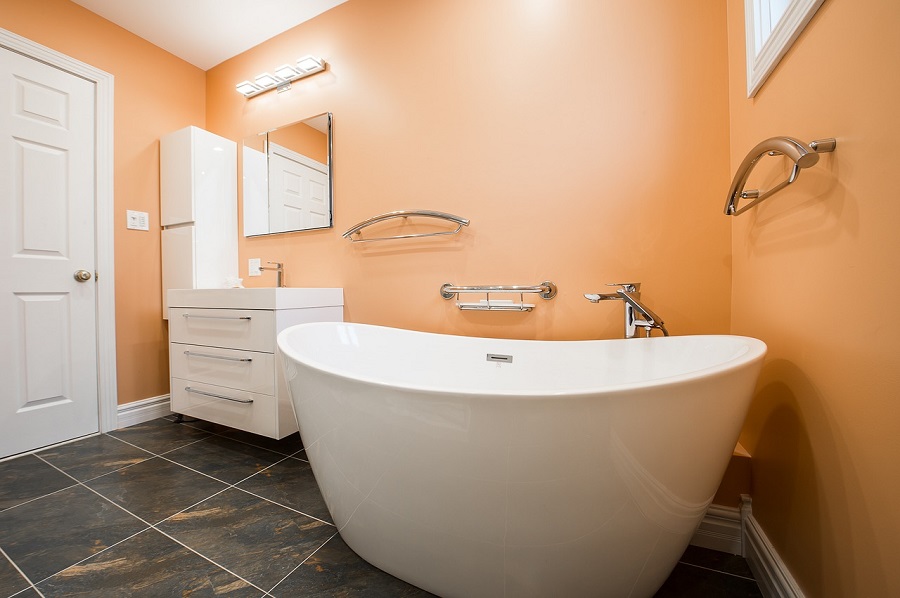 White walls go well with dark flooring, such as slate gray floors. Striped stone tiles and dark flooring can become your focal point, and neutral wall colors work best.
Invariably, the best color match depends on the shade of gray used on your floor. Pale yellow, honey, pink and sage work with dark floors. Light gray floors work well with silver, beige and cream colors. Brownish-gray floors look good when paired with tans, black and neutrals.
Pictured above: a pale orange wall paint used in combination with dark gray floor tile.
Gray Tile Bathroom – What Color Walls?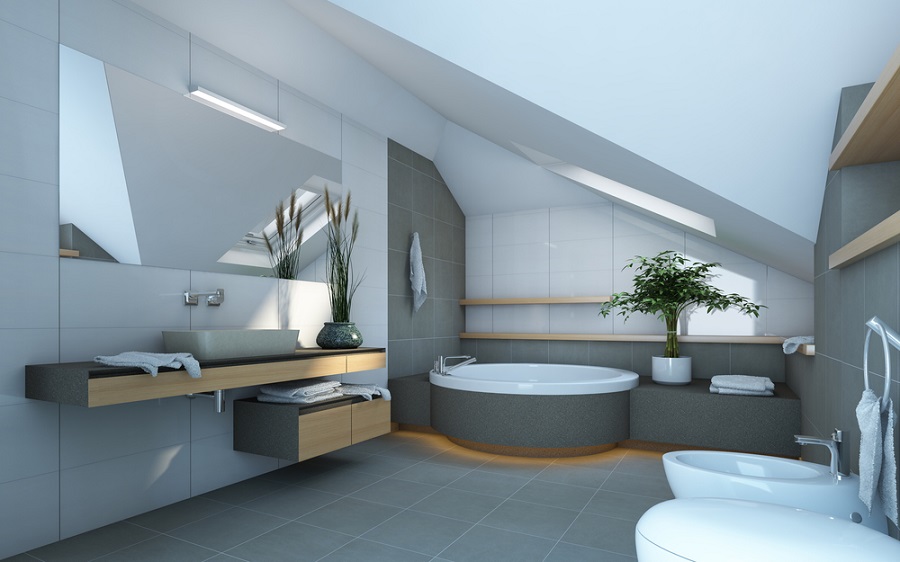 Gray-tiled bathrooms generate a calming influence, and colors that work well on the walls include yellow, teal, green, coral, pink, white and navy. These colors reinforce the calming atmosphere, but you can choose a cool color from your personal color palette.
Get inspired: even an off-white paint will work with gray tile. Blueish shade is the go-to color for a relaxing space.
Yellow and Gray Bathroom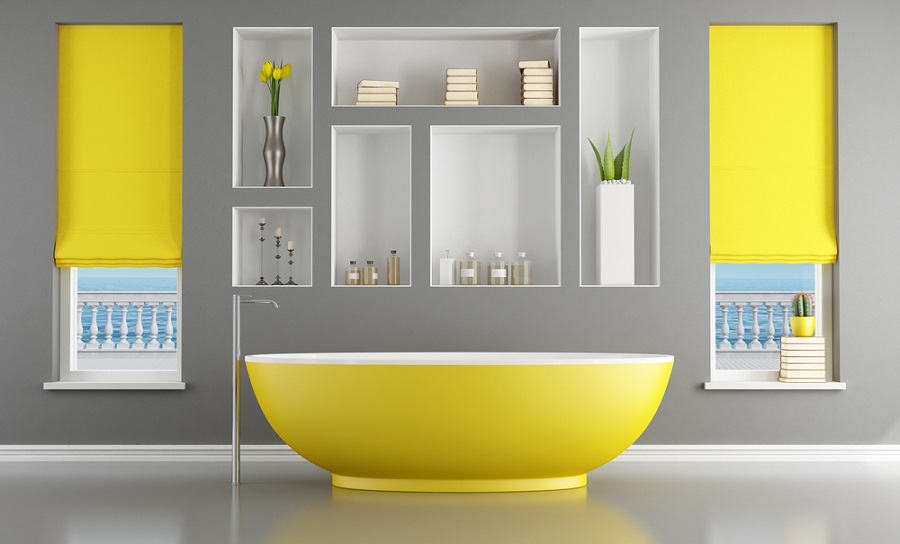 Yellow usually comes as the accent color to provide contrast to soft grays. Don't expect to paint walls in this vibrant color unless you're going for something entirely eclectic. Small pops in this shade are enough to create visually appealing decor.
Get inspired: using yellow-painted cabinets or bathtub is also an option to consider.
Gray and Gold Bathroom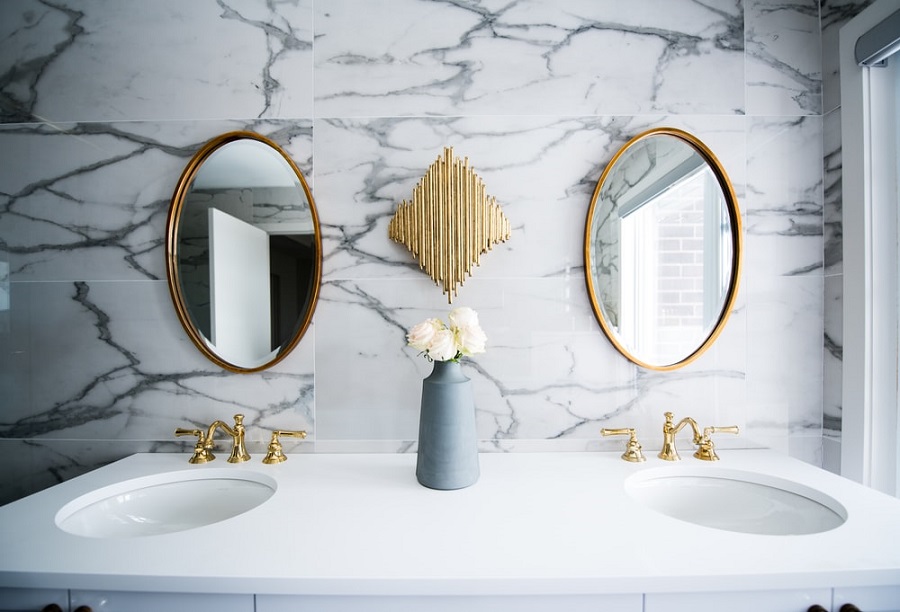 Gilded or brass hardware can be used to create luxe accents in a gray bathroom. That's where this scheme really shines. Subtle tones make the interior seem luxurious just by popping against the neutral background.
Get inspired: marble comes in shades of gray. Use this classic tile for stunning decor.
Teal and Gray Bathroom Decor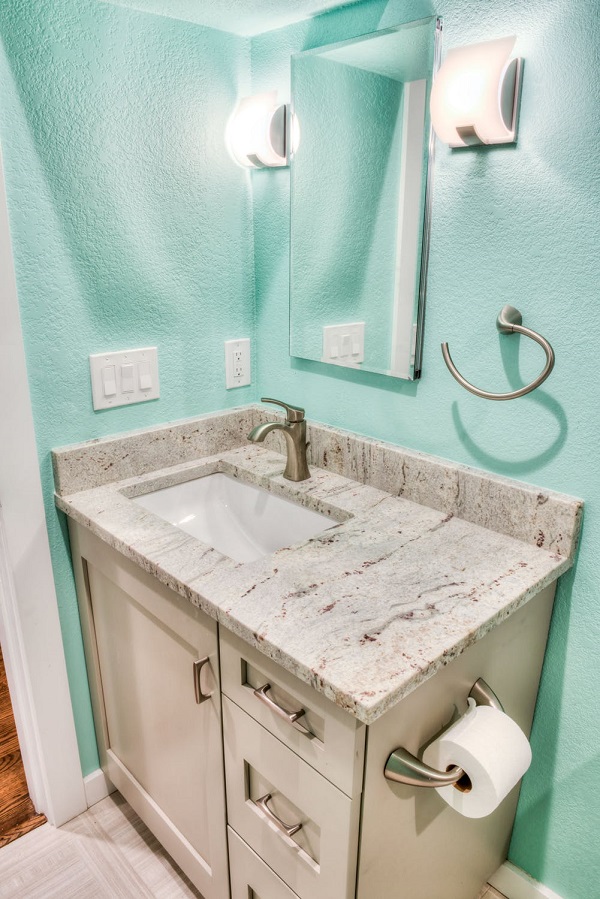 Teal in a subtle shade is a trendy way to feature gray bathroom cabinets. It's a throwback to the 50s when we had pastels across the entire house. Nowadays it's a way to break the clean and cold design rules.
Sherwin Williams Slate Tile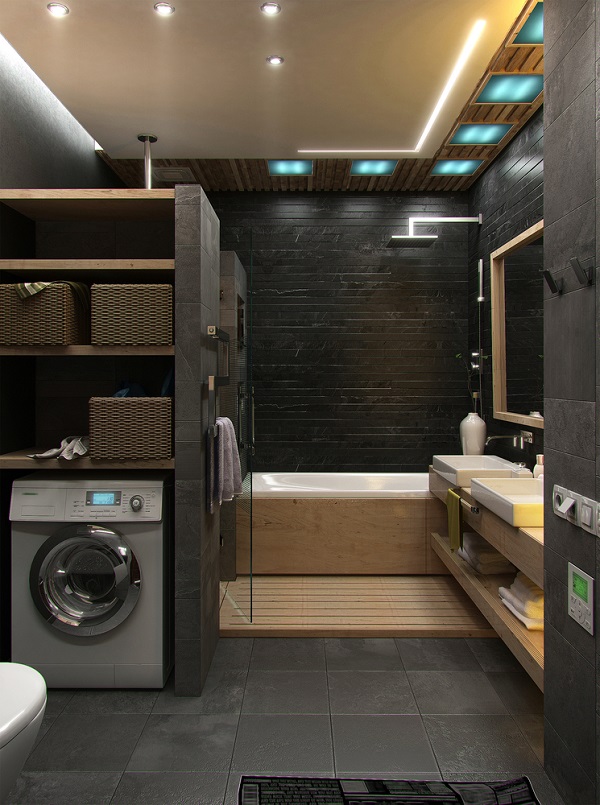 We've decided to feature some of the most popular designer paints for gray bathrooms so you can get something to take home from this article. We have three choices from Sherwin Williams and one from Benjamin Moore.
Sherwin Williams Slate Tile comes in a deep bluish-gray color that is extraordinary for contemporary bathroom designs. The color has lots of depth, and it's perfect for creating a focal point on the walls or floor. Bright-colored accents, gilt and contemporary art are perfect complements to the tile.
Sherwin Williams Evening Shadow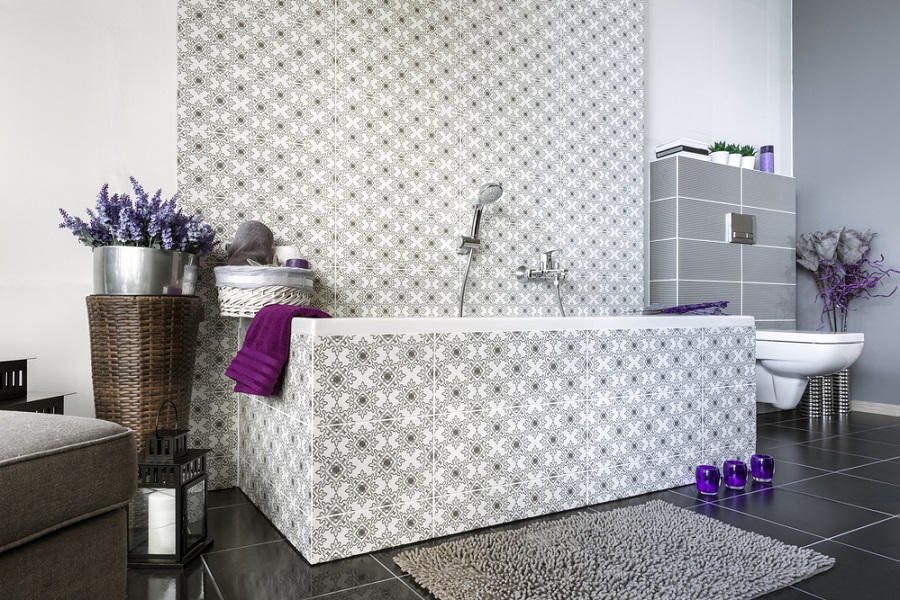 Sherwin Williams Evening Shadow is at the light end of the gray spectrum, but it has a unique bluish tone that makes it stand out from other neturals. The paint pairs well with Sherwin Williams Ice Cube, shell White and Daphne. The paints also work well with wood tones.
Sherwin Williams Chelsea Gray Cabinets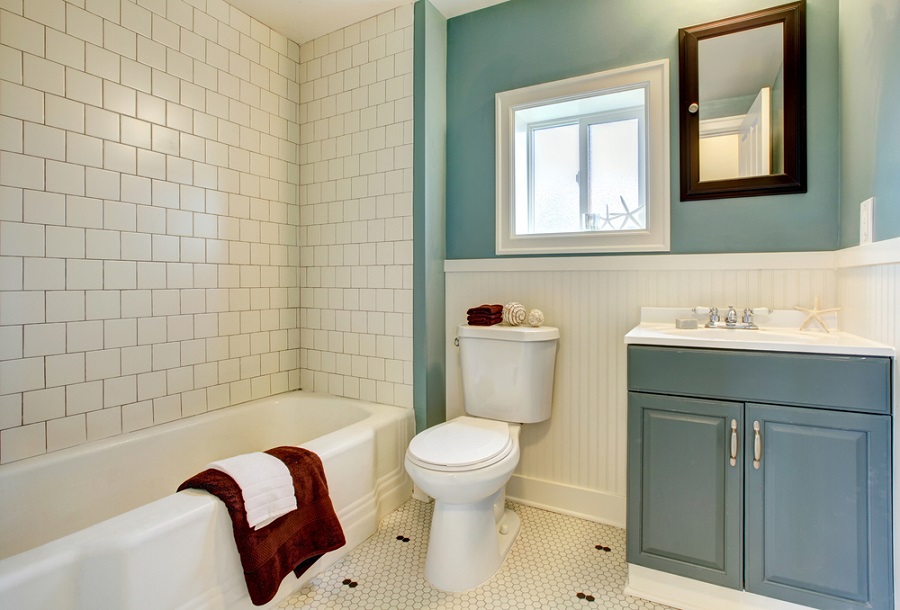 Painting your cabinets with Sherwin Williams Chelsea Gray is one of the most popular bathroom decorating decisions. The color is a warm gray that's almost a shade of taupe. If you paint your bathroom cabinets this color, you can complement them with warm-colored accents in red, yellow and orange shades.
Rockport Gray Benjamin Moore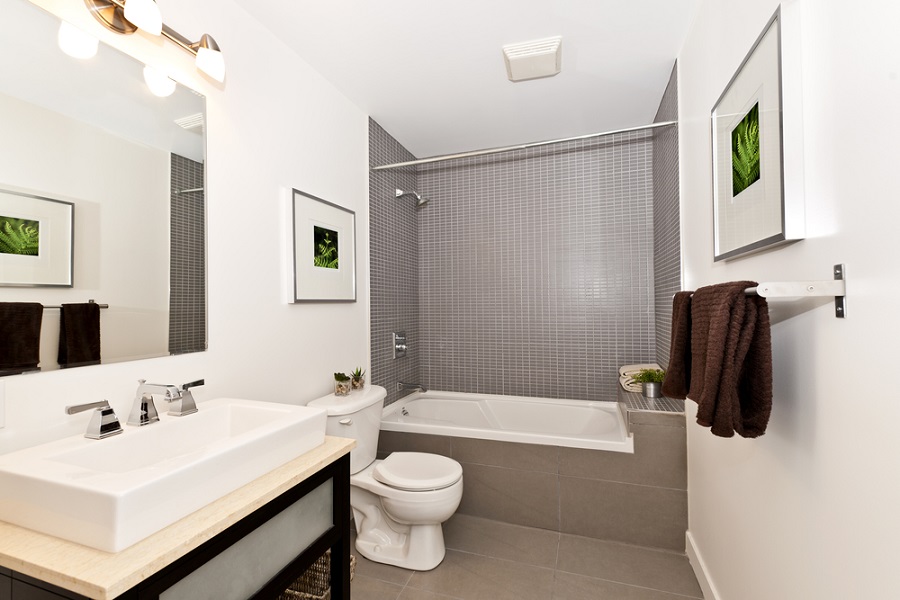 The Rockport Gray Benjamin Moore paint is a refined, elegant color for contemporary bathrooms. The color pairs well with Benjamin Moore Iron, Grullo, White Mouse, Stone Terrace and Mocha paint. Rich Black and Dark Navy are also good accent colors.
Continue reading: