Last updated on September 27, 2023
These essential bathroom cabinet ideas will guide you through making the choice you want and like. Read on!
Cabinets are integral to complete bathroom design. They are a big part of the small space. So they can make or break your entire interior. What type and style of storage cabinets you choose will be one of the keys to how you decorate the bathroom.
How to choose the right bathroom cabinets?
Measure the space to find out the exact size of what units will fit in your space.
Plan and sketch on a piece of paper (or a design tool) to account for the positioning of the units, and other furniture and appliances. Figure out how they will be positioned relative to the door and windows (if any).
Decide on the functionality of the cabinets. As you will see in the list that follows, there are a lot of things to consider as far as storage and organization.
Decide on the style and colors. This guide will help you with that.
What's Inside
Bathroom Storage Cabinets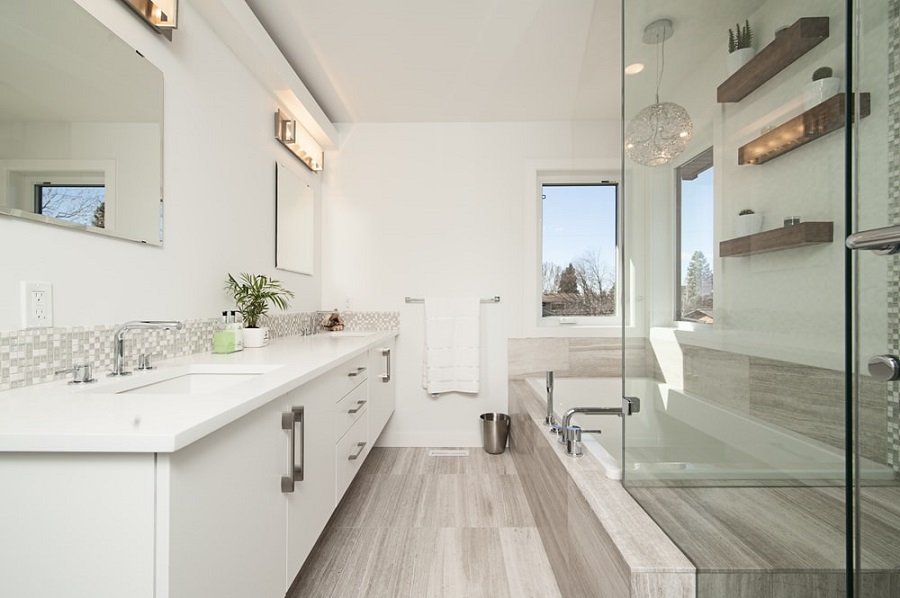 The first thing about bathroom cabinets is that they are usually designed for small spaces. At the same time, they have to fulfill the most required need – storage.
What can we tell about the storage cabinet design and its impact on decor?
Vanity cabinets are timeless. There can be no dead space under the sink in any small to medium-sized bathroom.
Medicine cabinets behind the vanity mirror are neutral enough to always be included.
Using narrow and tall cabinets is a great way to make full use of all available space.
Floating vanity cabinets make the bathroom look airy.
Natural materials (wood) create much-needed depth, but we still use classic white, drama-inducing dark, and refreshing pastel cabinet colors.
Since bathrooms are generally small, you need creative ideas to fit all your stuff inside. You could use the spaces under the sink, above the toilet, beside the windows, and behind the mirror to install cabinets. Empty vertical spaces across the walls may also be optimized for storage.
We're going to explore all types of bathroom cabinets and their design ideas next.
Bathroom Wall Cabinets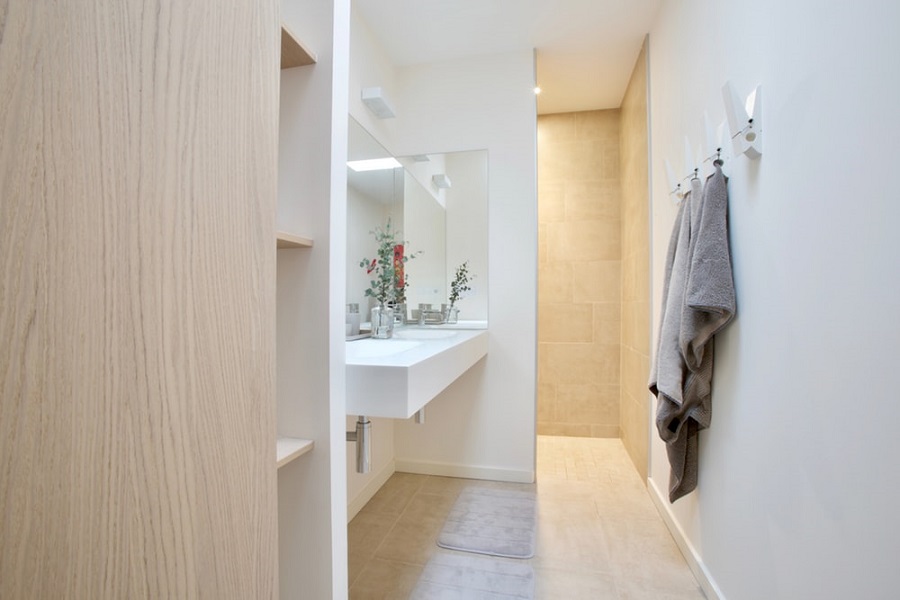 Most of the limited floor space will be taken up by the shower stall, the bathtub, the toilet, and the vanity. To install more cabinets, you have to consider the walls. Go as high as you can reach. Consider dual-purpose items such as a bathroom mirror cabinet.
Wall cabinets can be narrow and use even the smallest corners to add more storage space.
Shown above: a narrow wall cabinet squeezed in by the entry to the bathroom. It's a very efficient use of space.
Double Sink Vanity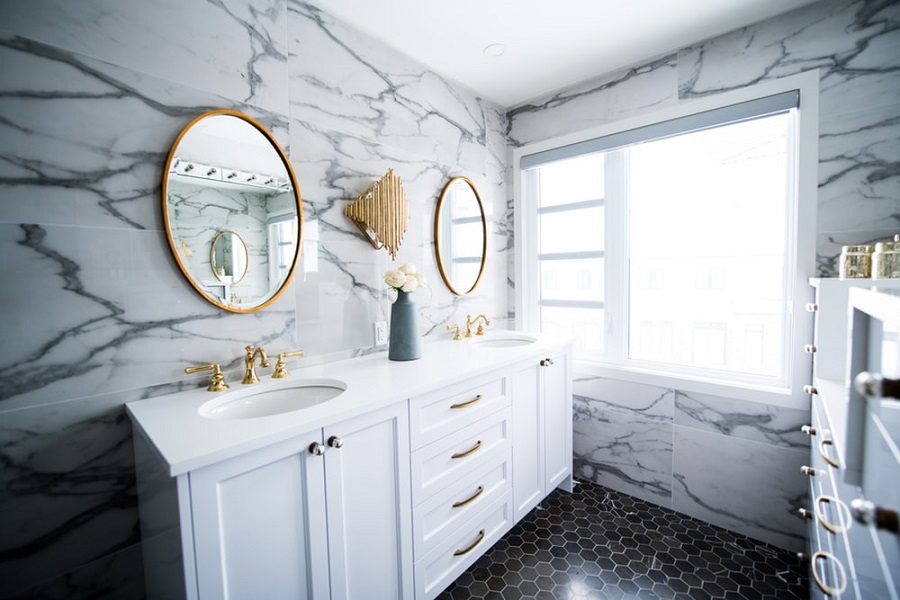 Master bedrooms with double sinks can feature a long vanity underneath. This may contain plenty of drawers and doors for storage. Repurpose old vanities or buy new ones. Repaint them to match the color of the walls and install new handles. Make sure that the bottom is a few inches above the floor for that airy feel.
Shown above: A double vanity with double cabinets. It's designed in classic white with copper hardware.
Bathroom Vanities with Countertops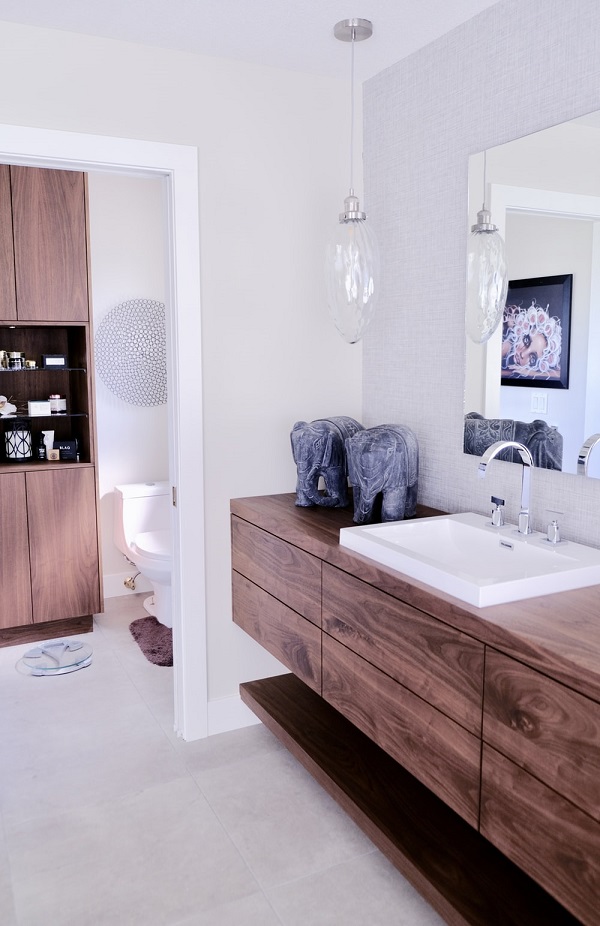 Countertops add more workspace in the bathroom. Install water-resistant material that is both durable and beautiful. Different types of natural stones can work well including marble, granite, and quartz.
Treated glass and hardwood may also be used. Find something that blends well with the rest of the vanity.
Pictured above: a wooden floating vanity with ample countertop space. If you have this much space, you can even use it for feature art.
Bathroom Vanity Mirrors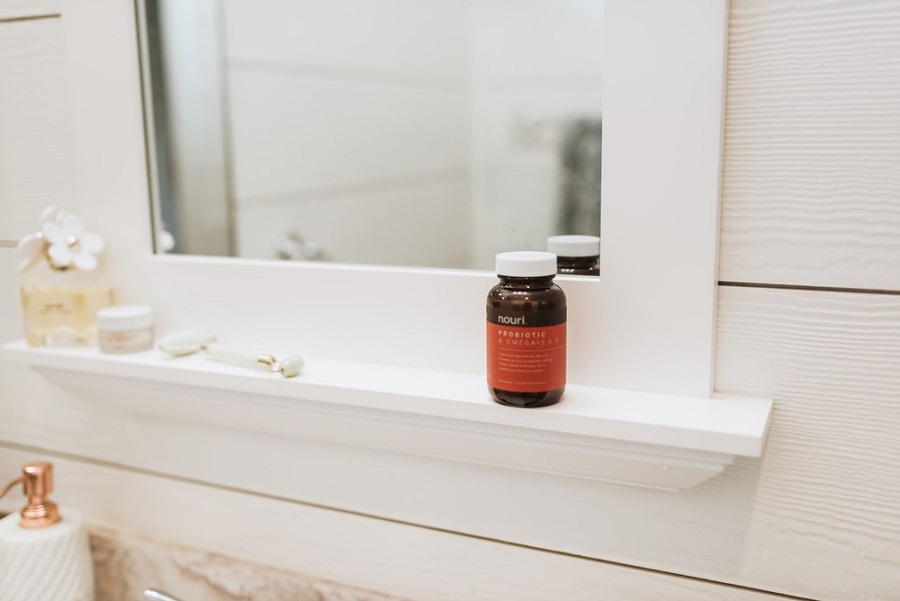 Good bathroom vanity mirrors are big and well-lit. They should get ample natural light, usually by being located near a window.
They should also have even lighting around the mirror so that the face can be seen clearly from all angles. Use diffused light for the best results.
Mirrors can take many shapes. From classic white frames to trendy rounded frames, and modern frameless mirrors.
When it comes to storage, don't forget the good old medicine cabinet.
Shown above: A mirror with a small shelf to keep small bathroom accessories. It's a brilliant way to add more storage by multi-purposing other items.
Bathroom Sink Cabinets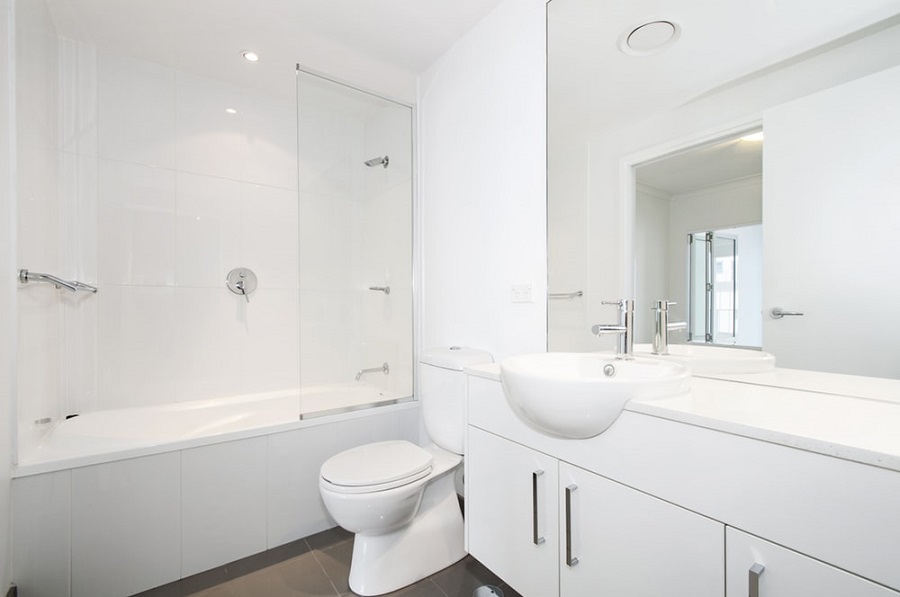 Instead of a free-standing sink, it might be better to use a sink with a cabinet underneath. You can buy one from a store or recycle an old cabinet by cutting out space for the sink at the top. Add legs if it doesn't have them already to keep the bottom dry.
Bathroom Vanity Cabinets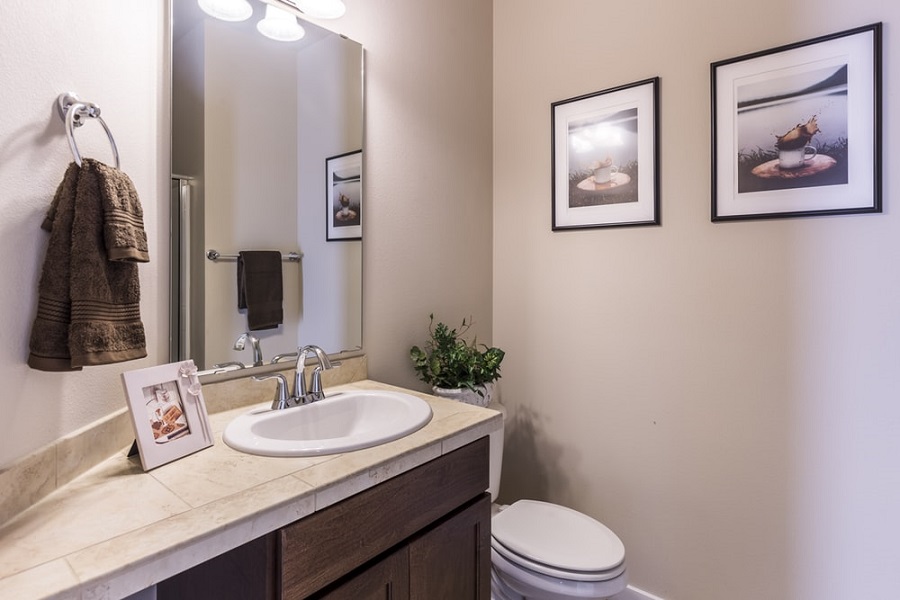 If you have a decent-sized bathroom, then consider installing a vanity cabinet that can serve as the focal point of the space. This must be wider than the mirrors and sinks to make room for workspaces on the counter. The ideal cabinet has plenty of drawers to organize makeup and hygiene products.
Vessel Sink Vanity
Vessel sinks naturally draw the eyes with their eye-catching designs and unusually installations. Pair them with vanities that help them stand out even more through contrasting colors and materials. The storage unit should be lower than usual since the sink is on top and not recessed.
Floating Cabinets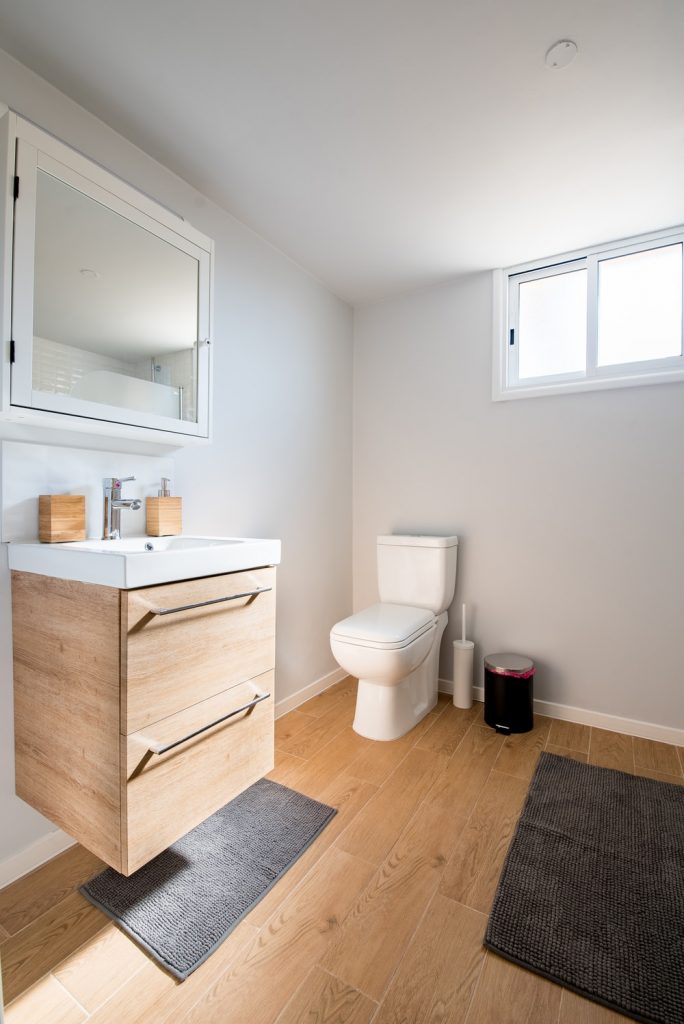 Some people are wary about putting furniture on the floor due to the presence of moisture. Floating cabinets are the perfect solution since they can start a few inches off the floor and rise as high as you want. They also give the illusion of a bigger space since they allow light onto the floor.
Small Storage Cabinets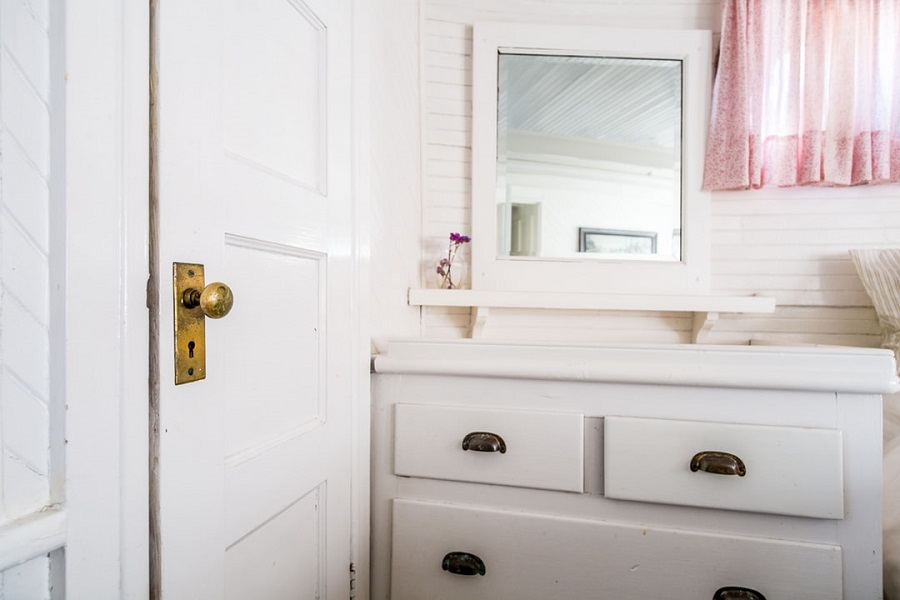 If you have an empty corner or an idle gap, then put it to good use by placing a small storage cabinet on the spot.
Maximize the space to hold more of your toiletries, towels, and other common bathroom staples. Every bit counts if you have a modest dwelling.
Bathroom Floor Free Standing Cabinet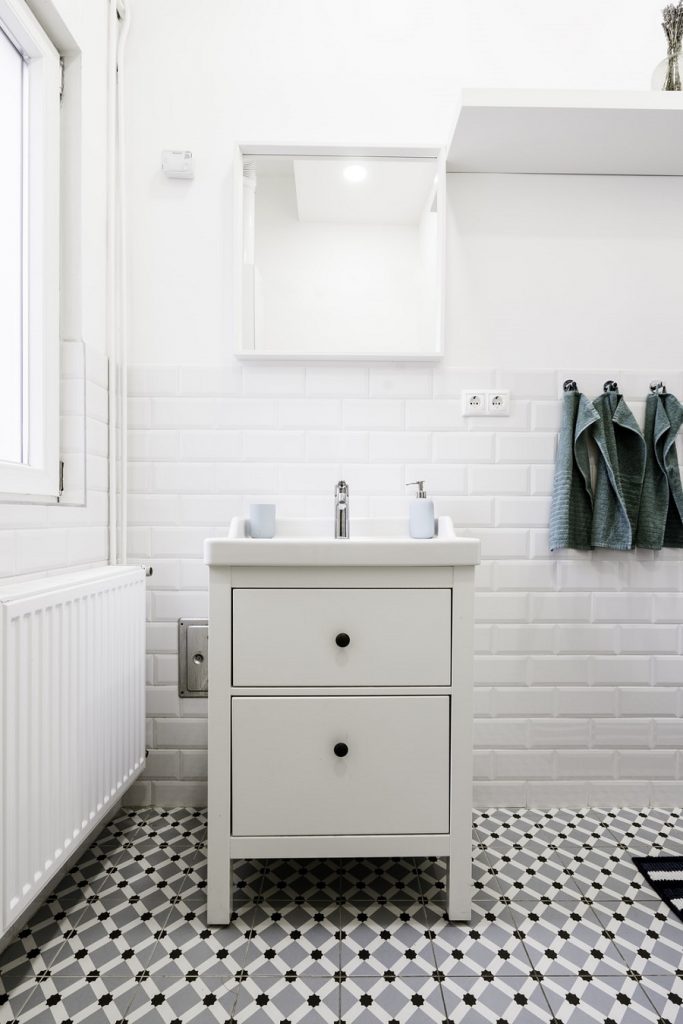 Free-standing cabinets are the most common storage options for bathrooms due to their versatility. Measure gaps in the floor to see how wide and deep of a storage unit it can accommodate. Find one that is as tall as you can fit inside.
Corner Bathroom Cabinet
Make the most of empty corners by filling them with cabinets that have triangular footprints. The drawers and doors open to the middle so there is less chance of bumping into other fixtures. They can also hold a sink on top, in cramped bathrooms and toilets.
Tall Bathroom Cabinets
It's hard to go wide in a tiny bathroom but it's usually possible to go tall. There is nothing stopping you from installing a cabinet that goes from floor to ceiling for full volume. Shove it into a forgotten corner or in between the sink and the toilet.
Narrow Storage Cabinet
You need to work with what you have. In the case of bathrooms, those are narrow gaps for new storage units. Find cabinets that can fit those few inches or make your own. Make them as deep and as tall as possible. You will be amazed by the volume that the can handle despite their width.
Bathroom Vanity with Drawers
Vanities are ideal places to store commonly used bathroom products. Organize better by using a unit with lots of drawers instead of simple doors. The latter will force you to look deep inside for items. The former will allow you to see everything under the light.
Bathroom Medicine Cabinet Ideas
The medicine cabinet is iconic. It's a functional piece and comes naturally to any bathroom layout. The space above the sink is its rightful place.
The story behind the medicine cabinet is hardly exciting. It is what the name says – a cabinet that stores medicine and other bathroom necessities. It dates back to the 1800s when personal hygiene has become the norm.
So it's a narrow wall-hung cabinet with a mirror. Nowadays we are used to having it as part of the bathroom vanity. Many times, it has a recessed built-in design.
Bathroom Mirror Cabinet
Mirrors in the bathroom are more than a necessity. It's a designer's tool that helps to make small space look much more airy and bigger. Big cabinets with mirror doors are common in modern bathrooms (see above).
If you can't find new spaces for storage, then have your mirror pull double duty. The compartments can be completely concealed or partially open at the sides. The mirror serves as the main door to the organizer. It's great for medications, razors, and other items that need to be kept away from children.
Towel Storage Cabinet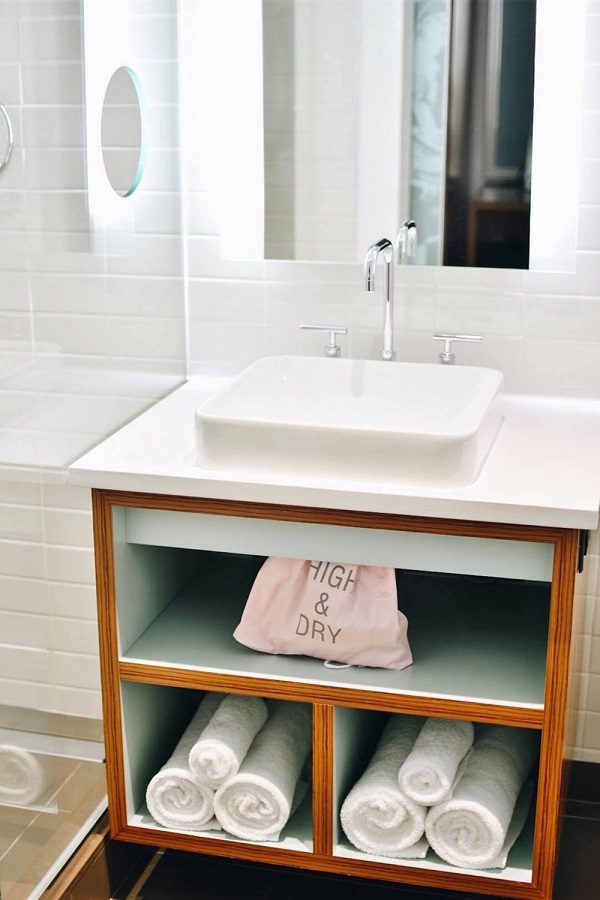 You need a space to store your towels, preferably away from moisture. You can go with open shelves for simplicity or use enclosed cabinets to protect the fabrics from dust and dirt.
See-through glass doors make them easy to spot and monitor. Put them at the higher compartments so they can stay dry in case of flood or drain backup.
Toilet Cabinet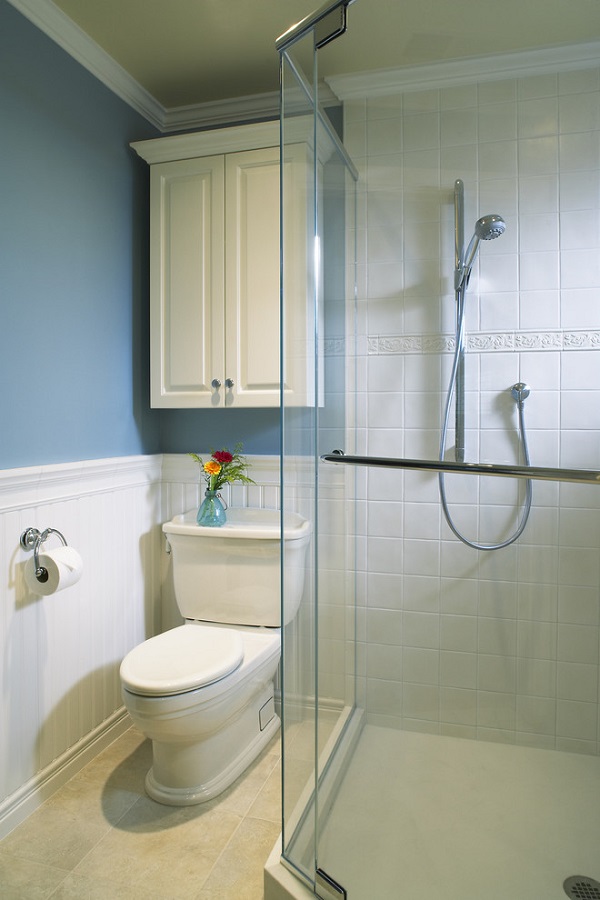 Instead of letting the area above the toilet stay idle, place a cabinet at this spot and get more storage space. It could be a hanging cabinet or a specially made freestanding unit that has a cut-out underneath for the toilet.
Bathroom Backsplash Ideas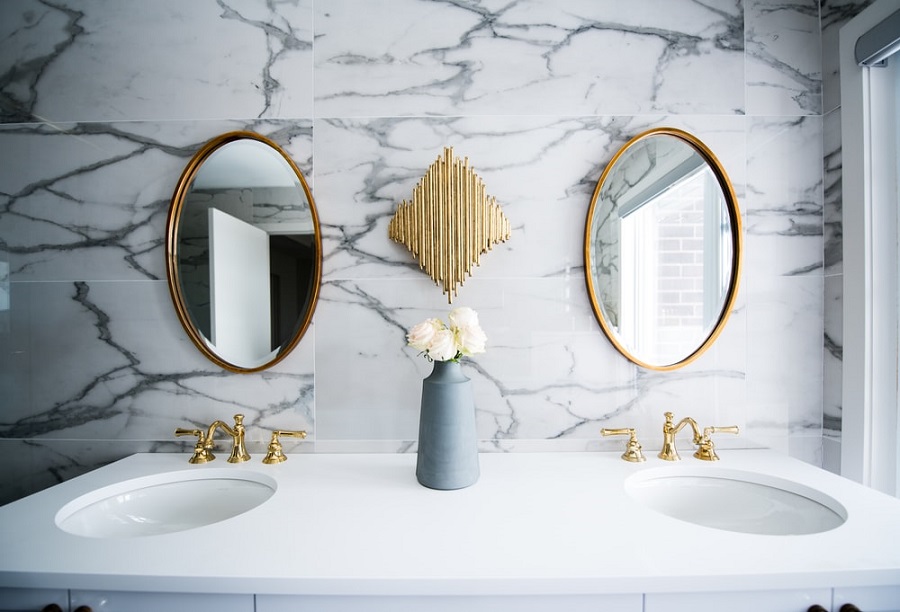 A long countertop will be more useful and beautiful with the addition of a complementary backsplash. This will protect the walls from moisture, stains, oils, and dirt. It will make an imposing bathroom decor feature too.
What are your options?
Classic tile
Subway tile
Mosaic tile
Wood planks
Marble
Oversize tile
Accent colors
Bathroom Cabinet Organization Ideas
Storage organization in the bathroom is crucial – you don't want a mess in a confined space. It helps to keep your cabinets neat.
Here are your options:
Make stored items easier to find by assigning categories to each compartment. Use lots of transparent containers.
Stick labels to help you remember.
Gather smaller objects in clear plastic, baskets, boxes, or other organizers.
If you have drawers, then use cardboard to create partitions so that each area can have completely separate items.
Maximize cabinet space by adding a rack on the inside of the doors.
Use functional cabinets with slideouts that help you store things more effectively (see above).
Bathroom Cabinet Color Ideas
It's best to pick no more than two colors for such a small space. We're all for an eclectic look but in most cases adding more will make it chaotic.
You can pair them with neutrals and play with the shade. For example, you can use a blue and white combination (pictured above) or brown and light gray pairing for a more earthy tone.
White Bathroom Cabinets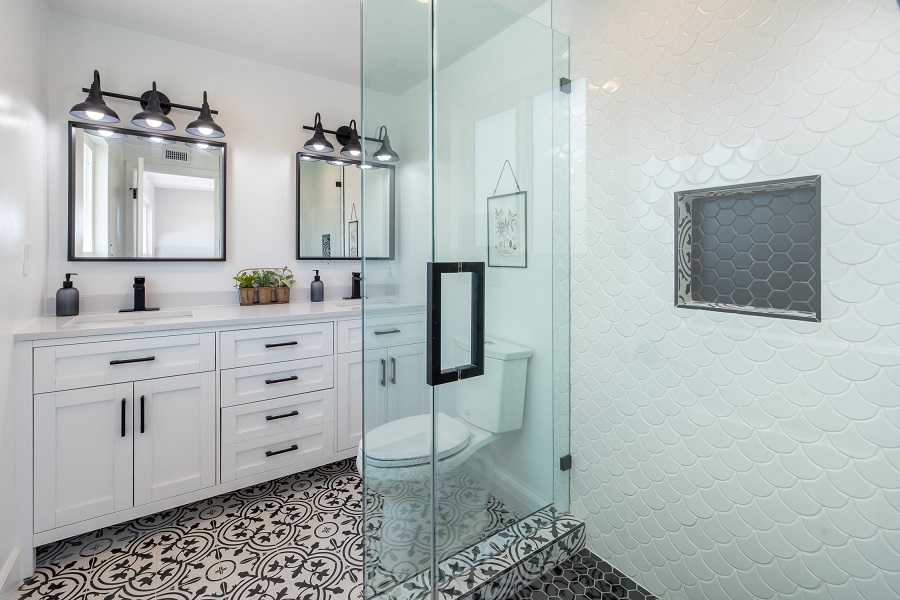 White cabinets are classic. The modern look is combined with shaker style doors, matte black hardware, and lighting fixtures. It's a timeless look.
Wood Bathroom Cabinets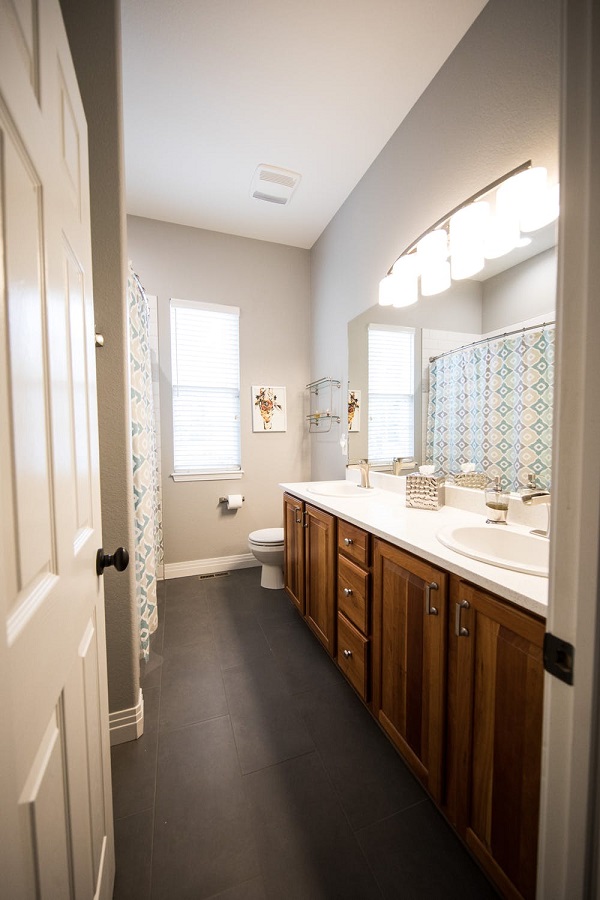 Stained wood is a great choice if you want to add more depth to your bathroom decor. The warm earthy tone sets a cozy theme that works well with modern neutrals.
Painted Bathroom Cabinets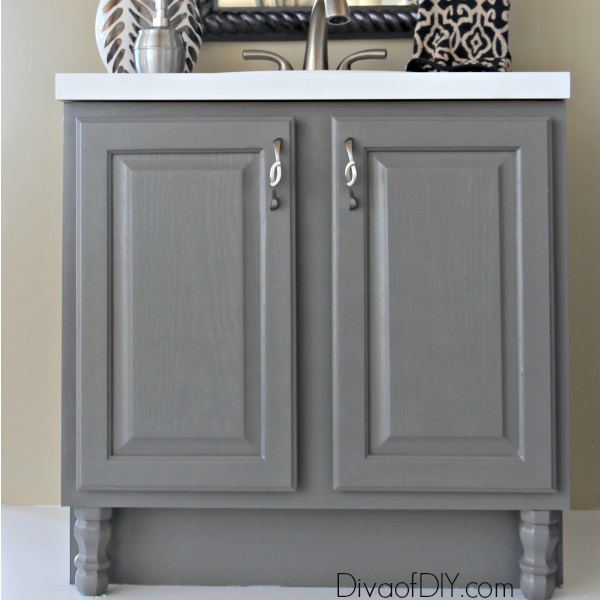 While natural wood grain can be pretty, sometimes it's better to paint the cabinets with a certain color to match the rest of the bathroom. It's a great way to give new life to your old cabinets.
Earthy brown or beige won't always work, especially in a modern color scheme that favors neutrals. White and similarly light colors will also make the room feel bigger.
Custom Bathroom Cabinets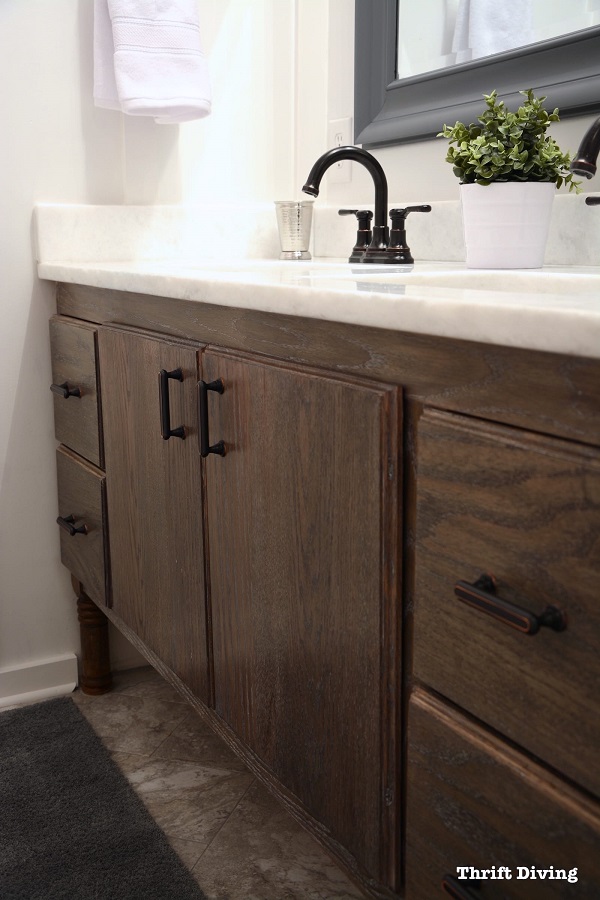 The best way to optimize every square inch in a cramped space is to create every storage unit from scratch. Do it yourself or hire a contractor for help. Design according to your needs and consider the existing layout. It will look more unified and organic if done the right way.
DIY Bathroom Cabinet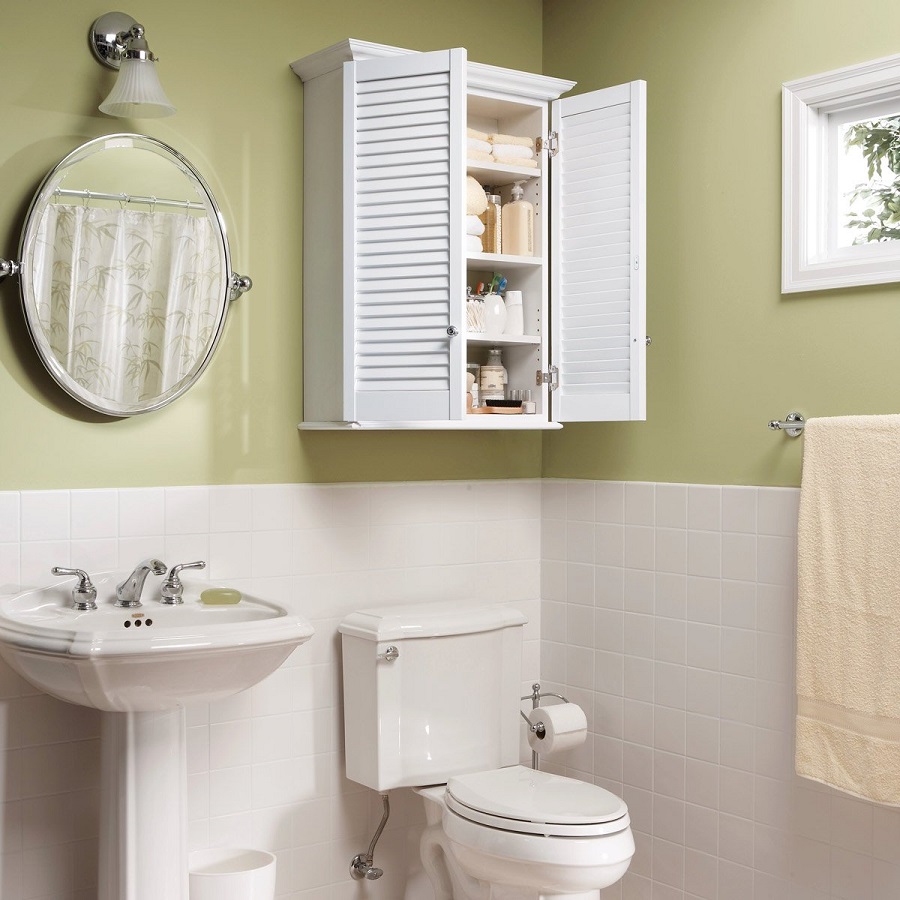 Create a cabinet from scratch using inexpensive lumber or old wood posts. If you want it a bit easier then get storage units from flea markets or your own storage shed.
Just cut a hole at the top for the sink. Opt for a vessel sink for less work. A big ceramic bowl will do in a pinch.
How to Install Bathroom Vanity
You're looking at the following process:
Measure the space allotted so you can purchase a unit with proper dimensions.
Buy everything you need including a new faucet and sink.
Position the vanity at the right spot and install the fixtures.
Connect the plumbing and test for function.
You can also add a special countertop and paint the unit for styling.
FAQ
What is a bathroom vanity?
The bathroom vanity is the combination of a cabinet, a sink, and a mirror in a bathroom. The name comes from its function in that a person uses it to bring themselves to order.
What kind of paint to use on a bathroom vanity?
Latex paint is suitable for bathroom cabinets. It dries fast and doesn't have a strong odor which is important in confined, poorly-ventilated spaces.
How to decorate a bathroom vanity?
The organization is key. Use trays and jewelry organizers to keep the countertop tidy. Avoid creating clutter.
Continue reading: