Last updated on August 13, 2023
A pizzelle maker can cost from $40 to $100 depending on the model and its features. In this article, we'll break down the price and discuss what features are worth it. Read on!
How is a $40 pizzelle maker different from a $100 one? The key difference lies in the type of the pizzelle maker:
Electric pizzelle bakers are cheaper and cost around $40. Some models may cost more if they come from popular brands (CucinaPro, Cuisinart, Vitantonio), have more features, and are larger with higher baking capacity.
Traditional pizzelle irons (stove-top) also cost about $40.
Electric pizzelle irons cost $100 and more because they combine the traditinal design with modern electric features. They are made of higher quality materials (cast iron) and are much more durable. Arguably, they bake the best pizzelles.
Now, let's find out how we can break down the price and what features are worth it.
What's Inside
What Contributes to the Price?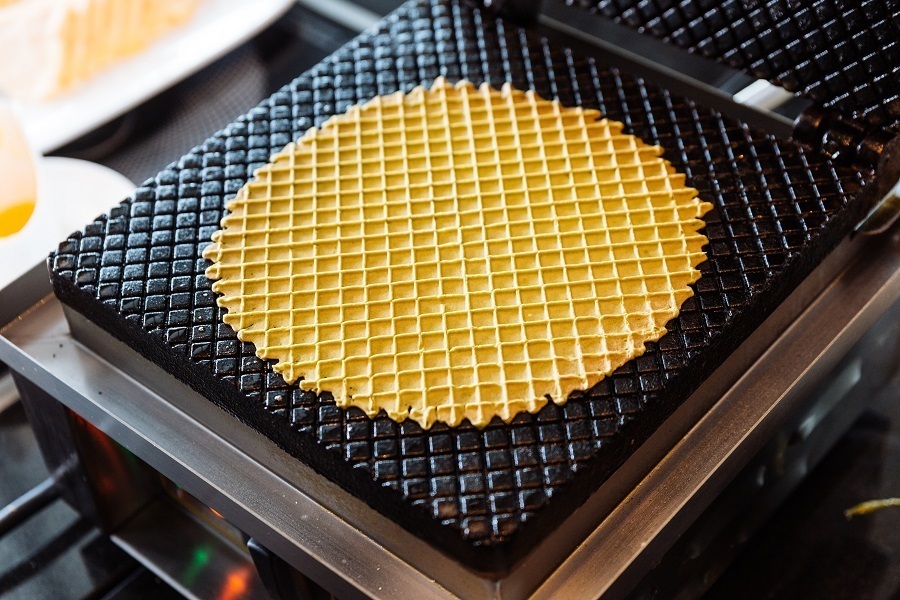 Here are some features that influence the price of a pizzelle maker:
Material – There are several materials used to make pizzelle makers, typically aluminum, cast iron. Each one has its own advantages and disadvantages. 
Size – Pizzelle makers come in small sizes, too large ones. Smaller size means less space required when storing them. Larger models take more room, but they provide better baking capacity allowing you to make more pizzelles at a time.
Warranty Period – Most manufacturers offer at least two-year warranties on their products. This covers any defects caused by manufacturing errors. However, if your pizzelle maker breaks down after 2 years, then you may have to buy another one.
Features – What kind of functions do you want your pizzelle maker to perform? Do you want it to make only round-shaped pizzelles, or would you prefer making square-shaped ones too? How about cutting out heart shape pizzelles? All this determines the type of pizzelle maker you choose.
Cooking surface with non-stick coating. You need to consider how many pizzelles you plan to cook at once. If you intend to bake multiple batches of pizzelles at a time, then you might need a bigger cooking area. On the other hand, you don't really need a big cooking area if you want to make a single batch of pizzelles. A non-stick surface makes life much easier.
Design – If you love modern designs, then there are plenty of options available online. But if you prefer something simple yet elegant, then go for classic styles with traditional pattern grids. Indicator lights are useful when baking to tell you about the status of the gadget.
Brand – Brands vary greatly depending upon where you live. For example, brands sold in Europe tend to be better built compared to those sold in America. So always check reviews first before purchasing anything.
Heat distribution – Pizzelle makers with even heat distribution, are usually more expensive. Typically it is a proprietary design of the brand.
Functionality – Does your pizzelle maker work properly? Is it easy to use? Can you adjust its temperature settings easily? Are the blades sharp enough to slice through dough smoothly? Check each feature carefully before deciding which one to purchase.
Cooking time – Most pizzelle makers can bake pizelles in under 30 seconds. Typically these are electric makers. Irons tend to work slower because they need to be heated on the stove, and it's more difficult to maintain the required temperature, in which case it can take a few minutes. Cooking time influences the price as well.
Settings for browning levels. Some makers include options for choosing the browning level. It's a convenience that comes with an extra price.
Ice cream cone roller. Some models include a roller that comes at an extra cost.
Steam guard is a safety feature that adds to the price. 
Storage – Where will you store your pizzelle maker? Will it fit in your cupboard? Or will it require an extra storage area? Make sure you know exactly where you plan to keep it before choosing one. Compact makers are cheaper too.
Durability – Look closely at the manufacturer's website to see whether they provide information regarding product durability. Also, look at customer feedback and comments posted online.
Ease Of Use – accessible design and automation come at a premium. Set it and forget it functions make like easier, and you don't even have to master a recipe to make perfectly thin cookies.
How to Buy a Pizza Maker
Decide on Your Budget and Needs First
You must decide on your budget and requirements before going shopping. Here are some questions to ask yourself:
How often do I intend to bake pizzelles?
How big should my pizzelles be?
How long can I wait between batches?
How many different types of pizzelles do I wish to produce?
Which features do I really need?
How important is the ease of use?
How easy it is to clean?
How comfortable am I with technology?
Am I willing to spend time learning new skills?
Research Online Before Buying Anything
Once you're ready to start looking around, visit websites such as Amazon, eBay, Walmart, Costco, Target, Sears, etc. You'll find that most manufacturers have their own official web pages. These sites usually contain detailed specifications, user guides, videos, photos, and other useful info. They also allow customers to post honest opinions and ratings. This way, you get unbiased advice from real users who actually used the products themselves.
Compare Prices Carefully
When comparing prices, don't just compare the price tag alone. Take shipping costs, taxes, delivery charges, warranty coverage, return policies, payment options, etc. Some companies offer free samples while others charge for them. Always read all terms and conditions thoroughly so there won't be any surprises later.
Read User Feedback
User feedback is constructive when buying something because it gives you insight into how well-made the item is. If possible, check out reviews written by previous buyers. However, make sure not to rely solely on these reviews since everyone has their own opinion.
Ask For Help From Friends
If you still feel confused after reading through all the above tips, consider asking friends or family members for help. Most likely, they already bought similar items and would love to share what worked for them.
Consider Using Coupons
Coupon codes save money without compromising quality. In fact, coupons can even increase product value. So why not take advantage of them? There's no harm in trying. Just remember to shop wisely and only buy things that will last longer than one month.
Continue reading: