Last updated on August 26, 2022
Use these five ideas to optimize your outdoor space via home decor and create a pleasant getaway in your backyard. Read on!
We all dream about a green backyard but tend to neglect it as soon as it loses its freshness. Indeed, you need to put a lot of time and effort into keeping your outdoor space in good shape all year round, especially when the weather won't cooperate.
However, with a thoughtful approach to designing and choosing quality materials, you can turn your backyard into your own secret garden, capable of withstanding even the coldest months.
Below, you will find several design tips for optimizing your outdoor space to help you turn it into a beautiful place for summer family gatherings, cookout parties with friends, or a secluded nook for spending time alone. They include but are not limited to zoning your outdoor area, adding a fire pit, investing in high-quality furniture, and using heat lamps to prolong summer nights.
Read on and take your backyard to the next level!
What's Inside
Add Outdoor Lighting Fixtures for Ambiance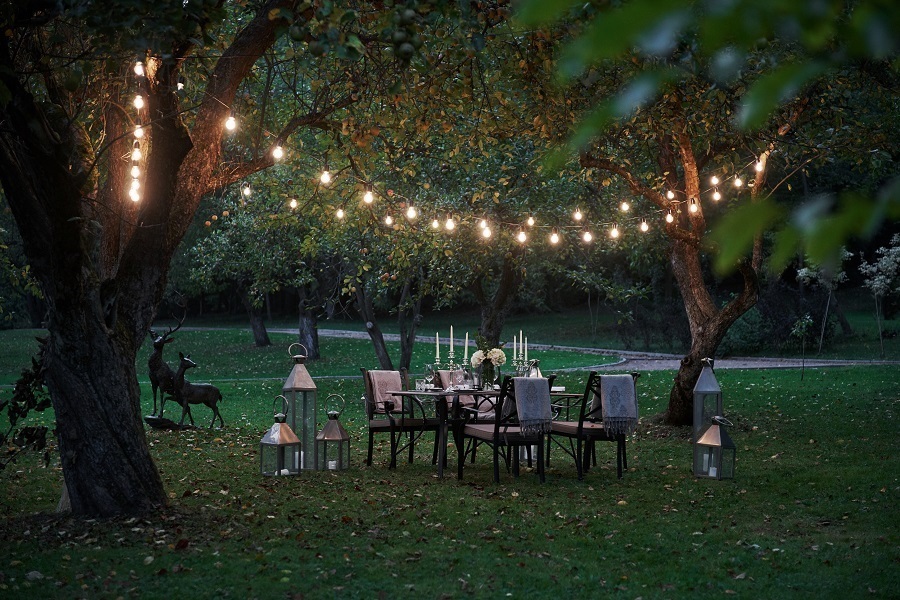 One of the easiest ways to transform your outdoor space into an elegant and comfortable place to spend time is by adding some high-quality lighting fixtures. In other words, you can use them to create a romantic atmosphere for couples' dinners or a fun space for kids' parties. There are plenty of options available on the market so you can choose the ones that perfectly suit your needs and preferences.
For example, you can find modern and sophisticated lighting fixtures that will create a romantic ambiance for your evening get-togethers. Other models are specifically designed for creating atmosphere during summer nights by adding a few classy touches to your dining table. Try to pick fixtures that will complement the design of your deck or patio, as well as your furniture. And if you are worried that an outage could result in your home being surrounded by darkness on all sides, you might want to check this list of the best emergency generators.
Create a Zoned Outdoor Space
When you think about optimizing your outdoor space, start by zoning it. The idea is to divide your space into three zones: one for relaxing, one for entertaining, and one for your gardening needs. If you have a spacious backyard, you can add the fourth zone for kids' playtime (if you have children).
The ideal layout for zoning your outdoor space depends on your needs and wishes. However, start with the following tips:
Create an entertainment zone with ample space. For example, if you like hosting dinner parties, add a large dining table with chairs and benches for maximum comfort. If you prefer grilling, you need to invest in quality barbeque equipment as well as additional seating.
Create a relaxing zone where you can enjoy your backyard and be protected from the elements. This zone can include a hammock or two, a fire pit, some comfortable loungers, an outdoor sofa or cozy corner, and potted plants. Add some lighting, and you will have everything you need for relaxing after a hard day at work.
Create a separate zone for your garden. You can plant them in containers or directly in the soil, depending on your preferences and resources.
Add a Fire Pit
When it comes to creating a relaxing zone in your outdoor space, a fire pit is an absolute must. It will become your favorite place to enjoy the evening with family and friends while sipping on a glass of wine or two. Besides, a fire pit will help you keep the temperature up during cold nights.
Nowadays, you can purchase fire pits in many shapes and sizes. However, the most popular options include basic round fire pits, fire bowls, and fire pits with seating. When choosing one of these options, consider how and where you want to use it.
Use Heat Lamps to Extend Summer Nights
When the weather is warm but the evening is getting chilly, heat lamps can come to the rescue. In fact, they are an excellent addition to any outdoor living space, especially during spring and fall when the temperature drops significantly at night but you still like to spend time outdoors. The great news is that there are heat lamps for every budget and purpose. For example, you can find heat lamps for camping that cost less than $10 or ones that cost more than $150.
Invest in High-Quality Outdoor Furniture
When you are designing your outdoor space, you need to invest in high-quality outdoor furniture. This way, you will be able to enjoy many years of summer nights, fall weekends, and winter holidays without having to worry about the furniture getting damaged. If you are planning to have big parties, consider investing in a few pieces of furniture that will stand the test of time.
One of the best options for your outdoor space is a patio set with built-in storage. It will allow you to easily clean up right after a party. Plus, it can easily be transformed into storage space when you want to use the area for other purposes. Another great option is a sofa or a recliner that won't get damaged by rain or snow, as well as a sturdy dining table with chairs. For additional comfort, add plenty of pillows and blankets to your outdoor living space.
The Takeaway
Designing and optimizing your backyard is not an easy task. However, it is definitely a rewarding one. Now that you know how to create different zones in your outdoor space, use the right materials for fencing, decking, and furniture, add a fire pit and invest in quality outdoor lighting fixtures, you can start working on your outdoor space.
In other words, you can transform it into a cozy area where you will spend many summer nights with family and friends, enjoying long hours of fun.
Continue reading: