Last updated on November 27, 2023
Revamp your culinary space because innovative kitchen background ideas can truly redefine and bring forth the unexplored aesthetics of your home.
I'm proud to have crafted this article and these 20 unique kitchen design illustrations, hoping you find them as inspiring and exciting to explore as I did creating them.
Transforming your kitchen into a space that reflects your personality and meets your needs is an exciting endeavor. This article is the perfect guide to help you navigate through a myriad of kitchen background ideas, from traditional to modern designs, color schemes, materials, and more.
Packed with detailed insights and practical tips, this comprehensive guide will empower you to make informed decisions and create a kitchen that not only serves its functional purpose but also stands as a testament to your unique style.
Whether you're planning a complete kitchen makeover or just looking to refresh your space, continue reading for a deep dive into all things kitchen background related.
What's Inside
Farmhouse-inspired Design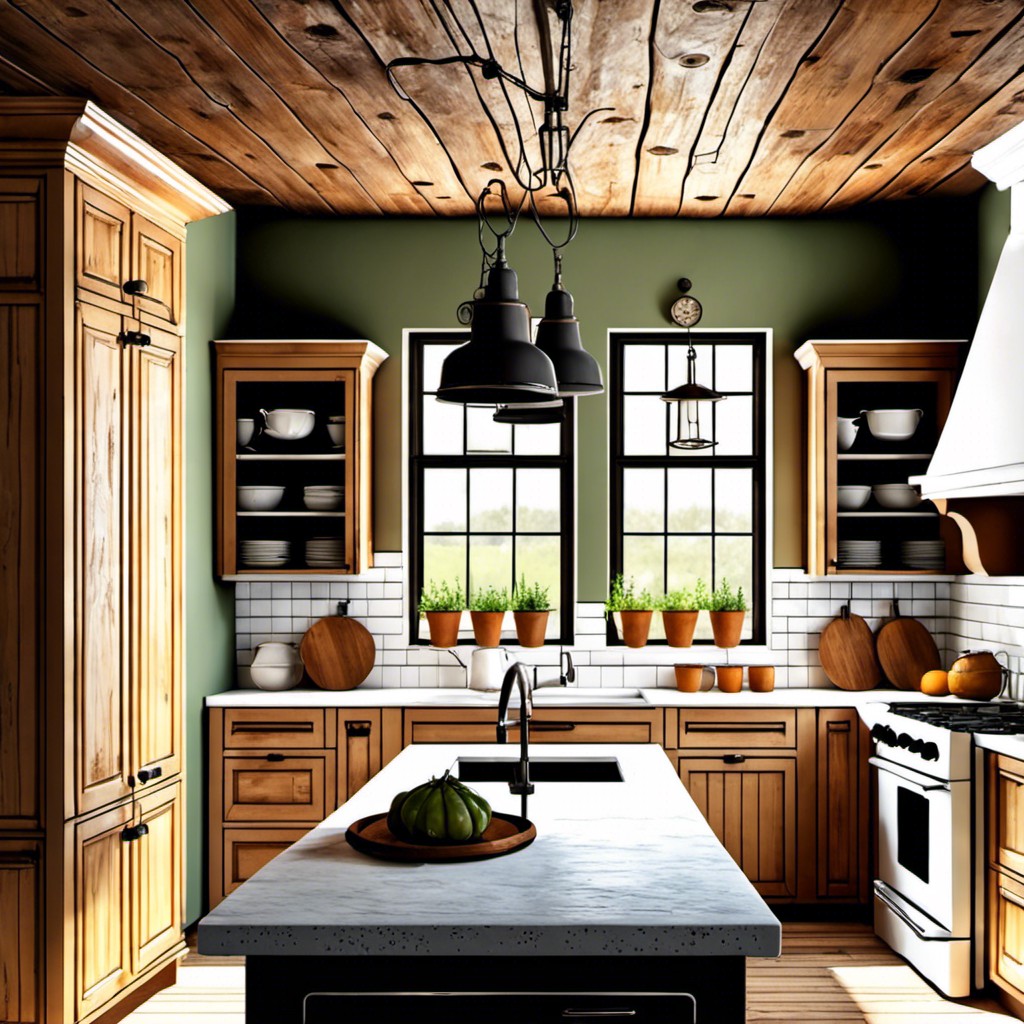 Unmistakable characteristics often define this particular style. Utilizing natural woods and hues is key, with a preference for shades of white, cream, and beige. Consider unfinished wood for cabinets or the kitchen island to capture the simple charm of a farmhouse.
In terms of furniture, opt for vintage pieces that boast authentic distressed weathering. This style promotes comfort and functionality over sleek, modern aesthetics. A large, welcoming kitchen table is a staple, often made from recycled or reclaimed wood.
Matte finishes on fittings and fixtures, like brass or copper faucets, add a rustic touch. Open shelving populated with earthenware, stoneware or enamel kitchenware, as well as fresh produce in farmhouse-style wire or wicker baskets, also enhance that countryside aesthetic.
Furthermore, farmhouse design plays on the concept of 'lived-in' and cozy. Hence, opt for soft, checkered or floral print curtains and cushions. Handcrafted elements, such as a vintage sign or family heirlooms, imbue a sense of nostalgia, replicating the warmth and character of a genuine farmhouse kitchen.
Finally, remember that the hallmark of a farmhouse kitchen is simplicity, informality, and a dash of nostalgia. These qualities are reflected in the style's distinct elements and layout, all of which emphasize comfort and charm.
Modern Minimalist Style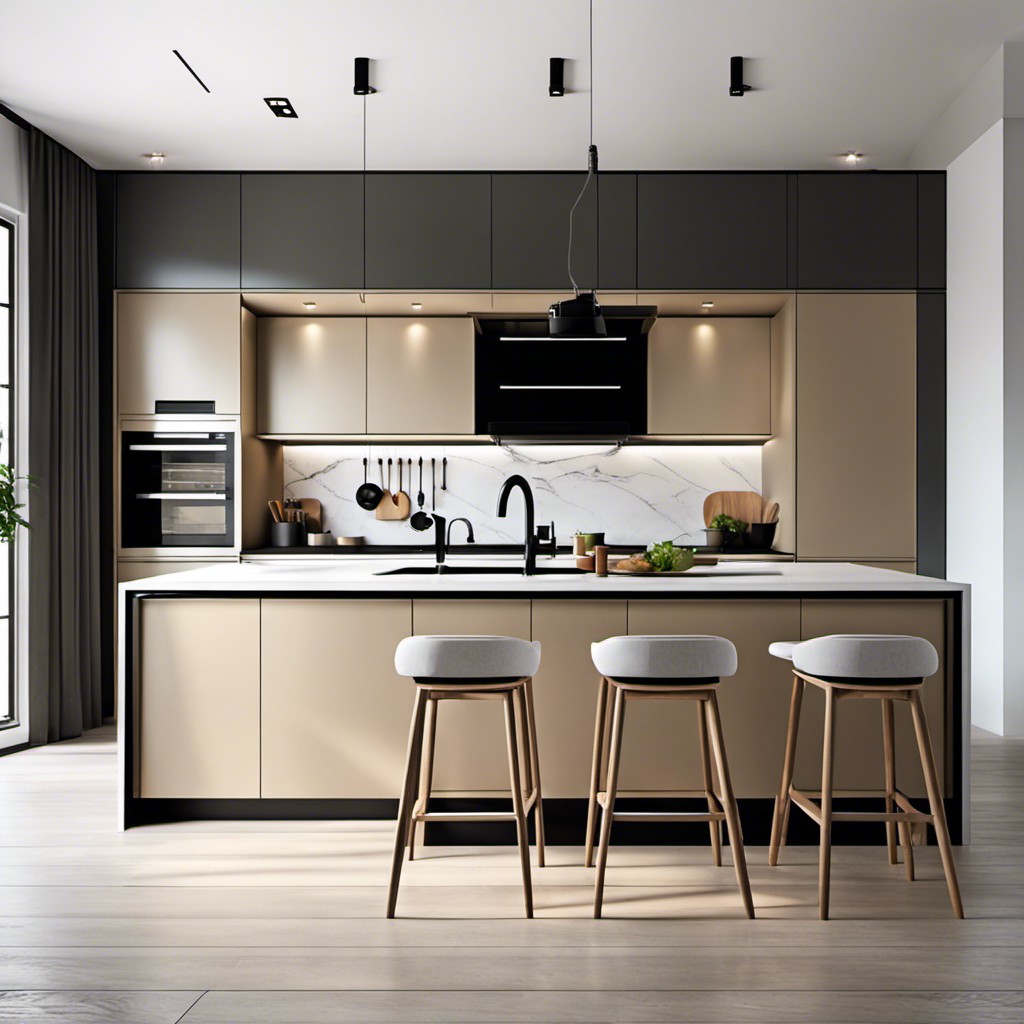 With its focus on clutter-free spaces, smooth surfaces, and a limited color palette, this style has been hallmarking modern kitchens for a while now. Here are a few concept points:
1. Clean Lines: Always opt for straight, sleek kitchen furnishings. This includes cabinets, islands, and even hardware. A minimalist kitchen doesn't rely on molding or other ornamentation; instead, it values the beauty of simplicity and restraint.
2. Neutral Colors: Dominated by whites, grays, blacks, or earth tones, a minimalist color scheme is serene and timeless. With a simple backdrop, there is room even for one or two pops of color – through plants, textiles, or kitchen accessories.
3. Concealed Storage: The counter-tops should be clear and uncluttered. Integrated appliances, hidden storage, pull-out pantries are essential to maintaining the minimalist look.
4. Functional and Fundamental Elements: In a minimalist kitchen, every item has its purpose and place. It's all about using items you need daily and storing away everything else.
5. Open Spaces: Retaining open space is key. Instead of upper cabinets, consider open shelves to maintain the airy, spacious atmosphere.
6. Natural Lighting: Exploit natural light as much as possible by using sheer or no window coverings. This creates a relaxed, calming environment.
The minimalist aesthetic is all about simplicity, with each element combining to create an effortless look that prioritizes function while maintaining beauty.
Retro 50s Diner Theme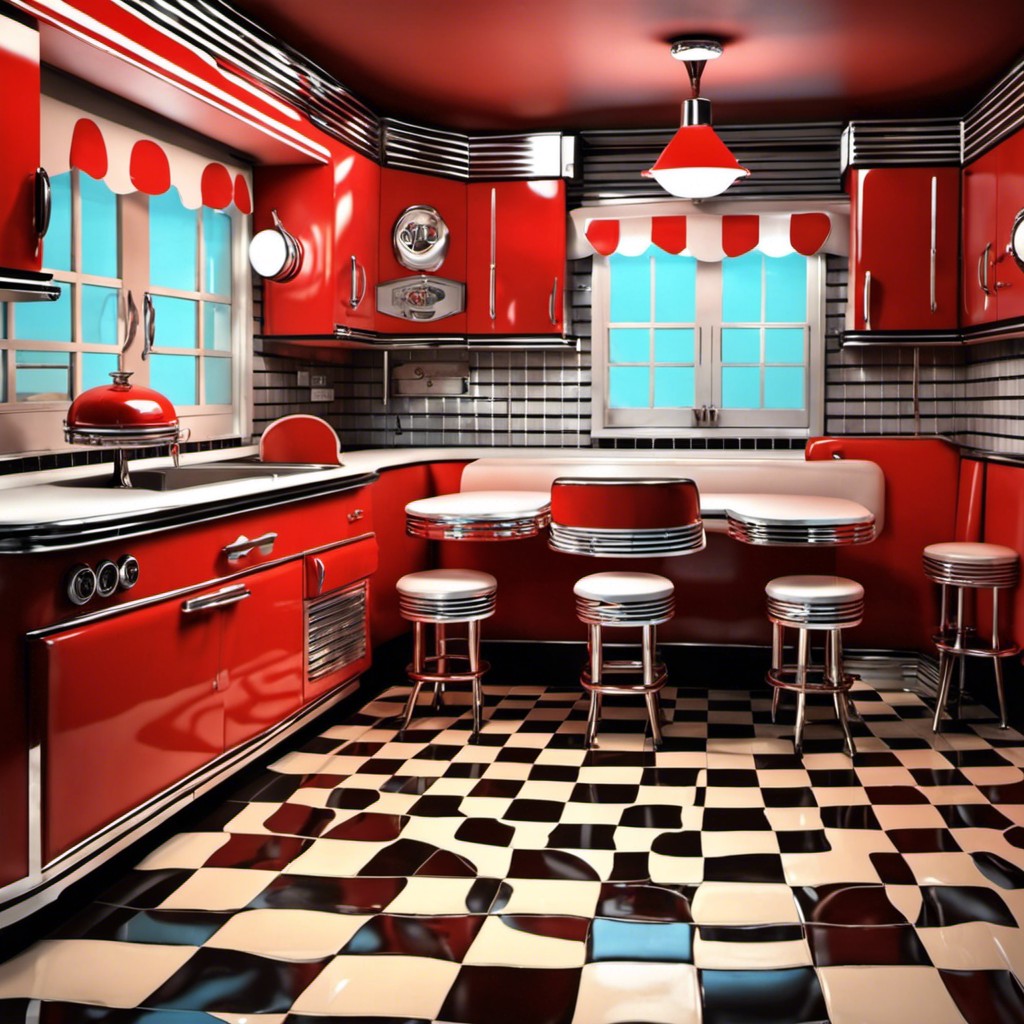 Channeling the classic appeal of this bygone era involves incorporating bold, vibrant colors, such as cherry red, mint green, and sunshine yellow. Chrome accents, especially for furniture and fixtures, further enhance this look. Think bar stools, dinette sets and time-honored appliances like a retro soda fountain or jukebox. Geometric patterns, like checkerboard floor or polka dot curtains, add a playful touch. Don't forget to add nostalgic décor items, such as neon signs and vintage posters, to capture the fun spirit of a true 50's eatery. Nailed booths or diner-style benches can cap off this delightful theme.
Bohemian Chic Vibes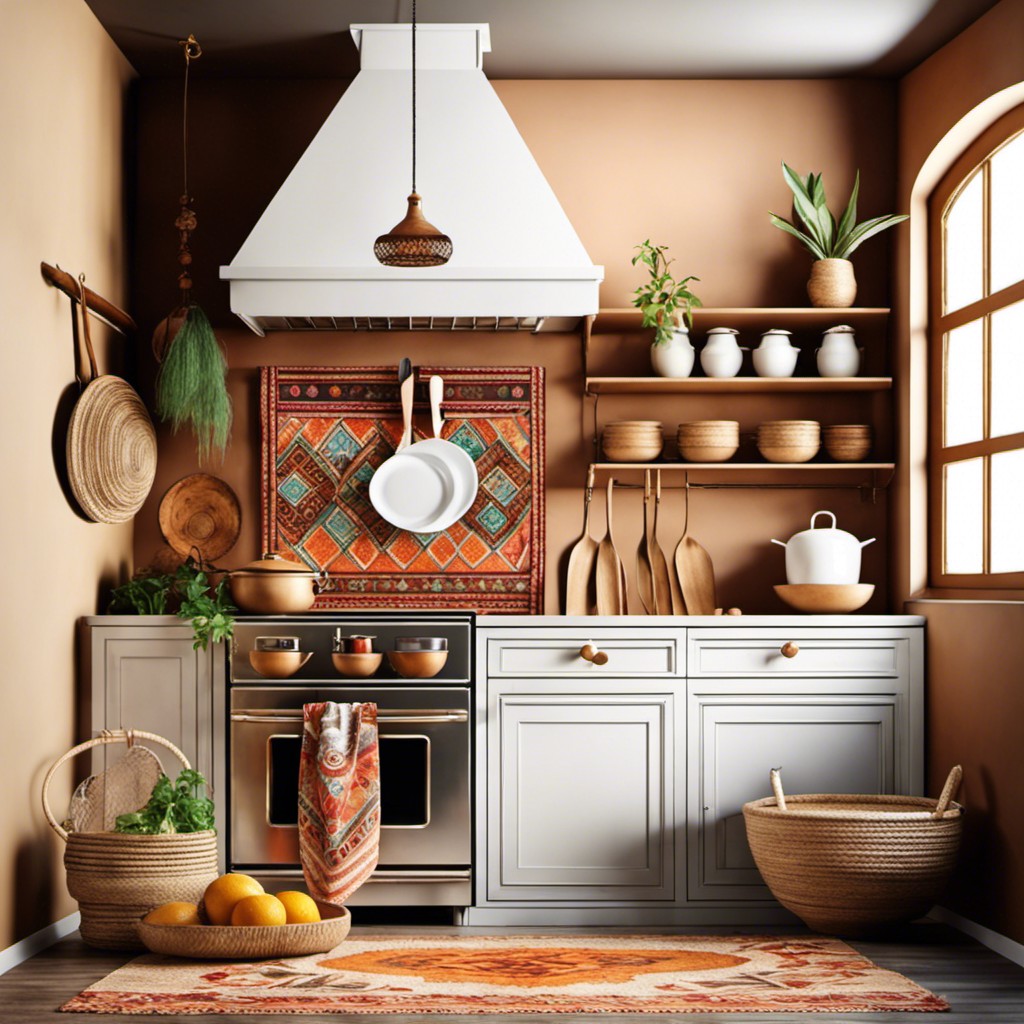 In the realm of Bohemian chic, grandma's old embroidered cushion, a vibrant Moroccan rug, or a handwoven wall hanging fit right in. This style embraces the unusual, the colorful, and the globally inspired.
Start with a base of warm, neutral colors. Achieve the desired look by adding layers of rich patterns and colors using materials that vary in texture.
Give character to the kitchen by mixing and matching various types of seating, like an antique wooden bench on one side of the table with mismatched vintage chairs on the other.
Open shelving is a key factor of this design as it displays pottery, ceramic dishes, and colored glassware. Weathered or reclaimed wood also helps to infuse a sense of history and uniqueness into the space. Copper or brass hardware and light fixtures add a touch of romance while contributing to the warm color palette.
Elements with a handcrafted touch, like a woven basket for holding fruit or hand-painted tiles as a backsplash, are perfect for introducing authenticity to the space. Lastly, incorporating plants is a sure way to breathe life and color into your bohemian kitchen setup.
Rich Mediterranean Ambiance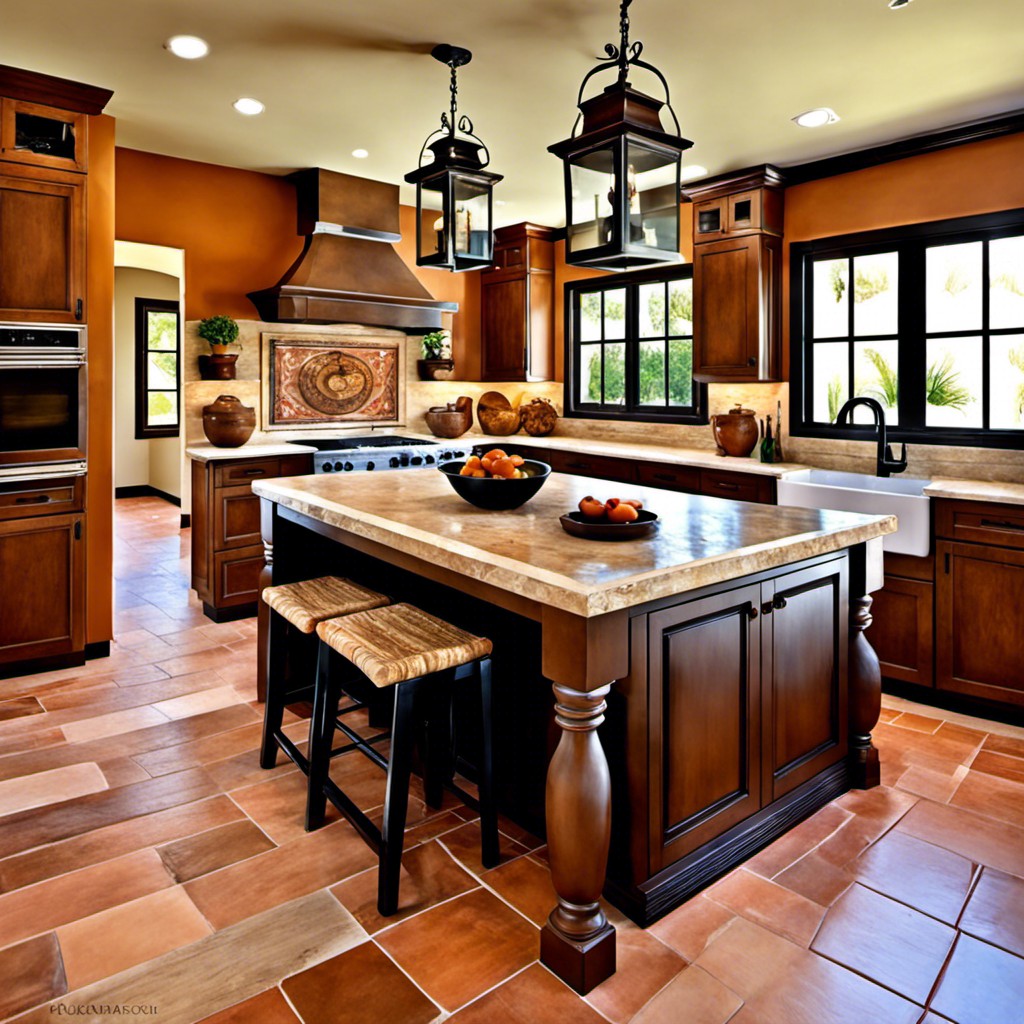 Invoking the sun-soaked region's intrinsic charm, incorporating natural materials is key. Think of stained wood finishes, beautiful terracotta tiles, and wrought-iron accents for hardware or light fixtures.
Opt for earthy, warm hues like deep blues, sage greens, burnt orange, creamy whites and dusty yellows to paint your walls and cabinets.
Decorative details should embrace the Mediterranean's historical artistry – think Moorish patterns or Tuscan frescoes.
To round off this vivacious ambience, accentuate spaces with pottery, olive jars or antique lanterns, showcasing the region's cultural richness.
Classic, practical, and timeless, it is a complete sensory experience of the Mediterranean right in your kitchen.
Traditional Japanese Zen-style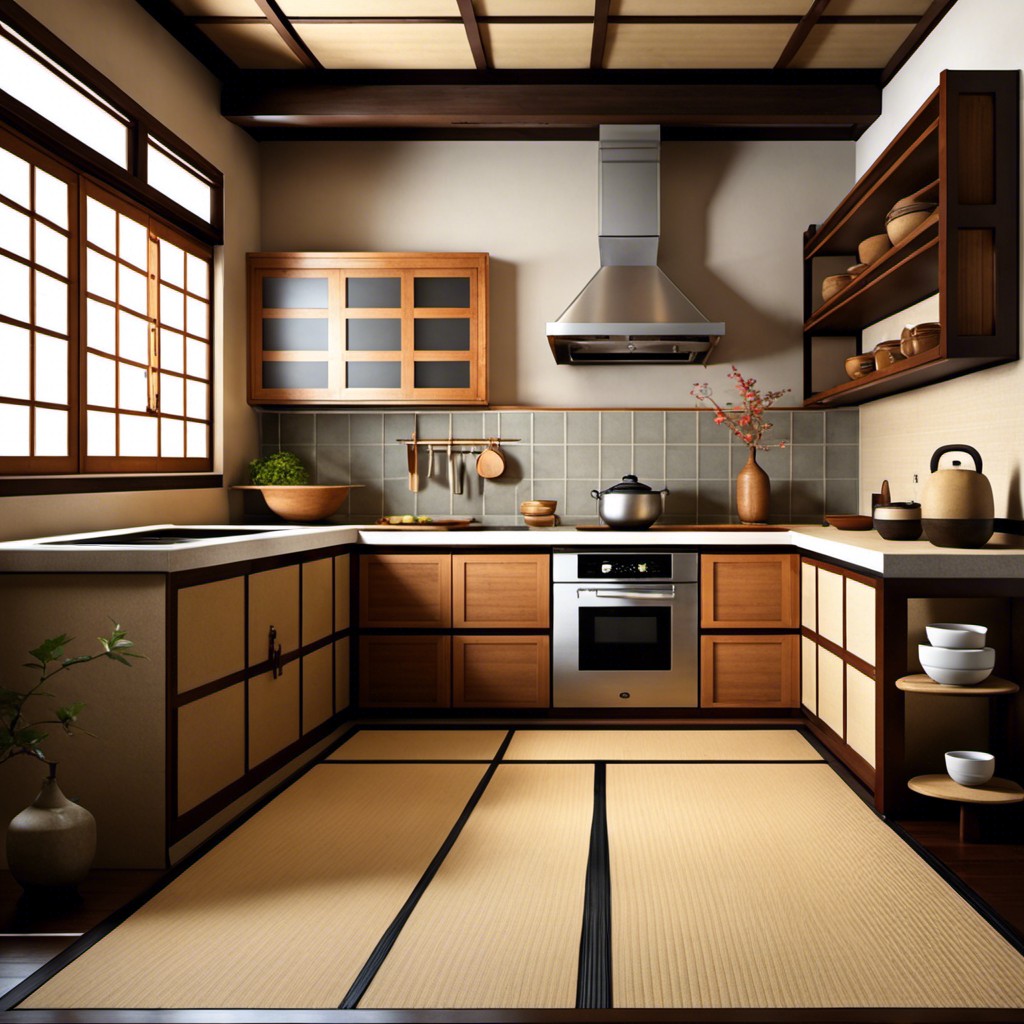 A meaningful blend of simplicity and functionality defines this style. With a focus on tranquility and natural elements, subtle colors populate this landscape. Creating a Zen-style kitchen involves selecting a color palette of earth tones such as whites, browns, and greens.
1. Open Spaces: Embrace open layout design. It encourages an uncluttered and airy ambiance which is a characteristic of Zen-style.
2. Natural Woods: Incorporating plenty of wood elements, particularly in lighter shades, can introduce a sense of warmth and comfort to the space. Maple, pine, and oak are suitable materials for cabinets, table, and floor.
3. Minimalistic Approach: Opt for sleek, clean lines with a lack of ornamentation on cabinets and counters. Fussy details have no place in a Zen setup.
4. Lighting: Take advantage of natural light wherever possible. Translucent window shades can allow indoor-outdoor interplay of light.
5. Plants: Bonsai trees and bamboo plants will add an organic touch to the kitchen, connecting the indoor space with nature.
In this design, every piece has its place, promoting a serene and harmonious environment. This ethos is synonymous with the philosophy of Zen, ideal for those in pursuit of balance and tranquility in their kitchen decor.
Contemporary Elegance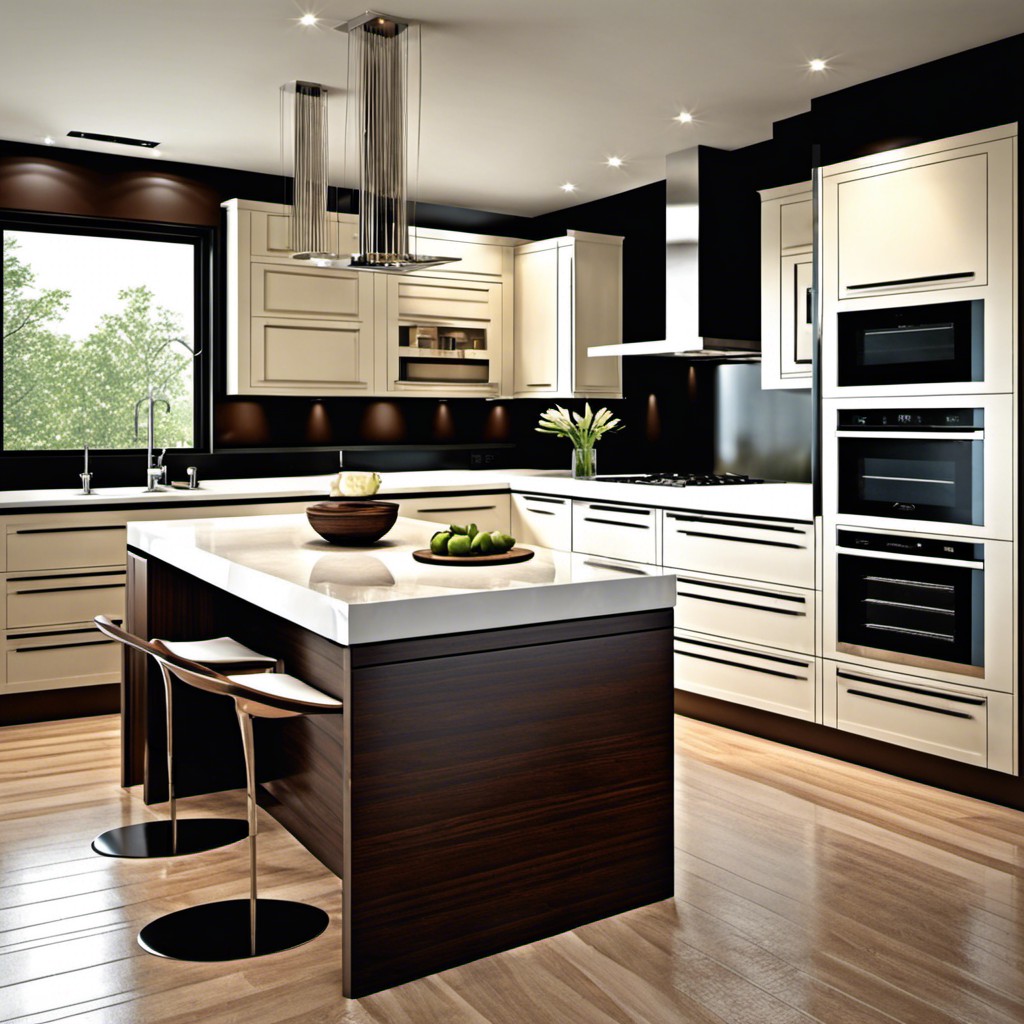 Contemporary elegance is all about clean lines, a monochromatic palette, and a purposeful arrangement of sleek, yet comfortable, furniture. Here are the key design elements:
1. Simplistic Layout: Opt for a design that is devoid of excess. Clean, open spaces typify this approach.
2. Neutral Color Scheme: Stick to browns, tans, creams, and pure whites. These inspire a sense of calm and harmony.
3. Minimalist Furniture: Choose pieces with smooth, sleek lines. Avoid ornate details – instead focus on simple and functional items.
4. High-Grade Materials: Chrome, steel, and glass are materials of choice in elegant contemporary designed kitchens. These lend a polished, classy feel.
5. Accent Lighting: Consider pendant lights or recessed lighting that highlight the best features.
6. Modest Décor: Sculptural accents or potted plants serve as perfect central points for this theme.
Incorporate these aspects and you'll create a kitchen that radiates with a refined and timeless aesthetic.
Rustic Country Charm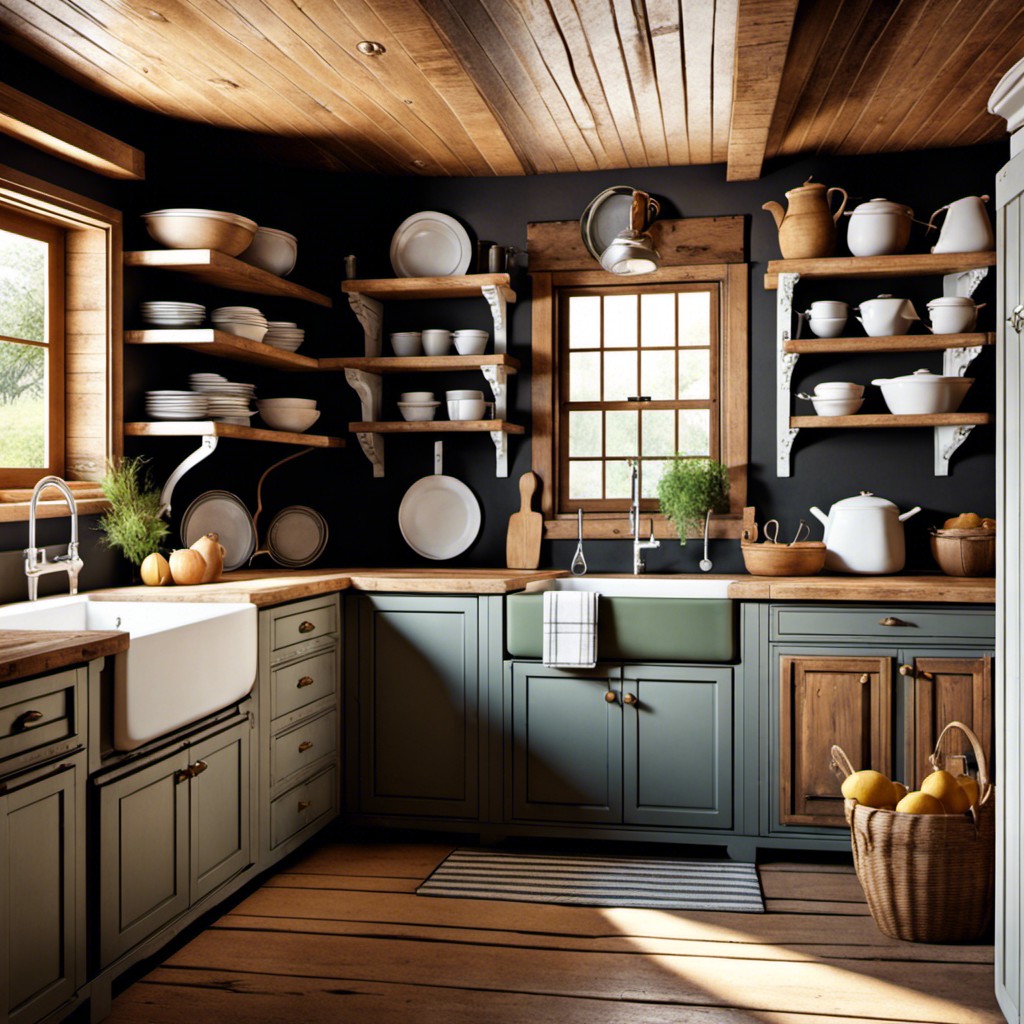 This style is characterized by warm, earthy tones such as browns and beiges, often paired with off-whites and muted greens. It emphasizes comfort, simplicity and functionality.
Common materials used include exposed wood, especially for countertops and furniture. Barn doors, open shelving, and farmhouse sinks add to the aesthetic.
Small accents, think antique utensils or intricately designed quilts, add the finishing touch. For a modern twist, integrate polished metals and contemporary appliances for a chic blend of old and new.
Natural light is key to illuminating the textured finishes and enhancing the welcoming ambiance. Consider a large window or skylight to allow the sun to drench your kitchen in a heart-warming glow.
Coastal Beach Feel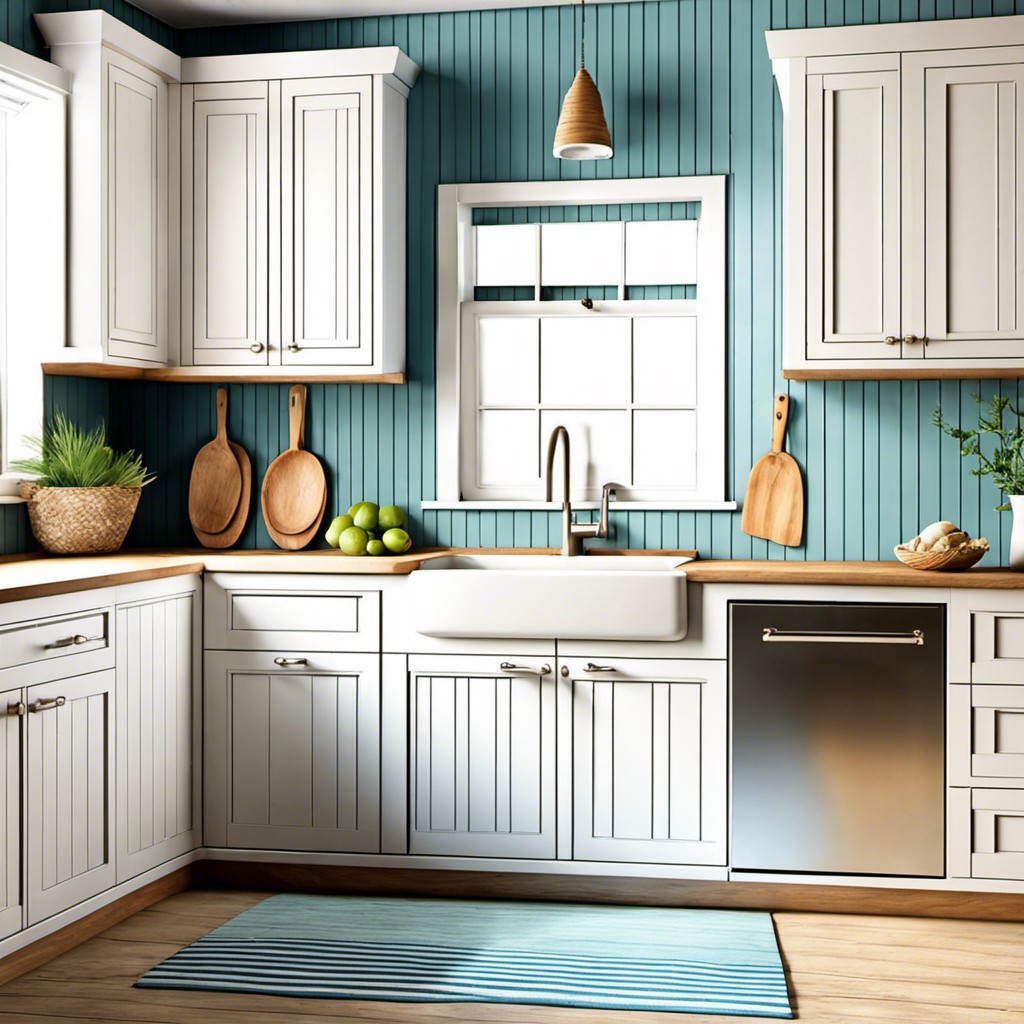 Emphasizing light, airy spaces with plenty of natural elements is essential in a coastal-inspired kitchen. Opt for a palette that draws from the sea—a mix of blues, sandy beiges, and crisp whites—to create a clean, fresh backdrop. Consider beadboard cabinet fronts and open shelving, which add instant beach cottage vibes. Coupled with wicker or rattan bar stools, this traces to a laid-back seaside charm.
Seashore-style decorative elements help to anchor the look. Incorporating seashells, driftwood, or maritime-themed artwork provide subtle nods to the coastal theme without feeling overly thematic. Glass pendant lights or those wrapped in rope can evoke imagery of floating buoys and old fishing vessels.
For countertops and backsplashes, materials like weathered wood or a soft-toned sea-glass mosaic can inject a wave-washed aesthetic. Couple these with stainless steel appliances to mirror the gleam of sunbeams reflecting off the ocean. Keeping the design elements light and breezy anchors the beachside motif in a tasteful, inviting way.
Edgy Industrial Design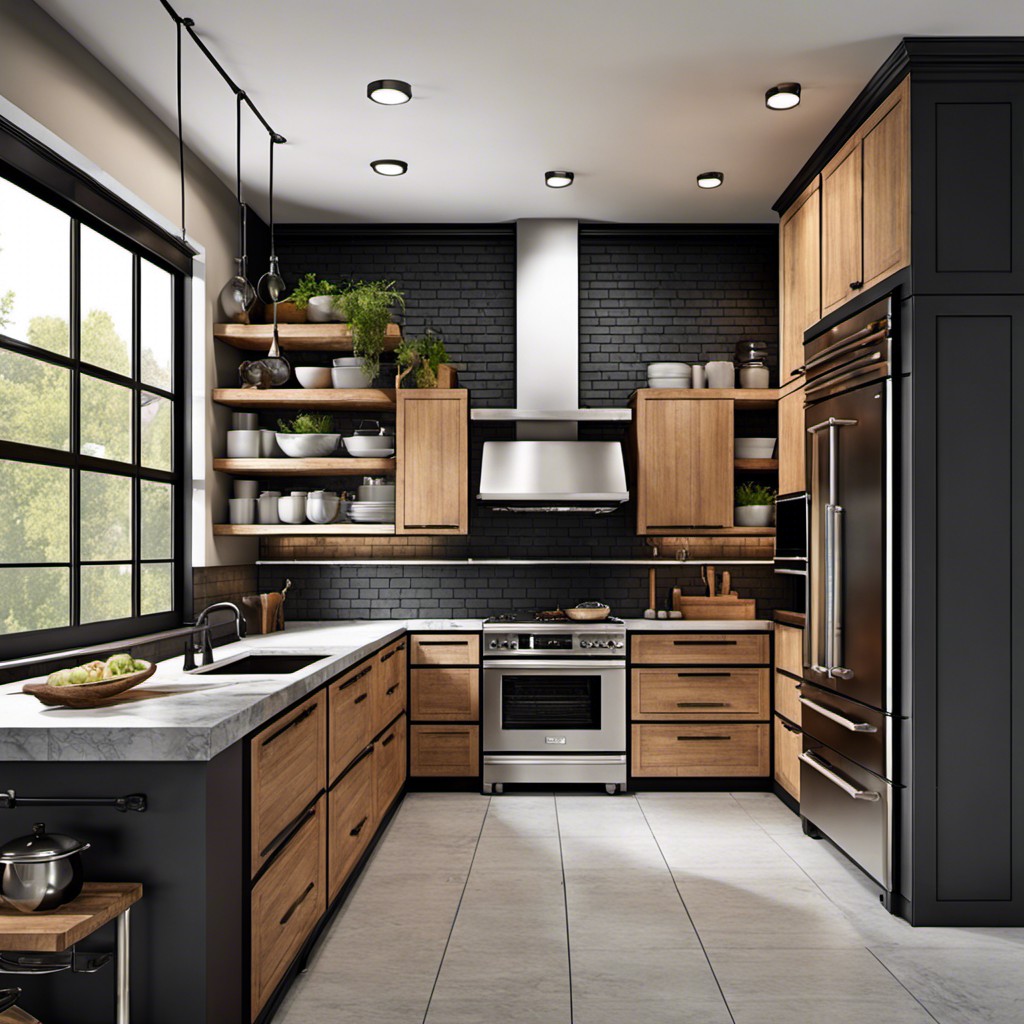 Adopting this design means exposing raw elements that other styles often hide — think exposed brick walls, visible piping, and ductwork. The use of metallic accents, from stainless steel to iron, helps to embody the machine-like aloofness of this theme.
Furnishings are often rugged, with stressed wooden elements and worn, aged styling versatile within this look. The color scheme usually edges towards neutral territory, with plenty of grays, blacks, and whites. For a touch of warmth, consider incorporating vintage light fixtures with Edison bulbs.
Open shelving using raw and untreated wood is another hallmark, complementing the utilitarian aesthetic. Remember, achieving this theme doesn't mean disregarding comfort. Plush rudimentary fabrics for window treatments, seating, or throw rugs can provide excellent contrast to the hard lines of the industrial elements.
Eclectic Mix Style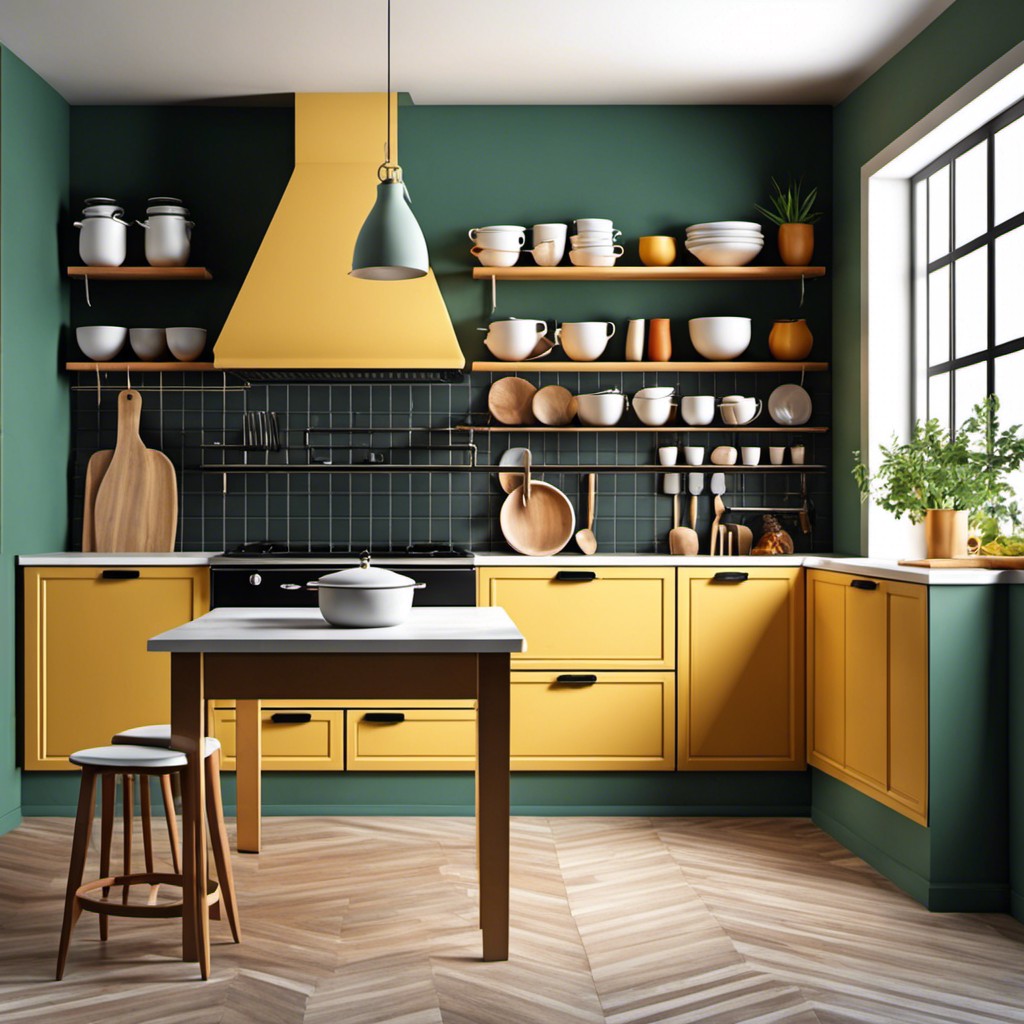 Eclectic mix style kitchen design embraces a blend of periods, styles, and colors to create a harmonious and cohesive look. Here are a few key concepts behind this popular design trend:
1. Combination: It allows creatively melding together different elements that wouldn't traditionally match. It could be an antique worktable as a kitchen island paired with modern bar stools.
2. Freedom: There's no strict rule book to follow. Combine objects, colors, and patterns that you love.
3. Balance: The key is to maintain equilibrium. A wild mix can quickly become confusing, so establish a few grounding elements.
4. Color Scheme: A consistent color palette can unify the eclectic mix.
5. Contrasting Textures: Mixing shiny with rough, organic with geometric keeps things visually exciting.
Remember, personal touches and unique pieces set the eclectic mix style apart. It's a celebration of individuality and unconventionality.
Luxurious Marble Theme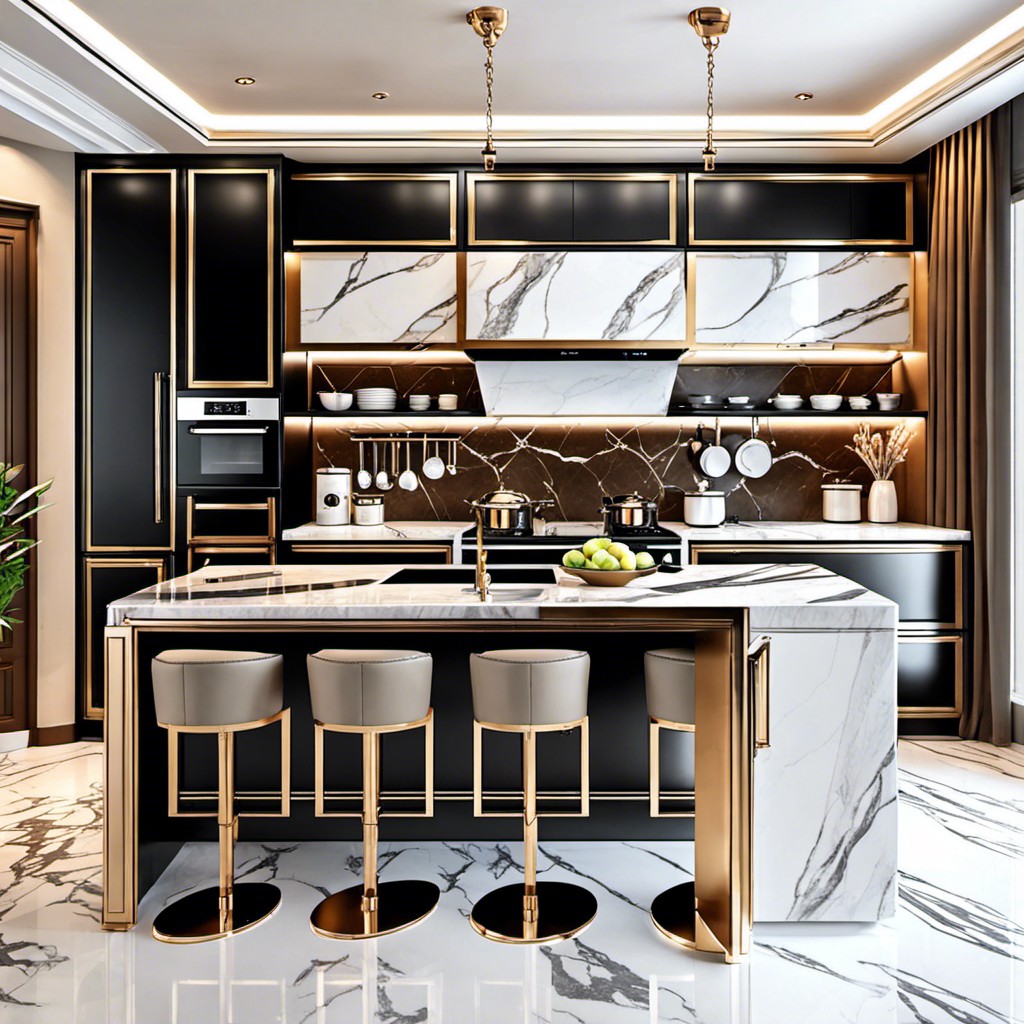 Assigning a generous use of marble in your kitchen can immediately elevate the look to a luxurious level. This natural stone is known for its breathtaking veining and varied patterns, lending a unique and opulent appearance to the room. Opt for a marbled countertop or even better, a kitchen island. If an entire marble surface seems too much, consider using it as backsplash or accessories, like trays and cutting boards.
When selecting the color palette, pair marble with warm neutrals for a soft, inviting look, or with deep, rich tones like emerald or navy for dramatic sophistication. Brass or gold accents and fixtures can also add a nice touch.
Remember, lighting plays a key role in enhancing the gloss and texture of marble. Go for layered lighting with a combination of ambient and task lighting. Recessed ceiling lights or stylish pendant lights can highlight the stone's natural beauty effectively.
Finally, the maintenance of marble is an essential point to discuss. Keep your marble surfaces sealed and wipe up spills immediately to prevent staining. The lustrous finish and grandeur of marble can last a lifetime with proper care.
Historic Victorian-era Design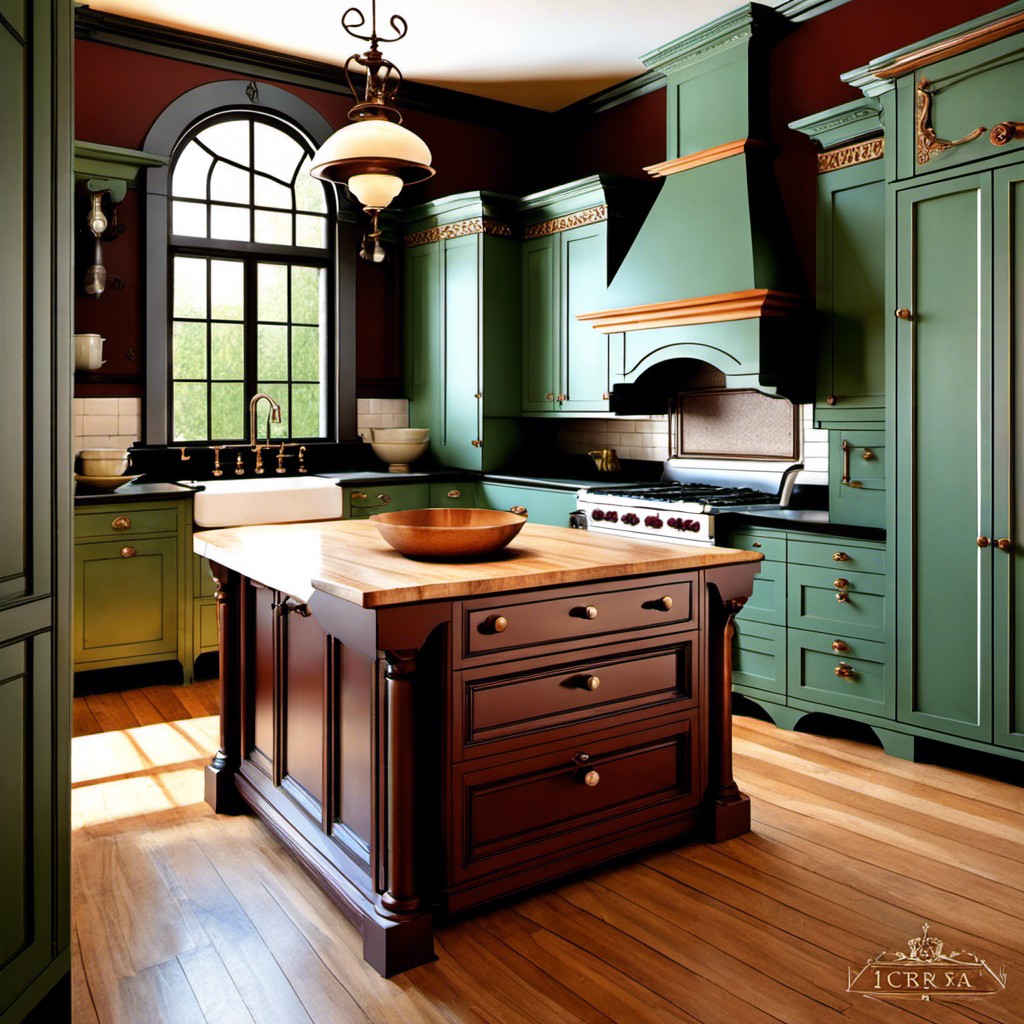 This design style borrows heavily from the prominent architectural and interior styles of the 19th-century Victorian era. Its distinct features include ornate and elaborate details that celebrate artistry and craftsmanship.
1. Use of Rich, Natural Colors: Deep hues like burgundy, sapphire blue, and forest green nod to the palette typical of the period.
2. Elaborate Furniture: Carved wooden furniture with plush, upholstered seats delivers the desired Victorian elegance.
3. Decorative Moulding: Intricate details such as plaster friezes and crown mouldings can add a lofty touch to ceilings and walls.
4. Opulent Fabrics: Velvet, silk, and tweed in the form of drapes, chair covers or even wall hangings enhance the richness.
5. Antique Accessories: A collection of antique plates, china, or brass objects can accentuate iconic Victorian charm. Remember, moderation is key to maintain aesthetic balance.
6. Lantern Lighting: Chandeliers and lantern-styled lights reinstate the vintage essence.
Remember, Victorian-era is all about intricate detailing and an opulent aesthetic. So, feel free to play around with patterns, textures, and rich colors!
Art Deco Glamour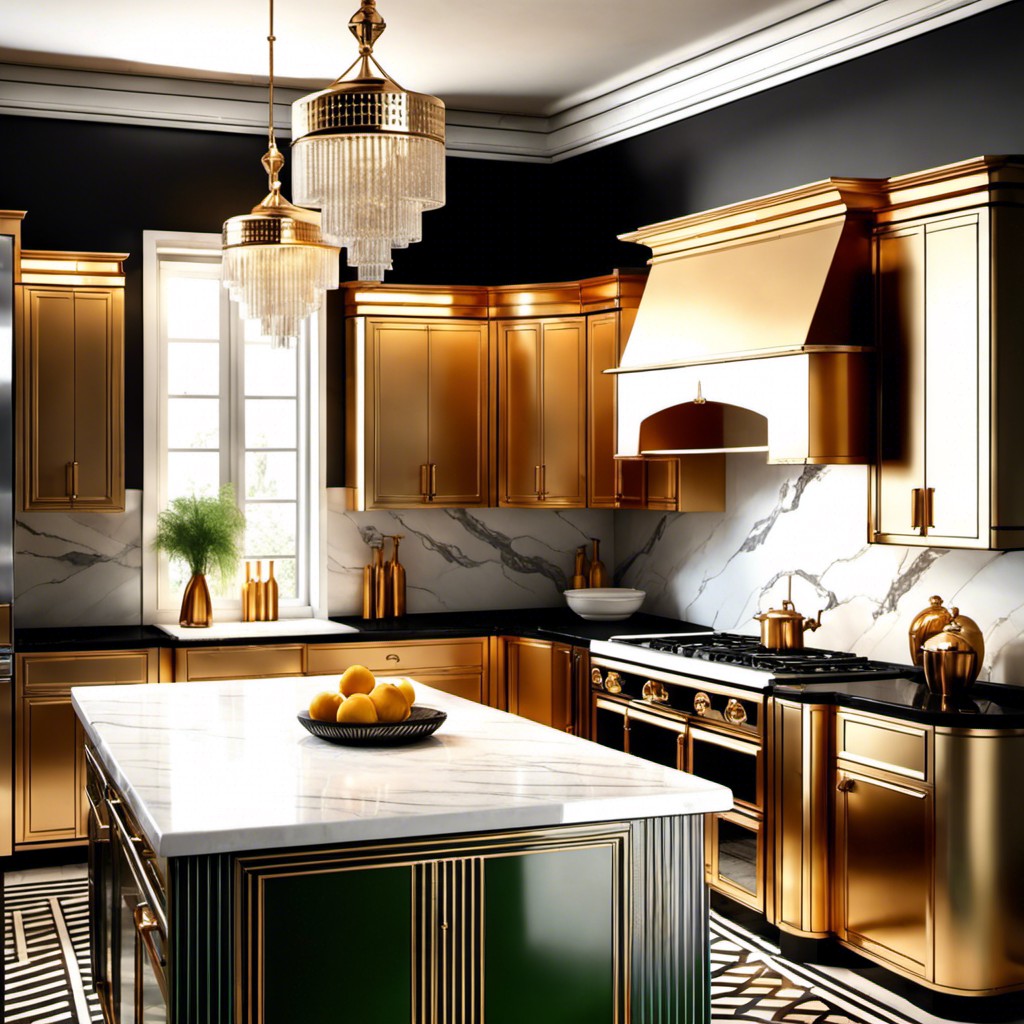 Characterized by bold geometric patterns, high contrast colors, and opulent finishes, this style brings an air of sophistication to any kitchen. To carry out an Art Deco design, think in terms of symmetry and balance.
1. Start with metallic accents: Add touches of gold, chrome, or brass to your kitchen. This could be accomplished through light fixtures, hardware, or accessories.
2. Incorporate bold geometrics: Art Deco is known for its angular, structured designs. Look for tile backsplash with herringbone, or chevron patterns.
3. Use high contrast colors: Black and white is a classic color, enhancing the drama in your space.
4. Choose opulent finishes: Think glossy lacquered cabinets, sparkly quartz countertops, or a marble island.
5. Include luxurious seating: To complete the glamour look, incorporate velvet or leather-upholstered furniture.
Remember, the key to an Art Deco kitchen is extravagance with a streamlined finish, exemplifying the indulgence of the 1920s era.
Scandinavian Simplicity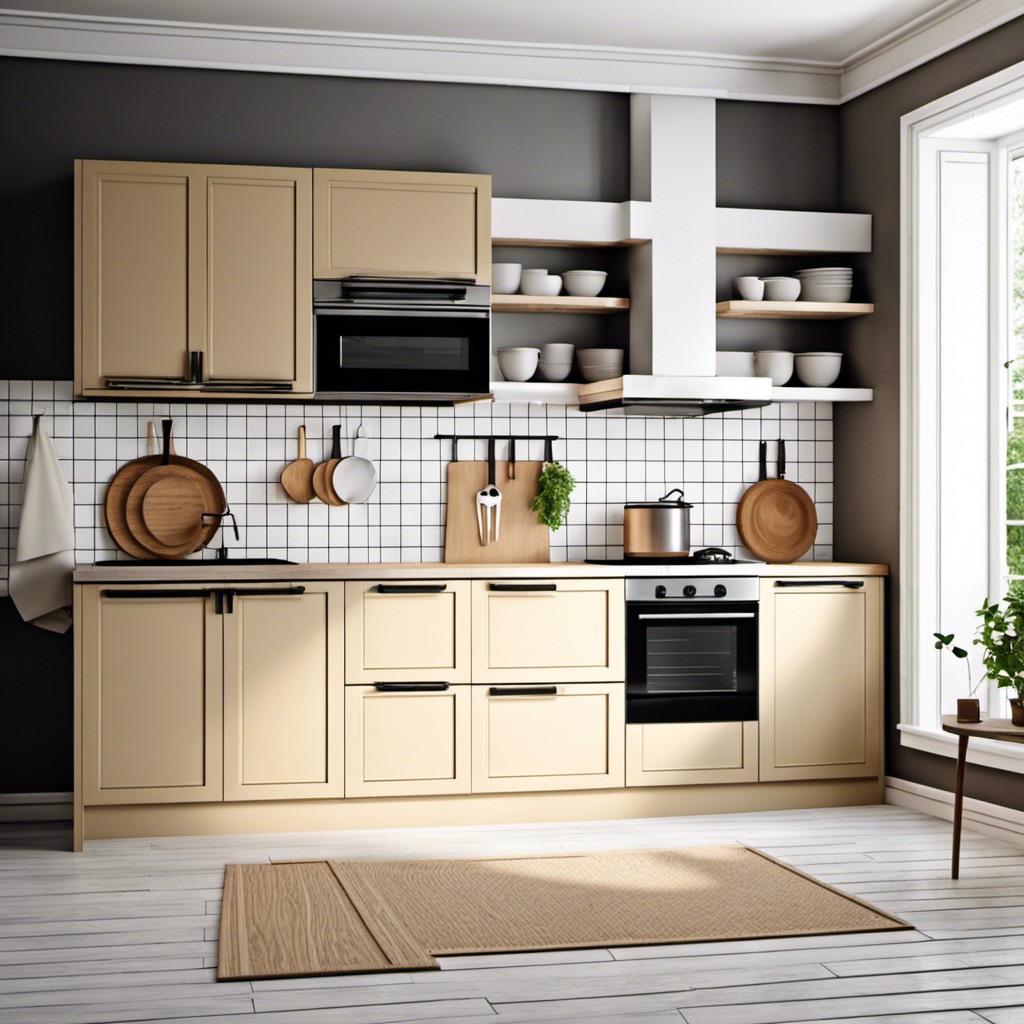 A perfect combination of function and aesthetics, this style focuses on clean lines, natural materials, and a minimalist approach.
1. Minimalism: Only the essentials make the cut. Clutter is a big no in this concept. Light, open spaces punctuated by functional pieces define the look.
2. Neutral Color Palette: Aim for a soothing mix of whites, grays, blacks, and browns. These foundational hues contribute to a calming atmosphere.
3. Natural Elements: Wood, in particular, is a hallmark. Beech, ash, and pine are often favored for their light shades and unique grain patterns.
4. Light and Open: This design embraces natural light. Avoid heavy curtains or elaborate window treatments. Reflective surfaces, such as mirrors or polished metal, can enhance illumination.
5. Functional Furniture: Choose furniture with purpose, as each piece should contribute to the overall functionality of the space.
6. Cozy Textiles: Soft, warm textiles, such as sheepskins and wool rugs, can be layered to add comfort and a textural contrast to the sleek lines.
7. Indoor Plants: Greenery brings a touch of nature indoors. However, like all elements of this style, less is more — one or two well-placed plants are often sufficient.
Lively Tropical Theme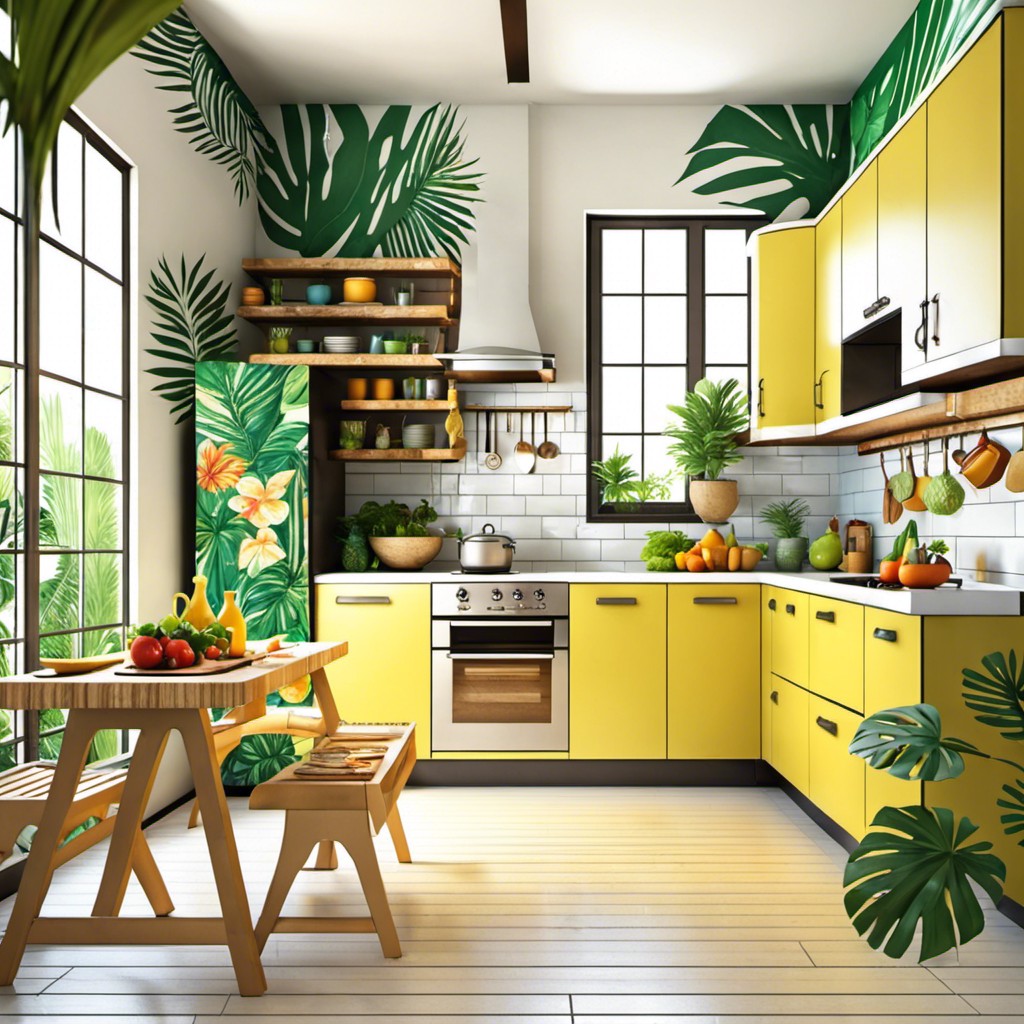 To evoke the vibrant atmosphere of a tropical paradise, infuse your kitchen backdrop with exotic prints and vivid hues. Consider wallpaper or wall decals featuring lush palms, tropical birds, or vibrant blooms for an instant hit of island color.
Complement this with furniture and decor in natural materials such as bamboo, rattan, and teak to create a truly immersive tropical environment. Try accents of jute, sisal, or seagrass for rugs, baskets, and other decorative elements, which can add texture and depth to your kitchen setting.
Color-wise, think beyond just green. Embrace the spectrum of tropical hues – from sunny yellows and ocean blues to radiant corals and rich browns. Highly reflective finishes, like high-gloss cabinetry or ceramic tile, can amplify these colors, replicating the shimmer of the tropical sun.
Finally, don't forget about lighting. Lush tropical locales are flooded with sunlight, so ensure your kitchen is well-lit. Use warm, ambient lighting for a sunny feel even in the evenings. Consider pendant lamps crafted from natural fibers to reinforce the theme.
Remember, the goal is to capture the sense of carefree, sunny indulgence found on a tropical getaway right in your kitchen. You'd be amazed by the transformation a few well-chosen tropical elements can bring!
Mid-century Modern Flair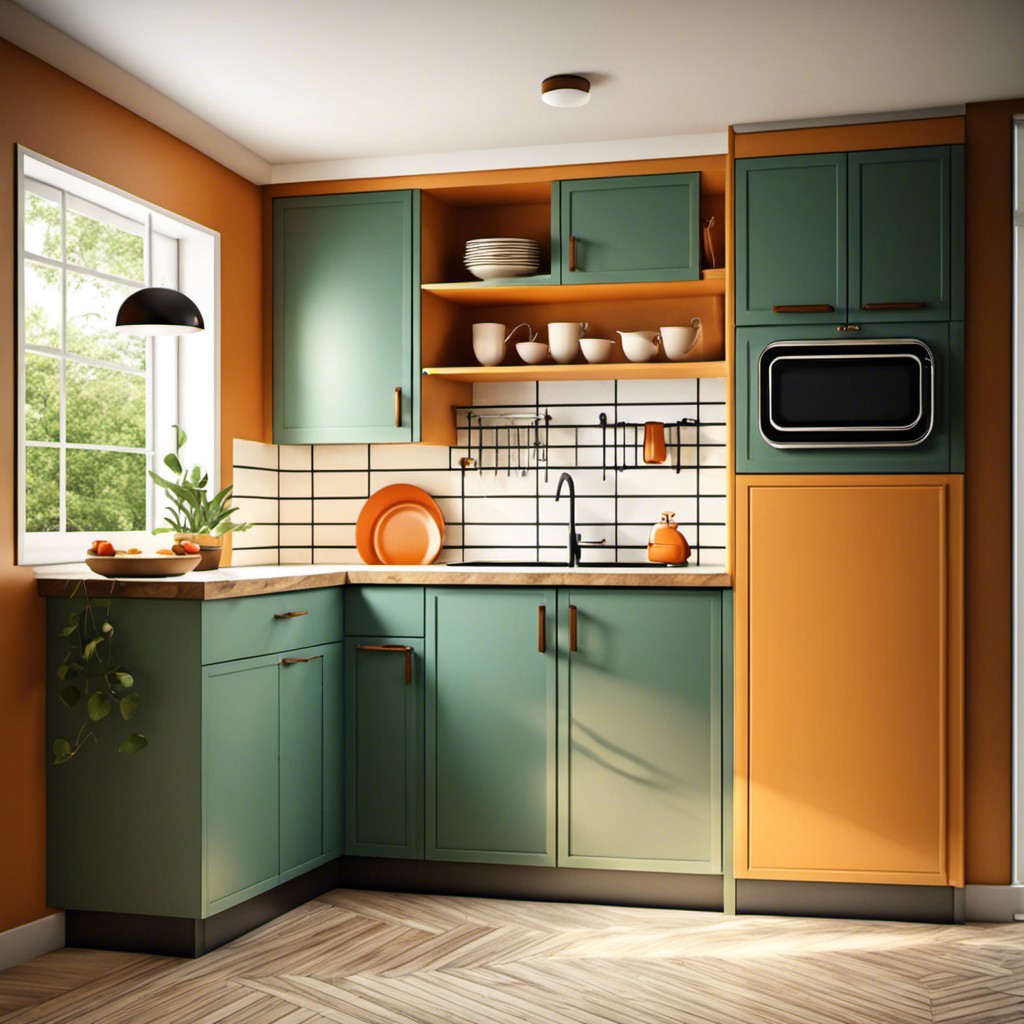 Characterized by its unique blend of old and new, this design approach pays homage to the 1950s and 60s. Simplicity is key, with clean lines and uncluttered spaces taking center stage.
Here are essential points to keep in mind to rock this style:
Color Palette: Warm and earthy tones are ideal, with pops of vibrant colors like avocado green or mustard yellow.
Furniture: Opt for pieces with sleek lines, organic shapes, and simple fabrics. A starburst clock or an Eames chair can perfectly evoke this era.
Lighting: Pendant lights, arc floor lamps, or sputnik chandeliers all embody the mid-century aesthetic.
Accents: Update the kitchen with vintage-inspired appliances or bar stools for an added touch of nostalgia.
Materials: Teak wood, vinyl, and stainless steel were popular materials of this era.
Openness: Mid-century modern kitchens celebrate openness and natural light, reducing barriers where possible.
With these points in mind, your kitchen will effortlessly transport back in time, providing a cozy yet stylish cooking environment.
French Provincial Style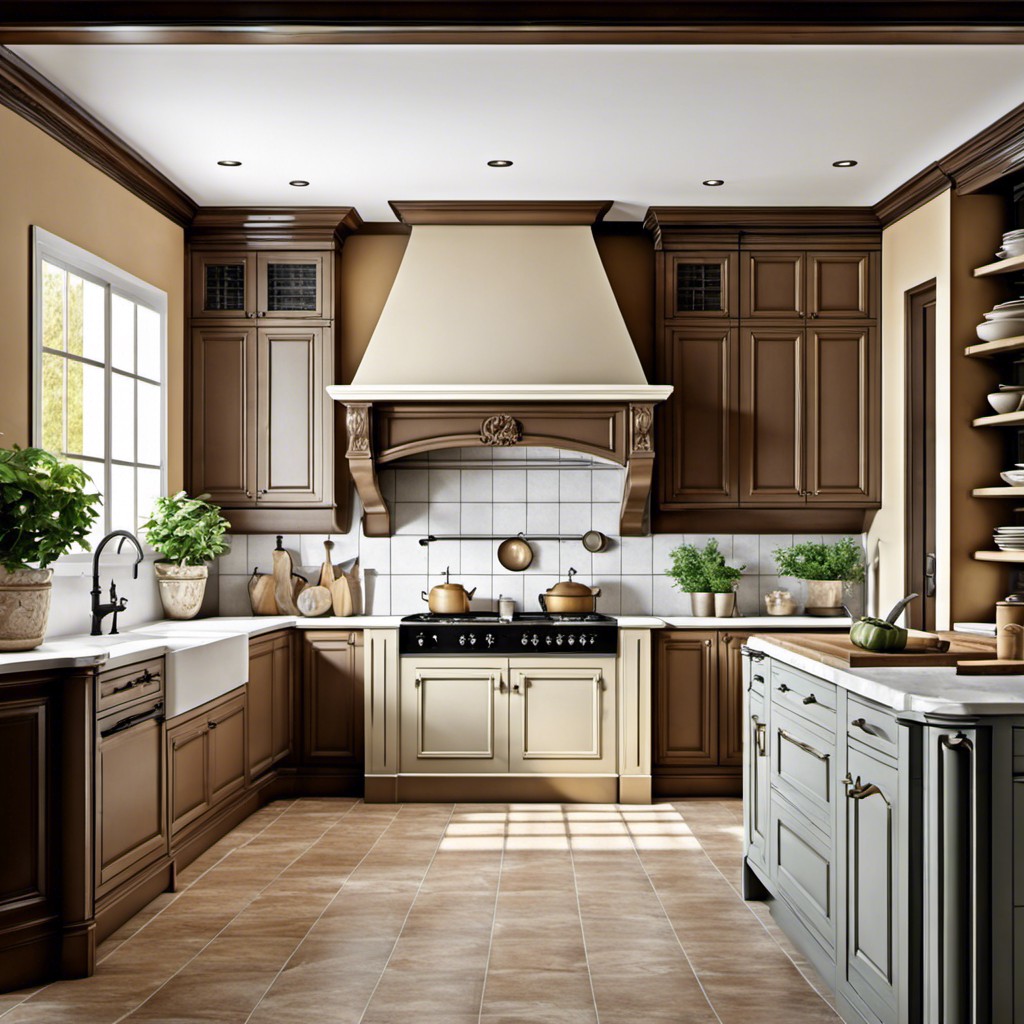 With its roots embedded in the rural areas of Provence, this style presents an envious mix of elegance and comfort. Characterized by a creamy and pastel color palette, think light blues, lavender, and yellows, it frames a warm and welcoming atmosphere.
Sporting distressed wooden furniture, this style puts the spotlight on rustic aesthetics fused with exquisite craftsmanship. The quintessential French Provincial kitchen features open shelves, intricate woodwork, and wrought-iron accessories. Toile and floral patterns play an essential role in the design, evoking a lovely countryside feel.
Ironstone or porcelain dishes stacked with nonchalance in an open hutch, typical of this style, set the perfect scene of homely disarray. Ruffle-edged linen, ceramic roosters, and dried lavender bouquets are some accessories that add the finishing touches to this timeless French style.
In essence, French Provincial style is about achieving a balance between rustic country charm and Parisian chic.
Chic Black and White Theme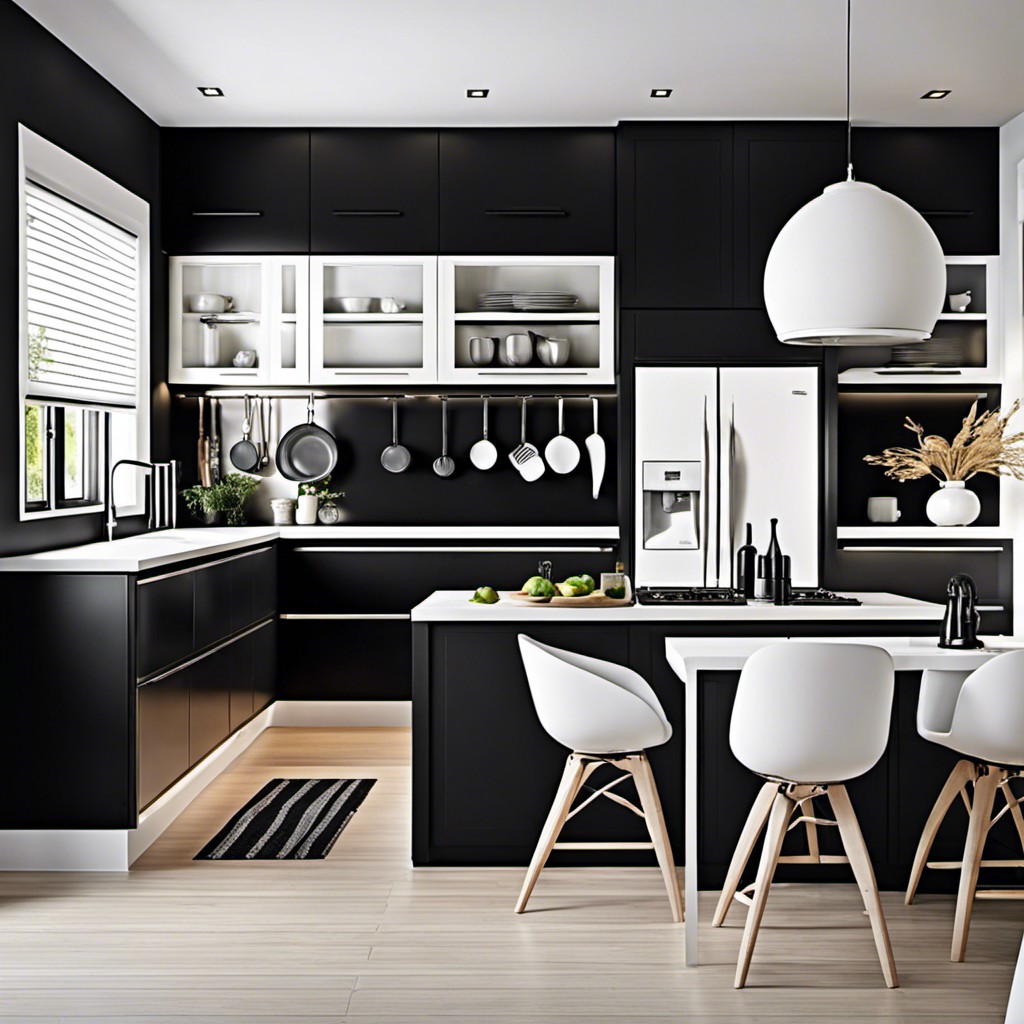 In attaining this look, start by selecting a palette of white and black with shades of grey to add depth. For instance, white cabinetry pairs superbly with black countertops or vice versa. Consider using white as the dominant color to instill an airy atmosphere, spicing it up with black accents for contrast. Accessories are also key; black handles, light fixtures, or stools can imbue an open kitchen with an upscale, dramatic aesthetic.
Experiment with patterns in your backdrop as well. Subtle black and white patterns, like a herringbone backsplash or graphic floor tile, take this sharp design to an intriguing level. However, remember to maintain balance to prevent overwhelming spaces.
Finally, use materials like marble and stainless steel appliances to further refine the look of your kitchen. Both materials blend seamlessly in a black and white theme, offering a touch of elegance while remaining practical.
Tip: Monochrome doesn't imply lack of warmth. Adding greenery or wooden accents can make the area feel more inviting and homely.
Mexican Talavera Tile Design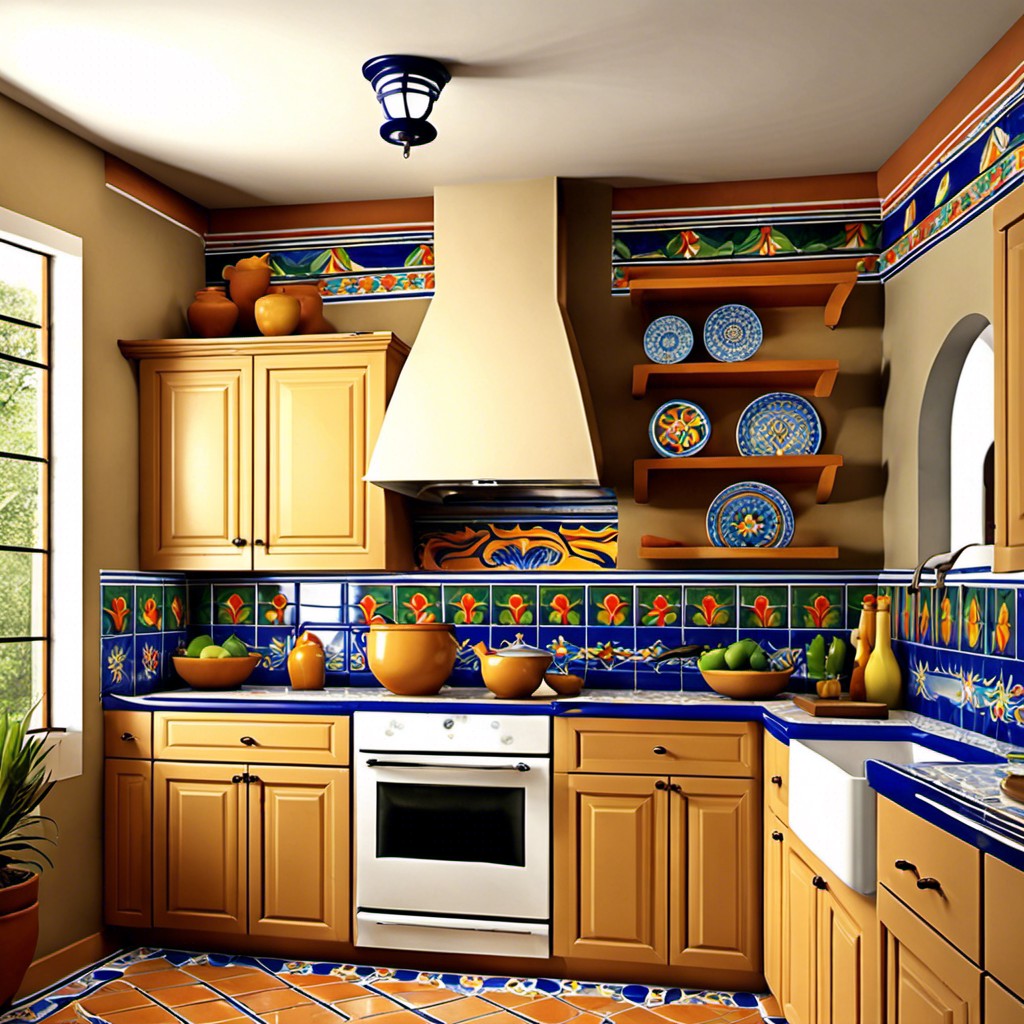 Originating from the traditional pottery in Puebla, Mexico, these vibrant, colorful tiles breathe life into any kitchen. Incorporating geometric and floral patterns, they can be used for backsplashes, floors, or even countertops.
The key to achieving a harmonious look is to pick a color palette and stick with it, whether it's various hues of blues, reds or a mixture of colors. To complement the tiles, consider pairing with simple white cabinets, terracotta colored walls, and rustic wooden furniture.
The overall effect? A warm, inviting atmosphere filled with character, charm, and a dash of Mexican culture. For those who want a unique kitchen with a bold design statement, this option is hard to overlook.
Remember to seal these tiles properly to ensure their longevity.
Continue reading: