Last updated on November 1, 2020
Are you looking for new kitchen blinds ideas? The following list will give you inspiration for classic and unique treatments.
Blinds are the most popular window treatment option in kitchen design. They are functional and provide many opportunities for decorating. And while in some cases using curtains, drapes, or other alternatives to blinds in the kitchen make sense, you will most likely install blinds or shades of some type.
Besides the several types of blinds that are available (regular, roman, Venetian, roller, and others), you have to think about the style and design. This is where a whole world of options opens up.
From classic white blinds used by Emily Henderson, to trendy shade patterns created by Nate Berkus. And it doesn't stop there.
What's Inside
White Roman Shades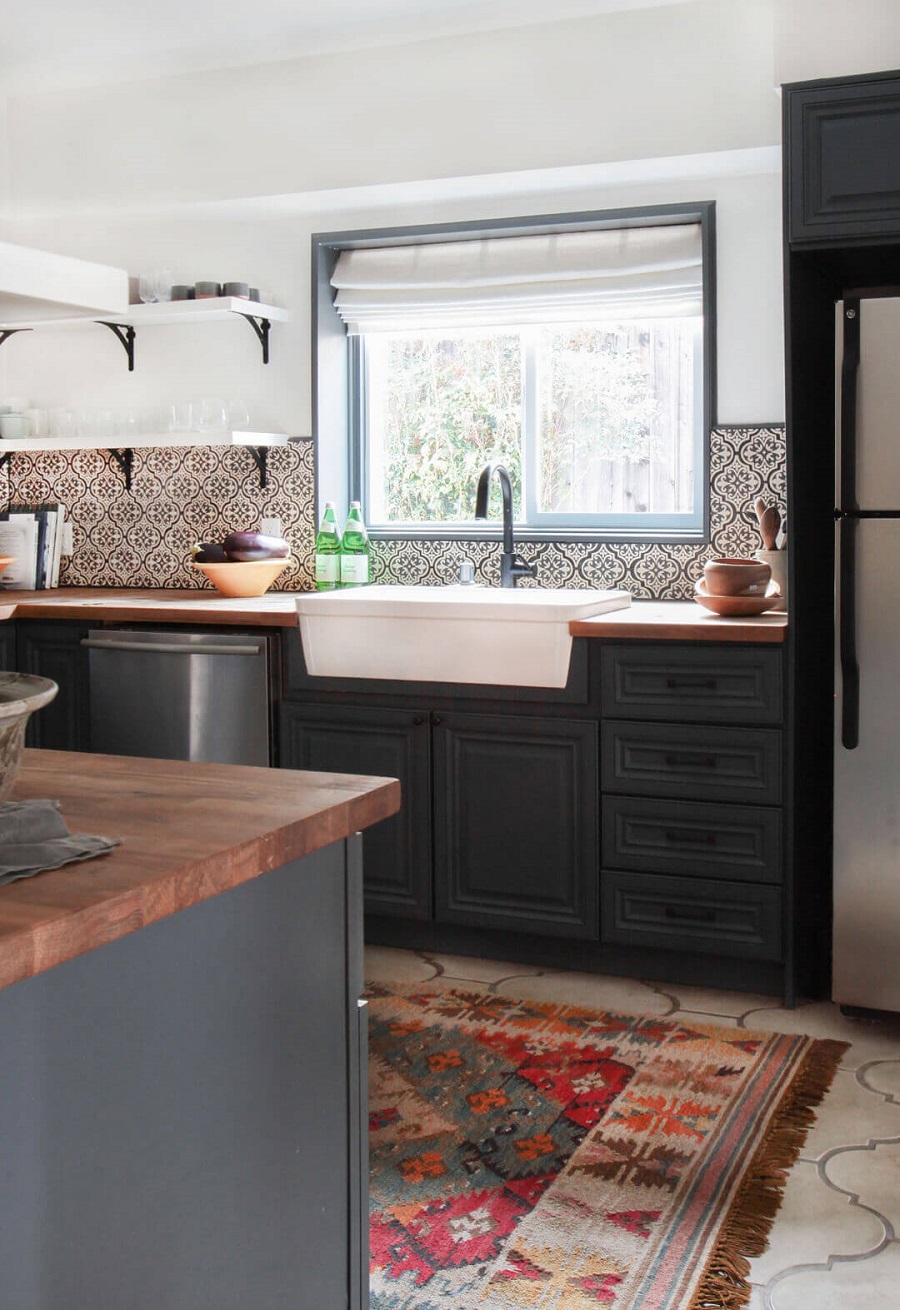 Emily Henderson has chosen white Roman shades in this Spanish California home kitchen design. It's very neutral and doesn't make an accent from the window. Instead, the grey painted window frame blends the window into the rest of the decor.
Pattern Shades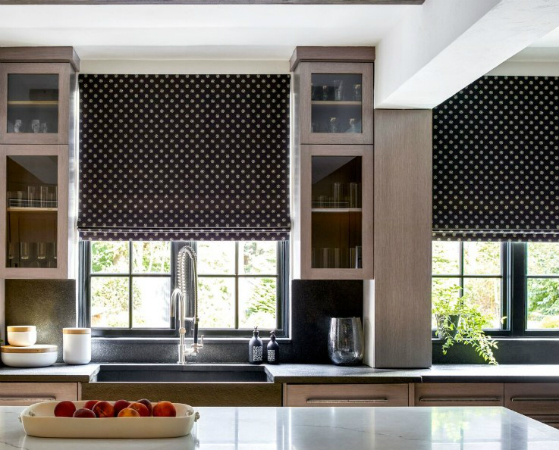 Nate Berkus, on the other hand, has an entire line of patter shades which make kitchen windows stand out. The patterns are in neutral colors, so they fit a range of decor styles. And yet they make a statement and get the windows noticed.
Grey Shades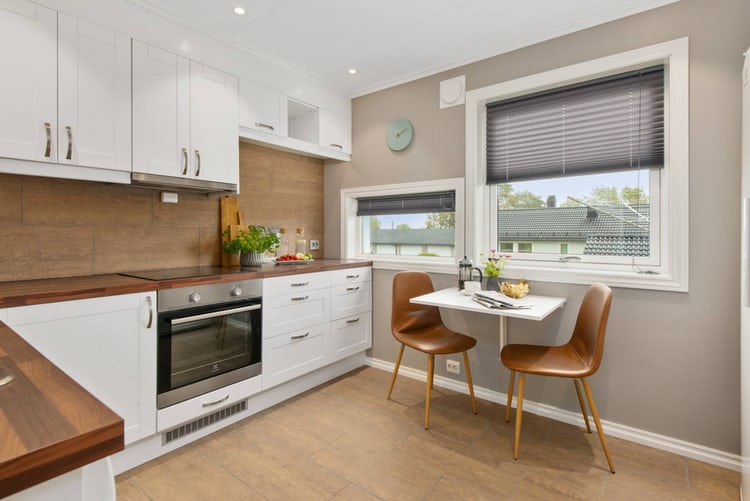 When you're looking for a neutral design, there are two popular options you can choose – white or grey. The matter of choice is all about function in this case. Grey shades provide better natural light management than white counterparts.
Top Down Shades
Talking about better light management, top-down roman shades are even a better option. They make the best of two worlds – letting in more light and providing privacy at the same time.
Black Venetian Blinds
Kitchen windows stand out if they are in a contrasting color to the rest of the interior. These can be Venetian, roman, vertical, and other types of blinds. The resulting statement window treatment fits any contemporary kitchen design.
Floral Patterns
If you're looking to add another pattern to the interior, the shades might be the right place. Floral designs, for example, create a cozy look which is ideal for farmhouse-style kitchen decor.
Roller Shades
Roller shades are among the most popular types of kitchen blinds. They are inexpensive and easy to install. If we're thinking about more decor value, the best options for roller blinds are bamboo or faux wood. They provide an earthy accent to the interior and can make a statement.
Wood or Faux Wood
If we're talking about wood as the material for the blinds, it's an ideal way to add more decor interest via window treatments. The natural wood look of the Venetian blinds gives character to the kitchen design. And it's always welcome in decorating the space.
Stripes
Among unique accents made with window shades are the striped fabrics. They are ideal when trying to create a classic interior with luxurious accents. Gilded stripes are visually appealing if you're looking for ideas of using them.
Double Blinds
This idea isn't used very often (perhaps a new trend in the making?), but it's very functional and can be visually appealing. Using two layers of blinds to control the natural light better and create additional window treatment. The basic white blinds control the light (functional), and the roman shades on top provide visual appeal in a patterned fabric.
Red Accent
We love this idea for its simplicity and timeless use. The red accent color is a great way to make a statement, especially if a pattern is used too. It works in absolutely any style, and it will never go out of fashion. Get stocked up on your red shades!
Blinds Across All Windows
Installing the blinds across all windows makes them look bigger. The window treatment looks more complete this way too.
Oversize Shades
Oversize blinds make the windows look bigger too. This country kitchen design also uses a print fabric to make the shades into art. It's not the idea for everyone but adds a lot of character to the room decor.
Plaid Fabric
For the more traditional design with the character, we turn to the plaid fabric for the roman or roller shades. It's inexpensive and makes a decor statement.
Parchment
Besides using wood and bamboo as the material for kitchen blinds, other natural shades have a similar effect. Parchment is one of those options that gives an earthy look. It's ideal in beachy designs.
Continue reading: