Last updated on August 13, 2023
These kitchen rug ideas will give you the know-how and inspiration in picking the right rug for your kitchen. Read on!
Is there a single item that will make your kitchen decor stand out? Forget the smart home appliances and marble countertops, there's no easier way to fancy-up your kitchen as adding a simple rug. Indeed, since 2010 interest in kitchen rugs has grown wildly and the trend continues:

This tells us that people want rugs in their kitchen. And looking at many of the ideas that come next in this article, we love this trend. There's a lot to choose from and this item can serve a practical purpose too.
Try the beautiful non-slip runner rug in a bright-colored geometric design. It's the last piece of the puzzle that will make every kitchen complete. And there's a lot more to it.
What's Inside
How to Choose a Kitchen Rug
Choosing the right rug for your kitchen requires you to know your space well, measure it correctly, and know the purpose (practical and decorative). These are the rules of thumb to follow:
Measure the space. Typical spaces will include a small rug (2×3), or a fitting runner rug; and a larger area rug (in spaces with a dining area).
Decide on the purpose. Do you need a non-slip mat, an anti-fatigue kitchen mat, or an accent rug (especially by the sink and in the work triangle)?
Choose the material. Natural materials are excellent, but they aren't generally non-slip. Look for rugs that are easy to wash and clean. Consider mats with padding if they have to be heavy-duty.
Consider your decor. You probably want the rug to anchor your kitchen design (otherwise you'd just buy any mat). Vintage rugs can give the space a lot of character. Accent color and pattern rugs are trendy.
Rug Sizes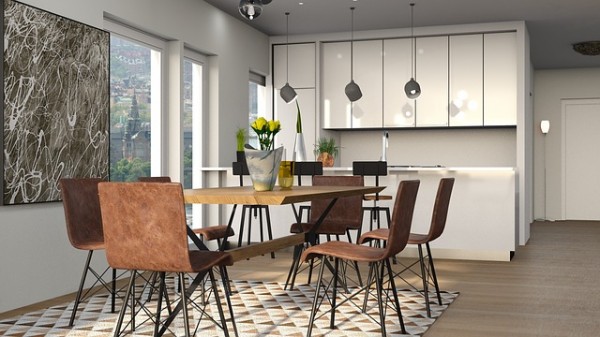 Depending on what purpose your new rug will serve in the kitchen you will need to choose the size. The dimensions can be broken down by rug type. Which is exactly what we will do next.
Runner Rug Sizes
These are the most common runner rug sizes (measured in feet):
Although more sizes may also be available. You may want to use a runner rug in a narrow or galley kitchen. Or you can run it along the cabinets in your cooking area.
You may also use multiple runner rugs around a kitchen island and in other narrow areas. In many small kitchen layouts, these are your only options.
Area Rug Dimensions
Area rugs can come in a very wide area of sizes. Basically, they can fit any larger area. So if your kitchen is big, or it's an open plan, you will want to look into these popular dimensions:
2×3′
4×6′
4×8′
5×8′
6×9′
8×11′
9×13′
Of course, area rugs can grow as much as you need. But for the most part, these are enough to cover any size of the kitchen.
You may want to use an area rug in an open plan kitchen, or any bigger open area (such as a dining area).
Some other types of rugs, such as mats, round rugs, accent rugs, have less varied sizes or they aren't as important.
Best Area Rugs for Kitchen
So what are the best rugs for the kitchen? What qualities do you have to look for to make the right choice? Let's go over these really quickly and learn how to pick exactly what you need.
Here's what makes a great area rug for the kitchen:
It has to be easy to clean. Spills are inevitable in the kitchen, so flat-woven rugs are much better than thick and soft rugs. Most polypropylene rugs will work, or those made of durable natural materials, like wool, sisal, or jute are easier to clean.
It has to be non-slippery. Most rugs made for the kitchen will have padding that protects against the slippery floor. If not, place a non-slippery mat underneath it in the most spill-prone places.
It has to look good. If you're getting a new rug for the kitchen, get the most of your money spent by choosing one that can make an accent. Choosing a dull item is just missing a great decor opportunity.
Rugs by Type
Kitchen Mat
A kitchen mat is a popular item that's used in the cooking area (usually by the sink) as a non-slippery pad. It's a safety measure that adds some decor value too. It's there to protect the floor from splattering water, oil, and cooking products, as well you from slipping.
As such, mats can come with different non-slip pad options, as well as a wide array of styles. The typical size of a kitchen mat is 2×3 feet.
Mats can also be used as the under-pad for other types of rugs that don't provide a non-slippery surface. So if you want to add that lovely runner rug but it's slippery, you may want to use several mats underneath.
Shown above: a black kitchen mat on the floor in the sink area. It adds a popping accent contrasting with red cabinets. The hardwood floor is also protected from water damage.
Washable Kitchen Rugs
As mentioned, one of the key qualities a rug can have in the kitchen is to be easily washable. As spills happen and they are not always water-based, you will need to clean it often. Machine washable rugs make it easy to maintain.
The benefits of washable rugs:
Easy to clean
Non-slippery on the floor
They are small size so they can fit any kitchen
The cons of washable rugs:
They are small so they won't be used as area rugs in an open plan or a big kitchen.
Their design leaves much to desire.
It's important to note that many rugs made of natural materials can be washable too. They don't have to be made especially for kitchens.
Kitchen Rug Sets
More often than not, the floor plan of an average-sized kitchen consists of paths around the island and along the cabinets. That means your choice of rugs is very limited. The solution? Rug sets.
The sets consist of rugs of different sizes (they often come in 3) but of the same design. This allows you to cover a lot of the area by placing them in required spots.
Shown above: a set of yellow rugs in a geometric pattern. They make a great accent against the teal appliances and complement the yellow countertops. They wrap around the kitchen island covering most of the kitchen floor.
Kitchen Throw Rugs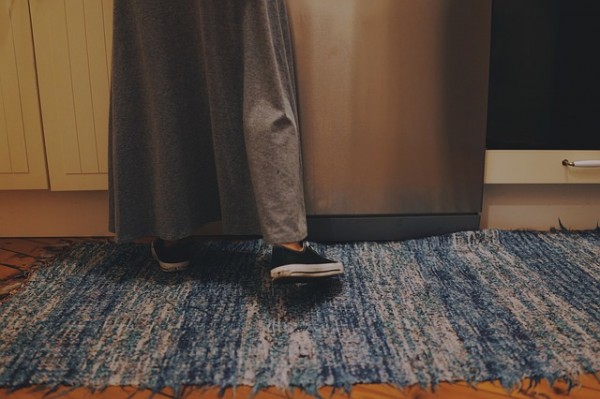 Throw rugs are rugs that, as the name indicates, you can throw on the floor and use them in any spot. They are small, so they can fit any area. They can take the shape of a runner rug, a mat, or an area rug, all the like. Here are a few ideas on how you can use them in your kitchen:
Use it on and off as a safety rug by the sink.
Choose an accent rug and change it up to refresh your kitchen decor on the fly.
Have a few of them to use interchangeable (and wash them easily when they get dirty).
Rugs Under the Kitchen Table
Rugs can be placed under the kitchen table (dining table) and the chairs. The shape and size depend on the furniture. Round rugs go under round tables, while big area rugs go under rectangular tables.
These rugs play a double part in kitchen design and function. First of all, a nice rug makes a great accent and even a statement. It creates the much-needed visual separation between the dining and cooking areas. Secondly, it helps protect the floor.
As you can see in the picture above, a large red Kilim rug goes along with the nice red floor. But at the same time its pattern provides enough contrast to set the layout of the dining area.
Kitchen Accent Rug
Any rug in the kitchen can work as an accent. Even small mats that go by the sink can pack some decor interest. It's one of the main keys in choosing the rug for the kitchen. Think about what it will do to your decor.
Currently, trending are Kilim rugs and rugs in geometric patterns. They can be either in a contrasting color or color-neutral but in a pattern that stands out.
Kitchen Sink Rugs
We usually expect a mat with non-slip padding to be placed by the sink. It's the heavy-duty area of the kitchen that gets most of the spills. But you're like us and find mats to be lacking in design choices and decor value, follow this trick.
How to use a gorgeous rug by the sink safely?
One caveat of using a regular (but beautiful) rug by the sink is that it's not slip-free. It might not even absorb liquids well. But a kitchen mat does all that. So, place a mat (or a few mats) under your pretty rug. This will solve the slipping problem, and give you the accent your want.
Kitchen Runners for Hardwood Floors
Hardwood floor in the kitchen is pretty but all the spills do damage to natural wood. That's why we see runner rugs in these kitchens all the time. They are not only for the accent (although it works) – they have the practical purpose of protecting the hardwood.
What rug materials work for the hardwood floor?
Any natural materials will do – jute, cotton, wool, denim.
And here's our tip again – place a padded kitchen mat under the runner rug in the sink area. It will protect the floor and provide you with the no-slip padding.
Some runner rugs come with the non-slip padding out of the box.
Rugs by Size
Small Rugs
A small rug is a go-to choice in any small kitchen. Sometimes you have no choice. Here's how you can use a small rug:
Use it as a mat by the sink (make sure it can absorb water and it's easy to wash).
Add it in odd spaces (such as between the cabinets and a peninsula).
Add it anywhere else, where bigger rugs simply don't fit.
Where not to use it: under the furniture.
Pictured above: a couple of small vintage Kilim rugs covering the hardwood kitchen floor. They are making an accent and protecting the floor.
Small Round Rugs
Use a small round rug with a round table. It's a winning combination every time. Be it a small dining area or a breakfast nook. It's a small investment and a safe decor choice.
The size of such a rug is classified to be under 4 feet. So it fits any area. It can also be used under the furniture with both types of layout – all legs on, and partly on the rug.
4×5 Rug
This a popular medium-sized area rug. It is usually used under the furniture of a dining area, or in a larger open plan kitchen.
Shown above: an open plan kitchen with a medium-sized dining area, as well as a workspace. The 4×5 rug helps to separate these spaces visually.
2×3 Rug
It's a small size rug, so it's ideal in small spaces and passages. You can use it by a kitchen island, or by a sink. For this size, it can work as an accent rug too.
Shown above: a beautiful pattern rug in earthy tones on a hardwood floor. It anchors the kitchen island and connects it to the cabinets visually.
Big Rugs
Rugs that are 8 feet and up are considered large (especially if we're talking about round rugs). These rugs can only fit an open plan kitchen (usually just the dining area). You're not likely to have enough room between your island and counters for such a large rug.
Pictured above: a large Kilim rug defining a big dining area (that seats 6 people). The contrasting design clearly sets it apart from the rest of the decor.
4×8 Rug
The 4×8 area rug size can be considered a wide runner rug that is ideal in large galley kitchens. If can be used under a kitchen island (as shown above), or under a long dining table.
4×10 Rug
An even longer 4×10 rug will work in a large kitchen with a big dining area.
Rugs by Shape
L-shaped Rug
The kitchen is probably the only place where you can use an L-shaped rug (unless you have an odd corner to decorate). Usually, these are runner rugs that go along the counters of an L-shaped kitchen, or a peninsula.
Shown above: a corner mat that covers the floor in the kitchen's work triangle. It protects the floor from spills while staying decor-neutral.
Round Kitchen Rugs
Round rugs are paired well with a round table in your dining area. This area is usually a part of an open plan kitchen. The rug of either large or small size can be placed under the furniture and create a separate space visually.
Shown above: a large round rug in a faux tiger pattern creates a dining area in this eclectic kitchen design.
Half Moon Rug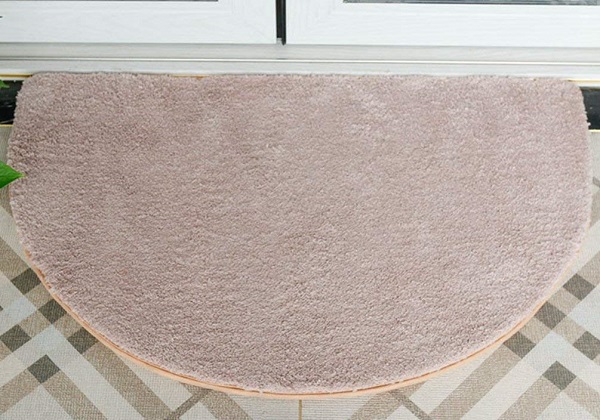 The half-moon rug is the ideal shape to be placed by the sink. It takes minimal space by providing the most protection from spills. Granted, it doesn't provide any decor value. Our tip is to avoid the gimmicky designs and go with neutral grey tones.
Odd Shaped Rug
Don't assume that only because the most popular types of rugs are either rectangular (including runners) or round. They can be odd-shaped, such as a faux hide rug. It adds a lot of interest to space.
A nice zebra rug can set enough character for the entire dining area to pop.
Rugs by Color
Grey Kitchen Rugs
Grey is neutral. If you want to protect the floor and soften the room visually without contrasting colors – choose grey. It's the safest choice.
Pictured above: an open floor plan design using a grey rug in a subtle pattern leading to the kitchen.
Black Runner Rug
A black runner rug can work in one of two ways. It can cover the dark hardwood floor and stay neutral. Or it can create an extension to dark countertops. Either way, this classic color works great for a runner rug or a kitchen mat.
Pictured above: a classic kitchen with white cabinets, dark countertops, dark hardwood floor, and a black runner rug to anchor the interior.
Colorful Round Rugs
Take your chance to add some color to your kitchen decor by using a round rug. As it goes to under the furniture, it will not be overwhelming even in traditional kitchen design. Even eclectic designs will work.
Shown above: a colorful beach-themed round rug sets the tone in a beach home kitchen.
Rugs by Style
Country Kitchen Rugs
Many of you are probably after the trendy farmhouse look, you can use a nice country rug with your shaker cabinets, wooden countertops, and other farmhouse accents.
What works?
Kilim rugs – they are on fire.
Vintage rugs
Rustic jute rugs
Geometric patterns
Rustic Kitchen Rugs
Rustic rugs, much like country rugs, are the key to farmhouse kitchen decor and dining area decor. What works in this style?
Jute, wool, or cotton in the raw material.
Vintage rugs.
FAQ
What are the standard rug sizes?
The most commonly used are 2×3, 4×6, 4×8, 5×8, 6×9, 8×11, 9×13 feet area rugs.
What size rug under kitchen table?
Bigger area rugs are used to fit under a kitchen table – that's typically 4×8, 6×9, or 8×8 and similar sizes.
How to clean small rugs?
Most kitchen rugs are machine-washable. If unsure, use the hand wash setting, or wash it by hand with a mild detergent.
Continue reading: