Last updated on September 23, 2023
Can't decide on the kitchen flooring? What would a professional designer do? You don't need to hire one to get a fantastic floor. Use these ideas!
Let me tell you one thing. You don't need to have hardwood floors for your kitchen to look fantastic. Actually, you might want to think this through really well before installing this type of flooring in your kitchen. If there's a lot going on in your kitchen and you cook a lot, you might need something more durable than solid wood.
On the other hand, I have to agree that hardwood is just so sexy and it actually can increase your home value. So how do you make the right choice? This post with picture-perfect but practical kitchen flooring ideas is a good start.
What do the interior designers have to say about this?
So, we can see some trends in the preferences of top designers. There's a lot of inspiration to draw from that. Keep this thought while you go through the following flooring ideas.
What's Inside
Types of Kitchen Flooring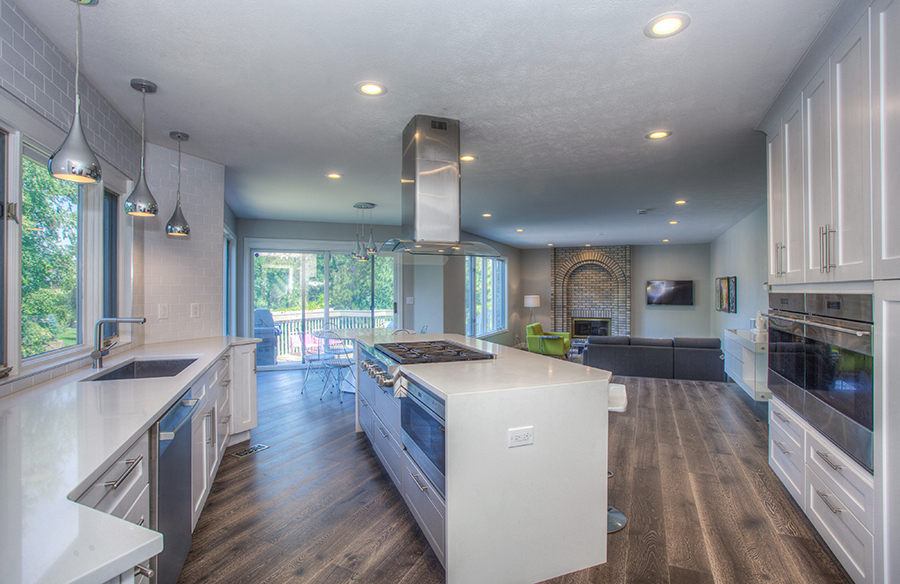 Let's start by summing up the entire array of kitchen flooring options. We will delve into more detail in the rest of the article.
Hardwood Flooring
Solid hardwood flooring – created from a single piece of wood. Uses 100% milled timber.
Engineered hardwood – created by bonding several hardwood plies. Uses less milled timber.
Bamboo Flooring
Solid strand
Solid strand floating
Tongue and groove engineered
Click-lock
Solid horizontal and vertical bamboo
Vinyl Flooring
Tile Flooring
Marble
Granite
Stone and pebbles
Onyx
Quartzite
Wood-look
Porcelain
Ceramic
Travertine
Laminate Flooring
Best Flooring for Kitchen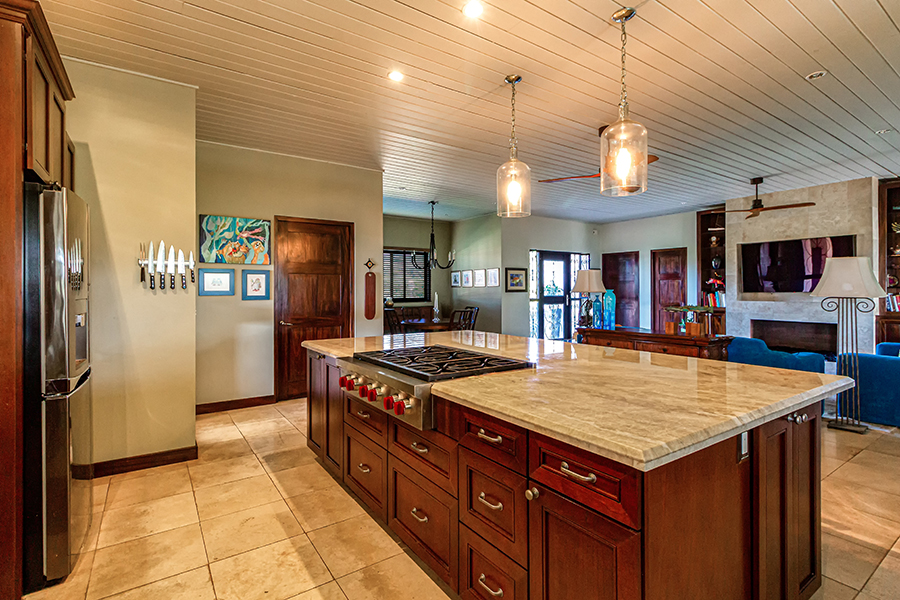 The most nagging question is of course what is the best option for you. And while it's hard to pinpoint one option for all purposes, in general, the best flooring for the kitchen should be practical, durable, and aesthetically pleasing. The floor you choose will affect every other element of your kitchen design. Kitchen flooring comes in different colors, materials, and textures.
Wood is a popular choice for modern kitchens. It creates a warm look and feels good underfoot. A prefinished wood floor can withstand heavy traffic and water stains.
Stone or tile flooring is an excellent choice for a kitchen with heavy traffic. Ceramic tile is durable and is available in assorted styles and colors.
Vinyl kitchen flooring is available in different colors and styles. It is ideal for those on a budget.
Kitchen Floor Tile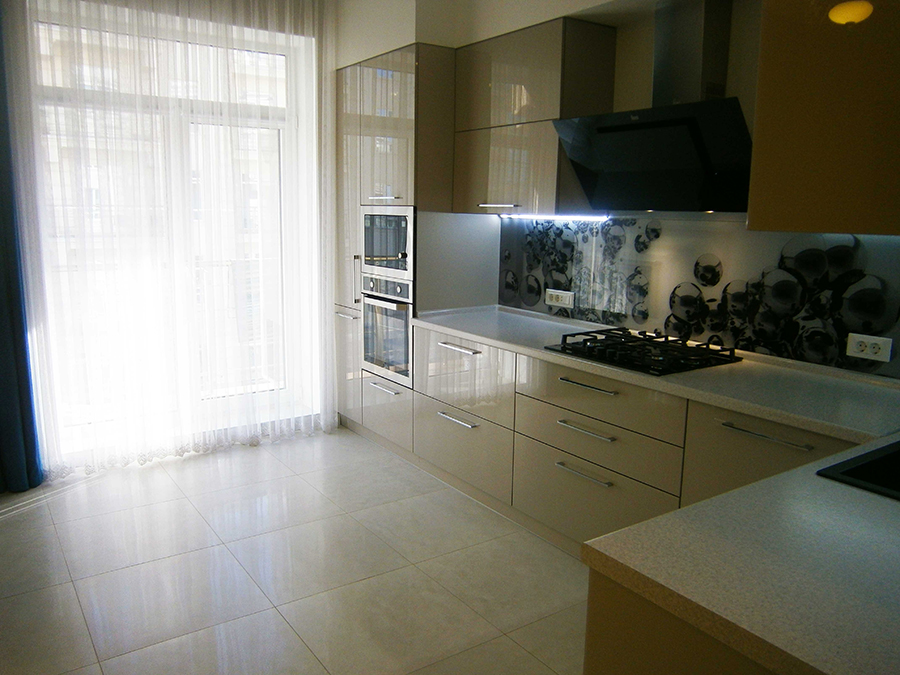 The best kitchen floor tile is a porcelain floor tile. It is denser, harder, and less porous than regular ceramic tile. It is tough enough to be used in an outdoor kitchen.
Vinyl Kitchen Flooring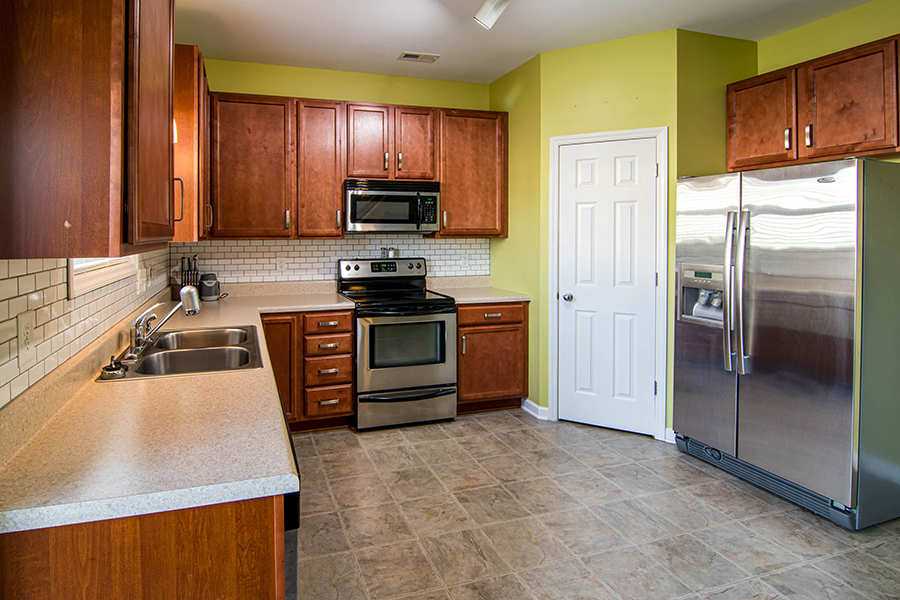 Vinyl kitchen flooring is durable and stands up well to heavy foot traffic. It is also less expensive, comfortable underfoot, and easy to install and maintain.
With proper maintenance, vinyl kitchen flooring can last for around 20 years.
Hardwood Floors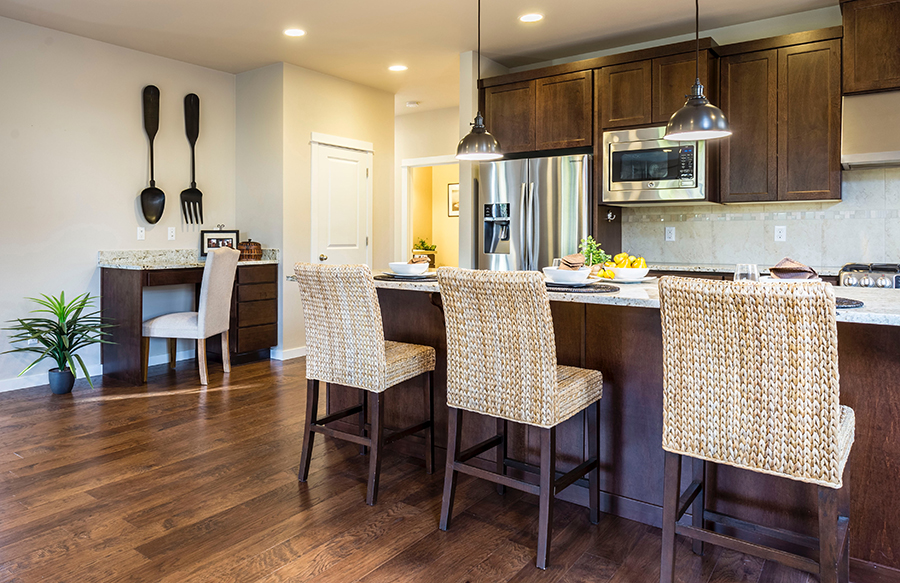 Hardwood floors are durable, classic, and timeless. They are available in a variety of colors and finishes. Its benefits include:
Hardwood flooring is the ultimate floor choice. Hardwood never goes out of style.
It will add natural beauty and warmth to your kitchen.
Modern Flooring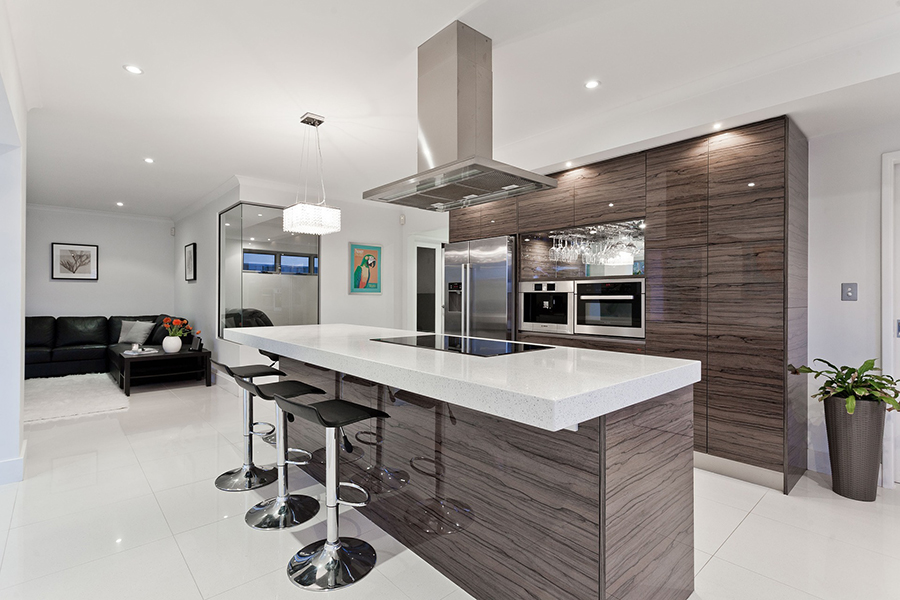 Modern flooring ideas include:
Dark solid woods
Hexagonal tiles
Checkered tiles
Bright vinyl
Rubber flooring
Gray laminate
White laminate
Cork Flooring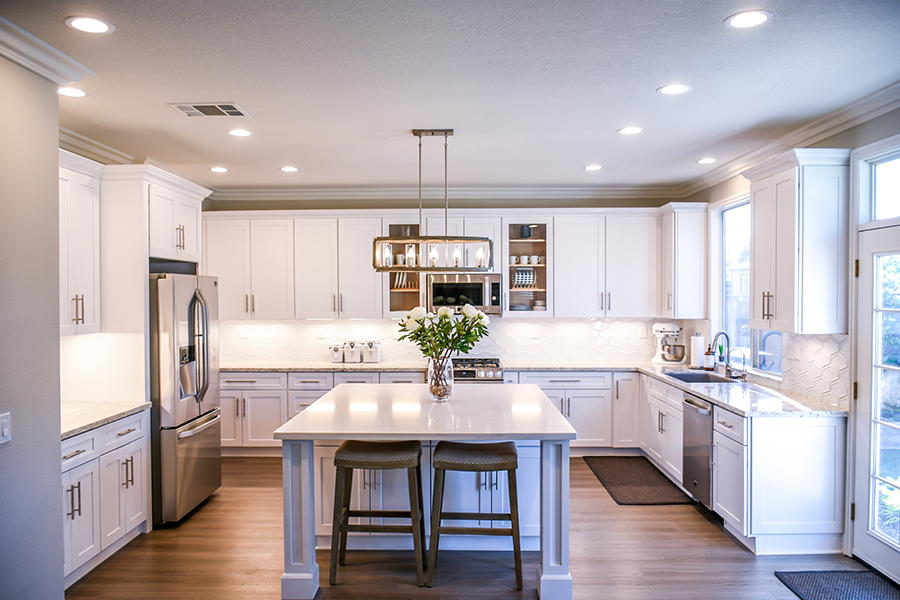 Cork flooring is a versatile, natural, unique, and popular flooring option. It is a good alternative for hardwoods and other types of flooring.
Cork flooring has a soft underfoot. It is also a great heat insulator and sound barrier.
Cork flooring is friendlier to the environment than man-made materials like vinyl.
Cork is an affordable and less impactful kitchen flooring material.
Cork is durable and anti-microbial.
White Flooring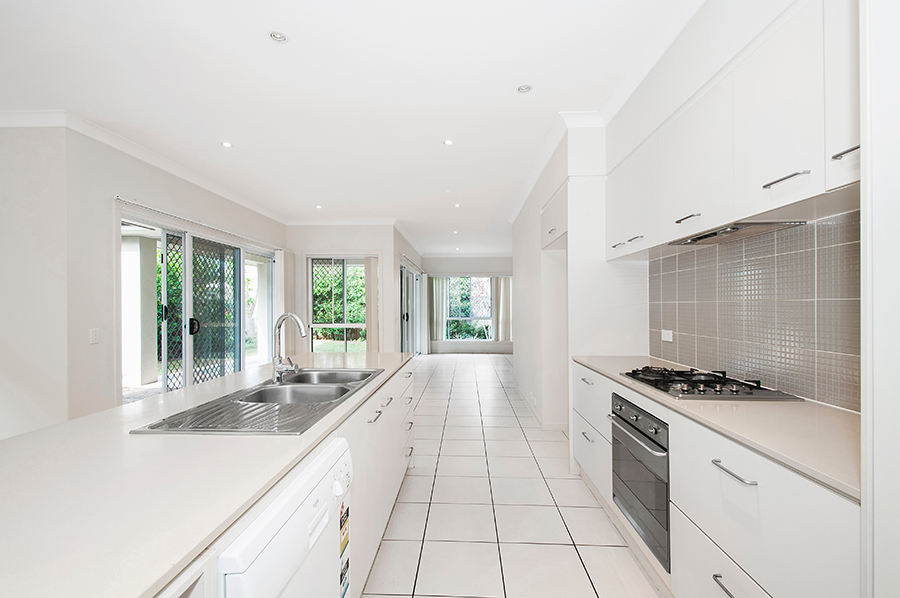 White flooring can enhance many décor types because white is a neutral color. White flooring creates an atmosphere of calm and lightness. It brings a clean and restful foundation to a wide array of décor styles.
Flooring Trends 2020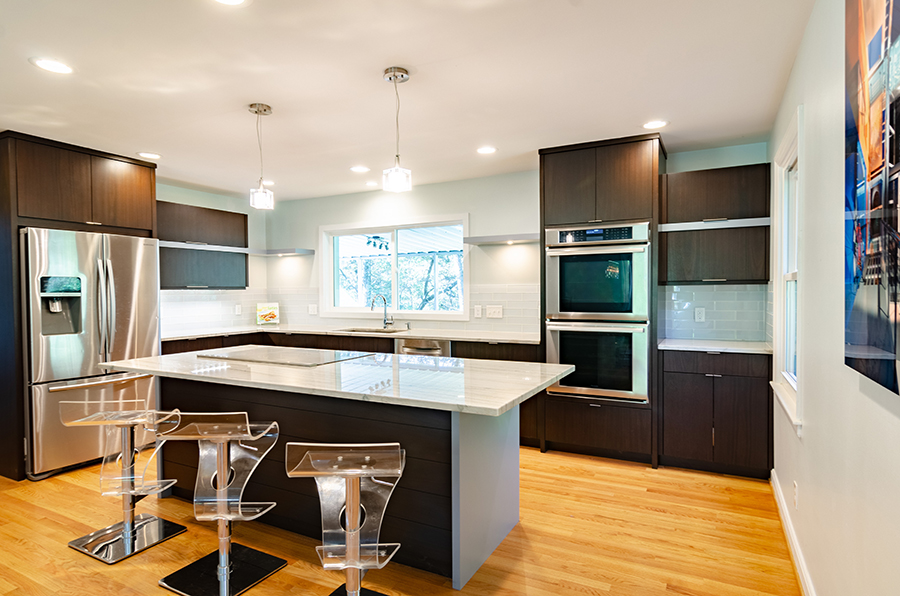 There are lots of flooring trends going on this year. For the kitchen, here's what stands out:
Environmentally-responsible flooring
Blonde flooring
Waterproof flooring
Wood-lock flooring
Textured flooring
Kitchen Flooring Tile Designs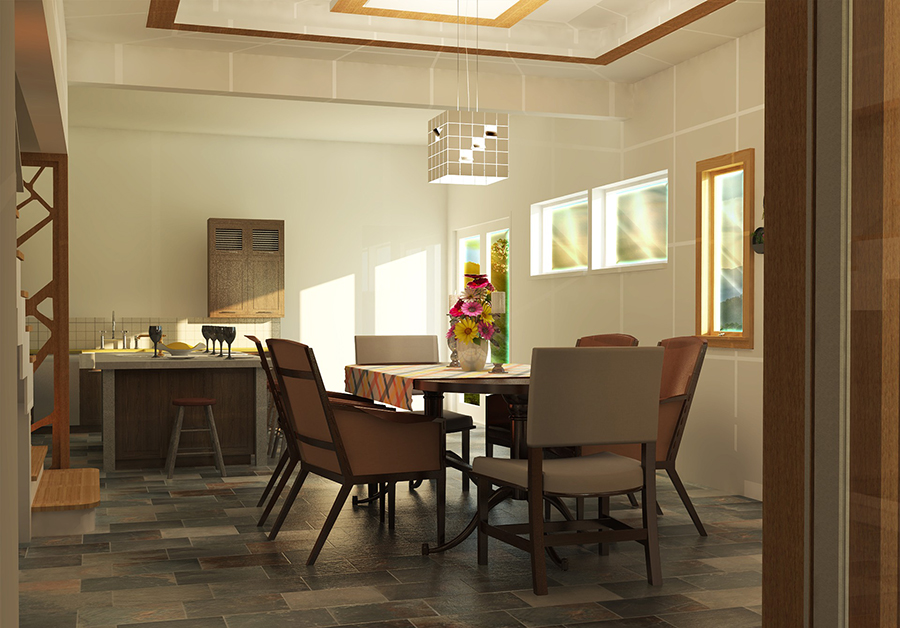 A well-designed kitchen floor will boost the value of your home. You need to choose the best floor design. Kitchen flooring tile designs include:
Slate tile design
Graphic hexagonal tile design
Oversized marble design
Geometric tile design
Ultra-white design
Classic tile design
Terracotta tile design
Turkish terrazzo design
Patterned design
Black and White Kitchen Floor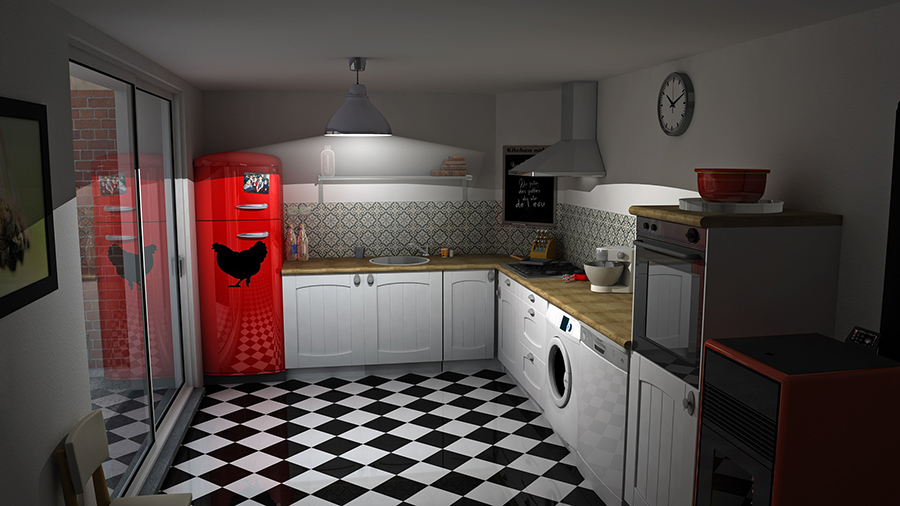 When it comes to flooring, sometimes things are just as simple as black and white. The classic combo of black and white will make a big impact on the kitchen floor. You can opt for a simple checkerboard or a more intricate motif.
Brick Floor Kitchen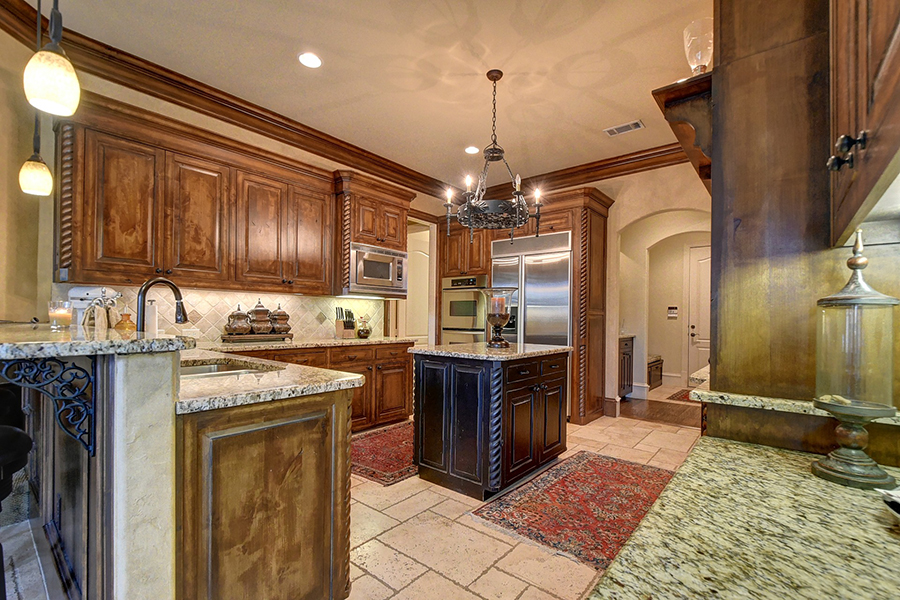 Brick is a durable, warm, and low-maintenance material. It has a distinct personality that will give your kitchen a unique flavor.
Brick is long-lasting and not easy to damage.
Brick has a roughness that provides traction underfoot even when the floor is wet.
Regular maintenance of a brick floor is easy.
Grey Wood Floors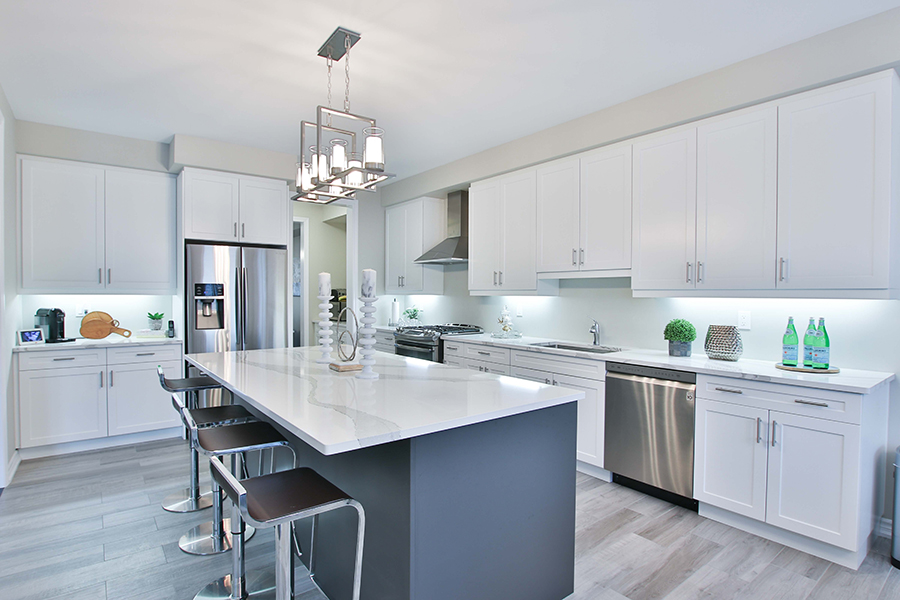 Grey is a perfect color: classic, timeless, and with lots of shades. It can fit any décor style. Scratches and spots on a grey floor will not strike the eye as it would be with a polished black floor.
Grey wood flooring is the perfect addition to living spaces and bedrooms with transitional or contemporary design.
Dark Floor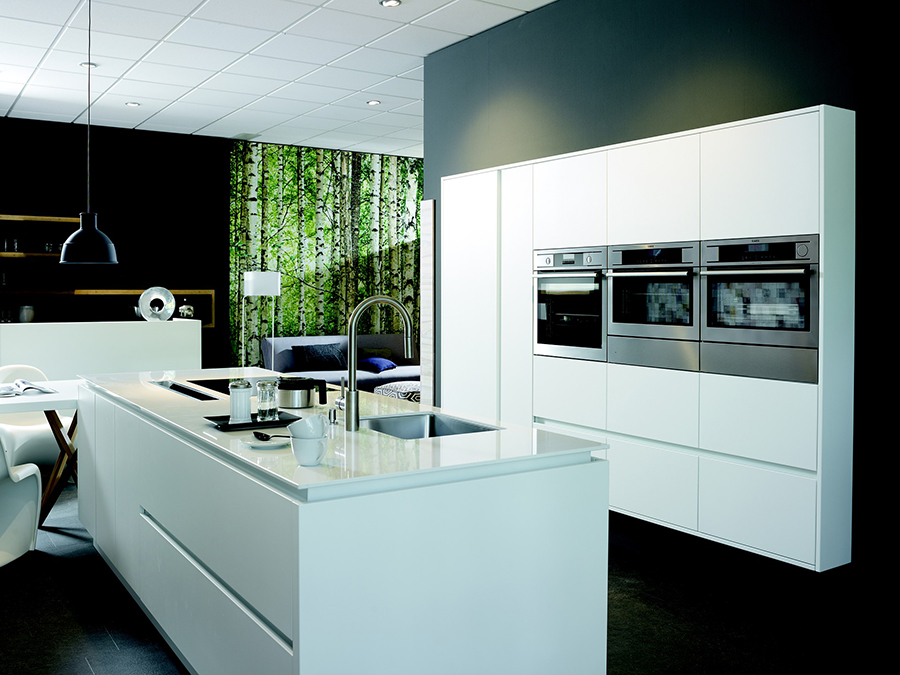 Dark floors absorb light rather than repelling it. Therefore, they aren't as prone to fading as lighter floors. A dark hardwood floor will look better for longer.
Concrete Kitchen Floor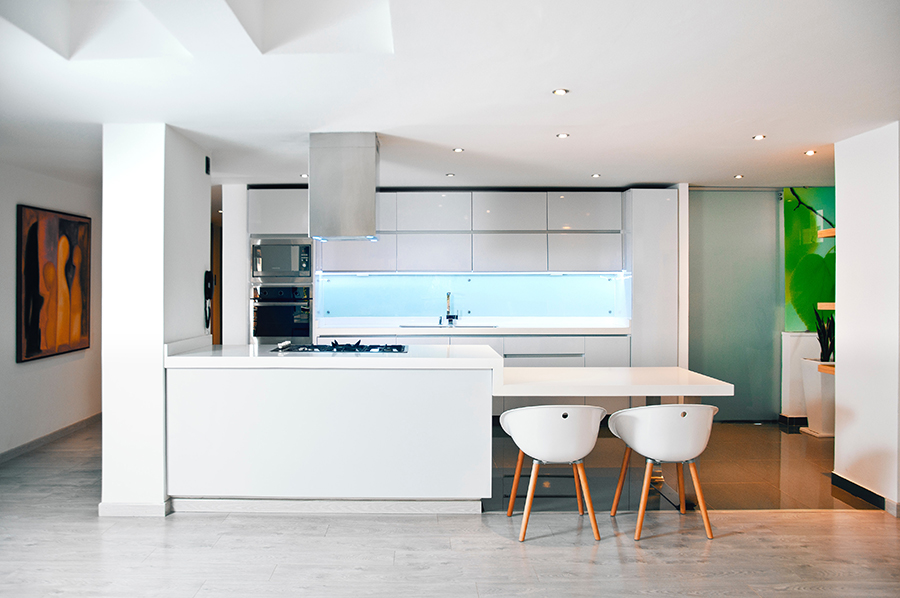 A concrete kitchen floor has a gorgeous stone-like appearance. Concrete offers unlimited design options for polishing, staining, texturing, and coloring. Concrete flooring is low-maintenance and resistant to staining.
Slate Kitchen Floor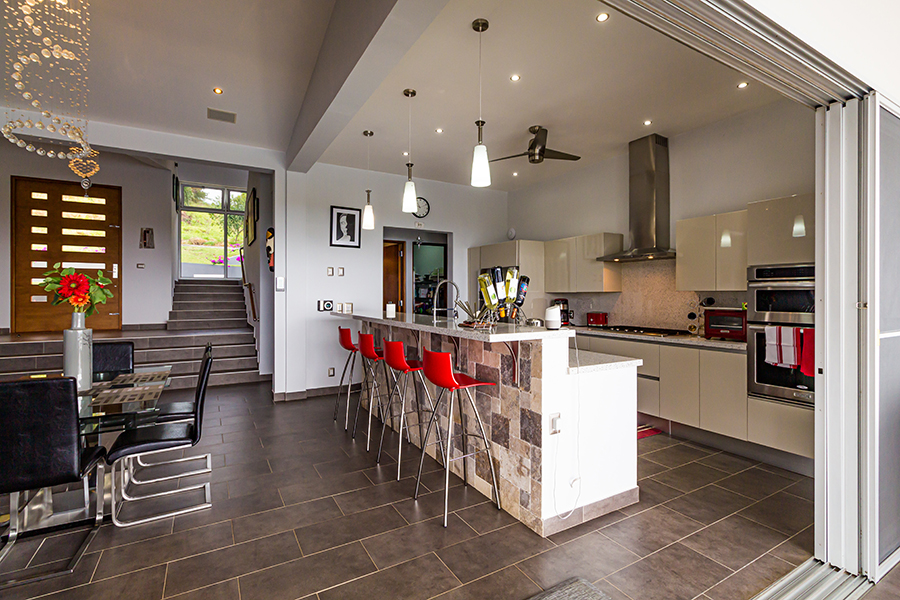 Slate has inherent durability. Slate kitchen flooring is resistant to chips, breaks, scratches, and cracks. It is suitable for highly visible areas such as entryways and large kitchens.
Inexpensive Laminate Flooring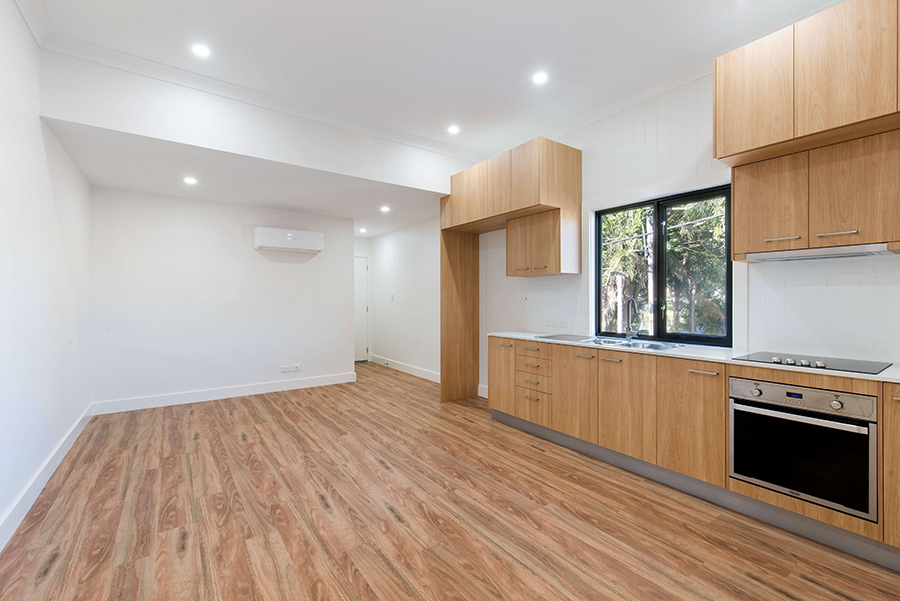 It is hard to beat the affordability and many looks of laminate flooring. Wood-look laminate offers a polished look at a bargain price.
Durable Flooring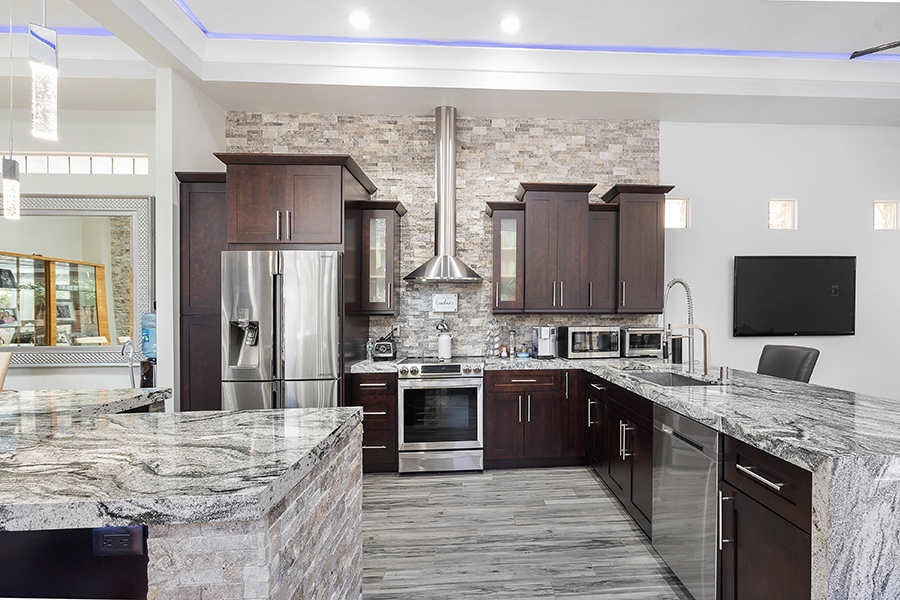 The most durable commercial flooring options for high-traffic areas are:
Terrazzo
Epoxy flooring systems
Rubber flooring
Carpet tiles
Luxury vinyl tile
Quarry tile
Scratch Proof Flooring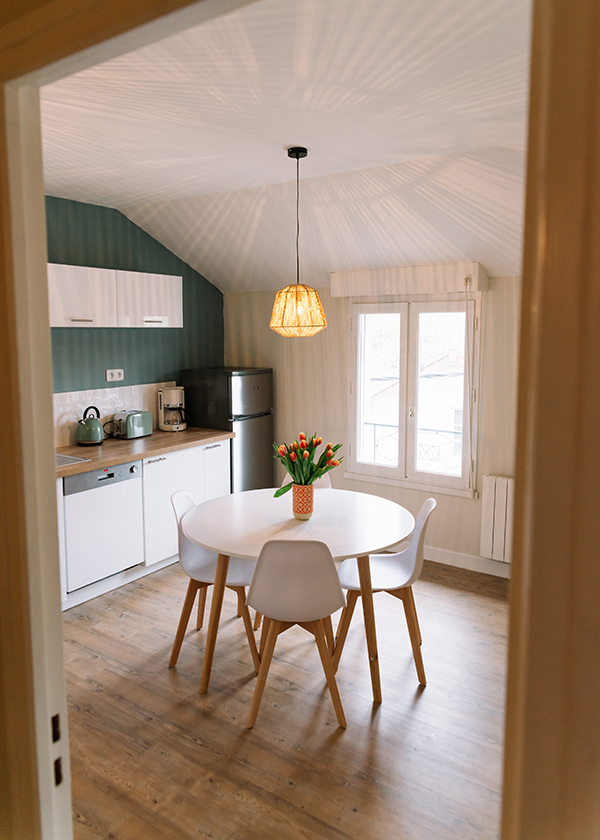 If you want scratch-resistant flooring, consider engineered hardwood with the most scratch-resistant finish available. You should opt for the hardest wood you can find such as hard maple, mesquite, or teak.
Scratch-resistant flooring is perfect for pets. One of the biggest problems with pets is their nails. Even well-trimmed nails can snag carpet and gouge hardwood.
Unique Flooring Ideas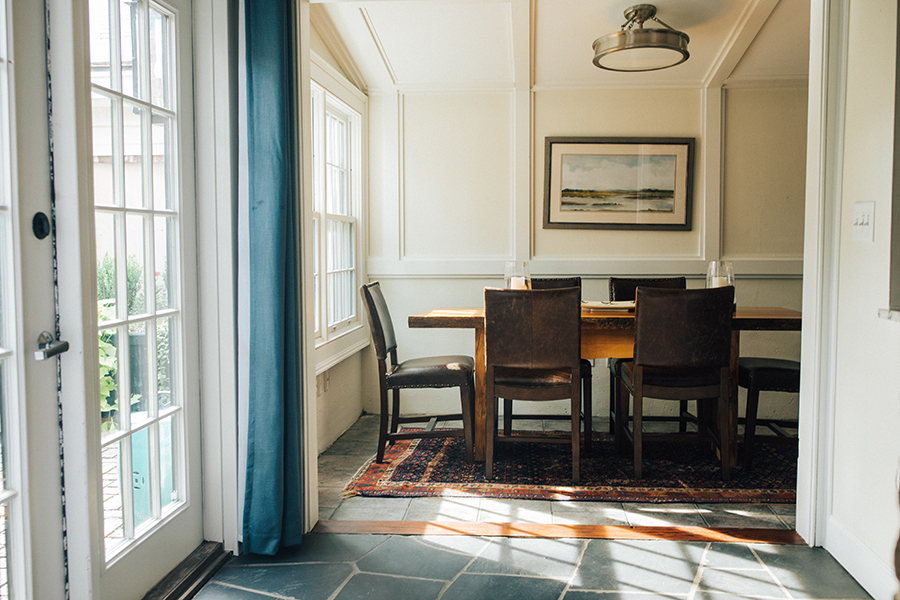 Flooring does need to be boring. Make your house distinctive with the following unique flooring ideas.
Leather flooring
Tile and brick combination flooring
Patchwork flooring
Contrasting flooring
Brick flooring
Bottlecap flooring
Tile and timber combination flooring
Plywood Floor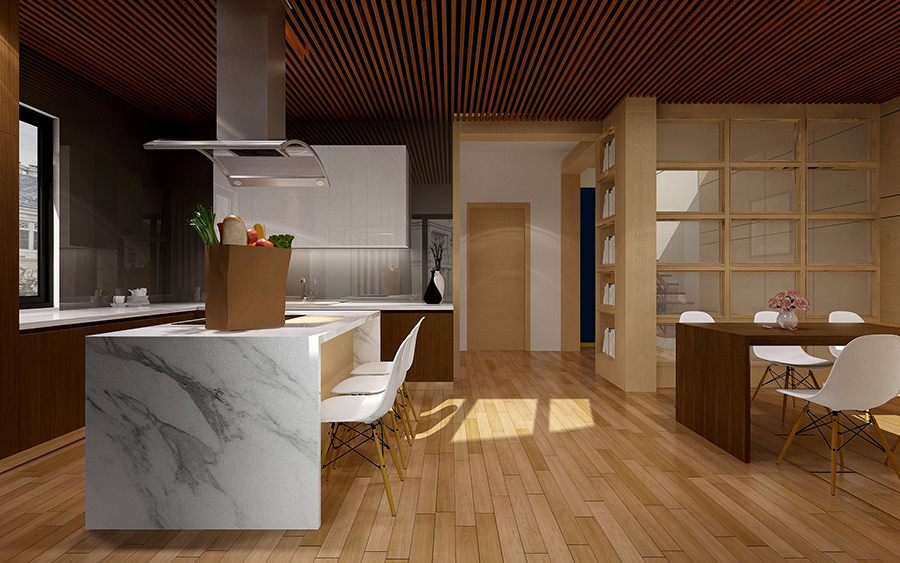 Plywood floors are cheaper than hardwood floors. They are also easy to install. You can use construction-grade plywood to transform the look and feel of your home.
Easiest Flooring to Install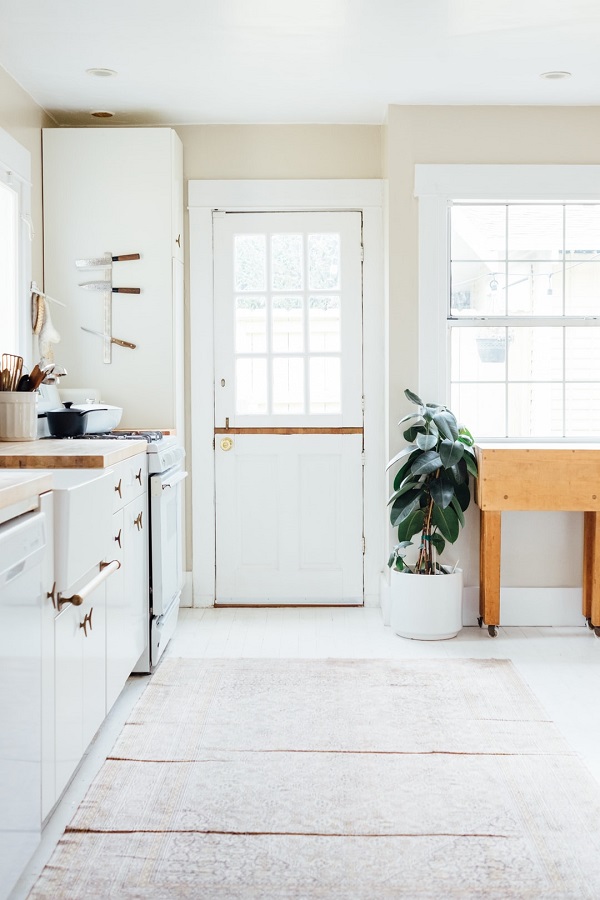 The easiest floors to install are:
Peel-and-stick vinyl tile flooring
Laminate plank flooring
Floating vinyl sheet flooring
Carpet tile flooring
Stained concrete flooring
Painted wood flooring
DIY Flooring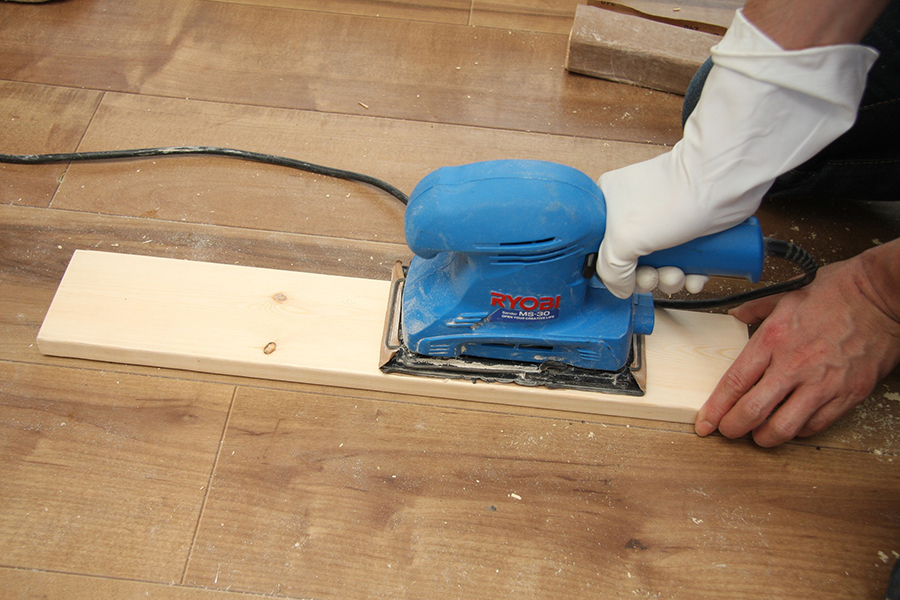 A factory-finished floor can be installed out of the box. With DIY flooring, you only pay for the cost of materials and tools/tool rental. If you are on a budget, choose a type of floor that you can install yourself and save money. Consider the alternative options to classic materials as well.
Continue reading: