Last updated on October 30, 2023
Delve into the world of home decor, because understanding partial overlay cabinets can enormously upgrade your kitchen or bathroom aesthetics while offering versatile storage solutions.
As the creator of these unique designs in the article "20 Trending Partial Overlay Cabinets: Ultimate Guide to Designs & Styles", I sincerely hope you find them inspiring and enjoy them as much as I loved creating them.
Partial overlay cabinets, an ideal blend of full overlay and inset styles, provide a distinctive aesthetic to any kitchen or bathroom. They offer an excellent solution for those seeking a balanced, cost-effective design that doesn't compromise on style.
This article delves into a plethora of design ideas, detailing how partial overlay cabinets can transform your space. Whether you're looking for a modern, traditional, or transitional look, you'll find a wealth of inspiration here.
Expect a thorough exploration of color schemes, hardware options, and material choices that will help you make the most of your partial overlay cabinets.
What's Inside
Contrasting Hardware for Pop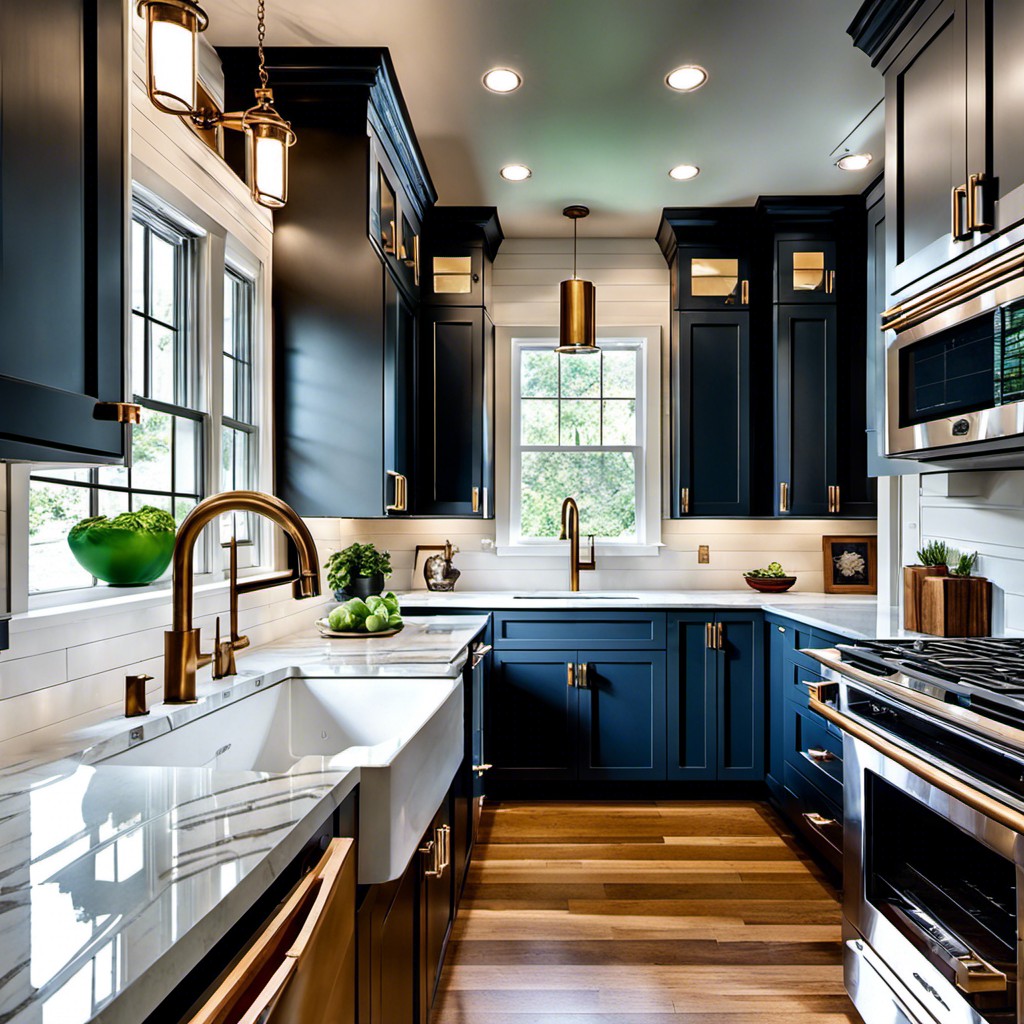 Selecting the right hardware, such as knobs and pulls, can significantly impact the aesthetic of partial overlay cabinets. Copper, nickel, and brass fixtures, especially those with a matte finish, can offer a striking contrast against dark-colored cabinets. Alternatively, black iron hardware can provide a bold statement against lighter cabinetry.
It's not just about the color – the style and shape of hardware play crucial roles too. Subtle features, such as vintage ceramic or crystal knobs, lend an air of elegance, while sleek linear pulls offer a contemporary feel.
Keep in mind that contrast isn't just visual; it's also tactile. Mixing materials like metal with glass or wood can create an appealing textural contrast, enriching the overall experience. Remember, it's these minor details that often make the most significant impact.
Incorporation of Glass Fronts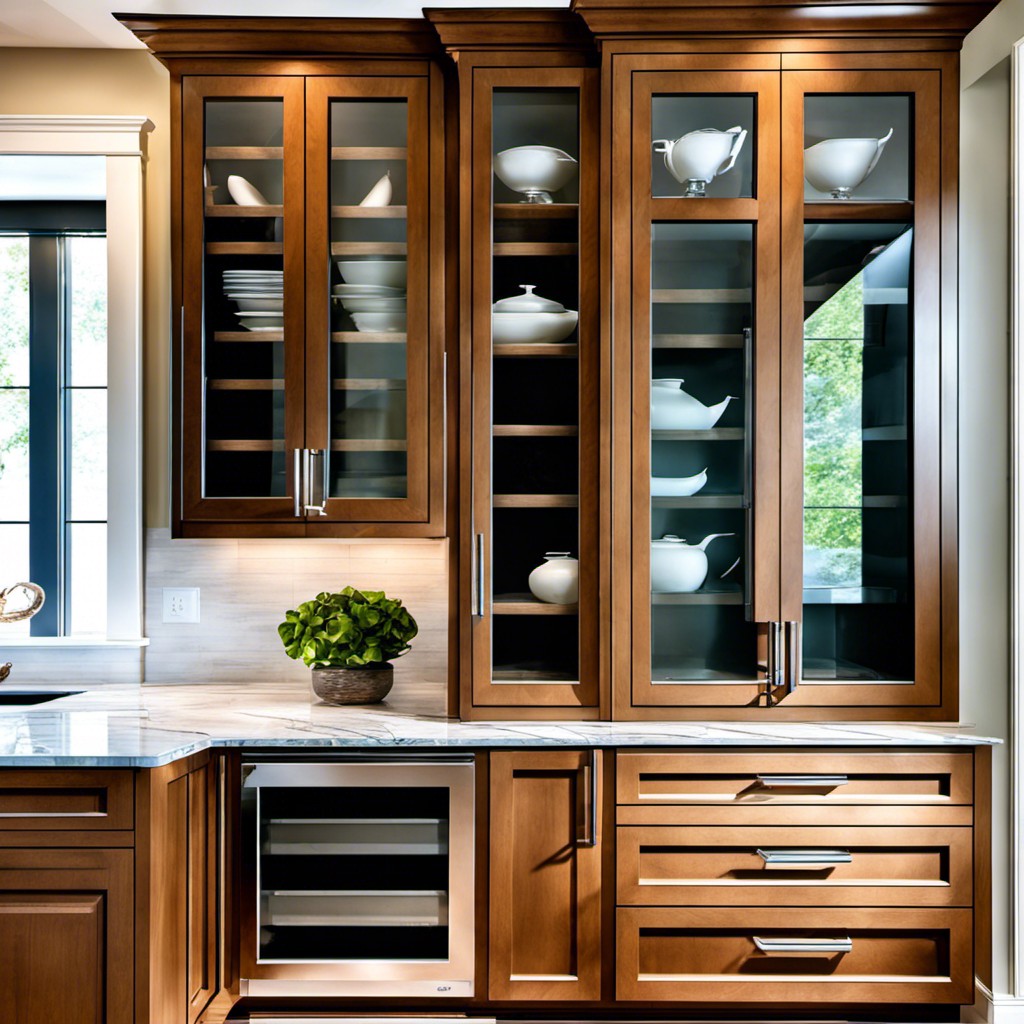 Glass-fronted partial overlay cabinets create an open, airy feel in your kitchen or bathroom. They make it easy to showcase attractive dishware or collectibles. Popular glass styles include clear, frosted, seeded, and leaded which adds a distinctive beauty.
Remember, glass fronts require tidier contents than solid doors, as everything is on display. Tinted or textured glass can help mitigate this by obscuring the view into the cabinet. LED interior lighting can illuminate your prized possessions and add a touch of elegance.
Updating solid cabinets with glass door insets is also a cost-effective solution that adds considerable aesthetic appeal.
Dual Tone Cabinets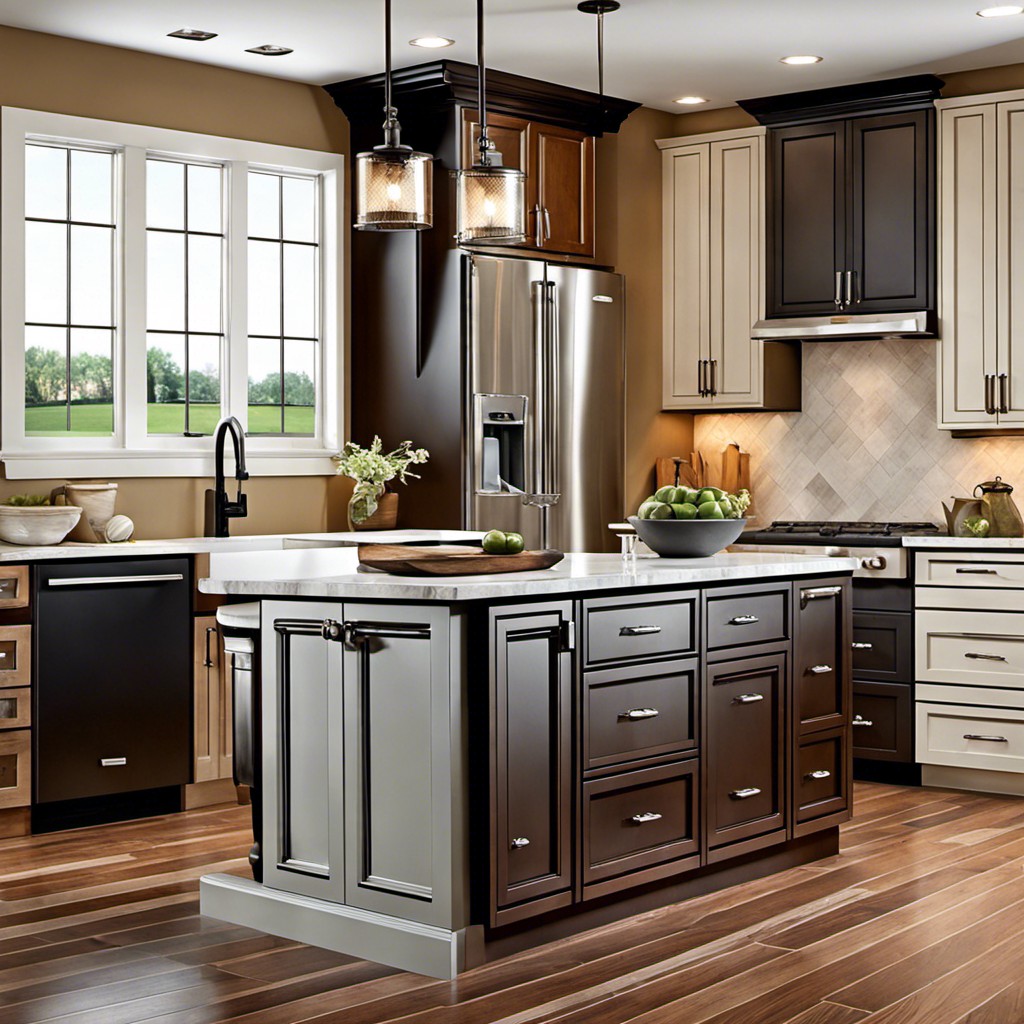 In a dual-tone cabinet design, the challenge lies in selecting two harmonious colors that complement each other yet stand firm on their own merits. Considering color temperature is a must; warm hues like reds, oranges, or yellows pair well together, as do cool hues such as blues, greens, or purples.
One exciting arrangement is using a darker tone on lower cabinets and a lighter shade on uppers; this creates an appealing balance and makes the room feel spacious. Also consider highlighting a kitchen island or specialty cabinet in an accent color for an extra pop that creates visual interest.
For a more subtle approach, use two shades of the same color. Light gray on top and charcoal beneath, for instance, can achieve a sophisticated look.
Texture also plays a key role in dual-tone designs. High-gloss upper cabinets paired with matte-finished lower ones add depth and texture to the space.
Remember, dual tones are not just for contemporary kitchens. Country-styled kitchens can benefit from this arrangement through the use of traditional hues like cream and sage green or french blue and dove gray for a distinct pastoral charm.
Plan your dual-tone design journey with these tips in mind for a kitchen that's uniquely yours.
Use of Open Shelving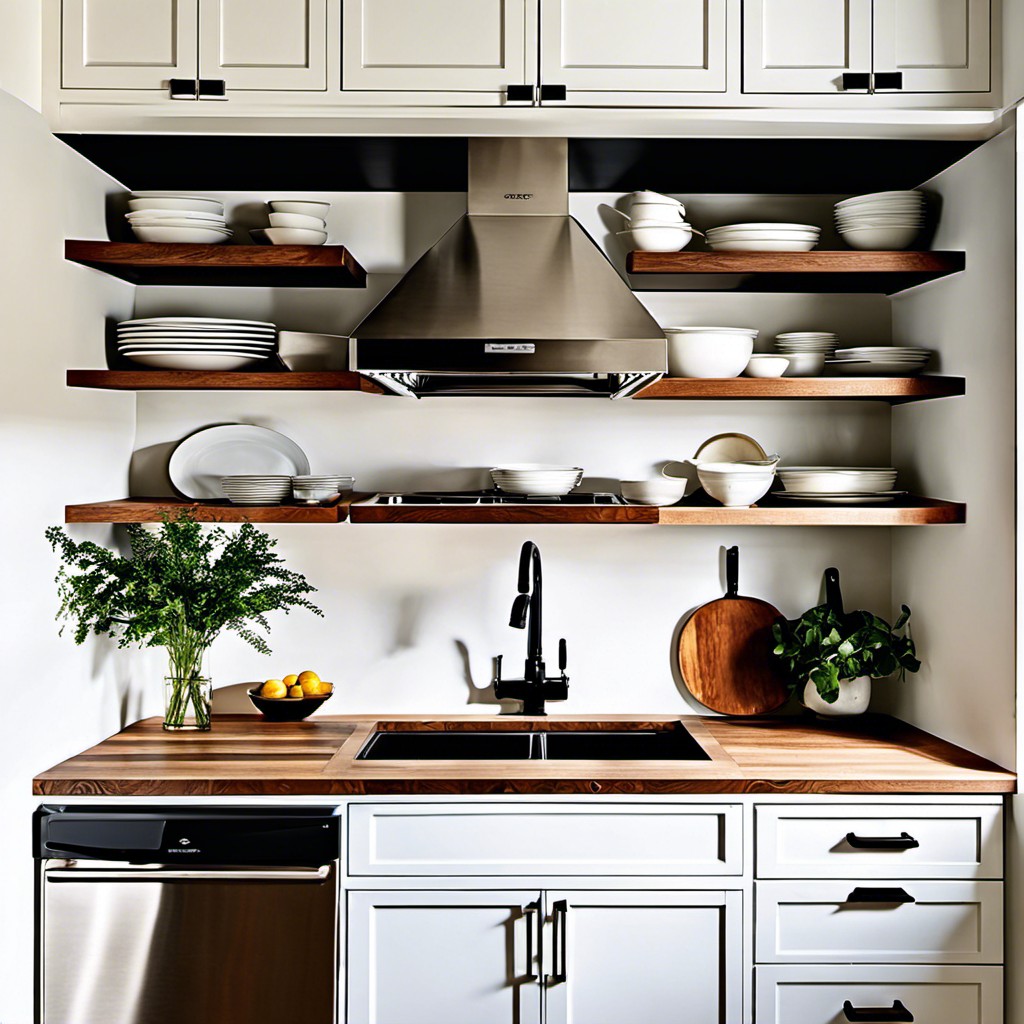 A trending design element in partial overlay cabinets is open shelving. This set-up crafts an airy feel in the kitchen while showcasing your most treasured kitchenware or cookbooks.
They also allow for easy reach and display of daily use items. Some homeowners choose to mix, combining open shelving with traditional closed cabinets for a varied, eye-catching look.
It's crucial to pick items that coordinate well for display in open shelves to maintain an uncluttered, organized ambiance.
Under-cabinet LED Lighting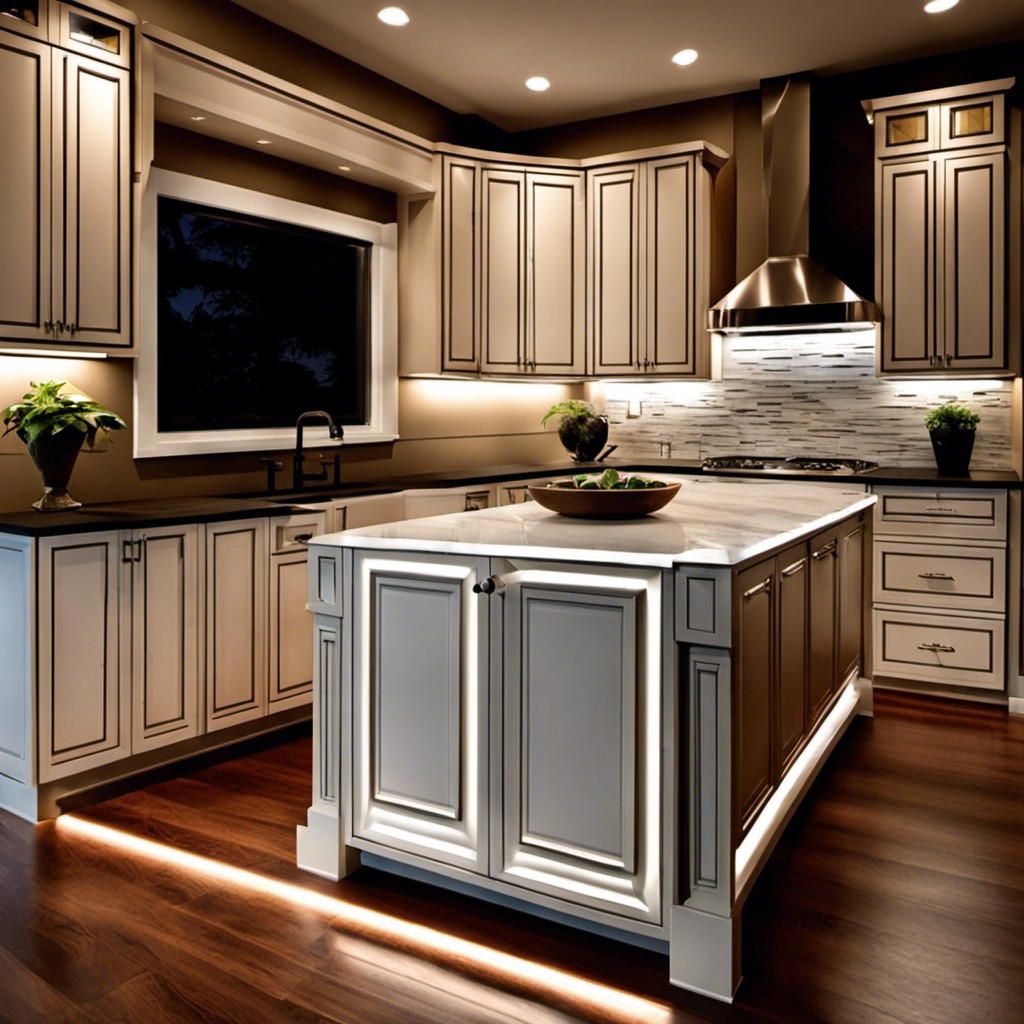 Bolstering your partial overlay cabinets with LED illumination is a smart move to enrich both functionality and aesthetics. This lighting significantly contributes to work efficiency in the kitchen, plus it graciously accentuates your chosen cabinet design.
Here are a few points to consider when integrating this lighting solution:
Color Temperature: Warm light creates a cozy ambiance, while cool light is ideal for highlighting workspace and detailed tasks.
Dimmer Function: This allows you to adjust the lighting level according to your tasks and mood. It is a great energy-saving feature too.
Energy Efficiency: LED lights are known for their superior energy-efficiency and longevity. They are a smart pick for environmentally-conscious homeowners.
Professional Installation: Though DIY-friendly, hiring a professional ensures optimal placement and wiring safety.
Fixture Choices: Puck lights for focused lighting; strip lights for continuous, consistent illumination.
Remember, it's all about combining practicality with visual appeal!
Futuristic High-gloss Finish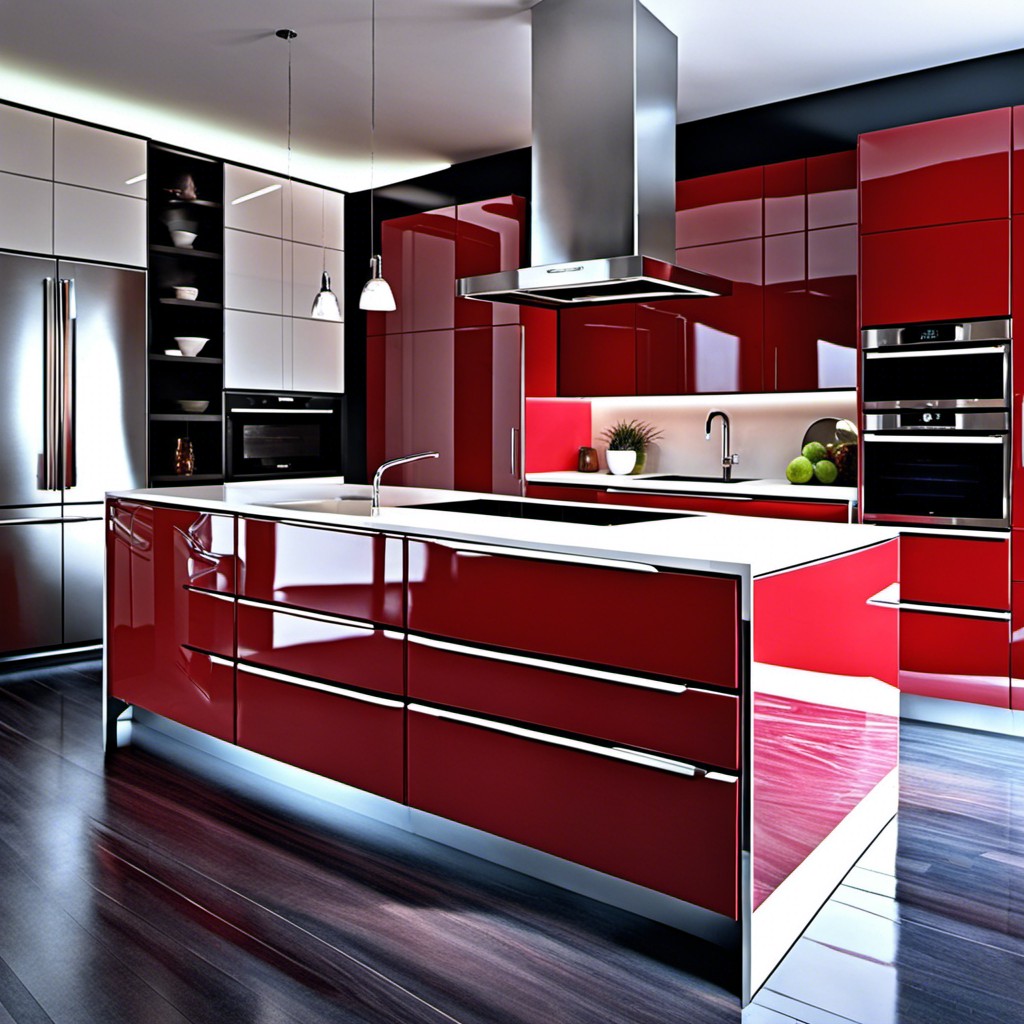 Imagine stepping into your kitchen and having it double as a contemporary art space. The high-gloss finish on partially overlaid cabinets can facilitate such an ambiance. Favored for its sleek simplicity, this glossy finish reflects light, heightening a sense of spaciousness.
Here are some key facts about this finish:
The polish adds a sheen that creates a mirror-like effect. It's a perfect match for minimalist or modern kitchen designs bursting with clean lines and uncluttered spaces.
Be wary of fingerprints, as their marks can be more visible on this finish. Regular maintenance and cleaning can keep your cabinets looking pristine.
Pairing the high gloss finish with neutral colors, such as black or white, can increase the futuristic vibe. Bold colors can also work, adding dynamic features to your space.
Ambient lighting helps enhance the allure of glossy cabinets, augmenting the light reflection exponentially.
While luxurious, this finish is typically more resistant to scratches, a practical advantage on top of the visual ones.
This approach is sure to make your kitchen an undeniable focal point in your home.
Distressed Wood for Rustic Charm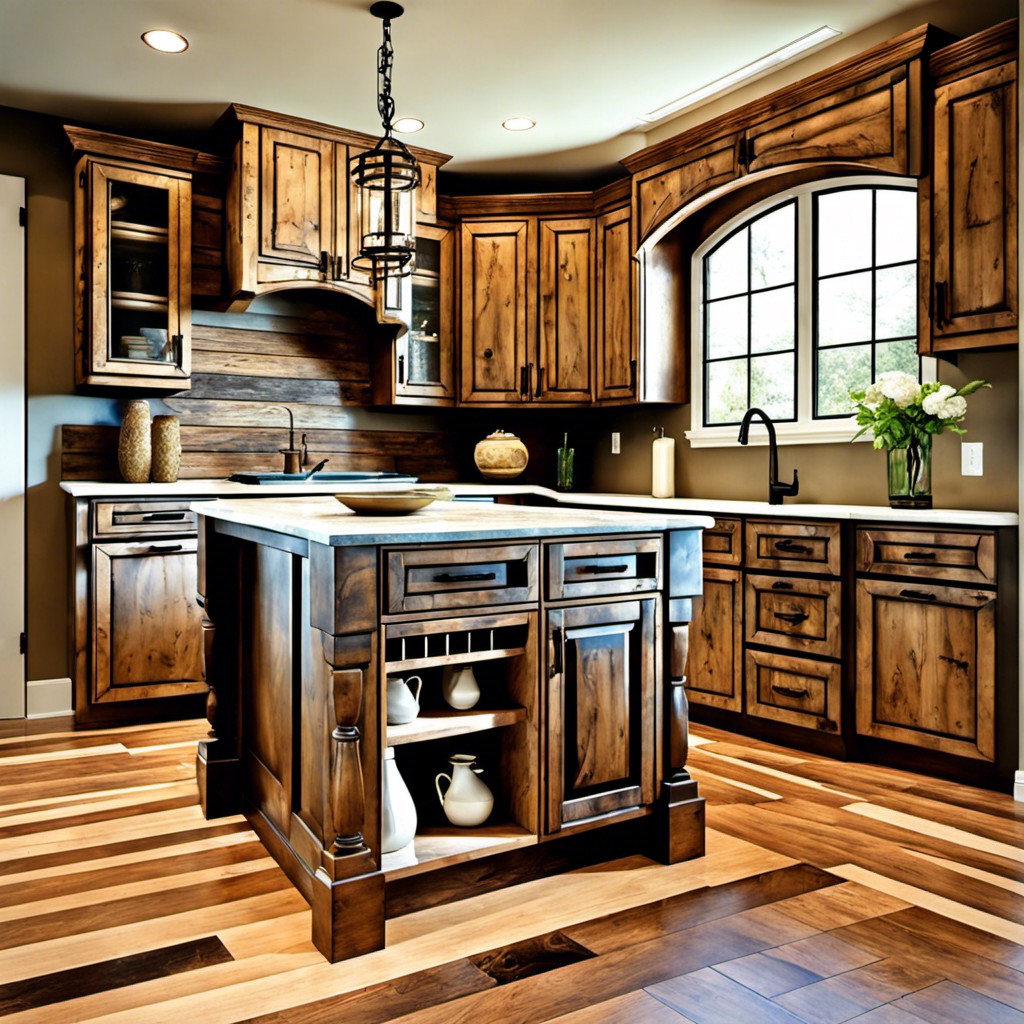 Capitalizing on the beauty of imperfections, distressed wood instantly infuses an element of rustic loveliness into your kitchen. The worn, weathered texture creates an atmosphere of warmth and homely comfort, that's both visually captivating and tactilely alluring.
When choosing a distressed finish for your partial overlay cabinets, consider the degree of ageing that suits your kitchen best. A subtly weathered look can be achieved with a light hand-sanding and a touch of glaze, while a more dramatic, antiquated effect might involve intensive distressing techniques, such as chain beating and worm holing.
Remember, the degree of distressing directly affects the cabinet's overall vibe. So, choosing the right balance between rustic charm and modern functionality is of utmost importance. Complement these cabinets with complementary hardware such as iron handles or bronze knobs for an authentic historical feel.
Moreover, distressed wood pairs well with a variety of color palates. Pastel hues can beautifully offset the darkness of the distressed wood, whereas warmer tones can magnify the rustic charm. Keep in mind, the aim is to maintain harmony and balance, so whatever your choice, ensure it blends seamlessly with the rest of your kitchen decor.
Sophisticated Gray Hues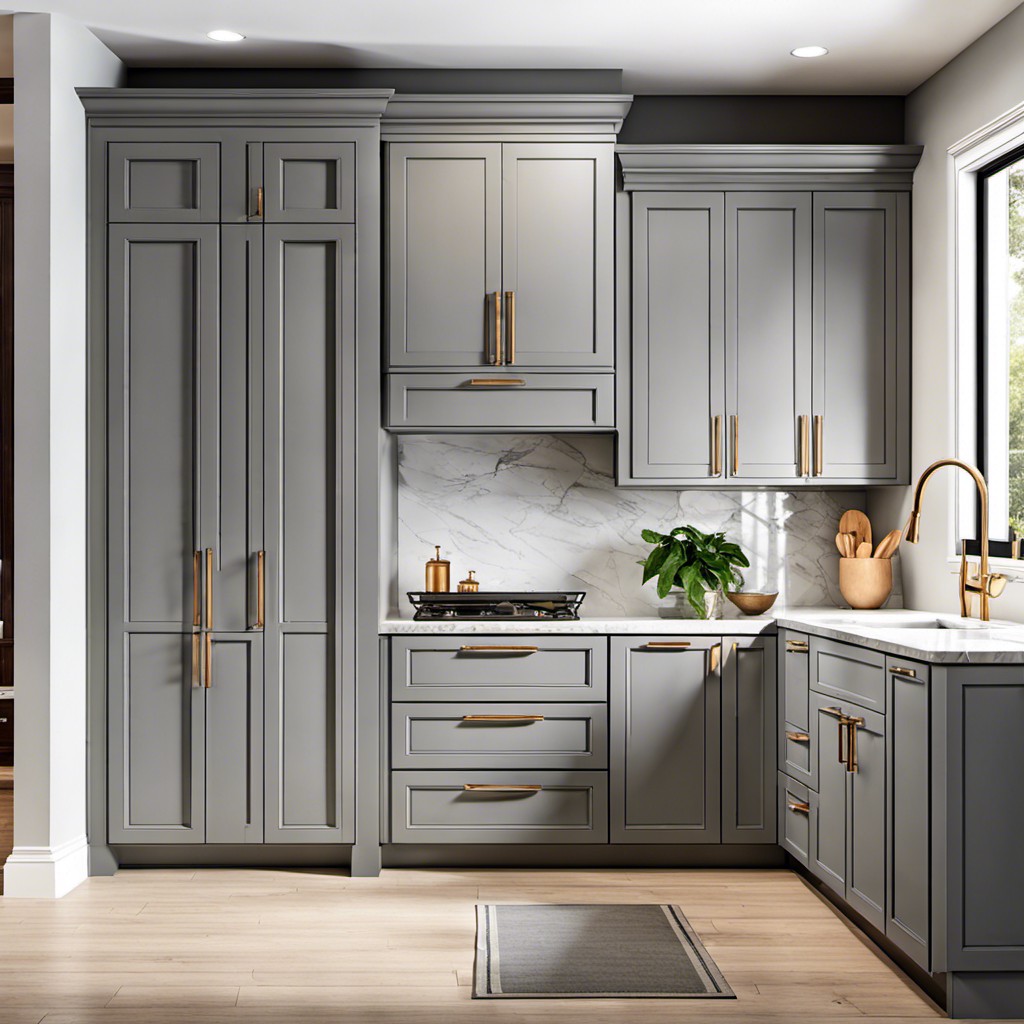 Introducing grays into your kitchen cabinet decor offers a refined and graceful aura. It's an incredibly versatile color that works well with a myriad of other hues, making it ideal for any kitchen.
1. Pairing grays with whites offers a crisp, clean look while maintaining a sophisticated atmosphere.
2. Combining different shades of gray can impart a distinctive level of depth and interest to your cabinetry.
3. Adding metallic accents such as silver or chrome handles magnifies the elegance of gray cabinets and gives them a modern appeal.
4. Gray, due to its neutral nature, makes it easier to incorporate other design elements like colorful backsplashes or unique countertops.
5. High-gloss gray finish, though a more contemporary selection, can add a sleek and cool aesthetic to your space.
Remember, the secret to achieving a beautiful gray cabinet display is in the combinations and accents you pick. So, experiment with different hues and finishes until you find the one that aligns impeccably with your aesthetic preferences.
Unique Geometric Design Elements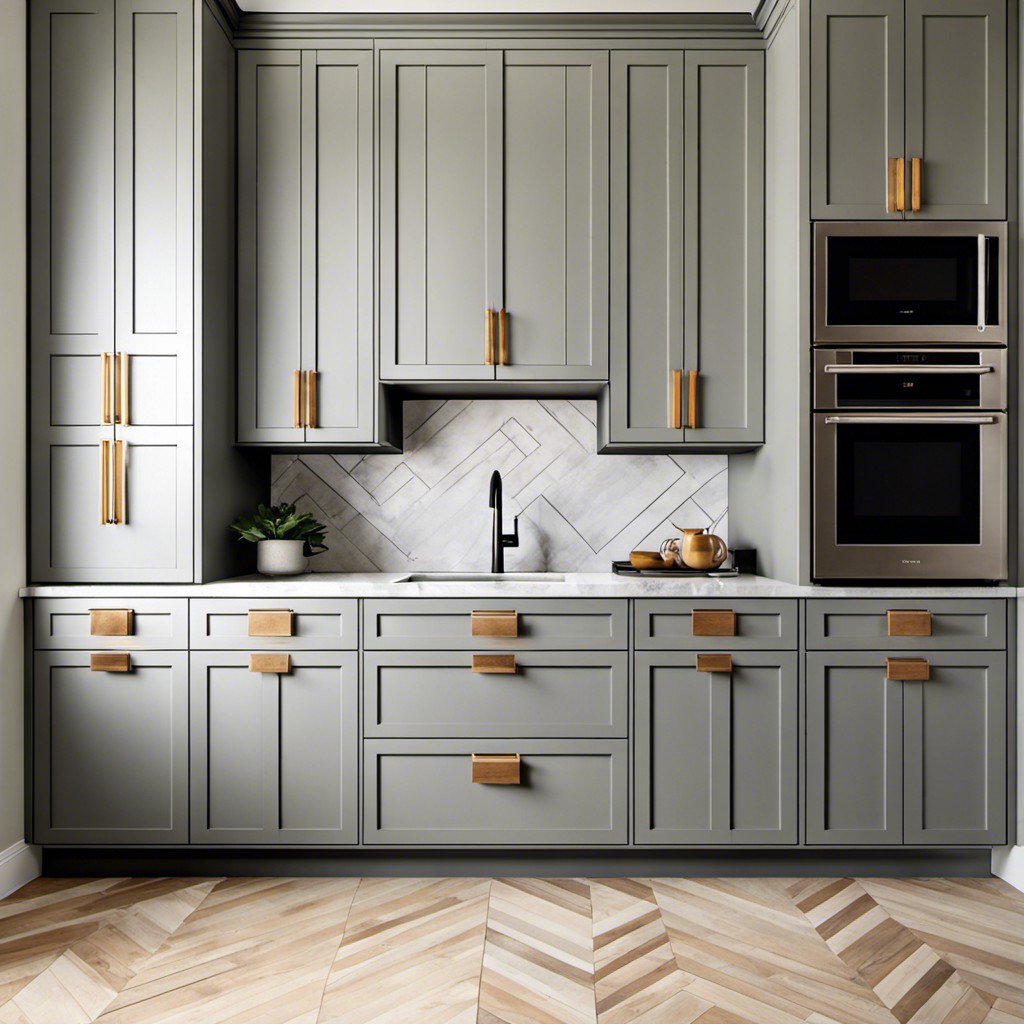 Incorporating shapes and patterns can escalate the visual interest of your partial overlay cabinets. Triangular cut-outs are a novel approach, adding a modern touch.
Alternatively, consider horizontal or vertical line cut-outs for a more minimalistic look. For a dramatic impact, intricate lattice or fretwork designs can transform your cabinets into a striking focal point.
Additionally, combining different geometric shapes on alternating cabinets creates dynamism and breaks the monotony. Remember, the design options are limitless when it comes to geometry, allowing for creativity and personal expression.
Partially Overlaid With Chalkboard Panels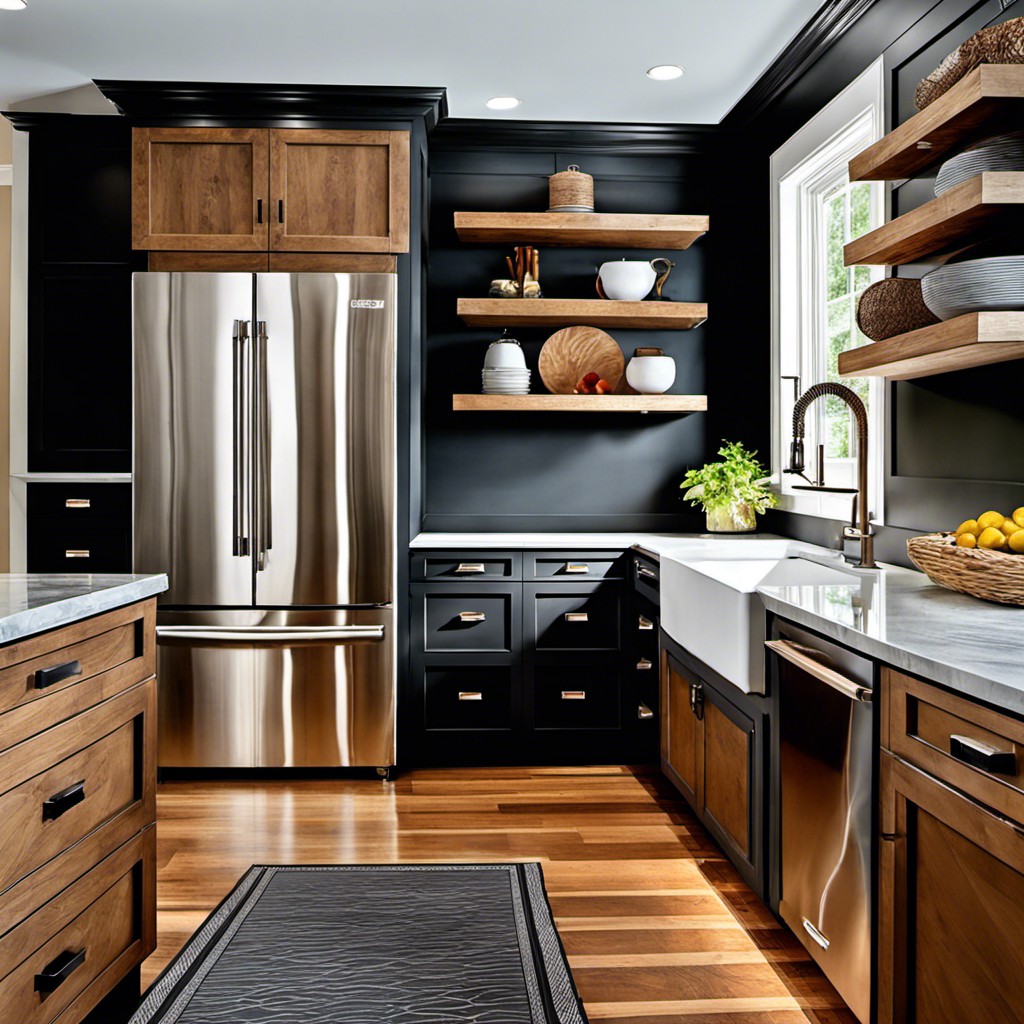 Chalkboard panels provide a versatile and functional twist to your partial overlay cabinets. This not only transforms your kitchen into a dynamic space but also provides an area for grocery lists, meal planning, and even an impromptu canvas for little artists in the household.
Because chalkboard paint is available in a variety of hues, you can match it to your current decor. Just ensure you prep the surface correctly before applying the paint to get a smooth finish. For finer details and a sleeker look, you can use chalk markers instead of traditional chalk. Damp cloth wipes can make cleaning a breeze.
Can you believe such a practical, fun, and engaging change to your kitchen can be achieved with just a few brush strokes?
Unfinished Wood for a Natural Look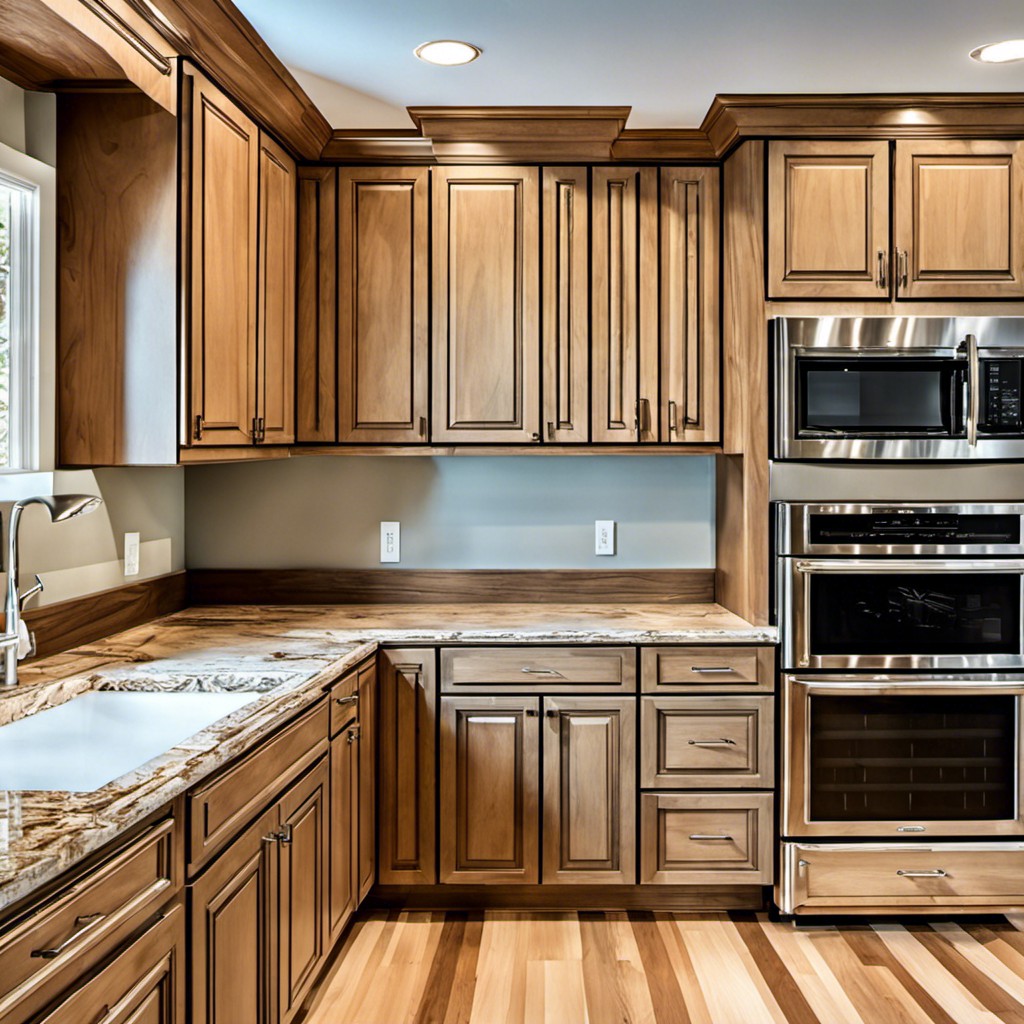 Opting for unfinished wood allows the true beauty of the material to shine, setting a tone of authenticity and warmth in your kitchen. This approach embraces the grain, texture, and minor imperfections, truly celebrating the character of natural wood.
Particularly suited to country or rustic style kitchens, it harmoniously ties the indoors to the natural world outside.
For maximum impact, consider solid woods such as oak, maple, or cherry, all offering unique patterns and warm tones. Durable and robust, these species ensure longevity, meaning your cabinets not only look good but stand the test of time.
Remember, maintenance is key with unfinished wood. Regular dusting will keep surfaces fresh, while oiling will enhance the wood's inherent beauty, provide a protective layer, and prevent drying out.
Finally, consider pairing with complementary elements such as wooden or stone countertops and earth-tone backsplashes. This way, you establish a consistent, warm, and inviting aesthetic throughout your kitchen.
Gold or Bronze Hardware for a Luxe Effect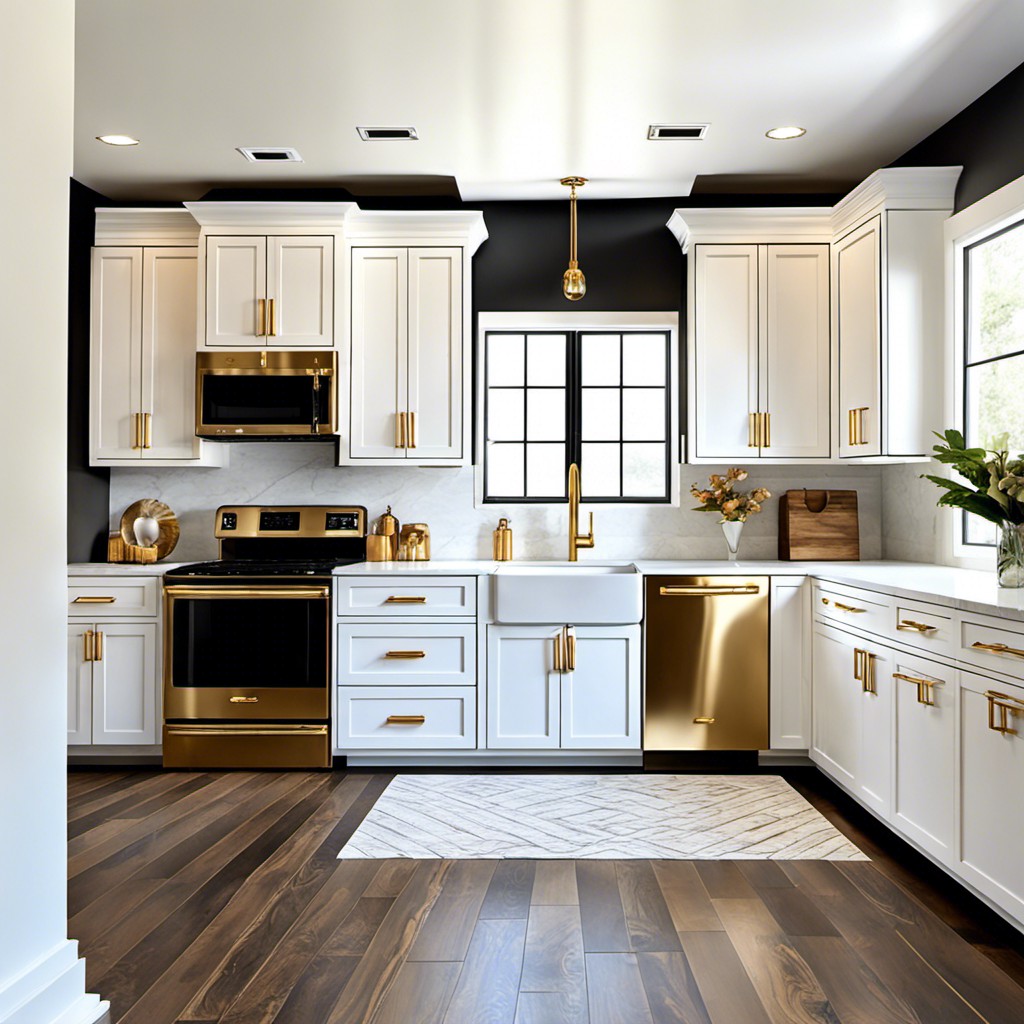 Incorporating hardware with a metallic gleam can effortlessly elevate the aesthetic appeal of your partial overlay cabinets. Gold, blending its warm allure with a classical feel, imparts a royal touch. Bronze, on the other hand, has a timeless charm carrying both vintage vibes and modern sophistication.
For a refined look, opt for matte finishes. Pairing these hardware choices with darker or deeply colored cabinets can create a stunning contrast. Remember to keep all other kitchen hardware in sync for a harmonious look.
A mellow ambient lighting will enhance this luxe effect further. Carry the theme throughout your space to achieve a coordinated interior.
Two-tier Cabinet Design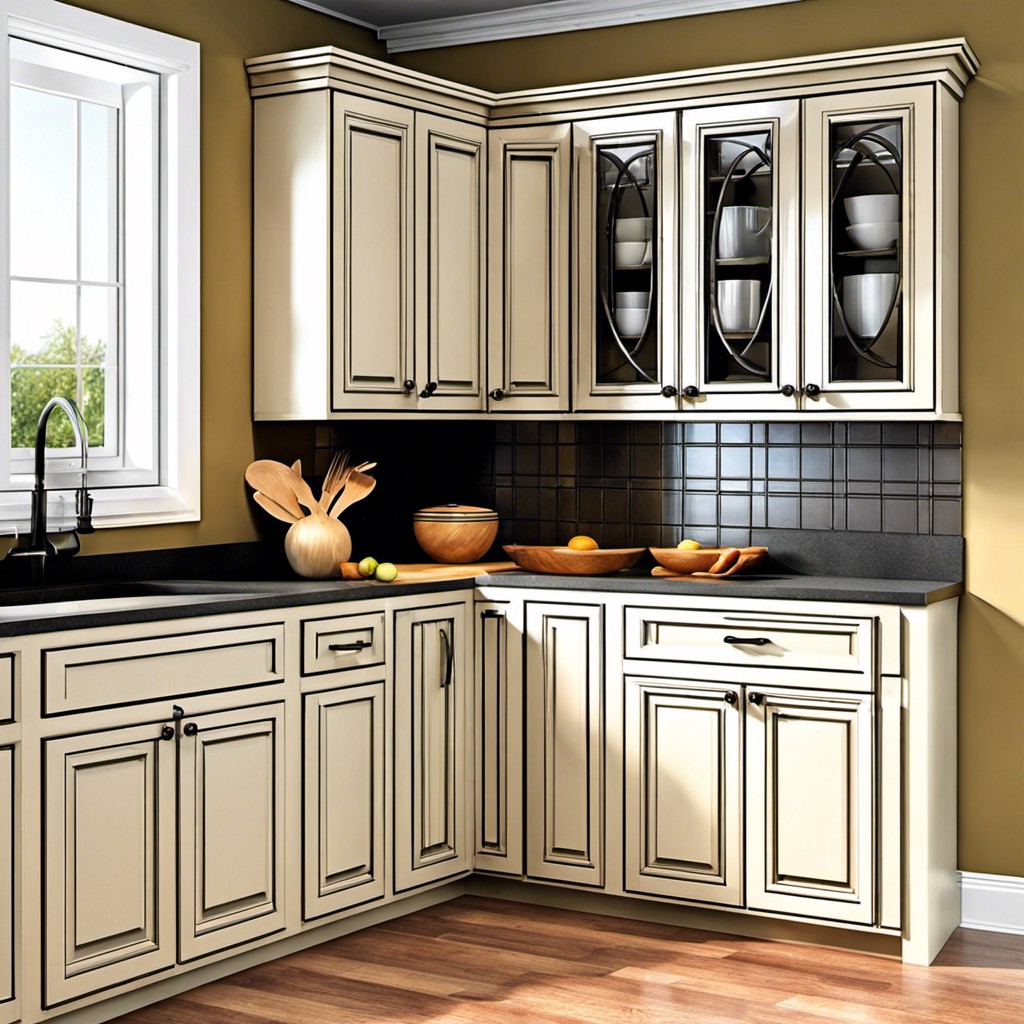 Optimizing kitchen storage and work areas is a popular trend, and a two-tier design is the epitome of this approach. This design has stacked shelves which doubly enhance storage, providing more room and making it easier to organize kitchenware.
1. Improves Storage: It maximizes storage space by stacking the cabinets for optimal use of vertical kitchen space.
2. Easy to Organize: Keeps kitchenware tidy and easy to reach. Less frequently used items can be stored on the top tier.
3. Versatility: It fits any kitchen style, be it modern, traditional, or rustic. You can adjust the design to your preference.
4. Customizable: It can be tailored to your exact need. Choose the number of shelves, doors, placement, and color.
5. Aesthetic appeal: Besides practicality, it adds a striking look to the kitchen. The layered appearance attracts attention and can act as a focal point.
Remember, proper planning with a professional will ensure an efficient, easy-to-use, and beautiful two-tier cabinet design.
Nautical-themed Overlay Design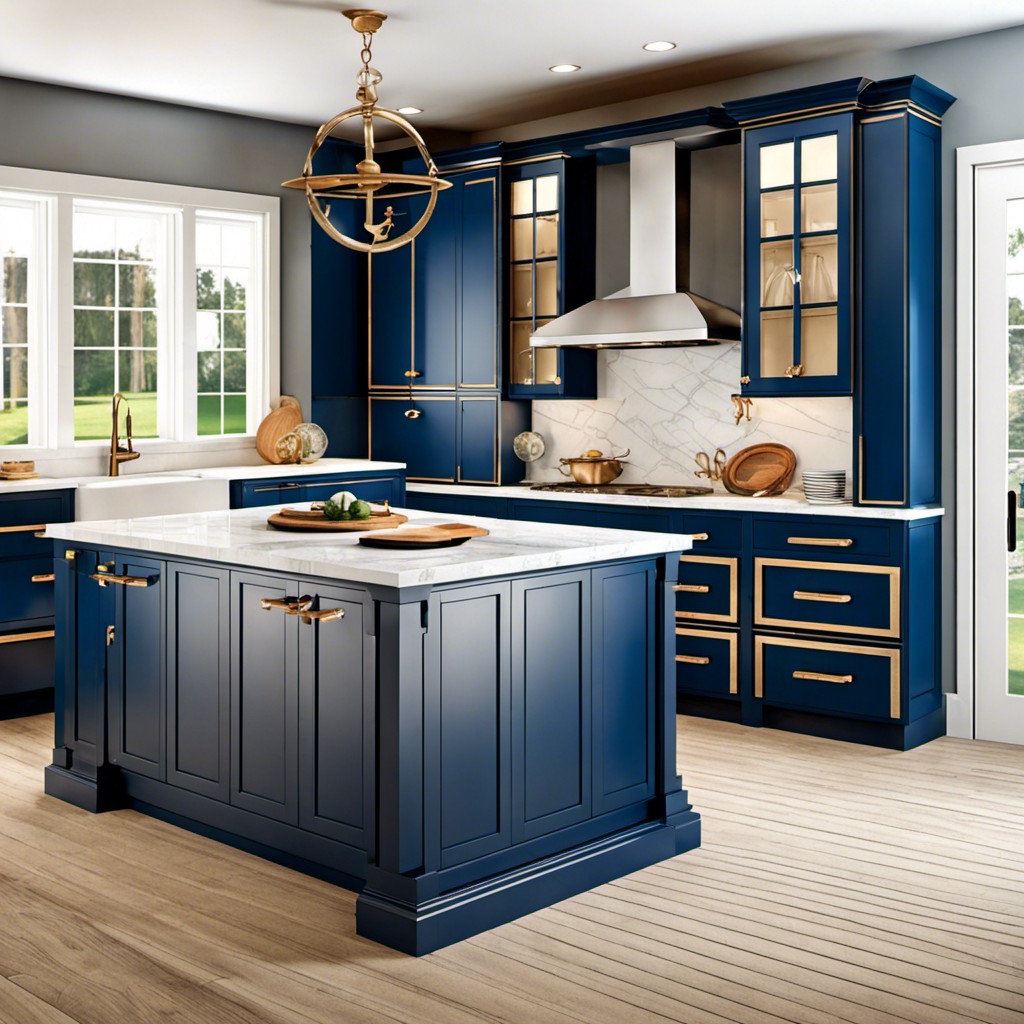 A subtle way to incorporate a nautical theme into your cabinet design is through the use of color. Blues and whites pay homage to the sea and sky, offering a coastal touch. Anchor or seashell-shaped handles can add a whimsical flair. Stripes, often seen in nautical designs, could be used in the form of paint or cabinet finishes. However, be careful not to overdo these elements as subtlety is key for maintaining a sophisticated appearance.
Another approach involves using yacht-like lacquer finishes for a chic and sleek look, reminiscing the luxury sea vessels' interiors. Natural rope or jute can be creatively used as cabinet pulls to give a maritime essence. Consider also using recycled wood or driftwood finishes to reflect the weathered look found along the shoreline.
In the end, it's all about balance and tastefully integrating these elements to create a refreshing, nautical-inspired kitchen haven. Remember, less is often more when it comes to theme-based designs.
Retro-style With Pastel Color Overlays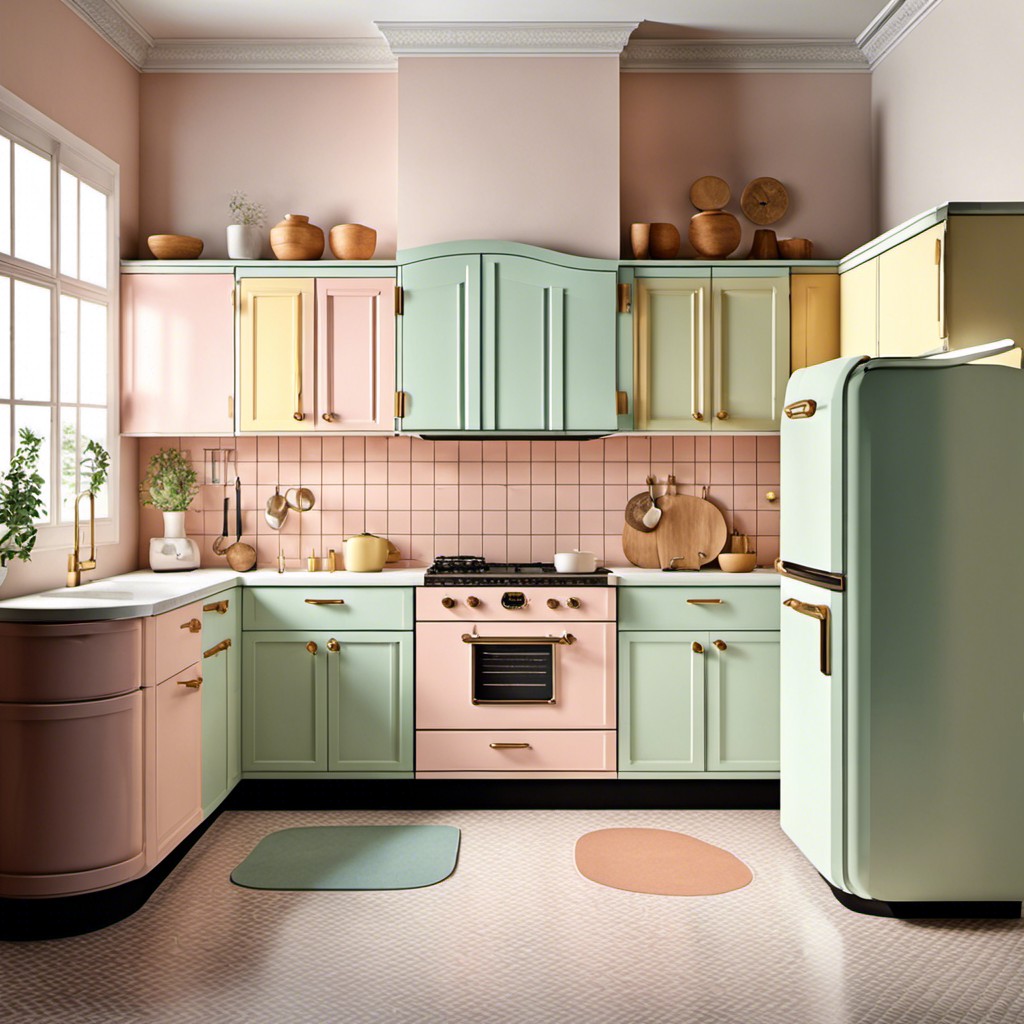 Reflecting the aesthetic of the 50s and 60s, a pastel overlay can evoke a sense of nostalgia and charm in any kitchen space. Well-suited with the traditional white or cream-colored partial overlay cabinets, shades such as mint green, baby blue, or powder pink can be considered for a softer appeal.
The key is to balance the colors so they are neither too overpoweringly sweet nor too dull. Pair these pastel colored cabinets with patterned tiles or retro-themed kitchen accessories for a cohesive look. Incorporating modern appliances, metallic accents, or contemporary light fixtures can add a twist to the vintage vibe, ensuring your kitchen is not just retro, but retro-chic.
Opting for Eco-friendly Materials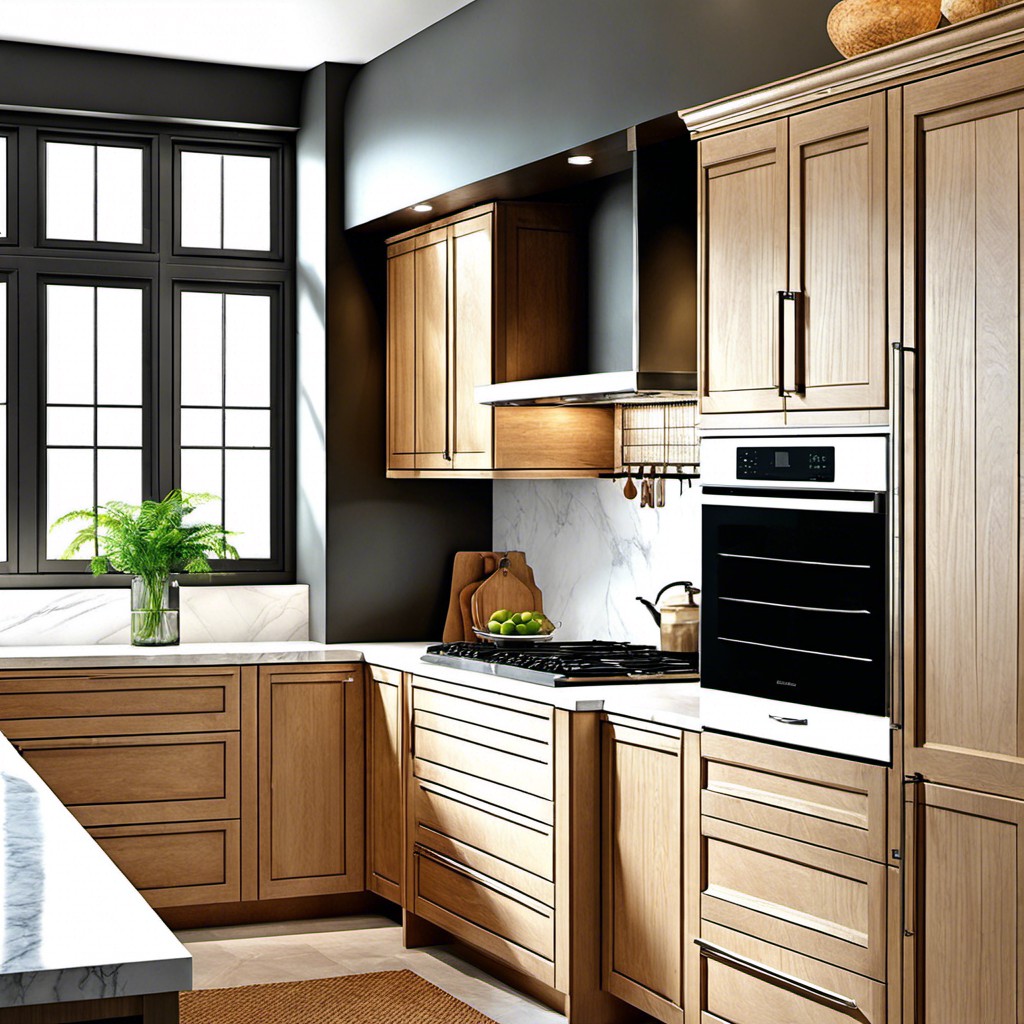 When it comes to cabinet materials, consider the growing trend towards sustainability. Why not align your design choices with conservation goals?
1. Bamboo: Bamboos are fast-growing and highly renewable, making them an eco-friendly choice. Not only are they sturdy and durable, but they also offer a fresh, natural aesthetic that's perfect for a green kitchen.
2. Reclaimed Wood: Utilizing reclaimed or salvaged wood is a brilliant way of reducing waste. Each piece of wood carries its own history, offering a beautiful and unique perspective to your kitchen.
3. Recycled Metal: For a more industrial touch, recycled aluminum or steel can lend both resilience and shining appeal. These materials are long-lasting, adding to their ecological merits.
4. Plywood: Plywood certified by the Forest Stewardship Council (FSC) ensures the wood has been sourced responsibly. It also tends to have a lower level of toxic emissions compared to other processed boards.
Remember, green choices are not just beneficial for the environment but can also offer unique aesthetics to your kitchen. Whether you opt for the rugged charm of reclaimed wood or prefer the fresh look of bamboo, these choices will make your partial overlay cabinet project stand out in a sea of traditional options.
Addition of Crown Molding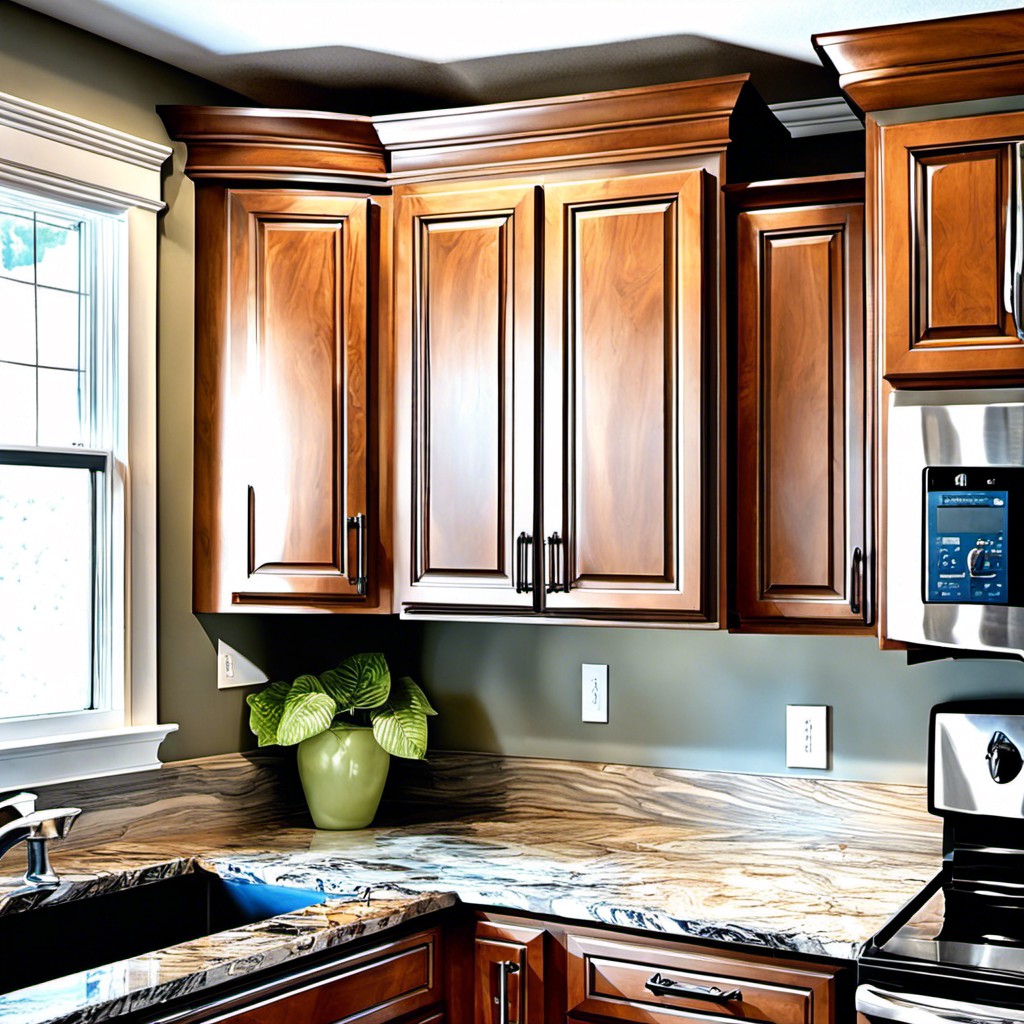 Elevating the look of your partial overlay cabinets can be as simple as adding custom crown molding. This traditional architectural feature, when affixed to the upper borders of your cabinetry, can bring an immediate sense of sophistication and class.
As part of your cabinet design, crown molding can serve as a bridge between the cabinets and the ceiling, eliminating any awkward space and giving a finished look. It blends well with a variety of decor styles, from classic to contemporary.
Several factors come into play when integrating crown molding. Consider the height of your ceilings and the design of your cabinets. Choose a design in proportion to the size and style of your cabinets and the overall room décor.
Materials range from wood to PVC with numerous design patterns available, including simple, intricate, or modern. Your choice should complement the style of rooms and reflect your personal taste.
Remember, crown molding on your partial overlay cabinets may seem like a small detail, but often, it's these small features that make a substantial impact on the overall aesthetic.
Keep in mind, installation can be complex due to intricate angles, so professional assistance might be beneficial.
Utilizing Corner Cabinets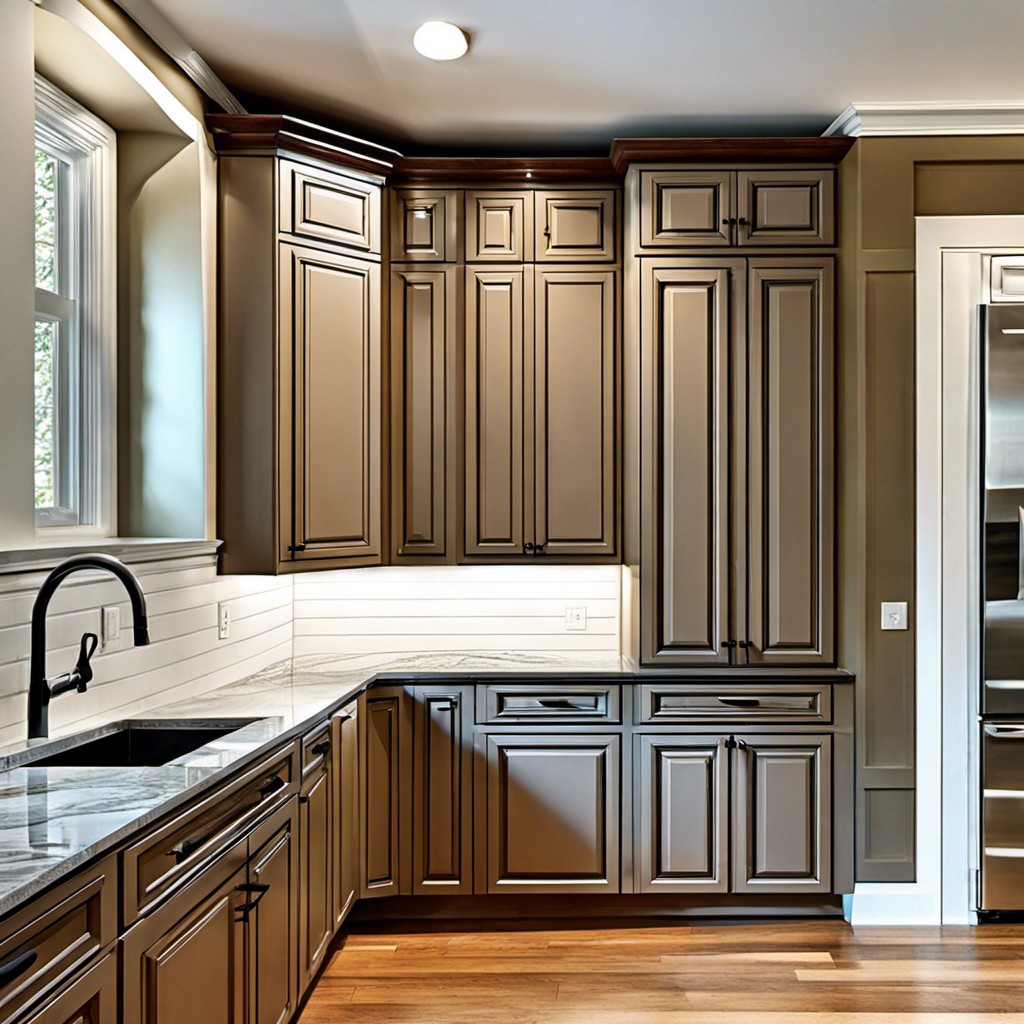 When it comes to spaces that generally remain unused in standard design layouts, corner cabinets top the list. Partial overlay style elevates these forgotten spaces, adding functionality and style.
Here's how you can use them to your advantage:
Rotating Shelves: Also known as a lazy Susan, this makes items accessible with just a simple spin. Store your frequently used items here for convenience.
Pull-out Units: These units slide outwards, presenting you with multiple layers of storage. They're ideal for storing smaller items like spices.
Magic Corner Pull-outs: Named for their smooth mechanics, they pull out and pivot, providing surprising amounts of storage for their compact size.
Diagonal Cabinets: By installing cabinets diagonally, you can incorporate a traditional cabinet door. Incorporating a glass front to these cabinets would add a surprising element.
Corner Drawers: A series of drawers cascading into the corner. This option lends a sleek, seamless look.
Each of these options enhances your kitchen usability, making corner cabinets a practical and design-forward choice.
Embossed or Carved Overlay Designs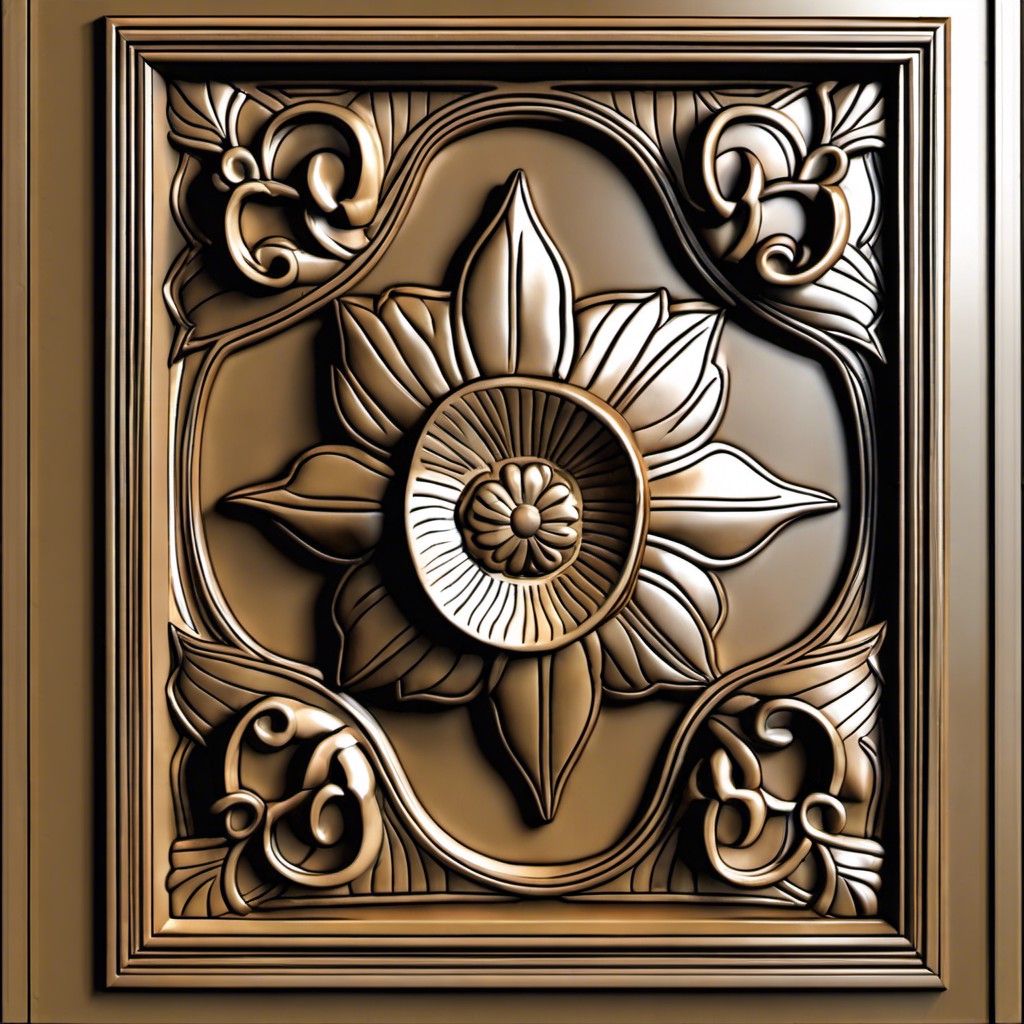 This style offers an intricate aesthetic that can quickly become the focal point of any kitchen. Follow these tips:
1. For a classic approach, floral or vine-inspired patterns work splendidly.
2. You might want to consider using lighter woods like oak or birch to highlight the carvings, while darker woods like mahogany or walnut give a more subtle effect.
3. Ensure your carvings are neat and precise. For this, professional assistance is recommended.
4. Symmetrical designs maintain a sense of unity, offering a clean and organized look.
5. Clean regularly to prevent dust accumulation, which can dull the effect of the engravings.
6. Maintain consistency in the style; random or conflicting designs can appear confusing.
Remember that the purpose of embossing or carving is to add a creative touch while maintaining the functionality of your cabinets. Happy decorating!
Install Pull-out Drawers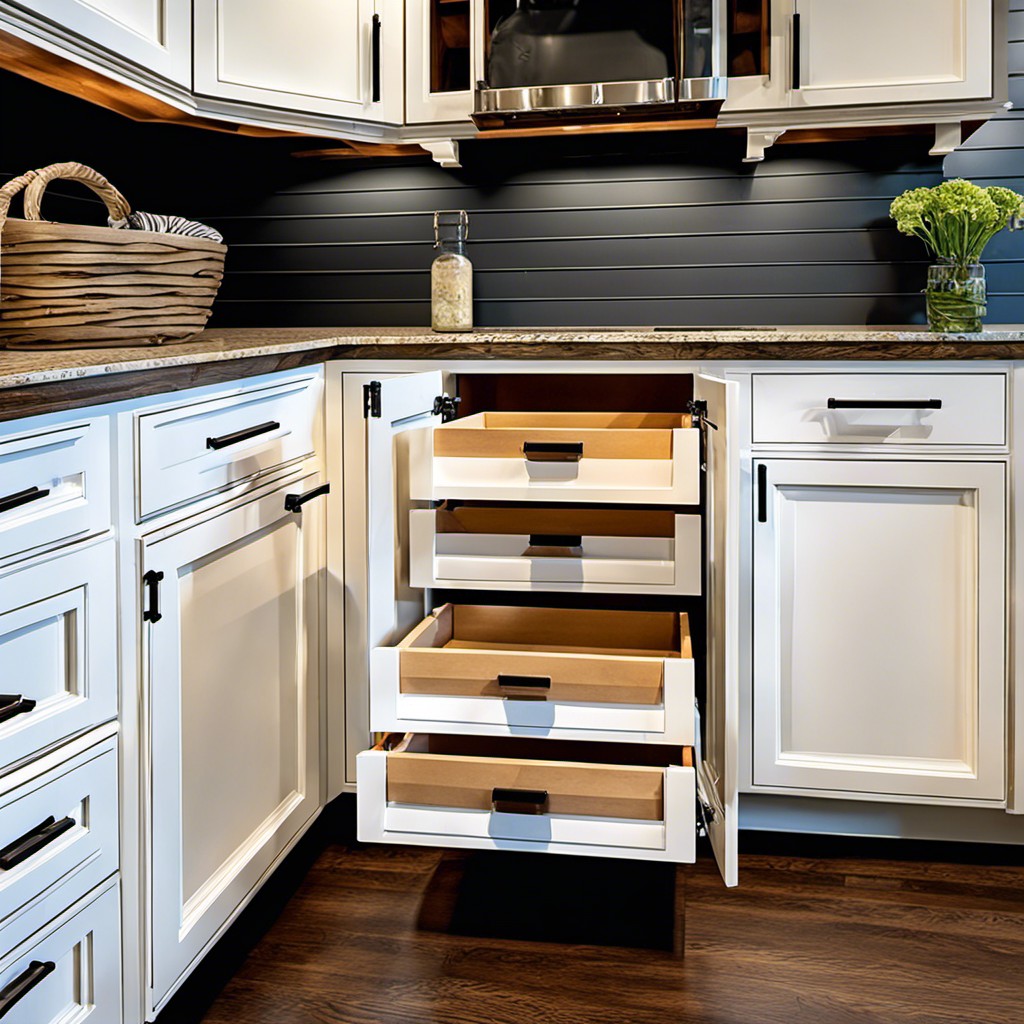 One effective way to maximize space and enhance accessibility in your partial overlay cabinets is the integration of pull-out drawers. With these elegant solutions, items tucked away in the back become as easily accessible as those front and center.
1. Customization: Cater to your specific storage needs by customizing sizes and compartments, perfect for pots, pans, or your extensive spice collection.
2. Accessibility: Bending down to fetch items from the back of a low shelf can be difficult. Pull-outs eliminate this hassle, bringing everything within a comfortable reach.
3. Aesthetic: These drawers provide a clean, uncluttered look and can easily be designed to match your existing kitchen aesthetic.
4. Efficiency: Organize better with separate compartments for different utensils or food items. Find what you need at a glance, cutting down meal prep time.
5. Cleanliness: Pull-outs are easier to clean than traditional shelves due to their ability to fully extend.
6. Upgrade: Modifying existing cabinets to include pull-out drawers can be a cost-effective upgrade, adding value to your kitchen without a complete remodel. Remember, it's not always about making major changes; sometimes small tweaks can make a huge difference.
Take your kitchen's functionality and style to a whole new level with pull-out drawers in your partial overlay cabinets.
Continue reading: