Last updated on April 8, 2022
Thinking of adding something valuable to your house? A shed would be a great choice. Here is why you should build a shed in the backyard.
No matter how well-organized we are, items continue to accumulate as long as we stay in our current residence. This is typical, we are human, and we want to purchase and keep things. But not addressing these issues would absolutely be irresponsible. Building a backyard shed might assist you in more ways than you realize. The advantages could make you question why you did not decide to construct the shed earlier and appreciate the rewards!
This blog will cover the perks of building a backyard shed and factors to consider before building a backyard shed. So, let's begin!
What's Inside
Benefits of Building a Backyard Shed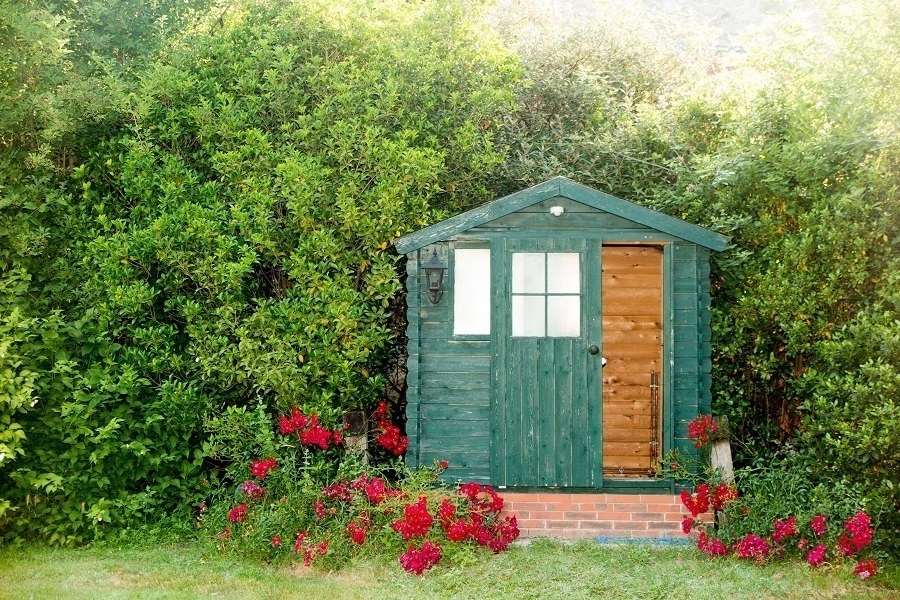 You Get a Lovely Garden
In addition to helping you manage your garden more effectively, a backyard shed may also improve the aesthetics of your property by eliminating clutter. Old bags and other debris may be an eyesore even if your yard is overflowing with blooming flowers and plants. Having these things in the backyard shed will quickly improve the look of your garden.
Not only that, but you'll have all of your gardening equipment and supplies in one convenient location. Put your gardening equipment and other belongings where you can find them easily; it will be inefficient and messy, but you may also forget where it is and keep searching anxiously for them. This is a waste of your time and efforts. You'll be able to quickly skim through the shelves to find what you're looking for and save time and energy if everything is arranged correctly.
Increases Your Property's Market Value
People tend to concentrate more on the short-term benefits of owning a shed rather than the long-term benefits it may provide. Building a storage shed in your backyard is usually good since it's typically at the top of buyers' lists. Adding additional storage space to your home is thought to provide a competitive edge over other houses in the area when you decide to put it on the market.
You can significantly increase the value of your home by building a well-designed backyard shed that is both functional and appealing to the eye and secure and long-lasting.
Lets You Optimise Your Living Space
It's possible to free up a lot of room in your home, garden, and garage by constructing a backyard shed of your own. The goods taking up excessive garage space will be moved and stored in the shed once constructed. Your garage's bulky, unattractive equipment may also be stored in the shed.
In addition, you may create a list of products that you only need on special occasions and keep them in a convenient location in your backyard shed. If you have Christmas or Halloween decorations, you won't need them all year round. In other words, they're secure in your shed till the next time around. After everything is said and done, you'll have a spacious and open location to leave your vehicle.
Offers a Pleasant and Peaceful Setting
Working from home isn't going away any time soon, even with the arrival of a new strain of COVID. You will want to use your backyard shed to work from home peacefully. You may focus on your task in the shed without being distracted by other people. You may arrange and create the environment in any way you choose — be as inventive as you like!
Enhance the Level of Security
Your backyard shed can also become a secure place to store hazardous products. This protects children and dogs from harm if they accidentally swallow or inhale anything hazardous. There are several uses for a shed, such as storing home cleaning supplies like bleach and detergents, or you may use it as a place to keep pesticides and fertilizers.
You may also keep your electrical tools and lawnmower in your shed, which might be dangerous if they get into the hands of the wrong people. Keeping hazardous goods out of the reach of dogs, children, and teens will lessen the possibility of a major injury or unintentional death in the house.
Factors to Consider Before Building Your Backyard Shed
You need to think about several things before you start constructing a backyard shed. The size and placement of the shed, any interior furnishings and equipment you may need, and the color and materials you want it to be constructed of are all critical considerations. On the other hand, building a backyard shed is a worthwhile endeavor even if thinking and difficulties are involved.
In order to get the most out of your shed, think about where to place it. A backyard shed is a great addition to any backyard and can be built in a functional and attractive position. Building a shed is an excellent way to free up valuable interior storage space while still having quick and easy access to the items you need.
The Takeaway
It's unlikely that you'll ever regret investing in a quality and roomy backyard shed since it offers all of these wonderful advantages. Make your customized sheds online or hire a professional to establish a peaceful backyard hideaway, organize and store your tools, improve your garden's overall beauty, and create a quiet space for yourself while increasing the elegance and value of your home.
Continue reading: