Last updated on May 20, 2021
Want to add a TV to your small kitchen? You need to see these ideas if you want to do it the right way.
Although a TV in a modern kitchen is not a common thing (especially if you're going for a rustic or farmhouse style and especially if it's a small kitchen), there are still a few reasons why you'd want to have it. And if you do, there are just a few small considerations to have in mind.
In a nutshell, you want a small TV and you want to blend into your kitchen decor seamlessly. There are several ways to do that and we will go through all of them in this article. You only need to choose one way to make it work for you. Let's start.
What's Inside
Above the Breakfast Bar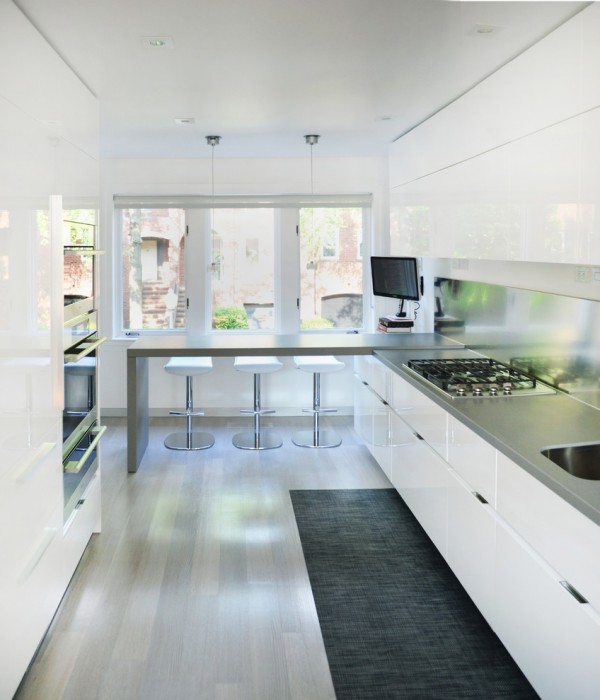 Mount it above the breakfast bar (if you have one) for everyone to see at the eye level when sitting. It's the best way to get your morning breakfast news and the thing doesn't get in the way during your daily tasks.
Somewhere in the Corner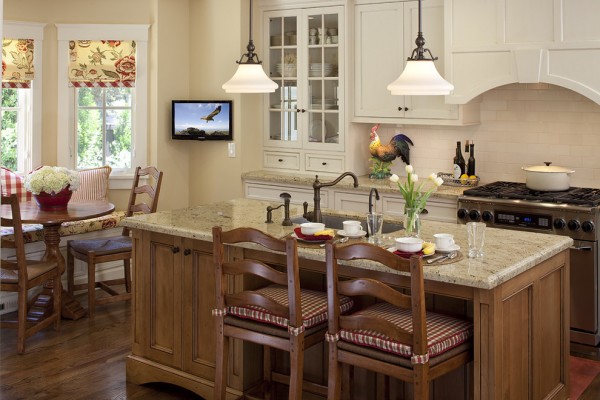 Put it in the corner. There's always an empty corner in every room and you can use it for a purpose. In this case, the TV even adds to the decor by eliminating the dead space.
Above the Dining Area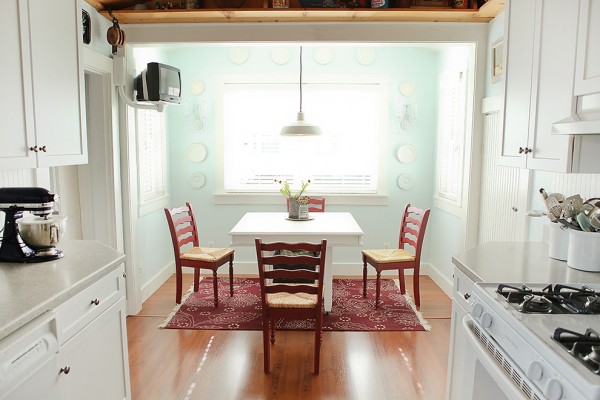 Have a dining area? Mount a small TV on the wall up above. It's not the ideal place for viewing, but if it's just for the background noise, you won't find a better spot for it.
Modern Integration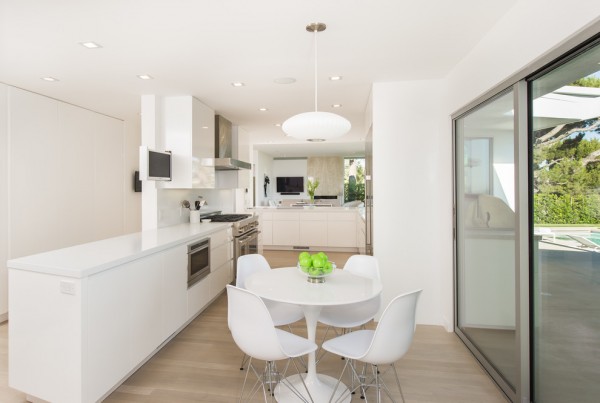 Check out for the modern options to integrate a small TV into kitchen furniture. In this case, a pullout comes out off the side of upper cabinets. And it's the perfect spot to hide the thing.
Built-in Wall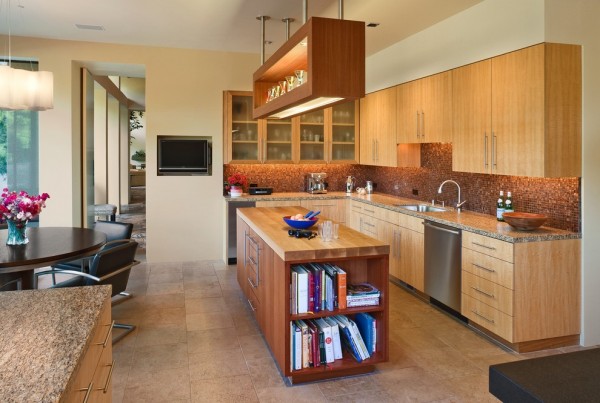 If you're not afraid to make architecture-altering decisions, create a small niche for a TV in the wall. It will always fill in that empty space on the wall without getting in the way.
Under the Cabinets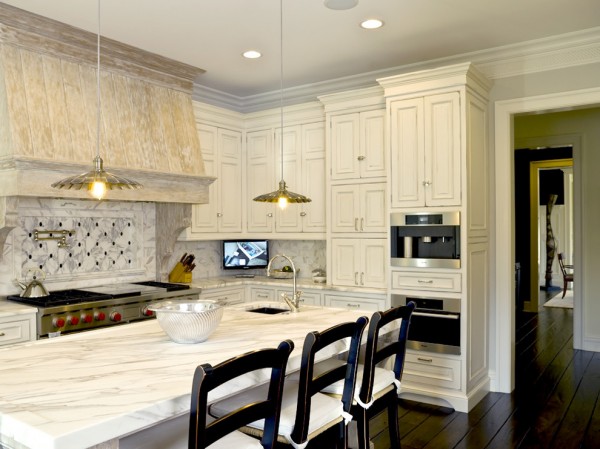 Lots of empty space under the cabinets? It's good not only to rack up your utensils but you can spare some space for a TV too. It's small enough and it can be used to load up your recipes or your favorite cooking show while you cook too!
Above the Pantry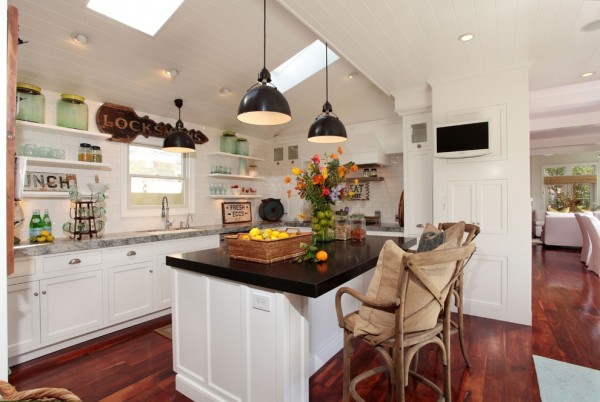 Let's see, where else can we put it. Ah, yes, the pantry door. Usually, it's that space where nothing else but the door goes anyway. So you can use it to add the TV for some background noise. And if it happens that your pantry is against some seating space – all the better!
Near the Windows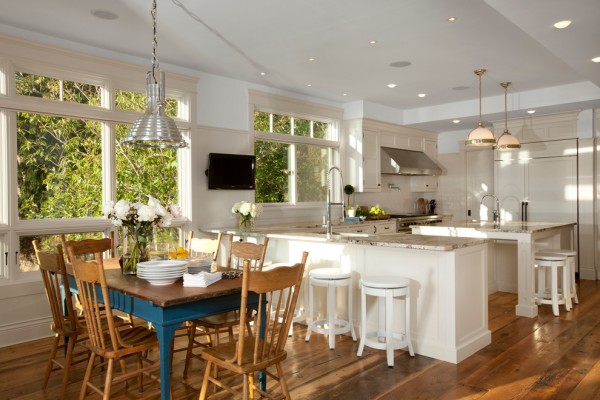 Have big windows in the kitchen? Squeeze in that box in between them. It's not an ideal place for watching but you're not going on a binge in your kitchen anyway.
Against the Backsplash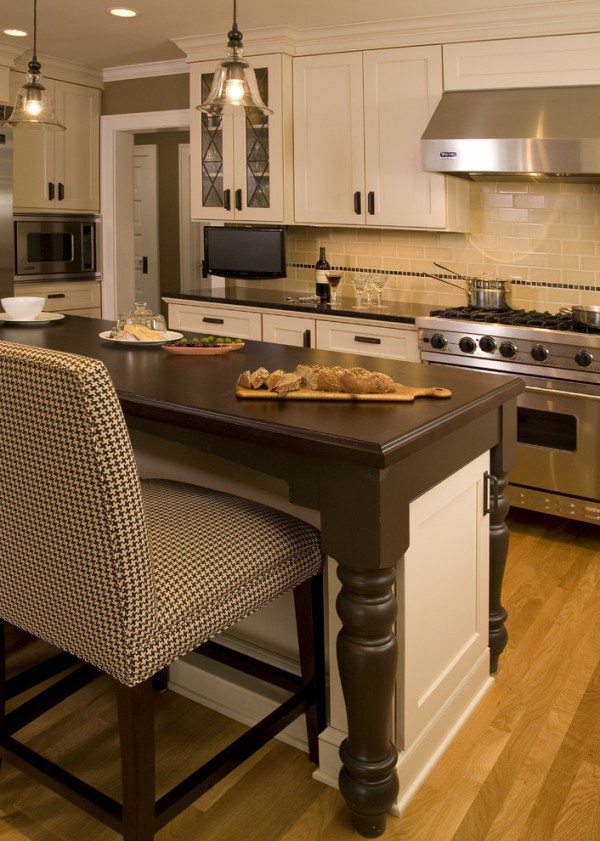 Mount it against the backsplash but away from the actual splashing. You don't want your TV all greased up. Then again,  there's nothing wrong in getting a little dirty for the right purpose.
On the Shelf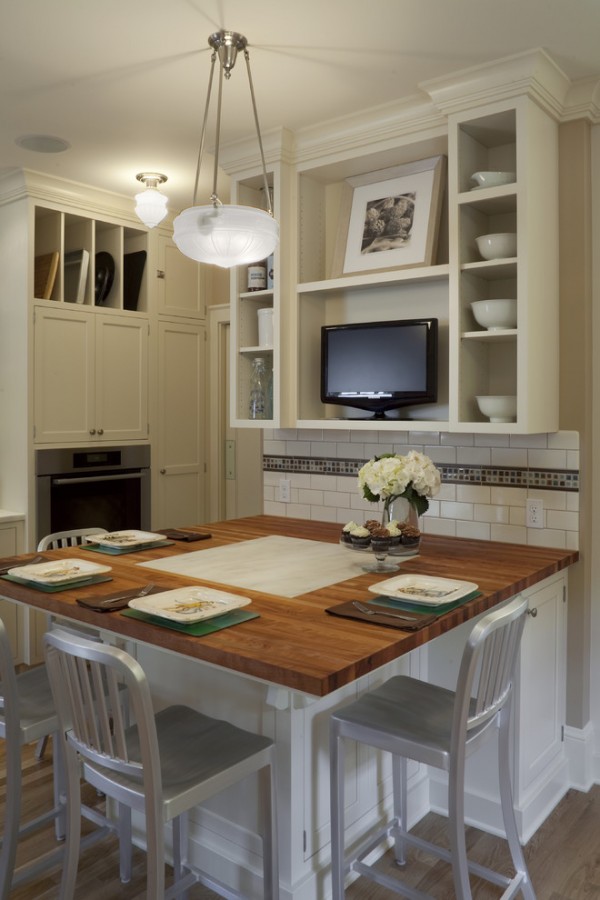 Yes, we're going to suggest to put a TV on the shelf. The shelf space in a small kitchen is precious but it's an option anyway. And who knows, maybe there's not a free corner of space anywhere else anyway.
As an Appliance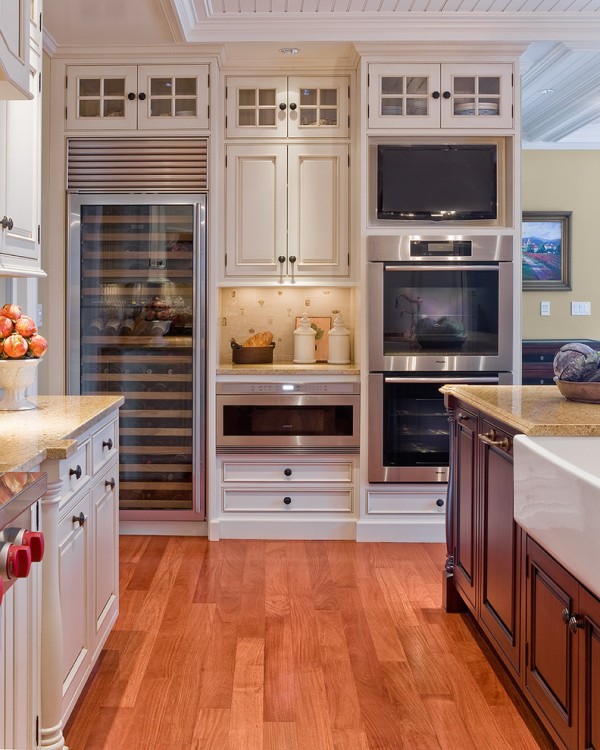 Treat it as another appliance. Build it in above the fridge or an oven. Make sure there's enough room for the heat to dissipate in the latter case, though.
Small Kitchen TV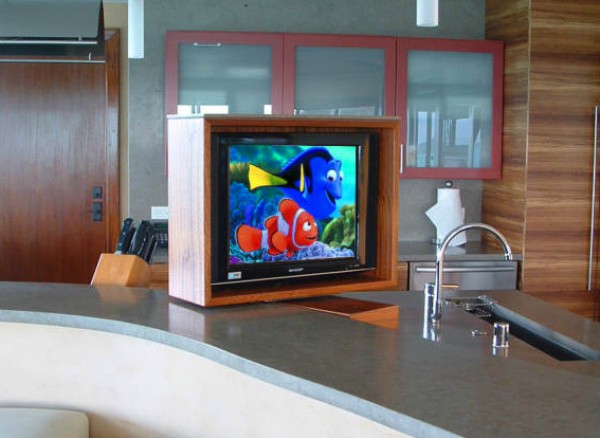 And finally, there are these cute small portable TVs that you can simply leave on the counter. It counts!
Continue reading: