Last updated on August 14, 2023
Whether you are the proud owner of a stately home or a cozy cottage, the exterior will set the stage for the experience within. More than merely a protective shell, the outside of a home can convey your personality to onlookers and even spark curiosity among visitors regarding what might be contained within.
A thoughtfully designed exterior that harmonizes with its surrounding environment but that stays distinctive from the other homes in the neighborhood will transform your abode into something welcoming and uplifting. With a bit of creativity and care, even the slightest touches can coalesce into an exterior that feels distinct yet familiar and lively but still full of heart.
What's Inside
Improve Your Windows to Make Them More Inviting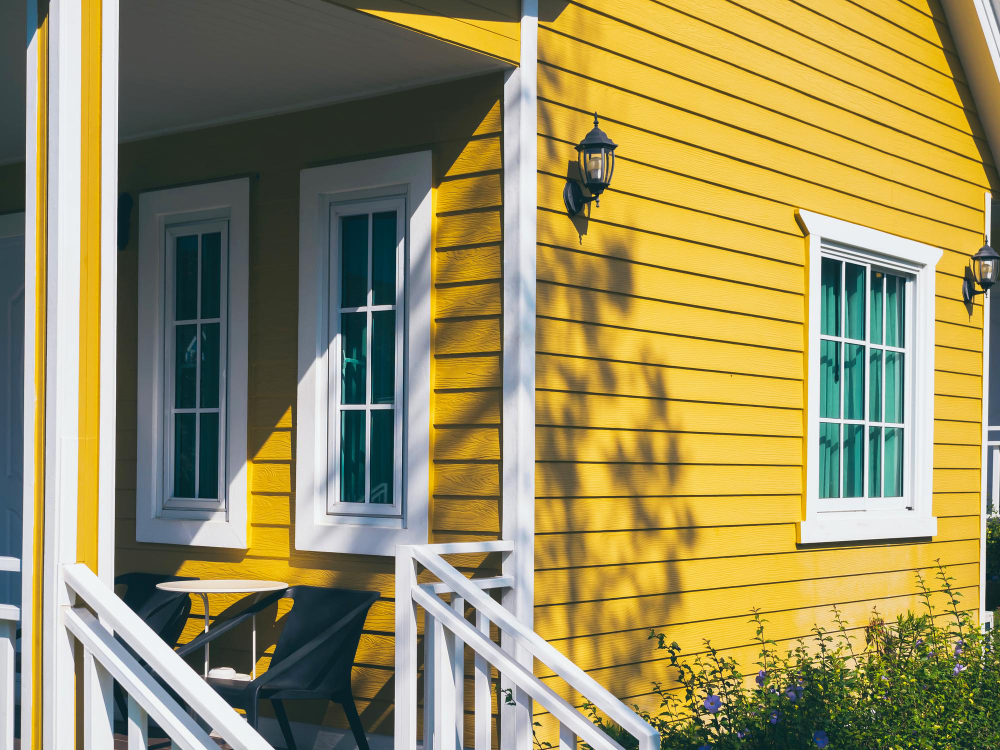 When seeking to impart a welcoming ambiance, you shouldn't overlook the transformative power of the humble window. While your windows may be a great way to give the interior more space and light, they also serve a vital function in ensuring the outside of your home looks its best.
Installing new siding and windows will dramatically enhance your curb appeal and possibly even create tantalizing glimpses of your impeccably designed home within. Moreover, when combined with the next point, you will create a masterpiece of style and design that will compel onlookers to take heed of your home and help it stand out among the usual mundanity of suburban neighborhoods.
If privacy is preferred, opt for frosted glass or utilize windows mainly on the rear facade. With creativity and care, new windows or minor upgrades can help craft an exterior that feels open, approachable, and brimming with life.
Add a Pop of Color to Break Up a Flat Facade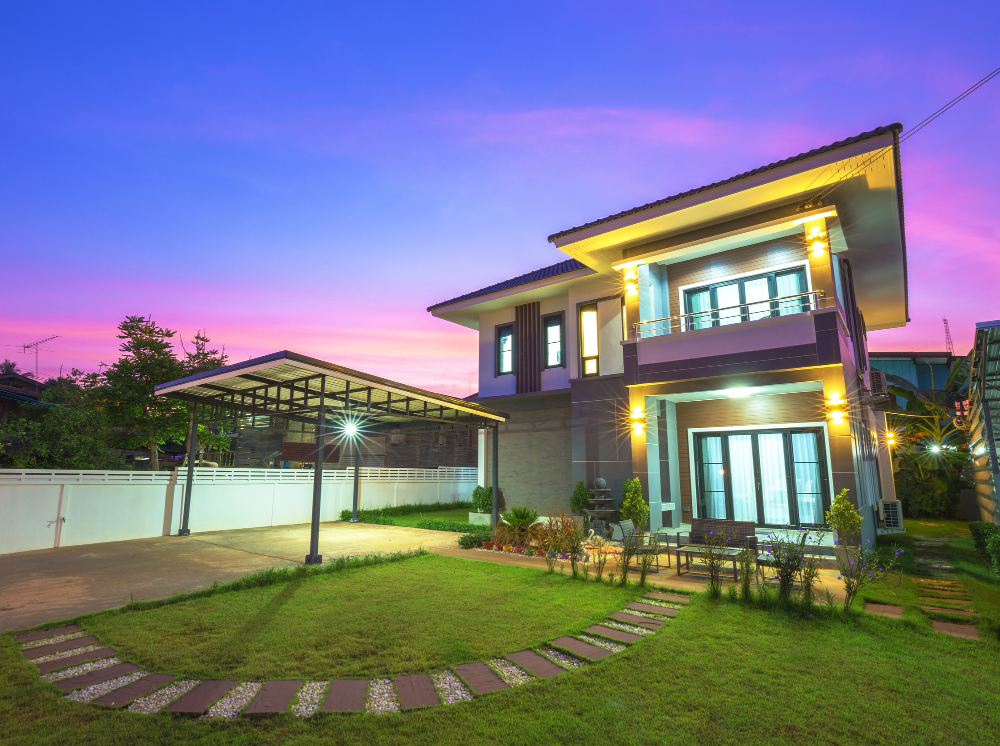 Infusing the outside of your home with pops of lively color is a charming way to increase its distinctiveness and ensure your house is uniquely yours. Vibrant front doors (more on those later), windows boxes bursting with blooms, and even playful accent walls (yes, they're not only for living or bedrooms) can play a vitally important role in bringing attention to your property and bridging a smile to peoples faces.
However, just be careful and pay attention if you live in an area with a neighborhood that takes its visual aesthetic seriously, as there may be rules that, if broken, will cause irate neighbors to post realms of letters threatening you with fines. Even if you live in a relatively open area, speaking with others is always a good idea to avoid misunderstandings and conflicts.
For the Nighttime Hours, Make Sure You Have Plenty of Soft Lighting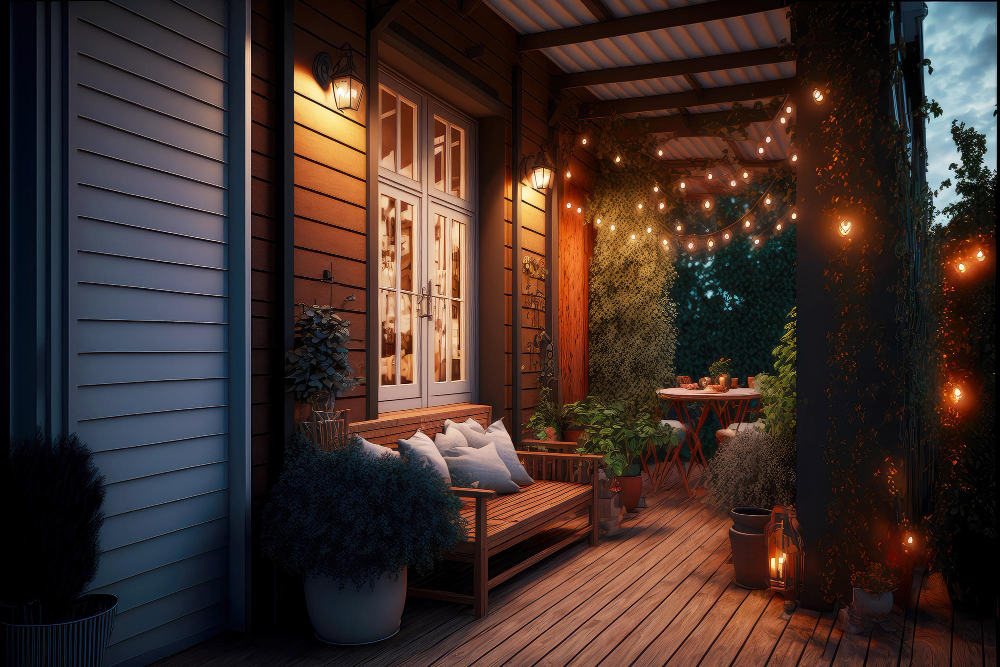 When the sun finally exchanges places with the moon, you can still ensure your house engenders a positive atmosphere by installing a variety of soft lifts in strategic locations. Just make sure your lighting is gentle enough to create an upbeat vibe and isn't pointed directly toward your neighbors. You have lots of options when installing lighting, including:
Warm white up-lighting on trees creates a gentle, heavenly glow
Pathway lamps with muted beams guide guests safely to the front door
Flickering fire pits encircled with cozy seating beckon lively conversation
String lights draped on patios and porches infuse gatherings with magical radiance
Uplights placed discreetly under eaves or in landscaping accentuate architectural details
Motion-sensor lights give visitors a chance to see as they leave your house after a fun night out
Allow Your Front Door to Take Center Stage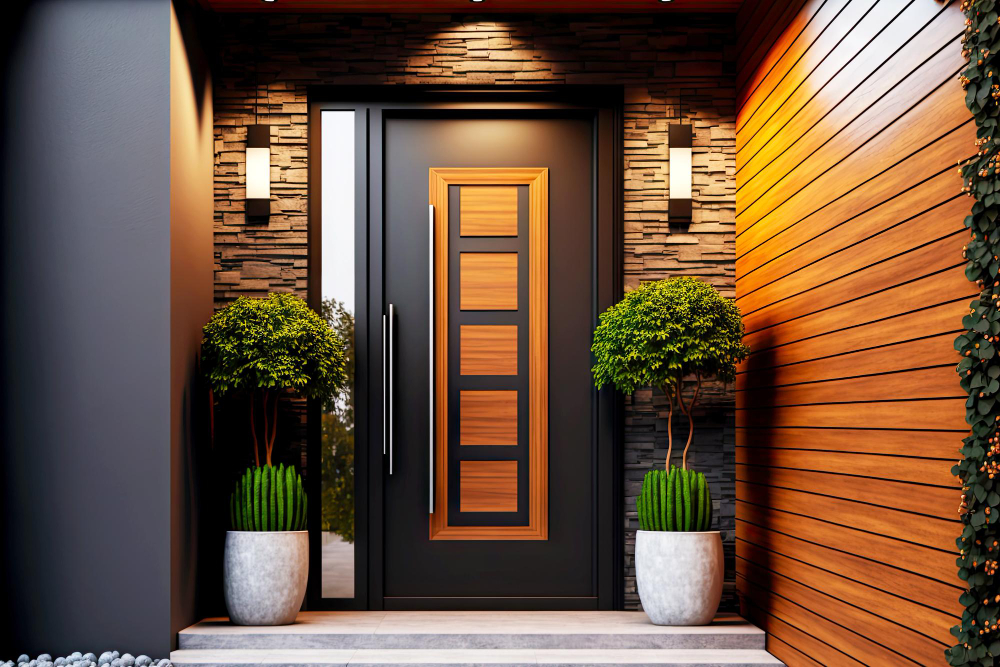 Your front door is the entry and exit of your home, and as such, it deserves its very own spot on this veritable list of exterior-enhancing tips! This portal to your inner sanctum is perhaps the most important aspect of the outside and will set the stage for positive first impressions. As with the other options listed, you have an almost infinite number of ways you can go about this, but it will all depend on your personal sense of style and what you hope to achieve.
Nonetheless, by visually framing the front door and surrounding it with eye-catching details, it becomes a focal point, and visitors will eagerly anticipate crossing this threshold into the heart of the home. Anchored by a showstopping portal, a home exterior exudes personality and irresistible charm.
Less Is Sometimes More
It can be tempting to doll your house up with trinkets, flora, and pretty much anything from your local garden center that you believe will add a certain je ne sais quoi. However, it sometime spays to have some restraint and take a more measured approach to the appearance. In some instances, a light touch will make your home stand out even more from those surrounding it and help create a little oasis of tranquility in an otherwise cluttered neighborhood.
The home is an extremely intimate location where you can escape from all of your daily challenges and enter your own space of serenity and calm. By utilizing some or all of the ideas presented throughout this post, you will transform a humdrum home into an abode exclusive to your sense of style and peculiarities.
Continue reading: