Last updated on October 27, 2020
There aren't many types of bathroom thresholds but you can use your creativity on this seemingly modest floor element. These are the main three types and ideas.
The threshold between rooms often poses a challenge when you have different flooring materials. Finding a solution that looks great and practical is what everyone is aiming for. With this article, we have selected threshold ideas using transition strips for your bathroom. 
Your bathroom threshold can often be complicated because the flooring used in bathrooms can be very different from that used in a hallway. Bathroom flooring should always be water-resistant and highly durable; for this reason, vinyl flooring is often used. However, for hallways, particularly upstairs, carpet is a popular choice due to its use in bedrooms. Carpet is totally unsuitable for bathrooms as it absorbs moisture very easily, which can lead to bacteria growth. For this reason, a threshold to separate the different materials is often required. 
What's Inside
Marble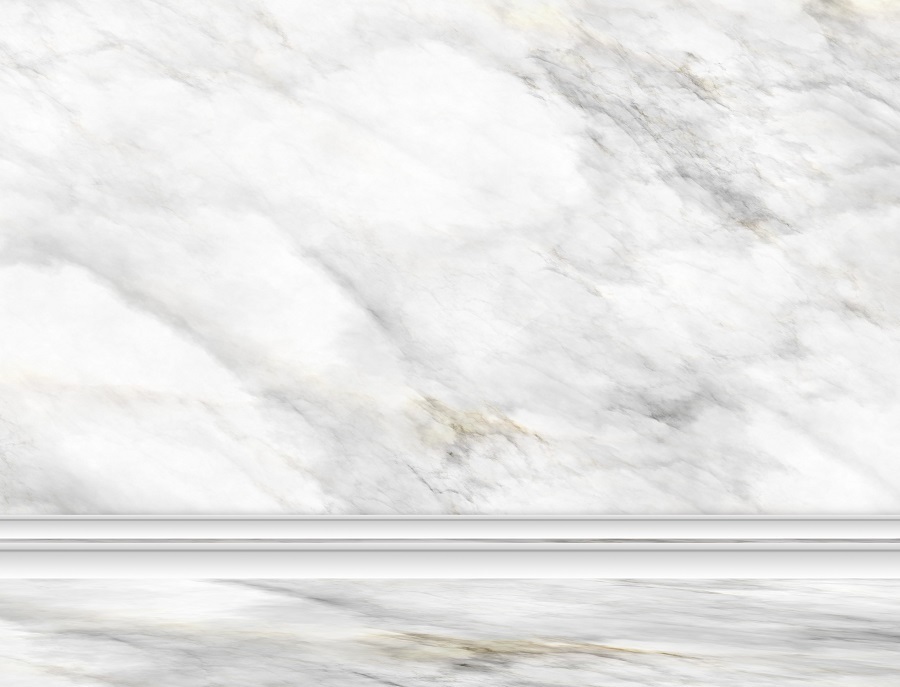 For a luxurious finish to your bathroom, you can use marble thresholds. This can work really well by complimenting the finish of your bathroom floor, which is a light stone color for most of us. Having a light bathroom floor color is popular for several reasons.
Bathrooms tend to lack other rooms' natural light due to small and often translucent windows for privacy reasons. To compensate for this, light colors for the walls and floor are often used to make the most of the natural light available.
For this reason, a light marble color, particularly pared with a light wood door either left exposed or painted with a light color, will work well. 
Matching Vinyl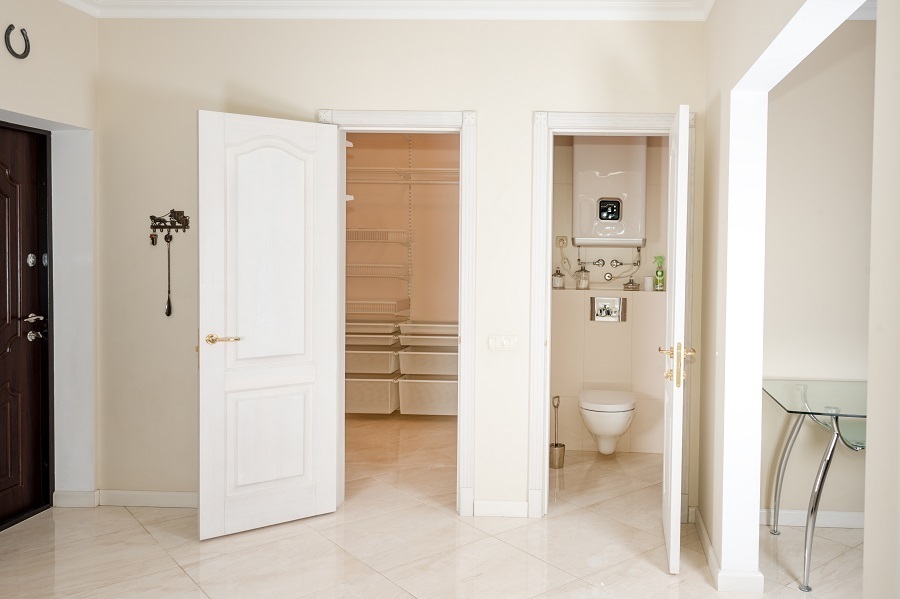 While it isn't something you see every day, some choose to have one continuous flooring material run through a hallway and into multiple rooms. Luxury vinyl flooring is one of the only materials you can do this with because it can be used in every room.
If you decide to cover a large space like this with vinyl, you can either add a door threshold or run the vinyl directly between the rooms with no breaks. Either way, by using the same vinyl style all the way through rooms, you can create a fantastic look that is seamless and works really well in modern homes. 
Metal Bars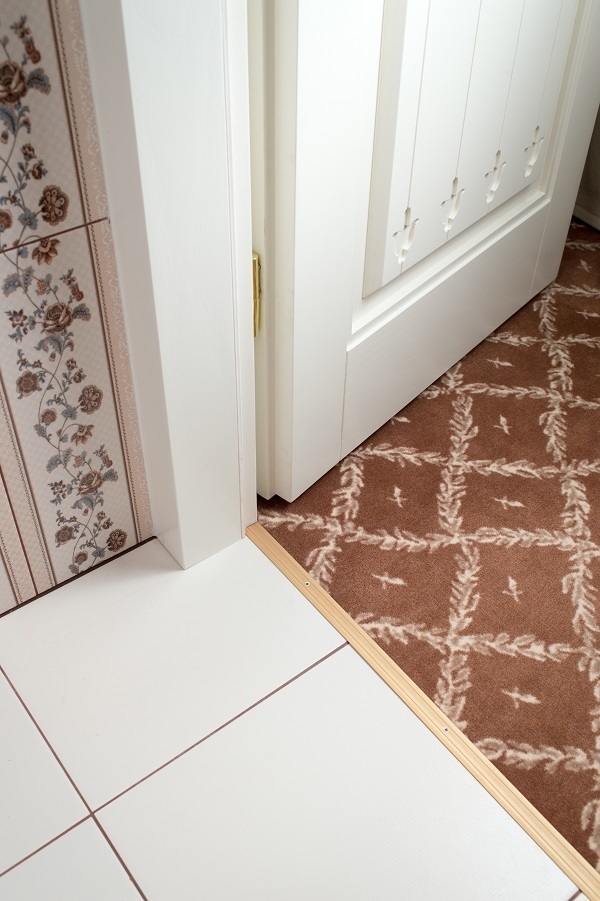 If you're looking to match your bathroom flooring to a carpet in your hallway, using a carpet door bar is a good idea. This is also an excellent time to highlight that different shaped bars can be used for door thresholds. Depending on the floor level on either side of the door, a ramped bar may be needed.
When covering a threshold into a bathroom that involves a carpet, it is essential to make sure the carpet is tightly pulled to avoid uneven patches. As metal bars are often shiny, they can be quite noticeable when between two different flooring materials. For this reason, it's a good idea to try and match your door threshold to one of the colors of your flooring. 
Using transition bars on your room thresholds is a great idea and should be something you discuss when installing a new floor. As mentioned above, they are particularly important for bathrooms, and if you get the choice right, the transition between your bathroom and the hallway can look fantastic.
Continue reading: