Last updated on June 10, 2021
Matching the countertops, cabinets, and flooring is one of the keys to a successful kitchen design. Here are five easy steps you can follow. Read on!
The prospect of a kitchen renovation is exciting! You are finally taking steps to make your dream kitchen a reality and add your style to the kitchen decor. As you embark on your kitchen renovation, you'll face many decisions about color.
Presented with a tempting array of colors, patterns, and textures, it's easy to go overboard and end up with a bigger mess than splattered spaghetti sauce. Whatever your color preferences, a good rule of thumb is to stick with a complimentary color scheme for all room elements – kitchen cabinets, countertops, and flooring.
When you follow these five steps, you can be confident that your choices will bring a beautiful, harmonious kitchen to life. 
What's Inside
Get Inspired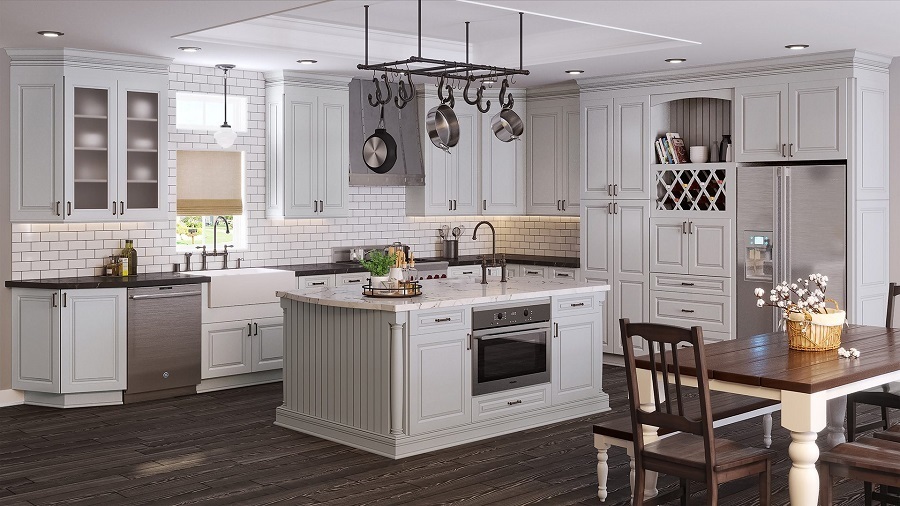 This may seem cliche, but your path to a dream kitchen – one that makes you want to cook, dine, and entertain – starts well before you get into the weeds of choosing cabinets or countertops. It starts with ideas gathered as you search for kitchen inspiration.
To find the colors and styles that speak to your heart, spend time paging through kitchen remodeling books, browsing cabinet collections online, and walking through the galleries at different cabinet stores. Make a list of the color combinations and styles you like the most. This list will be your guide as you select and match combinations for kitchen cabinets, countertops, and flooring. 
Select Your Color Scheme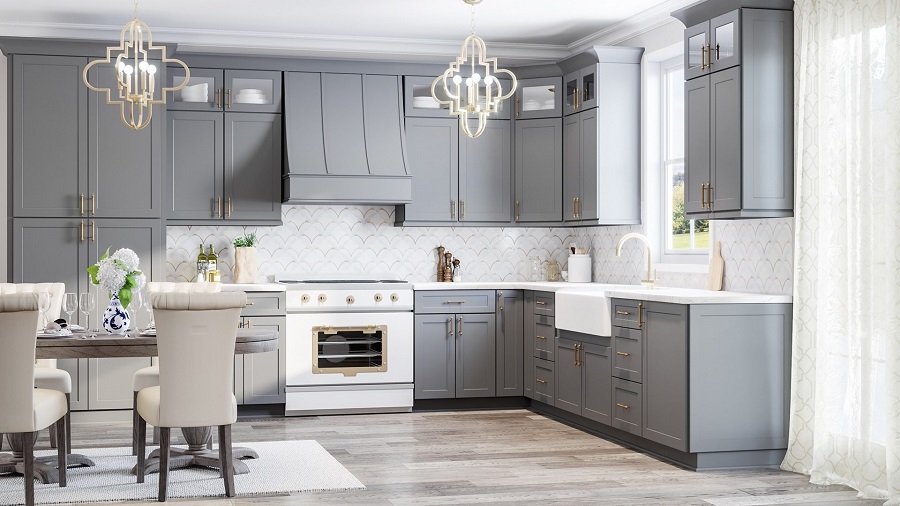 To achieve a pleasing, cohesive look for your kitchen look, you want to identify a color scheme with three colors. Two of the colors will be your dominant or primary room colors – for the sake of example, let's say white cabinets with grey countertops. Then contrast or complement your two primary colors with a third color. In this example, that might mean flooring in a darker grey or brown woodgrain. When you keep all three colors complementary, the result will be relaxing and refreshing. Your kitchen inspirations will offer many examples of complementary color schemes.
Choose Your Cabinets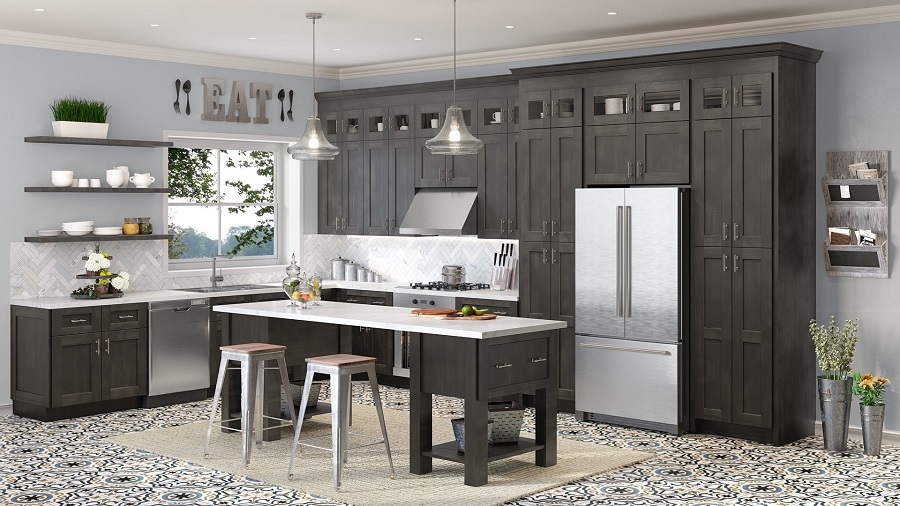 With your list of favorite cabinet styles and colors in hand, you can now get serious about choosing new cabinets. If you plan to purchase cabinets wholesale, speak with an expert kitchen designer at the cabinet company. If you shop for cabinets at a local retail cabinet store, the store should also offer professional design resources access. 
The designer can help you determine the correct number of cabinets for your kitchen layout. A designer will also ask critical questions and pay close attention to how you live in your kitchen and use your cabinets every day. The designer can then recommend accessories and storage solutions to optimize your kitchen's function and efficiency.
As you consider color and style, think in terms of timeless choices – unless you expect to update your kitchen every five years or so. When you buy kitchen cabinets wholesale, the cabinet manufacturers can ship door samples to you to see how different styles and colors look in your space. For example, if you love the look of traditional wood, but the rest of your home is modern, you could experiment with a smooth-front, frameless cabinet in wood grain or a Shaker-style cabinet with clean lines in a wood stain.
Choose Your Countertops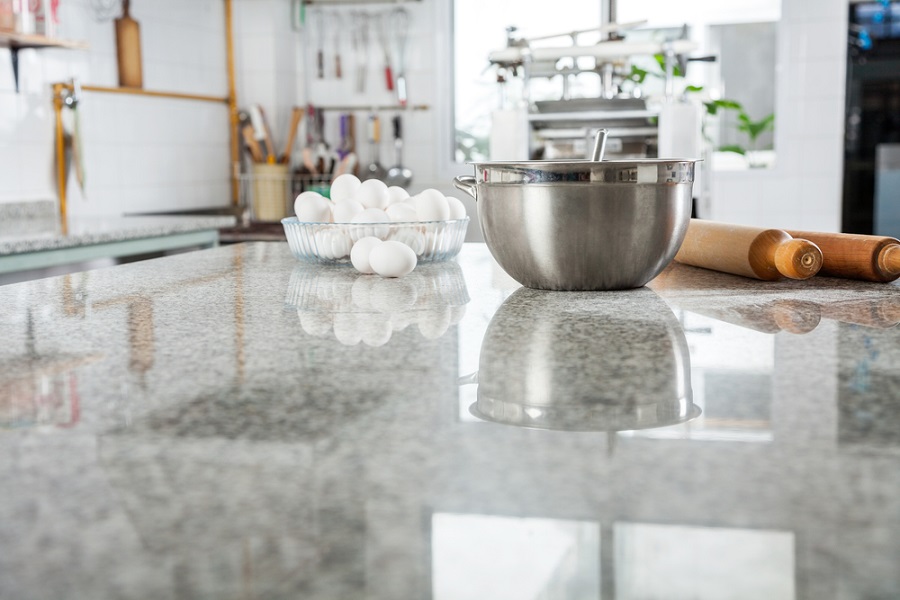 Your kitchen countertops are a central focal point in the room. Today's countertop materials come in various colors and patterns – you can go in a bold direction or stay neutral as long as what you choose complements your cabinets and flooring. If you are drawn to a bold look with the countertop, other colors and décor in the room should tend toward neutral. Patterns and veining in your countertop can pick up and enhance the color of the cabinets. You can ask for countertop samples to better understand how the material will look with both cabinets and flooring.
Select Your Flooring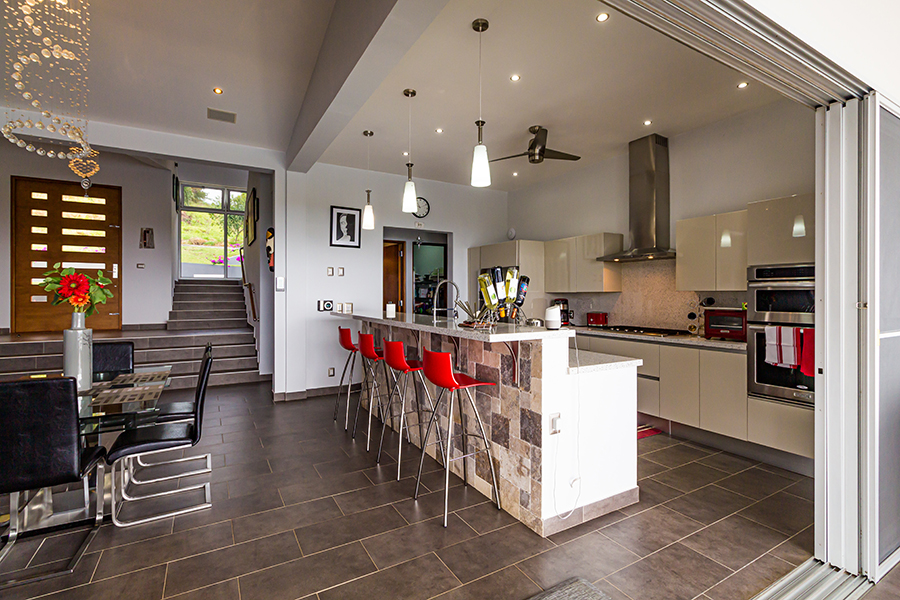 As the third color in the room, your flooring should be either:
A complementary color that blends well with the cabinets and countertops but still adds a point of separation OR
A color that contrasts with both cabinets and countertop colors and stands out as a focal point.
For example, a light wood floor complements white Shaker-style cabinets and grey quartz countertops. Alternatively, flooring in a bold color – or one with a busy pattern – provides an attractive contrast to cabinets and countertops in a neutral color. Most flooring stores will provide you with a sample to use to match your countertops and cabinets. 
Choosing Kitchen Cabinet Styles and Colors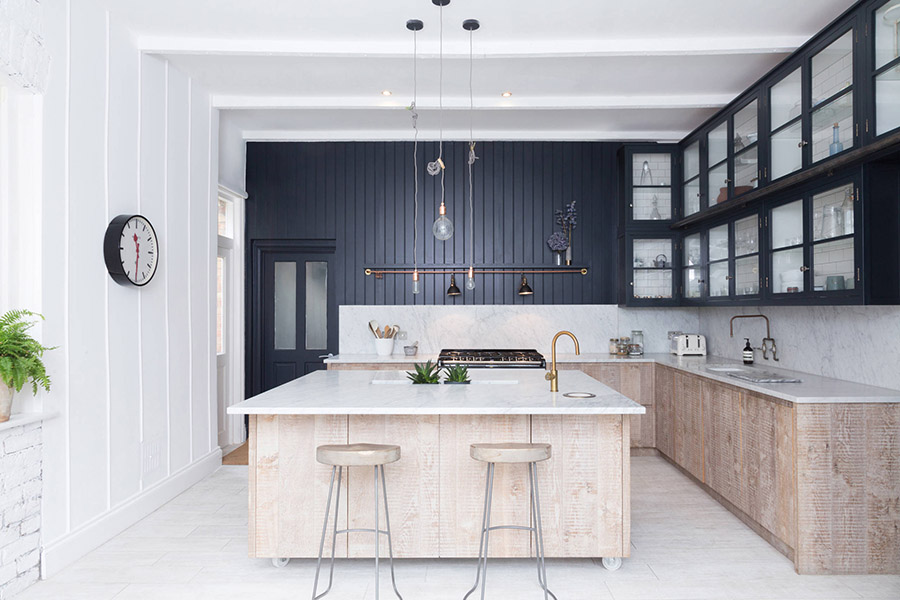 Start dreaming about your new kitchen today. Here are three proven combinations for kitchen cabinets, countertops, and flooring that would look great in any home.
White cabinets with oak floors.
Grey cabinets with a patterned floor.
Gray cabinets with light wood floor.
Keep these five easy steps in mind as you choose your countertops, cabinets, and floors.
FAQ
Should flooring match kitchen cabinets?
No rule that says flooring must match your cabinets' colors or finishes, but it does need to complement or contrast. For example, you might choose rich dark wood flooring as your kitchen's focal point. Bring in white Shaker-style cabinets and a white granite countertop with grey veining, and you have a modern country kitchen. The tuxedo look – black countertops with white cabinets – works beautifully with wood or white tile flooring.
Should your cabinets match your kitchen island?
Your kitchen cabinets and island do not need to match. The kitchen island can serve as a bold centerpiece in a color that contrasts with both the cabinets and flooring. For example, consider white cabinets with dark wood flooring and a blue kitchen island.
Should your window and door trim match your cabinets?
If you make the kitchen's trim elements the same as cabinets, the trim will blend into the background. If you want to create a design element with trim, paint, or stain it in a coordinating color.
Continue reading: