Last updated on September 25, 2023
Here are the top design trends you need to follow to create top-notch Christmas decor in your home this year. Read on!
Summer turns into fall, which means Christmas is right around the corner. For many, Christmas is the best and most important holiday of the year; it might be the only opportunity to spend time with one's entire family, and it offers some of the oldest and most profound traditions in our culture. Plus, Christmas is undeniably stunning.
The twinkling lights, the greenery, the sumptuous textiles — Christmas decor is iconic, even as trends associated with decorating for the holiday shift. When Christmas is your favorite holiday, you want to make sure your décor showcases the beauty and excitement of the season.
Thus, you might be interested in starting to collect decor elements that follow some of the year's leading Christmas trends, to include:
What's Inside
Bright Blues
Shades of green have controlled chic Christmas settings for several years in a row, but this year, the trendiest color is not a traditional Christmas hue at all. Blue should be big in your Christmas color palette this year, offering a surprisingly sophisticated look to your indoor decorations.
Deep, rich blues like cobalt and lapis will stand out against the green, white and gold tones of a Christmas tree, and brighter, lighter blues that mimic the appearance of ice and snow will stand out as table centerpieces and other Christmas decor.
With a traditional feel without a traditional look, blues could be the next long-lasting Christmas design trend.
Eye-catching Hues
Christmas is a time for joy and celebration, which is why the entire rainbow of colors is being incorporated into holiday decor. In the world of interior decorating, color is back in a big way, and integrating bright, festival-like hues into your wreaths, garlands, tree ornaments and more will bring life and happiness back into your home and back into the holiday.
Not traditional for Christmas in any way, eye-catching rainbow colors make Christmas feel more like a birthday party — which, of course, it is. Even better, you can repurpose this colorful decor for other holidays, keeping your decorating costs down and your spirits high.
Pastel Palettes
The final color trend associated with Christmas this year is soft pastels, like lavender, baby blue, mint and American pink. Pastel tones tend to be calming while also offering a freshness and lightness; they can soothe your stress during the most hectic times of the holiday, but they are still unconventional and exciting during this time of year.
Plus, as with the festival brights listed above, pastels can be reused for other holidays — especially Easter.
Fairytale Themes
Christmas tends to be a theme of its own, but if you are looking for a different theme to guide your decor this year, you should opt for fairytales. Fairy tales often feature the same kind of excitement and wonder of Christmastime — there are magic, miracles, mystical rituals and fantastical creatures.
This year, you can play up the fairytale feeling with Christmas decor that includes allusions to your favorite fairy tales or nondescript fairytale elements like tiny homes, oversized flora and glamorous and rustic design mixed.
Sustainability
The climate crisis continues to advance, and most people want to do what little they can to return Earth to some semblance of natural balance. Holiday decor tends to be exceedingly wasteful, made from unsustainable materials that are difficult to manufacture and impossible to reuse or recycle.
Committing to sustainability with your Christmas decor is a good way to feel better about how you celebrate the holiday. You might opt for paper decor wherever you can, as paper is a sustainable product. Additionally, you should eliminate waste where you can, using cloth for wrapping paper, ceramic plates, metal flatware and more.
Non-traditional Trees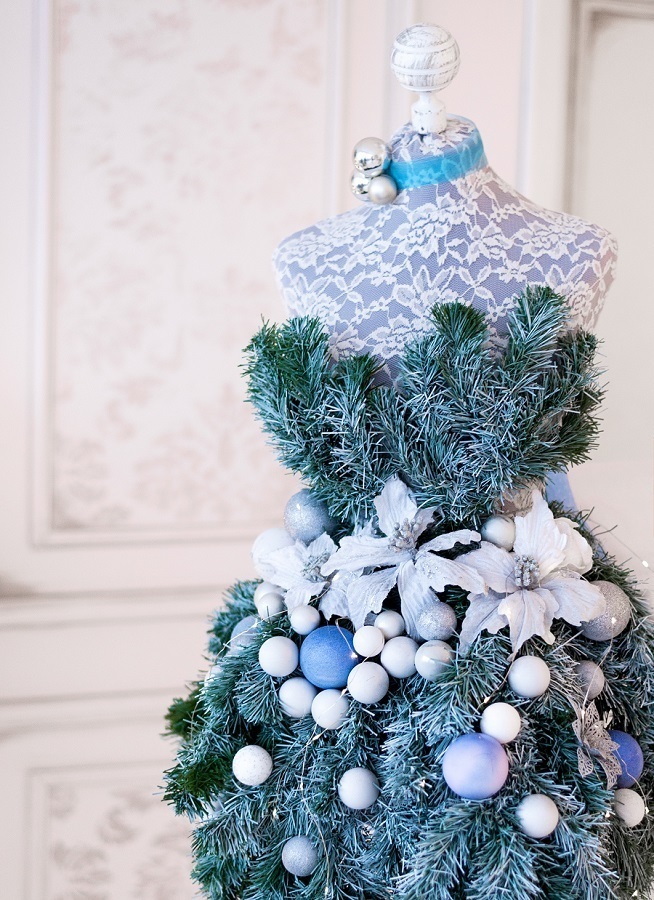 Innovations in design have made faux Christmas trees nearly indistinguishable from real trees, but the latest Christmas trends are doing away with the traditional tree look altogether.
This year, you might opt to hang ornaments on and place presents beneath any manner of tree stand-ins, like large potted plants — fiddle leaf fig trees, cactuses, rosemary bushes, etc. — or materials like wood or felt shaped into trees. This trend works especially well in small spaces, like apartments, and it allows you to make use of your existing decor without rearranging your home around a massive tree.
Whether you are tired of the same Christmas decor you see every winter season, or you love chasing holiday trends, these developments in Christmas decoration will keep your home looking and feeling fresh and inviting until the New Year.
Continue reading: