Last updated on November 19, 2023
Revitalize your cooking space because this article offers amazing vintage cabinet hardware ideas that will instantly enhance the charm of your kitchen.
When it comes to vintage kitchen cabinet hardware, the possibilities are endless. From rustic iron handles to ceramic knobs, the right choice can add a touch of charm and nostalgia to any kitchen.
In this article, you'll discover a variety of ideas to inspire your vintage kitchen cabinet hardware selection. Whether you're renovating an old farmhouse or simply want to infuse a modern kitchen with a bit of retro flair, these ideas will guide you through the process.
Delving into details such as design, material, and finish, this comprehensive guide will ensure you make an informed decision that aligns perfectly with your aesthetic preferences and practical needs.
What's Inside
Ceramic Knob Pulls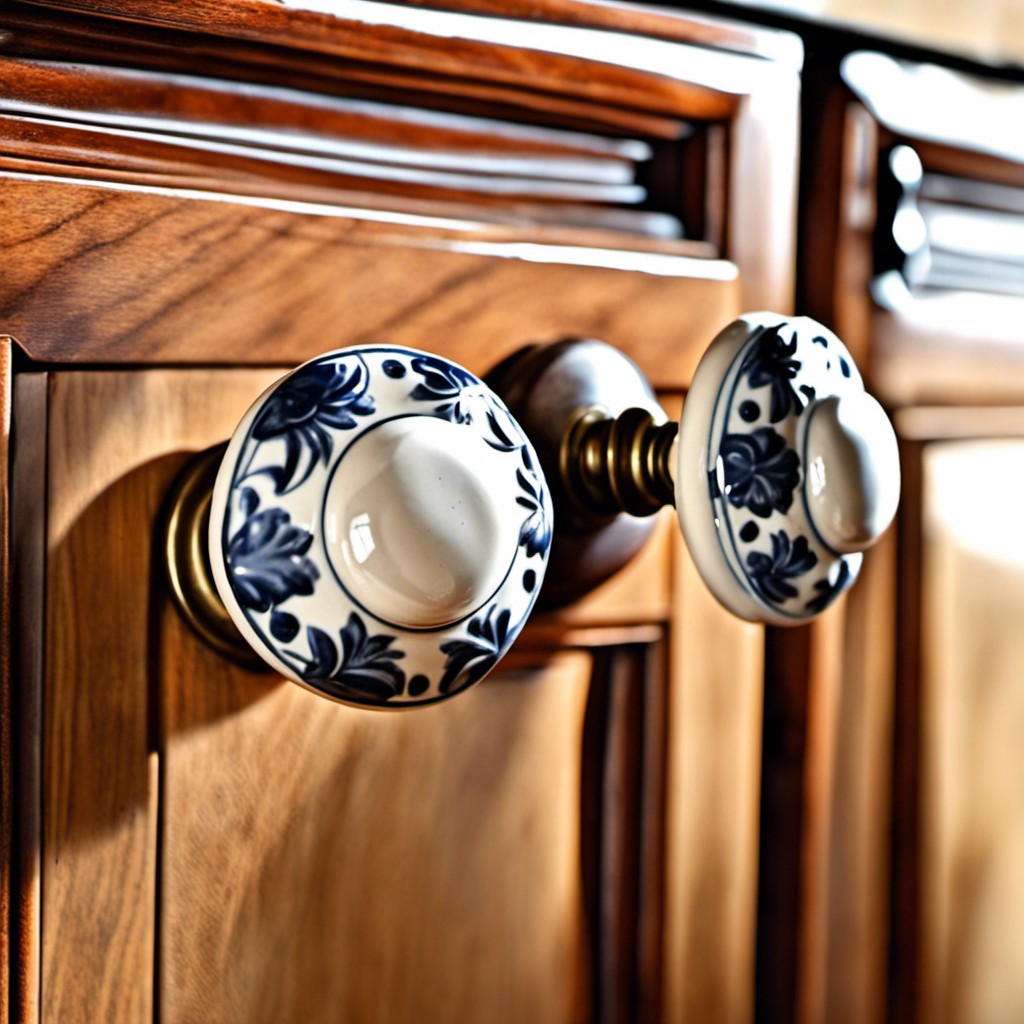 Featuring ornate designs and a smooth finish, they add charm and elegance to any kitchen. Traditional white is a timeless choice, but ceramic knobs come in a myriad of colours to match your home's decor. They're a fitting choice for country, rustic, or vintage styles but are versatile enough for modern aesthetics too.
Durability is another merit – ceramic knobs resist wear, maintaining their appeal for years to come. Installation is generally straightforward, often requiring just a screwdriver. Many homeowners appreciate their ease of maintenance – simply wipe clean with a damp cloth. Choose them for a subtle touch of vintage charm.
Brass Handlebars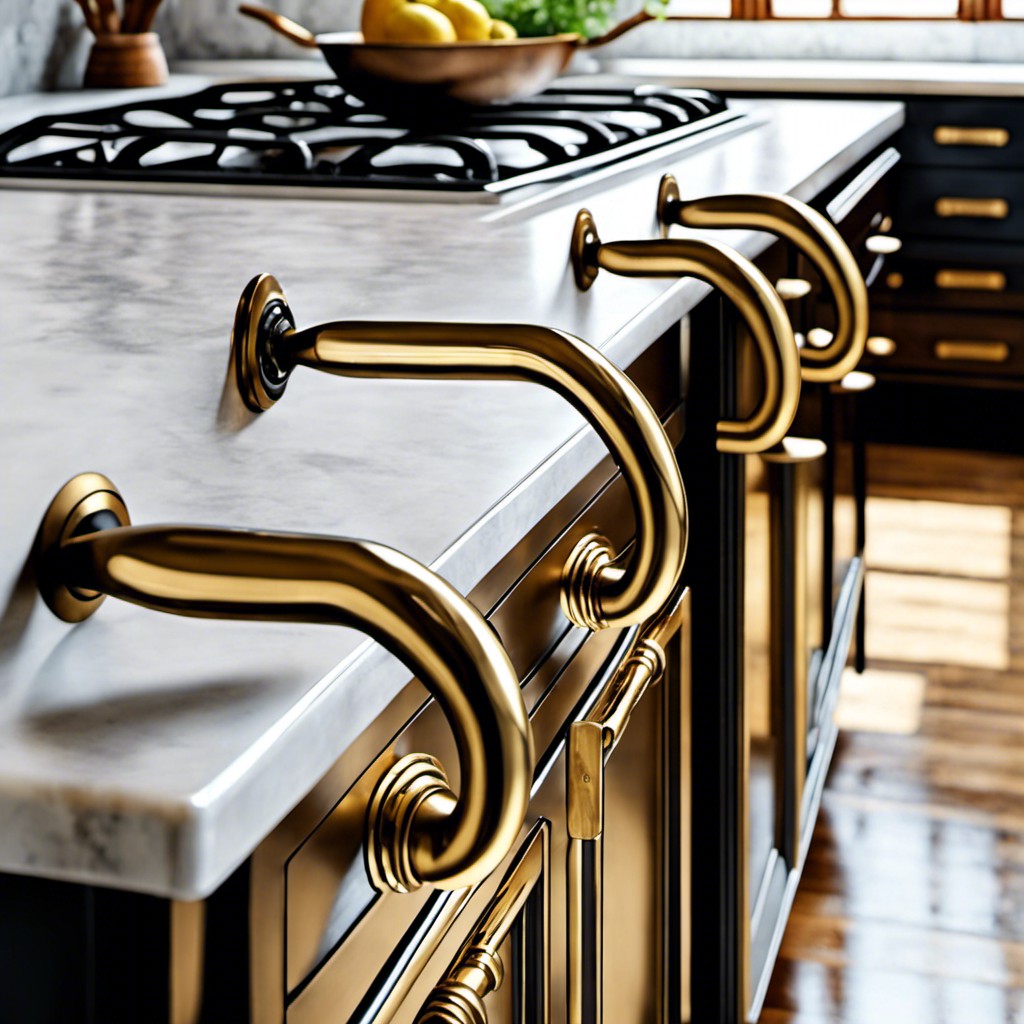 Once popular in Victorian times, these found their way back into modern abodes, lending a dose of style and sophistication. Their lustrous finish adds a warm golden hue to the kitchen, immediately upgrading the aesthetic.
Their durability promises long-term functionality, balancing aesthetics with practicality. They tend to age gracefully, developing a patina over time, which enhances their vintage appeal. Plus, they're versatile, complementing a variety of cabinet colors and styles.
From ornate curves for a more traditional vibe to sleek lines for a modern touch, the design options are plenty. Just remember, while they can resist moisture quite well, occasional polishing might be required to maintain their shine.
Copper Drawer Pulls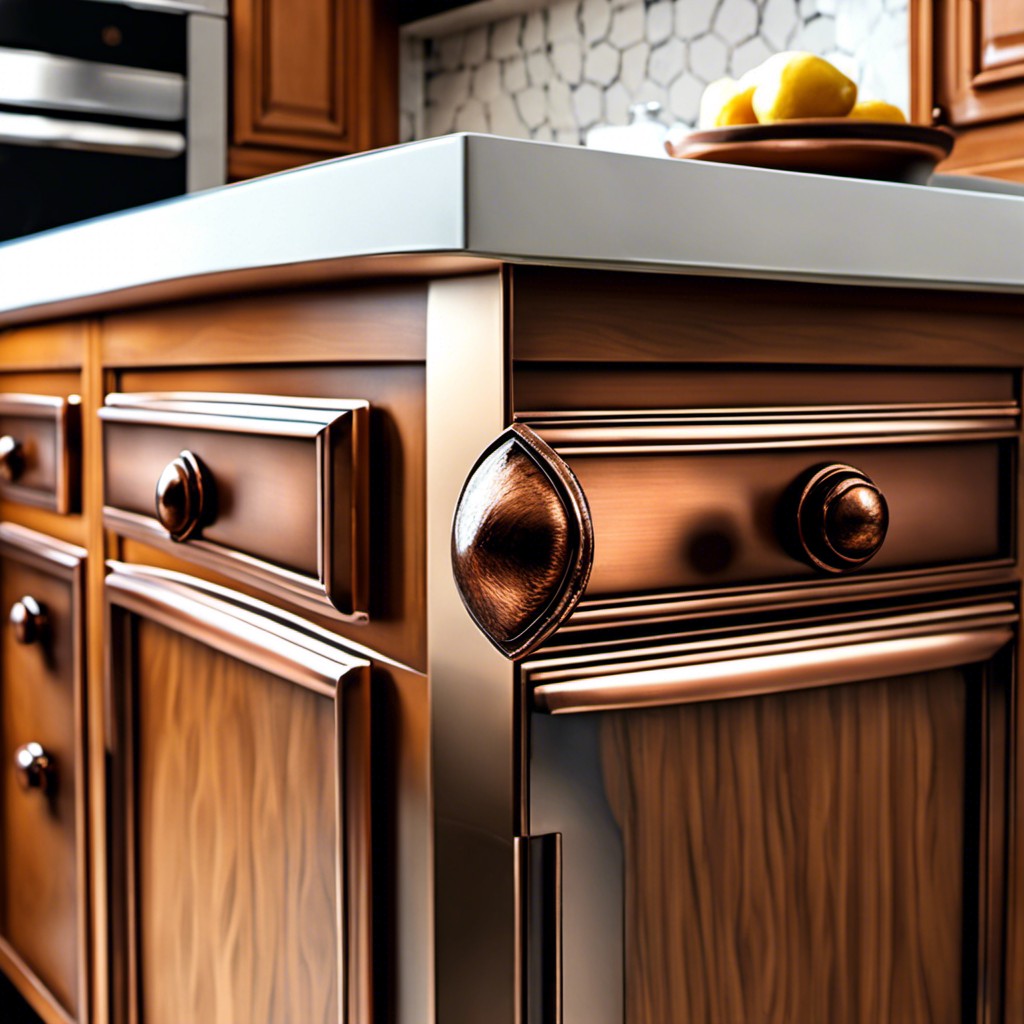 Copper drawer pulls add an element of warmth to the kitchen, boasting a pivotal role in creating a rustic, vintage aesthetic. They marry well with various design styles – be it traditional, industrial, or even modern. This pleasing-to-eye hardware ages gracefully, intensifying its subtleties over time – a feature that sets them apart.
Besides allure, copper offers durability, resisting wear and tear successfully. Also, it has antimicrobial properties, an underrated yet crucial aspect, particularly for kitchen spaces. Copper pulls come in myriad designs, from sleek bar handles to ornate antique pulls, ensuring there's something to suit every preference.
If longevity, character, and flair are on your agenda, look no further. Do consider the patina, which alters over time, giving copper a unique lived-in charm, a signature of vintage kitchen spaces.
Glass Cabinet Knobs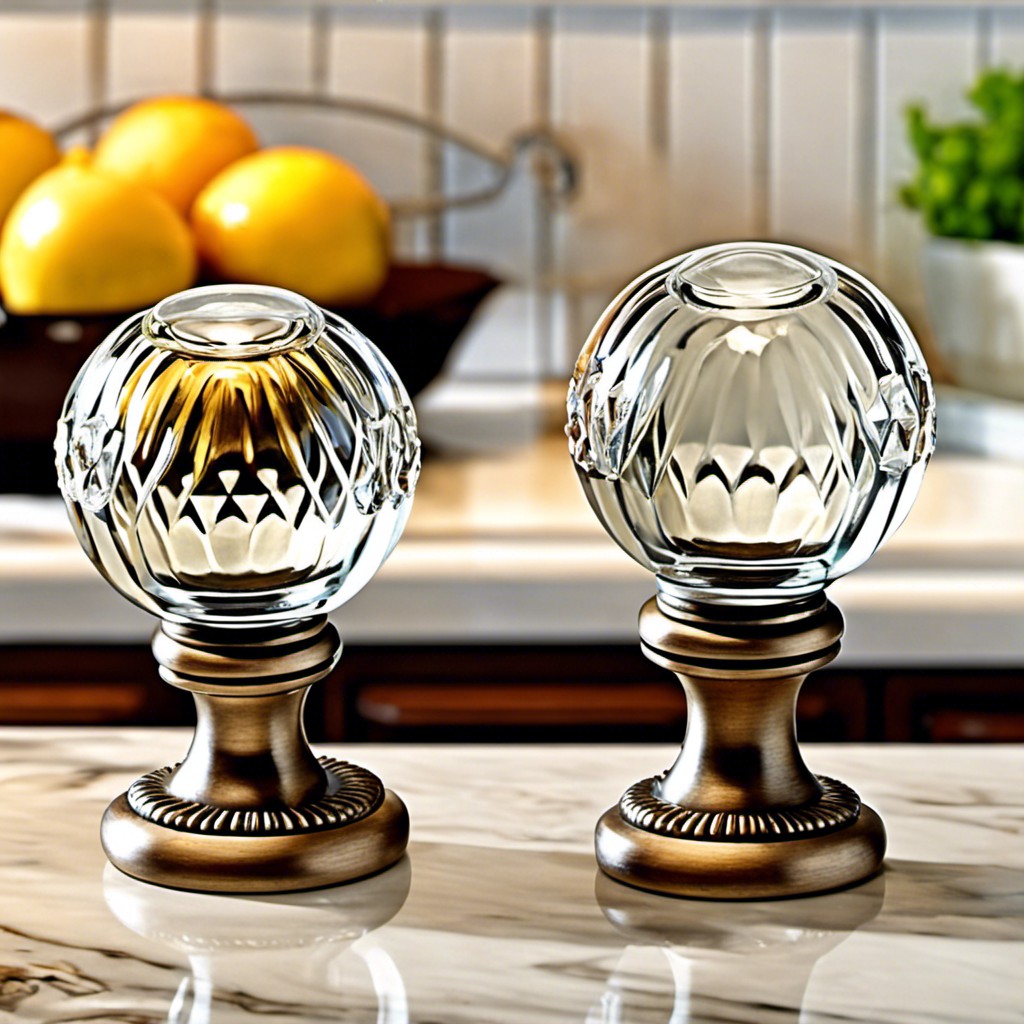 A product of fine craftsmanship, these little gems offer both elegance and charm. Popular during the Victorian Era, they have never lost their appeal. One of their distinctive strengths lies in versatility as they seamlessly blend with any design model. From clear to colored or even swirled, their wide variety is sure to satisfy individual tastes. And what's more? They give off a gleaming aesthetic when they catch light, instantly giving your cabinets a luxurious touch. Glass knobs are definitely an effortless style enhancer for vintage kitchens.
Easy to fit and maintain, these knobs add a sparkle without being overtly flamboyant. Moreover, the intricate designs available make them an excellent choice for those seeking unique detailing. They speak volumes about your taste and personality.
Quality is another major perk for consumers. Typically, glass knobs are sturdy and durable, resisting wear over time. Their elegant, timeless look transforms mundane cabinets, providing a classy 'vintage' feel that adds a significant value lift to your kitchen. And guess what, they're just as practical. The smooth surface allows easy cleaning, so your kitchen keeps its shine at all times. Lastly, being affordable, they offer a luxury aesthetic without breaking the bank.
In a nutshell, invest in these pieces of vintage hardware to transform your kitchen cabinets into works of art.
Rustic Iron Handles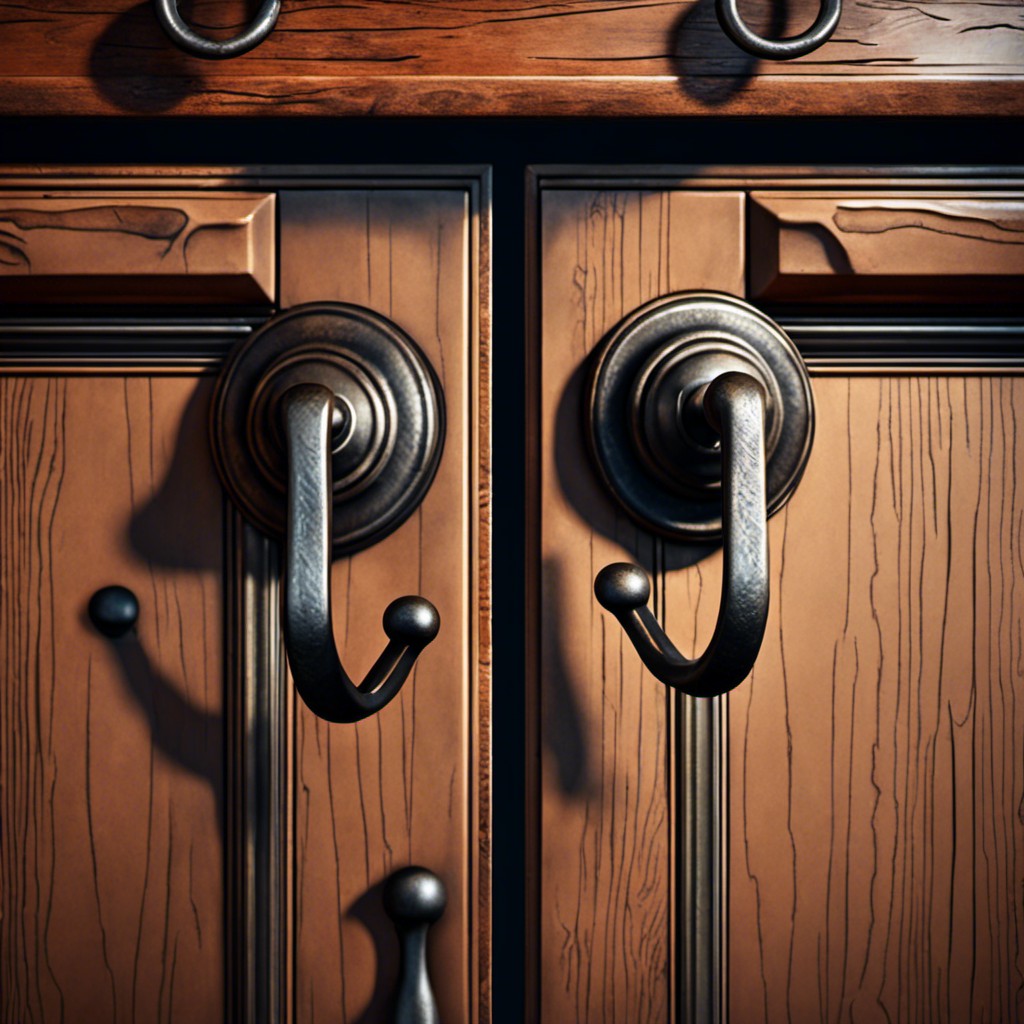 If you're aiming for a rugged, warm aesthetic, these accessories are your best bet. Their tough yet versatile nature comes from the unique forging process, typically done by hand, resulting in one-of-a-kind pieces.
The distressed metal finish can add a touch of authenticity to your kitchen cabinets, providing an instant rustic appeal. The subtly textured surface, a product of this manufacturing process, also helps to camouflage any possible wear and tear from everyday use.
Popular design choices include birdcage, twisted, or bar-style handles. They're available in a range of sizes to accommodate different cabinet types and sizes. Combining them with wooden cabinets is an excellent way to balance their robustness with a touch of rural charm.
That being said, their unconventional dark tone can also make a striking contrast when paired with lighter-hued or painted cabinets. Versatility is indeed the key strength of these humble kitchen hardware accessories.
Remember, as they are usually hand-forged, no two pieces are exactly the same. This individuality can add to the character and charm of your kitchen. Don't forget to pair them with iron hinges or fasteners for a complete, cohesive look.
Antique Pewter Knobs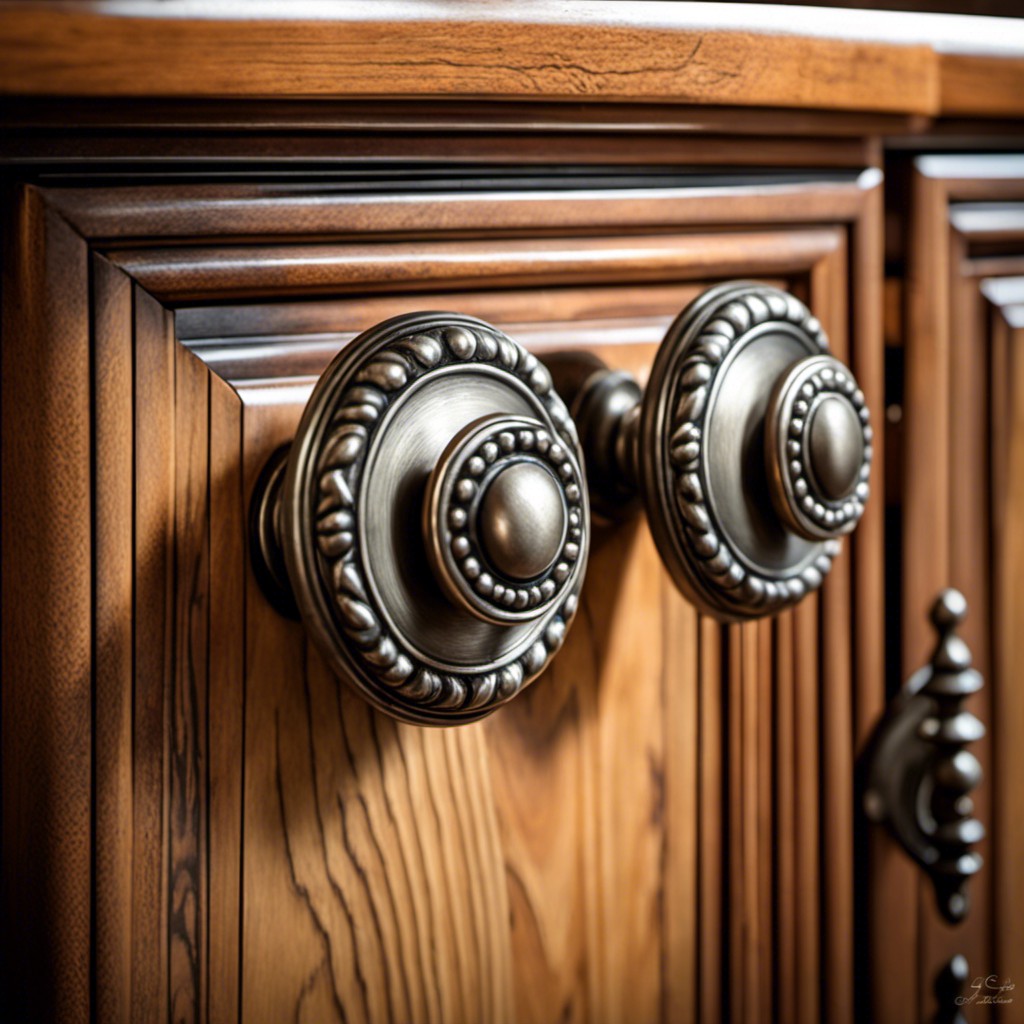 Renowned for their enduring appeal, antique pewter knobs offer a perfect blend of practicality and charm. They're not just hardware; they're a testament to a bygone era, adding a touch of nostalgia to contemporary kitchens.
Here are a few key points to consider:
1. Material: Pewter, a malleable metal alloy, is celebrated for its versatility, durability, and the unique patina it develops over time.
2. Design: Often featuring intricate details, these knobs can either be ornate or minimalist, thereby blurring the lines between modernity and tradition.
3. Versatility: Despite their vintage appeal, pewter knobs complement a wide range of kitchen styles and colors.
4. Ease of Maintenance: Despite their aged look, they are easy to clean and maintain.
5. Unique Touch: Their antique aesthetic helps create a distinctive and personalized kitchen environment.
By choosing antique pewter knobs, you're not merely making a functional choice. Instead, you are making a design statement that resonates with aesthetic longevity and vintage allure.
Enamel and Chrome Pulls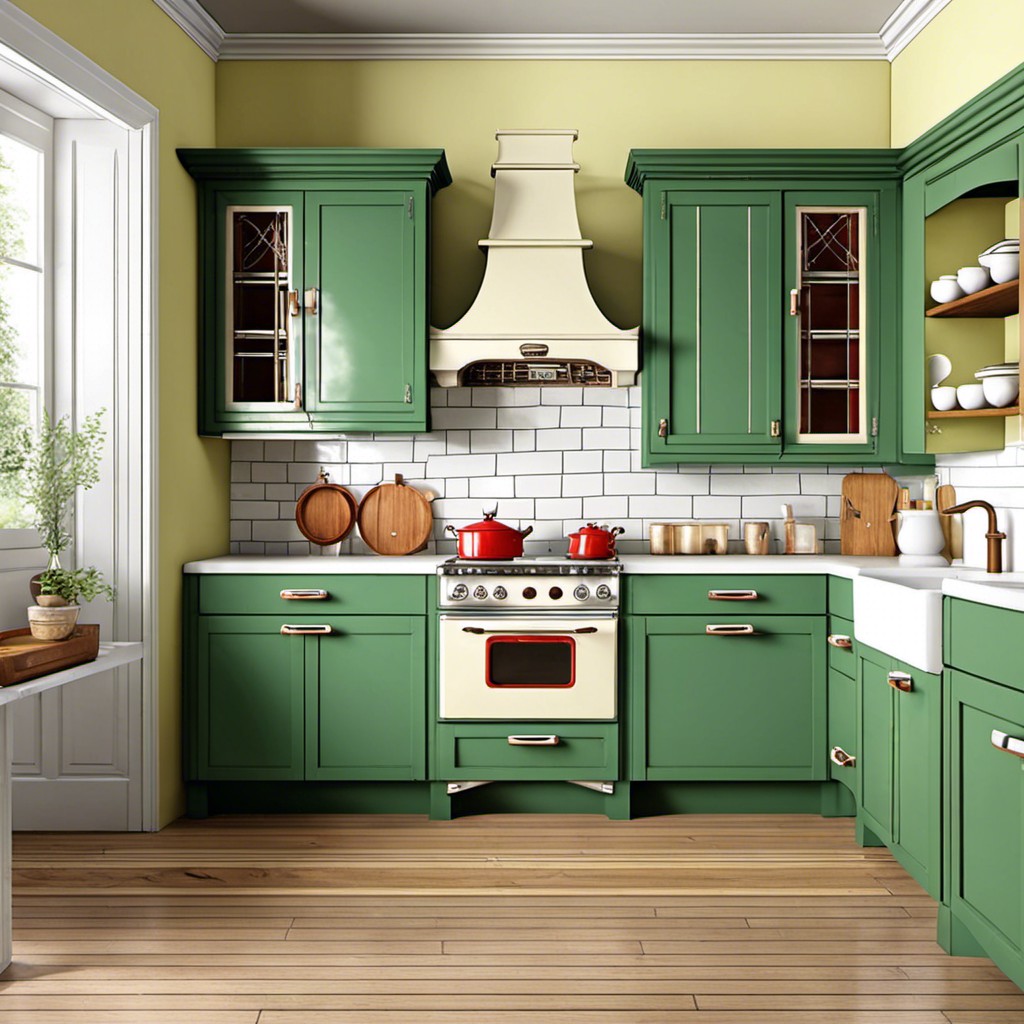 Built for endurance, these pieces are characterized by their gleaming, polished surfaces. The enamel finish lends a touch of nostalgia reminiscent of vintage kitchens. A simple swap of old pulls with these elements can make cabinets pop, adding a distinct touch to the kitchen.
On one hand, enamel provides a variety of color options, from creamy whites to deep blues for a personalized look. It also lends durability and a high-gloss finish that's easy to clean. On the other hand, chrome not only offers a mirror-like reflective surface but is also resistant to rust and tarnish. This combination is not only eye-catching but also practical for frequent use in a bustling kitchen environment. Their streamlined, modern style can suit a wide range of kitchen cabinet types and layouts.
Recall the era of diners and milkshakes for your kitchen space with enamel and chrome pulls. They can easily toggle between subtlety and statement, depending on the chosen color and chrome's shine. Remember, hardware is the jewelry of cabinets and these pulls can grace yours with a touch of vintage charm.
Bronze Bin Pulls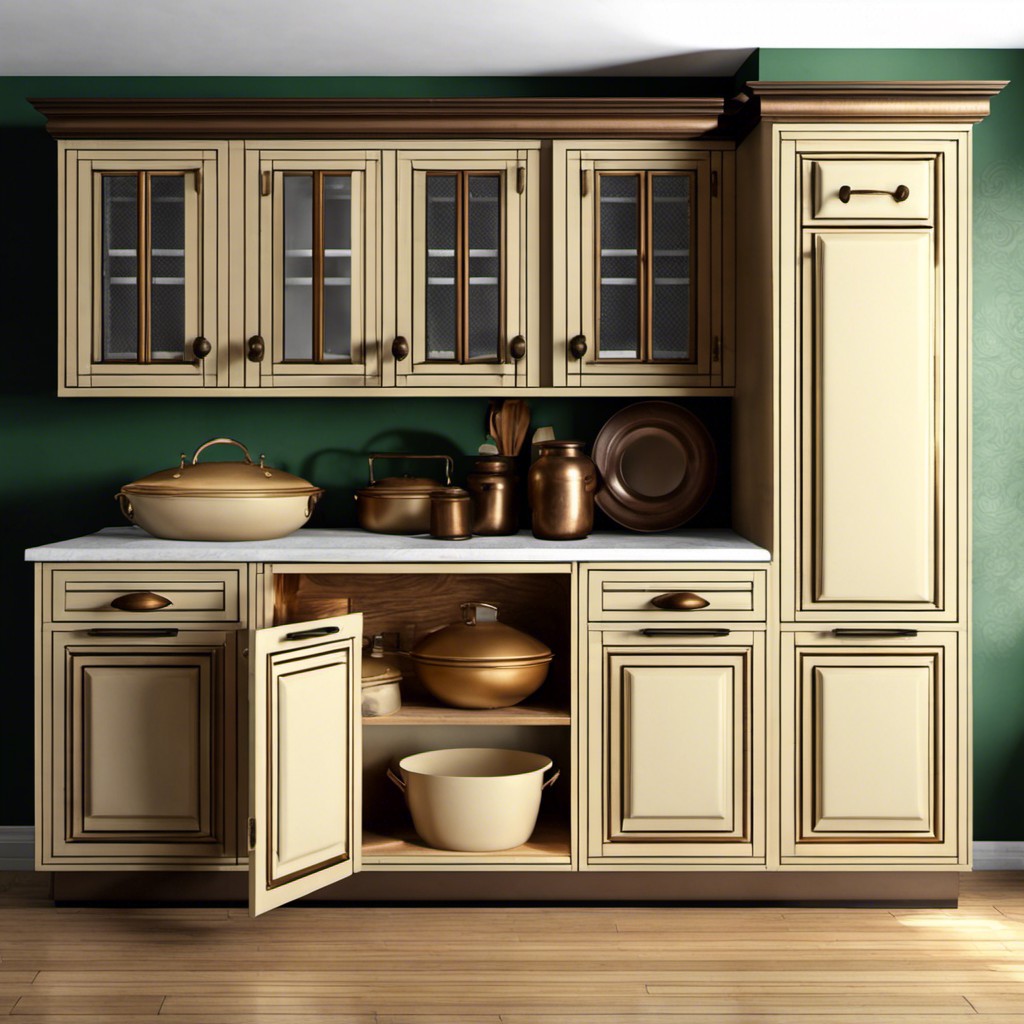 Perfectly balancing aesthetic charm and functional practicality, these can become a pivotal detail in any vintage kitchen design. Sturdy, durable, and with a patina that only contributes to their sense of history, they're perfect for heavy drawers that need a strong pull.
Consider round or rectangular variations to match your existing décor. A Bronze Bin Pull with detailed edging can also transform your cabinets, serving as the finishing touch to a truly vintage kitchen. With an array of design styles and sizes, bin pulls provide an opportunity to add character to your kitchen while maintaining a timeless elegance.
Remember, it's not just about the visual appeal. The patina of bronze also offers a warm, tactile experience every time you reach for your favorite kitchen utensils. Care should be taken in cleaning bronze, as harsh chemicals can remove its beautiful aged look. Mild soap and water, or a specialized bronze cleaner, can maintain the lustre without damage.
Weathered Nickel Handles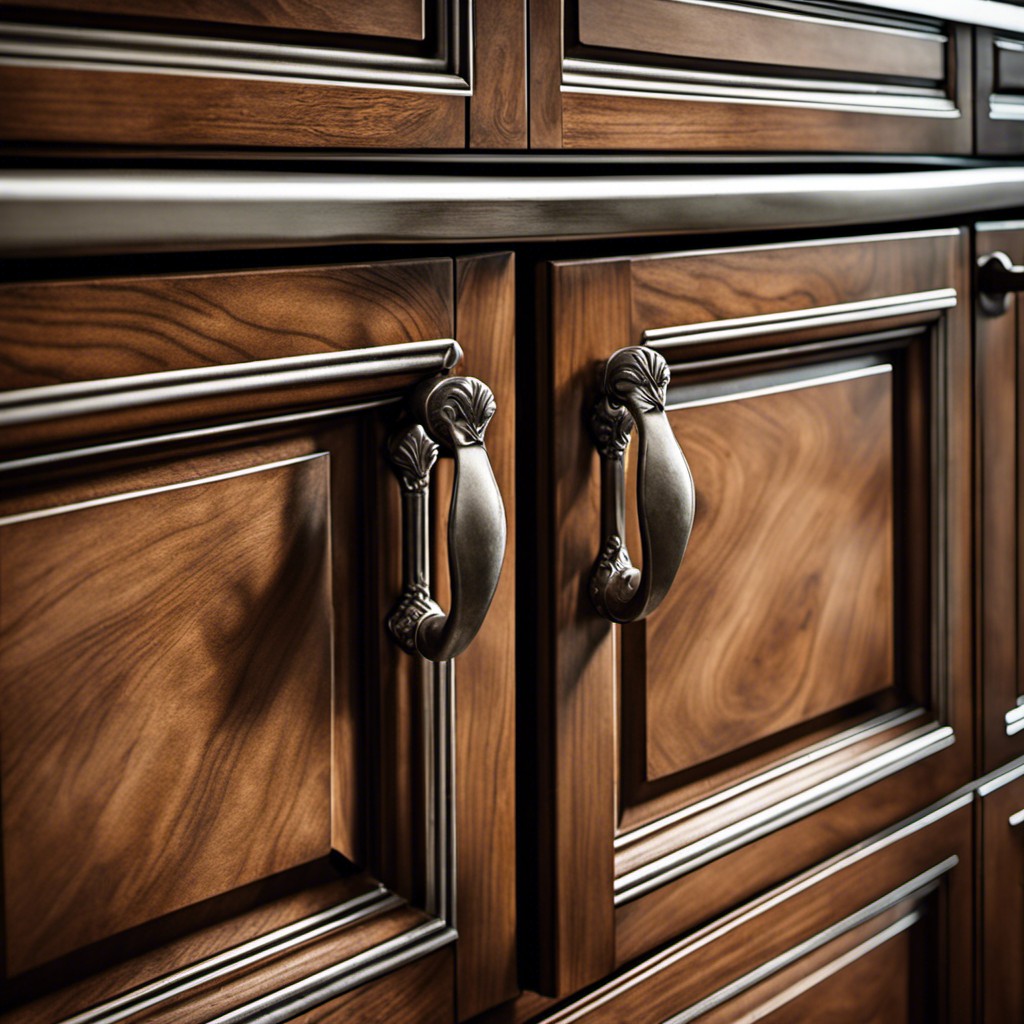 Adopting a muted sheen and characteristic dark spots, these handles bring an allure of sophistication to your kitchen cabinets. As they age, they attain a more beautiful and charming patina, truly embodying the vintage aesthetic.
Not only do they add authentic aged character to modern cabinetry, but their durability and resistance to tarnish are also noteworthy. They come in a variety of designs that range from simple to intricate, ensuring they can complement a wide array of kitchen styles and cabinet colors.
Their function is as crucial as their visual appeal as they are ergonomically designed for comfortable grip and ease of use. This hardware option blends perfectly with other vintage elements creating a harmonious retro-themed kitchen.
Antique Brass Locks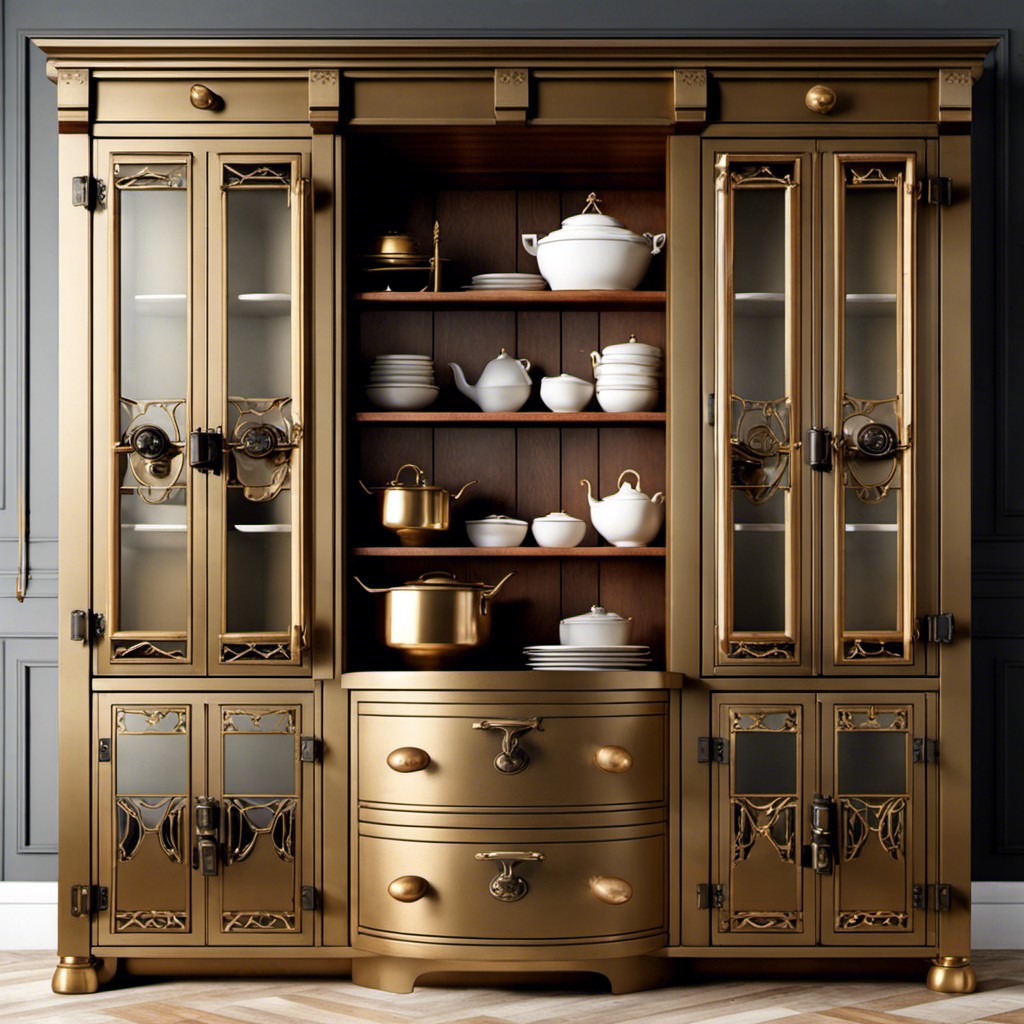 Offering a delightful classic touch, these locks blend seamlessly with diverse kitchen designs. They're an ideal option for a rustic or farmhouse setting, enhancing a quaint, old-world charm.
One of their main benefits lies in the warm, golden hue of brass, it provides an instant lift to dark wooden or painted cabinets. Furthermore, the patina that develops over time adds to a genuinely timeless feel.
Coupled with the practical aspect of adding security to your kitchen cabinets, these locks embody both form and function in your vintage kitchen decor.
Retro Label Holder Pulls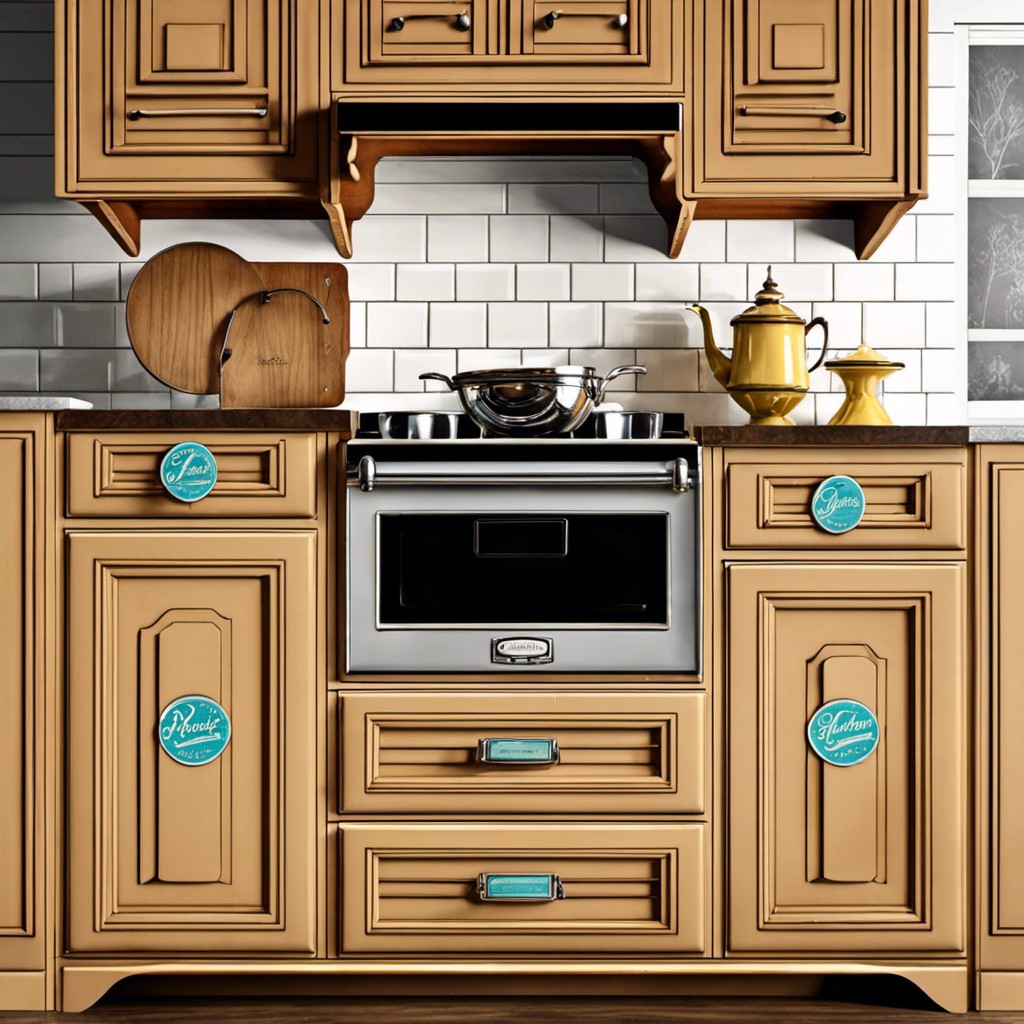 Marked by a touch of nostalgia, these hardware pieces incorporate a small slot for inserting labels, hence the name. Typically crafted from brass or iron, their vintage appeal can transform kitchen cabinets into seemingly antique furniture.
They not only serve a decorative purpose but also a functional one, particularly in a kitchen with numerous drawers and cabinets. The label holders allow easy identification of what's inside each cabinet – making them a perfect blend of style and practicality.
From brass with a patina finish to brushed nickel or even black iron, there's a range to complement any vintage kitchen aesthetic. Weathered, tarnished or burnished, their effect is aesthetic and functional.
Porcelain Drawer Knobs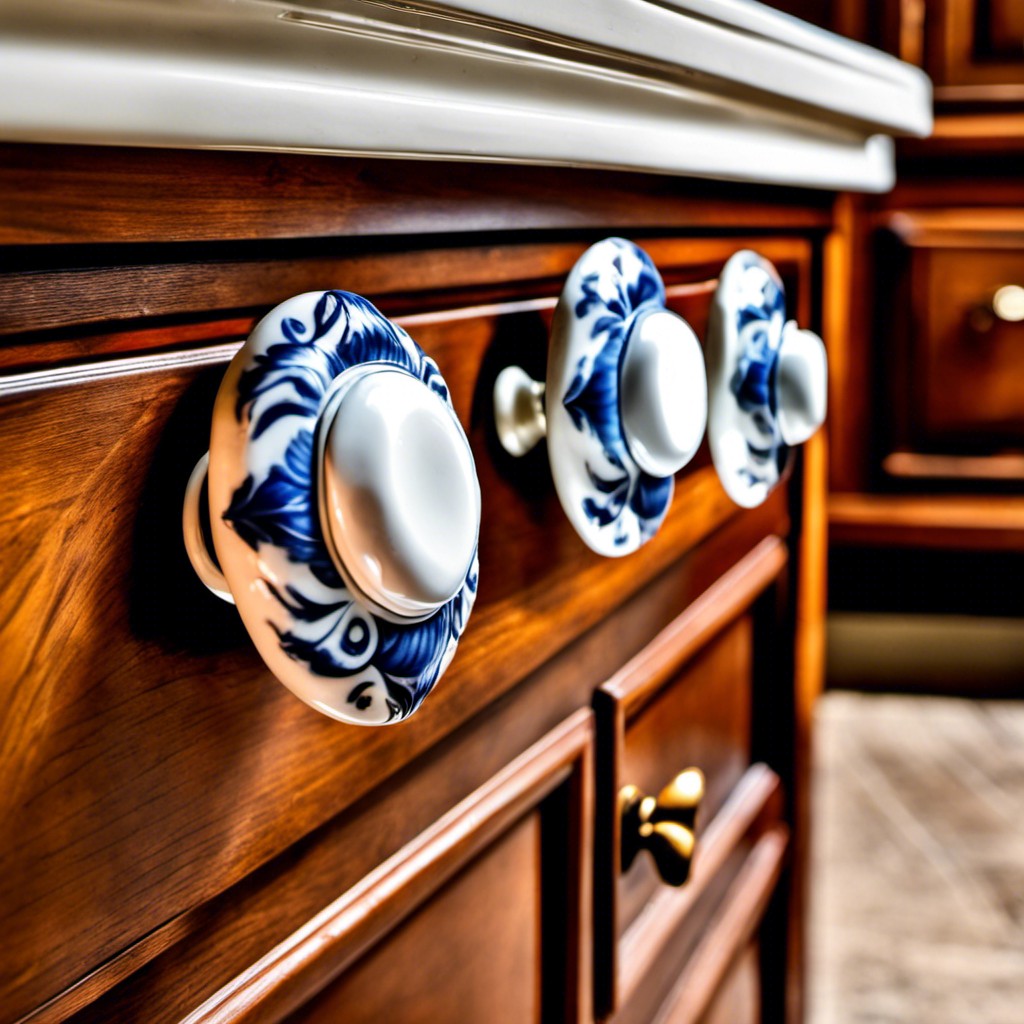 Famed for their timeless elegance, porcelain knobs are an excellent choice for a vintage kitchen. They're versatile, available in a myriad of designs and can easily complement any kitchen style, whether it's farmhouse or shabby chic.
Their high-gloss finish creates a sophisticated look that doesn't easily wear out, keeping your kitchen looking fresh for years. White is a classic choice, but they're also available in various colors and patterns, offering an opportunity to inject a bit of personality into your space.
They're easy to clean, just wipe them with a soft damp cloth, and they're as good as new. Installation is straightforward, and you can do it yourself. Despite the delicate appearance, they are quite sturdy, thus ensuring longevity.
Opt for porcelain drawer knobs if you're on a quest to achieve a vintage look while still insisting on durability and longevity.
Cast Iron Hooks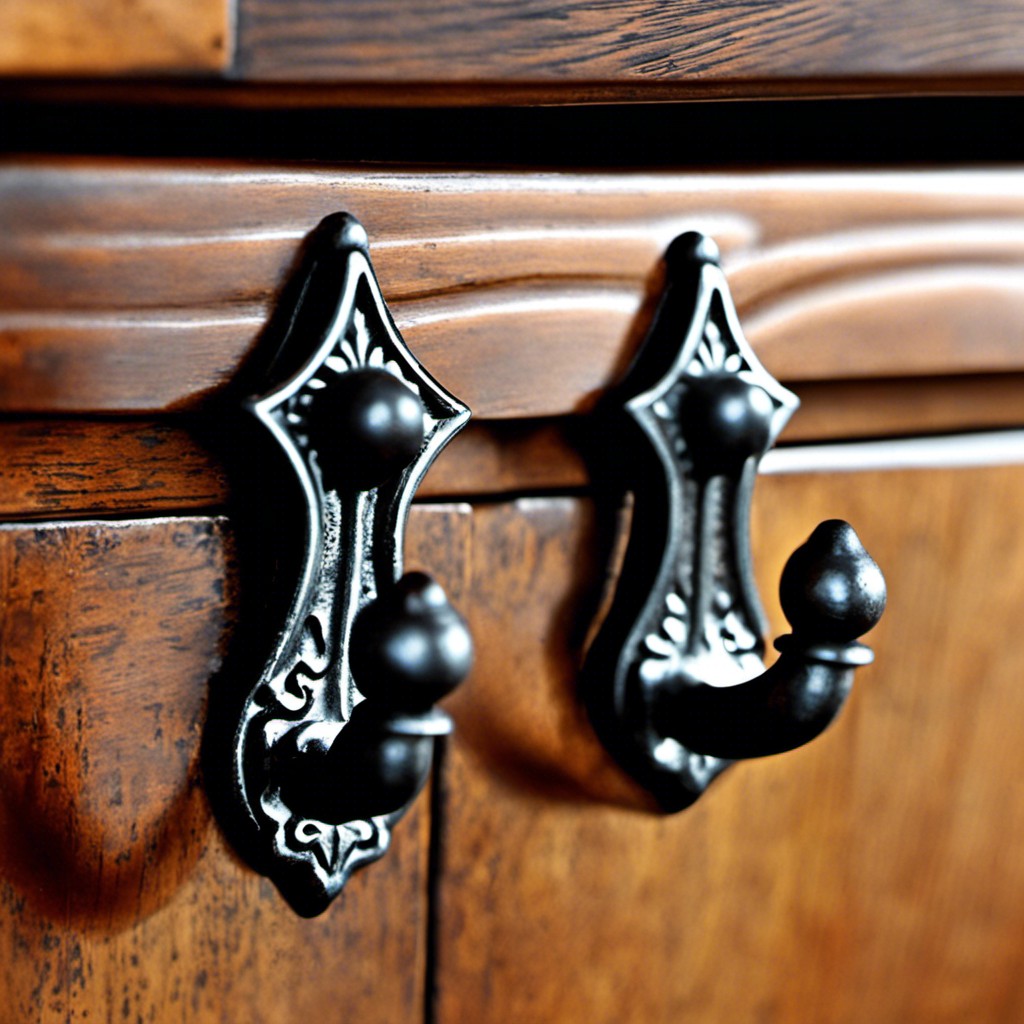 With their dramatic dark color and rustic appeal, these hooks instantly infuse a kitchen space with a touch of farmhouse charm.
Crafted for both aesthetic appeal and functionality, they offer substantial hanging capacity which is perfect for utensils, pots and pans, or tea towels.
Easily paired with a multitude of cabinet styles and colors, these versatile hooks stand out beautifully against painted wood and bare brick walls.
Embossed details and ornate designs further add to their vintage allure.
One can easily install them on the inside or outside of cabinets, bringing practicality to your otherwise decorative hardware.
Despite their robust nature, they blend seamlessly into the kitchen decor, offering a subtle sophistication that's hard to ignore.
Remember to choose hooks that complement the style and size of your kitchen utensils.
This not only ensures a unified aesthetic but also adds to the convenience during meal preparation.
Moreover, the use of quality, heavy-duty cast iron ensures durability and long-lasting performance.
Ultimately, with cast iron hooks, you are choosing a piece of hardware that is as functional as it is beautiful.
Whether you are going for a minimalist rustic look or a more traditional kitchen decor, their addition can significantly contribute to the overall success of your design.
Hammered Copper Knobs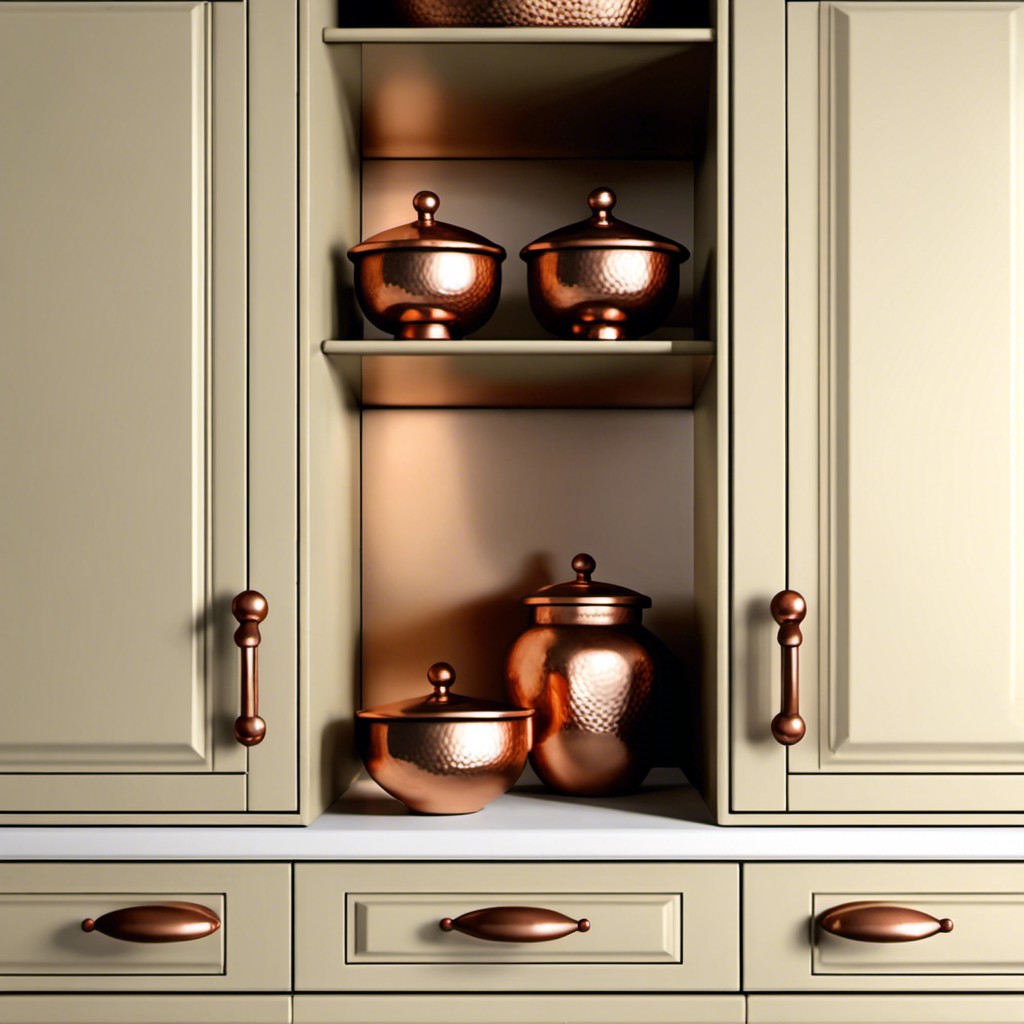 With their earthy and rustic charm, these knobs add an instant allure to your kitchen cabinets. The hand-forged aspect of these knobs brings a unique texture and a personalized touch to your cabinetry.
Their rugged, imperfect appearance makes them a striking contrast to the polished surfaces of most modern kitchens. Although they impart an age-old feel, these knobs blend seamlessly even into contemporary settings due to their universal charm.
Easy to maintain and resistant to corrosion, they not only make a style statement but also stand the test of time. Undoubtedly, integrating these knobs into your kitchen can turn your cabinets into a conversation piece.
Art Deco Cabinet Pulls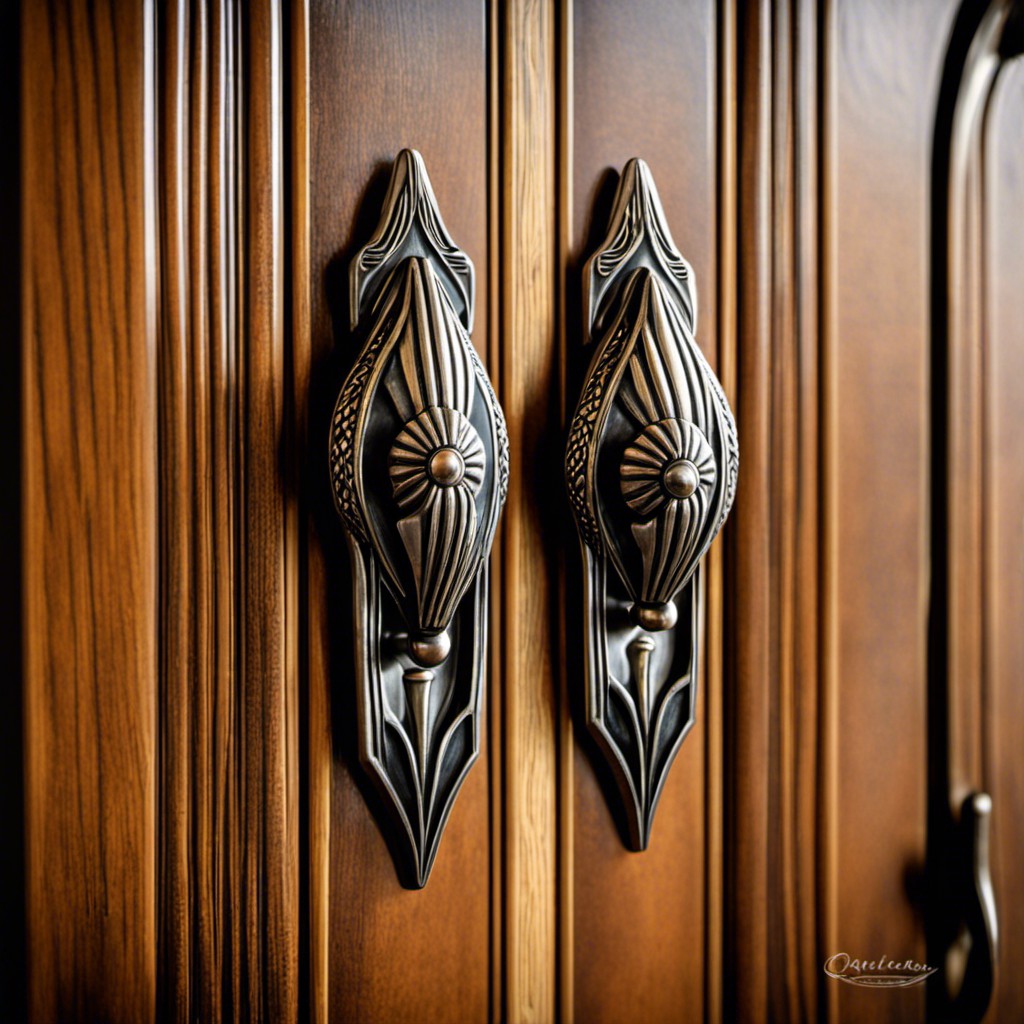 For homeowners seeking to add some glamour and sophistication, these pulls are an ideal choice. With their beautiful, sleek design, they capture the heart of the 1920s and 1930s aesthetic. The bold geometric shapes, such as circles, squares, and triangles, typical of the Art Deco period, make these pieces truly stand out.
Materials often used for these pulls include bright chrome or polished nickel, often paired with black elements, following the classic Art Deco contrast colors. They are mostly used on painted or dark wood cabinets to make their designs pop. The elongated shapes and use of symmetrical patterns offer a vintage charm while still making a bold statement.
Whether you're renovating a period home or want to add a touch of vintage glam to a contemporary kitchen, these pulls can instantly enhance your kitchen's personality. Remember to choose a design that complements other elements in your kitchen, such as lighting fixtures or appliances, for a unified look.
Art Deco pulls are not just attractive but are also famously durable, making them a practical choice for everyday kitchen use. They're more than just pieces of hardware; they're an aesthetic statement that imparts a sense of sophistication and timeless elegance.
Rustic Wooden Handles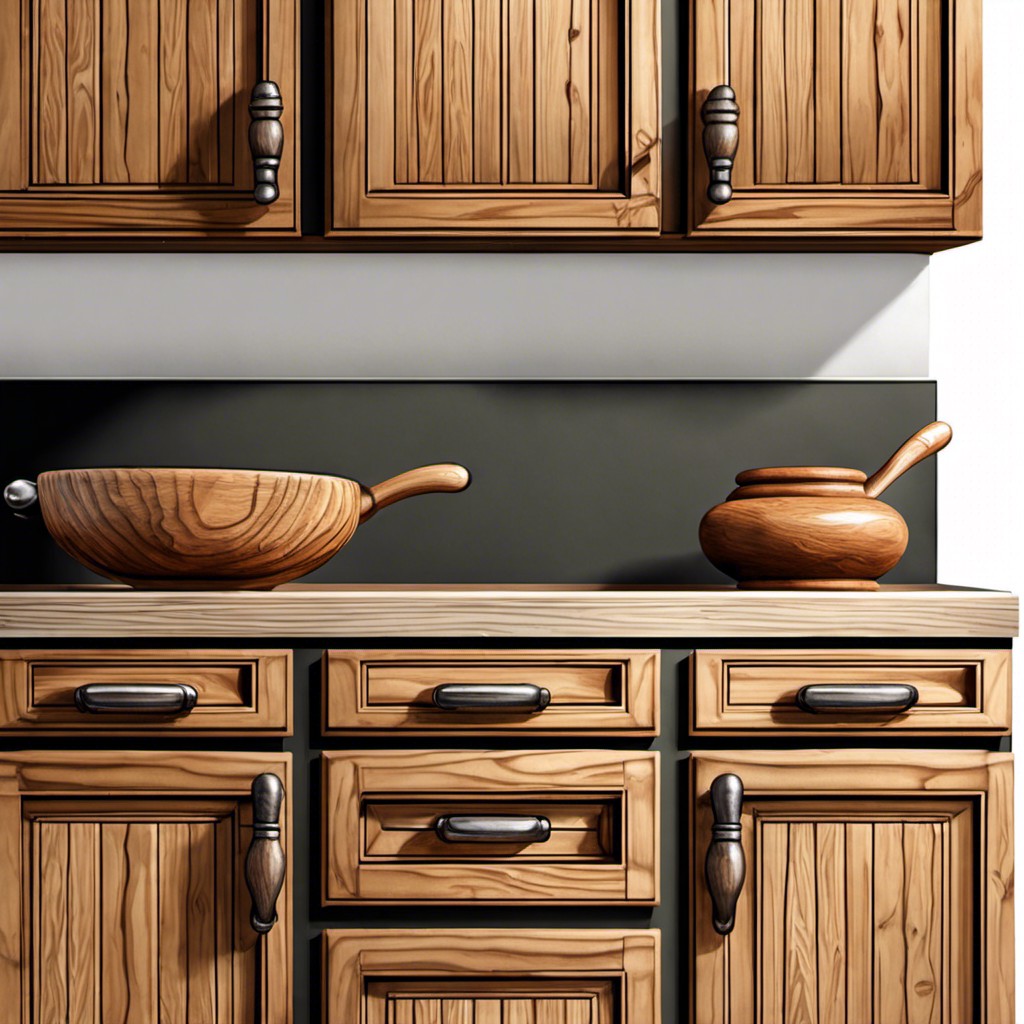 Bringing natural elements into the kitchen is the essence of using rustic wooden handles. You can select from a wide variety of woods, finishes, and designs.
Weathered oak adds a deeply warm, cozy feel. If you choose a geometric design in pine or cedar, it delivers a Nordic touch. Staining the wood can take the look from farmhouse charm to sleek modern country.
Matching the grain and stain with your kitchen's color palette maintains a seamless design theme. Wood is durable, ergonomic, and versatile – making rustic wooden handles a stylish and practical option.
Vintage Ceramic Rosettes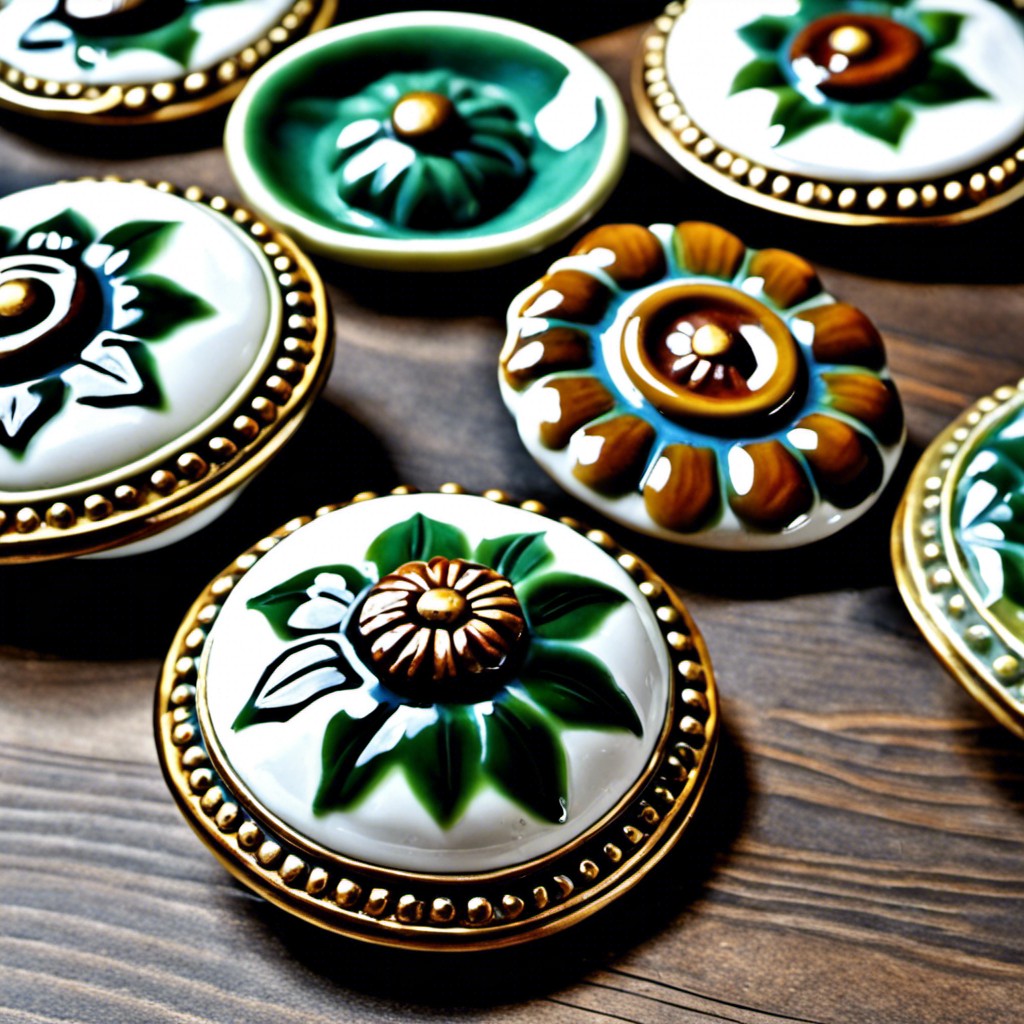 Often seen in classic French or English cottage homes, these decorative fixtures offer a delicate aesthetic appeal. The intricate designs and patterns on a ceramic rosette create heirloom-quality detailing to any cabinet. Each piece is thoroughly handcrafted – an assurance of its unique and no two exactly alike charm.
It's interesting to note that while ceramics are associated with fragility, their knobs hold up surprisingly well to everyday use. Being easy to clean, they also become practical choices for kitchens.
Most ceramic rosettes are made white but they can be glazed to any color to match or complement your kitchen's color scheme. They offer a unique opportunity to infuse personality into an often overlooked detail in the kitchen.
To avoid design discord, pair these knobs with a kitchen that has other classic or vintage features. Thus, they won't look out of place in a modern glossy kitchen. Be open to mixing and matching pulling from different periods to create a timeless eclectic look.
Remember, installing new hardware might require a few tools, like a screwdriver and drill. But, don't let this discourage you. The result is well worth the little effort to upgrade your space.
Indeed, nothing quite enhances old world charm in a kitchen like vintage ceramic rosettes. They take you back in time but still keep your space highly functional. So why not explore these for a nostalgic injection to your kitchen design today?
Antique Skeleton Key Pulls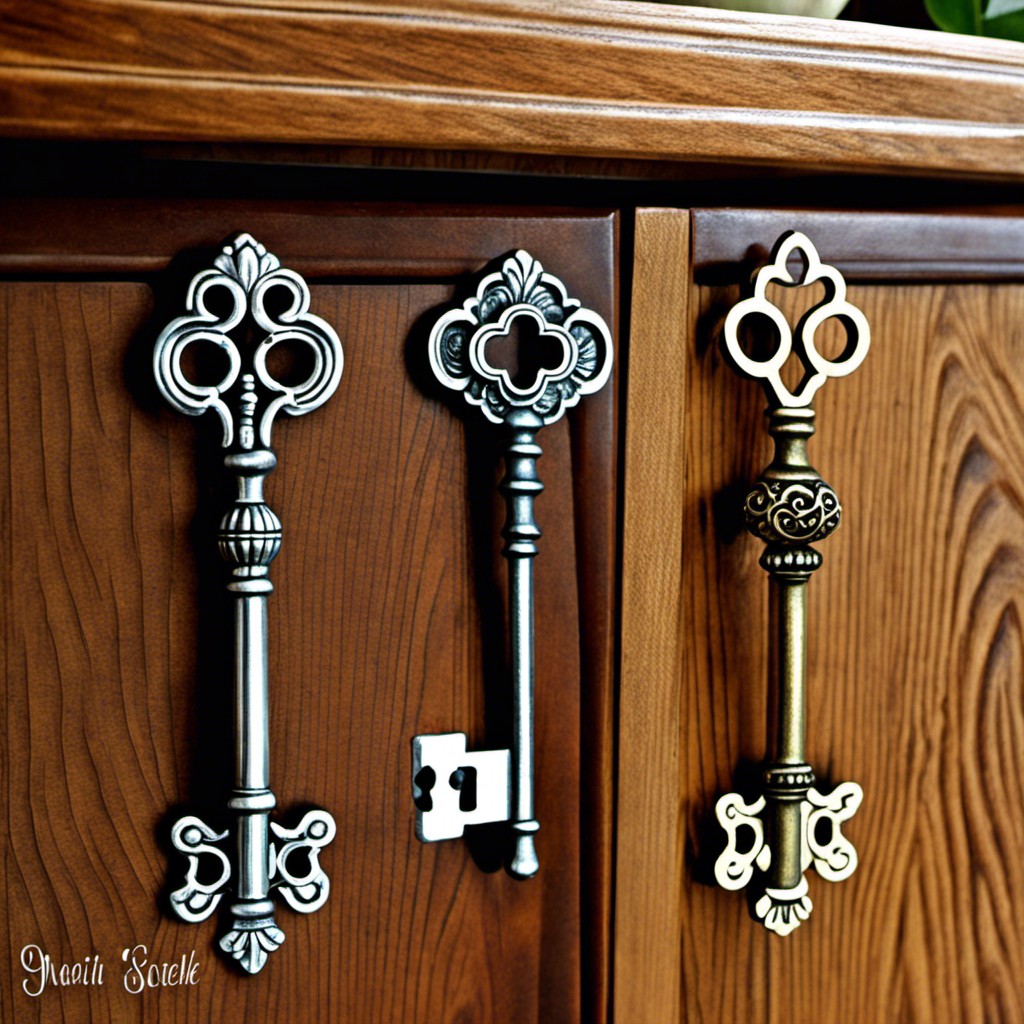 Often seen gracing vintage wardrobes and armoires from the Victorian era, these intricate pieces add an air of mystery and intrigue to kitchen cabinets. Their distinctive shape and old-world charm imbue a sense of nostalgia, turning any cabinet or drawer into a focal point.
1. Styles: They come in a range of styles, reflecting the artistry of different periods, from ornate Victorian to simpler Georgian designs.
2. Material: Traditionally, they are made from brass, a robust material known for its antiquated golden hue that weathers beautifully over time, adding depth and character to the kitchen.
3. Versatility: Despite their antique origins, they can surprisingly complement a variety of kitchen styles. Whether it's a rustic farmhouse kitchen, a sophisticated French Country style, or even a modern minimalist design seeking a touch of contrast.
4. Care: While they exude an aged appearance, keep them clean and free of grease to maintain functionality. A gentle buff with a soft cloth can enhance their shine without damaging the design.
5. Installment: They can replace existing settings easily. Most available options are designed to fit standard hole separations, making them a breeze to install.
Stamped Brass Sash Lifts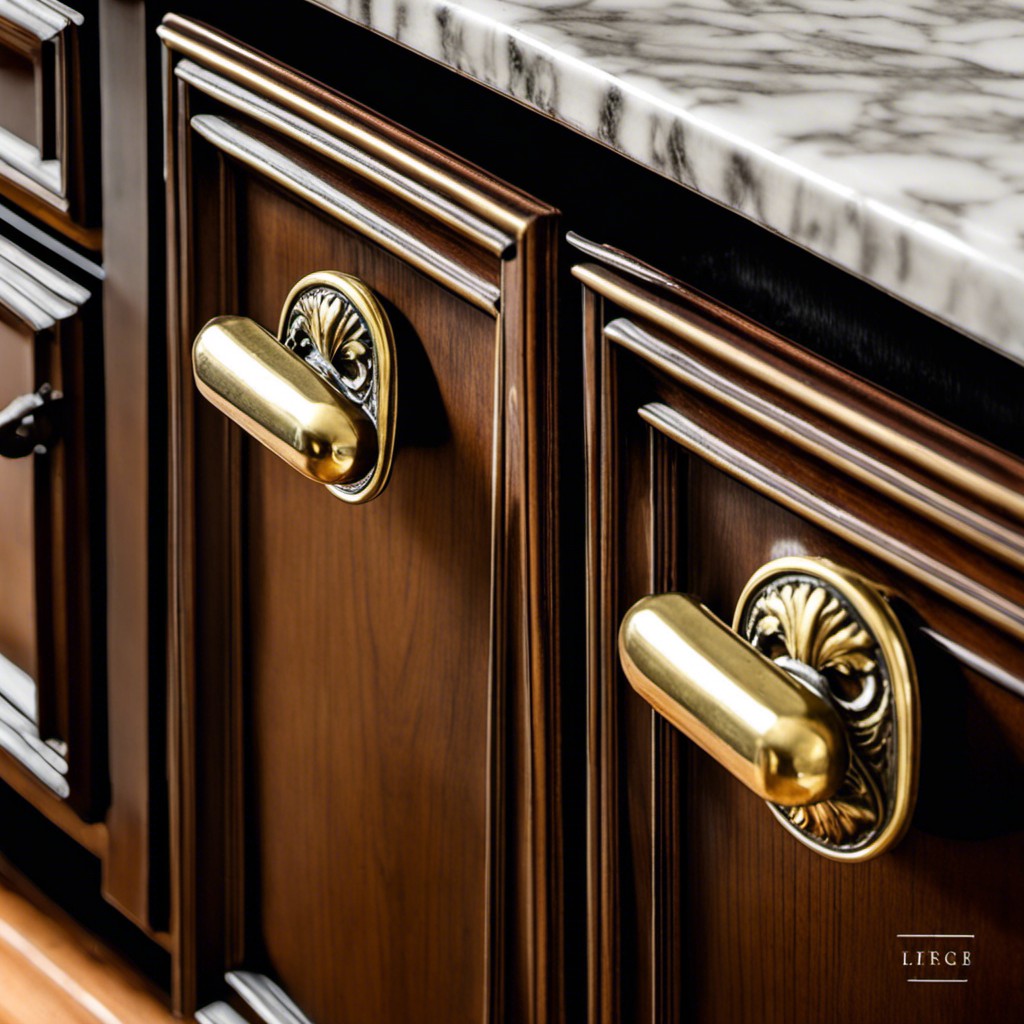 Stamped brass sash lifts are a meet of style and functionality. Serving originally as window hardware in the late 19th and early 20th century, they have an enduring appeal thanks to their elegant and simple design.
These sash lifts can add a rich and timeless look to a vintage-themed kitchen. Ideal for drawers and lightweight cupboard doors, they are lightweight yet hardwearing and easy to install.
Detailed patterns on the face can bestow a refined aesthetic to the overall kitchen ambiance. When it comes to colors, they come in a variety of finishes ranging from a shiny polished to an antique worn-out look, allowing homeowners to match their kitchen's style or palette.
Old-world Map Drawer Knobs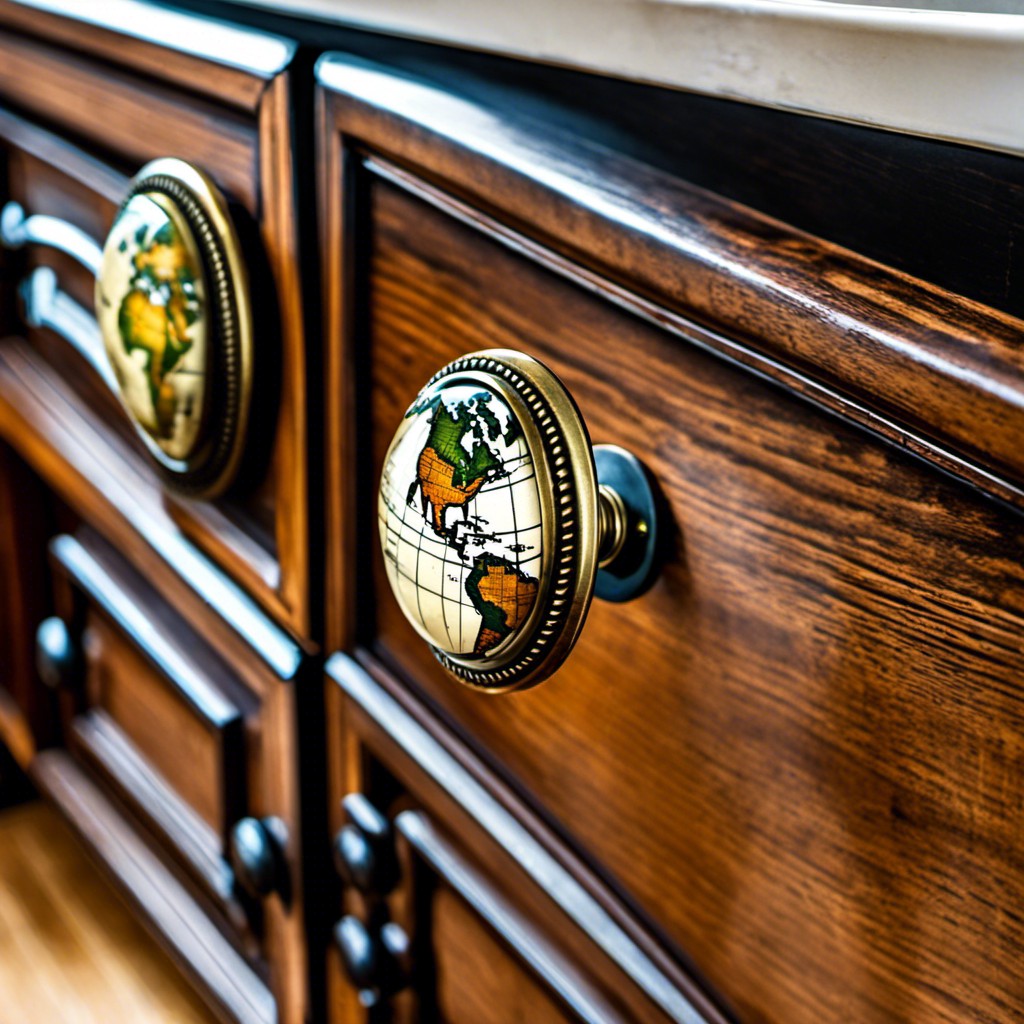 Tapping into the allure of bygone eras, these unique accents offer a global charm to your cabinets. Inspired by vintage cartography, the detailed designs call to mind antique globes and weathered parchment maps.
Often made from high-quality resin, they maintain the integrity of intricate detailing while ensuring durability. The nuanced color schemes often found on these knobs enable them to complement both lighter and darker cabinets – a versatile addition to any kitchen!
In a world increasingly digital, these knobs add a tactile reminder of the beauty in physical geography. Not to mention, they make great conversation starters as well!
Continue reading: