Last updated on August 13, 2023
The purpose of a kitchen mat is to relieve some of the stress from your feet and keep the sink area clean and safe. Let's learn more about it.
Floor mats are those mats you see in the kitchen. They are usually found in the area of the kitchen where the sink is, underneath the area where people stand when washing their dishes. They are made of rubber or another type of material that is slip-resistant. They are typically meant to reduce fatigue on the feet and lower back.
There are a lot of different types of kitchen mats you can choose from, all with different materials, designs, and colors. The most basic ones look and feel like plastic, but there are also ones that are made of rubber, memory foam, even bamboo. They're designed to look good and last a long time, so they're a worthwhile investment.
The first thing to think about is what the kitchen mat will be used for. Do you need something that will help keep your feet from getting tired? Do you want something that will help make your floors look better? Or do you just want something fun and pretty to brighten up your kitchen?
Now, let's look at what exactly it is and how you can use it. The shopping links we've added to show exactly what we mean earn us a commission at no expense to you.
What's Inside
What is a Kitchen Floor Mat?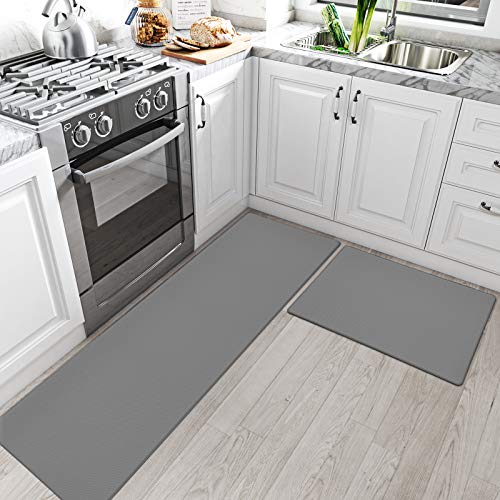 The kitchen floor mat is a small to average-sized mat used in the sink area for a person to stand on. The mat is usually padded (anti-fatigue) and has a floor grip pad (anti-slippage). The mats come in a variety of designs to match the kitchen decor.
What is Kitchen Mat for?
In short, a kitchen mat is used to prevent foot fatigue and as an anti-slipping safety measure. But there's more.
Some people believe that kitchen area rugs are purely ornamental, while others think they serve a real purpose. Despite its status as an extra item in the kitchen, there are unquestionable necessities for kitchen mats.
Some people think a rug or a mat in the kitchen is gross because it accumulates spills and filth. Others swear by them. Who is right and who is wrong? Is it only a matter of personal taste?
We will leave kitchen rugs aside for a moment and focus on kitchen floor mats and their purpose. It is three-fold:
Padded anti-fatigue mats support your feet so you do not tire so quickly when prepping food.
Anti-slip floor grip prevents you from slipping on the wet floor.
A nice mat complements your kitchen decor (it can work as an area rug).
Anti-fatigue Support
Do you ever feel like just collapsing on the floor after a long, hard day? If so, you're not alone. Studies have shown that Americans are spending long hours in the kitchen than ever before, and studies have also shown that all that time on your feet is taking a toll on your health.
A great way to relieve tired feet and legs is to buy an anti-fatigue floor mat. This type of mat features a cushioned surface that absorbs a lot of the impact your body makes when you walk. This helps to reduce fatigue and soreness, so you can give your feet the rest they need.
Long-term use of the kitchen can result in back pain, headaches, and muscle fatigue. There are various elements, but the kitchen floor mat can help keep your legs from being fatigued.
In short, anti-fatigue pads relieve foot pressure.
Kitchen Sink Zones
Kitchens are often the heart of the home. But it's not always clear where to put things in order to encourage the best flow of traffic around the room. That's why it's helpful to think of the kitchen as made up of specific zones that serve different purposes. This method can help you maximize the utility of the space you have. Mats and rugs make a great tool to achieve this.
It is even more crucial if your interior has open spaces. When the spaces are not specified for particular purposes, it will be challenging to get around. It all depends on how your kitchen is laid out. You may want a different color and design mats to distinguish between the eating, prepping, cooking, and serving areas.
Anti-slipping Safety
Kitchens are one of the places in homes where slips occur most frequently. Spills of water or oil on the kitchen floor are common, and these spills are a safety hazard. Anti-slip mats are designed to prevent slipping in kitchens or other areas that typically get wet, such as bathrooms, laundry rooms, and outdoor pools and patios. These mats provide a safe environment for you and your family to work near slippery surfaces. Kitchen mats also protect restaurant workers from slipping on slick floors during busy hours.
Cleanliness
Kitchens are supposed to be places that make us feel good, and most of us like them to look clean and orderly. But kitchens can also be the dirtiest room in the house! Dust, dirt and grime can hide in the tiniest places, and even the cleanest kitchens may have areas that don't look as clean as you'd like. Using regular dish towels to clean up spills is fine for small amounts of liquid, but if you have a big spill, you'll end up with a wet mess on your floor.
If you place a mat in your kitchen in problem areas, any spilled liquid will instantly absorb and prevent it from spreading. The more porous the material, the more often you'll need to wash your kitchen mats.
Kitchen Mat Style
You can make a beautiful design with a mat and pattern. Many prefer practical kitchens not to be embellished because it is easier for them to keep them to do with less.
You may want to give it a try to see how beautiful the results will be, but don't get your hopes up; there's no guarantee they will be that good.
Decorations in the kitchen do not have to be lavish. With fine things like paint and tile, you can make a beautiful kitchen.
How to Choose an Anti-fatigue Kitchen Mat?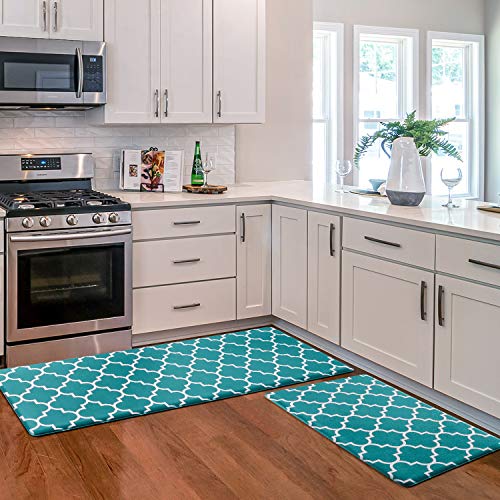 Check Out the Top 10 Best Anti-fatigue Mats for the Kitchen
Cooking time depends on the number of hours spent in the kitchen. For someone who works and spends a lot of time in their kitchen, we suggest at least an hour per day on your feet on a padded mat.
As for what type of anti-fatigue mat, you can go shopping around for these, and sometimes you can get them for reasonable prices at different retailers and shops. It's great if it comes with a multiple-year warranty, too. When a customer noticed that the mat feels "squishy" and losing its qualities, they would return it.
An additional recommendation for buying kitchen mats. For the majority of kitchens, a small mat is optimal. You can move it from side to side as much as you want.
Knowing some of the uses, here are a few things to keep in mind when shopping for kitchen mats:
Knowing how much weight it can support is critical.
Calculate the space that you want the mat to cover, then choose the mat of the required size.
Look for a mat with beveled edges, so it doesn't curl up.
Consider another factor: color.
A mat that will not go well in your kitchen should be avoided. You should be aware of colors and how they work together to produce visual harmony. It's essential to choose a color that harmonizes with your cabinetry, hardware, and, if at all possible, with your food prep equipment. Something as simple as a mat can significantly impact your interior decorating in a very little room.
Various materials are used to make kitchen mats:
Rubber, PVC, gel, memory foam.
You should consider each one before choosing.
If you have children or have a lot of traffic in your kitchen, you may want to go for a rubber or fleece-covered floor mat.
Choose a material you like and will be able to work with. It has to be comfortable for your feet.
You should know why you need a kitchen mat before buying one in the first place, as well as what you want it to be used for in the kitchen.
The anti-slip pad is a good idea if you want to stay on your feet and avoid accidents in the kitchen.
If you have tired feet, go for an anti-fatigue.
For everything you can think of, there is a suitable mat.
Are Kitchen Mats Necessary?
If you spend limited time in the kitchen, a kitchen mat is not a requirement, but it can fulfill many functions. Consider it a useful add on but not a necessity.
On the other hand, if you spend a lot of time in the kitchen, your feet often get tired. The fact that a mat can relieve some of that stress makes it a worthwhile addition to the kitchen.
Continue reading: