Last updated on November 10, 2023
Explore the versatility of white kitchen sinks because their clean, timeless appeal can create a stunning focal point in any kitchen design.
"I am proud to have created these 20 unique White Kitchen Sink Ideas and illustrations, and I hope they inspire and excite you as much as they did me during the creation process."
White kitchen sinks, with their timeless elegance and versatility, can be the perfect addition to your kitchen. Whether you're aiming for a sleek modern look or a charming rustic style, white sinks can effortlessly blend with any kitchen decor.
This article offers an array of white kitchen sink ideas, from material selection like fireclay or cast iron, to different styles such as farmhouse or undermount sinks. Detailed descriptions, pros and cons, and style pairing suggestions are all included to help you make an informed decision.
So, get ready to explore the world of white kitchen sinks and find the perfect one for your kitchen!
What's Inside
Undermount White Ceramic Sink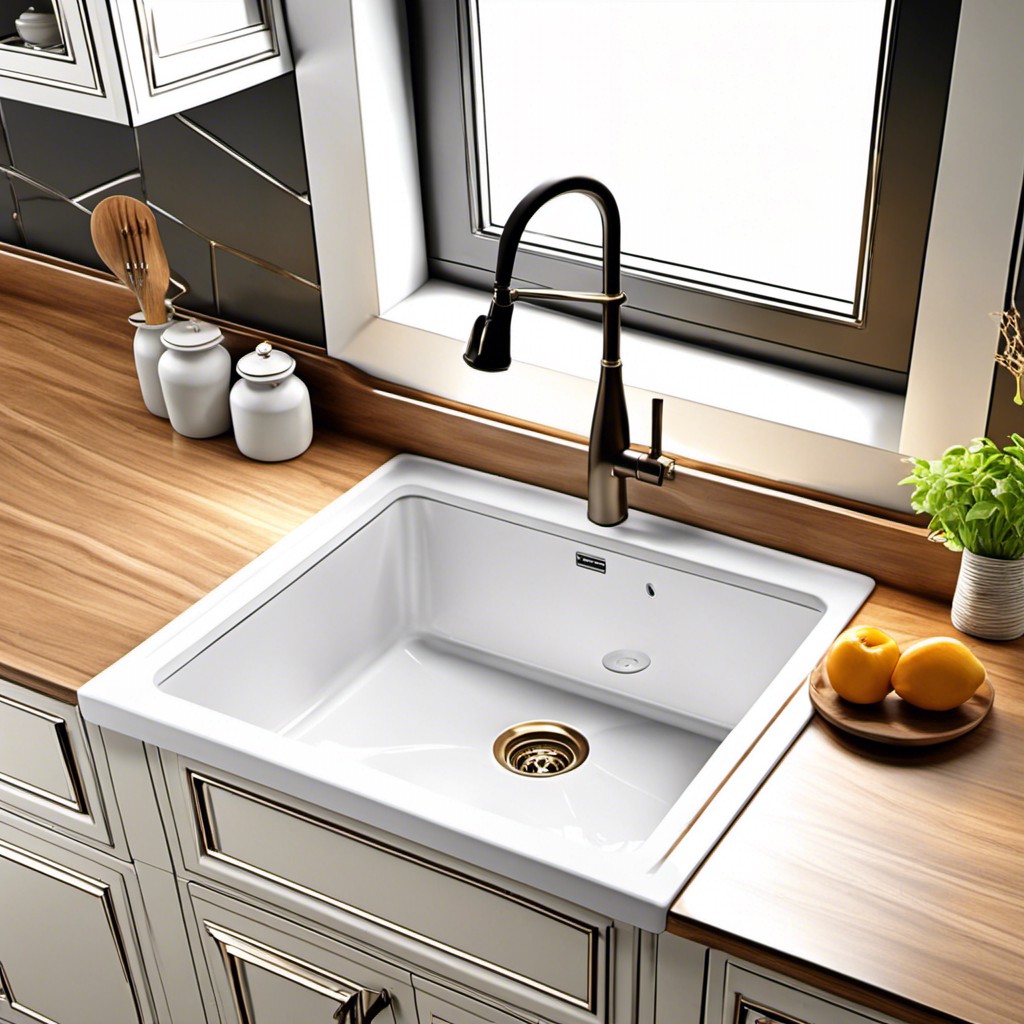 With its sleek design, the undermount installation allows the sink to sit directly beneath the countertop. This achieves not only a seamless and modern look but also enables easy cleanup as debris can be wiped directly into the sink from the counter.
Using white ceramic for this setup adds a classic touch, blending elegance with practicality. The non-porous nature of ceramic prevents staining and eases cleaning. Furthermore, the ceramic's insulating properties help maintain water temperature.
A host of options are available to customize the sink's size, shape, and bowl configuration, adapting it to specific needs and preferences. While installation can be trickier than drop-in models, the aesthetic payoff and ease of maintenance make it well worth considering in a kitchen remodeling project.
Farmhouse Style Porcelain Sink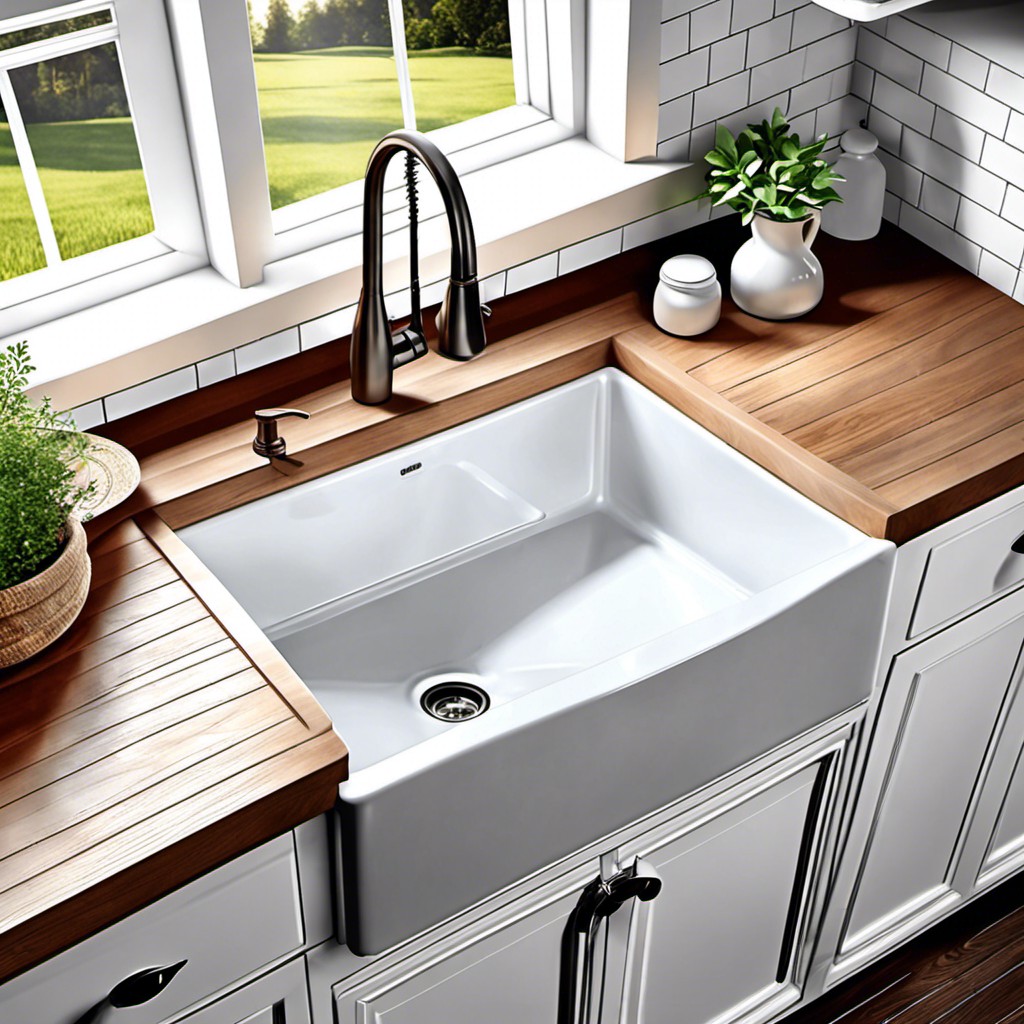 Farmhouse style porcelain sinks exude an old-world charm while delivering modern-day functionality. These sinks are typically white, which adds to their rustic allure, and complement a variety of kitchen decor styles from traditional to modern.
Due to their oversized design, they're perfect for those who require ample wash space—great for washing large pots and pans. It's also less likely that water will splash out of the sink onto your counters.
One potential downside, however, is that they are typically heavier than other sink materials. So, additional structural reinforcement might be necessary during installation. Despite this, their timeless elegance and hard-wearing durability are reasons enough for their continued popularity in kitchen design.
To enhance its visual appeal, pair this sink with brass or black hardware. For an extra touch of coziness, consider adding a soft window treatment above if situated under a window. Maintain its lustrous finish by avoiding abrasive cleaners – use gentle, non-abrasive cleaning products instead. Remember, each type of porcelain sink may have specific care instructions, so always consult your manufacturer's guidelines for cleaning.
White Granite Composite Sink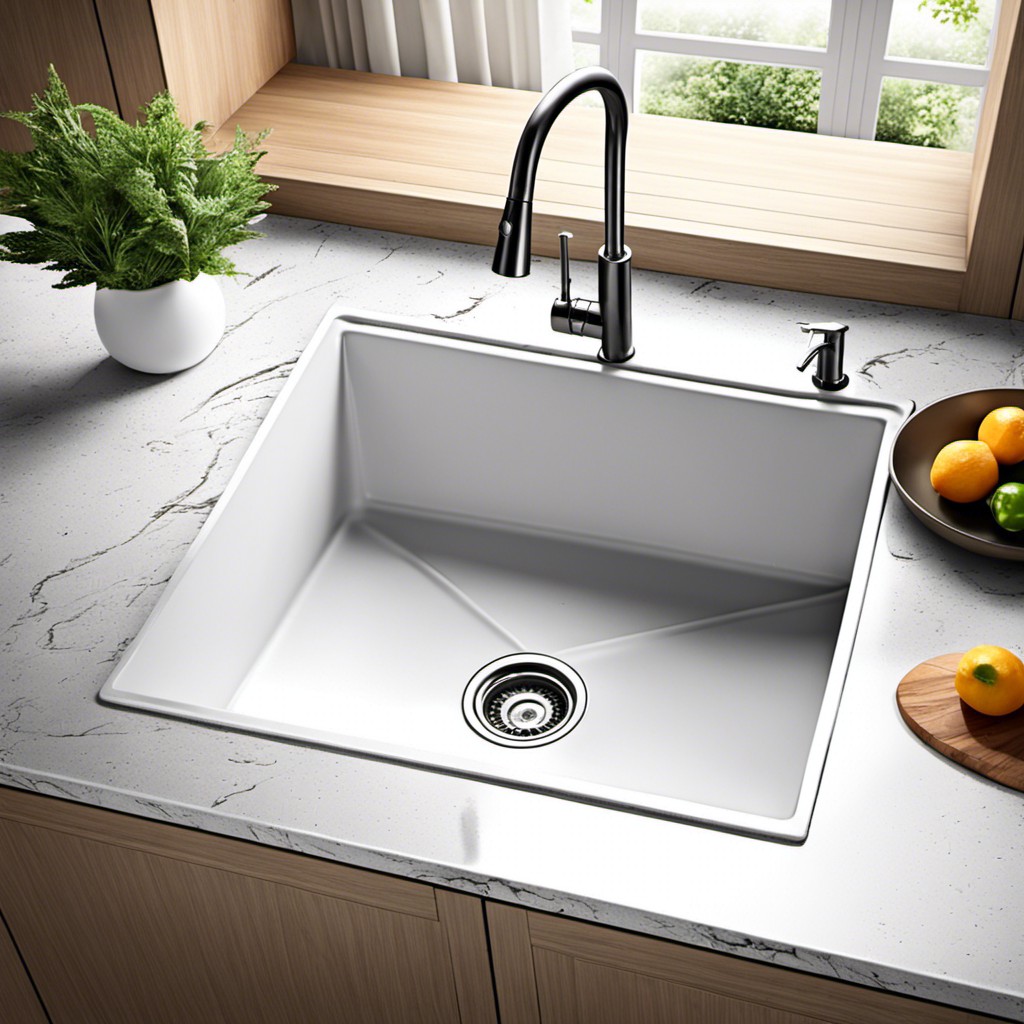 Built to withstand countless years of use, granite composite sinks offer robustness and practicality.
This material is heat-resistant, come in various shades of white, giving a luxe and sleek finish to your kitchen.
Its nonporous surface resists staining remarkably and is also less likely to scratch or chip.
Do bear in mind, these sinks typically require undermount installation.
So, they'll work best with solid surface, stone, or quartz countertops that can support their weight.
With stylish hues of white such as pure white or pearl, they not only add to your kitchen's aesthetic appeal but are also a durable and long-lasting choice for any active kitchen setting.
White Acrylic Drop-in Sink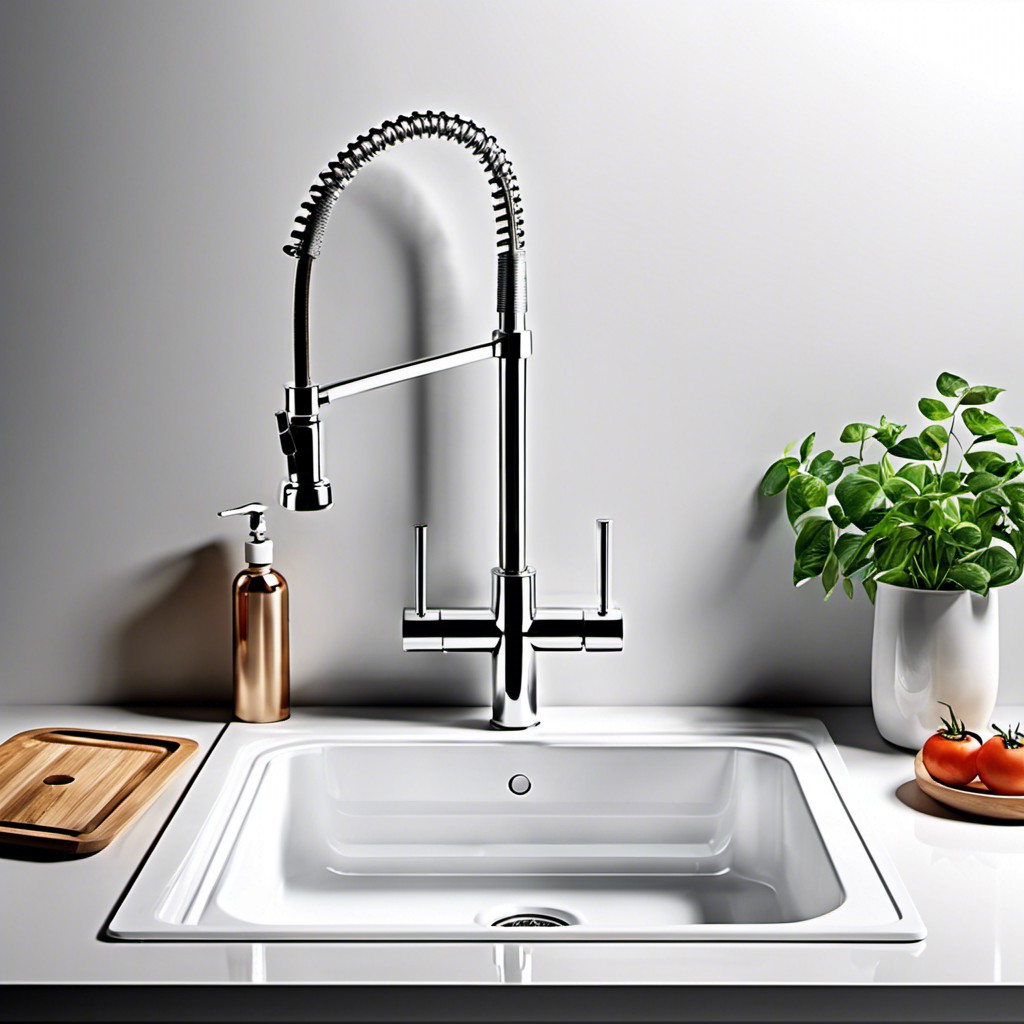 An ideal choice for its resistance to stains and scratches, the acrylic sink is lightweight and affordable. It truly stands out when implemented in a drop-in style.
Made from a solid surface material that retains its color throughout, it's a beautiful addition with enduring quality. Installation is a breeze due to its lighter frame, perfect for DIY enthusiasts.
With a knack for retaining heat, it allows for better dishwashing experience. Its non-fading quality ensures it stays pristine even after years of use. Remember to avoid harsh abrasive cleaners to maintain its luster.
With an array of design options, this sink can effortlessly blend with your kitchen aesthetics.
White Sink With Brass Fixtures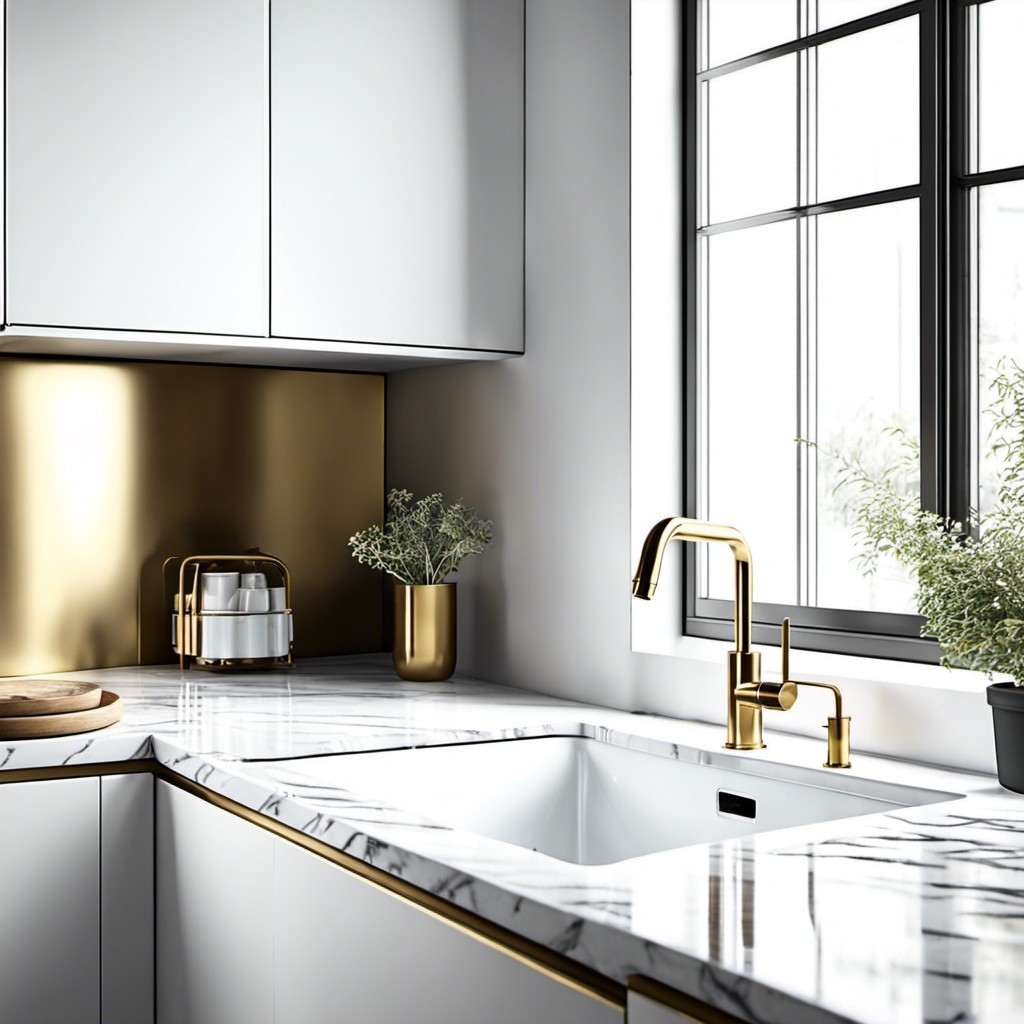 Using brass fixtures with a white sink creates a unique contrast that can add a touch of luxury to any kitchen. Brass, known for its warm golden hue, can complement the cool tones of a white sink, giving your kitchen a cozy yet refined ambiance. The versatility of this pairing allows it to beautifully enhance rustic, contemporary, and traditional design styles.
Consider the shape of the fixtures as well to infuse personality into your space. For instance, opt for sleek lines for a modern look or charming curves for a vintage appeal. Also, don't limit yourself to only taps; brass drain plugs and dish soap dispensers can continue the aesthetic. Ensure to balance the metallic accents throughout the kitchen, possibly with brass cabinet handles or light fixtures, to achieve a cohesive look.
Double Bowl White Kitchen Sink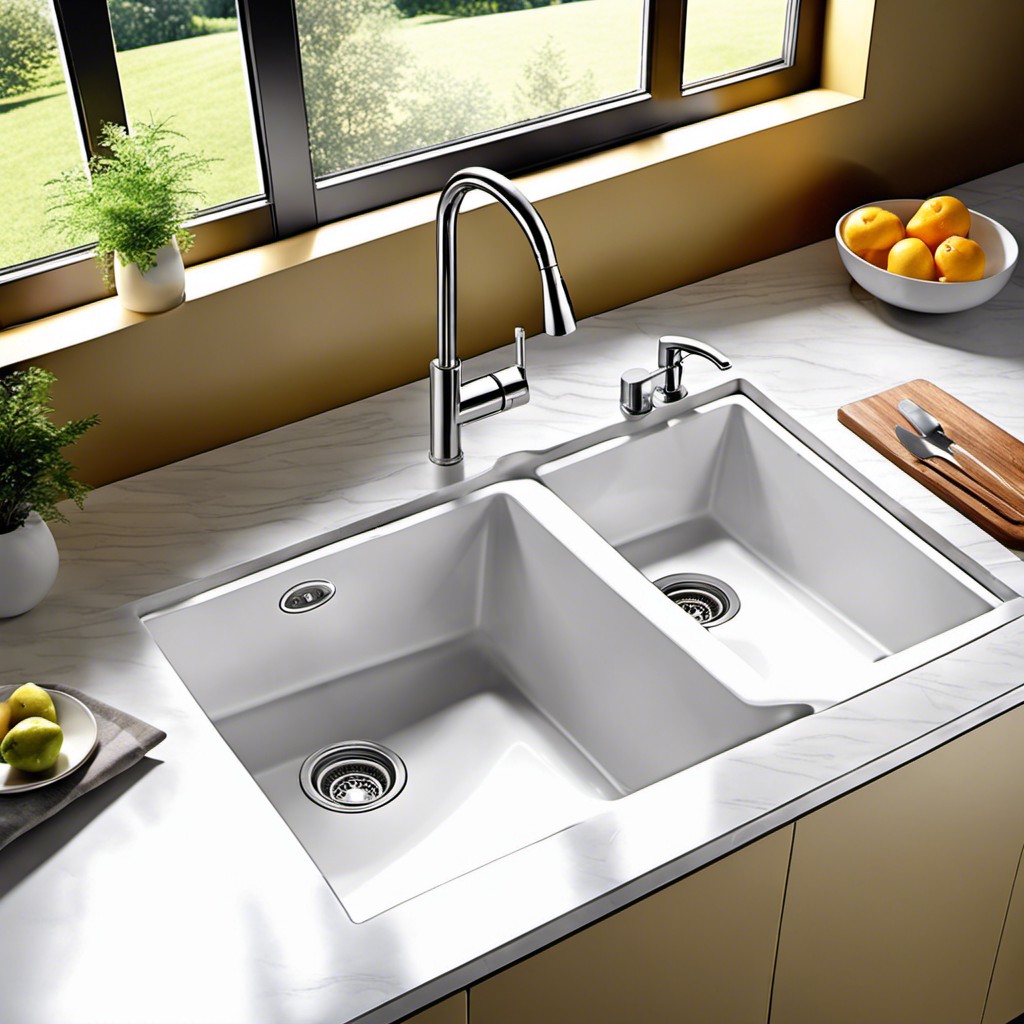 Offering both flair and functionality, a twin basin layout can make kitchen tasks a breeze. Chef enthusiasts love this design for its practical work divide, simultaneously allowing for food prep in one and washing in the other.
This makes for efficient multitasking without cross-contamination. Also, removing large pans or platters from the dishwasher is far less cumbersome as you can stow them in the second sink.
These sinks typically come in a range of materials, including fireclay, cast iron, and porcelain fused to steel, but a white finish always adds a classic, clean look.
The durability typically depends on the material, with cast iron generally being the toughest. A balance between aesthetics, functionality, and durability is the goal when choosing a double bowl white kitchen sink.
The overall design lends an air of professional sophistication to the kitchen, providing a high-end visual appeal. This type of sink suits larger kitchens best, but don't worry, compact designs are also available for smaller spaces.
For those wanting to add a touch more style, pairing a double bowl white sink with contrasting faucets or fittings can mark the difference between a good kitchen design and a great one.
White Island Sink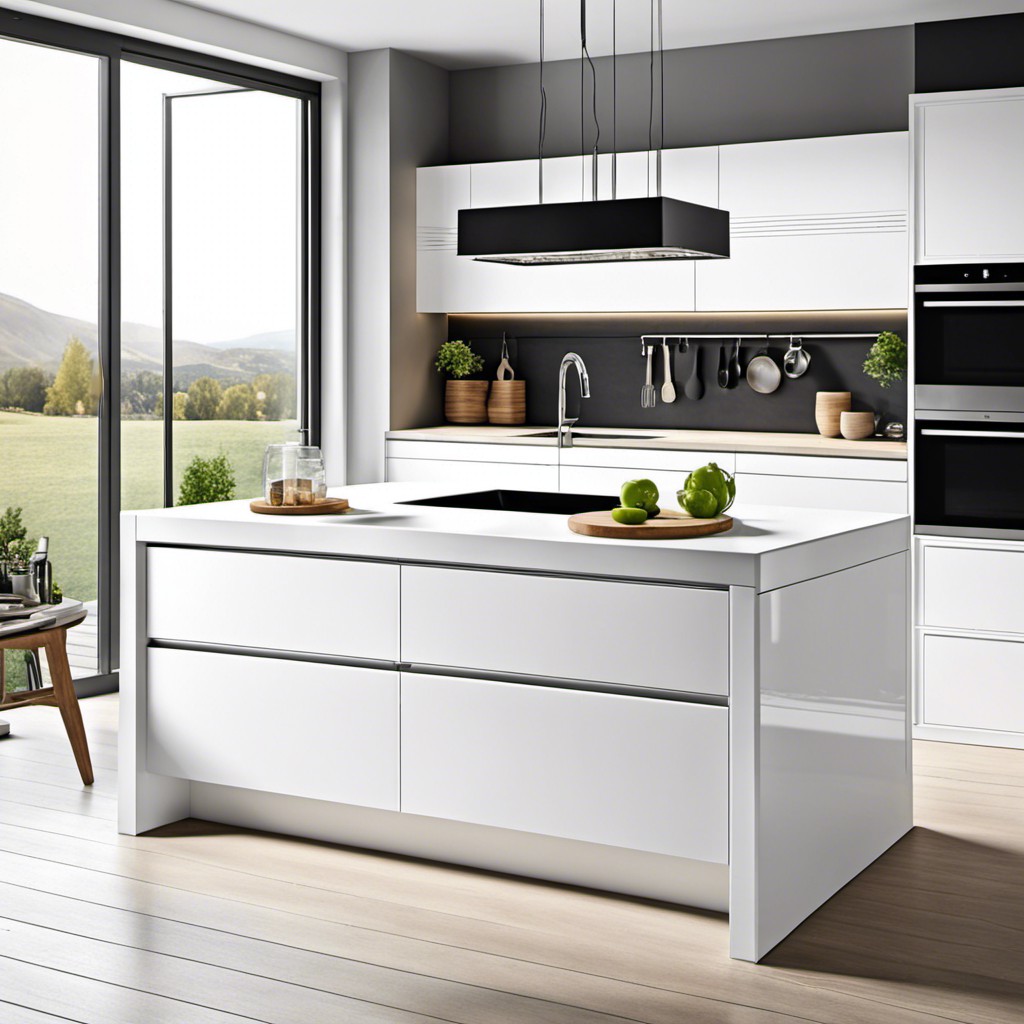 Positioned as a focal point in many contemporary kitchens, the white island sink combines both aesthetic appeal and functional convenience. These designs offer a central spot for food prep, washing up, and even social interactions. They typically feature a spacious basin, which is practical for larger pots and pans.
When opting for such a design, it's crucial to think about the following considerations:
Size: Ensure it suits your cooking and cleaning needs, but also the scale of your island.
Material: While white ceramic or porcelain are classic choices, white granite or quartz offer durability and a slightly different aesthetic.
Faucet Style: Choose a faucet that pairs well with the sink and the overall kitchen decor. Pull-down faucets are commonly chosen for their convenience.
Placement: Aim for a spot on the island where splashback will be minimal, usually the center or off to one side if the island is wide.
Surrounding Seating: If your island also houses a breakfast bar, ensure adequate separation between the seating area and sink.
With the right choices, a white island sink can effectively merge functionality with style, becoming a staple in your kitchen space.
Corner Installation for Space-saving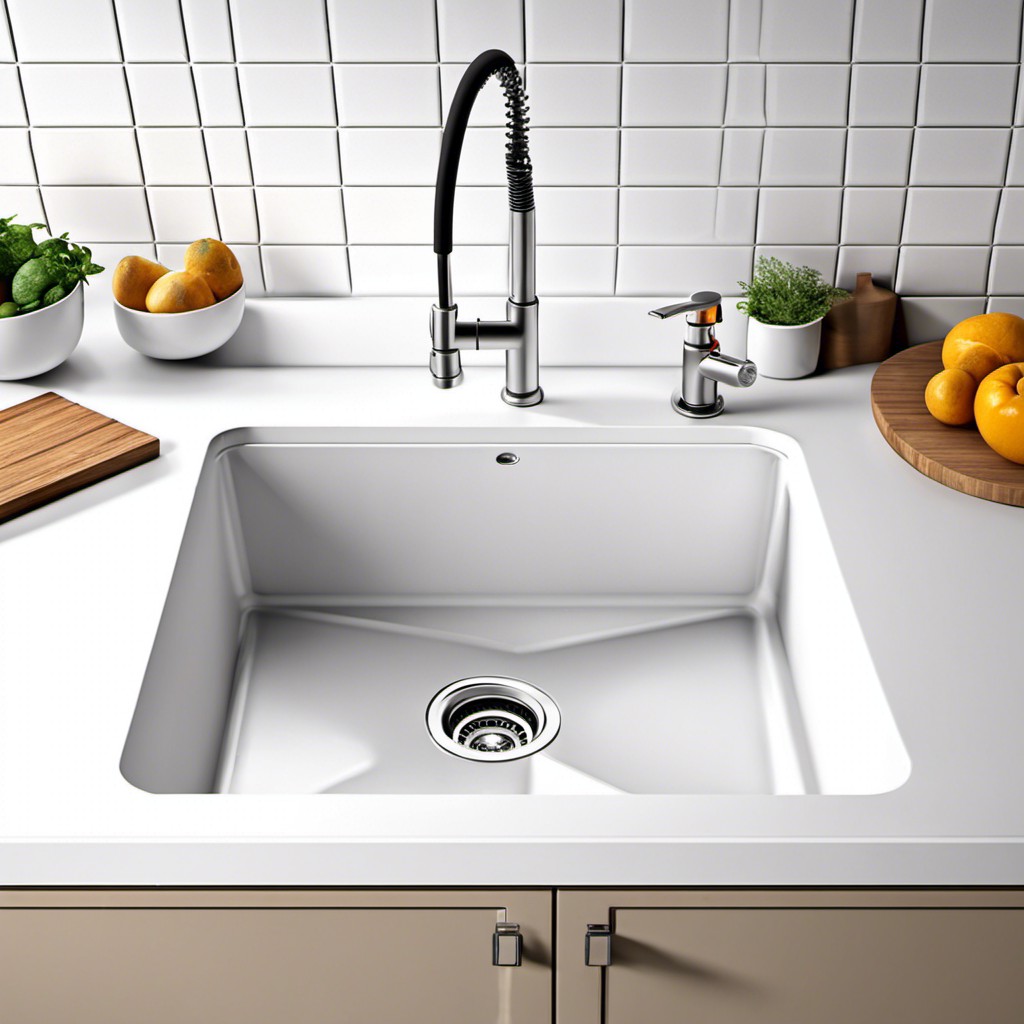 A clever choice for those dealing with limited space, corner installation allows you to make the most of your counter. Ducking into an otherwise underutilized corner, this design adds function without sacrificing room.
Several design styles accommodate corner placement, from traditional double-bowl designs to compact single basin models. This arrangement also allows for additional workspace on either side of the sink, increasing your efficiency during meal prep and clean up.
Additionally, working in sync with corner cabinets, it facilitates a seamless flow in the kitchen layout. Remember, though, professional installation is key for the correct alignment and plumbing setup.
White Sink With Colored Backsplash
Partnering a white sink with a colored backsplash breathes life into a kitchen space, creating a harmonious blend of freshness and vibrancy. This concept offers a host of exciting possibilities. For instance, use a blue mosaic backsplash as an oceanic backdrop, or inject warmth with terra cotta tones, or you can try jewel tones for a dash of luxury.
Experimenting with varying textures – from glossy subway tiles to rustic stone – can add an extra dimension. This strategy is not only eye-catching but also eases the cleaning process as backsplash material is typically easy to wipe clean. This method also provides an opportunity to tie in other decorative elements of your kitchen, creating a cohesive and personalized design statement.
Modern White Square Sink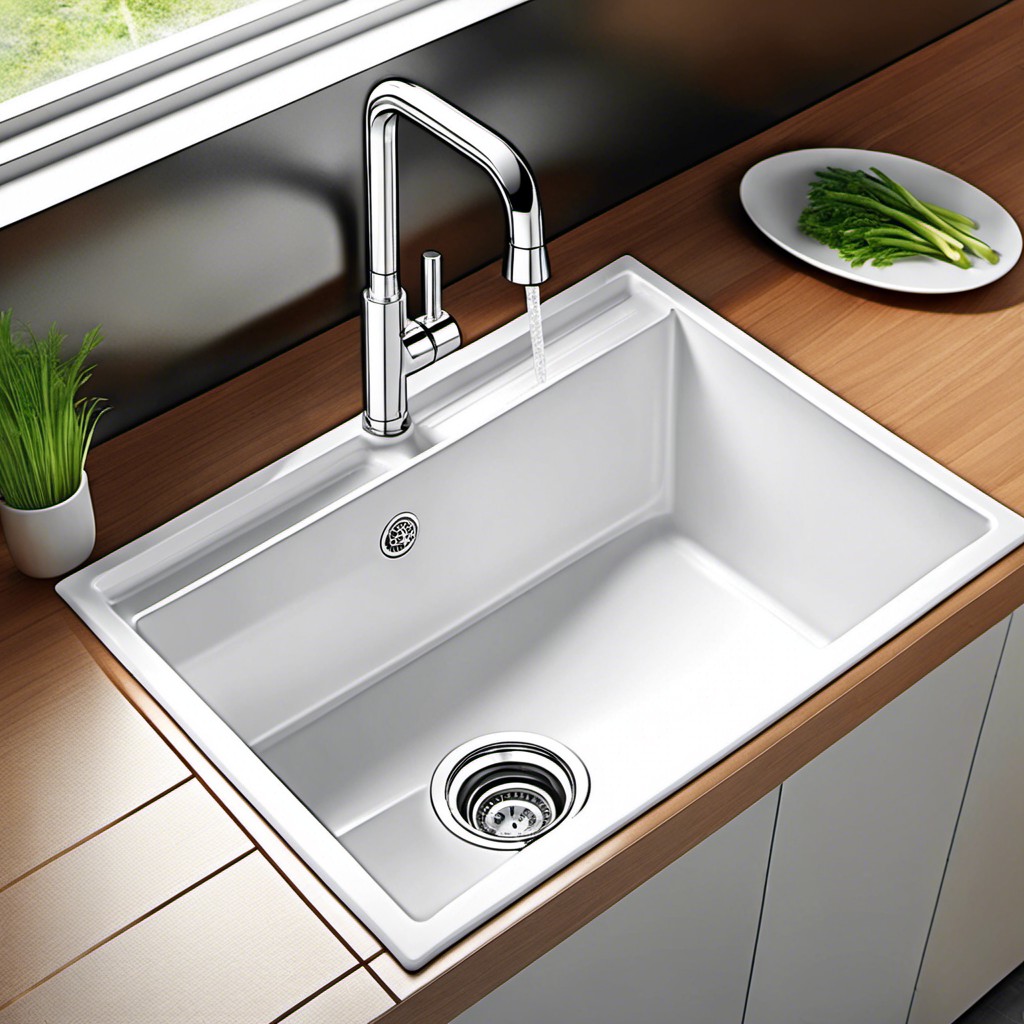 In the realm of modern design, square sinks offer a sleek, minimalist look that pairs well with contemporary kitchen styles. Typically, these fixtures are characterized by clean, sharp lines and right angles, which lend a distinctive touch of sophistication.
Adding to the aesthetic appeal, these sinks often have rear-positioned drain holes. This placement maximizes the usable basin area, while providing an uncluttered look. Even the humble rinse task turns into a pleasure, owing to the roomy design.
Material-wise, fireclay and white granite composite are popular choices. Fireclay offers resistant to chipping and staining, while granite composite provides a feel of natural stone with high durability and resistance to heat, stains, and scratches. Both materials combine functionality and beauty, greatly contributing to the overall appeal of these sinks.
Versatility is another merit of these fixtures. Whether your countertop is made of marble, quartz, or polished concrete, a white square sink can perfectly blend in. Extra elegance can be added by pairing the sink with a high arc, pull-down, or commercial style faucet in contrasting finishes like brass, matte black, or stainless steel.
Remember, the choice of sink can have a dramatic effect on your kitchen's ambiance. Thus, such sinks can serve as a striking centerpiece in your kitchen, redefining the look while ensuring practicality.
Retro-inspired Round White Sink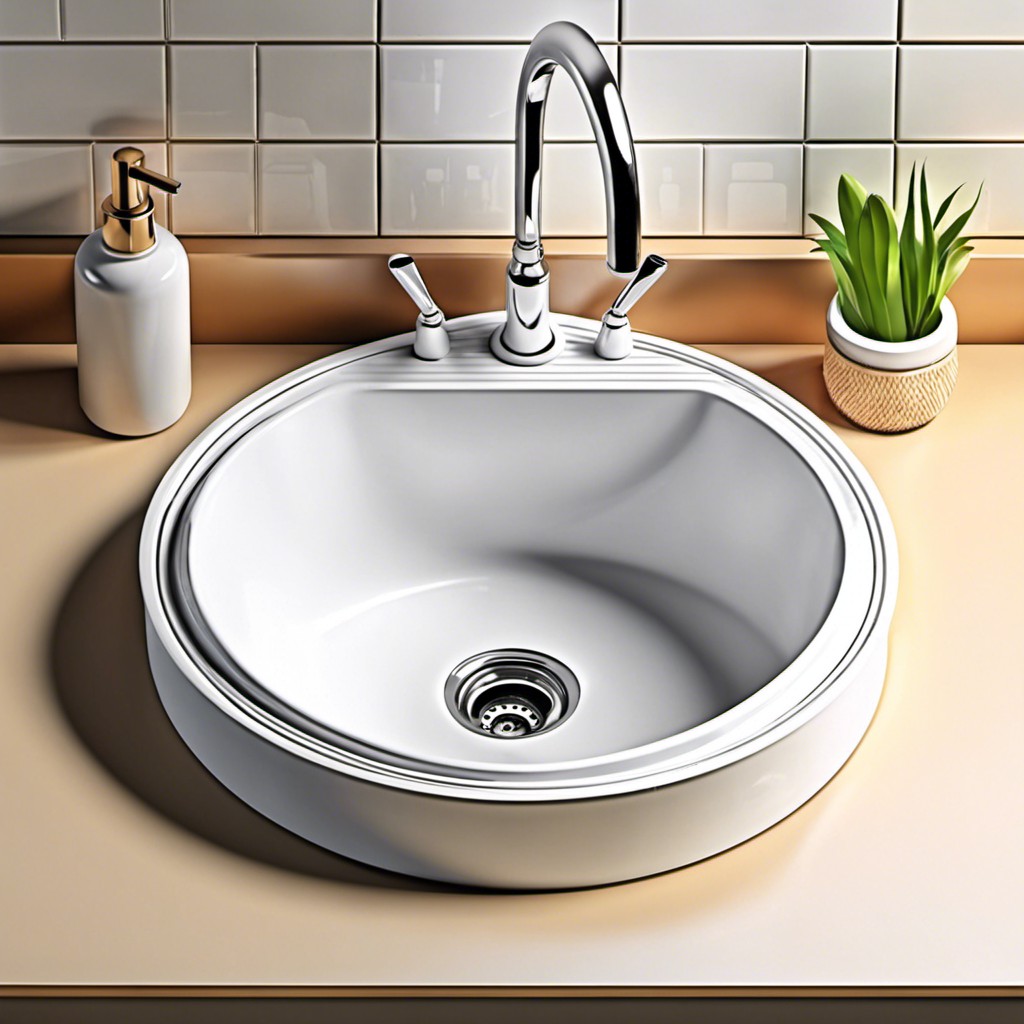 Embracing the charm of yesteryears, these classic beauties are a nod to the past while providing all the convenience of modern design. Round sinks, a staple in kitchens of the mid-20th century, are making a strong comeback thanks to their ability to blend with a variety of styles and decor.
Crafted usually from ceramic or porcelain, their finish remains glossy over years of use, making them a preferred choice for their vintage yet sophisticated appeal.
They strike the right balance between functionality and style with their compact structure and easy-to-clean curved surfaces. While traditionally embedded in your countertop, opting for a wall-mounted style can further highlight their uniqueness.
Details such as an old-fashioned faucet in brass, brushed nickel, or chrome can serve as a smashing add-on to heighten the retro ambiance.
Finally, their inherent simplistic design ensures they easily adapt to any color or theme in your kitchen, making them a smart and engaging choice for white kitchen sink ideas.
White Sink With Drainboard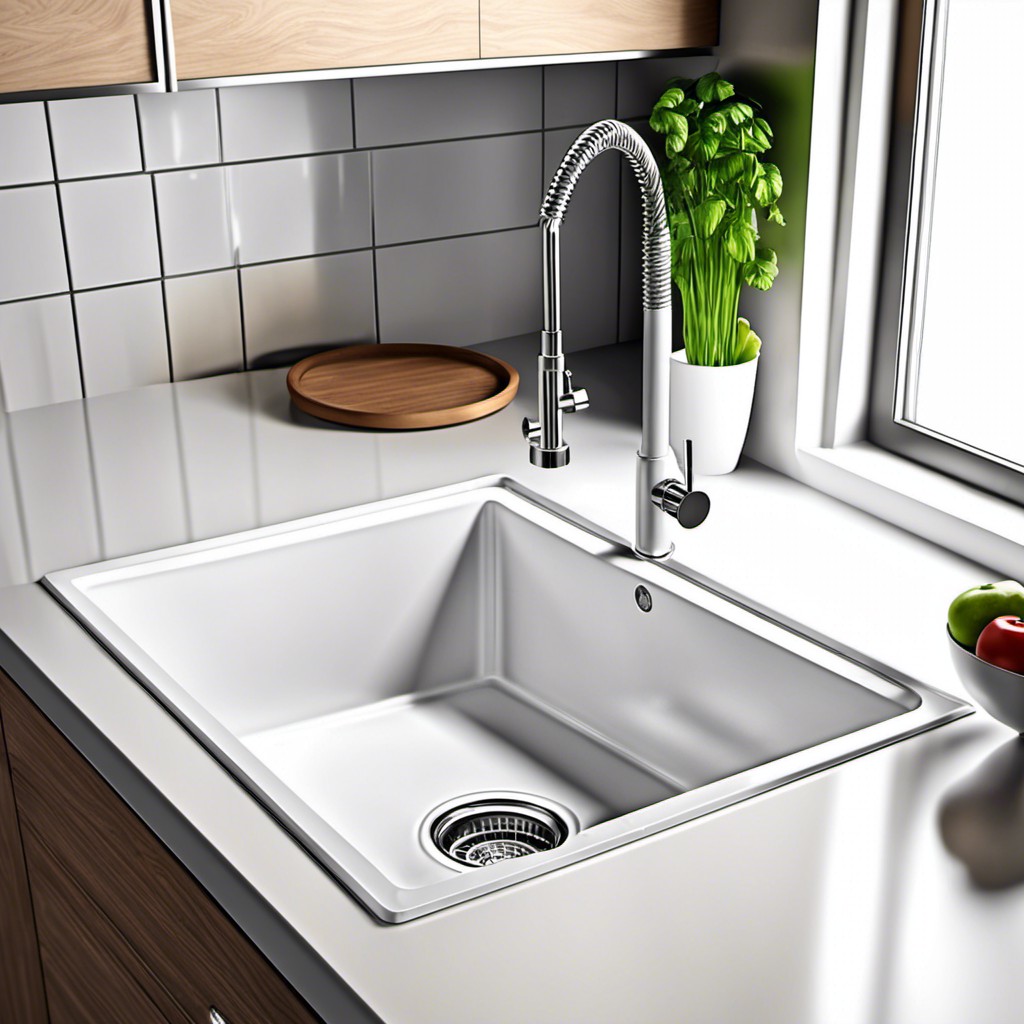 Requiring functionality as well as fashion? A drainboard could unquestionably be the answer. Often built into the design of the sink itself, a drainboard provides an integrated space for wet dishes. It pitches slightly towards the basin making it easy for the water to drain right back into the sink, preventing water buildup on countertops and keeping the kitchen area neat and dry.
The seamless look offers a streamlined, clean aesthetic. Moreover, a white sink with a drainboard brings a touch of classic appeal without sacrificing practical modern-day demands. Whether it's washing, rinsing or draining, every task becomes orderly.
Suitable for busy kitchens as well as compact spaces where dish racks are cumbersome. Easy to clean, highly functional, and visually pleasing – an ideal choice for practicality and style.
Marble-like White Quartz Sink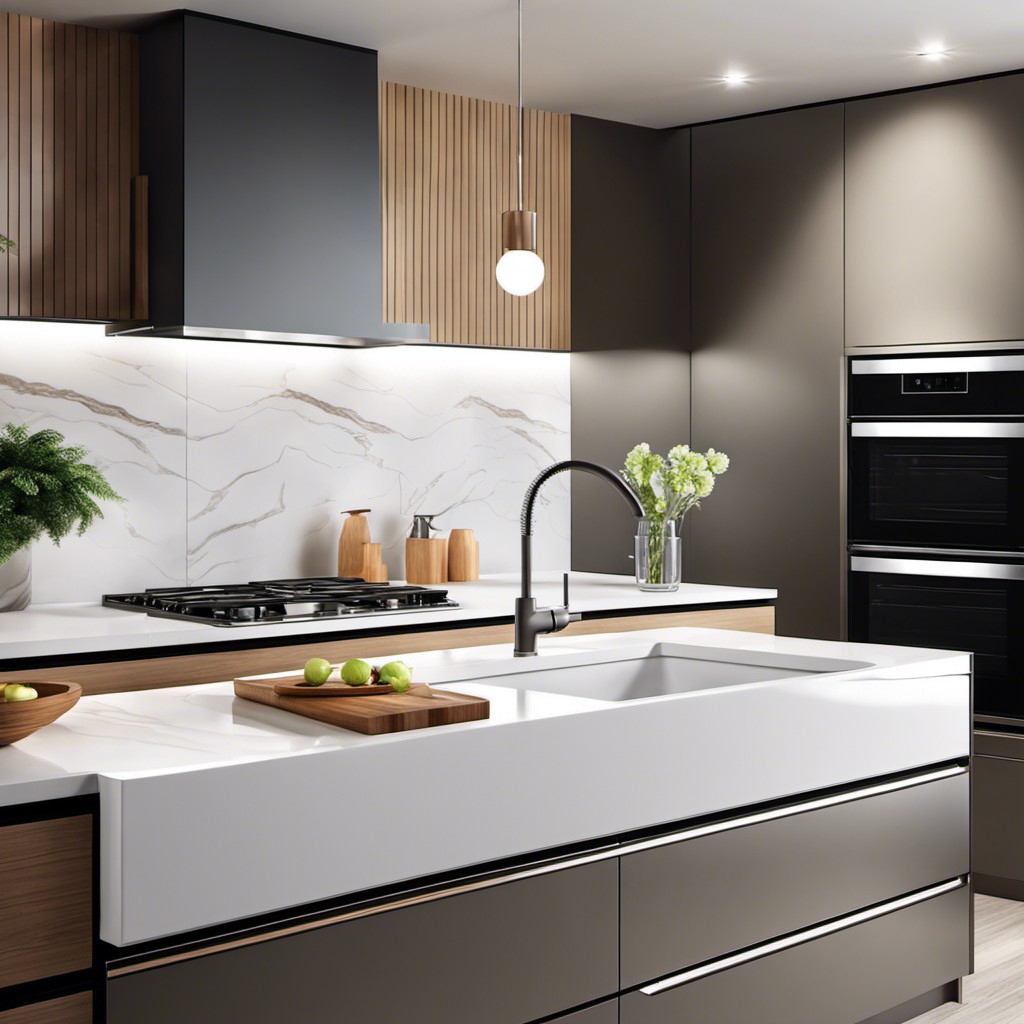 Notably distinctive, the marble-like white quartz sink offers the luxurious aesthetic of marble without the high maintenance. Resistant to scratches and stains, it's a practical yet stylish choice for a busy kitchen.
This sink type is commonly associated with high durability, making it an ideal long-term investment. The sophisticated veining patterns and tones of quartz provide an opulent touch to the kitchen space, easily complementing both modern and classic design themes.
For those craving the chic marble look without the usual upkeep, the quartz sink is a viable alternative.
Mix and Match White Sink With Black Faucet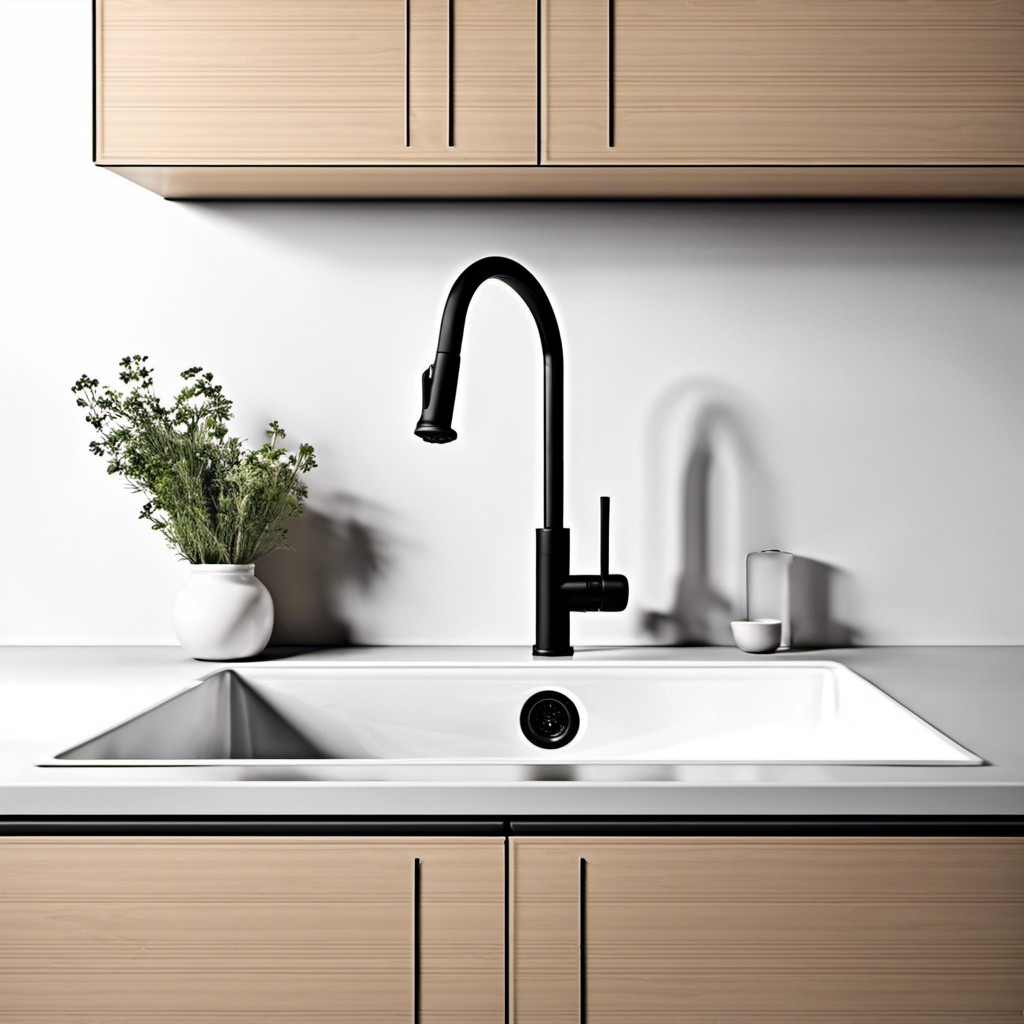 While traditional design often puts emphasis on matching colors and textures, the contemporary styling encourages bold contrasts. Here, a snowy white sink pairs uniquely with a sleek black faucet. This combo draws the eye and serves as an unexpected focal point.
Consider these points:
1. Use a black matte finish faucet for a modern, non-traditional twist.
2. Make sure the surrounding hardware matches the faucet for fluidity.
3. The black faucet won't show water spots, a practical advantage.
4. To work in harmony, try corresponding the faucet style with the kitchen theme.
5. Remember to clean and maintain both fixtures properly, to maintain their appealing look.
Choosing a black faucet for your white sink will not only make a bold style statement, but it will also bring a dimension of modern, understated elegance to your kitchen area.
Top Mount Cast Iron Kitchen Sink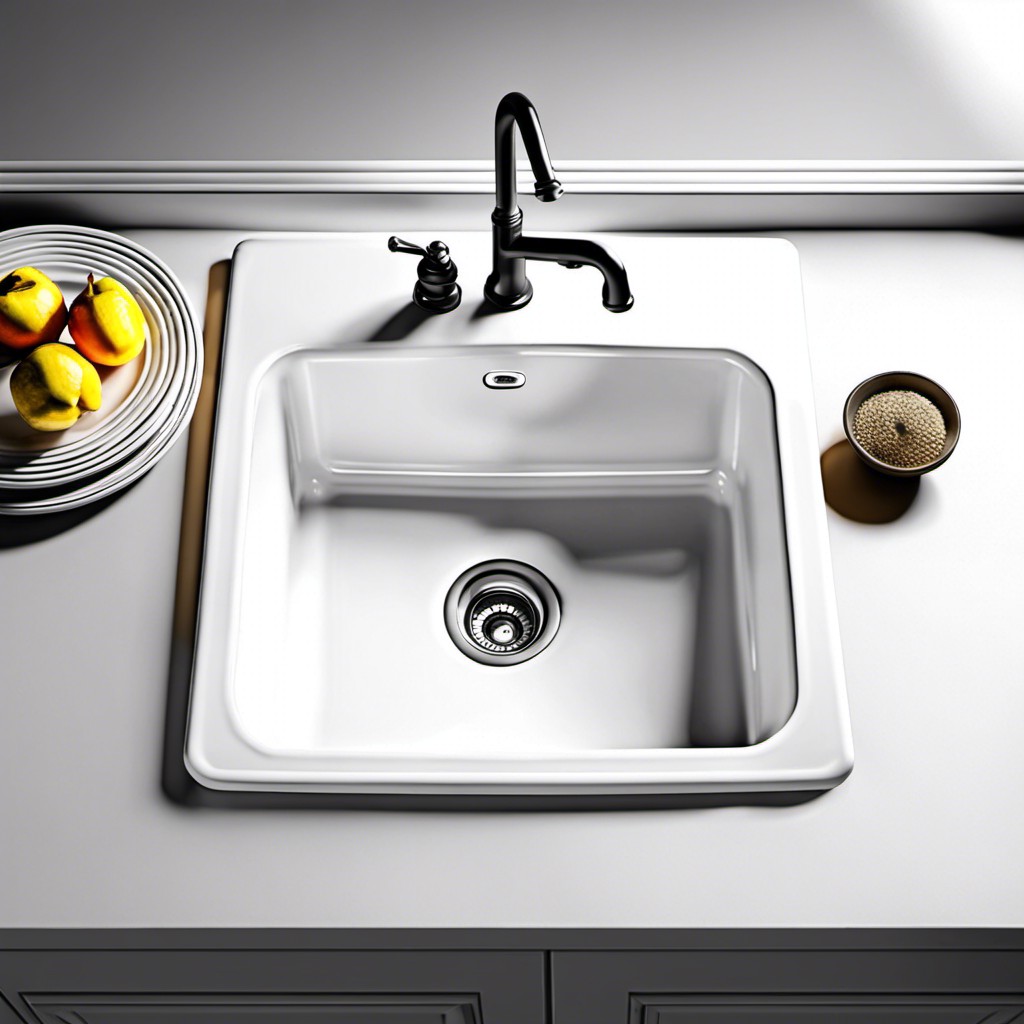 Top mount, also known as drop-in sinks, offer easy installation with a traditional appeal that blends well with a variety of kitchen styles. When created with cast iron, they bring a durable, heavily enameled finish that is resistant to chipping and provides longevity. Plus, the glossy, white finish effortlessly brightens up the kitchen area.
Some factors worth considering:
Easy to install: Drop-ins require minimal structural work. Simply cut an opening in the countertop, drop the sink in place, and secure.
Durability: Cast iron is sturdy and wear-resistant ensuring the sink can withstand heavy-duty use.
Aesthetics: The glossy finish of the enamel coating provides a refined look that complements various kitchen designs.
Noise reduction: Cast iron, being a heavier material, absorbs noise better than its stainless steel counterparts.
Maintenance: The enamel finish is easy to clean, though it may require regular care to prevent discoloration over time.
Remember, top mount cast iron sinks are heavier than other materials, so ensure that cabinets and counters can support the weight. Also, the gleaming white cast iron brings vintage charm, making it a choice worth considering for those desiring a blend of function and aesthetics in their kitchen space.
Country Style White Apron Sink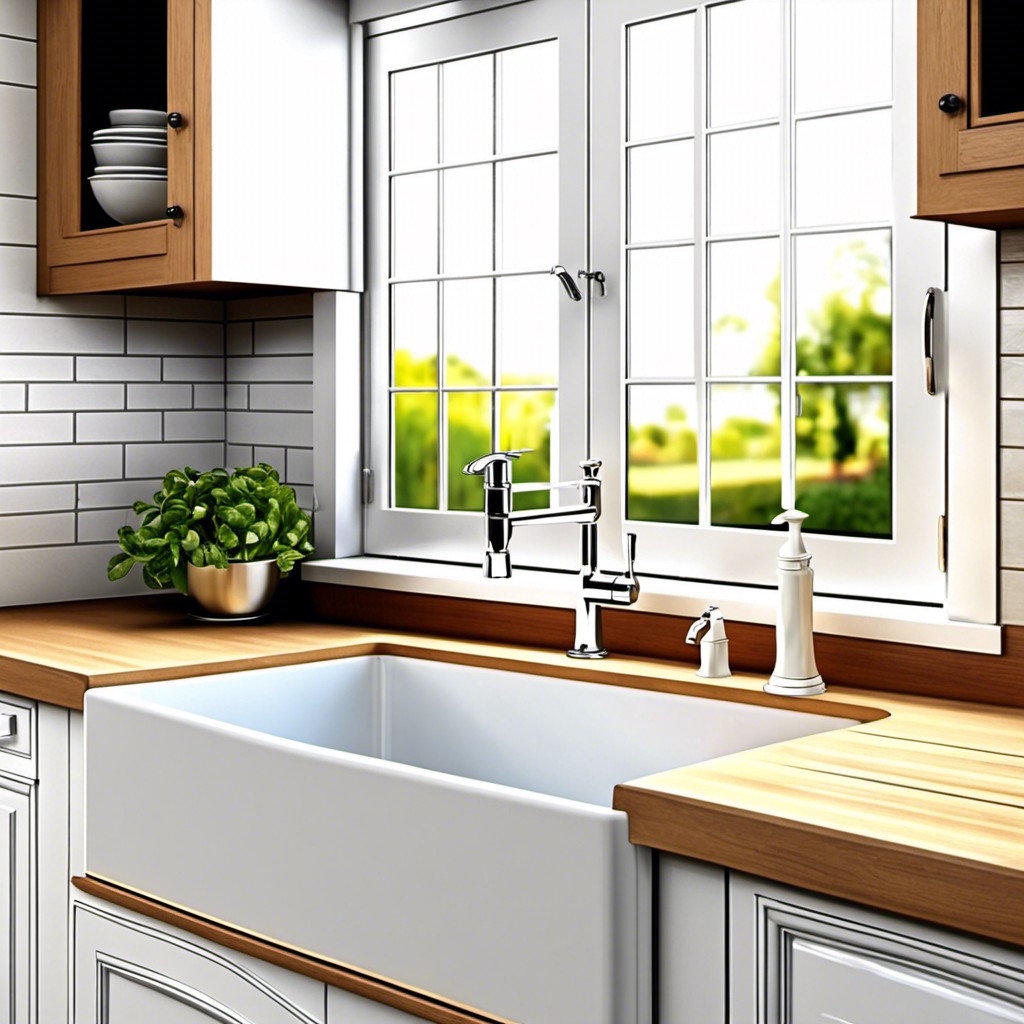 Country style white apron sinks, often referred to as farmhouse sinks, are a timeless choice that brings a certain charm to any kitchen. The prominent front panel showcases the sink and makes it a focal point, brightening up the space with its pure hue. Known for their depth and bulk, these sinks are not only aesthetically pleasing but functionally robust as well, ideal for washing large pots and pans.
They pair well with rustic or traditional designs, yet can also provide a nice contrast in a contemporary setting. To amplify their country appeal, accompany these sinks with natural materials like wood or bronze fixtures. Complementing them with open shelves filled with earthenware and vintage items can further enhance the cozy, warm atmosphere associated with country style.
Despite their classic appeal, these sinks are available in modern and adaptable options to suit the varying needs of today. Models with split bowls or built-in drainboards offer added functionality, easing your dishwashing chores. With the right selection, a country style white apron sink can provide the perfect balance of style, function, and comfort in your kitchen.
Compact Bar Sink in White for Smaller Spaces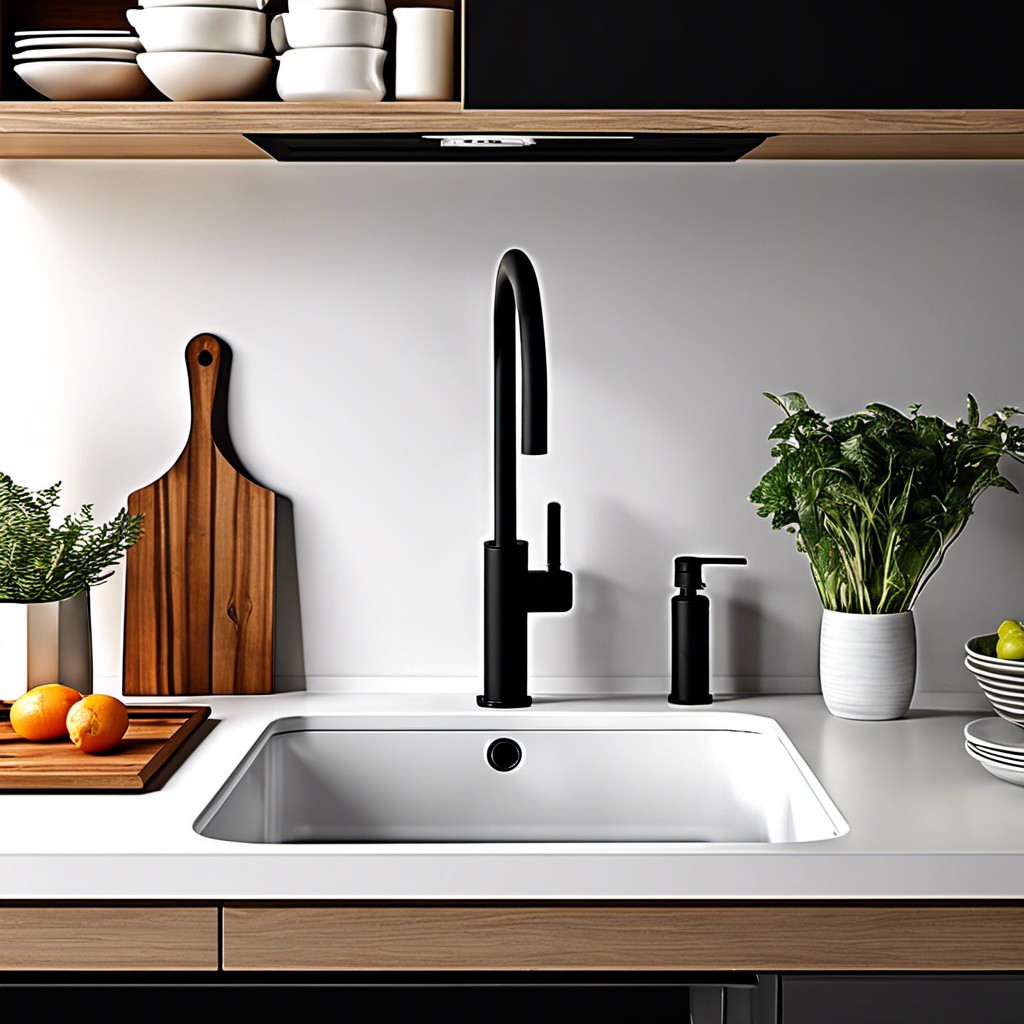 Selecting a compact bar sink for reduced kitchen spaces presents a smart solution without compromising utility. The modest dimensions cater well to fundamental tasks such as washing small utensils or prepping fruits and vegetables.
Opting for white as your color choice enhances the visual space, creating an illusion of a greater area. It also maintains the neat, clean aesthetic that's a hallmark of modern kitchens. Materials like porcelain or acrylic work well, offering durability and easy maintenance.
Incorporating smart design strategies, such as placing the sink in a corner or along a less trafficked stretch of kitchen counter, can maximize functionality. Pair it with a swivel faucet to increase flexibility or a retractable model to save space when not in use.
Remember that personal style needn't be a sacrifice for practicality. Even within a small scale, this fixture provides the opportunity to express design creativity with a selection from sleek modern pieces to vintage-inspired models.
Angular Geometric White Sink Design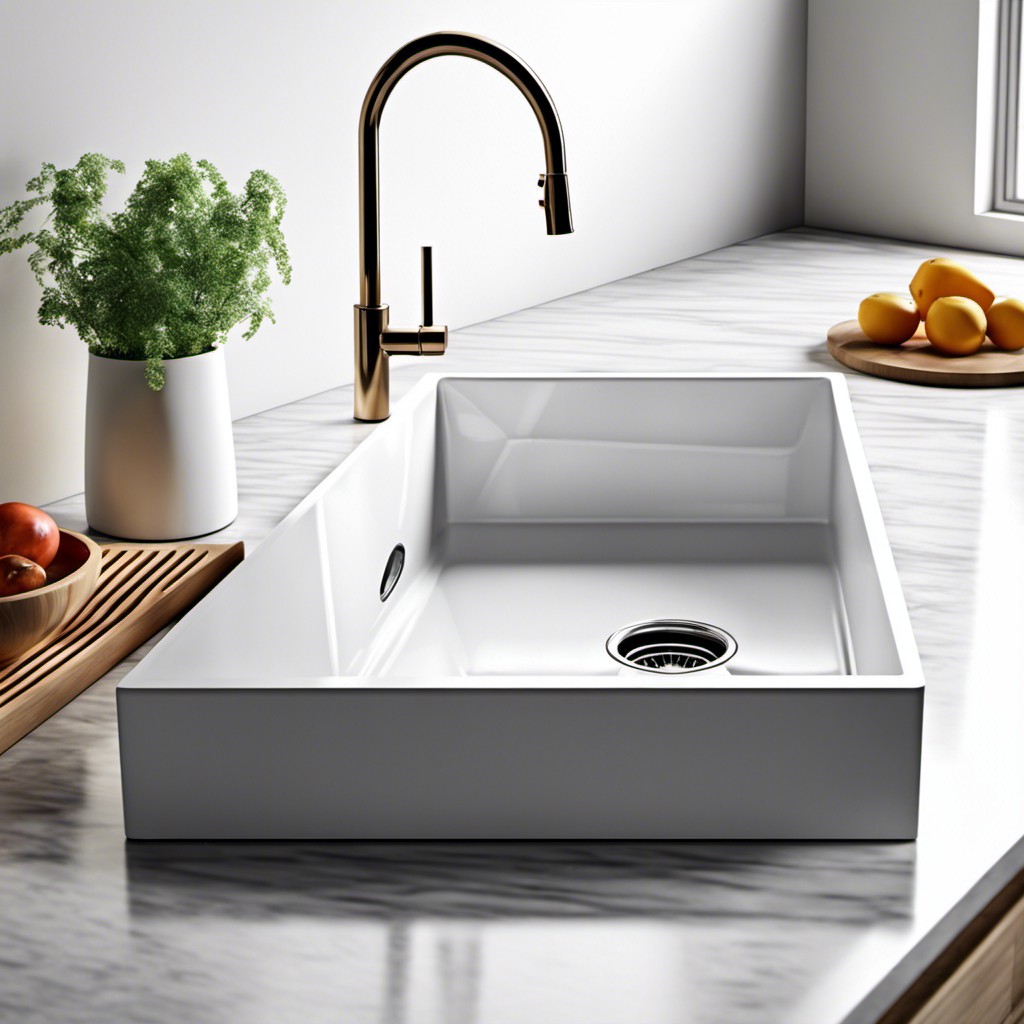 Opting for a geometric sink can be an extraordinary choice for those seeking a modern twist. The striking lines and angles can inject a fresh aesthetic into your kitchen's ambiance. When you opt for a white finish, this further enhances the sink's stylistic impact, giving it a crisp, clean look that resonates with contemporary design.
Few crucial points about this design include:
1. These sinks can come in a variety of shapes – triangle, rectangle, or even hexagon – offering a distinctive look.
2. Precision is essential here – the shapes and angles need to be meticulous to ensure the sink fits seamlessly into your kitchen layout.
3. Sink materials such as fireclay or cast iron deliver the visual impact required for these structured designs and are highly durable.
4. A geometric sink can serve as a focal point, particularly when set against simpler cabinetry or countertops.
5. Consider a single-bowl design for an uncluttered, minimalistic aesthetic, and to best highlight the unique shape.
Remember, this style demands attention, breaking the norms of standard rounded sinks and paving the way for a kitchen with unique visual interest.
Integrated White Sink and Countertop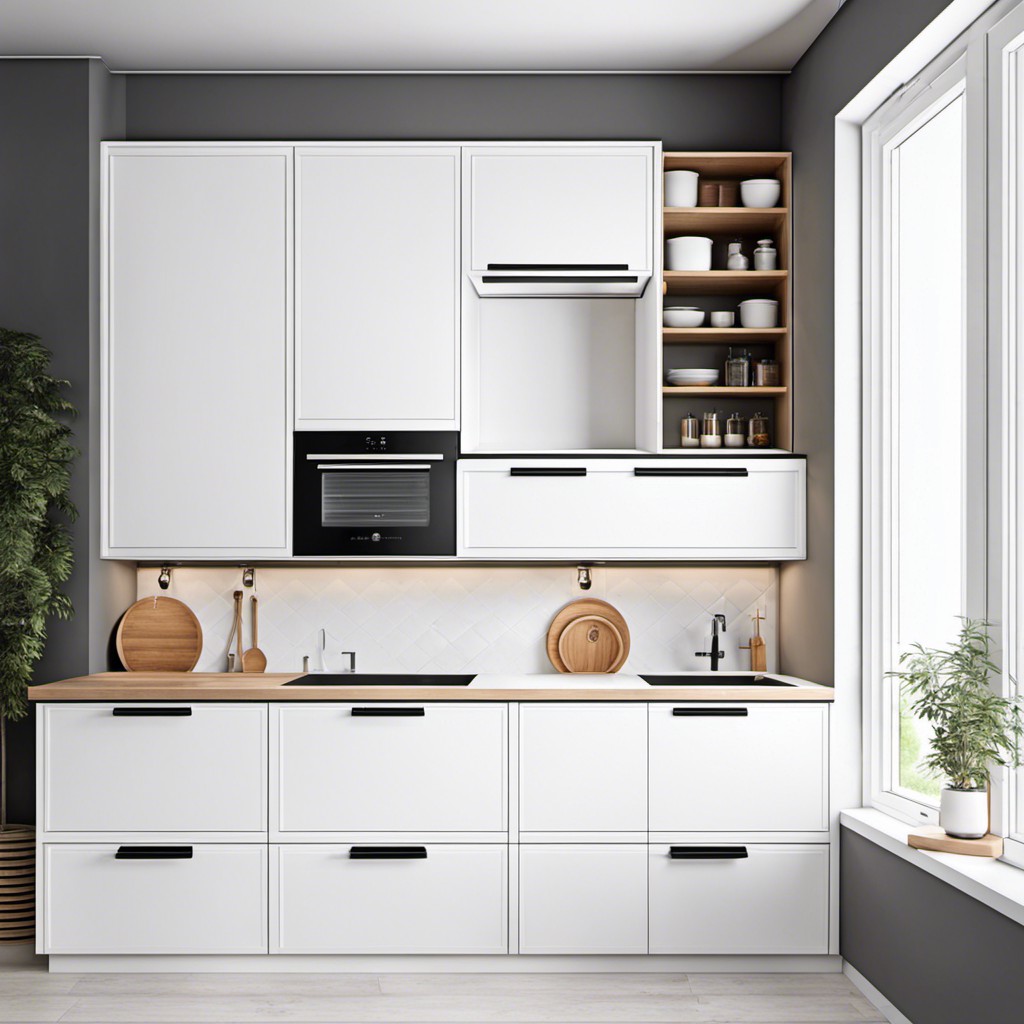 Seamlessness is the hallmark of this style, achieved by marrying the sink and countertop into a unified structure. The visual flow creates a continuous, clean line that is pleasing to the eye.
Besides aesthetic appeal, the design proffers functional advantages: no crevices to trap food particles or water to promote bacterial growth; flawless transition proves easier for cleaning.
Material options include quartz, solid surface, and corian, restaurants' favorites, exhibiting remarkable durability, resistance to heat, scratches, and stains.
Remember, color consistency throughout allows for aesthetic flexibility when it comes to your choice of kitchen hardware and fixtures.
Hand-painted White Ceramic Sink for an Artisan Touch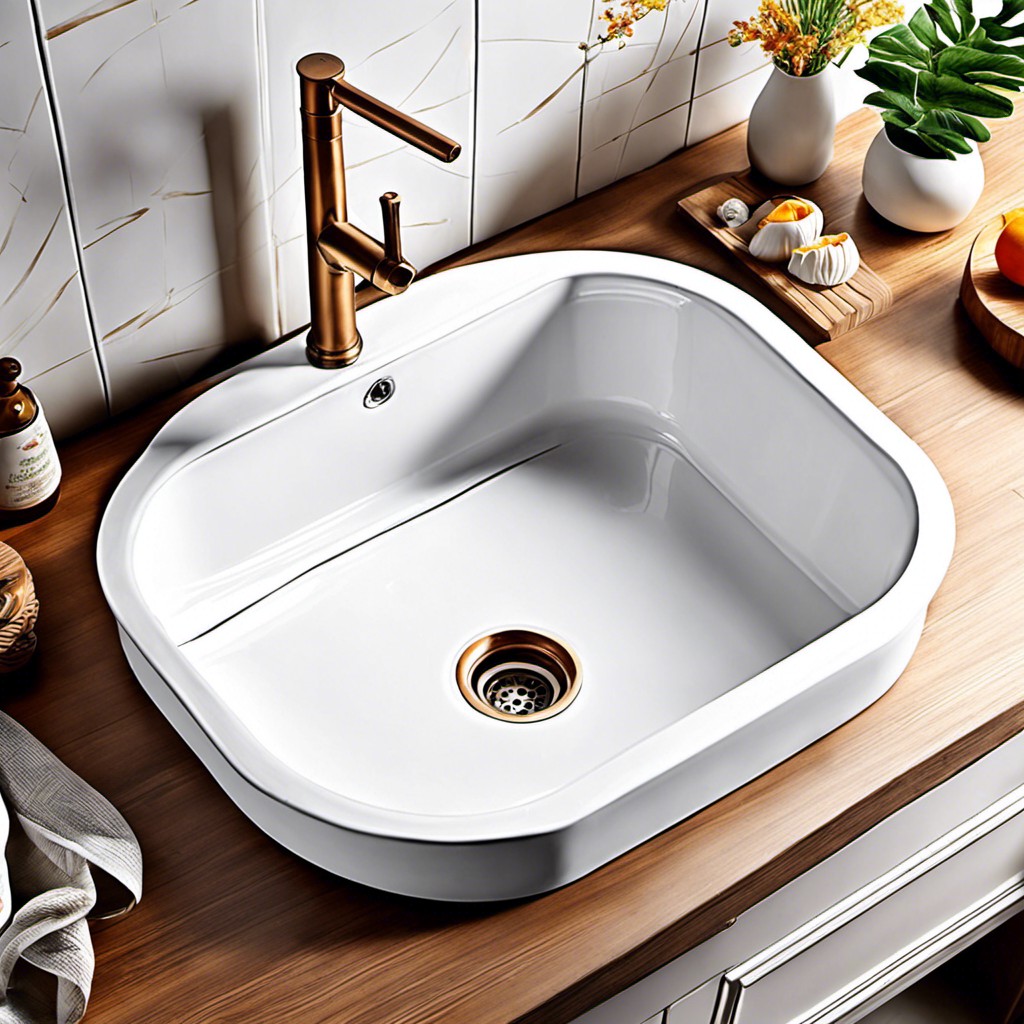 Craftsmanship shines through in these artisan creations. Each one tells a unique story, carrying a charm that's beyond beautiful. The designs can range from intricate line art to detailed floral patterns or perhaps an abstract mix, all depending on the artist's vision and your personal aesthetics.
It's more than just a sink, they are pieces of art captivating your guests' attention, providing a focal point in the kitchen. Since they're hand-painted, no two sinks will ever be identical, marking exclusivity.
However, care is key here. Due to their delicate nature, daily maintenance involves gentle cleaning with non-abrasive, mild detergents to preserve the paint's vividness.
While pricing varies from artist to artist, remember, you're investing in a piece of art that is functional too. Though a hand-painted white ceramic sink might require a scattered budget for some, it brings along individuality and a unique flair to your kitchen.
Continue reading: