Last updated on September 19, 2023
Use these ambient kitchen lighting ideas to light your kitchen with enough brightness and make it visually attractive. Read on!
What is ambient kitchen lighting anyway? This is general lighting used in a room to provide uniform illumination throughout the space. This type of lighting can be used alone or together with other forms of lighting to create layers of light, such as task lighting in the kitchen, accent lighting, and decorative lighting.
It is important to note that there are many ambient kitchen lighting design types. Here are a few ideas on how to use them.
What's Inside
Flush and Semi-flush Mount Fixtures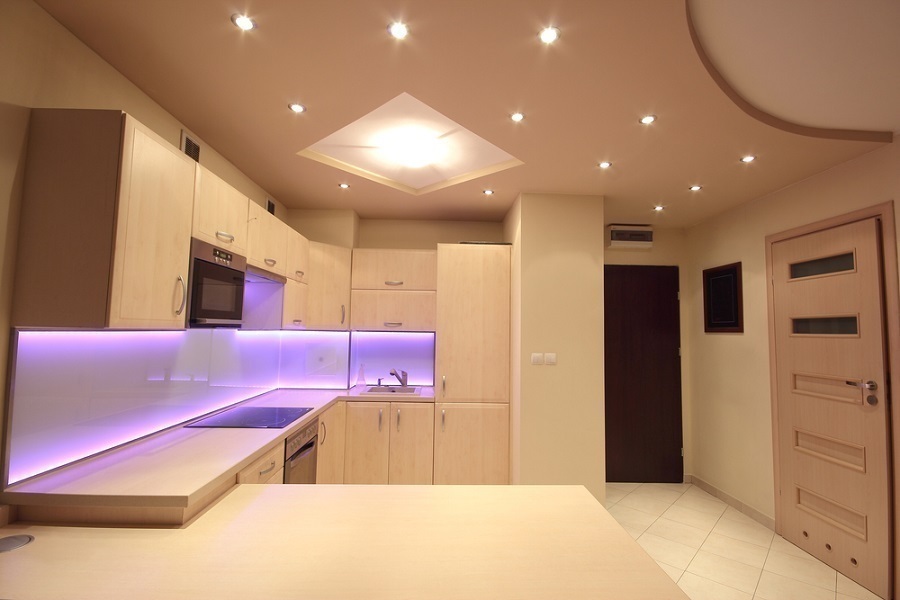 These are fixtures commonly used to illuminate the entire kitchen with overhead lighting. Ambient light is directed upwards to the ceiling and reflected downwards to illuminate the entire space evenly. Flush and semi-flush mount fixtures are not only stylish but also efficient in illuminating space evenly.
Recessed Lighting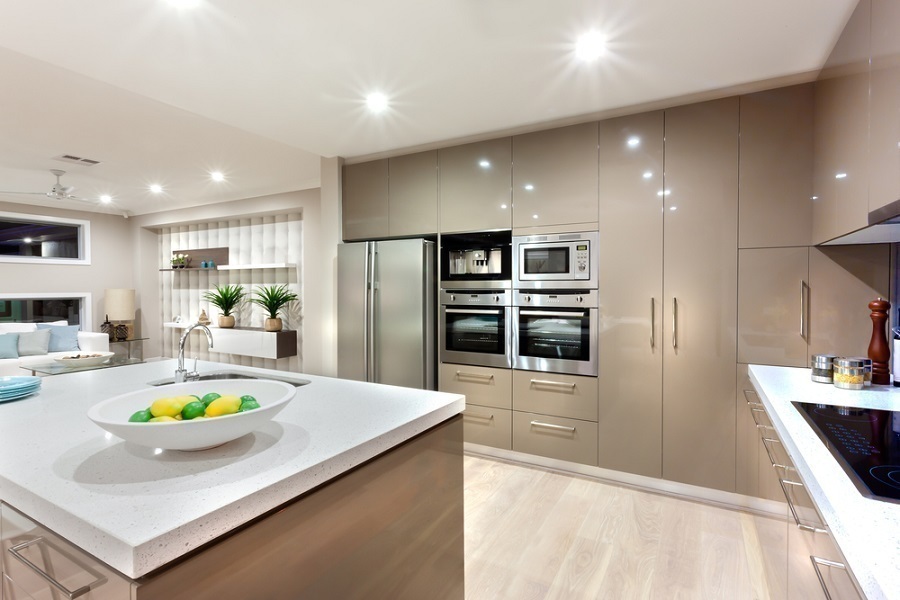 Recessed lighting fixtures or puck lights are usually installed in the ceiling. They are popular in kitchens as they give a contemporary, modern, or industrial appearance to a kitchen. However, they can also improve the appearance of rustic kitchens. Recessed lights usually illuminate broad areas, but several recessed light sources may be needed to illuminate the entire kitchen completely. A pendant can also be used as a decorative fixture.
Pendant Lighting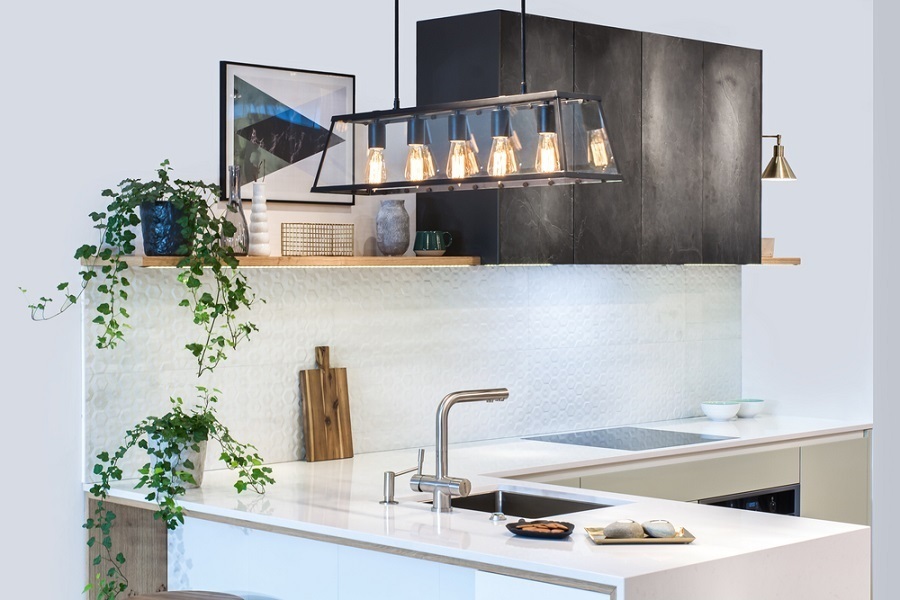 As the name suggests, Pendant lights are usually hung from the ceiling on a stylish chain or reinforced insulated electrical wire. While some pendants cast light downwards, others cast light upwards (glass pendant lights). They are great for lighting kitchen islands and dining areas. A wide range of pendant light designs exist in the market, so consumers have almost unlimited options.
Under Cabinet Lights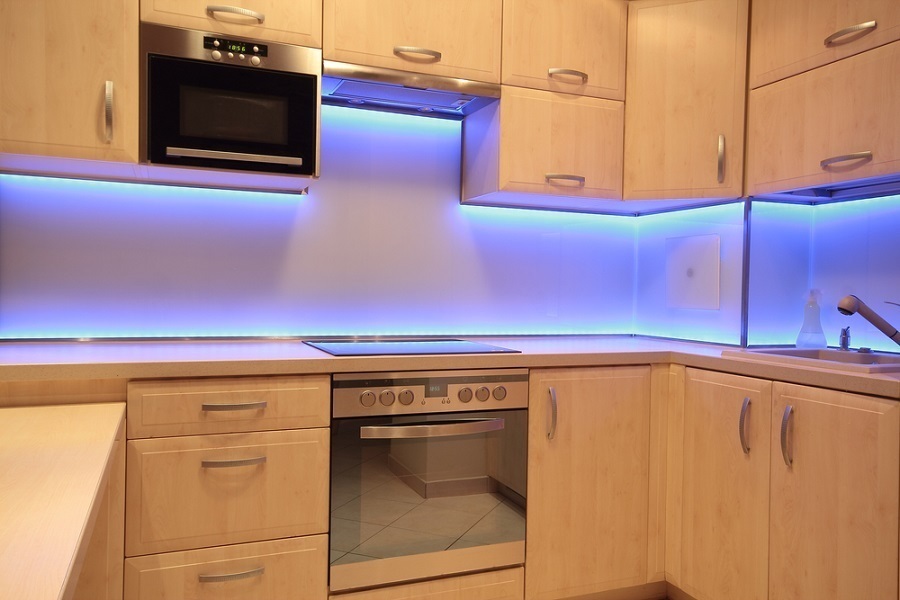 This is a form of task lighting targeted at illuminating a particular section of the kitchen. LED light strips are the most common for this application. When installed under overhead cabinets, these lights can illuminate the kitchen sink, countertop, and other work areas in the kitchen. They help to ensure a particular work area is well-illuminated for enhanced visibility during food preparation or when cleaning utensils after meals, among other things. Aside from LED light strips, other lighting options for cabinet light application are also available.
LED Strip Lights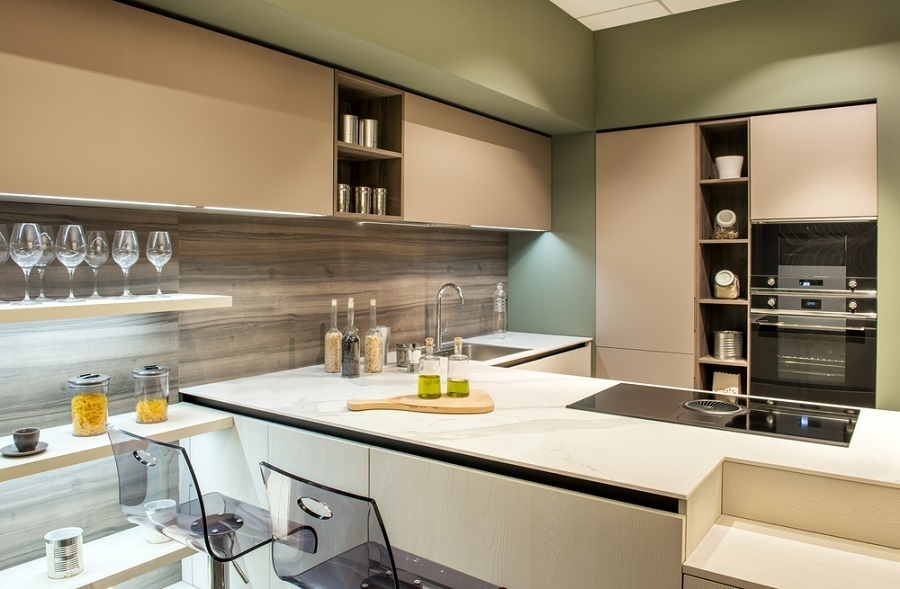 These are great light fixtures for task-lighting purposes. If you need more light in any part of the house, you can easily install LED strip lights to ensure enhanced visibility in that part of the house. LED strip lights are great for under the cabinet lighting. They can also be mounted along with the toe kick space under floor-mounted cabinets.
If you want to provide improved illumination on your bookshelf, you can install LED light strips under the shelves. Other places where these lighting fixtures can be installed include; under the bed and behind TV and computer screens. The beauty of LED strip lights is that they are easy to install, energy-efficient, and easy to hide.
Dimmer Switches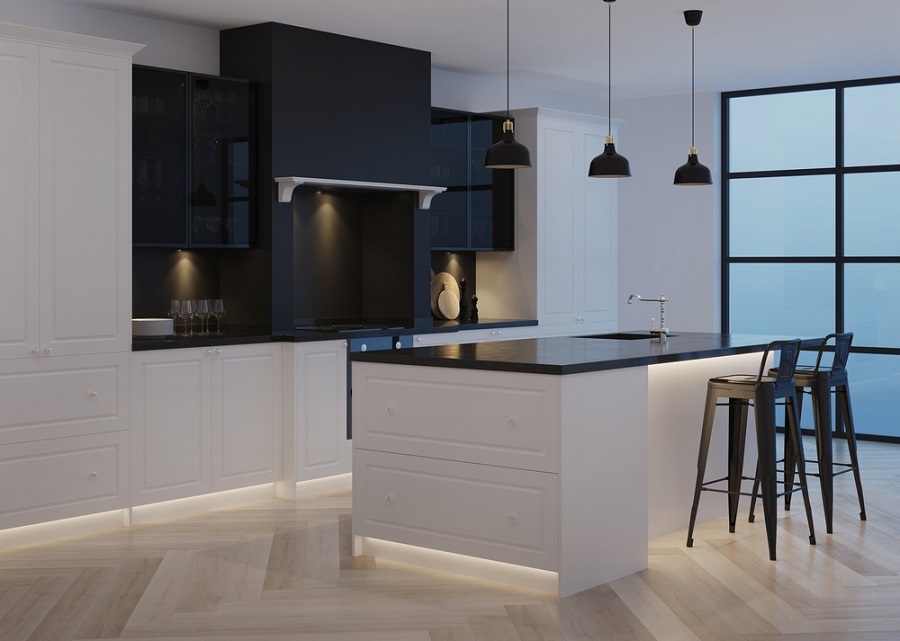 These are special switches used to alter the level of illumination in the kitchen. For instance, plenty of light is needed when preparing food in the kitchen. Once the food is served, the dimmer switch can be used to dim the lights in the kitchen to set the right mood. By providing soft illumination in the kitchen or dining area, the focus will be on the special meal on the table and enjoying that meal. Once dinner is over, the dimmer switch can be turned off to restore bright light to the kitchen. These switches are used to alter the illumination level in the kitchen at different times.
Mood Lighting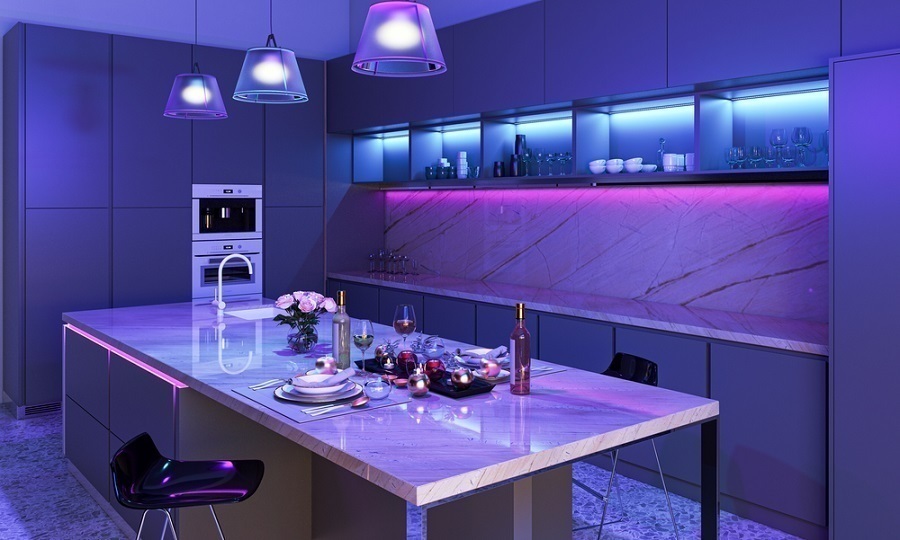 This particular type of lighting is used to create a temporary feeling or state of mind. Bars and clubs typically feature mood lighting to make clients feel happy and get into the mood of having fun. The same concept can be used in kitchen lighting. Research has shown that men are more alert and productive when working in settings with cool colors, while the opposite is true for women as they work well in environments with warmer colors. Depending on who will be spending a lot of time in the kitchen, choose the suitable light sources to set the right mood in the kitchen.
Focus on the Ceiling Ambient Lighting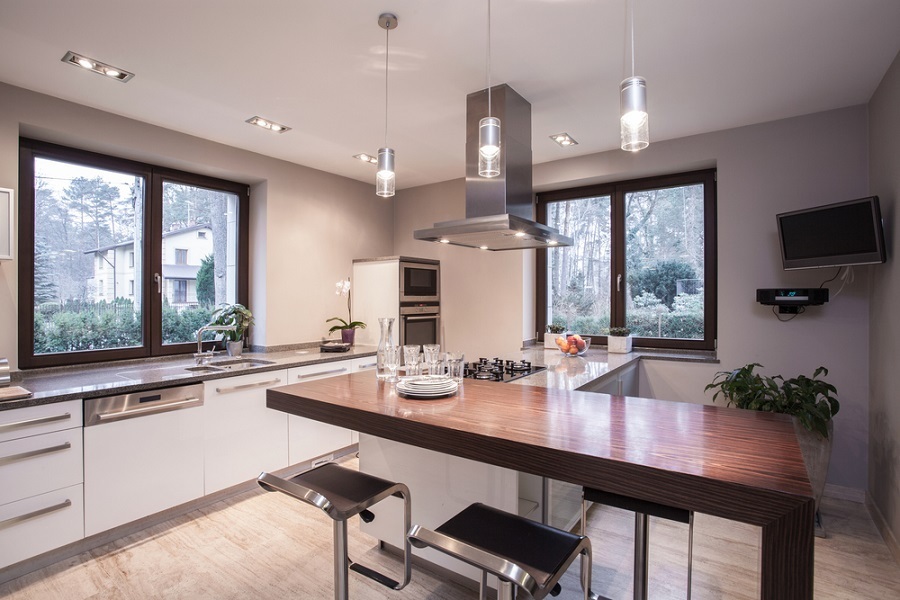 A light fixture can either be installed on the wall or the ceiling. The latter offers the most efficient way of providing ambient kitchen lighting because lighting fixtures can be placed centrally in a room to provide even illumination throughout the room. Recessed lighting, flush lighting, semi-flush lighting, and chandeliers can all be mounted on the ceiling to provide ambient lighting.
When selecting the right light source for kitchen ambient lighting, the total floor area in the kitchen must be considered to ensure the right amount of light is provided per square foot of space.
Over the Island Task vs. Ambient Lighting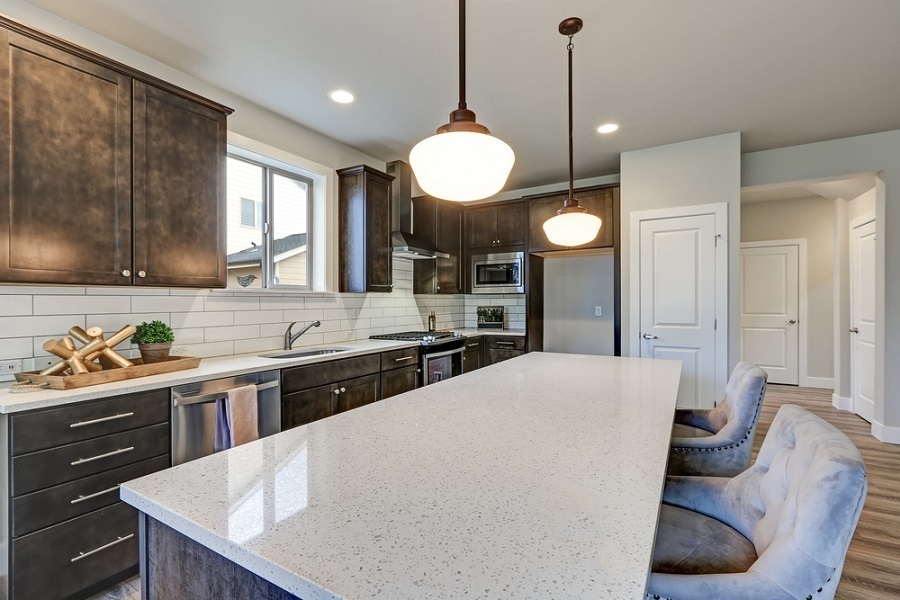 While ambient lighting provides illumination evenly across the kitchen, center island task lighting provides additional illumination over the island countertops. Recessed lights can be installed directly over the island to illuminate the work area. Pendant lights are also an excellent choice for kitchen island task lighting.
Color Temperature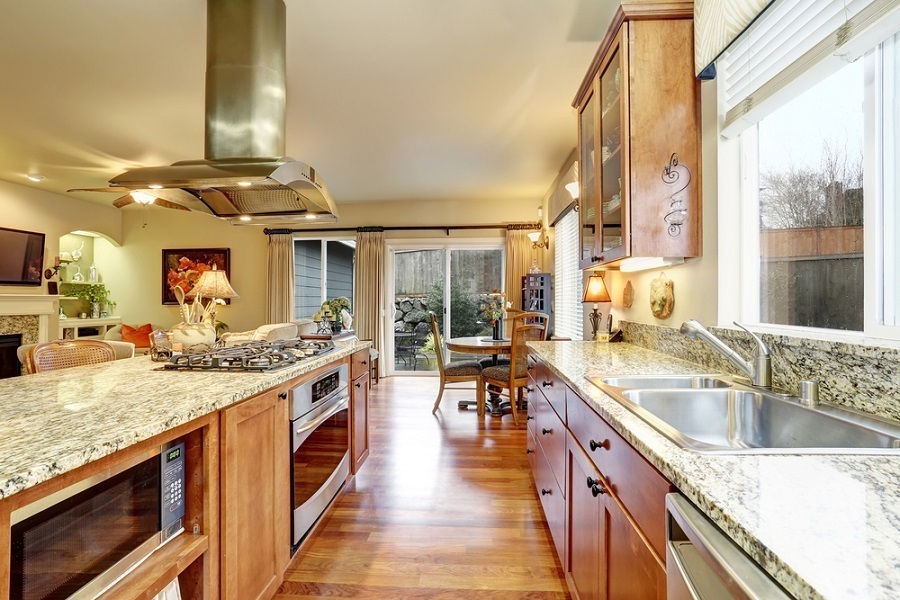 The color of light used to illuminate a given room can significantly impact the mood and decor of that space. Warmer color light bulbs are desirable in the living room and bedroom, while cooler colors can be used for ambient kitchen lighting. However, the dining area can have warmer colors to set the mood during dinner. A dimmer switch can be used to dim the background light and focus on the dining area.
FAQ
How do you build ambient lighting in a kitchen?
To create proper ambient lighting in a kitchen, you can choose a few types of fixtures and calculate how much light the bulbs need to create. Choose the bulbs accordingly.
What are the main two types of ambient kitchen lighting?
The two most popular types of ambient kitchen lighting are recessed and pendant lights. Using these fixtures, you can create the ambient lighting you need.
How do I add ambient lights?
Use one or more types of ambient lights to install in your kitchen. These can be mounted on the ceiling, the walls, or cabinets.
Continue reading: