Last updated on October 6, 2023
You can make your kitchen brighter by adding more and brighter lights and allowing light to reflect and spread across the room.
The first thought that comes to mind when trying to make a kitchen brighter is, of course, adding more lights. Replacing light bulbs for more wattage is another way. But before you do that, there are several things you can do to make the most of your current kitchen lighting.
You'll be surprised at how many ways you can increase the brightness in your kitchen. You always have to keep two things in mind — light can be reflected from light and shiny surfaces, and dark surfaces absorb it.
Here are several ideas to try.
What's Inside
Add Recessed Lighting in Strategic Areas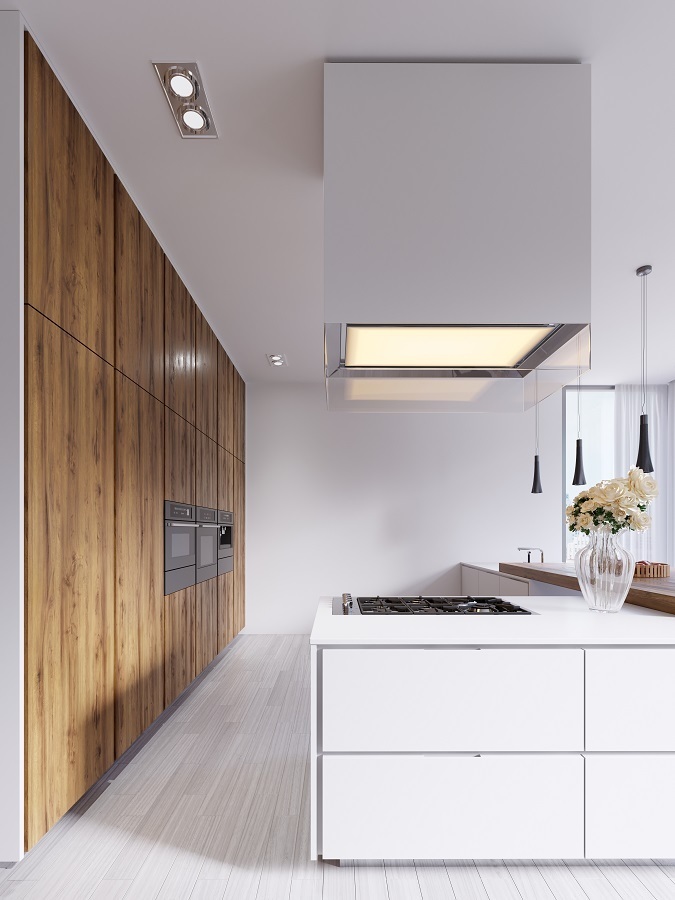 Strategically placed on the ceiling, these kitchen lights save space and provide a sense of openness. They provide illumination from overhead and are remarkable at providing lighting to particular areas. Typically, they illuminate areas like ranges, countertops, and other work areas.
Glass or Metallic Backsplash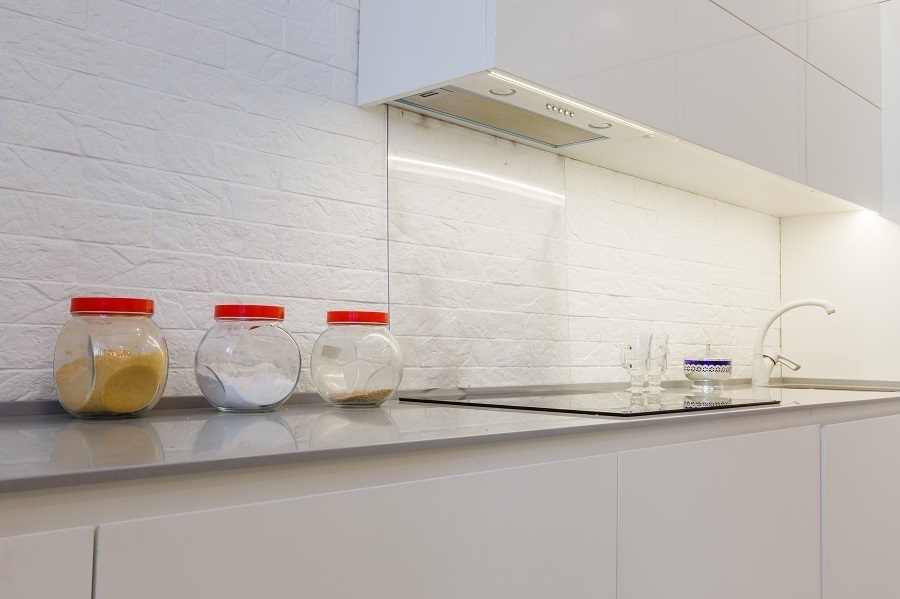 In addition to being the most hygienic solution and adding a modern urban chic vibe to the kitchen, glass or metallic backsplash has a radiance effect that reflects light better than any other material. Additionally, it makes the space appear larger than it actually is and way brighter. Peel and stick tiles make creating reflective backsplashes easier.
Metallic Accent Pieces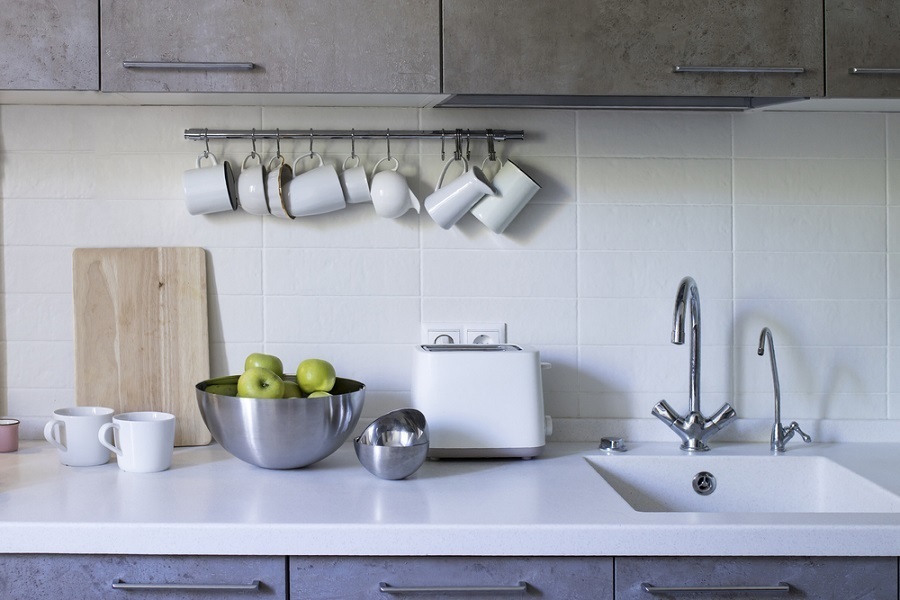 Metallic accent pieces come in various materials, including silver, gold, chrome, copper, and brass. You can choose one mental or a combination of metals to make the kitchen brighter. The natural, earthy tones and sheen of these pieces reflect light and bring brightness to the space.
Mirrors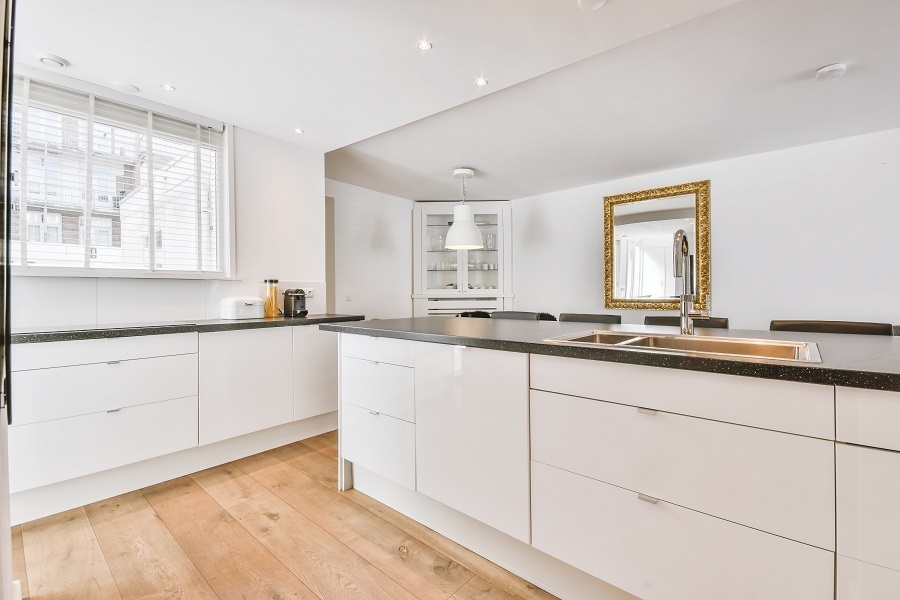 Mounting a mirror in a room is among the oldest tricks in the book to form an illusion of more light and create a brighter space. If you want to brighten up the heart of your home, the time is now to mount a mirror in the kitchen strategically.
Avoid Dark Cabinets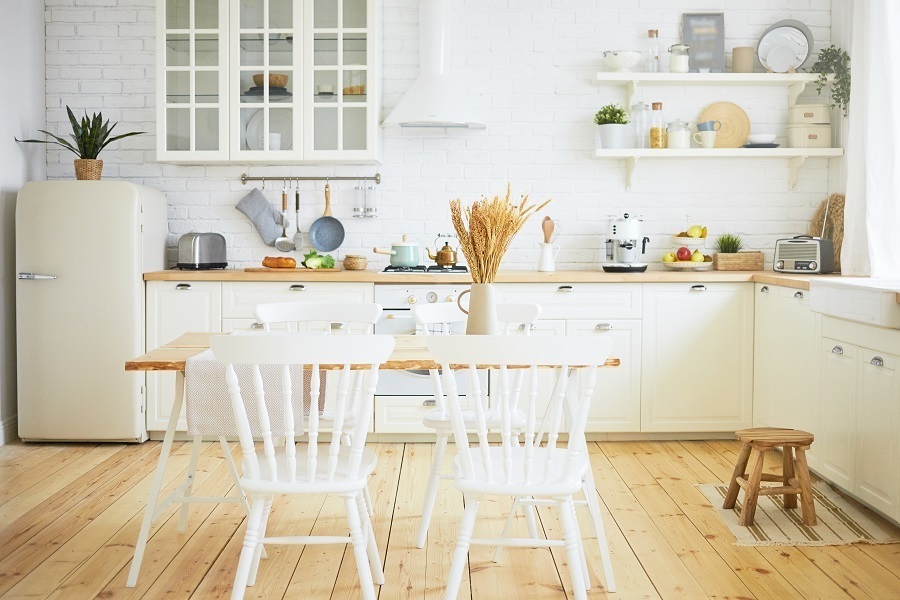 Most homeowners who update their kitchen tend to paint the cabinetry white or in other light shades. After having dark cabinets, this is an avenue for bringing light into the space and brightening up the kitchen.
Whitewash Paint the Kitchen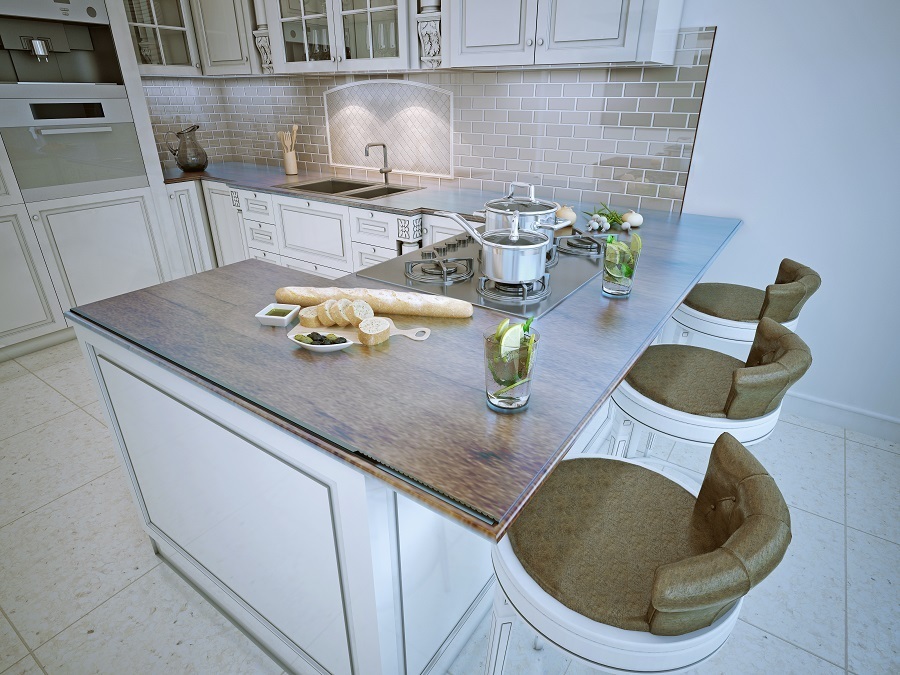 Using neutral and bright paints can genuinely help to make the kitchen brighter. More specifically, the look of a dark kitchen can be dramatically changed by kitchen cabinets in a whitewashed wood finish, transforming the space into a light and welcoming oasis.
What Colors Brighten a Kitchen?
Where kitchens are concerned, gray, green, white, blue, yellow, and red shine, all of these shades can make a significant difference in the space, and they also help create a warm, welcoming, and overall brighter space.
Overhead Lighting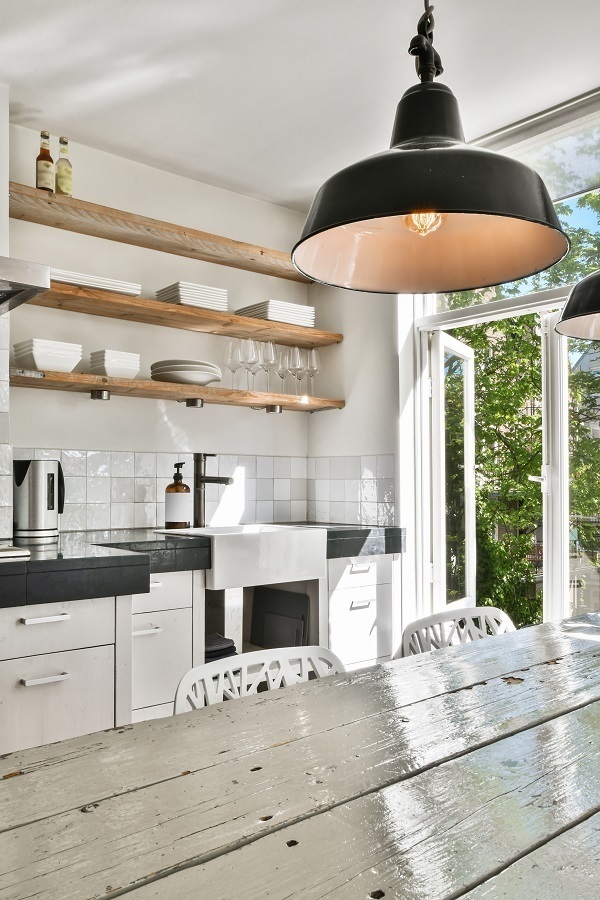 An excellent overhead lighting scheme in the kitchen requires bright and shadow-free task lighting to facilitate safe food preparation and cooking. The lighting should also highlight architectural features and provide atmospheric illumination to set the mood and make the space feel more functional.
Brighter Lamps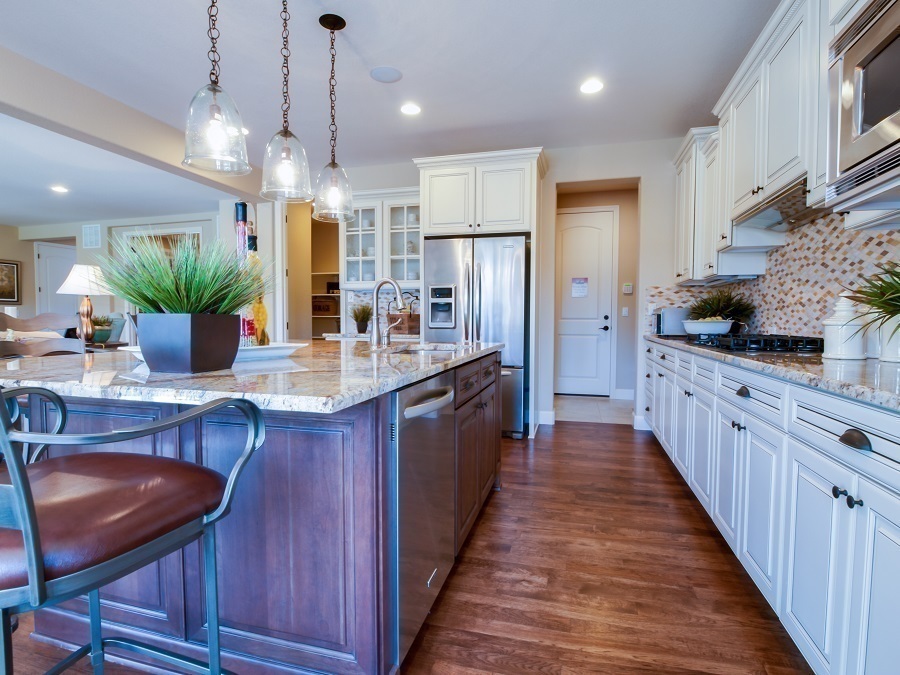 Note the wattage on the light bulbs currently being used. They are not bright enough if they are 60 watts or below. For the kitchen, experts recommend that light bulbs be between 80 and 100 watts.
Add Bright Pops of Color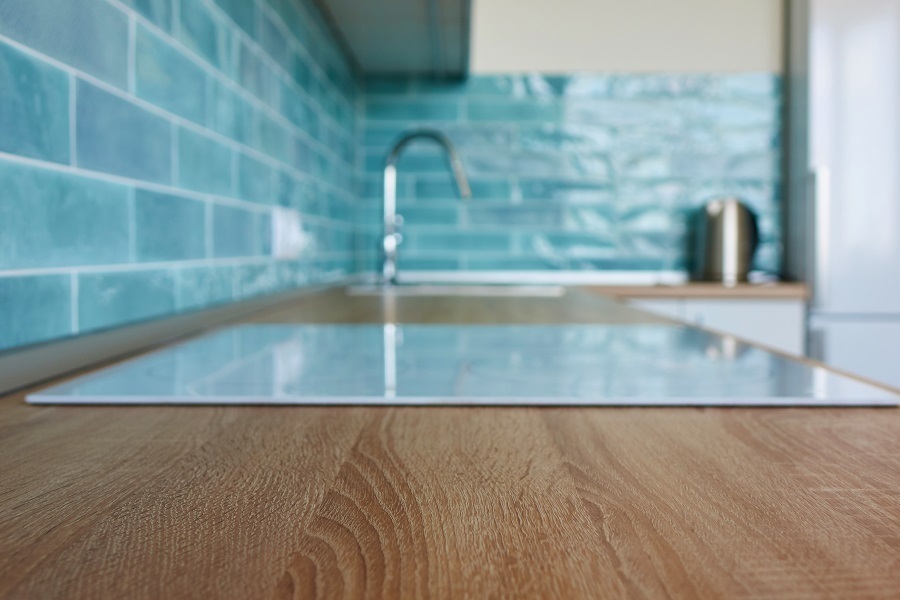 If you believe your dark kitchen is something you cannot live with anymore, go ahead and add some happy pops of color. This could mean a new paint job, a piece of art, a bright vase, a backsplash, or new lights. The visual diversion will brighten up the kitchen.
Use Open Shelving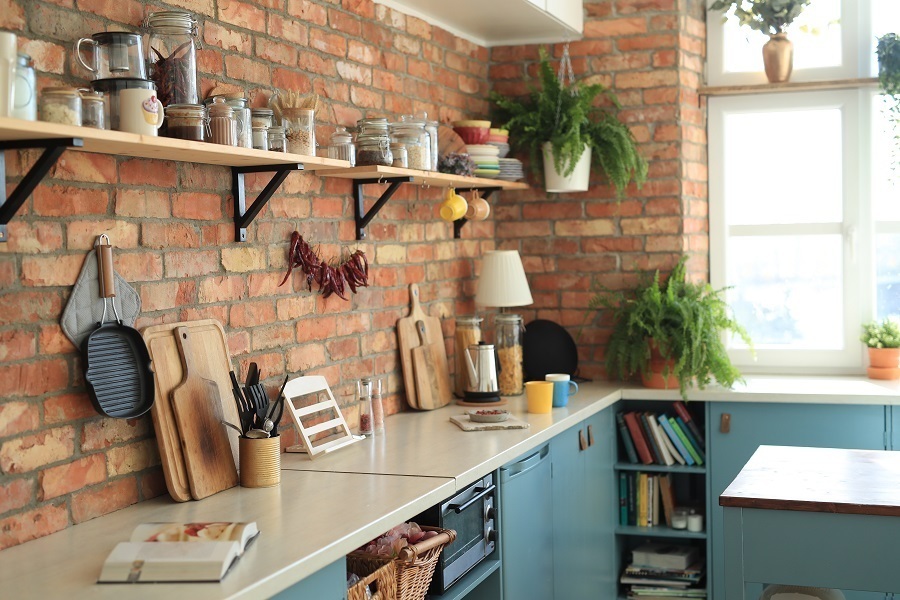 Having open shelving in your kitchen plays a huge role in boosting the feeling of space and providing valuable and stylish storage. Essentially, this type of shelving can assist in conserving space and making the kitchen appear much bigger and brighter than before.
Replace Floor in a Brighter Color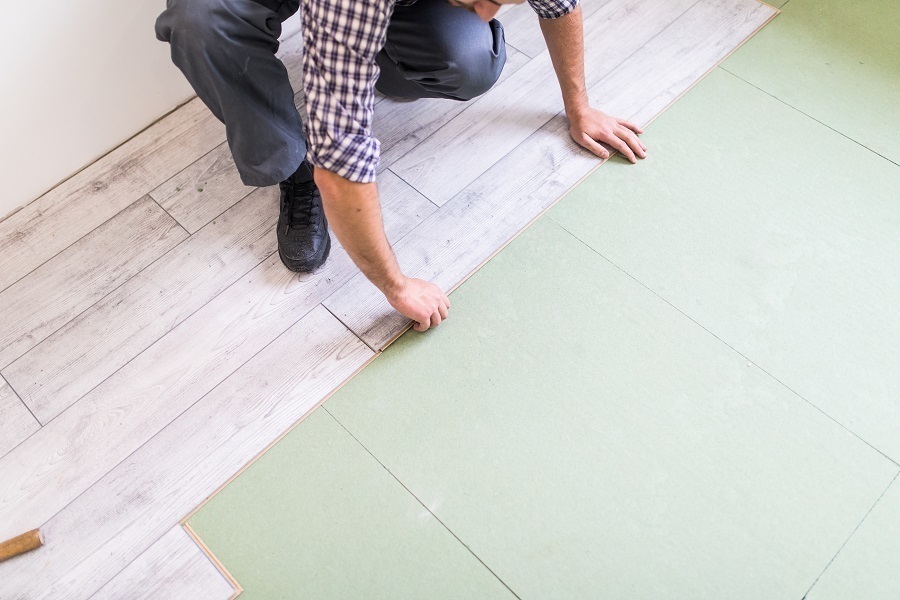 Dark and dingy flooring in the kitchen can negatively impact the brightness of the space. You can choose a color based on the type of atmosphere you would like to create. For example, mustard yellow tones help with boosting the spirits and conjuring happy thoughts. Green plays a role in significantly reducing anxiety. Bold emerald tiles are ideal for anyone who finds their food creativity levels are typically low and finds cooking chaotic.
Experiment with Light Countertops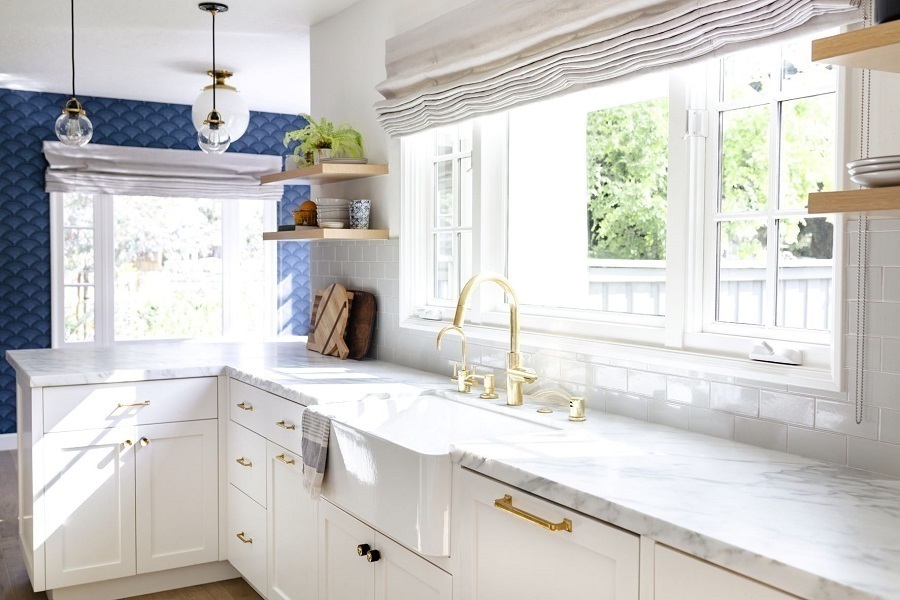 The brilliant hue of light countertops can significantly brighten the kitchen. They reflect much light, enabling the natural brightening of the space. Additionally, the color can complement any design, aesthetics, or layout.
Let in Natural Light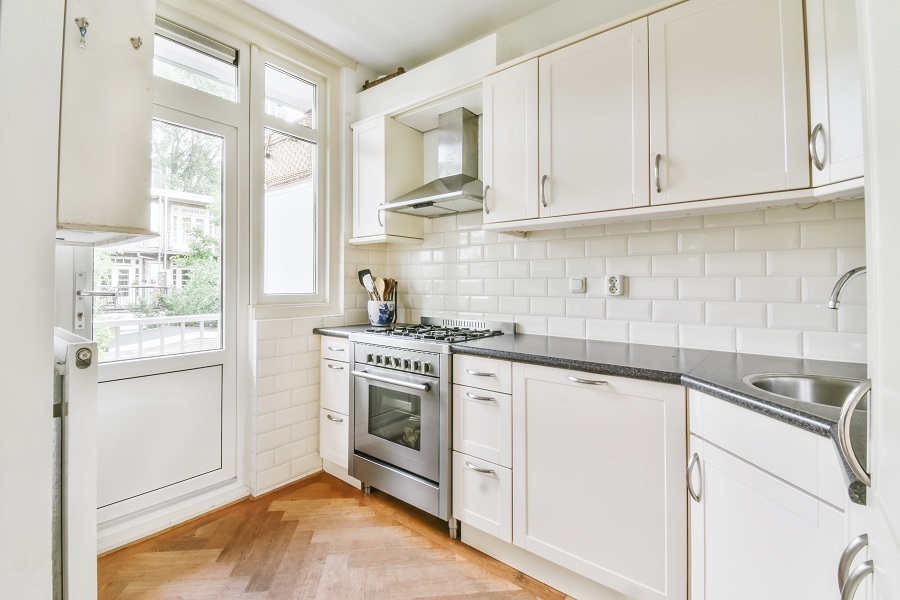 Natural sources of light play an immense role in enhancing the interior of a building. As such, letting natural light into the space is one of the best ways of making the kitchen a lighter and brighter space. This can be effectively achieved through windows, windowed doors, and skylights.
Add Lamps and Sconces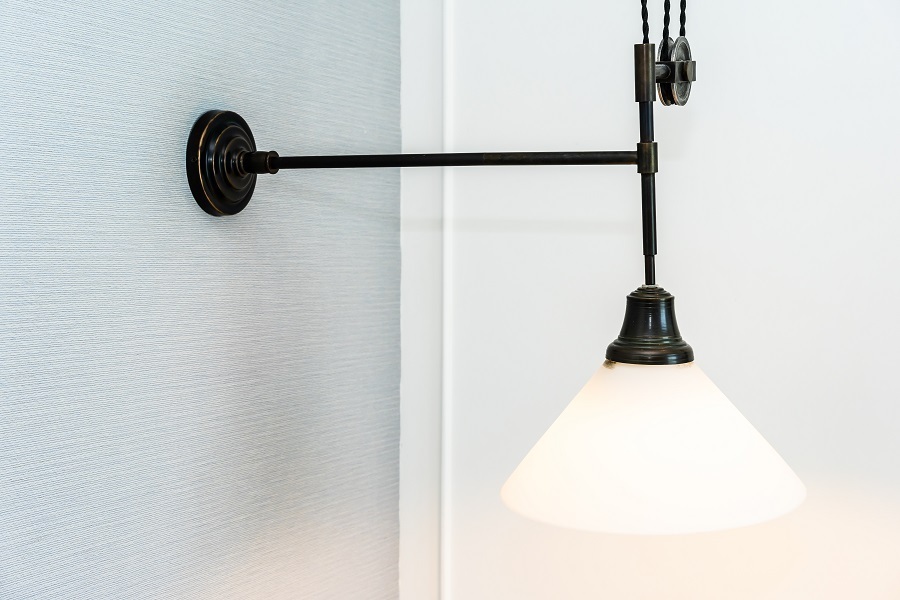 These wall lighting options are ideal for making the kitchen a bright and beautiful space to create memories with friends and family. Lamps and sconces can be used to highlight a display while simultaneously making a bold statement in the space.
Install Pendant Lights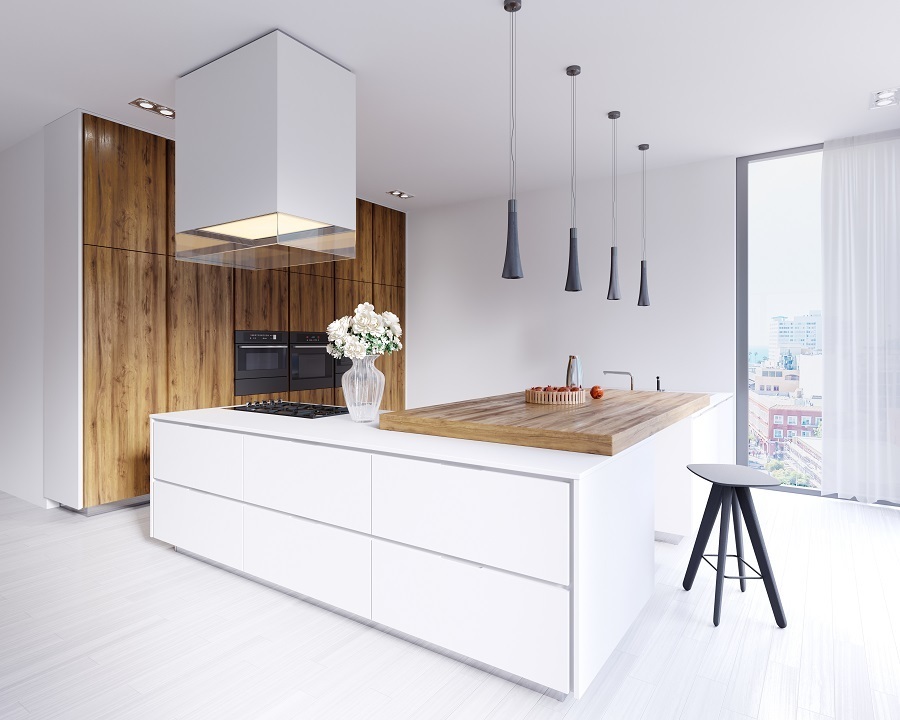 Pendant lights of all types will certainly add to the kitchen's visual appeal. They are surface lights used to bring lighting closer to particular space areas like the island where meal preparation is done.
Under Cabinet Lights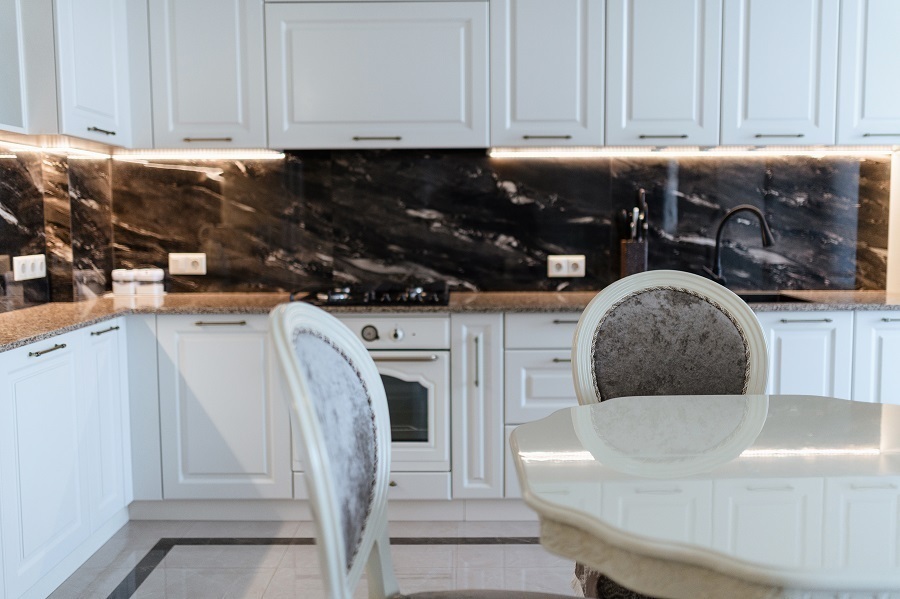 Under-cabinet lights provide an excellent method of brightening up a cramped and dark kitchen. Several options can illuminate the space; these include puck lights, LED light bars, or fluorescent light bars.
Inside Cabinet Lights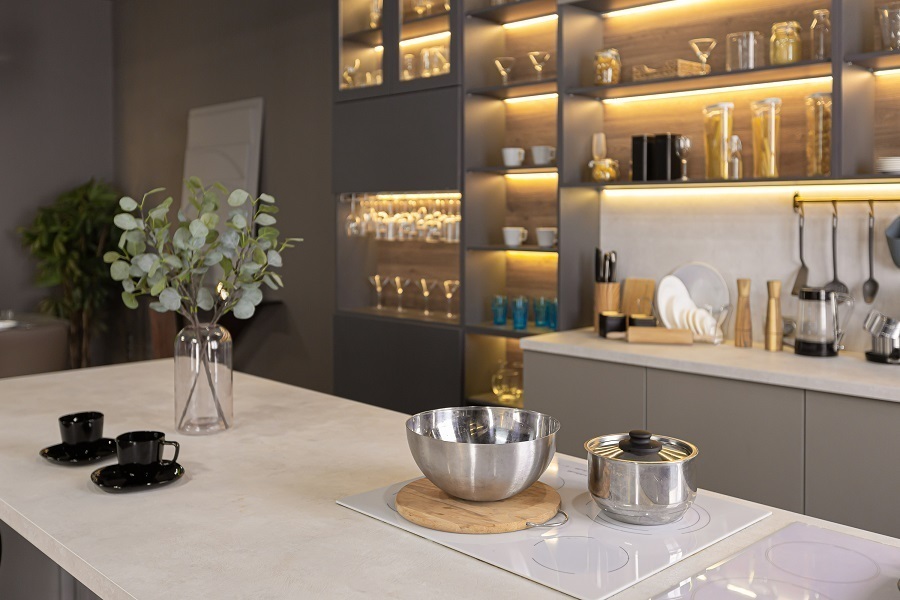 Using lights inside the cabinets is an excellent use of accent lighting that will illuminate the overall space. The effect is especially remarkable when used in cabinets with glass fronts. However, they also work well with regular cabinet doors.
Get Rid of Curtains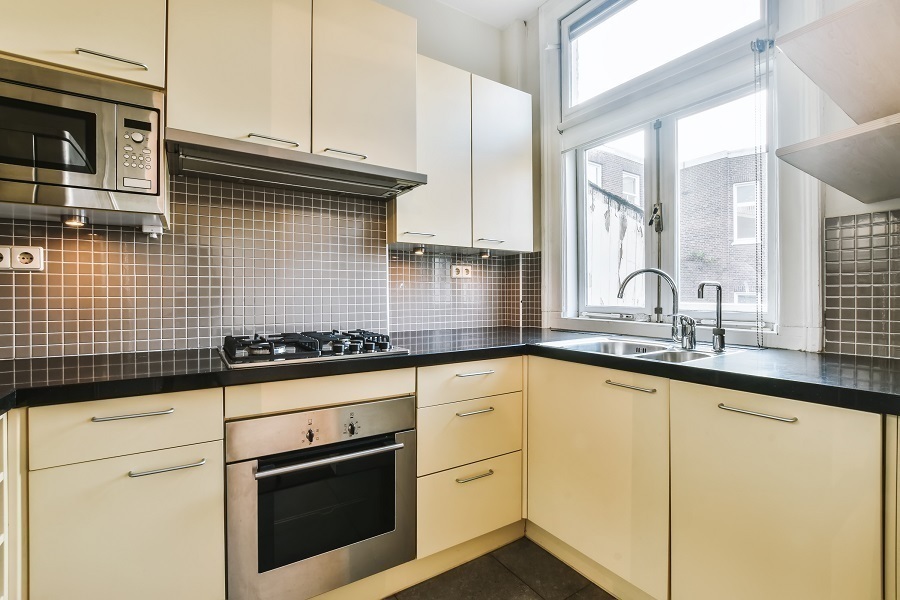 Getting rid of kitchen curtains is a great way to let natural light into the space for a lighter, brighter look and feel.
Add Accent Lights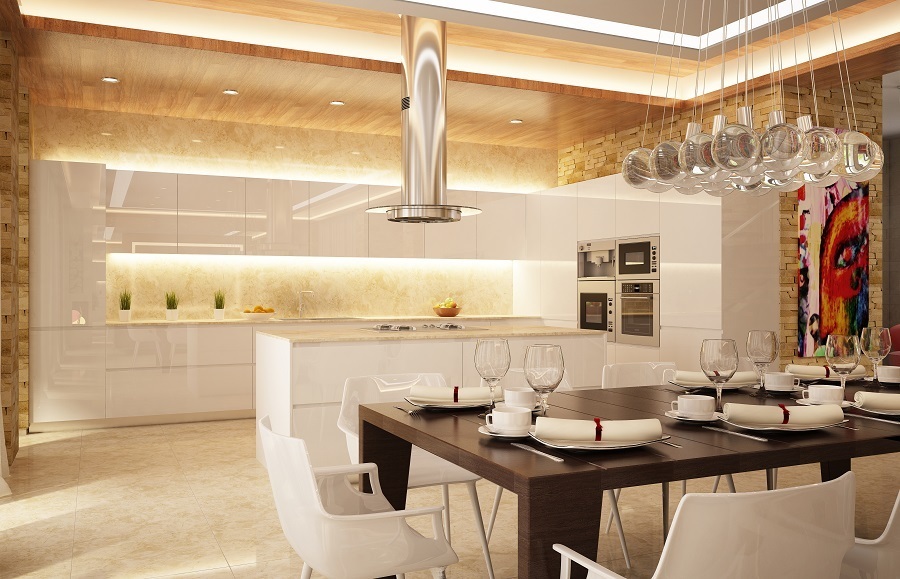 These lights highlight a particular item or place in the kitchen. They are most commonly used inside glass cabinets or hutch doors to highlight stored collectibles. This decorative type of lighting is used for its visual effects.
Clear Clutter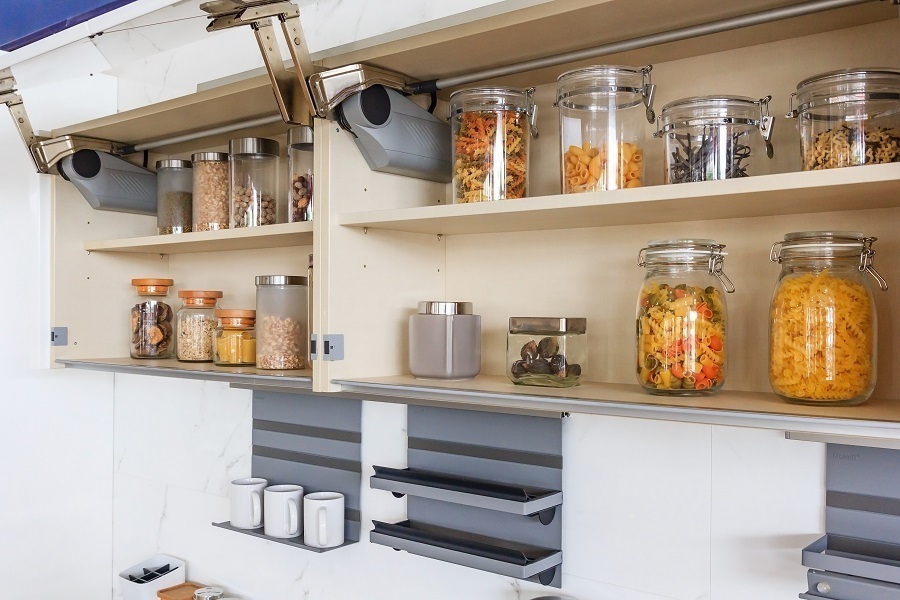 Clearing clutter is among the cheapest and easiest ways to make the kitchen brighter and bring an airy quality to the space. Give your kitchen an overhaul by removing items cluttering the countertops and unnecessary items on top of the cupboards. You can opt for some light, bright storage solutions to conceal the important yet possibly unsightly items.
FAQ
How to brighten a dark kitchen without windows?
Brighten a dark kitchen without windows by installing LED bulbs with more wattage. Use light colors and metallic hardware, and consider adding mirrors to make the most of the lighting.
How to brighten up your kitchen cabinets?
Make your kitchen cabinets shine by using white paint. It will give them a clean, fresh appearance. Also, consider adding under-cabinet lighting, as well as inside-cabinet lighting.
How to brighten up a small kitchen?
Consider painting the walls a light color, installing pendant lights, and getting rid of heavy drapes. Mirrors have a significant effect on making a small kitchen look brighter.
Continue reading: