Last updated on November 5, 2023
Exploring tasteful backsplash ideas with copper accents is essential because their warm, metallic glow adds a touch of elegance and sophistication to any kitchen or bathroom.
I thoroughly enjoyed creating these 20 unique backsplash copper accent ideas for your aesthetic kitchen space, and I truly hope they inspire you as much as they excited me in writing and designing them.
Achieving a stylish and unique kitchen design often lies in the details, and one of the ways to add a touch of elegance is with a backsplash featuring copper accents.
Copper, with its warm, lustrous hue, can bring a rich and sophisticated feel to your kitchen.
Whether you're considering a full copper backsplash or just want to incorporate copper accents into your current design, there are numerous ways to do so.
From penny tiles to copper mosaics, you can create a stunning backsplash that adds depth and character to your kitchen.
This article will explore various design ideas and provide tips on how to incorporate copper accents into your backsplash effectively.
Stay tuned to learn more about this stunning kitchen trend.
What's Inside
Copper Mosaic Tile Backsplash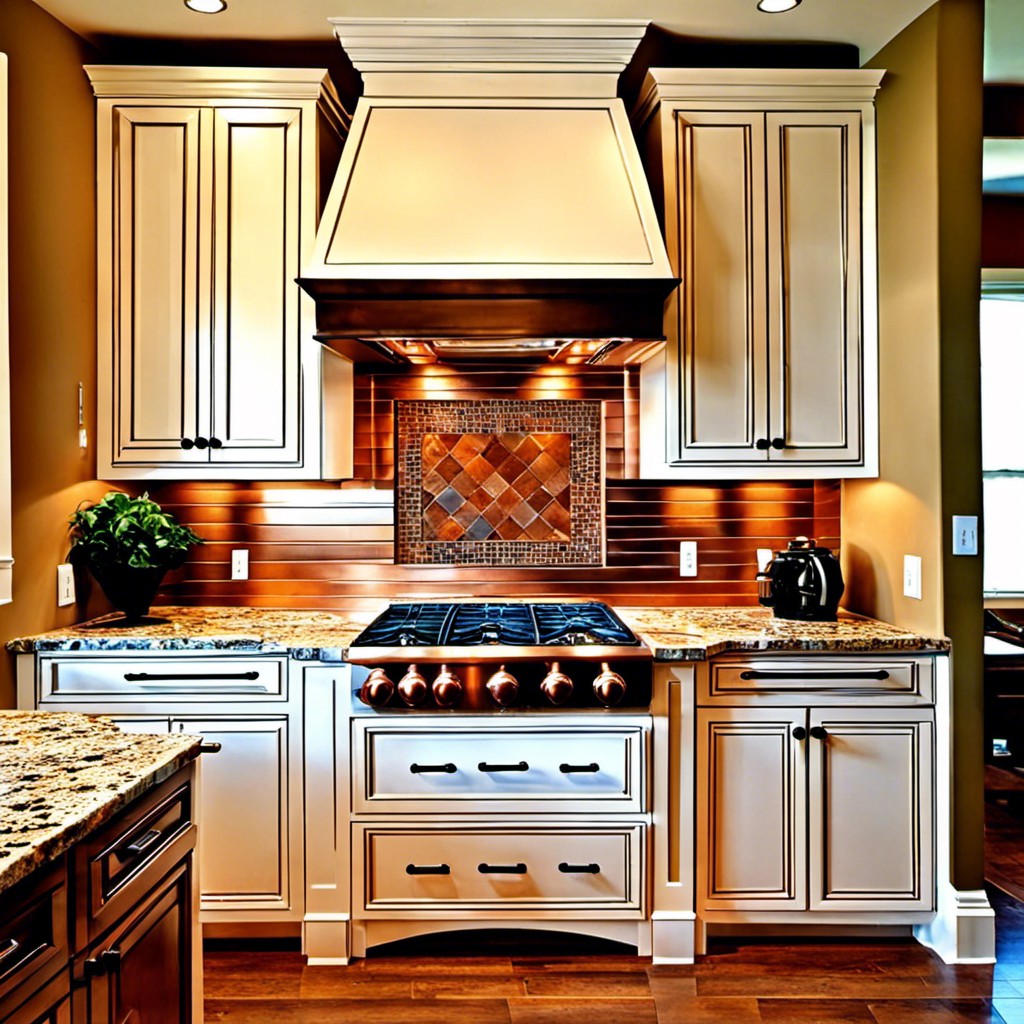 Promising both eye-catching beauty and durability, the copper mosaic tile backsplash infuses a unique touch into your kitchen décor. Mixed with ceramic, stone, or glass tiles, its gleaming texture introduces an element of warmth and luxury.
This backsplash works exceptionally well with both contemporary and traditional kitchen settings. For the former, white cabinetry can really make the copper color stand out, while wooden cabinets enhance the warmth of copper for more classic styles.
For proper maintenance, regularly wipe the backsplash with a damp cloth to eliminate any oil or food splatters. Depending on the level of use and exposure to heat, the copper may naturally age over time, developing a rich patina that many find even more appealing than its original luster. Special copper cleaning products can restore the shine if desired.
Also, consider lighting. Under-cabinet lighting significantly amplifies the mosaic's radiance, offering a cozy and inviting atmosphere particularly splendid in the evening.
Hammered Copper Sheet Backsplash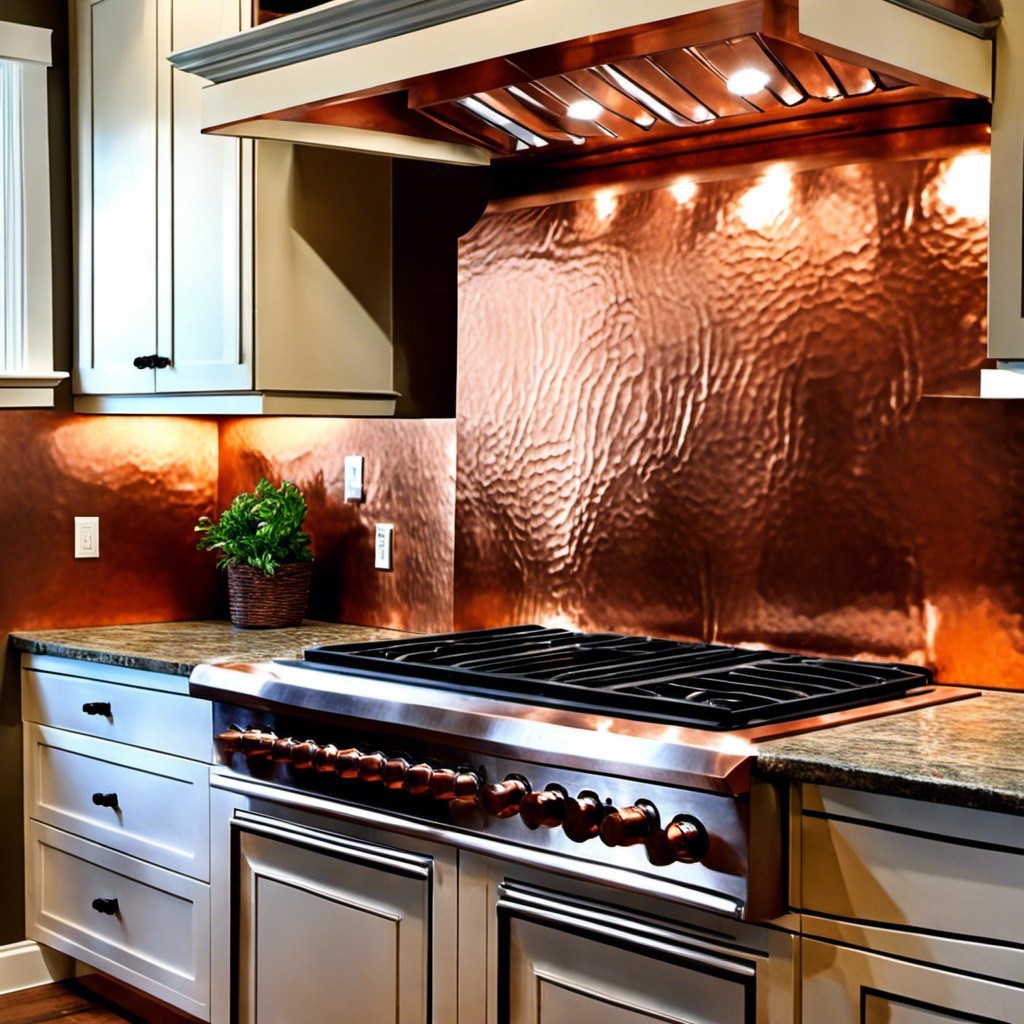 Hammered copper sheet backsplashes provide an enchanting aesthetics to any kitchen. Their shimmering surface with distinctive indentations make each piece unique, infusing the cooking space with personality.
Here are some key points to understanding this backsplash option:
1. Durable: As copper is a sturdy metal, these backsplashes are highly durable and can withstand heavy kitchen use.
2. Easy installation: Copper sheets are easy to install over existing surfaces, making them a DIY-friendly option.
3. Reflective: The hammered texture reflect light around the room, creating a spacious illusion.
4. Unique aesthetic: The rustic, hand-beaten look brings warmth and character to your space.
5. Heat Resistant: An ideal choice for area behind the stove as it's heat resistant.
6. Ease of maintenance: These are easy to clean with a cloth and natural, grease-cutting dish soap.
7. Patina overtime: Over time, the copper surface develops a beautiful patina, enhancing its artistic appeal.
Considering these features, it's clear that a hammered copper sheet offers a versatile and stylish choice for a kitchen backsplash.
Penny Round Copper Tile Backsplash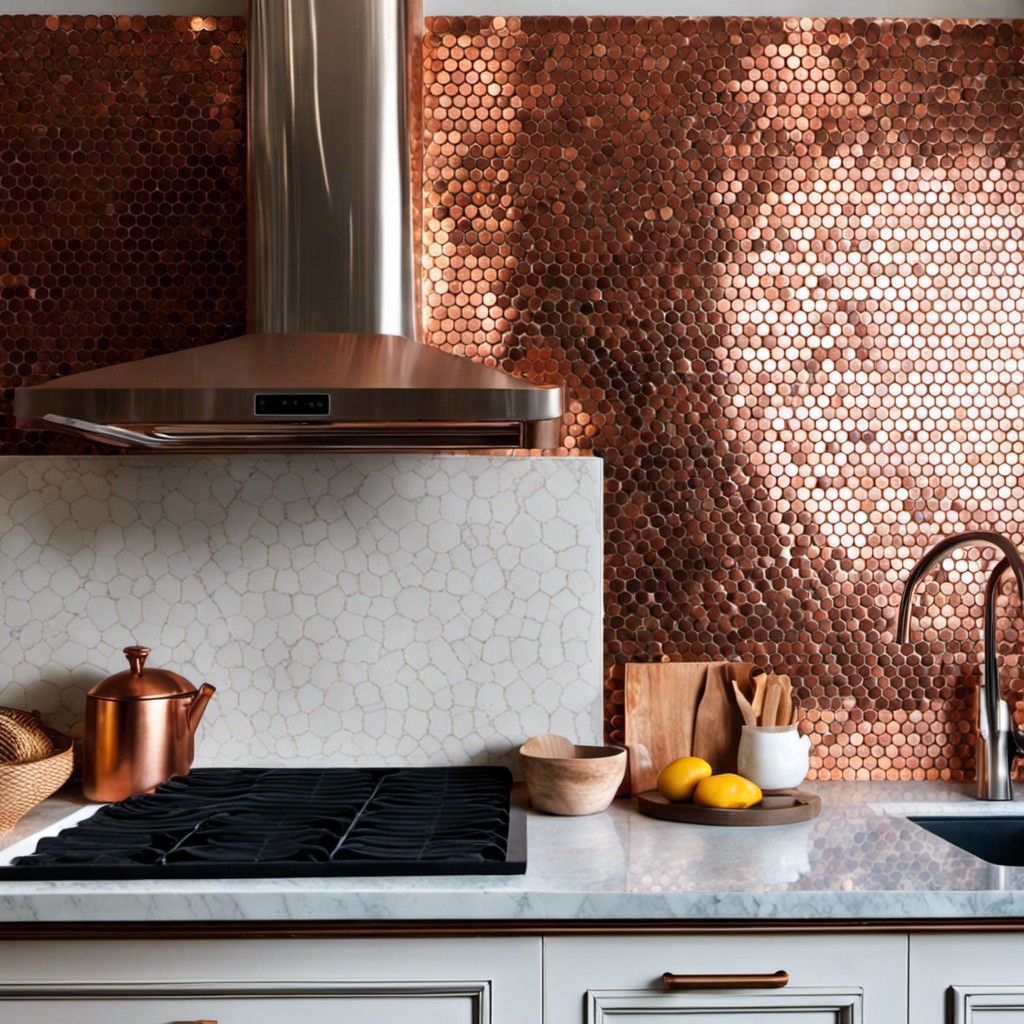 Penny round copper tiles, with their small size and circular shape, bring a unique visual appeal to the kitchen or bathroom. They create an appealing sense of depth and fluidity, drawing the eye while maintaining a sleek look. The copper's warm glow conveys an inviting atmosphere, excellent for spaces where family and friends gather.
When deciding on grout color, remember that it can significantly impact the overall aesthetic. Dark grout adds contrast, emphasizing the penny round pattern. Light grout, on the other hand, subtly lets the copper shine.
Caring for this backsplash involves regular cleaning with a soft cloth and mild detergent to maintain the copper's gleam. Abrasive cleaners should be avoided to prevent scratching the copper's surface.
One of the main reasons homeowners choose penny round copper tile backsplash is its versatility to blend with various styles. Whether your home decor is modern, traditional or somewhere in between, this backsplash option can enhance and harmonize with your existing designs.
Copper Subway Tile Backsplash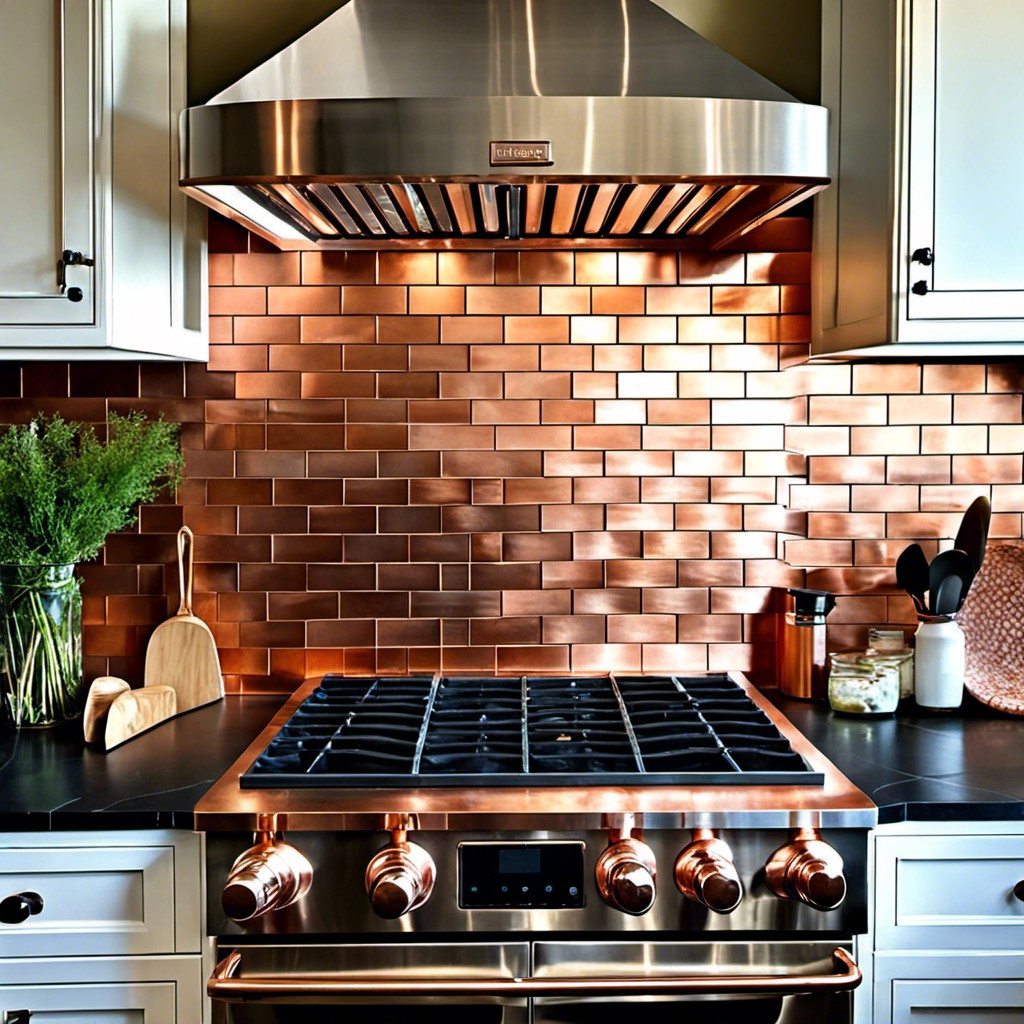 Offering a fresh, modern twist to the classic design, these subway tiles bring an infusion of warm, burnished copper to your kitchen or bathroom decor. The elongated rectangles reflect light beautifully, injecting a hint of radiance that visually expands the space.
There are key points to note about this trend:
1. The glossy finish of the copper provides a smooth, easy-to-clean surface – perfect for areas with high traffic or potential spills.
2. The warm hue complements a variety of color palettes—from earthy neutrals to bold, vibrant shades—the copper shines through.
3. Durability and long life are intrinsic to copper. It resists damage from both scratches and heat making it an excellent choice for kitchen areas.
4. The copper subway tile is a timeless look that pairs well with both contemporary and traditional styles.
5. For an elevated design statement, pairing these tiles with matching or contrasting grout colors can add depth and interest. For instance, dark grout brings out the metal's warm tones, while lighter grout creates a more subtle effect.
Remember, a pleasant touch of copper can bring a refreshing contrast to a monochromatic scheme or a standout feature in a more vibrant setup. With an intuitive installation process, a copper subway tile backsplash is a lasting way to update and add value to your home.
Copper and Glass Mixed Tile Backsplash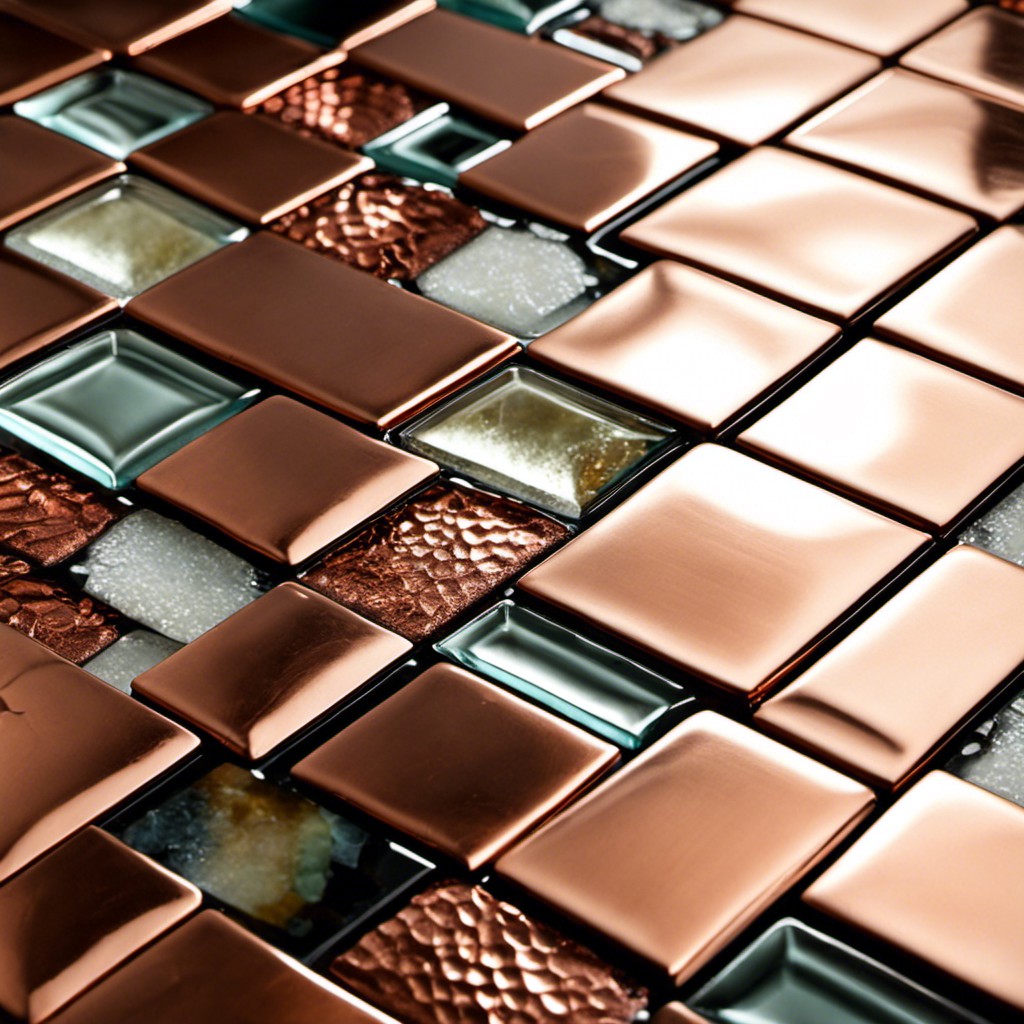 Highlighting the blend of modern and traditional elements, this style merges the natural allure of copper with the reflective sheen of glass. The union creates an exciting juxtaposition of warmth and coolness, while enhancing visual depth.
1. Ideal for contemporary kitchens, it adds a vibrant dash of opulence.
2. Its maintenance isn't demanding; a simple wipe keeps it gleaming.
3. Thanks to different sizes and shapes of tiles available, customization is easy.
4. Combining copper and glass tiles can make the backsplash be the room's focal point.
5. It pairs well with a variety of countertops & cabinets for comprehensive decor synchronization.
6. It's suitable for designs wanting to combine rustic warmth with modern simplicity.
7. The glass tiles distill light while copper tiles add a festivity of gleam and glitz.
8. Dark grout can be used to emphasize the individual tiles and add a bit of drama.
9. Ensures durability, an imperative feature for frequently used kitchens.
This blend of copper and glass is about creating a rich, detailed aesthetic that's equal parts flash and functionality.
Copper Metallic Backsplash Decal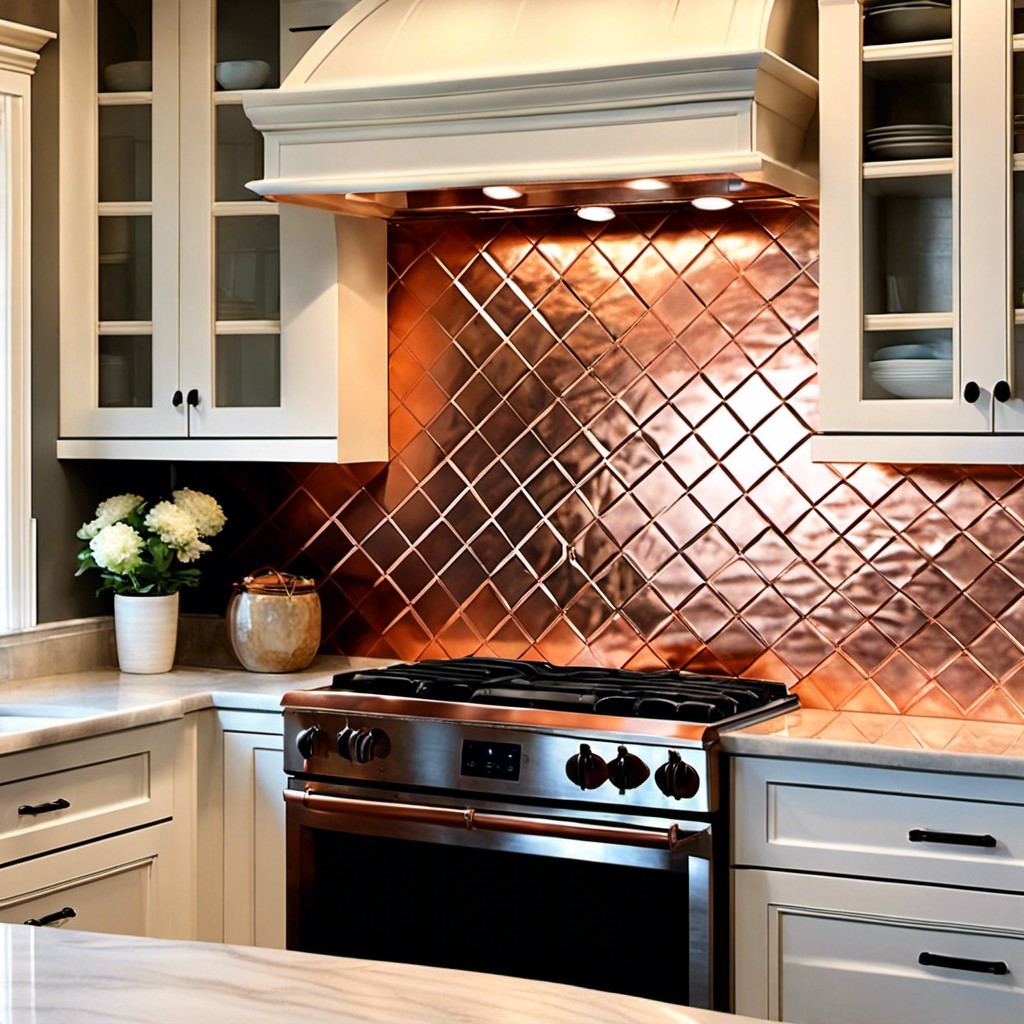 Taking the decor a notch higher, a decal offers a quick and affordable way to infuse the copper trend into your kitchen without the permanence of tile or sheets. The beauty of this option lies in the endless range of designs that can be imprinted on the decal, creating a truly unique backsplash. It's also incredibly easy to install; you simply stick it onto a clean, flat surface.
Regular cleaning is a breeze as well. Damp cloth and a non-abrasive cleaner are all you need to maintain its luster. For those who like to switch things up every now and then, the decals can be easily peeled off and replaced, making this a perfect solution for tenants or those with a fondness for continuous makeovers.
Though not as durable and heat-resistant as actual copper, this option works well if you're seeking a quick, easy, and cost-effective way to incorporate the copper trend in your kitchen. Additionally, decals offer the flexibility that traditional options may not, thanks to the many available patterns, designs, and even textures.
Geometric Copper Patterned Backsplash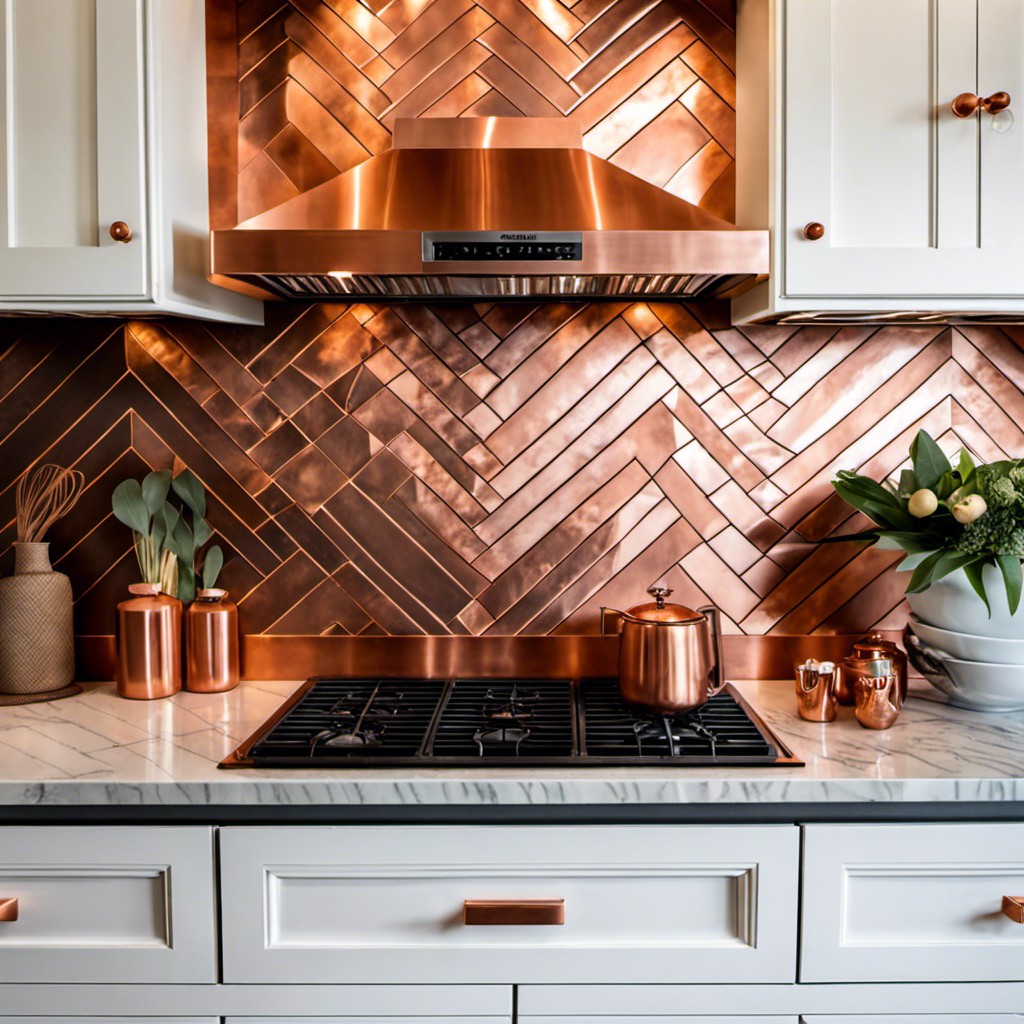 Designing with geometric copper patterned backsplash can make a powerful statement in your kitchen or bathroom. The geometrical patterns provide a modern and chic feel, while copper adds warmth, creating an elegant balance.
1. Versatility: From hexagons to chevrons, opt for the pattern that blends best with your current design scheme.
2. Durability: Copper can withstand heat, and resists corrosion. It's a practical choice, not just a stylish one.
3. Warm Tints: This metallic hue pairs well with wooden cabinetry and stone countertops, adding an inviting glow.
4. Reflectivity: The shiny surface bounces light around, visually expanding a small space.
5. Ease of Maintenance: Copper backsplash is easy to clean, making it an ideal choice for cooking areas.
6. Customization: The copper tiles can be arranged to create a unique, customized pattern that fits your personality and style.
The right geometric copper patterned backsplash can infuse character and flair into your space. Consider this option while planning your renovation project for an unparalleled impression.
Copper-finished Metal Backsplash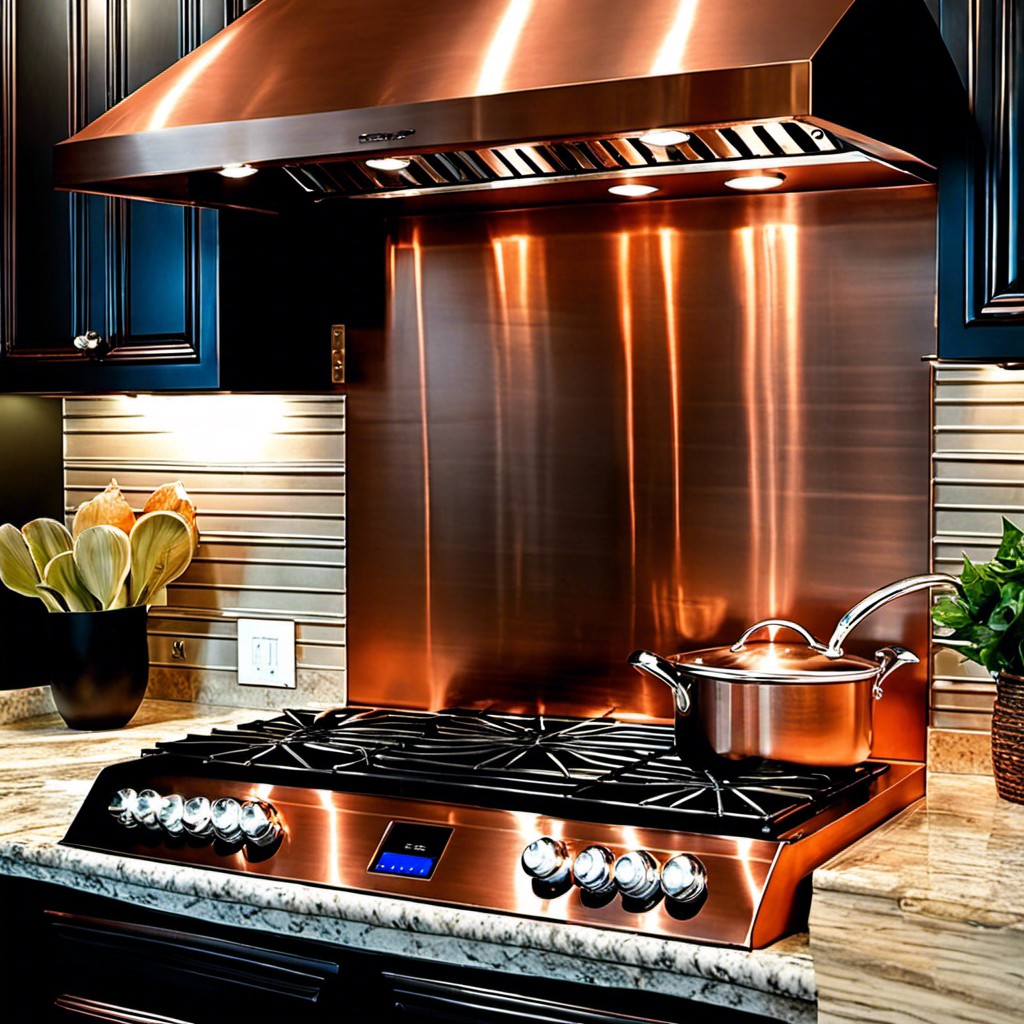 Choosing a copper-finished metal backsplash can bring an inviting warmth to your kitchen while being a durable and functional choice. Here are a few points to understand this concept better:
1. Accentuation: The reddish-brown hue adds a striking contrast to neutral-toned cabinets, drawing eyes to the wonderful texture and shine it exudes.
2. Durability: Resistant to heat and water, this backsplash option stands up well to day-to-day kitchen activities.
3. Easy to Maintain: Crumbs and splashes wipe off easily, while the surface stands up well to household cleaners.
4. Variety: These backsplashes come in an array of patterns and designs, making it easy to find one that complements your overall kitchen aesthetic.
5. Cost-effective: Metal is often less expensive than tile or stone, making this a smart choice for tight budgets.
Copper Border for Ceramic Backsplash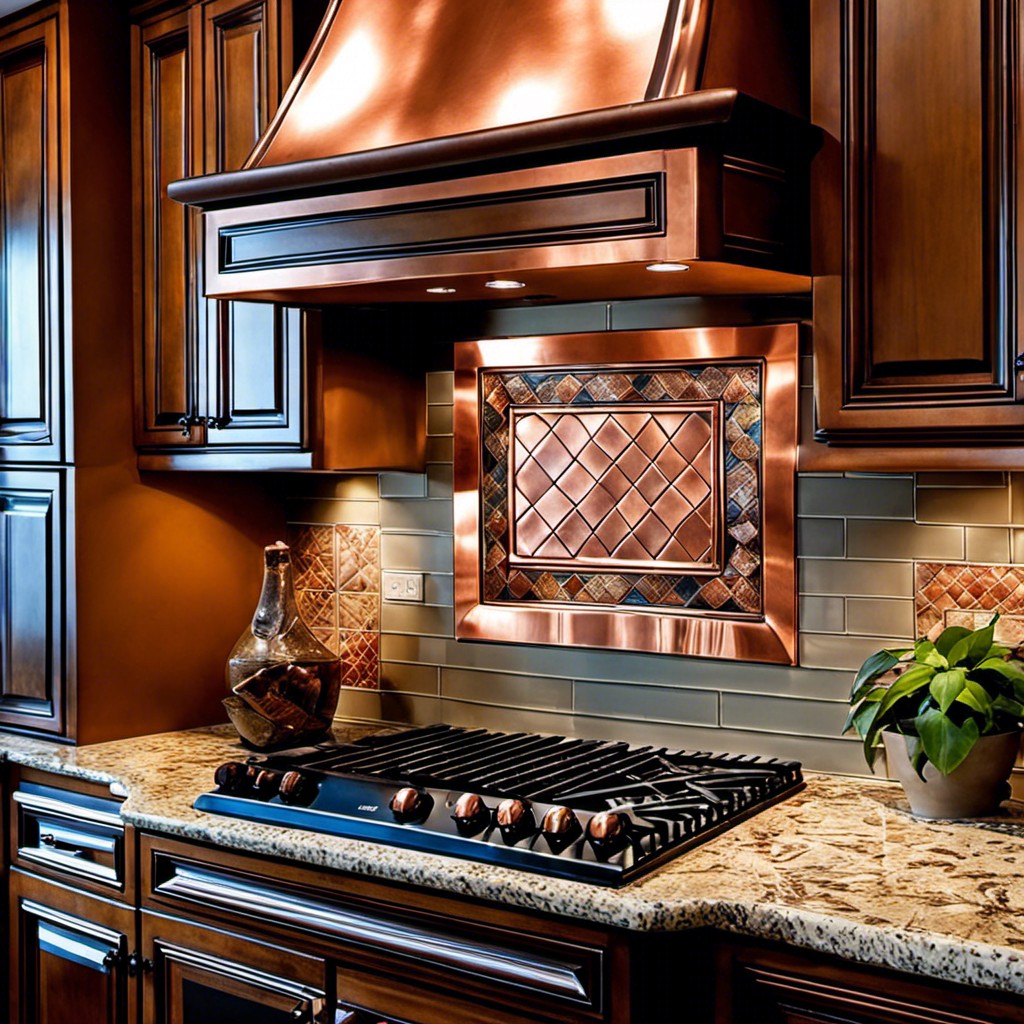 Taking a ceramic backsplash to the next level could involve the incorporation of a copper border. This design approach imparts a subtly luxurious feel, setting a clear and defined edge along the backsplash.
1. An appealing contrast: Ceramic and copper materials bring about a beautiful contrast. The glossy ceramic surface complements the warm copper hue, resulting in a visually striking effect.
2. Versatility: A wide variety of ceramic tiles and copper tones are available, providing endless customizing options to suit any kitchen decor.
3. Durability: Both copper and ceramic are highly resistant to heat and moisture, making them particularly suited for spaces in close proximity to stoves and sinks.
4. Easy maintenance: A copper border can effectively catch spills and splashes, simplifying cleanup tasks. It also is less likely to show dirt and stains, making maintenance simpler.
Next time you think to elevate your kitchen's interior, considering a copper border for your ceramic backsplash might just be the way to go.
Aged Copper Backsplash for a Vintage Look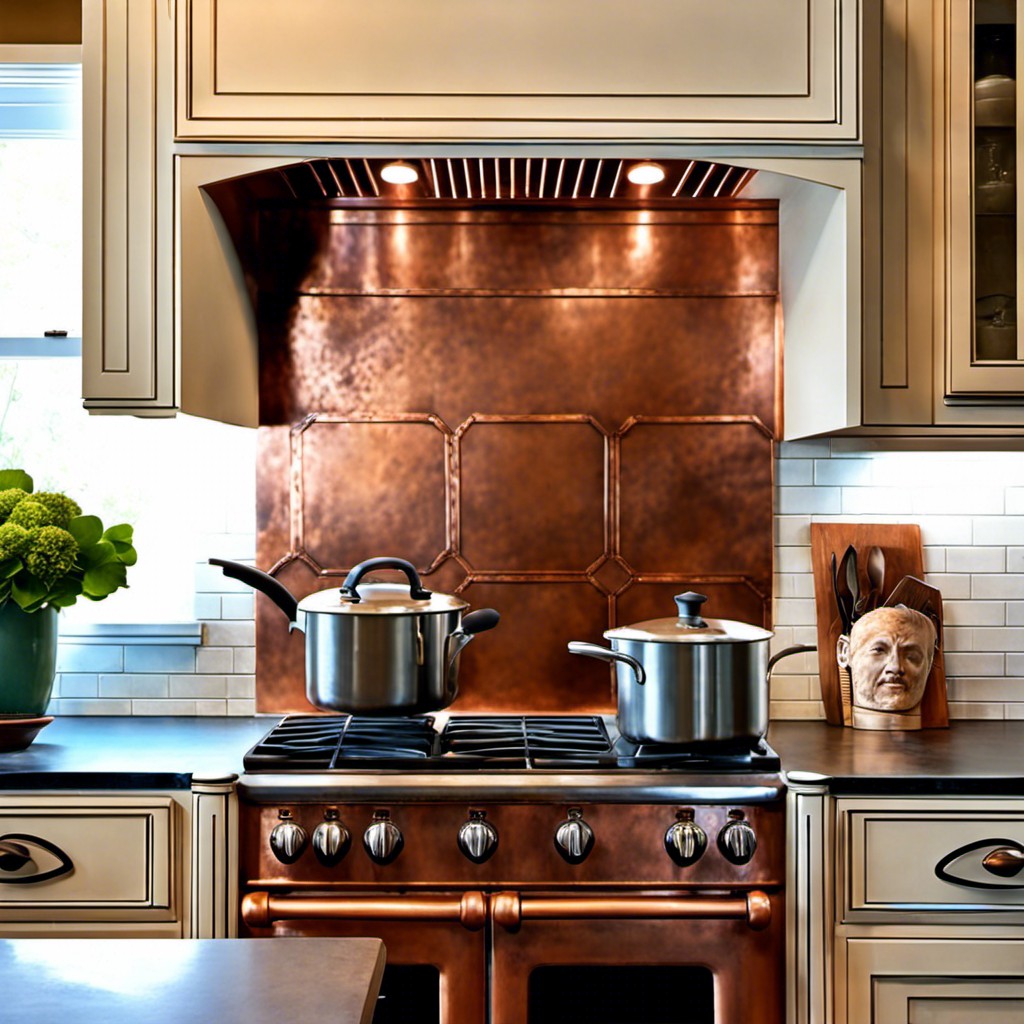 Creating an aged copper backsplash gives your kitchen a touch of the past with a posh and unfading charm. It accents classic kitchen elements like rustic wooden cabinets and hanging iron cookware.
1. Aging Process: The patina development gives copper its aged appeal. Natural oxidation does the trick, or purposefully treat it with easily available household items.
2. Distinct Design: Your space will embody a unique aesthetic as each copper piece patinas distinctively.
3. Versatile: This choice complements other vintage elements and merges well with various color schemes.
4. Easy Installation: Standard tools suffice, no need for professional help. Flexible copper sheets are a cinch to adjust and fix.
5. Maintenance: Wipe up spills soon to avoid spots. Regular cleaning with warm soapy water is plenty.
6. Customization: Experiment with shapes and finishes, like hexagonal tiles or smooth sheets, amplifying the vintage vibes.
7. Cost-Effective: Compared to your typical tiles or stones, copper is cheaper. It's also durable and withstands usual kitchen hazards, ensuring your investment lasts long.
Remember, its dynamic nature is part of the charm. As time passes, the copper will change, adding layers to your kitchen story.
Copper Backsplash With Black Grout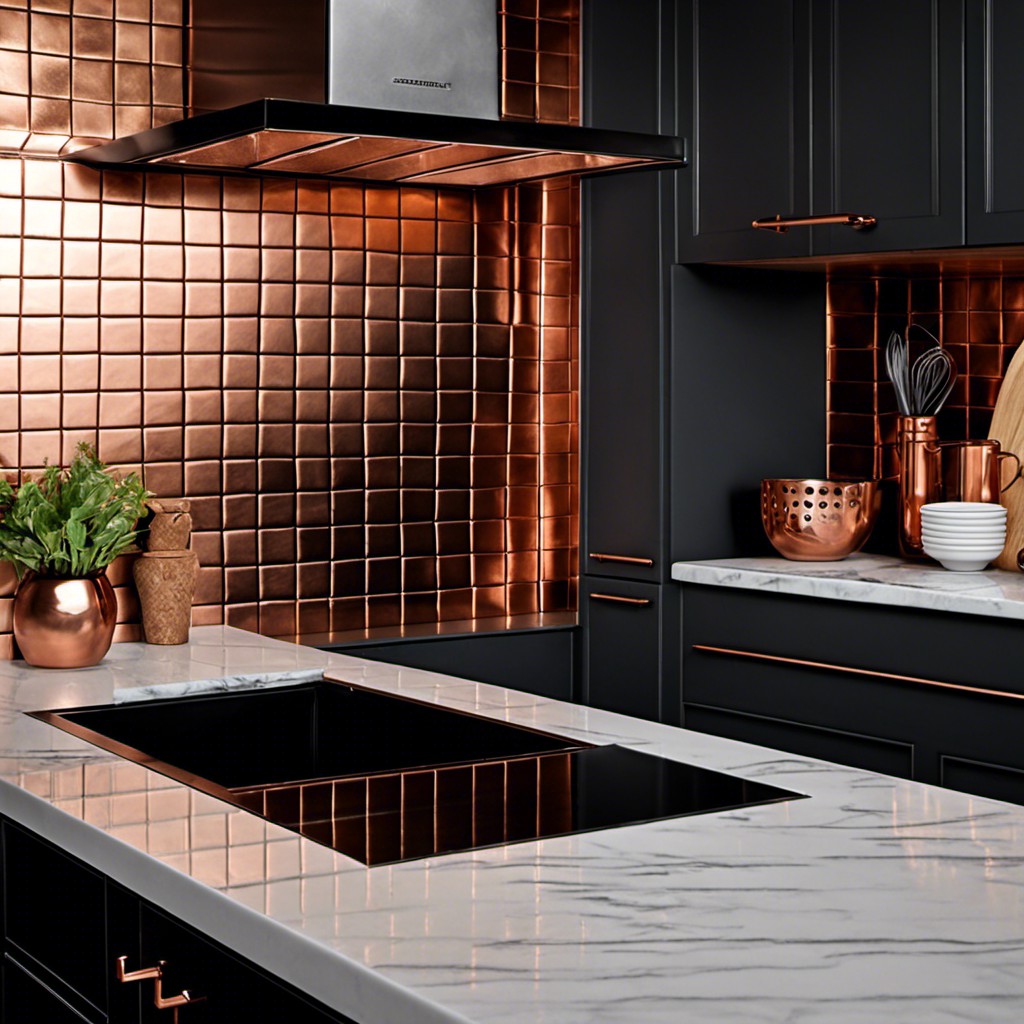 Both stunning and stylish, coupling a copper backsplash with black grout makes for a striking contrast, highlighting each copper tile's individual shine and warmth.
Here's why this particular combination deserves your attention:
Striking Visual Contrast: Against the black grout, every copper piece stands out, showcasing its unique texture and sheen. It's ideal for a bold, modern aesthetic.
Relicing and Oxidation Emphasis: Copper naturally changes over time, and black grout enhances this effect, showing off the colors' transition and the gradual oxidization.
Enhanced Durability: Black grout is not only dramatic; it also conceals dirt and stains better than lighter shades, ensuring your backsplash continues to look pristine for longer.
Modern Appeal: The combination suits contemporary, urban interiors excellently, adding an industrial touch with its metallic elements and dark accents.
Unique Customization: Depending on the copper tile's shape and size you go for, the pattern possibilities are endless, making your kitchen distinctly personal.
Remember: the type of grout you choose can significantly impact your backsplash's maintenance requirements. Epoxy grout, while a bit pricey, is tough, stain-resistant, and perfect for a kitchen setting. It's an investment worth considering.
Stone Backsplash With Copper Inlays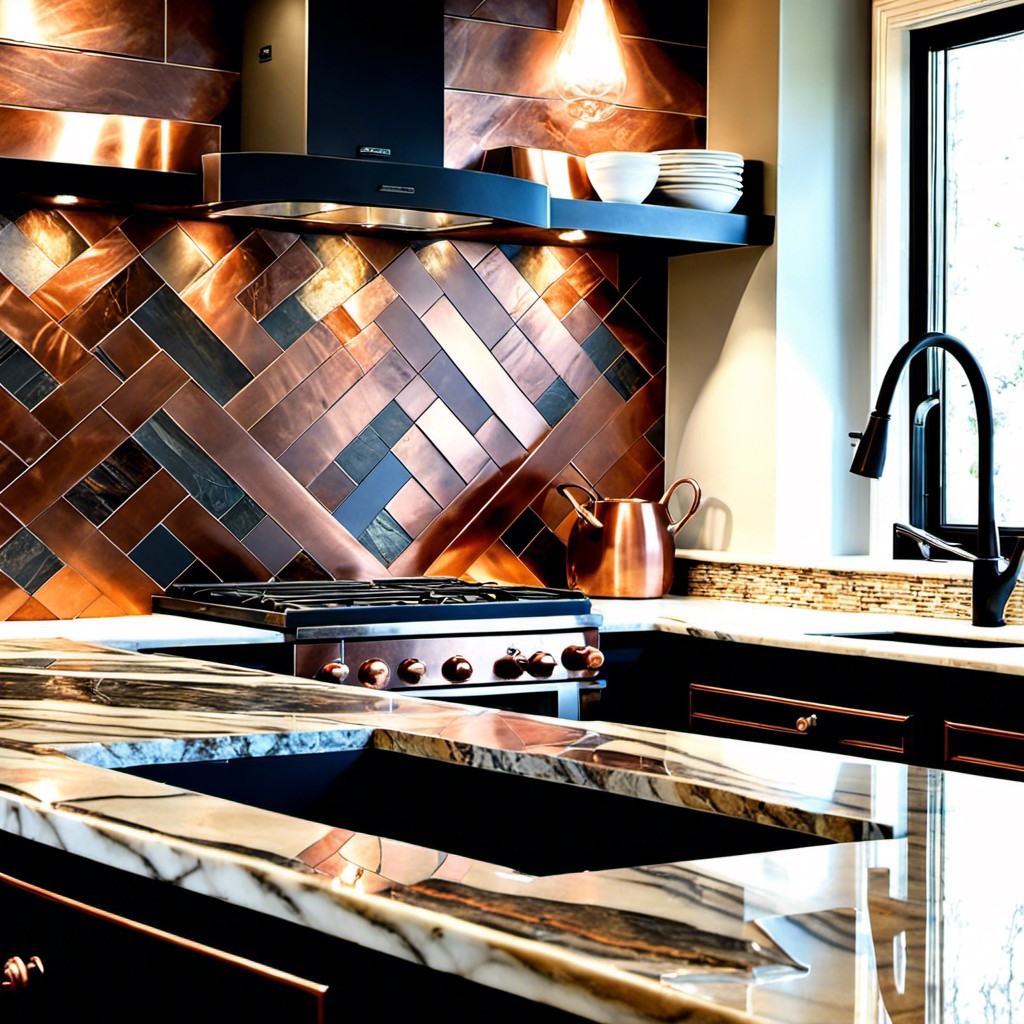 Copper inlays in a stone backsplash create a unique and visually stunning kitchen aesthetic. Infusing copper elements into natural stone brings an earthy-urban blend to your space.
Here are a few points to consider:
Durability: Copper and stone are both strong materials resistant to wear and tear, providing a lasting, high-quality surface.
Beauty: Each inlay serves as an accent that breaks up the stone's uniformity, adding an intriguing visual interest.
Flexibility: You can customise the inlay's design, whether you opt for delicate linear patterns or bold geometric shapes.
Warmth: The copper's rich tones contrast with the stone to inject a warming touch, preventing your kitchen from appearing cold or sterile.
Maintenance: With proper sealing, the stone and copper combo is easy to clean and is immune to typical kitchen hazards like heat and splatters.
Copper and Stainless Steel Mixed Backsplash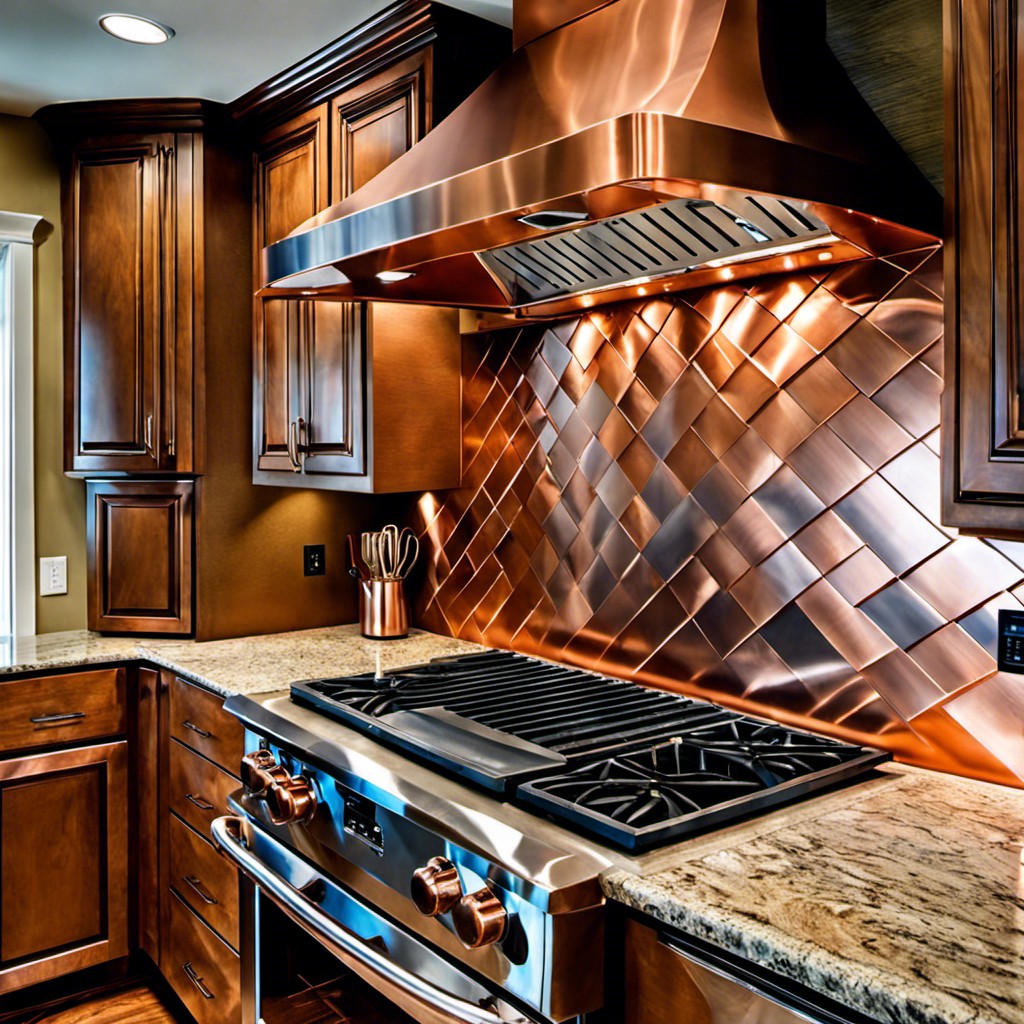 Blending both copper and stainless steel in a backsplash creates a stunning aesthetic that combines the warmth of copper with the cool sleekness of stainless steel. This design strategy lends a balanced contemporary appeal to any kitchen space.
1. Combination: This mix allows for a creative design play, where one may opt for patterns alternating between copper and stainless steel tiles.
2. Durability: Both materials are highly durable and resilient against heat and stains, making them a practical choice.
3. Variety: The multitude of tile shapes and sizes available of both materials provides unlimited design opportunities to create unique and customized patterns.
4. Modern Appeal: The fusion of both elements is a step away from traditional backsplash materials, offering a modern and industrial feel to the kitchen.
5. Contrast: If a kitchen space has a lot of stainless steel appliances, adding copper to the mix can present an attractive contrast, and vice versa.
Copper Backsplash With Chalkboard Accents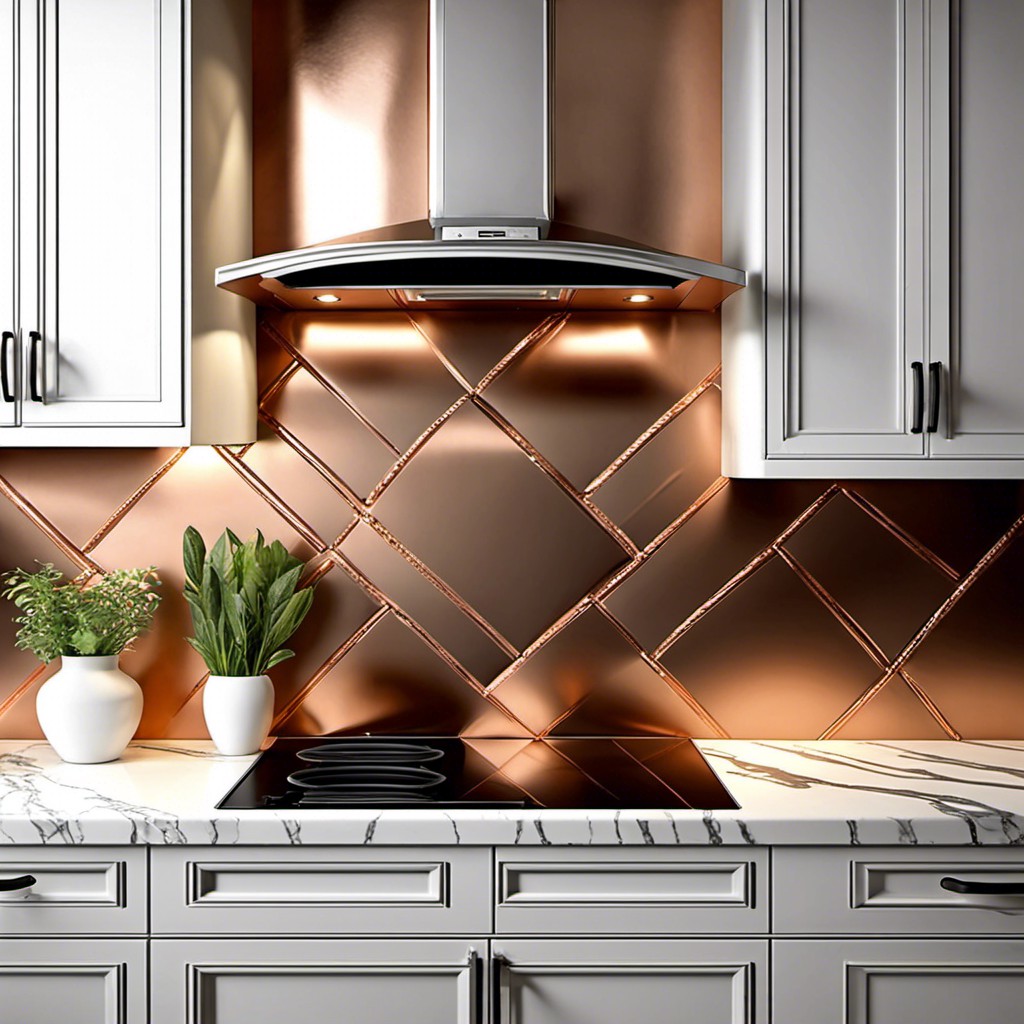 Combining the rustic charm of copper with the utility and creativity of a chalkboard, this design idea stands as a distinctive intersection of style and function. The chalkboard backdrop offers an intriguing contrast of textures and enhances the gleaming copper accents. Suitable for a modern kitchen, this design also adds a playful element allowing you to scribble recipes, menus, or messages directly on the backsplash.
Remember:
Properly seal the chalkboard surface to prevent it from damage due to splashes.
Regularly dust and clean the copper accents to maintain their shiny glow.
Try to contain brighter tones in the rest of the kitchen decor to let the copper shades be the focal point.
Use chalkboard paint on an easy-to-clean surface, such as glass, for easy maintenance.
Creating an artistic balance between the humble chalkboard and sophisticated copper accents can turn your kitchen backsplash into a unique, eye-catching feature.
Copper Accents On a Marble Backsplash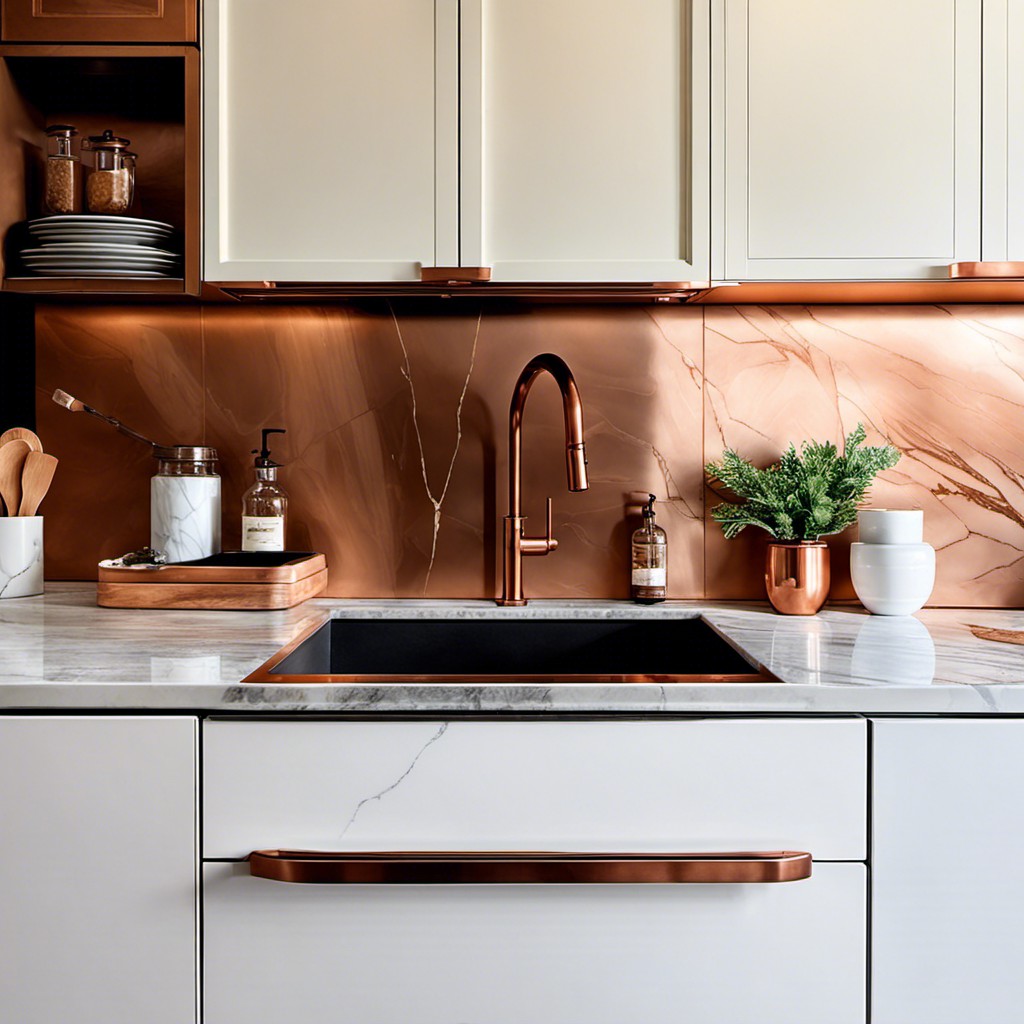 Combining these two materials provides an elegant and luxurious look. The veins in the marble sync harmoniously with the copper accents, offering beautiful contrast and appealing texture. Ensure to select a marble with understated pattern to allow the copper accents shine.
Consider these points:
Marbles in gray or white work well with copper due to their complementary nature.
Considering copper accents in a sense of borders, grout lines, or embedded designs is preferable.
The placement of copper accents matters. Inserting them around focal areas like stove or sink provides a sophisticated touch.
Copper accents must be sealed correctly for long-lasting color preservation.
Reflective properties of copper can enhance the lighting conditions, amplifying the glamour of marble.
Mini subway or herringbone-patterned copper tiles amid marble create a captivating backsplash.
Remember to maintain a balance. Too much copper might overpower the subtle beauty of marble. Achieving a perfect blend of these materials can transform your kitchen or bathroom into a grand space.
Herringbone Pattern Copper Tile Backsplash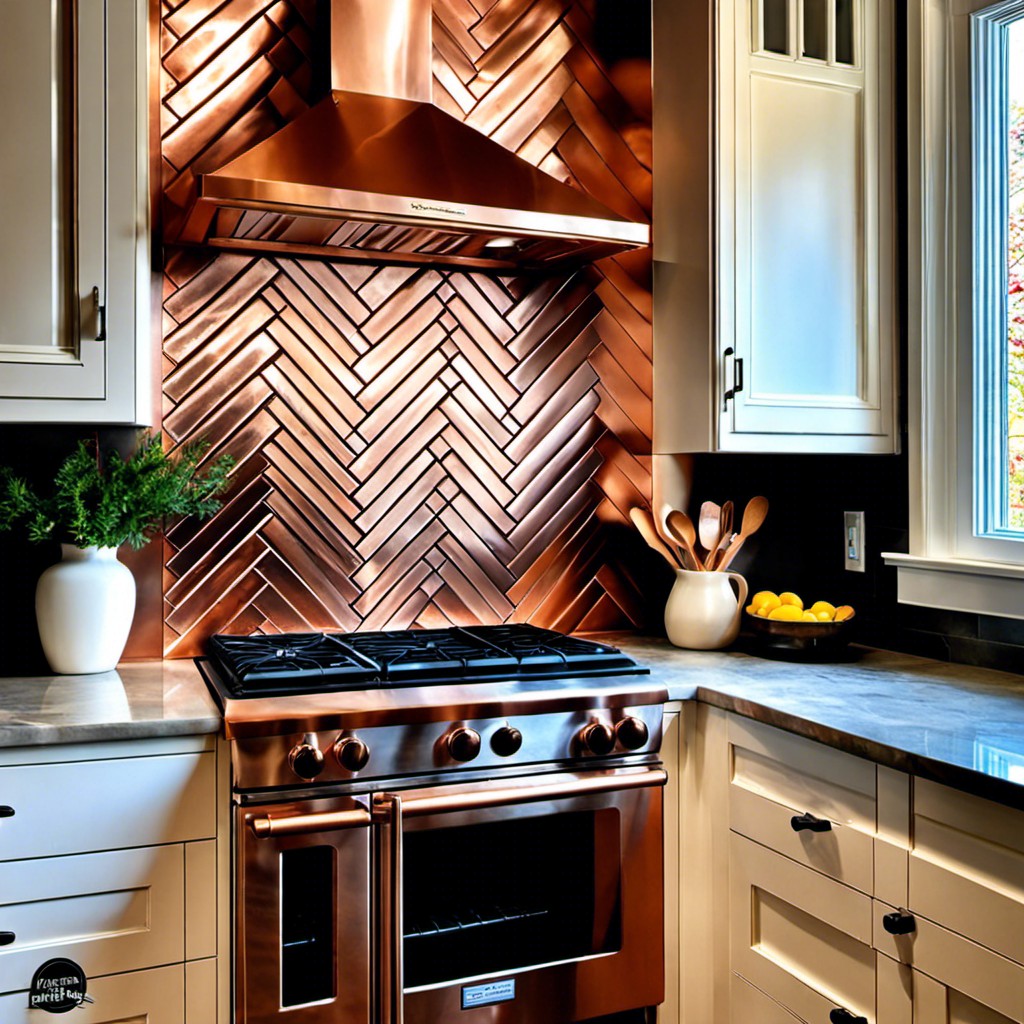 The Herringbone pattern is a distinctive V-shaped weaving arrangement, which can add instant visual interest to any kitchen space. Here's what makes this pattern a standout choice for a copper backsplash:
1. Unique Appeal: The overlapping pattern of rectangles provides an intriguing alternative to the more traditional straight tile layout.
2. Elegant Finish: Copper tiles in a Herringbone pattern create an elegant and high-end look that enhances the overall aesthetic of the kitchen.
3. Easy Customization: Despite the complexity of the layout, it allows for customization to match the kitchen's colour scheme and design theme.
4. Durability: Copper tiles are not only attractive but also durable and resistant to damage, making them a perfect choice for a busy kitchen.
Remember, while the Herringbone pattern might require a bit more work to install, the result is a captivating and fashionable backsplash that won't fade into the background.
Copper Tile Backsplash With a Mirrored Finish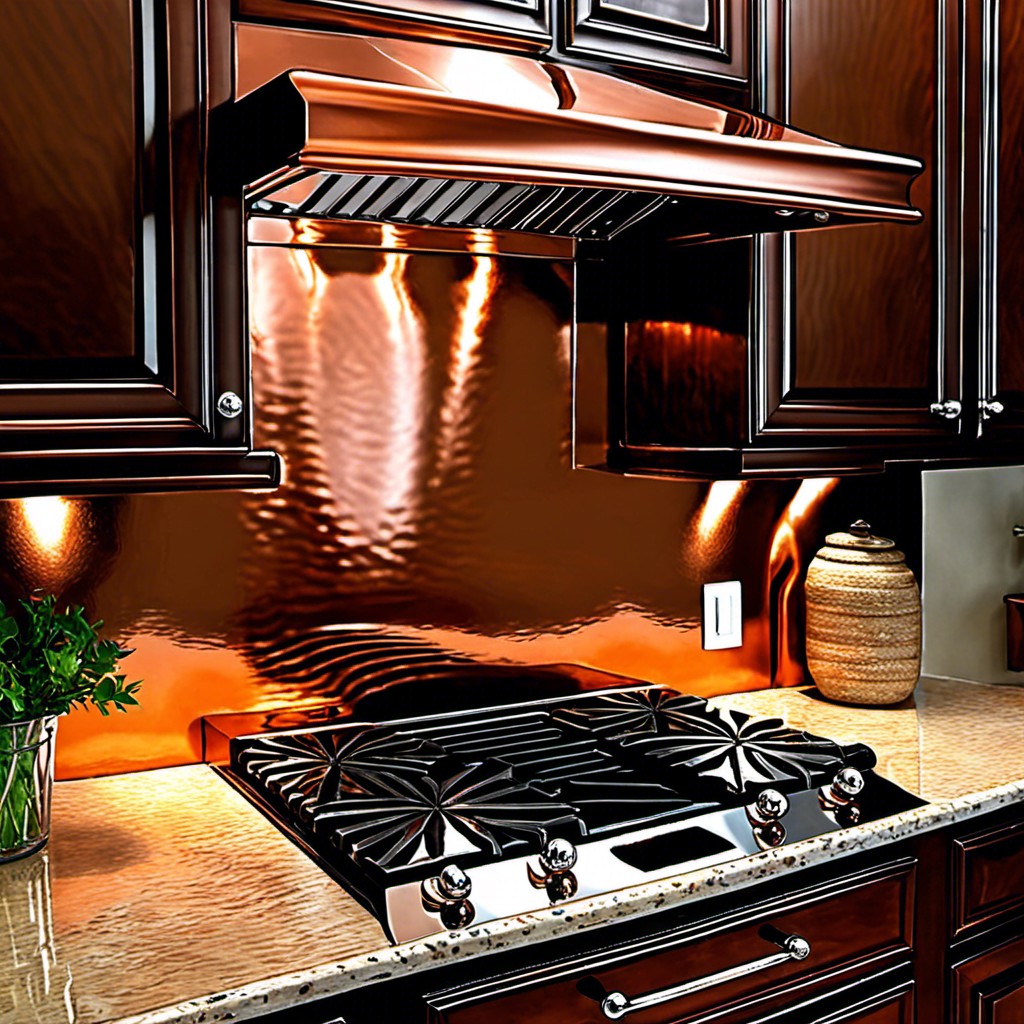 Offering a unique twist on the traditional tile backsplash, this option warrants considering for its high-impact visual interest. The mirrored finish on the copper not only provides a gleaming, polished appearance but also serves to reflect natural and artificial light. This creates an illusion of increased space, particularly appreciated in smaller kitchens.
The other notable benefit is its versatility; it complements various color schemes and decor styles seamlessly.
When choosing this type of backsplash, consider the following:
1. Maintain with regular cleaning to keep its shine intact; use a mild detergent and soft cloth to avoid scratches.
2. Due to its reflective properties, ensure other design elements around are not overly bright or patterned to avoid a chaotic visual sense.
3. Given its high-shine feature, matte cabinets or countertops can help create a balanced aesthetic.
4. To highlight the mirrored finish, consider installing under-cabinet lighting.
5. Professional installation is recommended due to its delicate nature and to achieve a flawless finish.
Remember, a mirrored copper tile backsplash can be an exquisite addition, adding a distinct touch of sophistication to your kitchen space.
Chequered Pattern of Copper and Ceramic Backsplash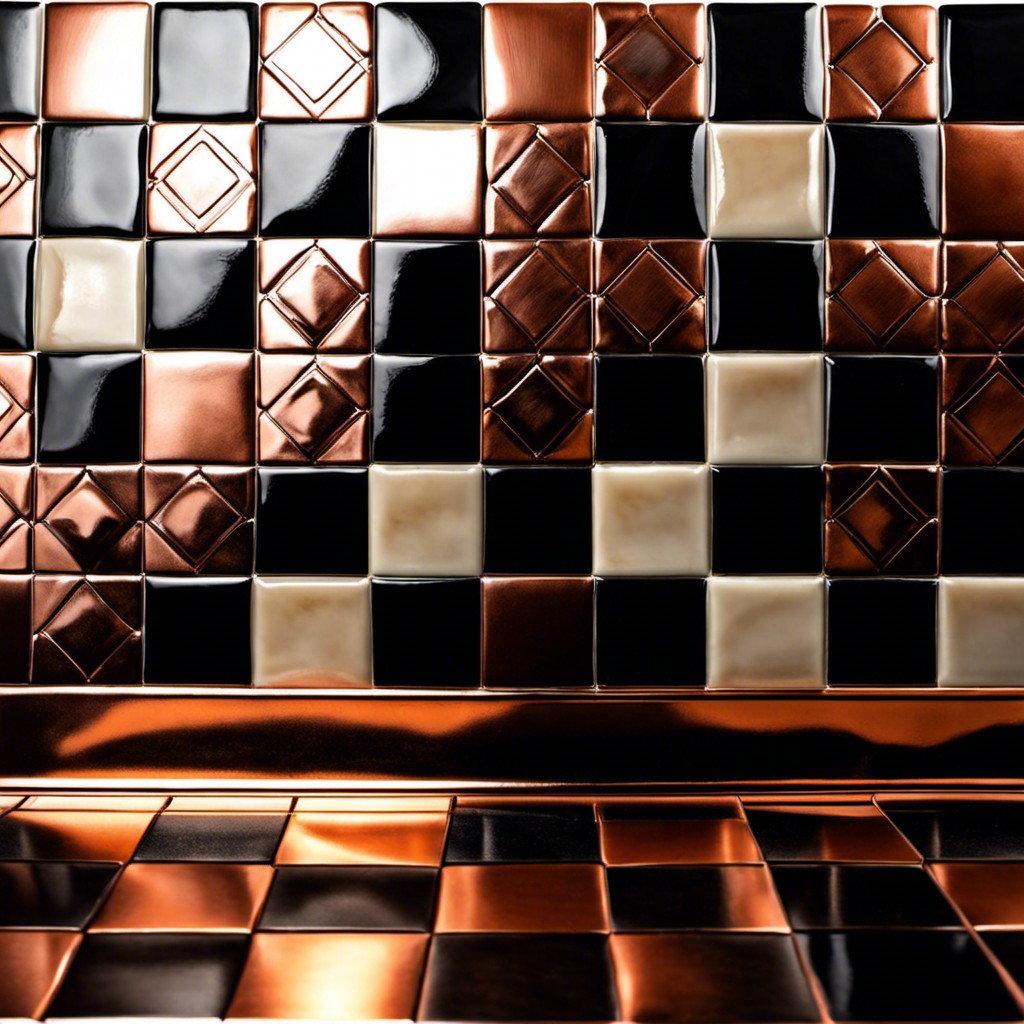 Undeniably, this kitchen decor idea redefines elegance with the visual appeal of contrasting patterns. The checkered scheme alternates between glazed ceramic tiles and copper squares, invoking a harmonious balance of simple and noble.
Here are some aspects to keep in mind:
Methodically plan the layout. This determines whether the pattern continues seamlessly across the backsplash.
Copper tiles may either be polished for a reflective glaze or brushed for a matte appearance. Both contribute differently to the final outlook.
The ceramic tiles could engage a variety of colors. However, a plain hue usually accentuates the copper's natural brilliance.
Due to copper's patina nature, it might darken over time, enhancing the charm and contrast with ceramic tiles.
Have professionals handle the installation. The complex nature of the pattern requires expert hands for precision and pattern alignment.
This design offers a unique blend of traditional charm and contemporary luxury – a testament to your personal style statement.
Copper Backsplash With Turquoise Highlights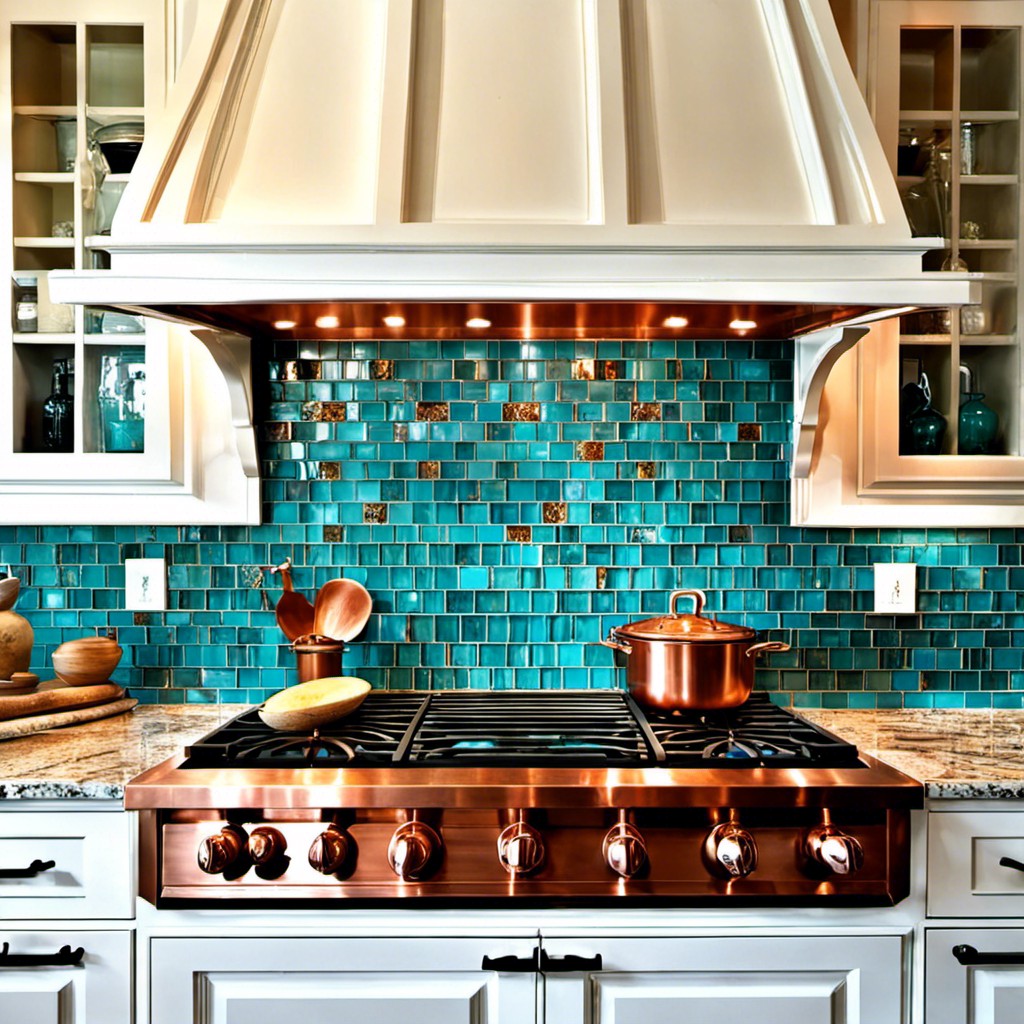 Integrating turquoise highlights in a copper backsplash strikes a balance between rustic and coastal tones, bringing a unique and compelling dimension to your kitchen decor. Here's how to make the most of this concept:
1. Materials: Opt for copper tiles with infused turquoise pigments, or alternatively, mix and match singular copper and turquoise tiles.
2. Placement: Ensure an even distribution of turquoise highlights to provide consistent pops of color amidst the dominant copper.
3. Combination: Pair this backsplash with white or creamy cabinetry, making the copper and turquoise stand out.
4. Lighting: Install under-cabinet lighting to heighten the metallic shimmer of copper and the depth of turquoise.
5. Texture: Consider distressing techniques for copper tiles to complement the oceanic vibe of the turquoise.
6. Accessories: Use turquoise kitchen utensils or small appliances to reinforce the color scheme of the backsplash.
This aesthetic gives your space warmth infused with a serene oceanic mood, creating an inviting yet unexpected atmosphere.
Copper Backsplash in Arabesque Design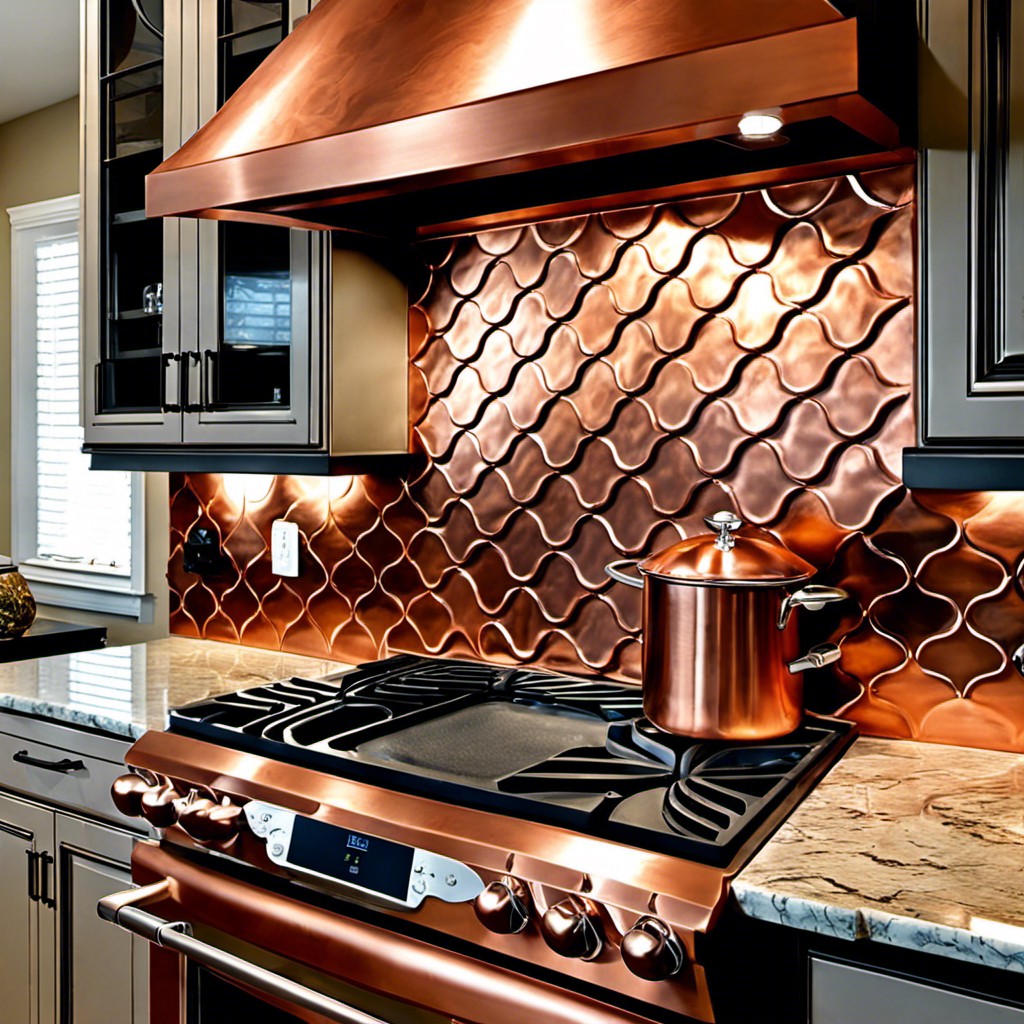 Arabesque designs display an ornate interlacing of lines creating repetitive complex patterns. In choosing this design for a copper backsplash, a kitchen can become a strong focal point with a nod to old world charm and a dash of Moroccan flair. Implementing this style imparts an air of sophistication and elegance.
1. Vibrant Aesthetics: With its unique and intricate patterns, the arabesque design brings an exotic appeal to the kitchen environment. The copper's characteristic gleam adds a plush finish.
2. Versatility: Being neutral, copper easily complements other color schemes. It pairs beautifully with dark hues like navy or forest green, as well as lighter tones, including white, cream, or pastel shades.
3. Easy Maintenance: Copper has natural antimicrobial properties and doesn't require harsh chemicals for cleaning, confirming it as a practical choice.
4. Timeless Appeal: While being trendy, an arabesque copper backsplash remains timeless, ensuring the kitchen design isn't quickly outdated.
5. Unique Personal Touch: Since most arabesque designs are handcrafted, they embed uniqueness, making the kitchen space a truly personal one.
Remember, details do matter when implementing such a distinct style. Choosing the right grout color and ensuring precise tile placement can make a significant difference to the final look.
Continue reading: