Last updated on May 17, 2022
Looking to add seating to your kitchen island? These are the best bar stools that are perfect for it. Read on!
Having stool around your kitchen island is not a must. Indeed, if your kitchen is rather small, you may want to save that space for moving around and keep the sightline unobstructed. Then again, some setups may not take much space at all. In any case, choosing the right stools for the purpose isn't just a practical consideration but a decorative one too.
So when choosing a stool, you're basically looking at three things – function, design, and price. Ideally, you would want to match all three. In the real world, you're lucky if you can get two. In this article, we'll do our best to help you cover as many grounds as possible.
How do you choose the bar stools for the kitchen island?
Look for these things:
What height do you need? Counter-height or bar- height. The difference for their use with kitchen islands is essential. While counter stools are smaller (24-29 inches) they can be tucked under the island to save space. Bar stools are higher (30-36) which may make the more comfortable depending on the height of your island. In that case, they cannot be tucked away.
How often are they going to be used? This determines how comfortable they need to be. If they are used occasionally, you can pay all the attention to style. But if people are going to sit on them for hours, you better make them comfortable.
How many of them will you need at your island and how wide do they need to be? Consider the room around them for comfort.
Do you need the swivel function?
Are children going to use them?
Are they stable enough and won't tip over?
What is your decor style? The stools have to match (or contrast for a statement) that.
The following top list of the best stools for the kitchen island answers all of the above questions. Each has its own pros and cons, and all of them have great ratings. We took great care to pick them using research data available to us. Note that we get compensated for qualifying purchases on Amazon so all links that apply are tagged with #ad. This comes at no expense to you but helps us get our coffee for the day.
Check out our favorites and pick yours!
What's Inside
Kitchen Island Stools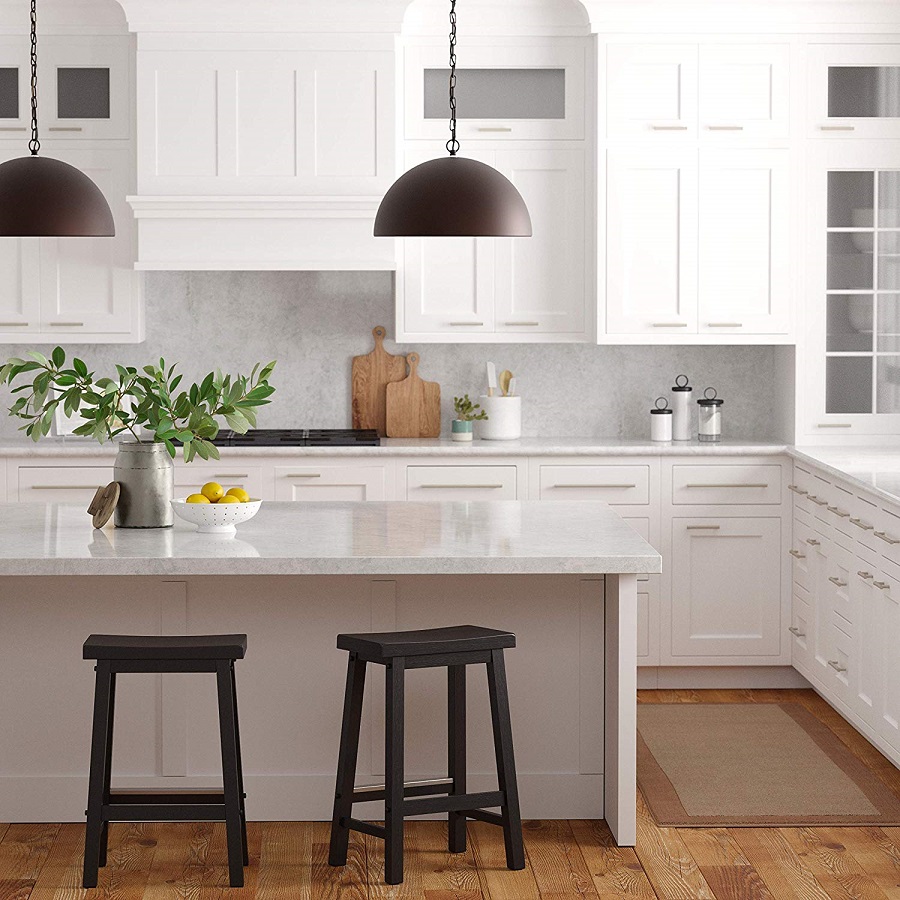 These stools feature a classic look for your kitchen island. They aren't the comfiest chairs but the look is timeless. Best used if people aren't going to spend a lot of time seated at the island.
Pros: sturdy solid wood construction; easy to assemble; a classic look that will fit any decor.
Cons: it has some sharp edges.
Counter Height Stools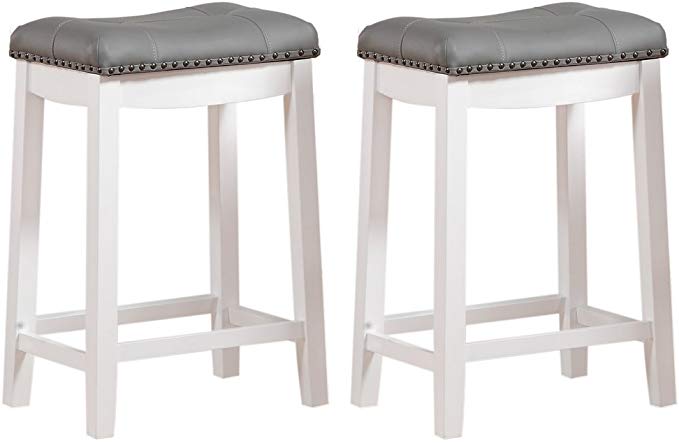 The stools come in counter height design for a classic look with comfy cushioned seating.
Pros: cushioned; sturdy; comfortable; easy to clean.
Cons: a little pricey; need tightening once in a while.
Modern Bar Stools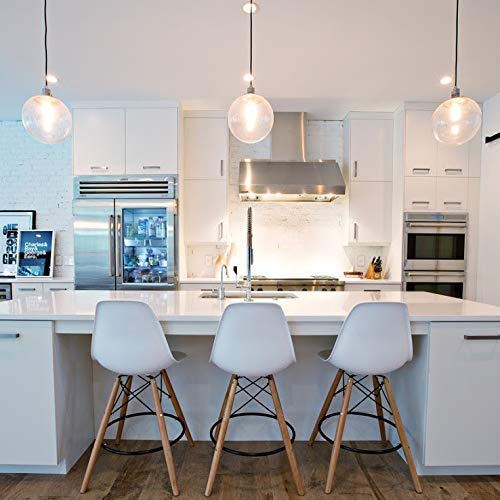 The modern chairs to create your Instagram-worthy kitchen look. These stools work well when they match the cabinets.
Pros: heavy-duty; solid wood legs; leg rests.
Cons: plastic seating; natural wood legs might differ in color.
Bar Height Stools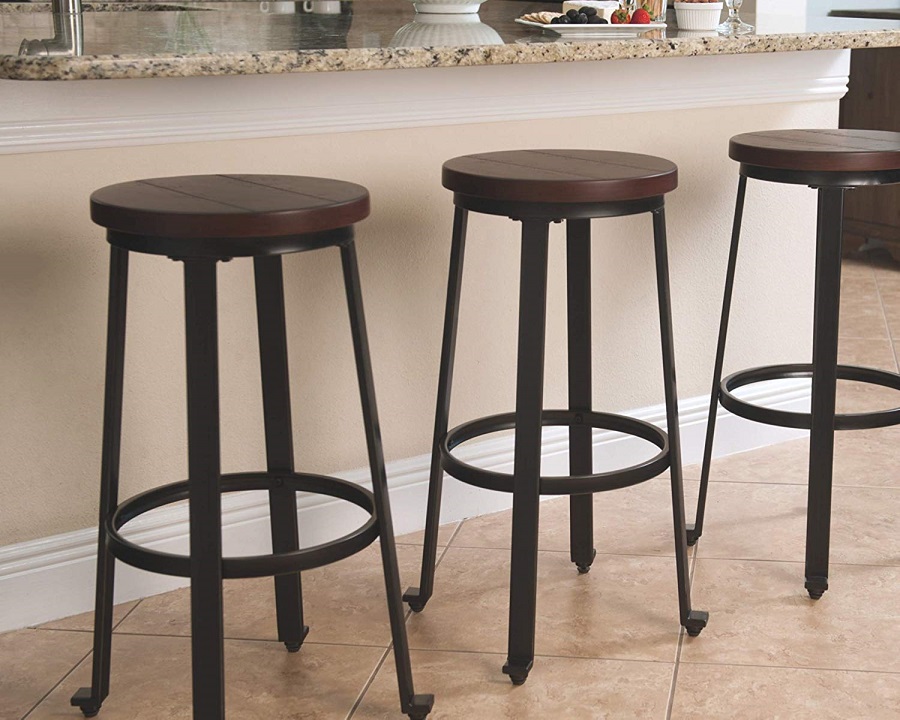 Higher stools for when you don't need to hide them under the island. The design features a rustic industrial style.
Pros: a sturdy metal frame; easy assembly; attractive design; compact.
Cons: not comfy after a long period of time; toe-stubbing hazard.
White Bar Stools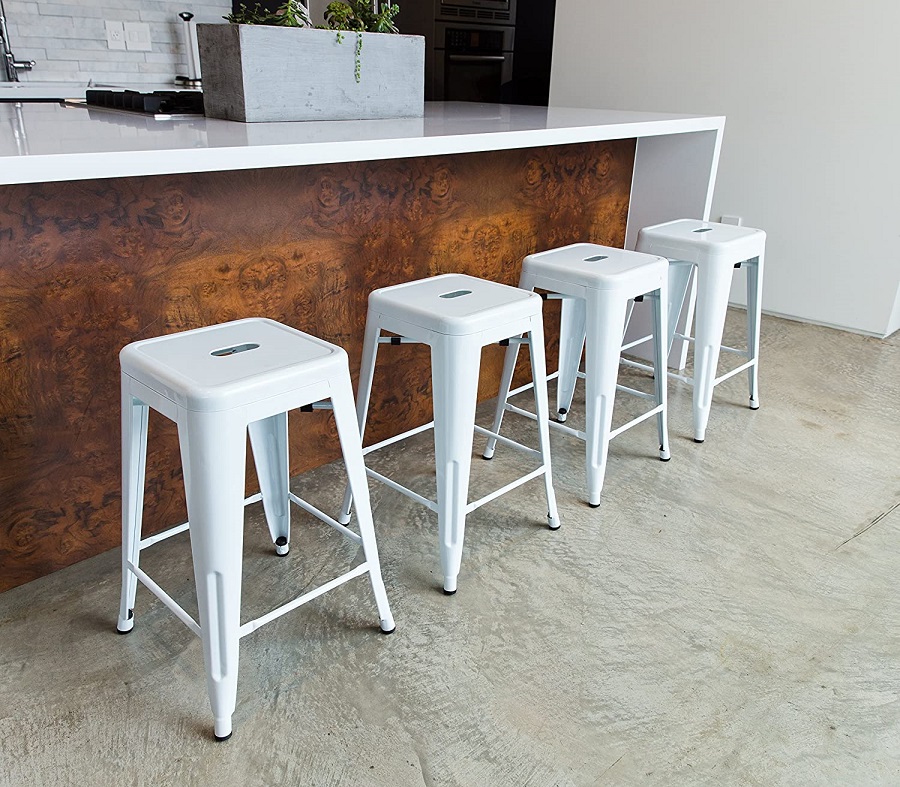 Sleek white-painted metal stools for a clean modern decor choice.
Pros: durable metal stools; no assembly required; attractive modern look.
Cons: doesn't clean well; scratches easily.
Counter Stools With Backs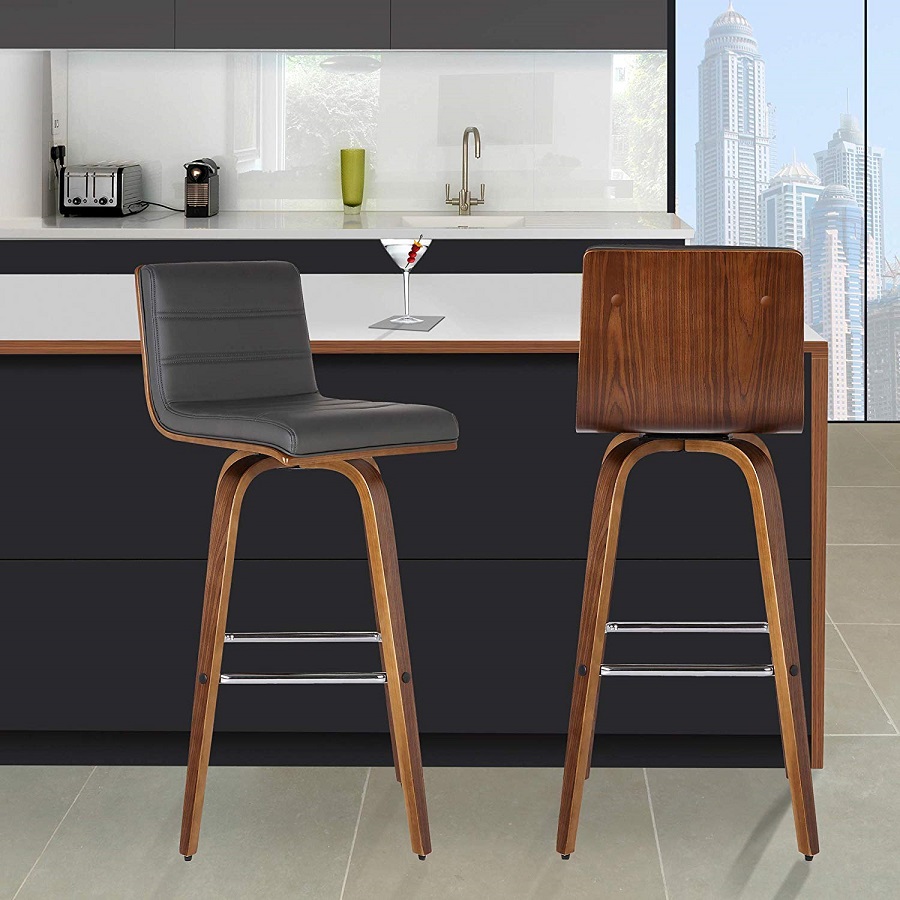 These bar stools are for those looking something stylish and something that can make a statement. These are definitely stately stools for the kitchen island or a bar alike.
Pros: 360-degree swivel function; wood and stainless steel materials; comfy plush seating.
Cons: too narrow; thin wood veneer; scratch easily.
Swivel Counter Stools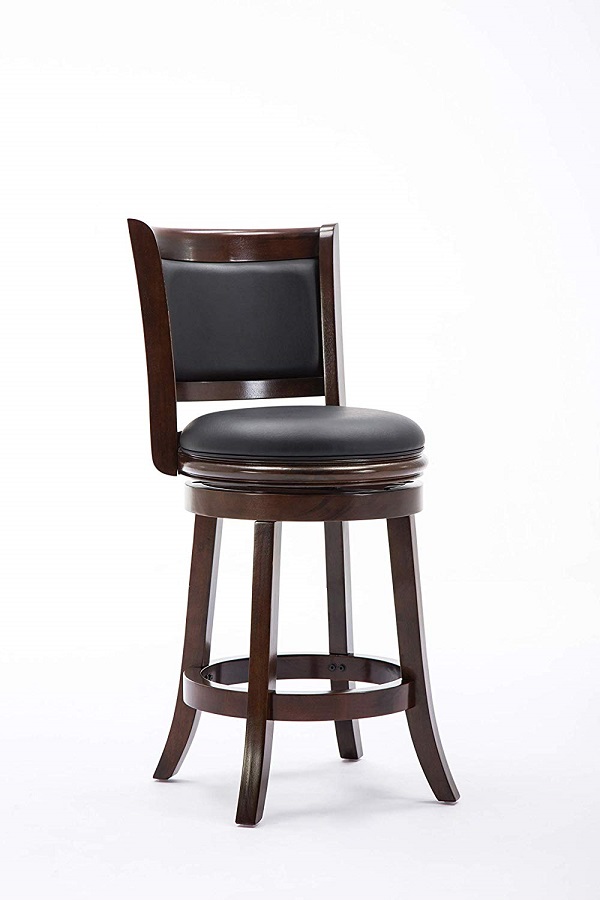 Do you need your new stools to have the swivel function for your convenience? These stools bring it in a fashionable way.
Pros: a range of back designs and colors; footrest; hardwood; easy to assemble.
Cons: seating slightly too small; wears down rather quickly.
Bar Chair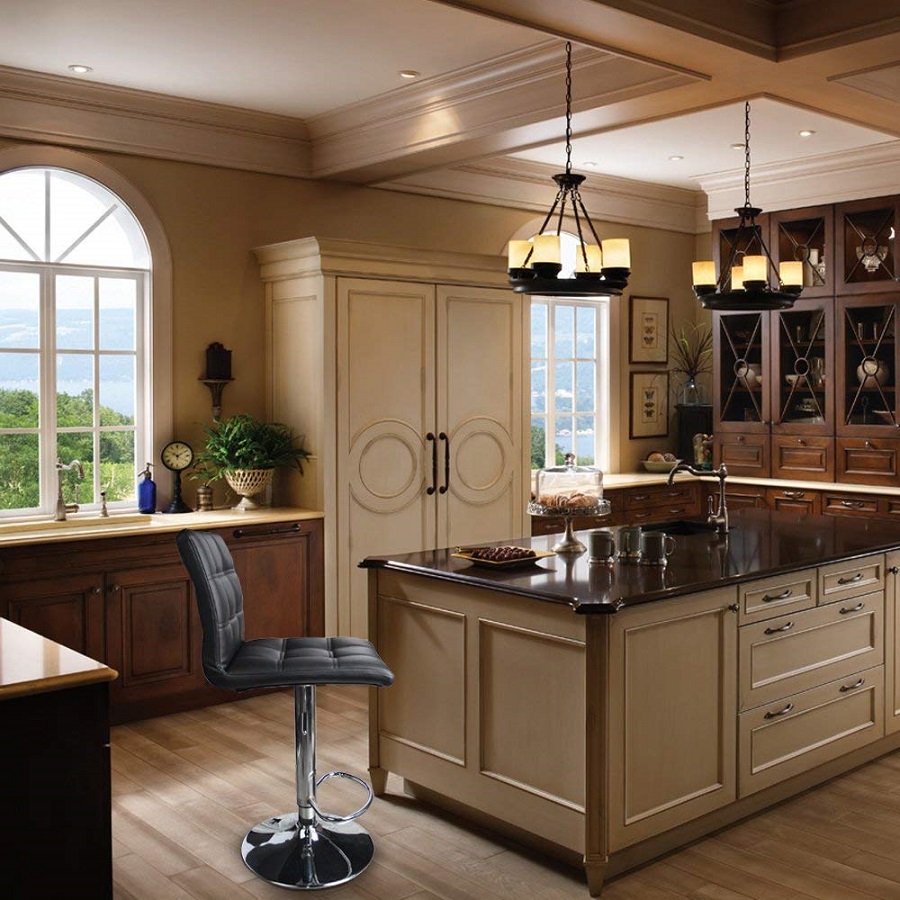 If you're looking for comfortable seating then this is one of those chairs. It's roomy enough for a stool and brings modern look to your decor. Choose this if you need more from your island seating.
Pros: a range of colors to choose from; 360-degree swivel; adjustable height;
Cons: not suitable for children; a bit squeaky; seating not plush.
Metal Stool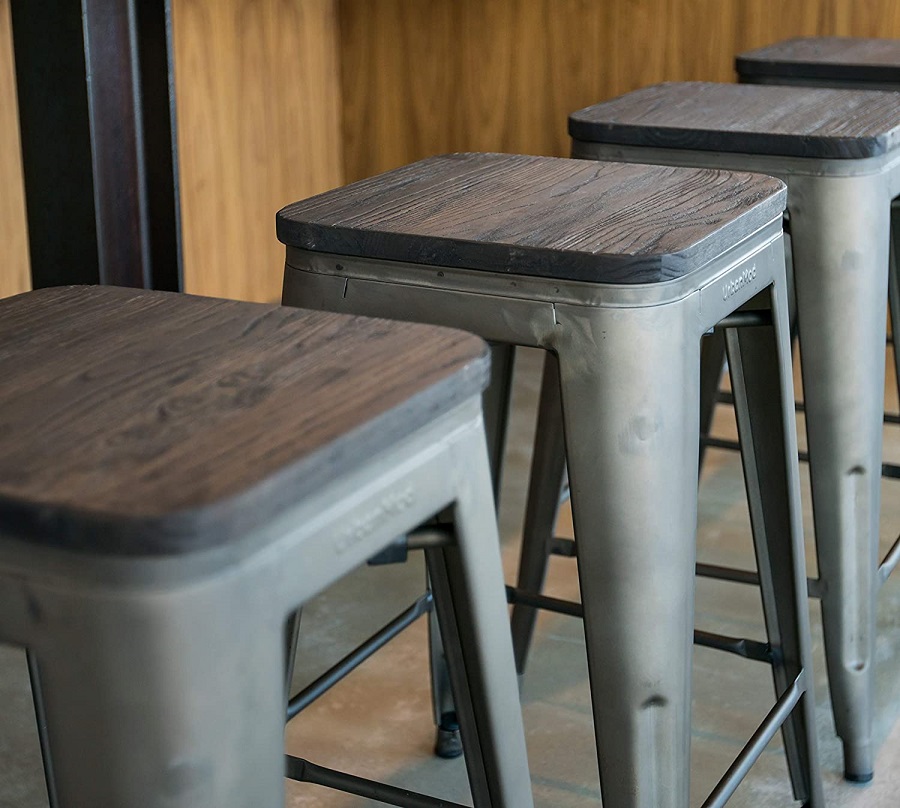 Compact modern metal stools that you can get in a bunch for a big kitchen island.
Pros: color choices; durable metal frame; modern stylish design.
Cons: rough wooden top; plastic feet that might need to be covered in felt.
Bar Stools with Arms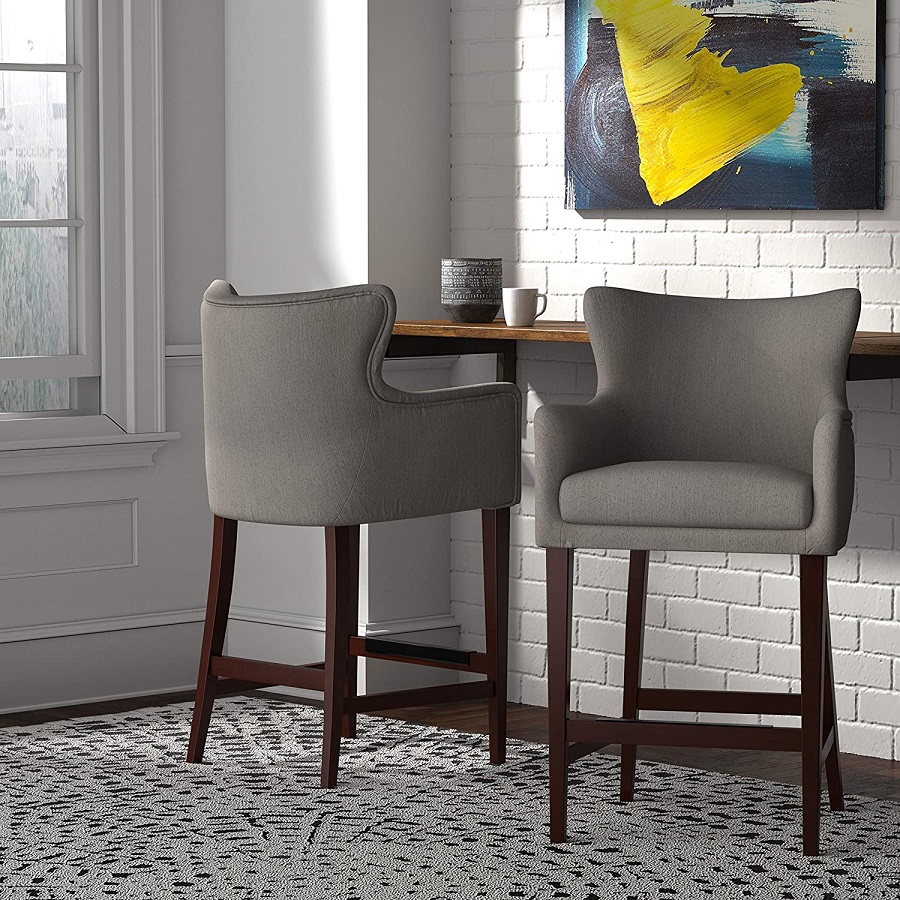 Stools with arms for a more sophisticated and elegant look of your kitchen island design.
Pros: a classic design; comfy; footrests; solid wood frame.
Cons: upholstery is not moisture-proof; a little stiff; the cost.
Continue reading:
Disclosure: As an Amazon Associate we earn from qualifying purchases.