Last updated on August 1, 2020
Looking for the best microwave cart for your kitchen? We've made the list of the top-rated carts for 2020. Read on!
► Our top choice: This Kitchen Utility Cart
A microwave cart is a practical albeit small piece of furniture that is essential to kitchens because it can provide plenty of function. It will help you organize your items and even save space. Some microwave stands are big for heavy-duty work while the small counterparts are designed for portability.
They can also be a great addition to an interior style as they don't only have multiple uses but they also have different designs to match any type of kitchen. And even if the name is a microwave cart, they can also be used in other rooms depending on how you want it.
But what are the things to consider for a new microwave cart? You need to check out these features first before buying one.
Here are some of them:
Size of storage as most of them provide it, but the real question is how many items it can store or space it can save.
Portability especially for those heavy ones, if they have wheels they can still be transported easily.
Versatility as some can be used for other appliances too, not just for a microwave.
Size is important to check too but it's overlooked. A small one can fit even a tight space.
Durability especially if it's gonna be used in the kitchen where there are stain and other harsh elements.
Aside from the features, here are some flaws you might want to check too:
Not stylish, some carts are dull looking that it won't look good to display in the kitchen.
Flimsy carts are money waster as they won't last plus they can break the items on the cart itself.
Ease of use because some carts have loose doors or wobbly feet that it's hard to use it.
Before we continue to the top list, we need to disclose our affiliate to some of the merchants on our list. We may be compensated for some purchases (links tagged #ad) but that comes at no expense to you. This does not influence our selection of the best products.
What's Inside
Microwave Stand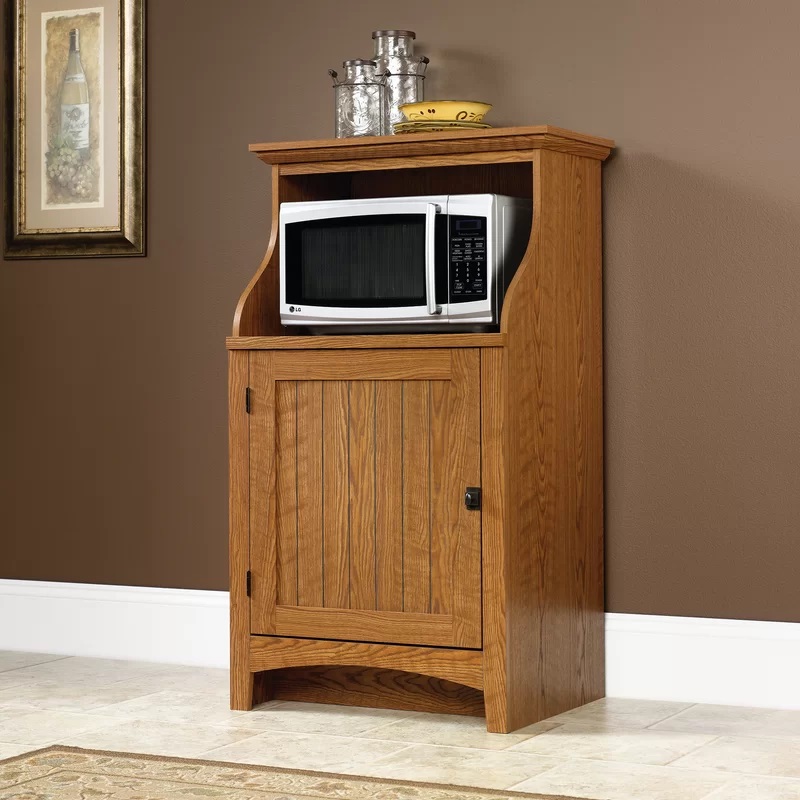 This microwave cart's main flaw is it doesn't have wheels to make it mobile. However, it's affordable and got a cabinet for extra storage underneath for kitchen items. It fits in a small space and the top can be used for other appliances like TV, not just a microwave.
Pros: Affordable; extra storage; compact; versatile; sturdy.
Cons: Takes time to assemble; low quality material; not mobile.
Portable Kitchen Island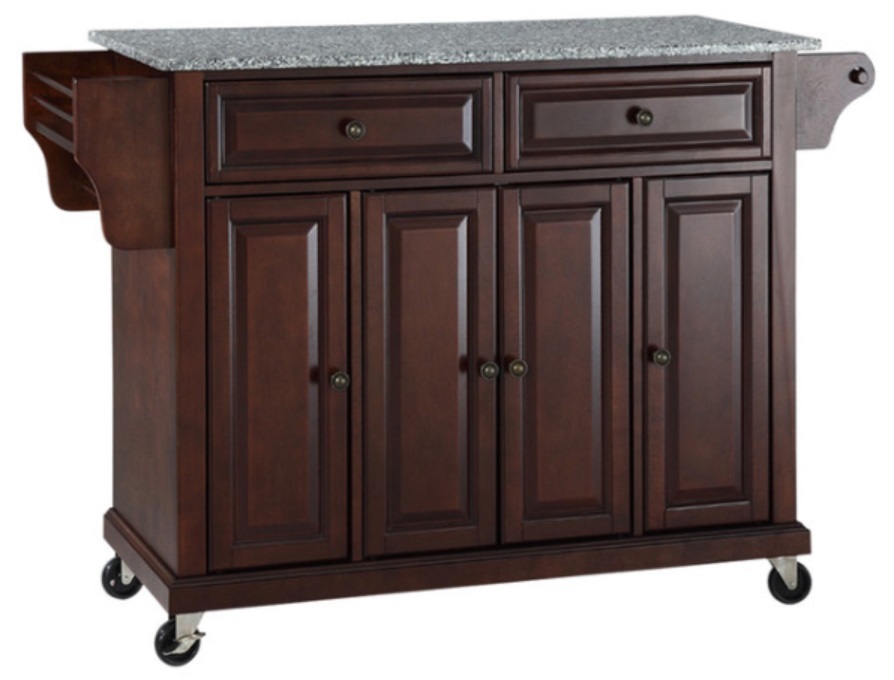 This is a big, pricey microwave cart but it still has value for money as it last long because of high quality materials. It got plenty of storage like cabinets, drawers and racks plus it can be move easily because of the wheels.
Pros: Versatile; plenty of storage; mobile; long lasting; quality material.
Cons: Pricey; difficult to build; takes plenty of space.
Microwave Cart with Storage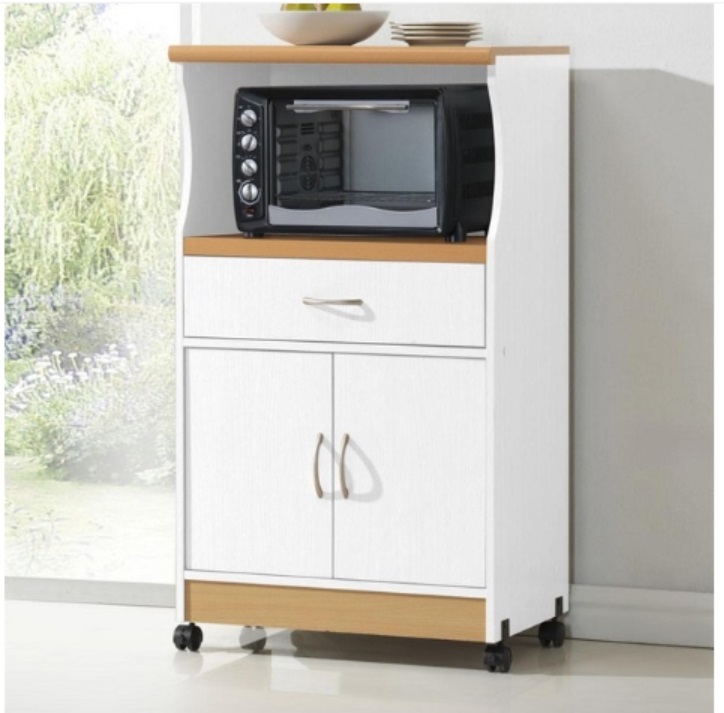 It may not be made of quality materials due to the low price but when it comes to storage, it offers a lot, a drawer, and a cabinet plus the top shelf also offers extra space for plates or other small kitchen items. It's compact and very easy to move around.
Pros: So affordable; extra storage; mobile; compact; sturdy.
Cons: Takes time to assemble; looks cheap; drawer is hard to close.
Kitchen Island on Wheels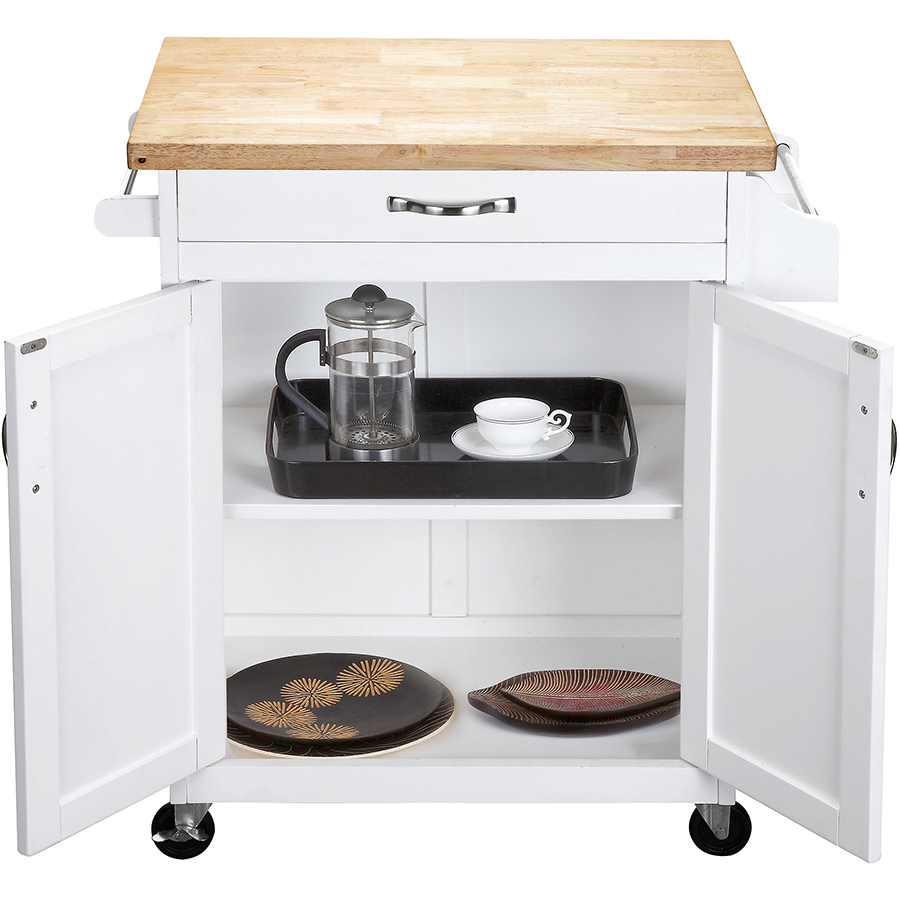 The kitchen island on top is its best feature is you can put kitchen items there or use it as a chopping board to prepare food. It is a bit small though but the size also makes it compact and portable. There's plenty of storage that it can offer too.
Pros: Affordable; mobile; extra storage; kitchen island; easy to assemble.
Cons: Doors not closing properly; low quality materials; small.
Rolling Kitchen Cart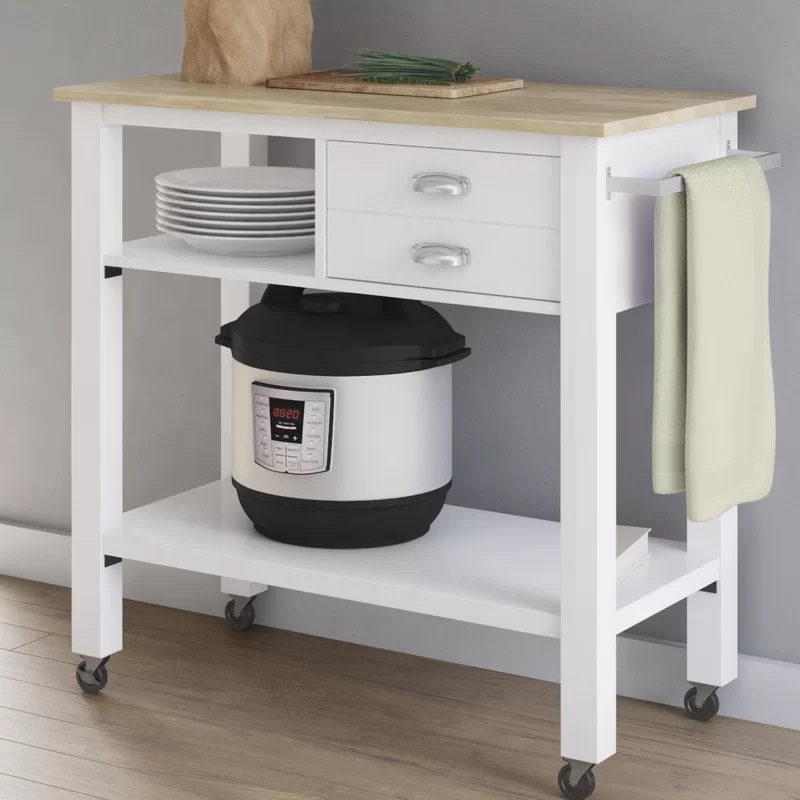 This beautiful looking kitchen buddy is pretty hard to assemble but once built, it's got plenty of features that owners find really satisfying. It offers plenty of storage with a towel rack, locking casters so it won't move when using and looks really elegant.
Pros: Mobile; locking casters; plenty of extra space; affordable; beautiful looking.
Cons: Hard to assemble; poor quality materials; easy to wear.
Kitchen Utility Cart
This is our pick for the #1 best microwave cart. It's lightweight, stylish, and offers plenty of storage space. And if you decide to remove the microwave it will work as a great kitchen cart. The price is a bargain.
This cart has a classic look that's like it's used in 5-star restaurants. It's very affordable though so the materials ain't really high quality that it easily scratches and break easily but it's easy to move around plus an extra tray underneath makes up for it.
Pros: Really affordable; mobile; extra space; classic looking; compact.
Cons: Takes a long time to assemble; easily scratches; flimsy.
Microwave Table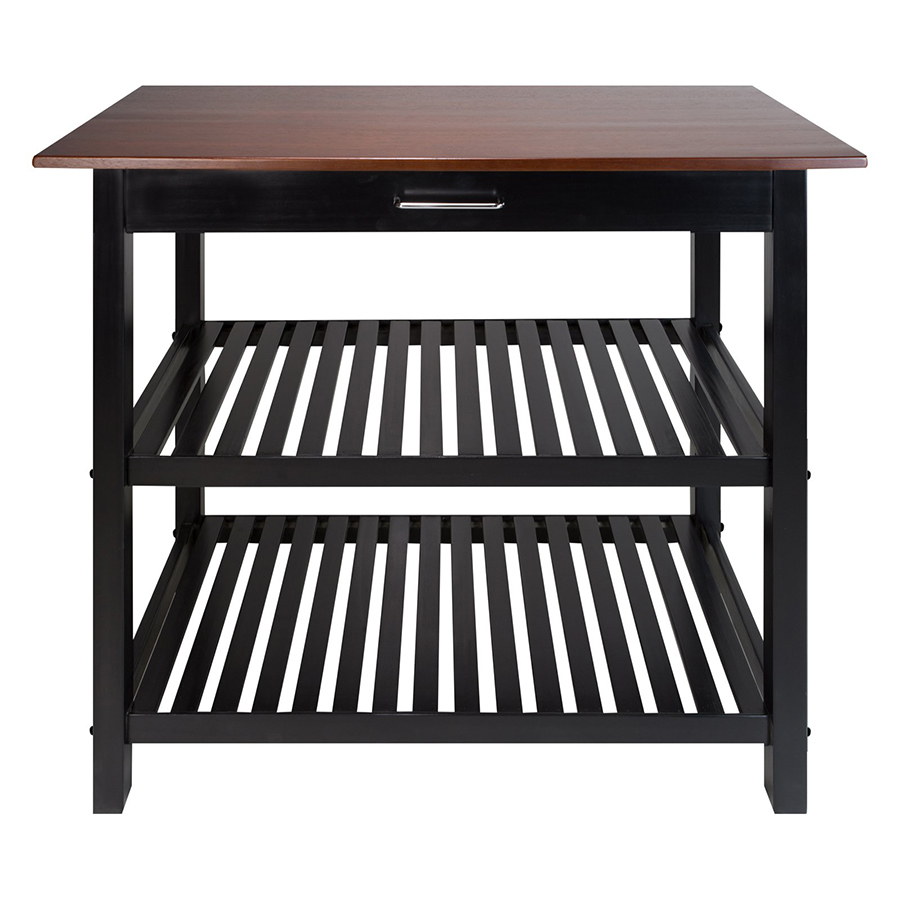 With plenty of trays and a shelf, this item can easily be used for extra space or even an extra table because of the kitchen island on top. It's also lightweight and small so it can fit in almost any space. It's a bit tricky to assemble though and doesn't have wheels to move around.
Pros: Plenty of storage; lightweight; inexpensive; compact; versatile.
Cons: Not mobile; tricky to assemble; flimsy.
Butcher Block Cart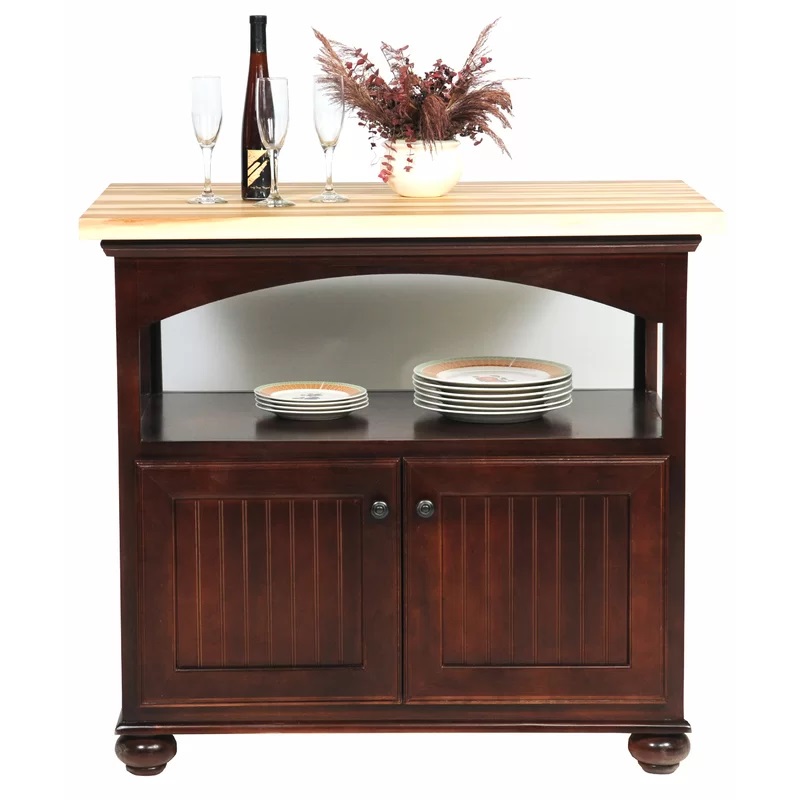 If you want a pure solid, elegant looking microwave cart, then this is a great choice. It is quite expensive though but it's made of the best materials and can last a really long time. It has extra storage for almost any item. It doesn't have wheels so moving it is a bit difficult.
Pros: Solid wood; extra storage; elegant looking; high quality materials; long lasting.
Cons: So expensive; not mobile; uneven doors.
Microwave Hutch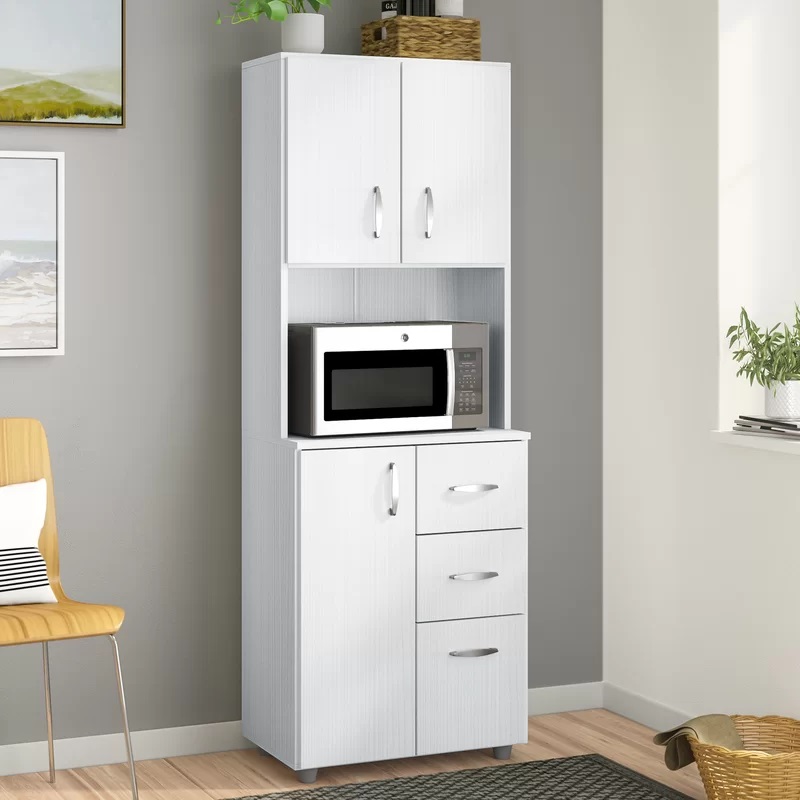 This cart has a hutch and cabinets underneath for so many storage space. It can even be assembled without the lower shelf making it really versatile and compact. It does take a lot of time to assemble though but the materials are decent and it's built to last.
Pros: Plenty of storage; versatile; decent quality; compact; durable.
Cons: So hard to assemble; hard to open and close; smaller than what it looks.
Kitchen Microwave Cabinet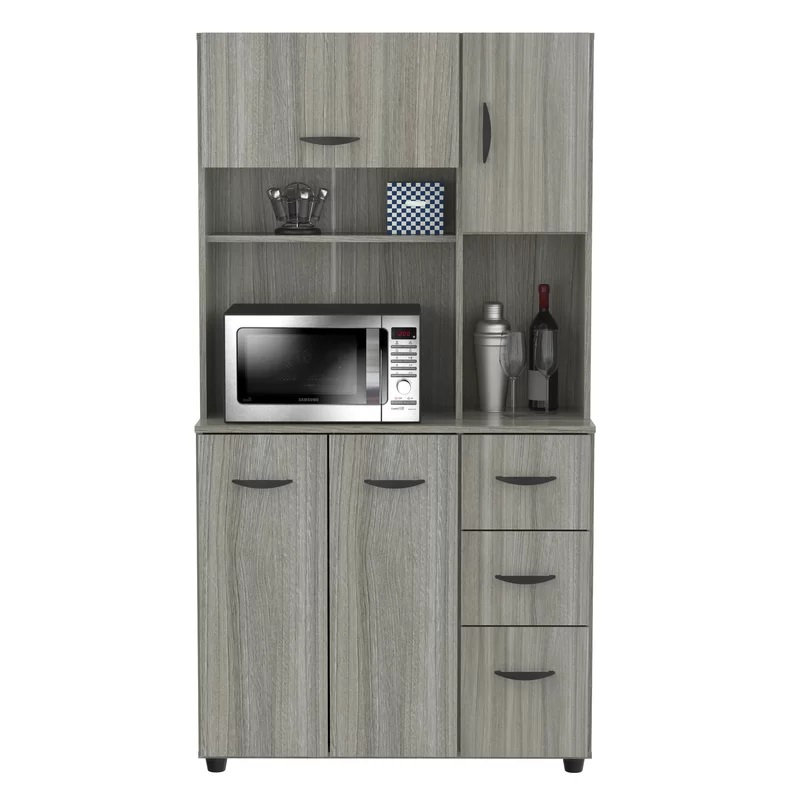 This cart needs to be installed in a place where you don't need to move it much because it doesn't have wheels and really heavy. Nevertheless, it's stain, heat and scratch resistant which can make it last for years. There's plenty of storage it can offer with its ton of cabinets, drawers and shelves.
Pros: Really plenty of storage; element resistant; modern style; durable; built to last.
Cons: A bit expensive; hard to assemble; very heavy.
Continue reading: