Last updated on March 27, 2021
No home movie night is perfect without popcorn. No popcorn is perfect without a classic popcorn container. Here are the best popcorn containers for your home movie nights.
These classic retro buckets are a perfect choice.
So you got yourself the best popcorn machine, and you're going to pop some popcorn for a movie night at home. How are you going to serve it? In a regular bowl? A cardboard box? Nuh-uh. Only the classic popcorn bags will make it the perfect night in. And they can be re-usable too.
Most of us have a favorite movie-night snack, which might not be the obvious choice: popcorn. Whether you prefer your popcorn buttered, salted, or even both, you should always give some thought to how you store it. The right container can keep your popcorn crispy, warm, and ready to eat, and that's why we've gathered the best popcorn containers to fill with your favorite popped kernels.
This is our top list. It has shopping links (we earn a commission at no extra cost to you) showing where you can get them too.
What's Inside
Classic Plastic Red White Striped Popcorn Containers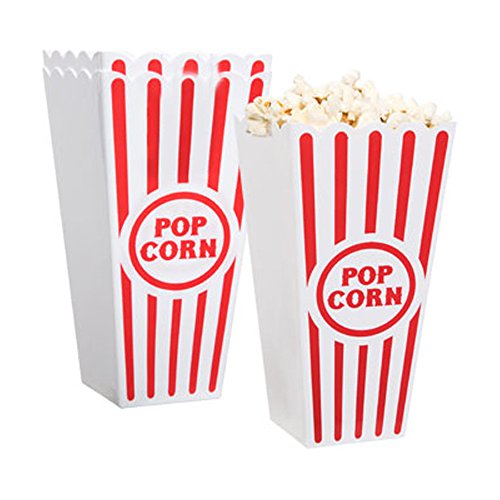 This is our editor's choice because nothing beats classic.
Premium quality 1920s-style reusable red popcorn container, 4 square inches top opening, and 8 deep 4 containers included. Machine washable, oven-safe, grease proof for buttery popcorn. If you are looking for environmentally friendly reusable dinnerware for your home movie night, then you should not hesitate to purchase these retro color popcorn boxes!
This popping container is made of strong hard plastic. One thing is for sure, it's pretty sturdy and would make a good popcorn container for when you have people over at your place.
The Retro popcorn boxes set the mood for a retro movie night at home. The popcorn container is re-usable and environmentally friendly as it reduces waste.
Tebery 12 Pack Plastic Reusable Popcorn Containers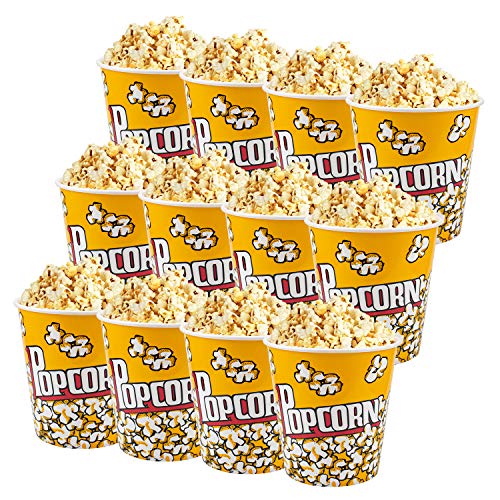 The easy-to-clean and dishwasher-safe design of these popcorn buckets means you can bring them to the big family movie night at home. The set contains 12 buckets, meaning if one is being used for a snack, someone else can have a bucket ready for the next round.
Design: The bucket is made of safe plastics. The bottom is a larger square so that it can hold more popcorn. The bucket stackable design for easy storage with its ability to be cleaned in a dishwasher and storing the easy-to-access candies, popcorn, and chips make this an ideal container for home movie nights.
You could make it pertain to a movie night at home by making the popcorn container store-less and first-time. They are easy to carry than go-back containers because they are lightweight and not bulky. The design is funky with cartoon figures, which makes them more enjoyable for everyone. Popcorn containers can be washed in the dishwasher for ease after cleanup. This product is versatile, with its size use being 7 x 7 inches and 5 inches bottom size.
JeVenis Set of 12 Magical Unicorn Party Favor Popcorn Containers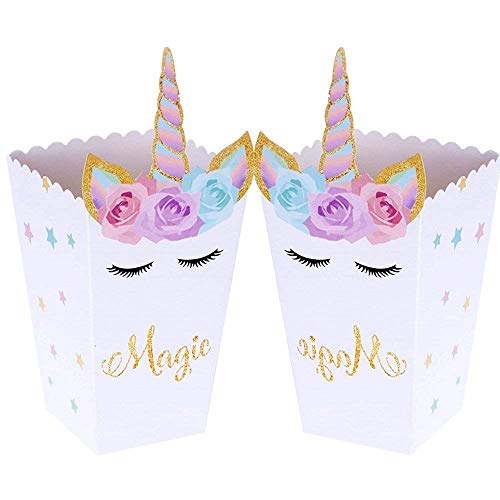 For a movie night at home, my favorite popcorn container is the Magical Unicorn Party Favor Box, which has 12 unique-looking boxes for people to enjoy. This popcorn container is designed with a unicorn horn that has glitter on it. It is 5.75 inches tall, 3.5 inches square at the top of it. The material for this box is sturdy cardstock paper, and if you want to use it more than once, press to form a box again as easy as that!
The popcorn containers are sturdy, made of card stock paper, and have a unique design with a glitter-filled horn for decoration. The boxes themselves are reusable, and their design is perfect for a movie night on the couch at home.
The Magical Unicorn Party Favor Boxes will hold healthy food for movie night at home. The design could excite children, while adults would appreciate its reusability.
Modern Style Reusable Plastic Popcorn Containers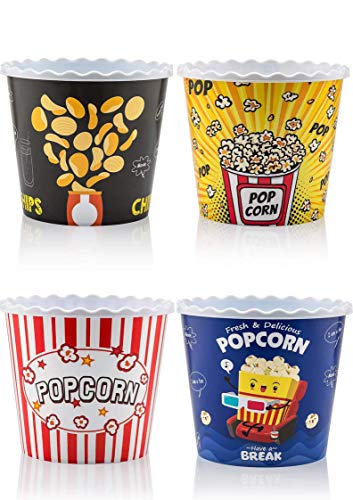 This plastic popcorn container is great for movie night at home because it has a tight lid that cannot pop the popcorn, it is easy to clean with just running water and holding the pieces under the tap, and it has a handle so one person can take hold of it easily when carrying snack bowls. The design, colors, and quality please viewers, while these are fun containers to celebrate when wanting to make a food event happen.
AimtoHome Orange Popcorn Boxes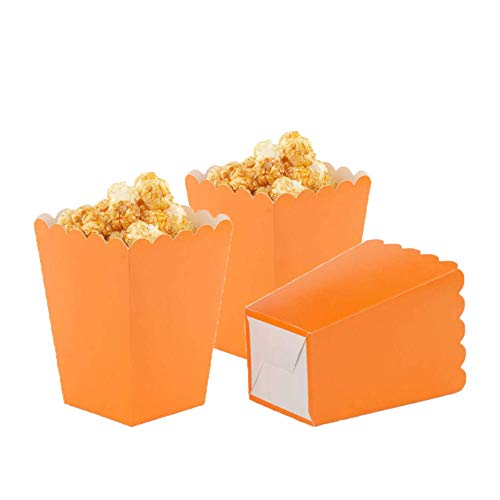 Our blue popcorn boxes are perfect for movie night. They come flat-packed in sets of 3 with 250gsm paper and an open-top to display your delicious candy-popcorn inside them. If you're feeling really festive, get matching bags to fill with our popcorn boxes for a buffet table dessert that is sure to wow.
A popcorn container is an open, cube-shaped container with a lid. It is large enough to provide a handful of popcorn and would be great for many uses, such as movie night or tailgating. This item is perfect because of its compact size and its durability. The product also includes handles making it easy to hold while being popped.
A popcorn container has a 2.9×2.9 inch opening in the top, a 2.2×2.2 inch bottom, and is 4.1 inches high; it comes with a cardboard box that pops open easily and makes an attractive container for movies or parties because it serves this function well; the popcorn container can store many snacks and is reusable as well as being environmentally friendly–having both pros because it means less waste going to landfills.
Nostalgic Popcorn Boxes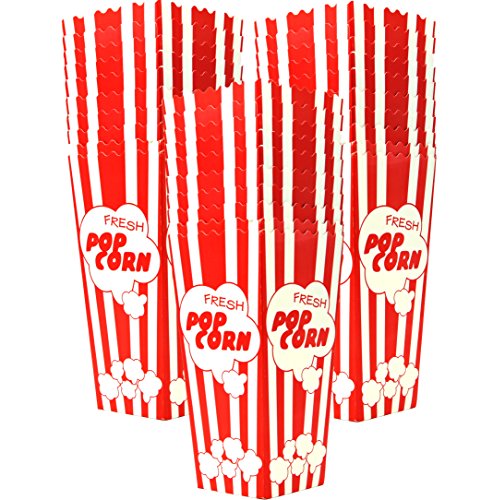 This reclosable, reusable popcorn container is a great value. The easy fold technology allows it to be reused securely, and the staples make sure it is sturdy for gravity-defying snacking while you watch movies at home.
This popcorn container is perfect for movie night at home with friends and family. It's big enough to hold any snacks inside. It works for most types of food but is designed to be disposable to not worry about carrying it back home after the show. The other great thing is that it is collapsible, so it can take up less space until needed.
A popcorn container can come in handy for a movie night at home. This is because of its design, which allows for easy storage and usage, and its collapsible design gives an easy way to store it when not in use. Made with quality paper, the 7.75-inch size would allow for fit snacks, chocolates, marshmallows, and jelly beans as customers look to have a tasty yet healthy snack.
Colorful Striped Popcorn Bags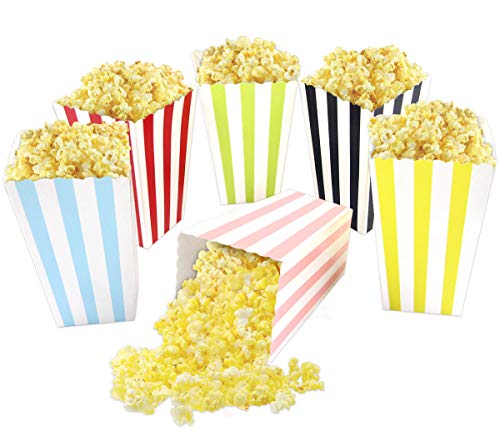 A great, lightweight, and durable movie night home popcorn container of pink and yellow colors is what you get. You can fold the popcorn boxes, easy assembly required, and are perfect for kids' birthday parties! They're always in perfect condition and hold up well (durable). Kids loved all the colorful popcorn boxes at the party or carnivals.
This is a 2.8″x2.8″x4.5″ red, blue, pink, and yellow box that is lightweight but not flimsy and works well for birthday parties because it holds up when folding sturdy paper material the packaging is made of. This popcorn container can hold take-home treats such as chips or some other snacks and last through multiple uses if there aren't any oils on them beforehand. These containers are perfect for a movie night home.
Rose Gold Popcorn Boxes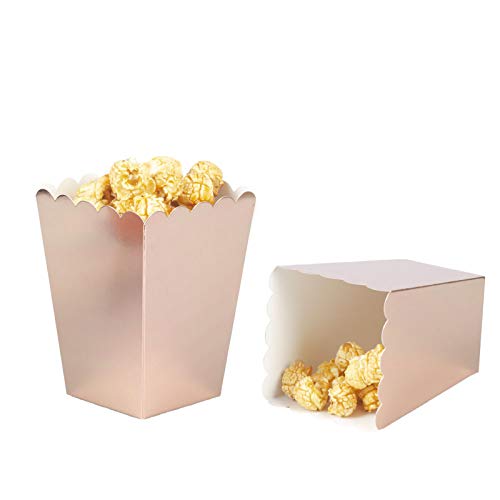 This Rose gold popcorn container is perfect for any occasion to give away as favors or have available toppings for a larger party. For a budget-friendly option, the paper popcorn containers come flat in a pack of 12 and are easy to assemble on site. Included with this popcorn container box is a mini party popper, making it even more convenient to use the assorted flavors that come in these boxes.
These can be reused because the size is perfect in comparison to usual size popcorns. You can open the container's top to allow for decorations, such as peanuts and candy, and fill it with other items. The design has been made with sturdy paper where it was thought about food safety precautions like being easily assembled.
This popcorn container would be perfect for an at-home movie night. This container can also hold candy, nuts, and even cookies for easy access when needed for a convenient snack.
Hansgo Small Popcorn Boxes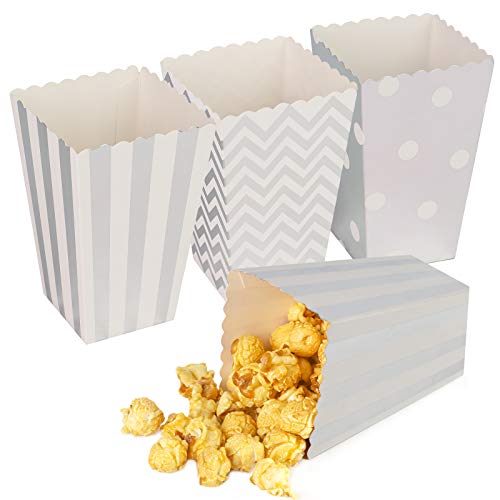 It can hold various treats that are sturdy and won't deform. Plus, it's easy to assemble without any tools or creases. Finally, it is useful for prop purposes or as part of an event such as children's birthday party favors. This product will help set the mood for movie night at home.
This package includes 36 open-top small popcorn boxes that fold with quality paper. The boxes can hold many different treats and are very sturdy. These kits come in sets for easy assembly, which you can easily put together with little time and effort. All around, this popcorn container is perfect for movie night at home or as a party favor or candy bar supply at a wedding!
Papernain Disposable Paper Popcorn Boxes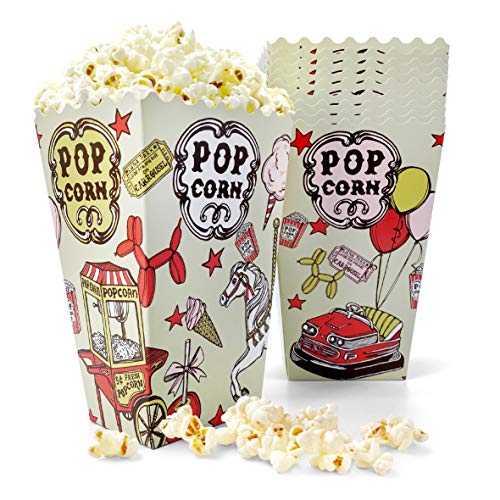 Each case of 50 popcorn buckets is made of premium food-grade sturdy paper. This type of product is good for a movie night home and could be used repeatedly, as you can easily wash it without decreasing in quality. At the top, each bucket measures 4.5″ X 3.5″ whereas it measures 3.1″ X 2.25″ at the bottom.
A 46oz paper popcorn bucket with a folded back and an amusement park design. Not only is it a great way of enjoying popcorn with your family from the comfort of home, but it is also perfect for parties, rentals, and small-scale theatres. The paper does not take away from the taste and flavor of the popcorn, as plastic would.
This paper plate makes for a great movie night home by popping the popcorn in it. The design offers an amusement park that is perfect for all events. It also has a bucket capacity of 46 ounces, making it great for all gatherings, big or small, with many people. Finally, the "popcorn box" comes folded, so it is easy to assemble!
Continue reading:
Disclosure: As an Amazon Associate we earn from qualifying purchases.