Last updated on March 27, 2021
Here are the best popcorn maker machines for your movie nights at home. Any of these top picks will produce excellent popcorn.
In a hurry? This is the popcorn maker machine of our choice.
When you're in the mood for a snack, nothing hits the spot quite like hot, fresh popcorn. Whether you're having a movie night at home or want something to munch on while you veg out in front of the TV, you can make a batch of this tasty treat easily with a popcorn maker (grab your popcorn containers too). These nifty kitchen appliances specialize in pumping out batches of popcorn in mere minutes, making it easy for anyone to enjoy a healthy snack. Grocery store microwave bags can't compare to the taste of popcorn made at home! So, what do you need to know to find the best popcorn maker for your kitchen?
You should consider one with a built-in stirring arm. While this feature is not as well known as the popping chamber, it is nevertheless an essential part of any popcorn maker, as it prevents burnt kernels and ensures that your corn will pop to maximum crunchiness. This is especially important if you make a larger batch of popcorn, such as for a party.
A hot-air popcorn maker is the best option on all accounts. It's healthier and easier to clean. And you can add the butter and flavors later. A compact electric device is all you need to put it up on the kitchen counter and power up your movie nights home.
Do you have a dedicated home theater room? A popcorn maker in vintage style might add some pizzazz to your decor. Such machines aren't as practical in the kitchen but they will work as an accent piece.
Here's our list of top 10 popcorn machines. The links earn us a commission at no expense to you.
What's Inside
Dash Hot Air Popcorn Maker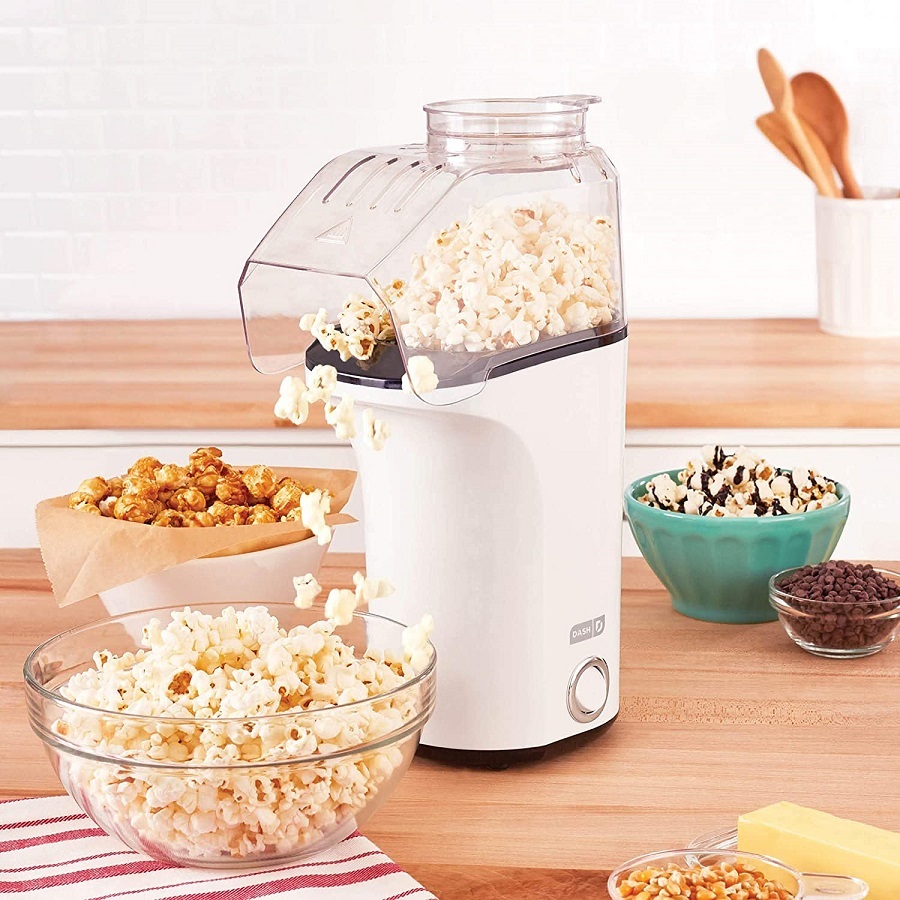 This device is our editor's choice.
The one-touch power button heats the kernels and creates the perfect movie night popcorn. This is an easy-to-use feature; it takes no time at all to pop 16 cups of popcorn without oil or preservatives. The 1-year warranty coverage for non-electric parts, such as the measuring cup, makes this pop machine well made and easy to maintain. The features in this machine make it efficient for home use (welcoming tight space).
It works by measuring your popcorn kernels into the container and pushing the power button. This device pops 16 cups of hot and fresh popcorn quickly if you press the power button to cook it. Then, there's an option to put butter on top for extra flavor or cooking on the top, or movie theater-style up in it makes it really easy for anyone who wants that experience at home.
This popcorn maker can pop any type of popcorn and has a high-capacity, 16-cup heat chamber with a one-touch start button to produce fresh and hot popcorn in minutes. Even kids can use this machine. The measuring cup can be used as a butter melting tapper on the top of the machine and allows easy butter popping for movie theater-style popcorn taste when melted. It is ideal for a small kitchen or dorms.
Quick facts:
Compact design.
The capacity of 16 cups (8 pints).
Uses hot air to pop the corn kernels.
Made of high-quality plastic.
Dishwasher safe.
West Bend Stir Crazy Electric Popcorn Popper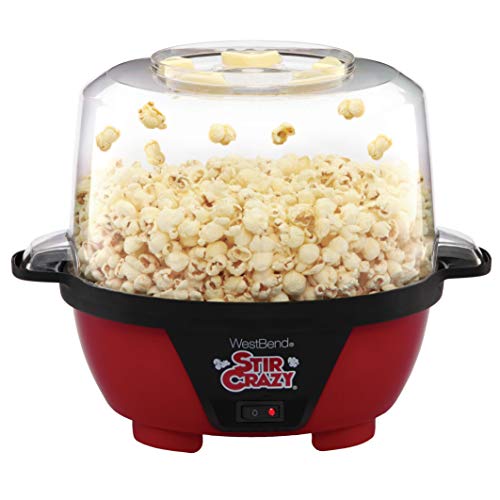 The popcorn maker has a pleasing vented cover which includes a 6-quart capacity popcorn bowl. The clear lid and scoop make it easy for home-owners to clean the unit after they use it. It also has an improved popping function that helps prolong popping time, making more popped kernels and larger ones. Besides, nothing falls after the pops due to the stirring rod in the motorized version of this popcorn machine model for home.
This machine makes it possible to cook popcorn the old-fashioned way without using oil. But it still cooks the popcorn within half the time and with even more flavor. It is made from high-quality materials to ensure sturdy and long-lasting construction, plus two handy handles in case you need to pick the device up after making wonderful tasting popcorn. Its improved popping system will give a better opportunity to pop more of the kernels each time, plus larger kernels!
The lid coating is nonstick for easy cleanup and the stir rod motorized; it improves popping and gets more popped corn. With a convenient nesting lid, this would be ideal in small storage spaces.
Quick facts:
6 quart capacity,
Non-stick pan.
Compact.
Great Northern Antique Style Popcorn Machine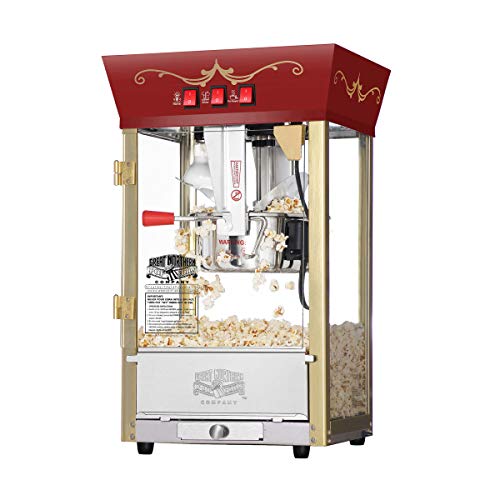 This pop is perfect for use at home during a movie night. The pop maker is made of glass. The quality of the pops that it produces depends on what setting you switch to. Working on 110 volts, this can make 2-3 gallons per batch. Not complicated to clean once the popcorn pops out of the kettle and into a new bowl!
This popcorn machine makes the perfect popcorn for an evening at home. It is made of tempered glass and has a 3 position control switch, 860 watts, and the ability to make 2-3 gallons in one batch like Gone With the Wind's Meg Gailey (12th plate). It pops the perfect amount while using standard 110 v power that makes it serve well for watching Gone With The Wind on tv! There is no need to worry about cleaning it because each piece is removable, giving you access.
A popcorn machine with a touch of color is guaranteed to attract people's attention. This best popcorn maker is made of tempered glass all-glass, painted premium, safer packing; this popcorn scoop's tech specs are height 14.4″, width 13.6″, depth 22.8″. The clarity and gloss of the glass create a stunning appearance, yet it doesn't sacrifice durability and functionality. The premium paint assures that every piece has durable quality.
Quick facts:
Antique style.
8 oz capacity.
Popcorn Maker Machine By Paramount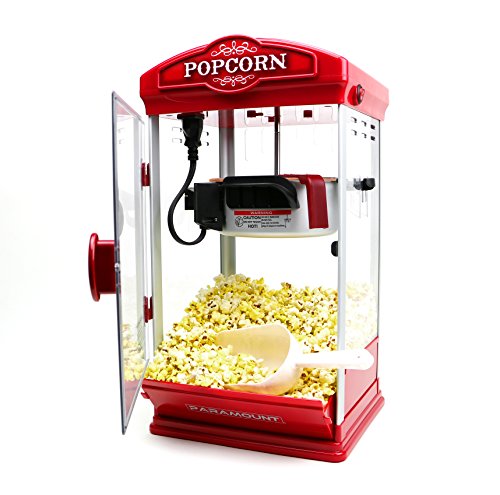 It's flexible and can be used to pop 2.5oz, 4oz, 6 oz, or 8 oz bags of popcorn per batch. It's best used with Paramount Popcorn packets, but any standard size will work perfectly too! This machine can make up to 8 oz of popcorn per batch. The fiberglass container releases moisture prevents the buildup of smoke flavor, and won't absorb any odors. The machine includes a popcorn scoop and creates crispy-perfect movie theater-style popcorn using oil, salt, and butter.
Quick facts:
Capacity of 8 oz.
Dimensions: 19.5″ x 10.5″ x 9.5″
Uses 2.5oz, 4oz, 6oz, or 8oz popcorn packets
West Bend Hot Oil Theater Style Popcorn Popper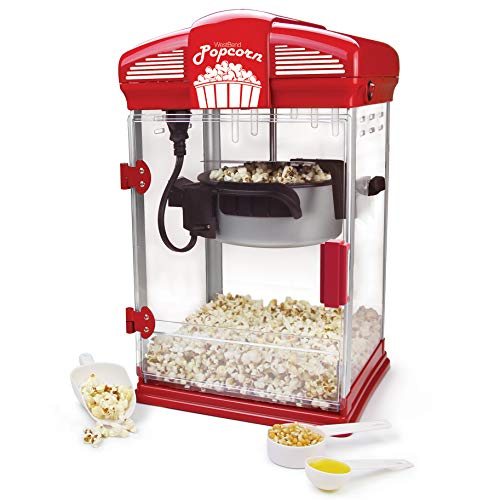 This 4-quart kettle makes popcorn in 3-minutes. It works great, and people seem to enjoy them for a movie night at home. Cleaning this is not that hard since it has a special nonstick coating. The sleek porpoise cabinet breaks down efficiently for easy cleaning. It is perfect for serving 1 – 2 people, depending on how they eat their popcorn.
Popcorn is made using stir rod technology, and no extra oil required when cooking. The popper cabinet has an attractive, durable design and is easy to clean. It can fit just about anywhere. The tilt door lets you easily serve the popcorn without losing any of it out the edge of the opening or spilling popcorn on your clothing. The kettle is nonstick coated for easy cleaning.
Quick facts:
Capacity of 4 oz.
Movie theater design style.
Great Northern Popcorn Machine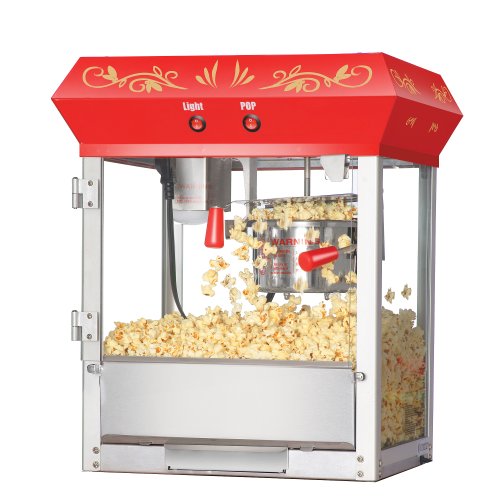 When looking for a popcorn maker to use at home, consider the Delightful Deluxe model with a two-position control switch and the exclusive whisper reliable and powerful 560-watt motor. The heating deck is also an excellent feature that heats and pops the popcorn properly. It consists of heavy-duty powder-coated steel construction and quality stainless steel features, making it last over time. People utilize this sort of popcorn maker mostly for movie nights at home, where it mainly provides fresh-popped kettle corn quickly.
With a 550-watt motor, this popcorn maker's Deluxe model operates quietly for movie nights at home. Revolutionary wreathen light and heated, non-stick platform facilitate easy cleanup. Its stainless steel construction with heavy-duty powder-coated steel enhances durability and functionality for family use.
Quick facts:
Capacity of 6 oz.
560 watts.
Warmer deck.
Nostalgia Vintage Professional Popcorn Maker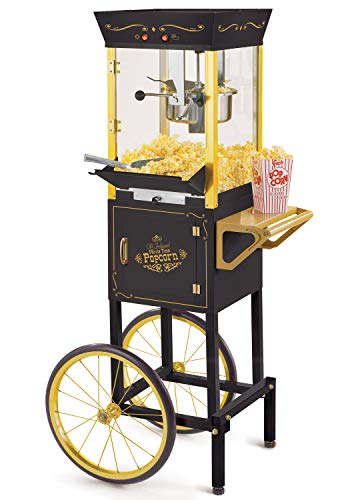 This popcorn machine has a convenient storage compartment inside to store all of the popcorn's cherry toppings, kernels, and other edible additives. Popcorn can be enjoyed with either butter decorative shakers or on a clean white table cloth with rose petals, just like at the movies. The machine is made from stainless steel and tempered glass for cooking protection to avoid burns during cleanup. You can produce 32 cups of pristine movie theater-style popping corn per batch with this machine without any worries.
This popcorn machine pops up to a full 32 cups of movie theater-style popcorn per batch. Three parts come apart for convenient cleaning: the kettle, the clear part, and the lid and handle. Use this machine with an 8-ounce popcorn kernel stovetop kit, or use your own favorite flavors. The unit is perfect for all types of theater-style popcorn recipes, like two 4-oz packs of buttery kettle corn seasoning mix.
It has a light inside that will create a homely feeling at the movie night. The countertop is made of tempered safety glass that is scratch-resistant and heat resistant. There is also a tilt-out drop door for easy scooping and serving the popcorn, and there is also a kernel catcher tray to help prevent overflowing kernels.
Quick facts:
Capacity of 32 cups of popcorn.
Professional grade.
Vintage design.
Pop Pup Countertop Popcorn Machine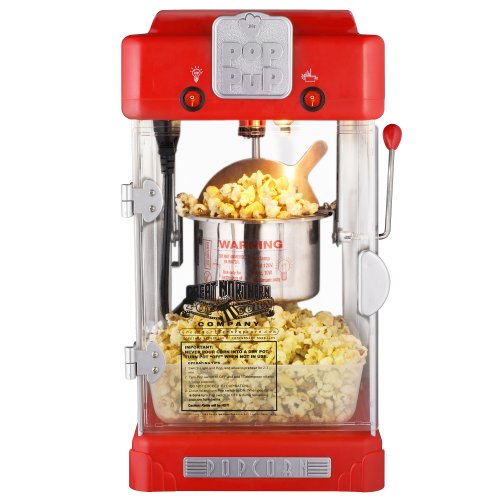 This is the 8-ounce popcorn maker. It includes a stainless steel kettle and has a handy 10W warming bulb at the top of the machine, so your popcorn tastes fresh. This tabletop popper is sure to fit on any countertop in your home or business. Built with stainless steel, polycarbonate sides, and a door, this machine pops popcorn onto its surface quickly while requiring little to no effort.
Quick facts:
2.5 oz capacity.
Compact countertop model.
Hot Air Popcorn Popper Maker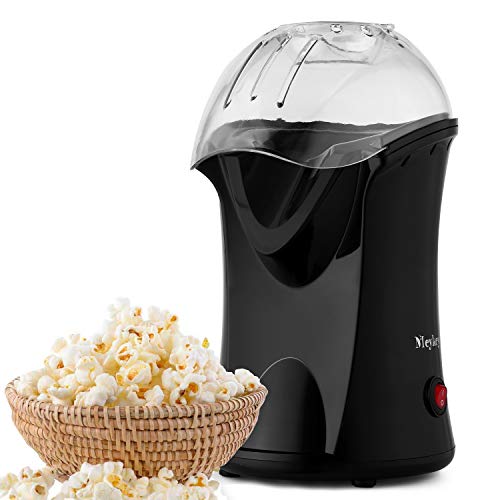 This popcorn maker is made of aluminum which pops up to about 98% kernels. It can make a smooth and crunchy size – a large amount of fluffy popcorn with a 2-4 minutes time span. People can use it for popping on the spot for any big events such as movie night at home; as long as they are nearby, it will work quietly without any interruption, and clean up is just wiping after machine pops.
This popcorn machine pops tasty, healthy kernels. It is a kitchen popper that is especially good for personal use and made with safe materials. The lid also has a see-through cover, so it will be easy to watch the cooking process happen. It can make 2 and 1/2 cups of popcorn per batch in about two minutes which isn't too bad considering many makers have slower cooking times or need gallons of oil to function.
Quick facts:
2.82 oz capacity.
Warmer and buttering cup included.
Minimal unpopped kernels.
Cuisinart Easypop Popcorn Maker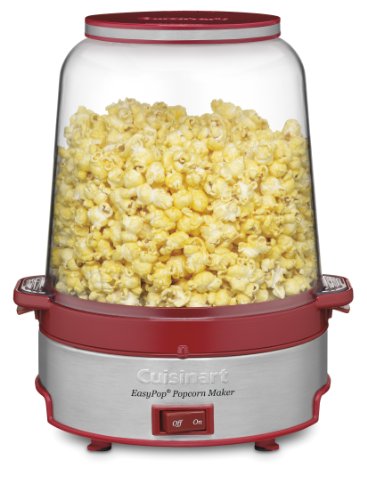 This "popping bowl" is made of brushed stainless steel. The popping bowl's interior has built-in ventilation and dishes out a warm serving of 16 cups of movie night popcorn for watching with your family, friends, or loved ones. The motorized stirring arm mixes the kernels with just a touch, so you don't have to worry about an undercooked mix or burnt popcorns. And this popper is beautiful on your countertop.
This hot-of-the-movie popcorn maker has a brushed steel base with an embossed logo, a motorized stirrer to keep the contents in the bowl mixed, and a removable tray for easy cleaning. The bowl is also ventilated for easier popping with an included cover. A positionable stirring arm will work well when you're in a comfortable sitting position or crowding around the movie at home. It can create up to 16 cups of popcorn per batch.
Quick facts:
Capacity of 16 cups.
Non-stick plate.
FAQ
What is the healthiest popcorn maker?
A popcorn maker that uses hot air to pop kernels is considered the healthiest option because there are no microwaves or heated oil in the process.
Continue reading:
Disclosure: As an Amazon Associate we earn from qualifying purchases.