Last updated on January 30, 2021
Looking for new salt and pepper shakers to spruce up your kitchen or dining table? These are the best shakers, mills, and grinders to choose from.
So, what's the #1 pick anyway? This automatic grinder.
Often an afterthought, the salt and pepper shakers aren't just two small containers you use to keep your spices. They can be very functional — they can be grinders and mills. Some models can have automatic grinding features, LED lighting, and more. But they can also be the best accent you can have on your dining table.
There are literally hundreds of products to choose from. But if we're talking about the best, the list becomes manageable. We've narrowed it down to the most impressive mills and grinders in both function and design.
Interesting fact (and one you will want to know about grinders.) While a grinder can be made of many different materials, including stainless steel and plastic, ceramic is the most preferred option. It has the right properties — it grinds well, it's corrosion-proof, and it doesn't affect the taste of the spices.
Without further ado, take a look at our top picks and find your ideal set of shakers.
We have included shopping links for your convenience, and they may earn us a commission at no expense to you.
What's Inside
Electric Salt and Pepper Grinder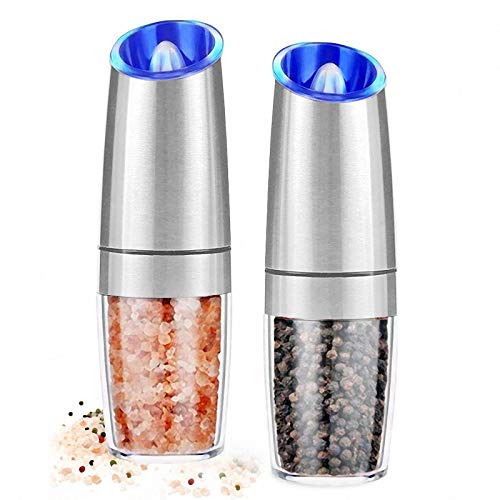 This product is our editor's choice.
Forget the manual mills and grinders. This electric pepper grinder has a cool gravity system that senses weight. No manual grinding necessary! Flip it, and you'll have freshly ground spices with a perfect grind. This electric pepper grinder features an adjustable knob to select your spice, salt, or peppercorn coarseness.
The ceramic grinder is not just durable. It has high hardness while being able to grind the salt and pepper into fine seasonings. A transparent container allows you to see the remaining seasonings in the grinder easily. A high-quality material cap offers an easy grinding experience. A blue LED light will turn on automatically during the grinding process — you can tell where your seasonings are landing and how much you have put into your food. Each unit requires 6 AAA batteries, which are not included.

Salt and Pepper Shakers with Adjustable Pour Holes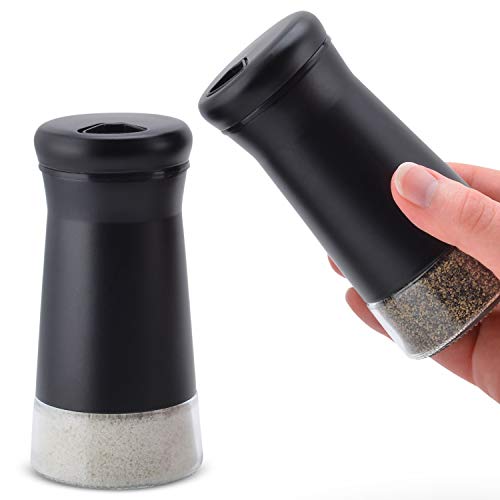 Standing 4.5 inches tall with a 1/2 cup storage capacity, this set is the ideal size to grin the refills without being bulky. The clear glass containers will let you know when it's time to refill. With a unique lid that is adjustable, this salt and pepper shaker is easy to use. It gives you the ability to control the amount of salt and pepper that ends up on your meal — versus all over the table! Because the lid uses 4 unique settings, you can control the amount of salt and pepper that ends up both in and on your food. Overall, it's a simple and classic look that doesn't add much to tabel setting but doesn't take anything away either.
Wooden Salt and Pepper Grinder Set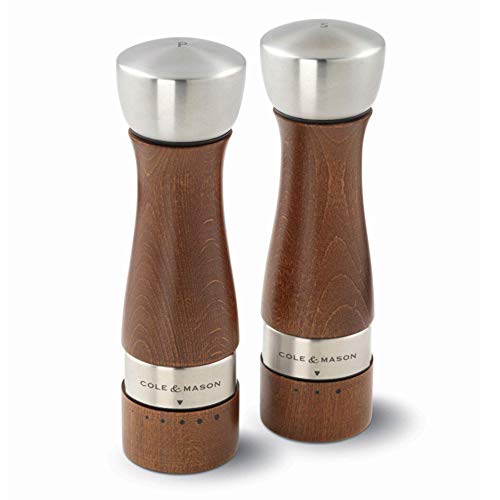 Wood is warm and nice, especially for farmhouse table decor. The perfect balance and weight of the 8-inch tall wooden design make for a smoother, more even grind. This salt and pepper mill uses diamond-sharpened ceramic and pepper grinders for an incredibly smooth grind (better than stainless steel). It's easy to refill these mills by removing cover tops. There are 3 available grind levels for all types of salt, and there are 6 for the peppercorn. Overall, these shakers offer a warm and cozy style with a wooden appearance.
Gold Salt and Pepper Grinder Set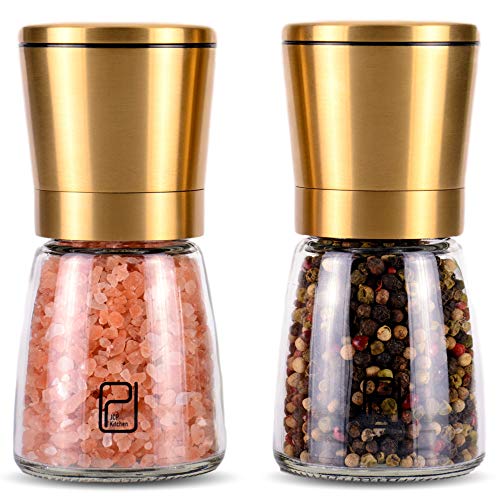 This beautiful ceramic salt and pepper grinder set looks great on the dinner table and is a lovely addition to any home. The ceramic material blocks odors, so you can use it season after season without worrying about changing its flavor. The beautiful grinder is also non-corrosive, so feel safe knowing that you can safely store it on your countertop.
It's just as easy as turning a knob to grind spices. Even though the grinder is completely transparent, it's durable and won't get messy. The wide mouth and glass jar will allow for easy refilling of spices.
OXO Good Grips Salt And Pepper Grinder Set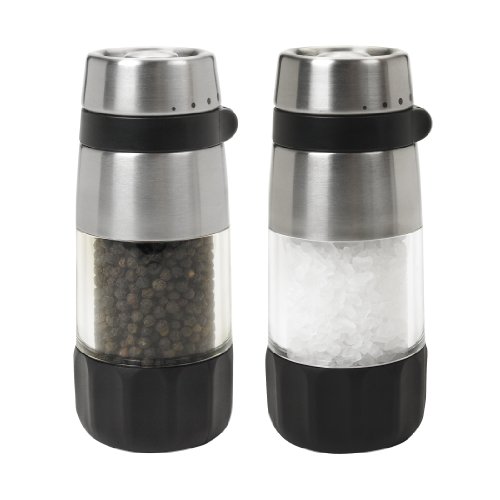 These grinders hold pepper and salt in classic stainless steel containers. To refill, turn them over and unscrew the caps to fill. The grinder mechanism goes on top of the grinder for clean countertops. Non-corrosive ceramic grinders ensure that your spices last longer. Additionally, the soft and comfortable non-slip grip makes grinding easy and fun. And thanks to the clear acrylic body, it's easy to see how much salt and pepper is left in your grinder so that you can refill when necessary.
Wood Salt and Pepper Grinders Gift Set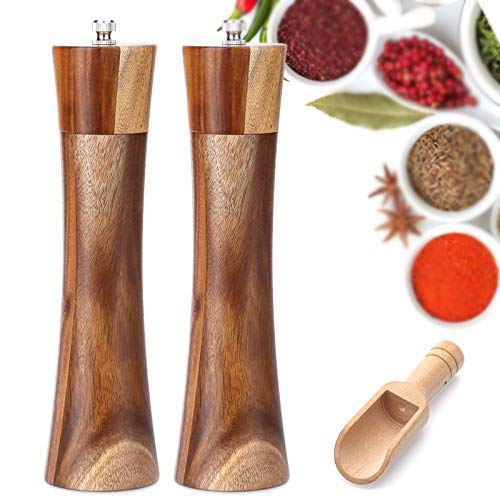 Looking to turn salt and pepper shakers into a gift? This set of mills is made of eco-friendly Acacia wood. The grinder core (ceramic) is easy to clean and won't absorb flavors. The non-corrosive design will keep your salt, pepper, and spices fresh and tasting great. This salt and pepper mill set is designed with two fine tools in mind to keep the flavor of your ingredients fresh and strong.

These grinders would look great on any table. "P" and "S" are engraved on the top of each unit, so you can easily identify the pepper from the salt. This tool adjusts its coarseness by twisting — it's easy to get your desired spice fineness.
Acrylic Salt and Pepper Grinders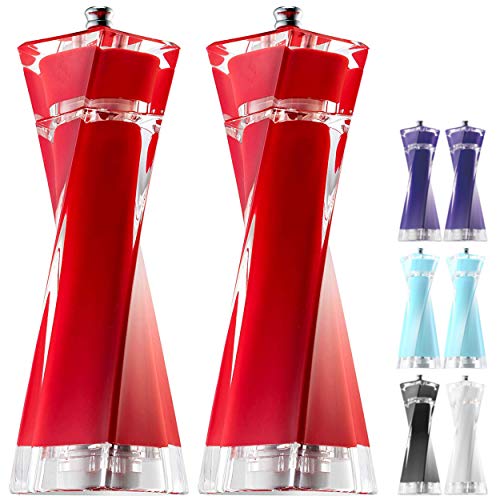 Sizzle up your kitchen decor with these modern salt and pepper shakers. The sleek, modern design will bring a lovely look to any space. Each set includes two shakers that are 8 inches tall, and there are 4 colors to choose from. A minor issue, we'd say that filling them up is a little inconvenient. The stems at the center of each grinder get in the way of easily adding peppercorns. But the look makes up for it.
Milltop Salt And Pepper Grinder Set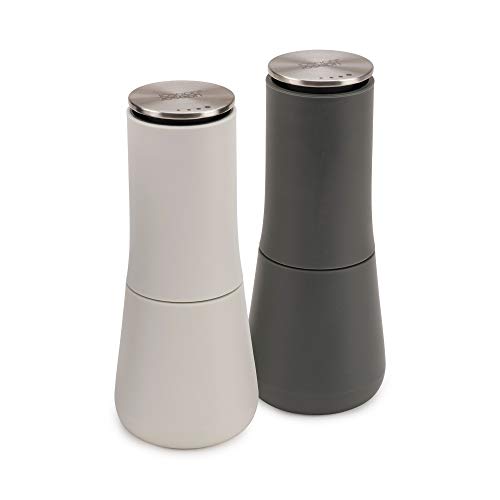 These ceramic salt and pepper grinders have a twist-top mechanism that helps reduce any excess mess from ground spices. Weighted stainless steel tops adjust grinding sizes, while ceramic grinders are easy to refill and clean. Overall, they look classic and timeless and definitely easy to use.
Marble Gold Salt and Pepper Grinder Set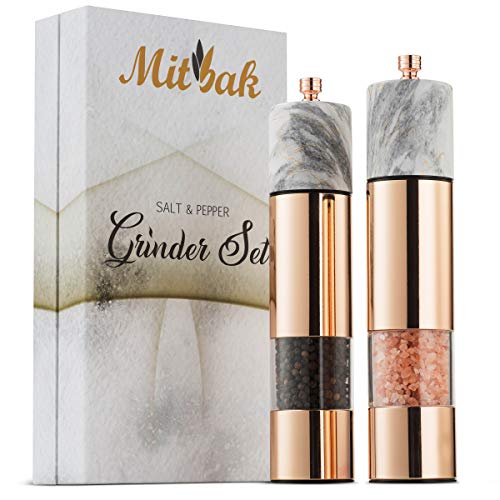 Another great option for a gift. Each shaker is eight inches tall. The see-through glass will tell you exactly how much spices are left in the glass, so you know and never to run out. They're made of durable stainless steel and ceramic grinder. Coarseness can be adjusted to grind a variety of different grain sizes for all of your spicing needs. The gilded and marbled look very luxurious.
Trudeau Stainless Steel Manual 2 in 1 Salt and Pepper Mill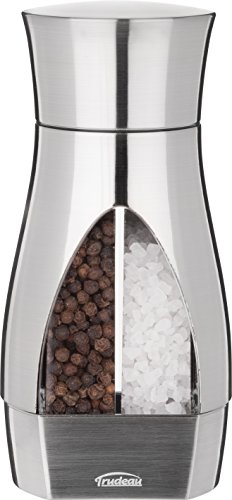 A must-have in the modern kitchen. Trudeau's 2-in-1 salt and pepper mill is not only attractive, but it's also extremely convenient and lets you choose either freshly ground salt or pepper from the same mill. Both "S" and "P" are displayed at the top of the knob to let you know which direction to turn it.
FAQ
Which has more holes salt or pepper shakers?
Traditionally, salt shakers have 2 holes, while pepper shakers have 3. The reasoning is that pepper has larger grain and has more difficulty running through the holes (so it needs more.) However, modern grinders and mills may have entirely different designs — they are marked with S and R, respectively, or use color indication (black and white.)
What are the ridges for on the bottom of salt and pepper shakers?
You'll find ridges on most glass containers, but that has nothing to do with salt and pepper. The purpose of them is only to keep condensation away from spilling on the table. But because there's no change in temperature with seasonings in a container, it doesn't serve any purpose in glass shakers. That's why you won't find them, for example, on stainless steel or ceramic units.
What to look for in mills and grinders?
Look for a design that adds value to your table decor. Choose a grinder with a ceramic mechanism (the cover can be of any material you like). Make sure it is easy to refill it. The lid should open easily but stay tight when closed. A good grip (a taller unit) is easier to use than tiny containers.
Continue reading:
Disclosure: As an Amazon Associate we earn from qualifying purchases.