Last updated on May 5, 2021
Looking for the best spice racks to organize your spices in the kitchen once and for all. Choose from the top 10 picks we have picked out for you.
And the best of them is… this expandable 3-tier spice rack.
To figure out the best spice rack for your needs, you need to know your requirements. Do you want to save as much space as possible? Do you want them readily available on the countertop? Do you store them in drawers and cupboards?
These are all great questions to ask. But also, you might wonder what the right way to organize spices is? The answer is, using multi-tier racks with shelves so you can store them in a cupboard (cool and dark space prolongs spice shelf life), and you can see and access them easily.
Having said that, there is objectively the best type of spice rack. And we've made a choice. Still, other good options exist. We won't insist on using one rack — use any combination that satisfies your specific needs.
As always, the links we've provided for your convenience (they earn our site a commission) cost nothing extra to you.
Let's discover some great ways to organize the spice jars.
What's Inside
Expandable Spice Rack Organizer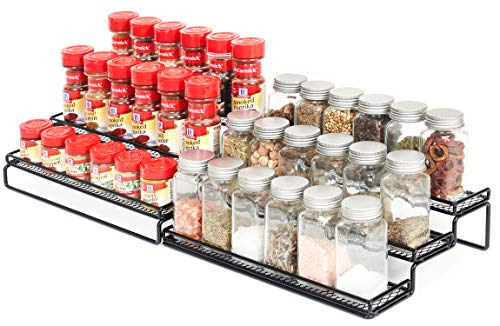 This is our editor's choice.
Great for: deep shelves and cabinets.
This organizer rack can hold up to 36 spice jars and it is made of steel. It is very sturdy and stable as it has a protective railing and mesh board on each step. This spice rack is made of durable steel that is powder static electricity spray finished. It can either be expanded or separated whenever the need comes up.
It can stack on 3 different levels, and each level is 3 inches deep. This spice rack is designed for enough room, so you can put small and larger jars on it.
Pros:
Steel construction.
Can hold 36 spice jars.
3 step levels for easy access to spices.
Each level is 3 inches deep.
Cons:
Hard to see spices at the back of the rack.
Can't store large cans.
No backstop.
Revolving Countertop Spice Rack Tower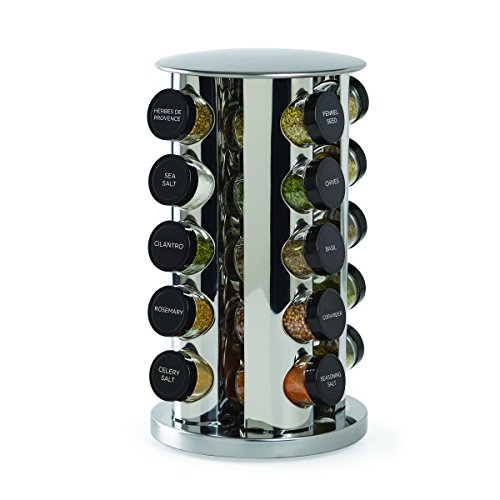 Great for: countertop corners.
This rack can stack up to 20 spice containers, and it is easy to use and maintain. The revolving spice rack spins, keeping spices within reach at all times; with the sift top, you can height adjust for mess-free pouring. It comes filled with popular spices that include basil, garlic salt, rosemary oregano, among others, and you get 5 years of refills with it.
The rack is made of stainless steel and chrome-plated parts, but it has five glass containers that are easy to clean by wiping down with any type of room-temperature liquid like water or vinegar. The jars have clearly labeled plastic caps with sifter tops for controlled dispensing. The labels aren't permanent, so that you can change them.
Pros:
Made of stainless steel and chrome-plated plastic parts.
20 glass jars and shakers.
Comes filled with spices.
You get refills for shipping costs.
Cons:
The refills are advertised as free, but you have to pay shipping costs.
Not completely stainless steel.
Wood Spice Rack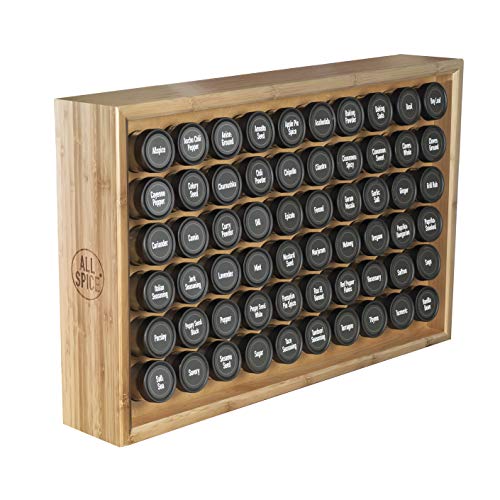 Great for: small countertop space.
This wooden rack comes with 60 4-ounce spice jars. With 60 spice containers, your spices are covered well, and you will always have the perfect amount for the taste you're looking for. The spice rack display does not take up too much space, measured at 24.75″ x 15.63″ x 4.75″. It is made of durable and long-lasting bamboo. It also includes 315 labels for most spices you might use.
This rack is easy to utilize and maintain as it's durable against humidity, heaters, gas range stovetops, kids, clumsiness, and it's dishwasher-safe. The rack should last up to 25 years under normal circumstances with proper care and maintenance.
Pros:
Made of bamboo.
Includes 60 jars (4 oz).
Includes 315 labels (or use your label maker.)
Cons:
Jars flop around in the cutouts.
Clear glass jars don't protect spices from light.
Slide Out Double Spice Rack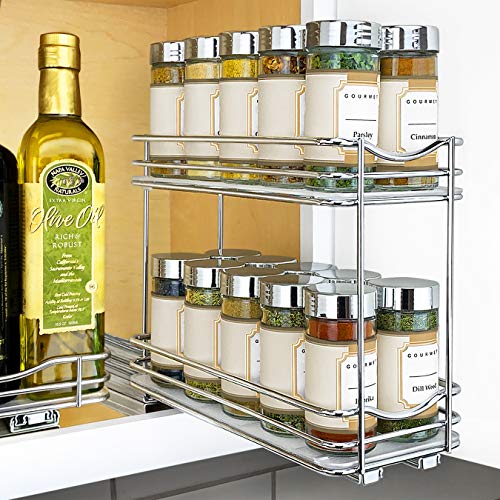 Great for: narrow cabients.
The Lynk Professional spice rack has 2 shelves for storing spices in any size containers. It also includes two easy glide metal slides to make accessing the spice containers that are located in the upper cabinets a breeze. This spice rack's steel and chrome body is commercial-grade quality and ensures this product will never rust or deteriorate. As is evident by its name, one of the best features of this spice rack is that it provides two spaces for clearly visible stackable containers for all your herbs and spices.
To use this spice rack, you slide the tray back and forth to find your spices in the cabinet or up high on the pantry. It is easy to install and comes with mounting and assembly hardware for an easy installation process. This spice rack will fit anywhere in your kitchen cabinet, from slim kitchen cabinets to deeper ones below countertops.
Pros:
Made of steel and chrome.
Slide out construction on durable gliders.
Two shelves.
Stores any size containers that fit.
Cons:
Tricky to install in deep cabinets.
Can't take the slides apart which makes installation harder.
Spice Rack Stand Holder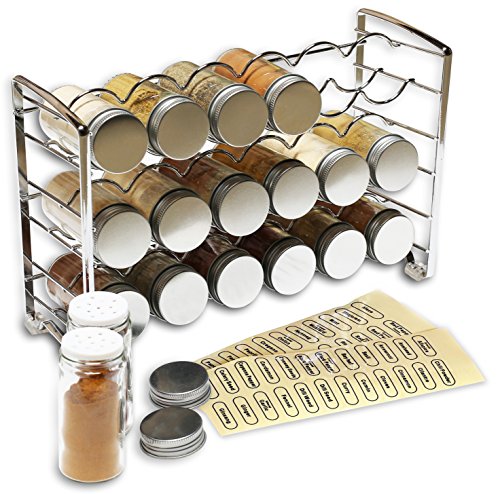 Great for: small countertops.
This Decobros spice rack stand can stack 18 spice containers. It is chrome-finished steel that can be easily adjusted to fit the needs of anyone. Steel is a great material for any household because it's durable and convenient and will last a very long time with regular care. This product also comes with 18 glass spice bottles that are all clear in color, so the spices are visible without opening the container.
Pros:
Made of steel in chrome finish.
Stacks 18 containers (glass jars included).
Includes 48 pre-made spice labels.
It is easy to use and maintain.
Cons:
Jar lids are plastic.
Small containers.
Kitchen Drawer Spice Organizer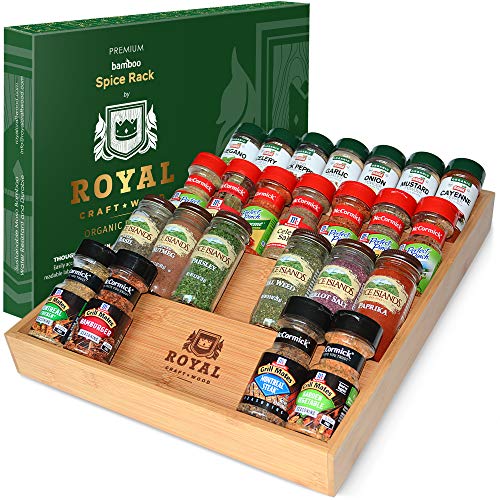 Great for: kitchen drawers.
This is a spice rack organizer that can stack up to 4 rows of spice containers at a time. It is made of bamboo and provides easy access when cooking. You can place it in drawers, pantries, cabinets, shelves, or countertops.
Choosing the right spice rack for your kitchen can be a difficult decision to think about. Most models are either cheaply made or too complicated for what they can offer, overlooking important features like storage size and capacity. This versatile spice rack is easy to put in drawers or pantries for convenient storage of all your seasonings and baking supplies.
Pros:
Made of bamboo.
4 tier rack.
Fits in drawers.
Cons:
Drawers have to be at least 4" deep.
Only small spice jars fit.
Spice Spinner Two-tiered Spice Organizer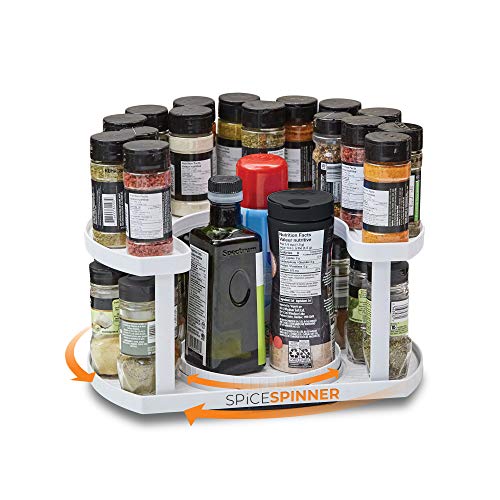 Great for: Lazy Susan spice organization.
The Spice Spinner Two-tiered Spice Organizer and Holder is a small but tough and durable spice rack that has two shelves, giving you the opportunity to use it in your home for many different purposes. One of its uses is in a kitchen drawer to hold up to forty spices of any size neatly on each tier, stacked with ample space between them. Its built-in turntables make it convenient for you to grab whatever you need without searching through the cabinets or leave the spice rack right on your counter if you are also using it as a decoration or bar station; this spice rack spins around easily and conveniently with the push of any ordinary cabinet door, making your spices visible without wasting any storage space.
Pros:
Lazy susan function.
Adjustable height.
Convenient D-shaped design.
Cons:
Made of plastic.
Top shelf doesn't support heavy containers.
Wall Mount Spice Rack Organizer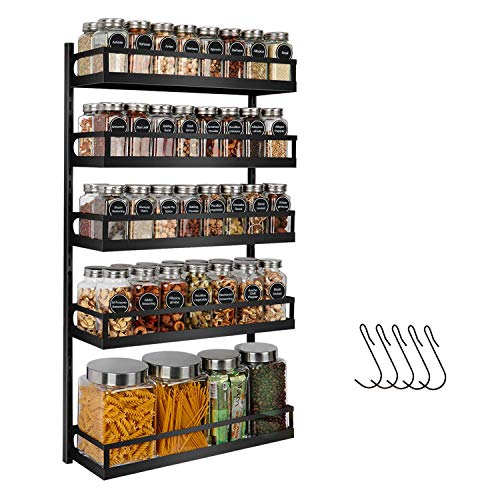 Great for: wall-mount spice organization.
We like this spice rack because it is adjustable for the height of containers, and it has 5 tiers. This way, you can store up to 72 spice jars. The rack is made of steel, it's slick and durable. The hooks on the front are convenient for your small knickknacks as well. One point to consider about this rack, it's tall. It stands at 32″. This means that if you're looking for a more minimized option be sure to measure yours before buying.
Spice racks are notoriously short sided with tiny divided sections, making it difficult to find things. However this one has five tiers, perfect for jars or bottles of spices that come in 4oz or 6oz capacities.
Pros:
Made of steel.
5 tiers.
Holds up to 72 containers.
Cons:
Lacking instructions.
Hard to put up.
Spice Gripper Strip Clips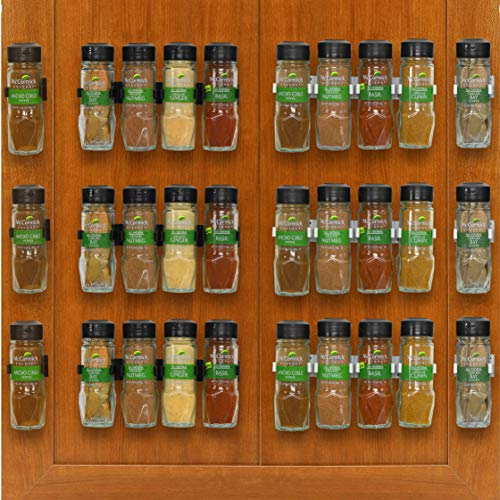 Great for: spice organization on the cabinet doors.
It's not a rack in the traditional sense, but these adhesive strips with jar clips allow you to create a great organizer on any vertical surface. Included are 6 strips in two colors: 3 black and 3 white, each quality adhesive strip with 5 clips. The strips can be tailored according to the space available by cutting them with scissors. Screws are included in case if the adhesive isn't strong enough for the surface.
Pros:
Holds 30 spice jars.
Easy to install.
Easy to adjust.
Fits containers 1.5″ to 1.75″ in diameter.
Cons:
Mixed colors.
Weight is an issue.
Revolving Spice Rack Organizer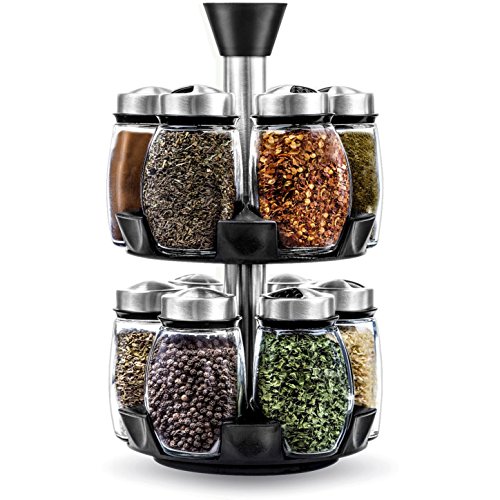 Great for: moving your spices around on the countertops.
Belwares 12-jar Revolving Spice Rack is made out of stainless steel. It can stack up to 12 spice containers. It has a rotating carousel that makes it easy to find the seasoning you need. The glass jars with metallic finish outer twist caps keep spices fresh and neat while also being labeled for convenience.
Pros:
Made of stainless steel.
Stacks 12 spice containers.
Rotating design.
Compact and portable.
Cons:
Comes not assembled and there are no instructions.
No labels included.
Continue reading:
Disclosure: As an Amazon Associate we earn from qualifying purchases.