Last updated on August 13, 2023
Yes, you can use a black faucet on a stainless steel sink. The combination creates a contrast with a decorative appeal, and there's no practical reason not to.
Matte black kitchen hardware is trendy, and so are stainless steel sinks. Usually, people match the two in the same finish. But we're making the case that mixing things up can offer more than keeping things seamless.
From a practical point of view, stainless steel finish is more durable and easier to maintain. However, a matte black finish isn't that hard to upkeep. And if you're looking for an idea to spruce up your kitchen decor, adding pops of black juxtaposed with stainless steel is one way to go.
Match your faucet to the countertops or cabinet hardware in a black finish, and you have a pattern that pleases the eye. Keeping it consistent throughout the kitchen decor is key.
Here are the important questions to ask and the answer to them that will help you decide.
What's Inside
Matte Black Kitchen Faucet Pros and Cons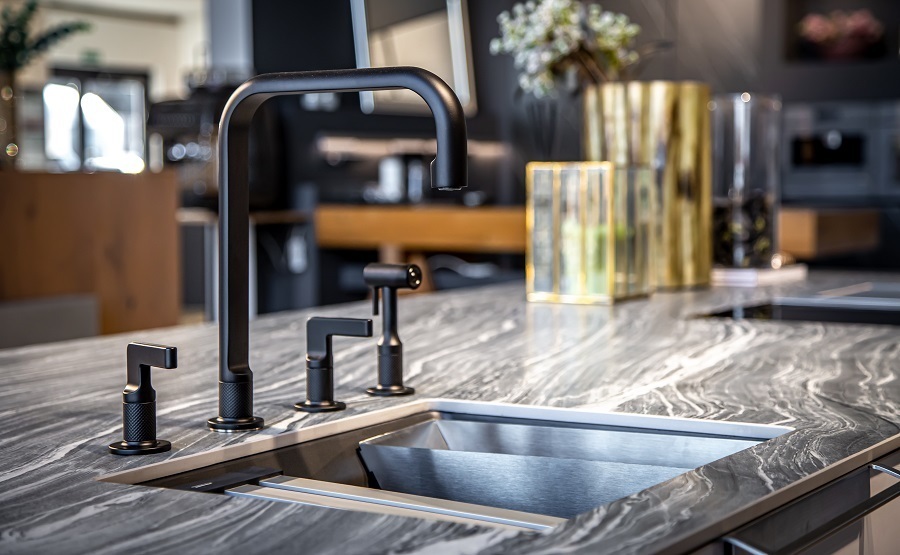 A black faucet on a stainless steel sink is the perfect contrast to create interest in an otherwise bland kitchen. Matte black fixtures have a flat, powdery look that helps keep the sharpness of the dark color soft. When used correctly, a matte black faucet can be the perfect option for specific sink designs. It is simple, basic, and neutral.
A matte finish is usually preferred by homeowners who want to keep their fixtures free from fingerprints and water stains. This is mainly a concern if you do not want to clean up frequently and deal with hard water. Matte black faucets are also electroplated, which means they will not be as susceptible to scratches as other types of fixtures.
On the downside, matte black faucets can quickly look dirty and dusty. The finish also tends to wear off or fade easily. Once it fades or peels off, the surface underneath, usually a different color, will become visible.
Stainless Steel Sink Finish Pros and Cons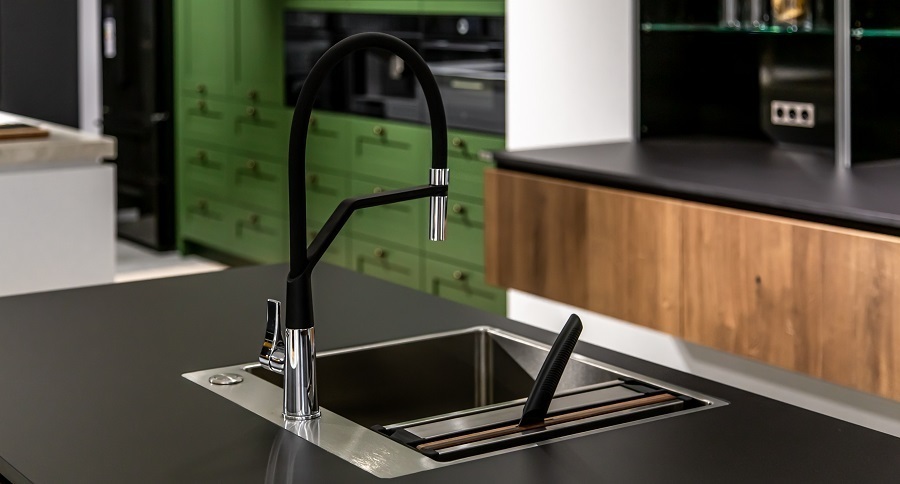 Stainless steel has been the go-to metal for many homes and commercial kitchens because they are affordable, durable, and easy to maintain. They are also resistant to rust and do not tarnish or stain. Stainless steel is non-porous and will not encourage the growth of harmful microorganisms. It can also match most materials to integrate smoothly with granite, porcelain, stone, or ceramic.
Stainless steel is not always perfect, however. For one, it tends to be loud. If you have ever worked on a stainless steel sink, you know that pots, pans, dishes, and utensils that come in contact with it can and will make a sound. Stainless steel is not invincible to scratches, especially when cleaned with abrasive materials and products. There's also very little in the way of variety in terms of design and style.
Can You Mix Black And Stainless Metals?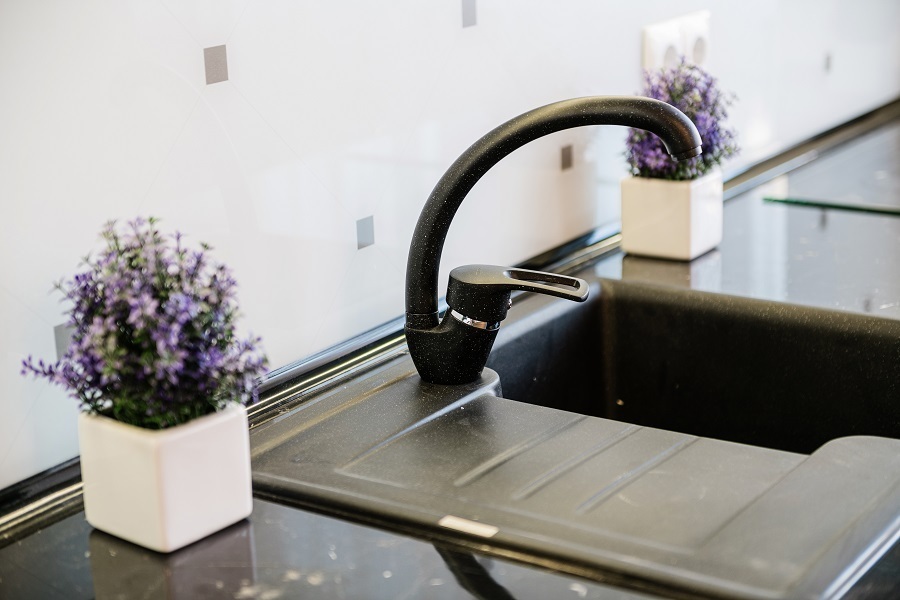 A black kitchen faucet will work with a stainless steel sink. The neutral color of the sink will reduce a bit of the drama in a black faucet, but the combination will still be a good option.
It is especially easy to mix a black faucet with a stainless sink if the latter is undermount. In this case, you're actually matching the faucet to the countertop. A matte black faucet works well when matched with black granite countertops.
Dual finish faucets are also an option. A faucet with a matte black body but a stainless steel base and sprayer is a good match to a stainless sink.
How to Choose Between Black or Stainless Steel for Your Faucet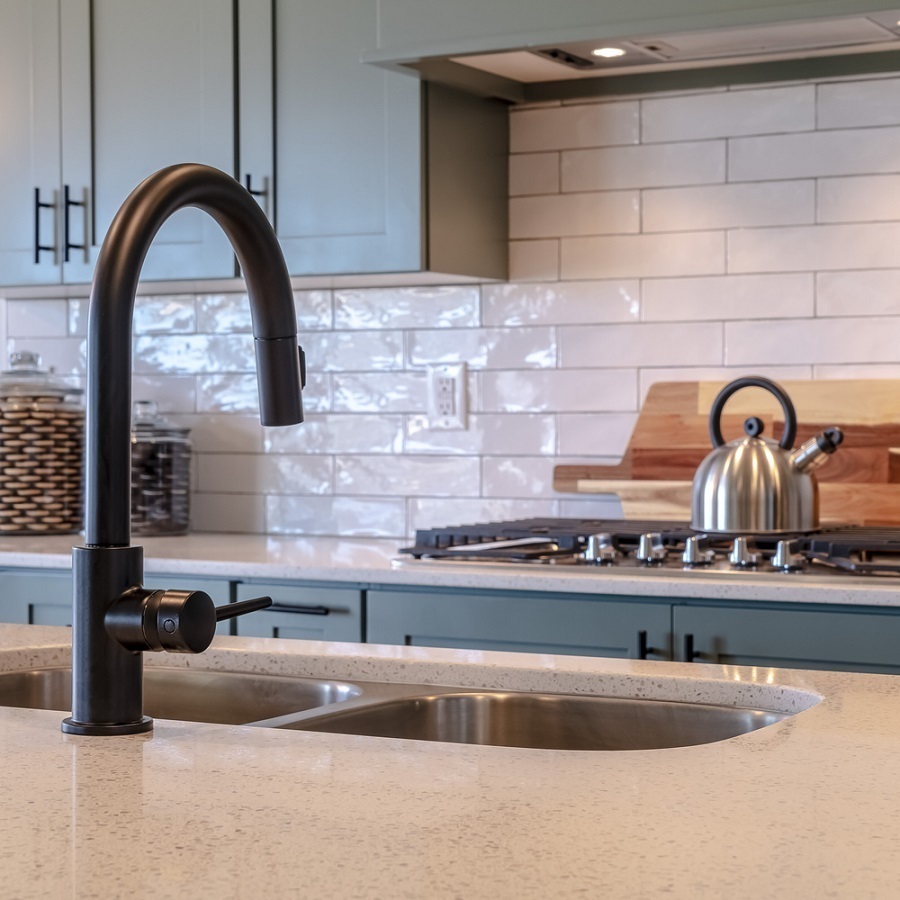 Most people consider their faucet as part of the kitchen sink, so they tend to match the two. It is perfectly acceptable to install a faucet that is a different color from the sink. The trick is to ensure that other elements in the kitchen work to create balance.
Remember that the black faucet against a shiny stainless steel kitchen can create drama, but it could lead to visual disharmony if you are not careful. To ensure a good look, use a dark metal tone for other fixtures such as kitchen cabinet hardware and lighting. This will help the eyes focus on other elements in the room.
Which Is Better – a Black or Stainless Faucet with Your Sink?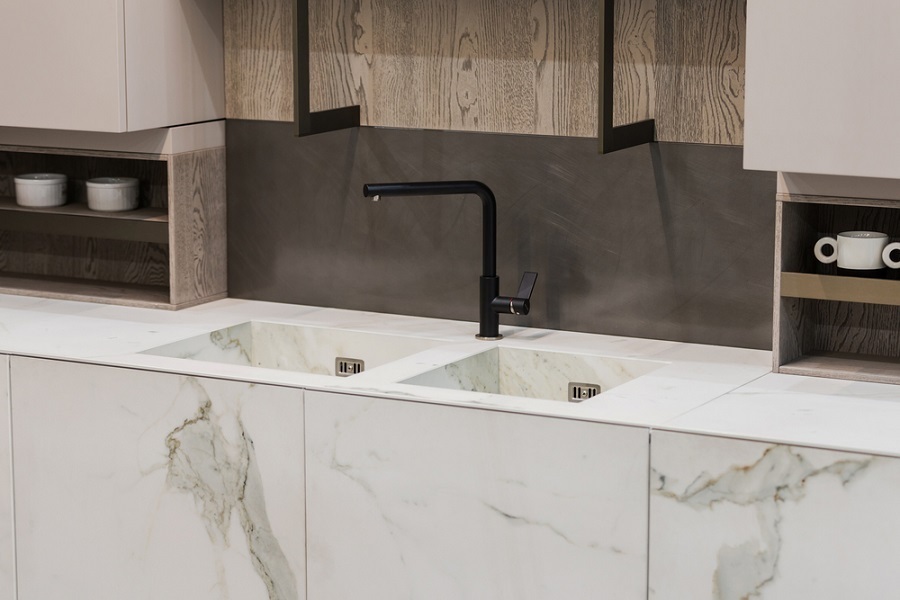 The choice is actually up to your personal preference. Keep in mind that just because you have a stainless steel sink does not mean that your faucet must also be made of stainless steel. Contrast, such as having a stainless steel sink and a black faucet, can be a good thing.
That being said, a black kitchen sink can be bold and adventurous, and if you want a change, consider looking into it. Just make sure to understand the nature of care for different materials, so you know exactly what to expect and what to do.
Is a Black Faucet Hard to Keep Clean?
A black faucet will not show dark-colored debris readily, although light-colored particulates will be easily visible. In general, though, a black faucet can be cleaned using just warm, soapy water and a soft cloth. To prevent unsightly water spots and mineral build-up, wipe down the faucet after use.
Avoid rubbing the faucet with rough or abrasive materials and cleanser, and do not use strong cleaners such as alcohol, ammonia, and bleach. Yes, toothpaste should be avoided as well.
Do Matte Black Faucets Show Water Spots?
When reasonably cared for, Matte black faucets will last for many years. If you are worried about water spots, you're in luck. Matte finishes do not retain prints and will not show water spots, so they are becoming increasingly popular. A matte black faucet will still require maintenance to keep it in good condition.
Do Black Faucets Scratch Easily?
Black faucets are mostly electroplated for extra resistance and durability, so you can expect a reasonable amount of protection against scratches. However, the surface can still be damaged, especially by heavy tools, equipment, and abrasive cleaners or cloths. Some strong cleaners can also leave a mark, so care should be taken when cleaning the faucet.
Are Black Faucets a Fad?
Black is a classic color, and black faucets have actually been used for many years. From simple home fixtures to high-end hardware, black remains one of the best options to create interest and break the monotony of a pure stainless or neutral-colored kitchen. Black also works well with various color schemes and can appear smart, bold, and sleek. It is a color that is here to stay.
FAQ
Are black faucets out of style?
No, they're more than ever before. The popularity of black faucets has increased over time, and today we see them in kitchens from all walks of life. There's no reason to think that this trend won't continue.
Should my drain match my faucet?
No, the drain doesn't have to match the faucet, especially if the faucet doesn't match the sink. Mixing the finish of sink and drain isn't common, and it would be harder to maintain.
Should the faucet match sink or hardware?
You can match the sink and faucet, and you can match the faucet and hardware. You can get away with matching the sink or mixing finishes, but it's always better to go with a consistent theme throughout the room.
Continue reading: