Last updated on May 17, 2022
Replacing your kitchen sink, you're facing the number one dilemma — should you choose an undermount or overmount sink? Let's compare the two.
The main difference between the undermount and overmount kitchen sink is that the undermount sink exposes the entire countertop while overmount covers the edges around the sink.
There are pros and cons to both types of sinks. On the one hand, drop-in sinks (overmount) are very easy to install and secure (you only need to match the countertop hole). On the other hand, undermount sinks have a streamlined design, and they make it easy to keep your kitchen countertop clean.
So you have to make a choice. Consider the sink's size, depth, dividers, and materials. Decide whether you need an overmount or choose an undermount sink first, and it will help you with other choices down the road (such as the countertop material.)
An undermount sink may not be the best investment on countertops made of wood or stone, as they tend to cause wear and tear quicker with these materials. An overmount is an option that can help protect the surface against such damage, especially if it comes with a drainboard.
Don't let anyone tell you that drop-in sinks are outdated because they are still valid modern choices. You have to look at other deciding factors.
Let's look into more detail about each type of sink so you can make an informed decision.
What's Inside
What is an Overmount Kitchen Sink?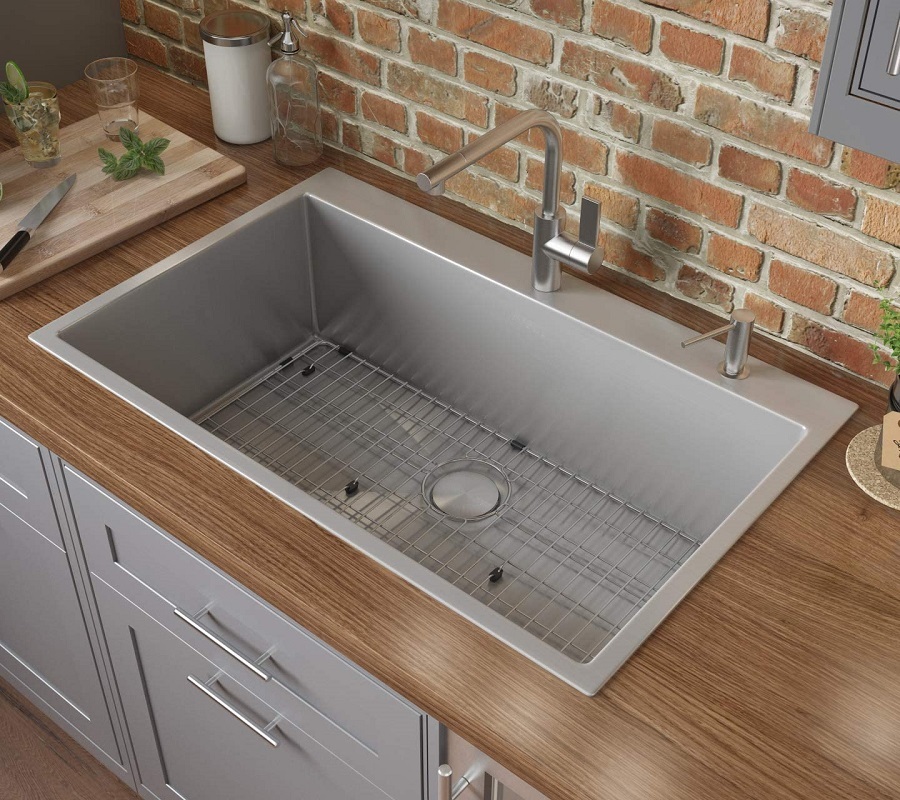 Check the Top 10 Best Drop-in Kitchen Sinks
Also known as drop-in sinks, they are the most typical type of kitchen sink. They have a lip around their perimeter that sits flat against the countertop when placed in it. The sink basin drops directly into this piece of it, which keeps everything in place.
Some come in two sizes, one for single-hole faucets and the other for three-hole. Metal clips secure drop-in sinks under the countertop as well as a bead of silicone caulk underneath.
Actually, many cast iron sinks don't need clips because they would lie too low and get in the way. Single-hole designs are becoming more popular because they can conserve space. They also give you more storage options under your sink by allowing you to install double bowls, stemware racks, knife blocks, cutting boards, drain boards, etc.
Overmount Kitchen Sink Pros
An undermount sink installation can be more difficult than when choosing an overmount or undermount. It is a lot easier to clean the counter space under an overmounted sink and there tends to be less food buildup inside the sink's depression that exists in an under sink wipe down area. However, there is often a gap where the underside of your countertop meets with that side of your kitchen island and this becomes food debris magnets for easy build-up, which might require you to dig out silicone caulk every few years.
Drop-in sinks have a big advantage over undermount sinks. The sinks are easier to clean because the surface of the lip and the countertop is all visible to you, so you can wipe down any debris on them with ease. The only downside is that this site can build up gunk because there is a seam on both surfaces.
Drop-in kitchen sinks are easier to install in your own kitchen. They are easy to replace too. You just have to take off the old caulk, put on more and set the drop-in sink perfectly inside of it. After that you secure the sink with clips. That's it!
Undermount kitchen sinks are a challenge to install but can give you a custom installation that does not damage the countertop. Overmount kitchen sinks are standard and come in different sizes. If you need a new sink, it's generally easier to buy an overmount one instead of installing a new undermount one.
For an easy way to do your dishes every day without taking up too much space, look at the shape of your current backsplashes when buying for undermount or overmount kitchen sinks. Not only should you take into account whether your pipes will line up with new plumbing, but also how the sink will fill out available space in your small or large kitchen while still keeping everything installed cleanly and ergonomically.
These sinks are generally less expensive. To install an overmount kitchen sink, you need a basic knowledge of plumbing.
The overmount sink provides a barrier between the countertops and the sink. This may help you protect your countertop surface, especially if you're dealing with hard water problems.
Overmount Kitchen Sink Cons
When using an overmount sink, the upper lip can greatly decrease the counter space for food preparation.
The sink lip, where the sink hangs off the countertop, can be difficult to clean. Many people find it difficult to wash the inside of a sink that hangs off the counter because many food particles and debris often get caught in this area.
Some people may not like drop-in sinks as much as undermount sinks because the sink sits in front of a counter which makes it look lazy and dirty.
What is an Undermount Kitchen Sink?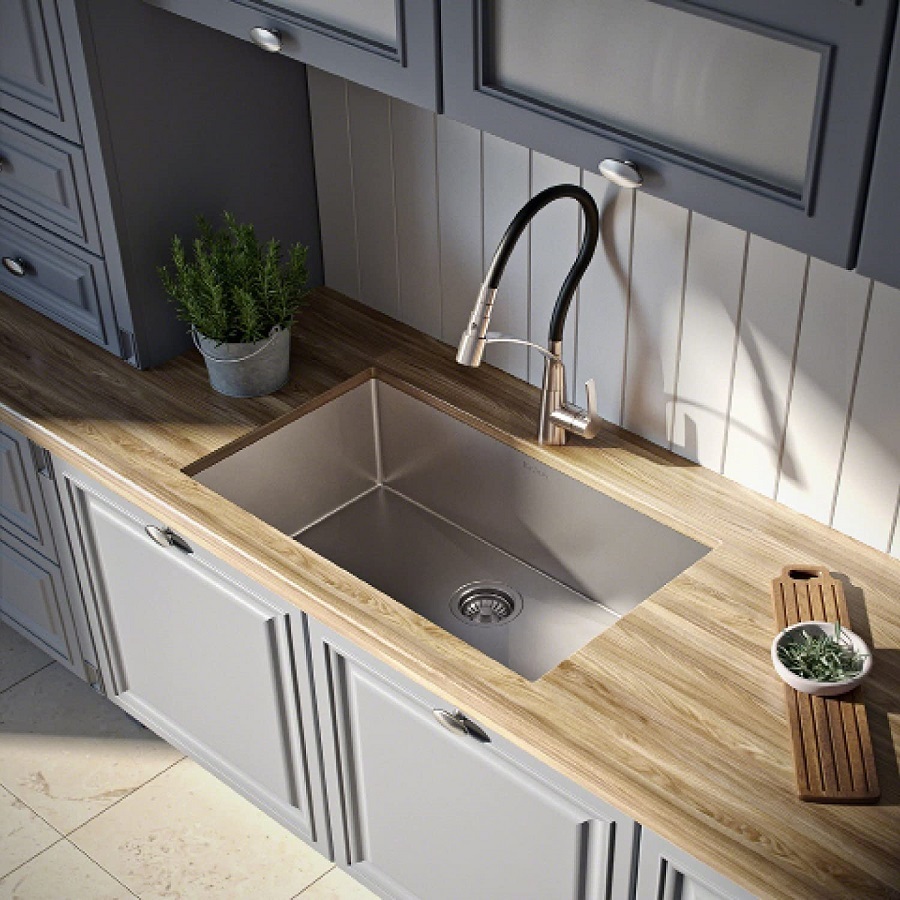 Check the Top 10 Best Undermount Kitchen Sinks
The undermount kitchen sink mounts to the bottom of the counter and is held in place by clips and caulking or a special adhesive. The edge of the rim is not visible because it rests against the bottom of the counter. The sink has no exposed edge, so you can only use a solid countertop material such as stone with this type of sink.
Undermount Kitchen Sink Pros
Undermount kitchen sinks can save counter space. One exception with drop-in sinks to this rule is drainboard sinks that allow for extensions to go past the edge of the sink basin up to 8-10 inches. In instances where somebody needs more curb space instead of less, adding more rim coverage might be more economical.
Undermount sinks typically have less lip than the standard overmount sinks. More people choose an undermount kitchen sink due to easier cleanup since no lip can build up food particles, but there is the downside of wiping from the counter onto the sink.
The undermount sinks are considered higher quality and give a nice, custom feel which would be attractive for resell value. The undermount kitchen sink has a unique setup that creates clean lines in the kitchen and is aesthetically pleasing to the eye.
Many people find the ability to easily clean a liquid spill even without touching it really useful. That way, you can avoid dirtying up your kitchen with this messy task and wash away the excess liquid as you would any other dish or pan in the sink. Some people find that a lower countertop makes their work more comfortable because they do not constantly bend down.
The deeper nature of an undermount sink makes it easy to clean large pots and pans.
Undermount Kitchen Sink Cons
An undermount sink is a type of sink that will not work well with laminate countertops. Because underneath the countertop exists particleboard or MDF, the laminate cannot keep water away from this material and it damages it over time and moisture can be an issue that can cause damage to certain types of materials beneath your kitchen island. Drop-in sinks have a more gentle installation process as they can successfully be installed on any kind of countertop surface without conflicting issues.
Undermount sinks may be more expensive. Some people believe that undermount sinks are a bit more expensive than regular sinks. Still, people who have purchased them in the past have said that the only two factors as to why this might be are their difficult installation and limited color selection.
The installation for these sinks is complicated, and this means it would be safer not to install an undermount kitchen sink yourself. People should consider installing their own undermount kitchen sinks at their own risk because the installation can be difficult.
A major problem with an undermount kitchen sink is the counter edge. When people move dishes around on the counter, they chip or even break their edges.
Some people find it difficult to maintain top craftsmanship on an undermount kitchen sink. This is because water can get into the gap between the sink and the counter if there is no perfect seal.
Drop-in and Undermount Kitchen Sink Cost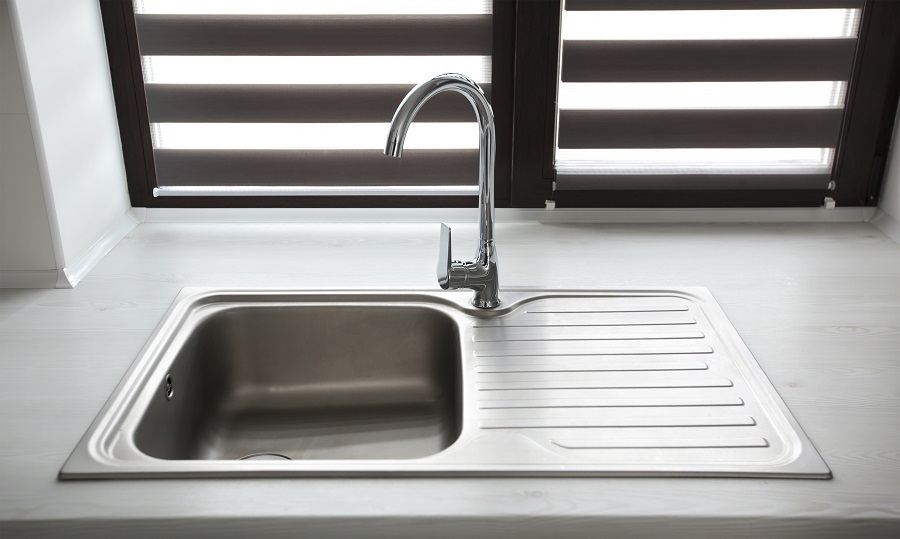 The cost of installing a drop-in sink is cheaper, but only marginally, about $50 to $75 more. The cost to purchase both types of sinks is similar and depends on the brand, size, material, finish, and other features.
Is Undermount or Overmount Kitchen Sink Better?
It all comes to personal preference in the end. The undermount kitchen sinks offer better marketability than the drop-in counterparts, but both cannot be discounted as there are factors that may influence your choice of a sink. This also depends on budget, color suitability, and durability, among others.
FAQ
Can you replace an undermount sink without removing the countertop?
It's possible to replace an undermount sink without removing the counterop depending on how it is installed. In many cases lifting the countertop is necessary. Always consult a specialist if you're unsure.
Do undermount sinks get mold?
It's possible for water to get stuck between the sink and the countertop which can cause mold buildup.
What is the best sink for a granite countertop?
Undermount sinks look great with granite countertops because they feature the countertop and do not break the visual lines.
Continue reading: