Last updated on August 13, 2023
Here are the latest trends in kitchen faucets that we'll see in 2022 and beyond. Get inspiration for your next kitchen remodel. Read on!
The kitchen faucet is that piece of hardware that can add a splash of decor to the kitchen design at a relatively low cost. Changing it gives a quick face-lift that your kitchen needs, and you don't have to go on an all-out remodeling project.
This article will look at the most popular trends of 2022 as they emerge as dictated by the kitchen hardware manufacturers, designer choices, and consumer response to them. Indeed, going through the best-seller lists at retailers shows a clear picture of what the consumers (that's you) like to have over their kitchen sink this year.
To show you the examples of the trends we have included shopping links (to be transparent, they earn us a commission at no expense to you).
What's Inside
Touch and Touchless Faucets
There are many trends in the kitchen, and many of them are touch and touchless faucets. Some argue over which type is better for kitchen use, but overall both types work well as long as you keep up with maintenance.
You can activate faucets with the wave of a hand or voice commands. Kohler and Moen now offer faucets that allow you to give voice commands to activate different parts of the faucet, such as "handwashing mode."
Two-Tone Faucets
People like to personalize their kitchens and mix and match different finishes. Mixing different metals helps to make a kitchen more trend-proof because popular finishes for light fixtures, cabinet hardware, and plumbing fixtures are easily replaced with less popular ones. One trend in the kitchen is mixing two different finishes on a kitchen faucet.
Pull-Down and Pull-Out Faucets
Most modern faucets have a push of a button to turn the water on and off quickly. Manufacturers offer many different styles, sleek design, improved function, and ease of use in mind for older people who need these features. The pull-down or pull-out faucet is one that extends out over the sink, making it easier to reach and operate. These can be wall-mounted faucets too.
Professional-Style Faucets
Tall professional design kitchen faucets with pull-down sprayers have been taking trends in the market recently. The faucets, which are more than 20 inches high, are altering the scale of other faucet designs that designers and their clients find acceptable. What is new about these faucets is how much they had evolved from when you found only utilitarian designs in stainless steel or polished chrome available at restaurant suppliers. Faucet designers now respond to consumer demand.
Faucet Handle Design
Faucets are styled in various ways with designs inspired by natural elements, the industrial and art deco eras. Some more uniquely designed handles include etching details from the retro era and decorative flourishes with a distinct look influenced by the industrial era. Industrial influences, in particular, seem to be popular this year, with several faucets having patterns etched into their surfaces as well as utilizing decorative flourishes based on Art Deco trends, which will likely continue next year when newer models are released.
Stainless Steel Faucets
Designers forecast black as the second most popular finish for kitchen faucets for the next three years. They believe matte will become decorating trendier than stainless steel. The trendiest finishes for kitchen faucets also depend on the color chosen: designers predict that stainless will remain most popular, while matte seems to be next in line with becoming a decorating trend over stainless steel. Expect to see more mixing of matte black faucets with stainless sinks.
Brushed Nickel Faucet Finish
Brushed nickel is more of a subtle, softer-looking finish. Think of a brushed nickel finish as looking more like stainless steel and, therefore, better to tie in with stainless steel kitchen appliances. While stainless steel remains the most popular finish for kitchen faucets, some customers are under the wrong impression that there are softer or less striking finishes than others to suit their tastes better.
Faucet Spraying Options
In the past year, a few kitchen faucets came out with the new options of either an aerated stream, sweeping, or boosting spray, saving your hands from washing dishes. Having options to select the way your faucet works is a functional trend that is here to stay.
Faucet Finishes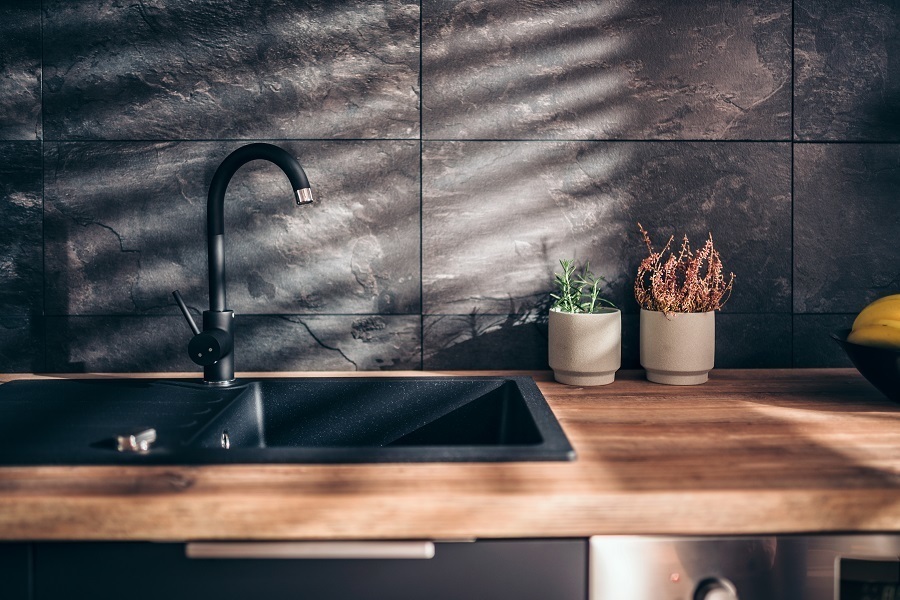 In selecting an unexpected finish on their kitchen faucet, homeowners have the opportunity to show their personal style. Those drawn towards the dark finish of matte black, but preferring something shinier on their home's faucet, would appreciate black stainless. This popular matte black finish is being offered by nearly every company nowadays. Matte white has been seen in 2021 and is seemingly destined to shake things up this year for other manufacturers too.
Faucets with Water Filters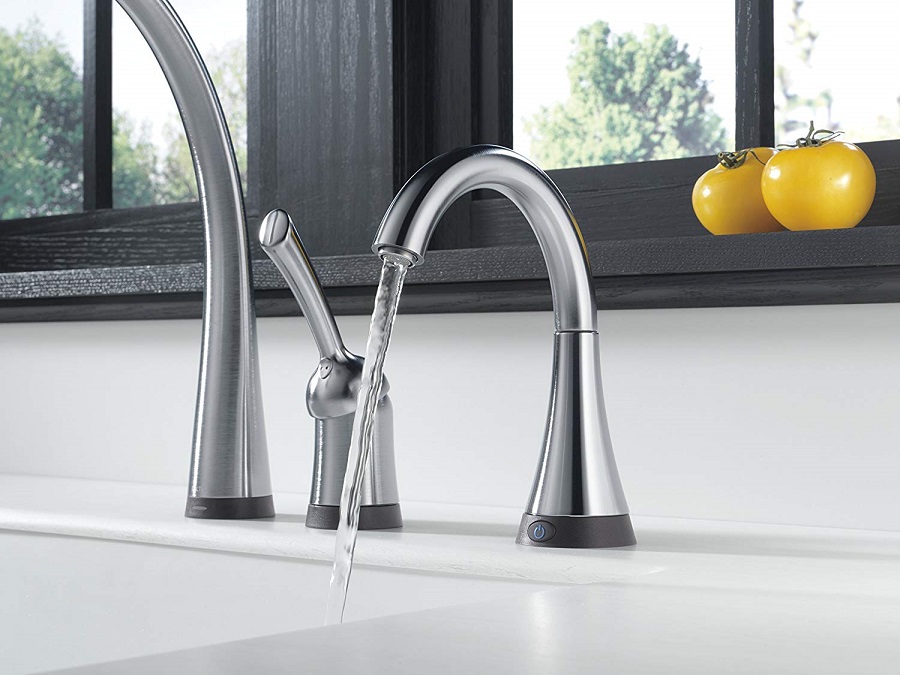 Check Out the Top 10 Best Kitchen Faucets for Hard Water
Installing a water filter into the kitchen faucet is a sensible choice. We can see it being more and more common. This doesn't only increase the quality of drinkable tap water but also prevents limescale buildups in and on the faucet (as well as the sink).
Continue reading: