Last updated on July 8, 2021
Peel and stick backsplashes are attractive because it's an easy DIY solution to create your own kitchen backsplash. But is it ok to use them behind the stove?
Most peel and stick backsplashes are heat resistant, so it is safe to use them behind the stove.
A backsplash behind the stove serves purposes:
It serves as a protective measure to help keep walls from getting dirty with spattered grease.
A decorative touch can be added by changing the standard tile on any kitchen range's back panel.
Takeaway: look for peel and stick backsplash tile that has a heat and humidity resistant surface. Decorative tile will not work behind the stove. It may also impact their longevity.
What's Inside
What Kind of Stove Backsplash Do You Need?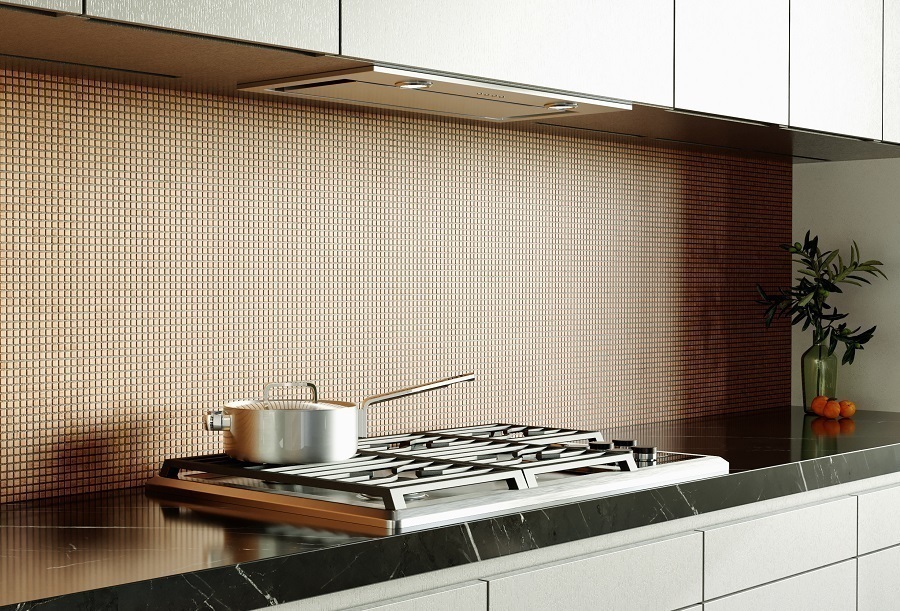 The backsplash in a kitchen usually is just about where you are cooking. Because cooking takes a lot of attention, the stove backsplash may be essential. The kind of backsplash you need depends on the environment, but in general, you should be looking for a peel and stick tile that is heat and humidity resistant. That is, peel and stick tile that is manufactured for decorative purposes will not do. Also, make sure you have the right number of tiles before starting your project.
Modern Kitchen Backsplash Behind a Stove
To create a new backsplash in your kitchen, you may use peel and stick vinyl because it resists the heat of your stove without an adhesive. The backsplash will not move or yellow.
Peel and stick stove backsplashes can withstand high temperatures as well as adhesive material. The backsplash tile's label should say whether it is heat resistant or not. A peel and stick backsplash have the ability to withstand high temperatures, such as those from fireplaces or stovetops, because they are made of special adhesives that will adhere to walls without using any other installation like nails, screws, or tiles adhesive (sometimes referred to as grout). The type of
To have a safe kitchen, certain measures must be taken before installing vinyl tiles to make a backsplash behind the stove:
Ask an expert for advice and guidance
Avoid using gas ovens or stovetops with pilot lights in rooms that don't have natural ventilation or use air cleaners, as fumes can arise
Do not put vinyl backsplash tiles near open flames. It's not recommended to have vinyl backsplash tiles near an open flame.
If you have a small appliance like a toaster or toaster oven in your kitchen, you must leave at least 2 inches between the back of your stove and the closest edge of where the tile meets when installing peel and stick backsplashes.
The purpose of a peel and stick backsplash is to cover the side walls above the counter line. It's different from other types of backslashes because it can be easily removed without damaging your walls and then replaced with a new one. Some downsides include that you need a simple design because complex designs may not work well, and make sure that you look for tiles made out of matte material if you plan on using an oven at all since this type can withstand increased heat up.
It would be best if you left an 8-inch gap in between the peel-and-stick backsplash and the front side of your range or cooktop to prevent food stains, spilled liquids, and other cooking residues from becoming entrapped within that space.
Stove Backsplash Design
When you have decided on the material for your backsplash, it's time to determine the look and feel of the style, color, and texture. To figure out the latter, you will need to measure that square footage of space desired to be covered. Determining how you want your backslash in terms of look and feel will require more than one consideration; it depends upon your personal style instincts and whether or not you want them to match or divert from an overall decor theme.
Your Budget
The peel and stick backsplash is a popular choice for its budget-friendly nature. Installation can be done by an individual, with little cost, or by hiring a contractor to do the job. The tiles themselves are low cost compared to materials like grouting adhesive glue and tools, which greatly increases the budget for a traditional backsplash. Peel and stick vinyl tiles are easy to install. Just peel them from their backing sheets as you would contact paper.
Heat Resistance
Smart Tiles will withstand high temperatures as long as they are not in direct contact with a heat source. This is true whether or not you put it on your mantel, RV, even for 2 days, etc.
The peel and stick tiles need to be installed with 2 inches of space around them. You also must be careful not to make the peel and stick tiles near an open flame or gas stove without a back control panel or metal plate.
Humidity Resistance
Peel and stick tiles will be durable and reliable for at least 48 hours after the installation is complete, so that they can be used in bathrooms.
Some peel and stick tiles will be able to withstand a high-humidity environment before rotting. However, direct contact with steam or the shower is discouraged. Some peel and stick tiles can withstand high humidity environments, but it is not necessarily a good idea to expose them to direct streams of water or submerge them in water.
Maintenance
Since peel and stick tiles are resistant to humidity, clean them by wiping them with a sponge. You do not need an abrasive household cleaning product. Clean each day for the best results.
It is smart to use Peel and stick backslashes because they are resistant to the conditions within the kitchen or bathroom. Plenty of people have no issues with installing them.
FAQ
Is peel and stick backsplash heat resistant?
Most peel and stick backsplash tiles for the kitchen are heat and humidity-resistant.
Are peel and stick tiles fireproof?
Peel and stick tiles should not be exposed to open fire.
Continue reading: