Last updated on August 13, 2023
Want to revamp your kitchen backsplash quickly but don't want to invest in the work and expenses involved? The best peel and stick backsplash tiles might be your choice. Read on!
There are several ways how you can treat the kitchen backsplash. For one, you can paint it in an accent color, or you can tile it in the tiling of your choice. In any case, it's an involved project, and the materials aren't cheap either. It's a permanent solution too.
But what if you can't or don't want to take on a project of this scale (maybe you're renting and aren't allowed to make these changes)? The alternative is a peel and stick backsplash. It's a method of using self-adhesive faux tiles made from a durable composite material to last longer than regular vinyl tiles. That is, you can safely use them on a backsplash.
So the benefits of peel and stick tiles are apparent. They are easy to use – all you need is a clean wall to stick them on. The choice of design is a significant benefit too. You can quickly redesign your backsplash and leave it there. Or try it to see how the design works in your decor, and then move on to a more permanent option. Most high-quality tiles can last long enough as a permanent option on their own.
How to choose the peel and stick backsplash tiles?
You have the main choices to choose from by type:
Stick on tiles that are self-adhesive tiles. They come with a strong adhesive but might be more difficult to peel away if needed.
Stick and peel tiles that are made to be easily removed. However, there's a big chance they will start to peel away by themselves after heavy use.
Wallpaper – these are self-adhesive panels that can be graphical.
Metal or stone imitation tiles that are high-definition and look like to the real thing.
Plastic (vinyl) tiles aren't as durable.
While shopping for peel and stick backsplash tiles, we have noticed some typical caveats that you should watch out for.
What to watch out for?
Scratch, humidity, and temperature resistance.
Rough wall surfaces and the tile's ability to stick on it.
Ability to cut the tile to cover the edges of the surface.
How the faux tile matches up against the look of real tile.
This short checklist should give you an idea of what to look for and what to watch out for when choosing the faux tile. But we have more. We've made the top-rated picks for the best peel and stick tile. Choosing from the pre-screened picks will help you get your backsplash even quicker. For transparency, note that we may be compensated for qualifying purchases on Amazon at no expense to you (tagged #ad).
Which of the following backsplashes do you like?
What's Inside
Stick On Backsplash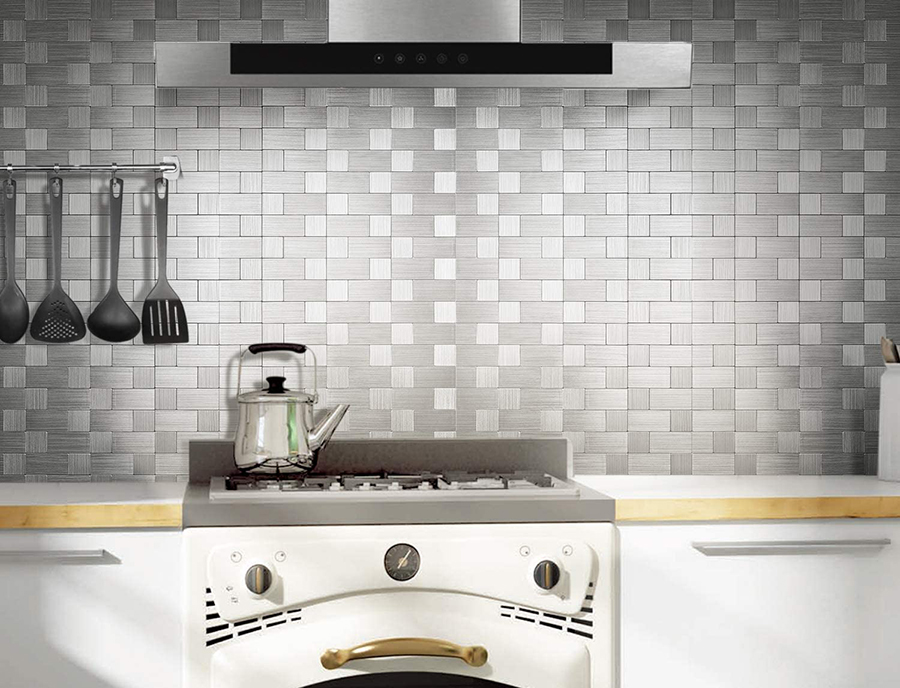 These tiles will give your backslash a metallic tile look. The tiles are stainless steel, but they are stick-on, so peeling and sticking them on the wall is straightforward.
Pros: brushed aluminum matte surface and self-adhesive back sticker, no grout; directly stick the tile on the wall, save your time and money on labor; resistant to heat and moisture; easy to clean.
Cons: scratches easily; no way to cut to the sides because of metallic material.
Peel and Stick Backsplash Tiles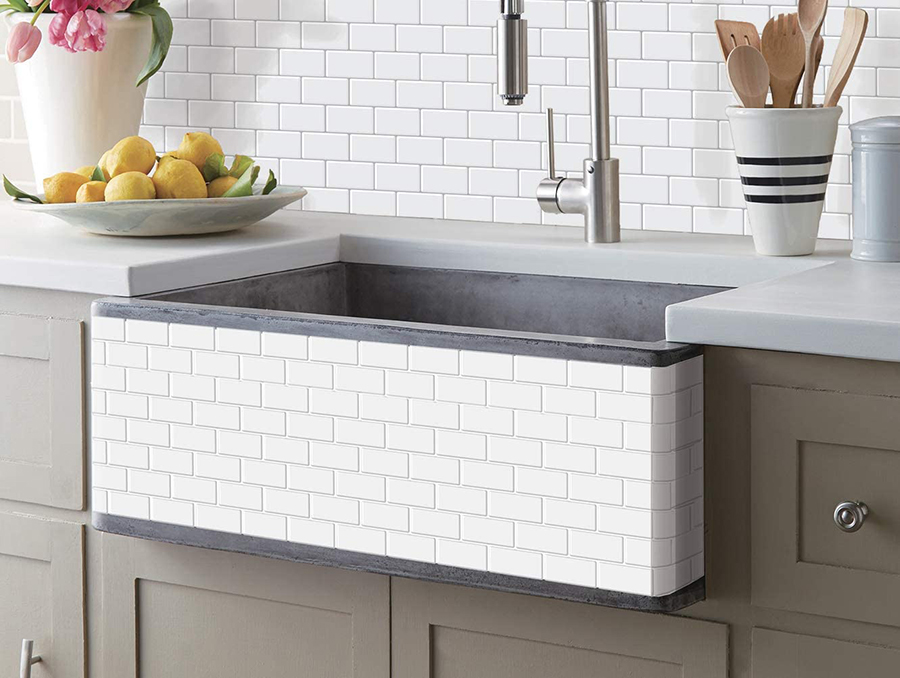 Do you like the look of tiles for the kitchen backsplash? It's a trendy look. But tiling with actual tile can be time-consuming and expensive. Enter these 12×12 inch peel and stick tiles.
Pros: peel and stick tile backsplash sticker; embossed texture design; easy to clean and maintain; easy to cut and trim; flexible and humidity resistant.
Cons: with the temperature change, they expand and contract way too much, causing them to peel up and wrinkle.
Peel and Stick Subway Tile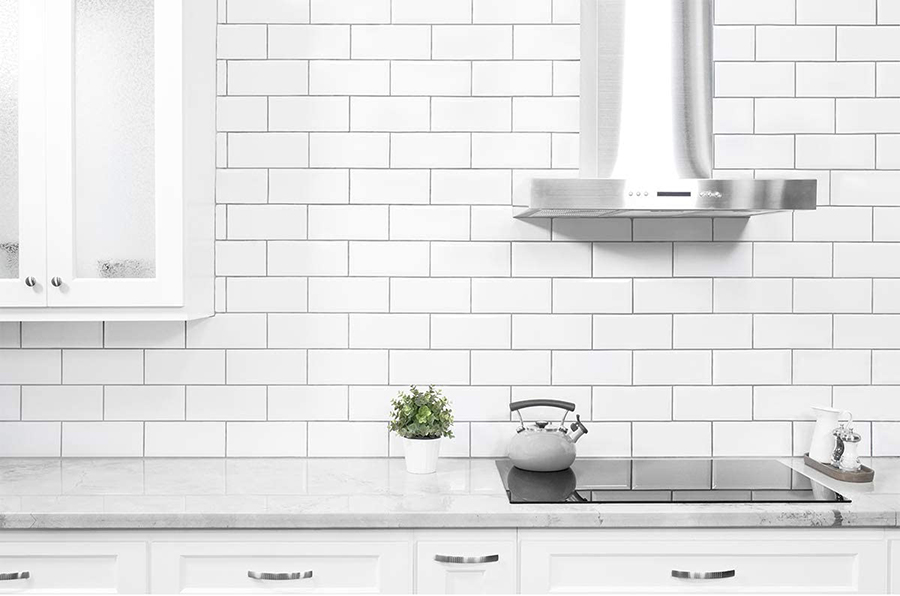 Likewise, get the subway tile look for pennies on the dollar. Peel and stick them on your clean backsplash, and you've got it.
Pros: thicker than ordinary peel and stick tile; easy to peel, align and stick, no overlap needed, no grout and no mess; easy to maintain and clean; adhesive is very good.
Cons: not recommended for very rough surfaces and heavily textured walls.
Temporary Removable Backsplash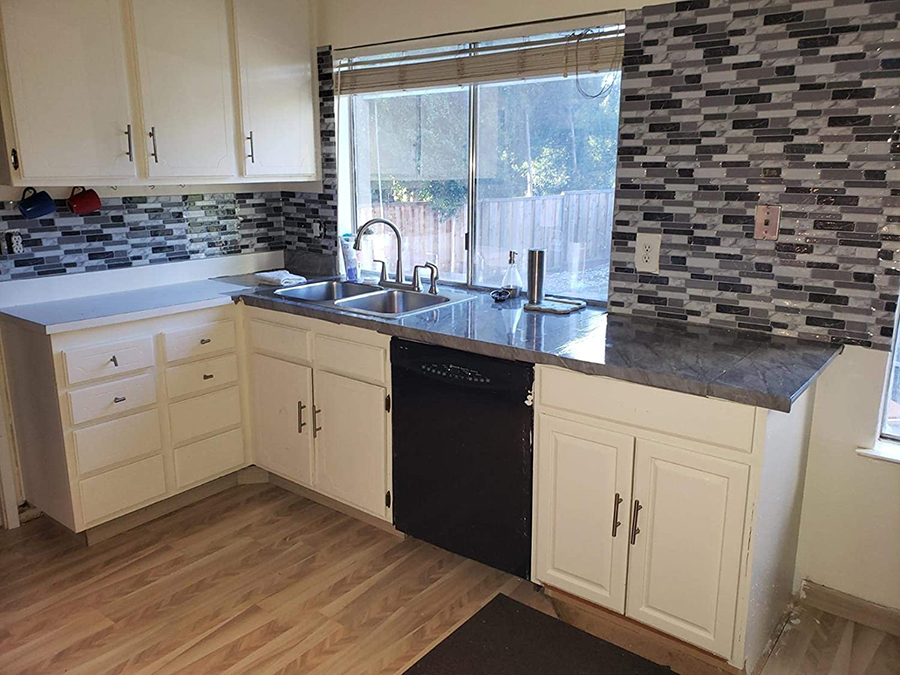 Need something quick and inexpensive for a temporary backsplash. Don't resort to self-adhesive paper or ruining the wall paint. Use these attractive stick-on tiles. You can take them off easily when needed.
Pros: the tile is made of eco-friendly material; resistant to heat and moisture; easy to wipe to remove the stains; sturdy and not flimsy at all; straightforward to trim and cut, and the adhesive is superb.
Cons: rough surfaces are not suitable; thin product.
Peel and Stick Glass Tile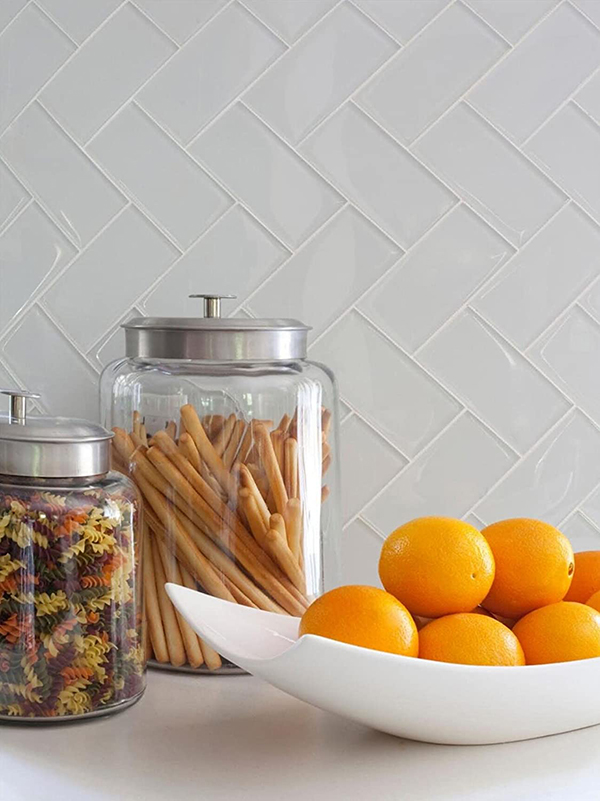 The glass tile has more substance and decor value. The glossy surface adds more visual interest to the room. Use genuine glass tiles? The durability is questionable. But you lose nothing with these peel-and-stick glass tiles.
Pros: made of real glass with a durable scratch, splash, and heat resistance; look super lovely and hold super firm; simple to cut with a standard tile cutter.
Cons: rough walls won't last very long; there may be color discrepancies.
Backsplash Wallpaper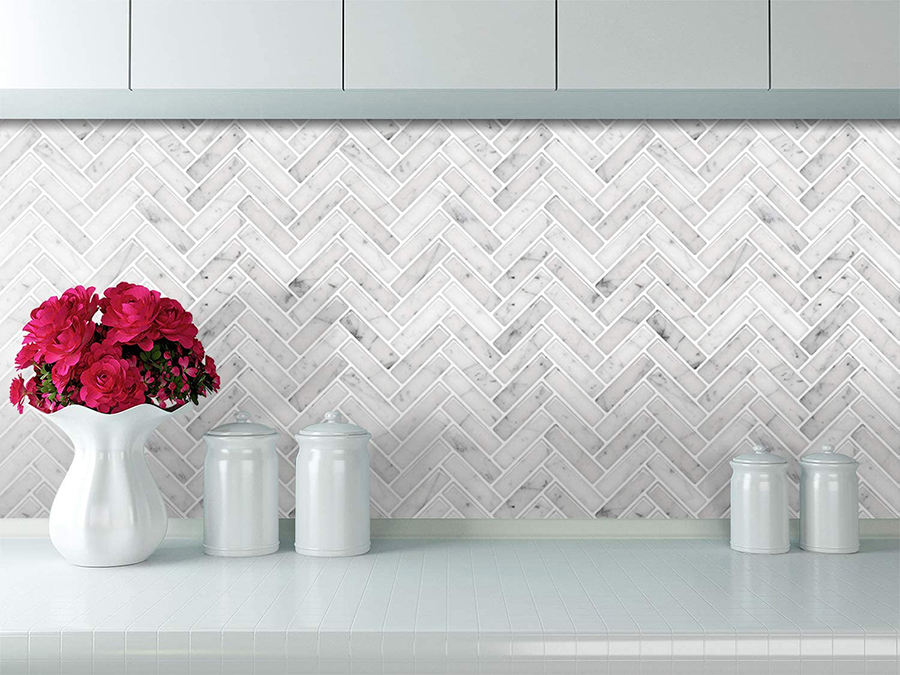 Are we suggesting the use of wallpaper for the kitchen backsplash? Yes, if these self-adhesive tiles come in an exciting pattern (such as herringbone). The visual interest makes up for it.
Pros: three times stronger backing glue than regular vinyl tiles; sticks to clean and sleek surfaces and lightly textured walls; resistant to heat and moisture; very easy to cut with just sharp scissors.
Cons: you have to cut off the top and bottom to make it fit flush against the wall and countertop.
Peel and Stick Stone Backsplash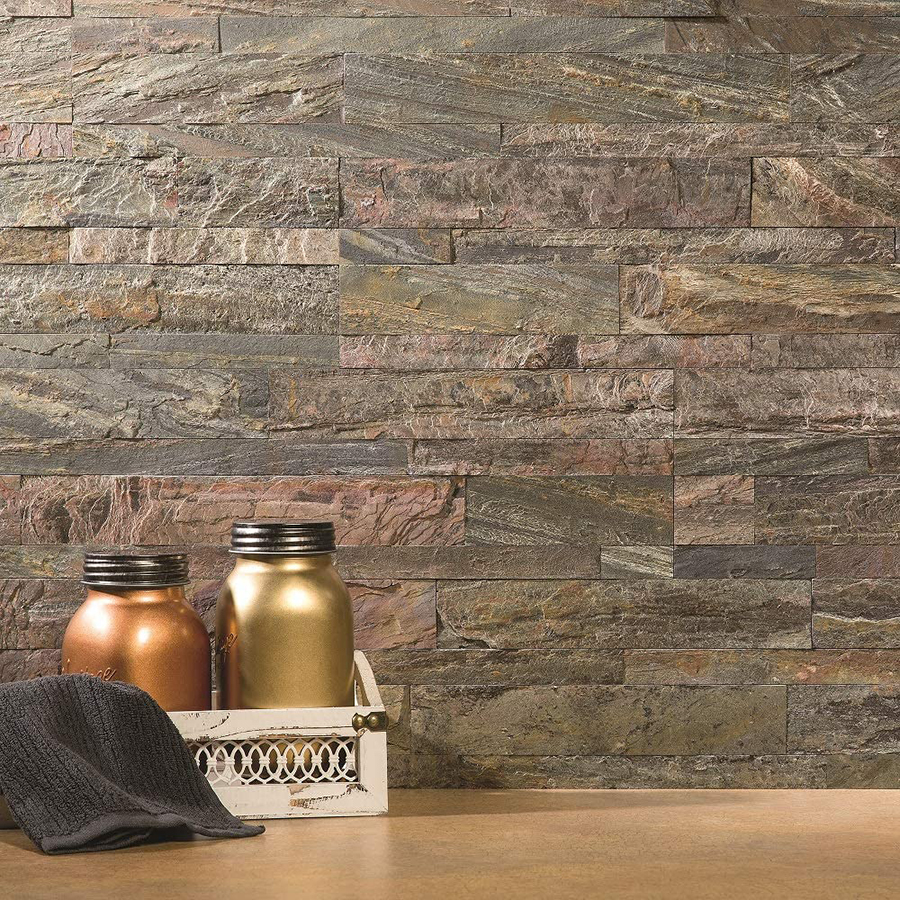 Stonewall look makes a beautiful rustic accent that is all the rage in modern interior design. But you don't need an actual stone wall in your home or even stone tile. These high-definition self-adhesive tiles will do the trick.
Pros: comprised of layers of natural stone, engineered bonding resin, fiberglass, adhesive base; no grout required; an easy way to add such texture for a backsplash; excellent product and high quality.
Cons: too shiny for the natural look.
Peel and Stick Mosaic Tile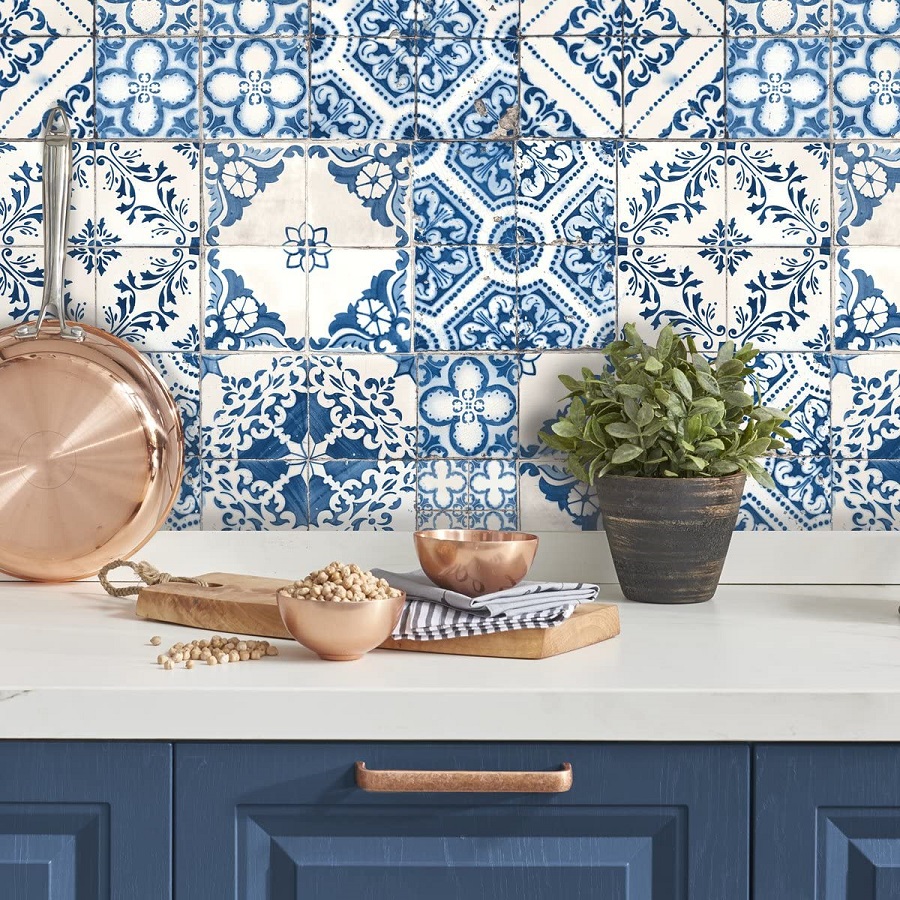 Mosaic tiles for backsplashes are quirky and hip. They make a great accent in kitchen design. And you don't need to invest much for the look with these peel-and-stick tiles.
Pros: removable peel and stick wallpaper; no sticky residue left behind upon removal; perfect for both renters and homeowners; not difficult at all to make a wall look great; people think they are genuine tiles.
Cons: they have a terrible smell at the beginning.
Plastic Backsplash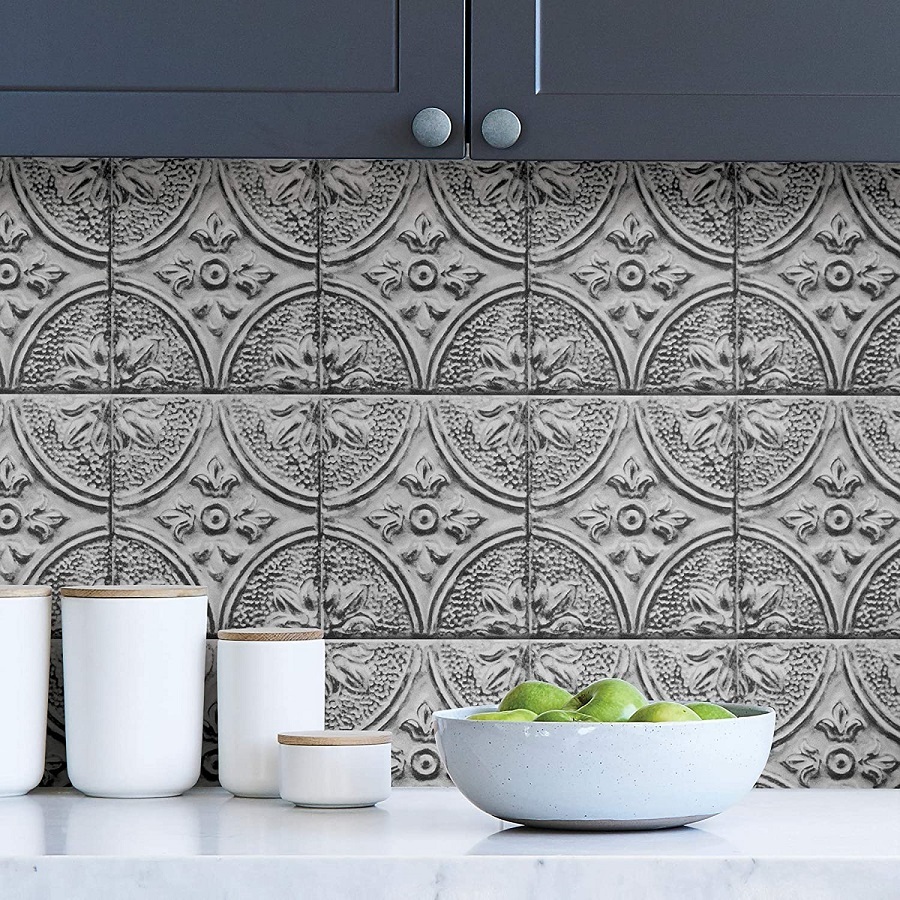 Plastic panels are a cheap alternative to backsplash tiles. It is removable, so you can use it temporarily or try the look. However, vinyl is not as durable as most other options.
Pros: these panels can be applied with adhesive and stick to most surfaces; very easy to put up; deeply embossed and high gloss.
Cons: this is plastic and not something that would look like natural tile.
Smart Tiles Peel and Stick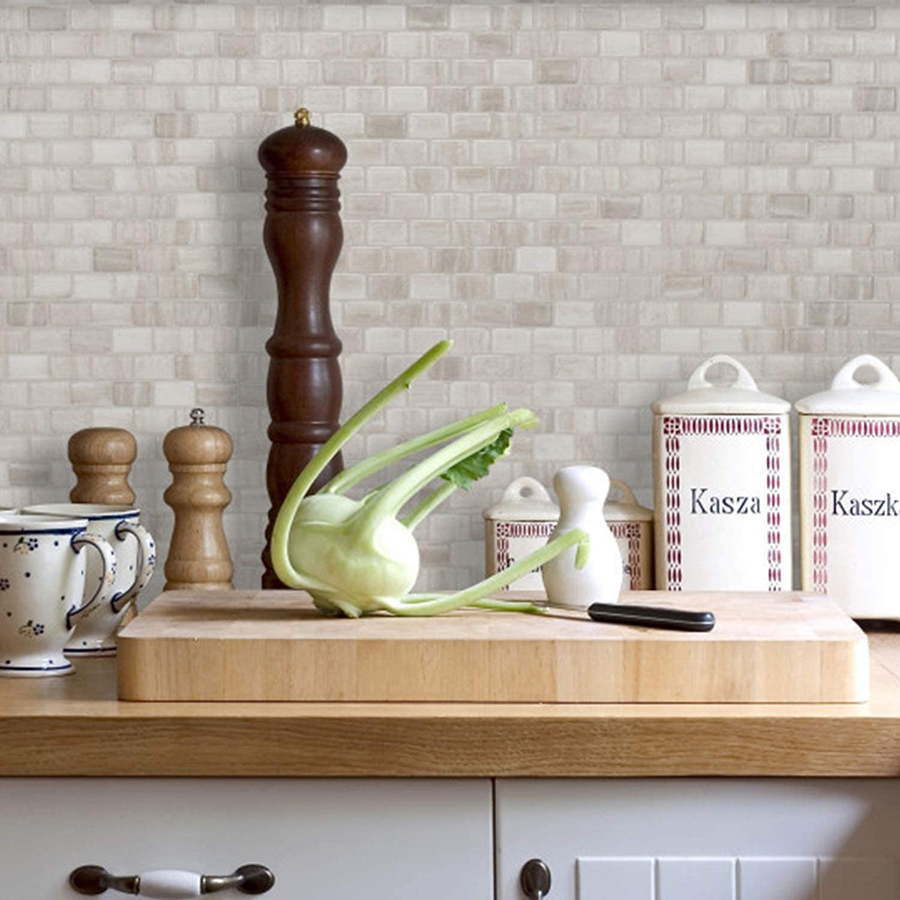 Smart tile is a brand that has quickly got popular. These are simple to use self-adhesive tiles that come in many designs.
Pros: premium quality backsplash; it has a gel component that protects the tiles stuck on the wall without yellowing or cracking over time; it has a strong adhesive, resistant to heat and humidity.
Cons: it is much darker in color than the picture.
FAQ
How to install peel and stick backsplash?
Clean the surface. Measure the wall. Remove the protective film from the back of a tile and stick it on the wall. Press it firmly. Cut the tiles with a utility knife to match the measurements. Work your way up from the bottom left corner of the wall.
How to cut peel and stick backsplash tiles?
Use a utility knife or scissors. Measure with a ruler first.
Continue reading:
Disclosure: As an Amazon Associate we earn from qualifying purchases.