Last updated on October 9, 2023
Installing peel and stick tile? Does it really not need grout as advertised? Let's find out once and for all here.
The short answer is that typical peel and stick backsplash tiles are designed to be used without grout. Your peel off the protecting film to reveal the self-adhesive side of the tile and apply it on a clean wall.
However, there are some types of peel and stick tile that does need some grout. That's why the answer to the question isn't so clear-cut. Let's find out why next.
What's Inside
Type of Peel and Stick Backsplash That Needs Grout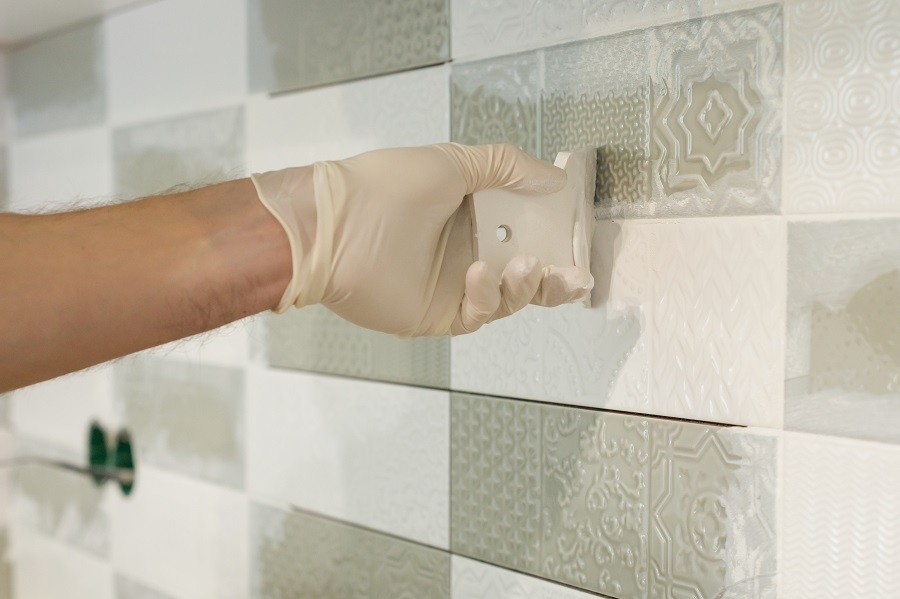 Some peel and stick tiles (usually those made with natural materials) have spaces between the tiles. These require grout in between them, and you need to buy this yourself, or it will be bare. So if you have tiles that have visible gaps between the pieces, it means you will need to use grout.
Type of Peel and Stick Backsplash That Doesn't Need Grout
If you have ever spread tile adhesive on your walls, cut tiles with a wet saw, or set grout on new tile, you know how long and how much it costs. The disadvantages to this method are time-consuming and messy to do. Peel-and-stick tile can be done very fast, at a lower price, and with less clean-up required. If the tiles are designed to stick to the wall and install them right seamlessly, you will not need to use grout.
The Design Options
Most people are happy with ordinary tiling for their kitchen backsplash, but others want something different that is creative and unique. They may consider simply using a sheet of tiles, or they might look into fabric wallpaper, paper designs, or peel and stick tiles that become the same as wall paint on your chosen design. Amazon has many choices in unique peel and stick tile designs.
First-time DIYers
This type of tile is perfect because you do not need a lot of tools or skills. Measuring and cutting cover it! You'll still get that thrill of completing projects yourself, as well as the joy of upgrading your backsplash.
You Only Get One Shot to Install Peel and Stick Tiles
Self-adhesive tiles work quite well. If you don't stick the tile right the first time, you may not adjust it. While some peel-and-stick tile is made to be removable (like wallpaper), most are made to stick and stay. So you only have one shot at doing it right. If you find out later that you have not installed them evenly and there are gaps, you may need to use grout to seal them.
Quick Fix
Many people who are renovating their homes often consider using peel and stick tiles to save time and money, but these items cannot really compare to real tile due to shortcomings in quality. For example, you could save money in a renter's home – if your landlord agrees- or make your kitchen look chic with less expensive depending on how much money you can put into it now. Ultimately, most people choose not to install these tiles because they understand that they are cost-effective remedies that may compromise a deferred future home buyer's desire.
Water and Peel-and-Stick Don't Mix
Many people are concerned that self-adhesive tile will lose its ability to stay stuck when it meets water. In reality, most tile is designed the withstand humid, occasionally wet environments. The only real concern is the space where one tile joins in with another because peel-and-stick has no grout (yay!) but leaves a tiny space where water can penetrate (nay). This is the case where you will need to use grout.
You can apply sealant specially formulated for tiles attached using peel-and-stick adhesive if you want to be extra careful. This makes it more sensitive for certain aspects of how tiles are cleaned because traditional self-adhesive material needs different backer boards to work properly. Some types of tiles are not nearly as impacted by outdoor conditions or even frequent exposure to water.
How to Install Peel-and-Stick Tile with and without Grout
To install peel-and-stick tiles, first, prepare the surface and then measure the space. Peel off a little of the back sheet when you apply them to the wall—smooth one edge with a credit card or ruler.
If there are visible gaps between the tiles (especially if they are made using natural materials), use some grout to seal the gaps.
The Takeaway
Most types of peel and stick backsplash tile don't require grout. However, some tiles may have gaps in their connections. In those cases, you have to use sealant or grout to seal these gaps.
FAQ
Can you do a backsplash without grout?
You can have a backsplash without grout with seamless peel and stick tiles if they are installed correctly.
How do you prepare a wall for peel and stick backsplash?
Cleaning the wall to prepare for peel and stick tile is usually enough.
Continue reading: