Last updated on November 22, 2023
Explore the transformative power of corner kitchen islands because they offer innovative solutions to maximize both functionality and style in your cooking space.
I take immense pleasure in sharing these 20 Modern Corner Kitchen Island Ideas, all original designs crafted by me, and I genuinely hope they ignite your creativity as much as they did mine during their creation.
Corner kitchen islands are a fantastic solution for optimizing space in your kitchen while also adding a stylish focal point. They offer additional storage, workspace, and can even serve as an informal dining area.
Whether you have a small kitchen or a large one, there are numerous corner kitchen island designs to choose from. This article will delve into a variety of corner kitchen island ideas, discussing different styles, materials, and layouts. From contemporary designs to traditional and rustic styles, you'll find all the details you need to make an informed decision for your kitchen renovation.
Get ready to transform that unused corner into a functional and visually appealing space.
What's Inside
Granite Countertop Corner Island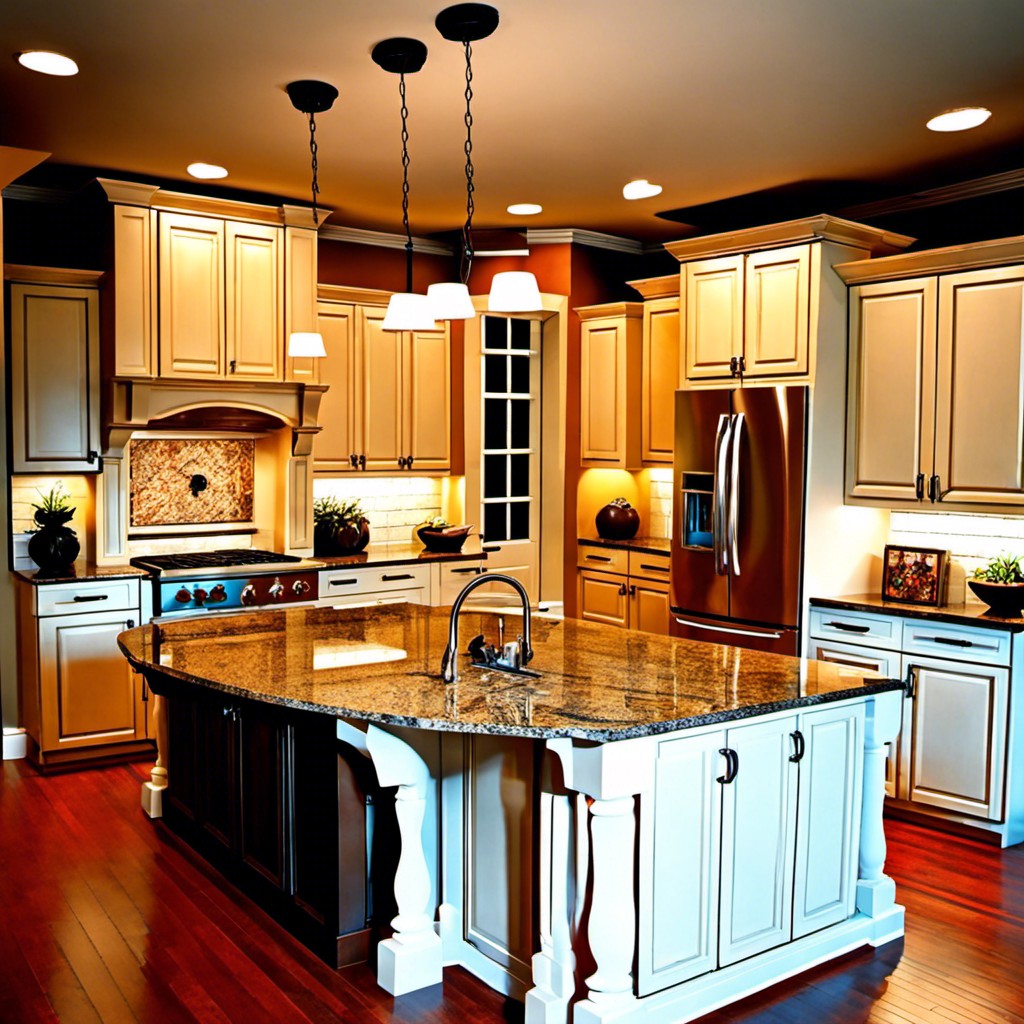 This model acts as a valuable hub in the kitchen, given its durability and eye-catching aesthetic. Granite surfaces are easy to clean and heat-resistant, making them ideal for areas of high cooking activity.
Since granite meshes seamlessly with most design themes, it provides a pleasant look regardless of whether your kitchen leans towards classic or contemporary styling.
Your corner island could feature a bar-style seating area on one side, perfect for casual meals or coffee chats with visitors.
If you love baking, then the granite surface is your ally, as it maintains the cool temperature needed for rolling out dough.
Remember, subtle lighting above your granite corner island can also highlight the unique patterns and colors in the stone.
Floating Corner Breakfast Bar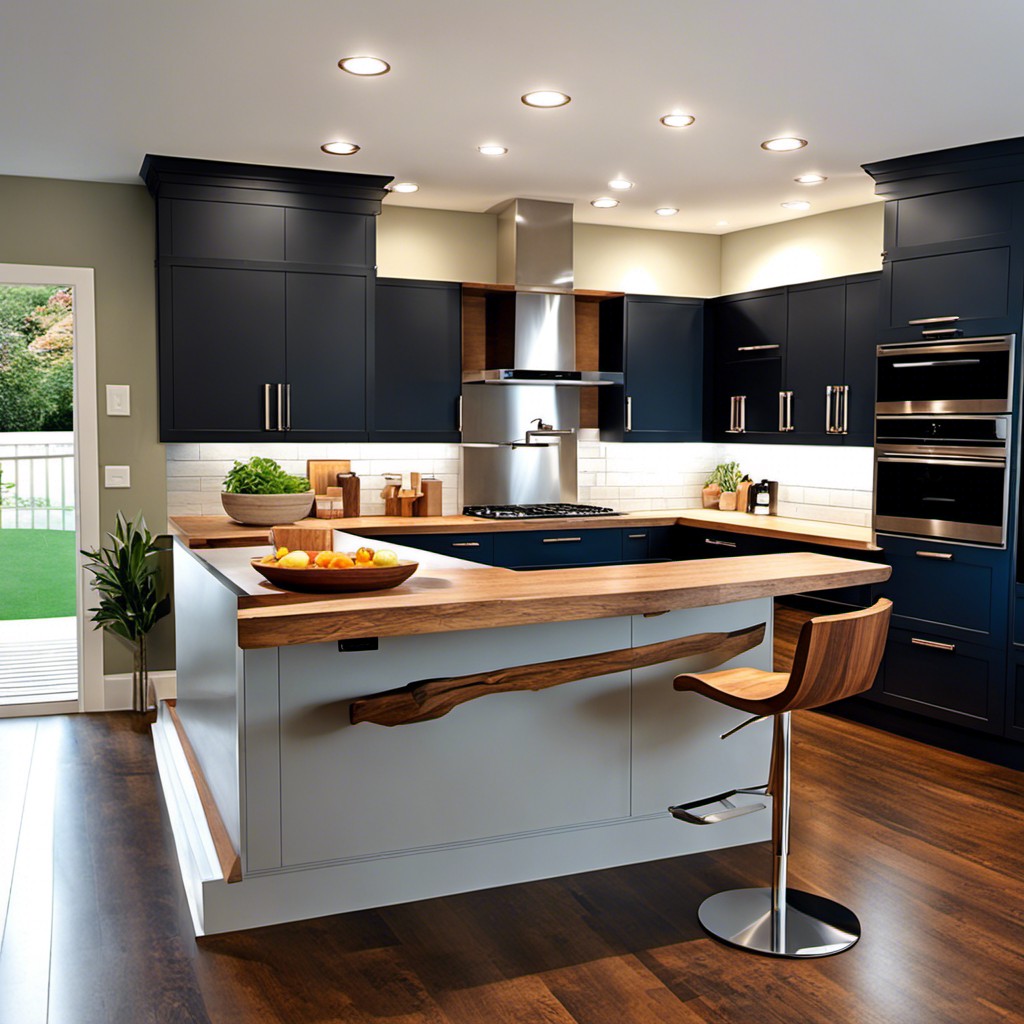 Rather than occupying a vast area, these bars function efficiently in smaller, tighter corners. Their levitating design offers an airy and spacious feeling, enhancing overall kitchen aesthetics.
Consider these key factors:
Construction Material: Opt for materials like wood or metal that complement your kitchen decor. Ensure it is sturdy and durable to support substantial weight.
Height and Width: Tailoring dimensions to your space and needs ensures comfort while using the bar. Keep in mind the stool height when deciding on the bar's elevation.
Storage: Some designs come equipped with underneath compartments for storing kitchen essentials, effectively utilising the space.
Design: Contemporary, traditional, or industrial; choose a design that harmonizes with your kitchen's theme.
Lighting: Installing under-counter lights can create a cosy ambiance, improving the overall dining experience.
Remember, customization is key to creating a floating breakfast bar that caters to your specific needs and style preference.
L-shaped Island With Built-in Seating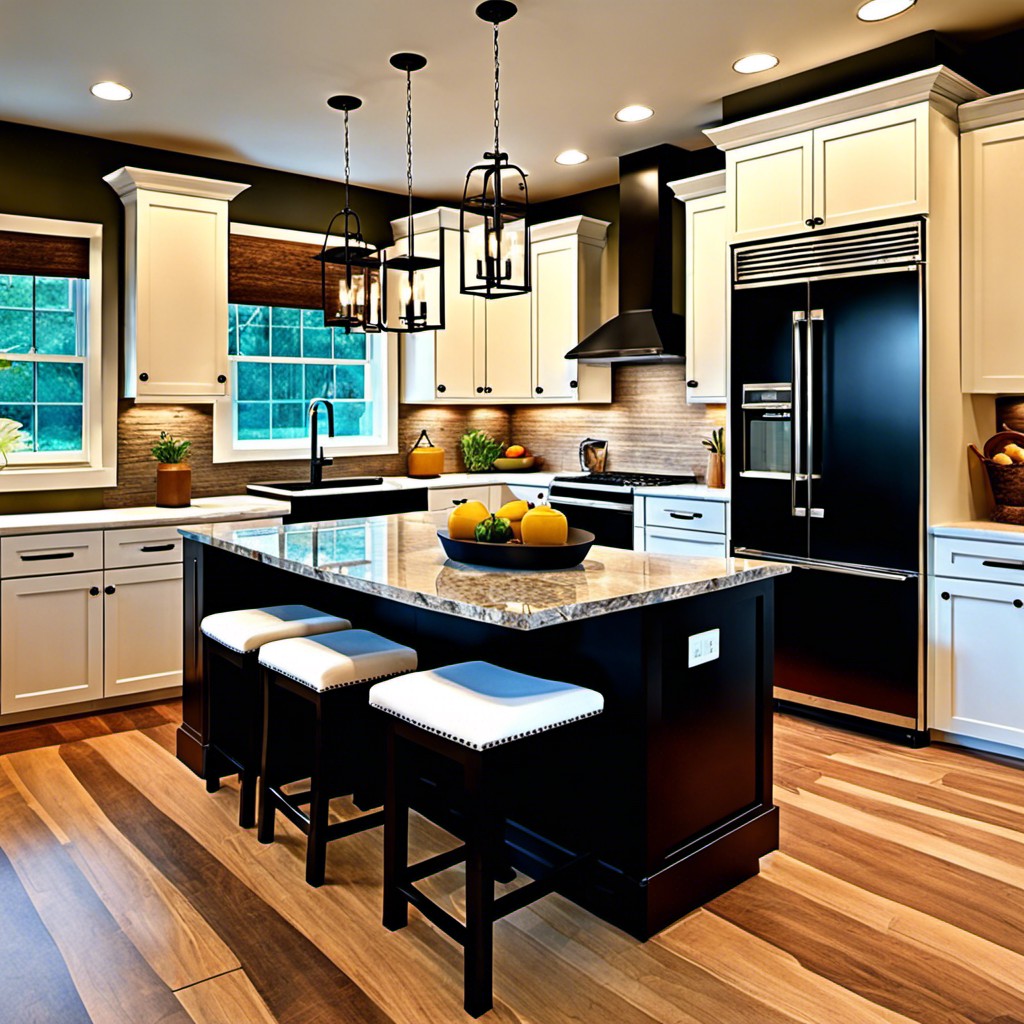 Emphasizing both form and function, this island design cleverly utilizes kitchen space. The L-shape effortlessly partitions the kitchen into zones while the built-in seating offers a casual dining or socializing spot, ideal for open-plan living. Embedded within the design is a myriad of customization possibilities.
1. Seating Arrangement: Whether you opt for bar-style stools or a cozy bench, your seating can be tailored to your specific style and comfort preferences.
2. Storage Solutions: Always a coveted feature in any kitchen, under-seat storage or hidden compartments in the island can effectively hide cookware or other kitchen essentials.
3. Material Choices: Pick from a wide range of materials that add a touch of personality—from classic wood finishes to chic marble or sleek stainless steel.
4. Incorporated Amenities: Consider adding amenities like a mini fridge or dishwashing drawers into the design for maximum efficiency.
Remember, the overall goal is to create a useful and welcoming space syncing with the rhythm of your kitchen activities.
Corner Island With Integrated Wine Rack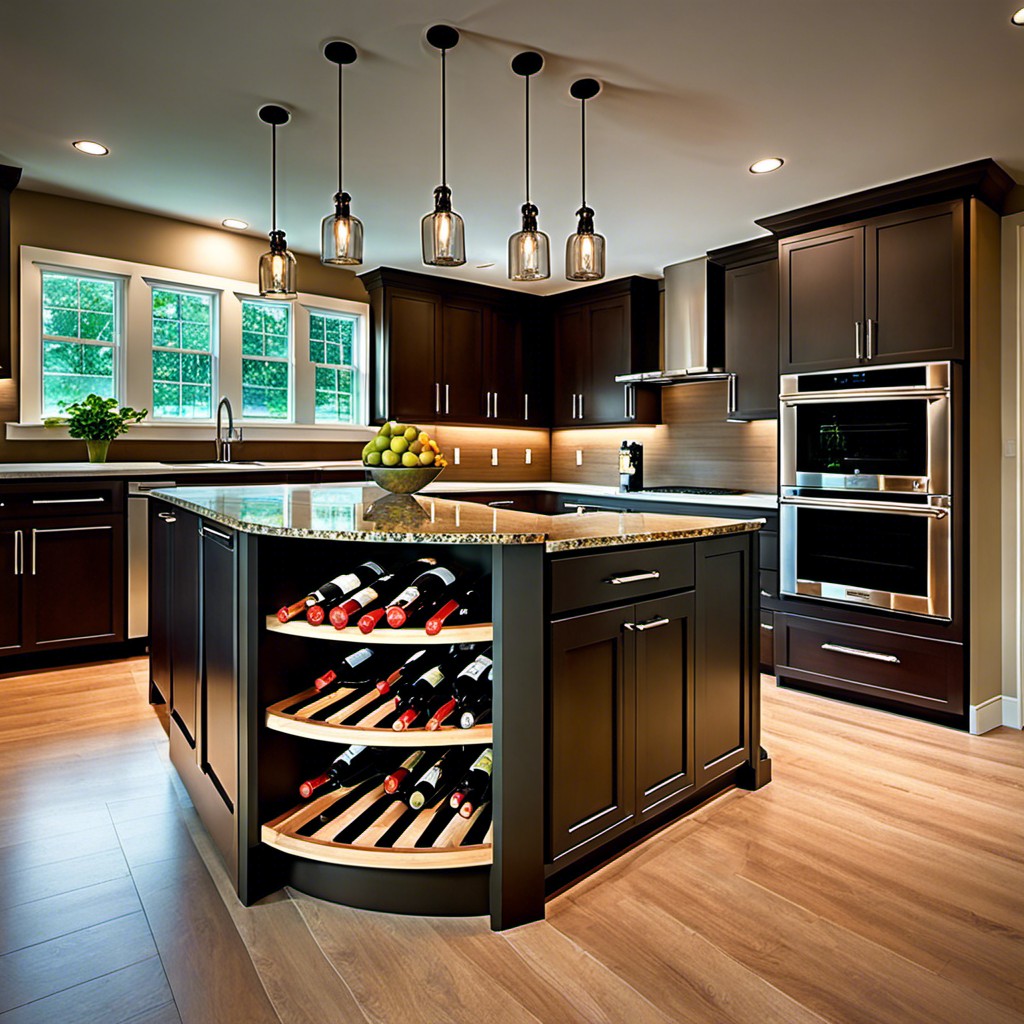 The ingenious integration of a wine rack into a corner kitchen island serves a dual purpose – abundant storage and effortless access to your favorite bottles. This innovative kitchen asset not only saves valuable space but also adds an elegant touch to any setting, making it ideal for wine connoisseurs and regular entertainers.
Three important aspects drive the appeal of this feature:
Stylish Display: With the wine rack on display, it doubles as a chic focal point, giving your kitchen an upscale feel.
Efficient Storage: Integrating the wine rack into the island utilises otherwise wasted corner space, packing maximum functionality into every inch.
Easy Accessibility: No more rifling through cupboards or a far-off basement cellar. The preferred bottle is always at hand, making dinner prep or impromptu social occasions a breeze.
Two-tier Corner Island for Cooking and Dining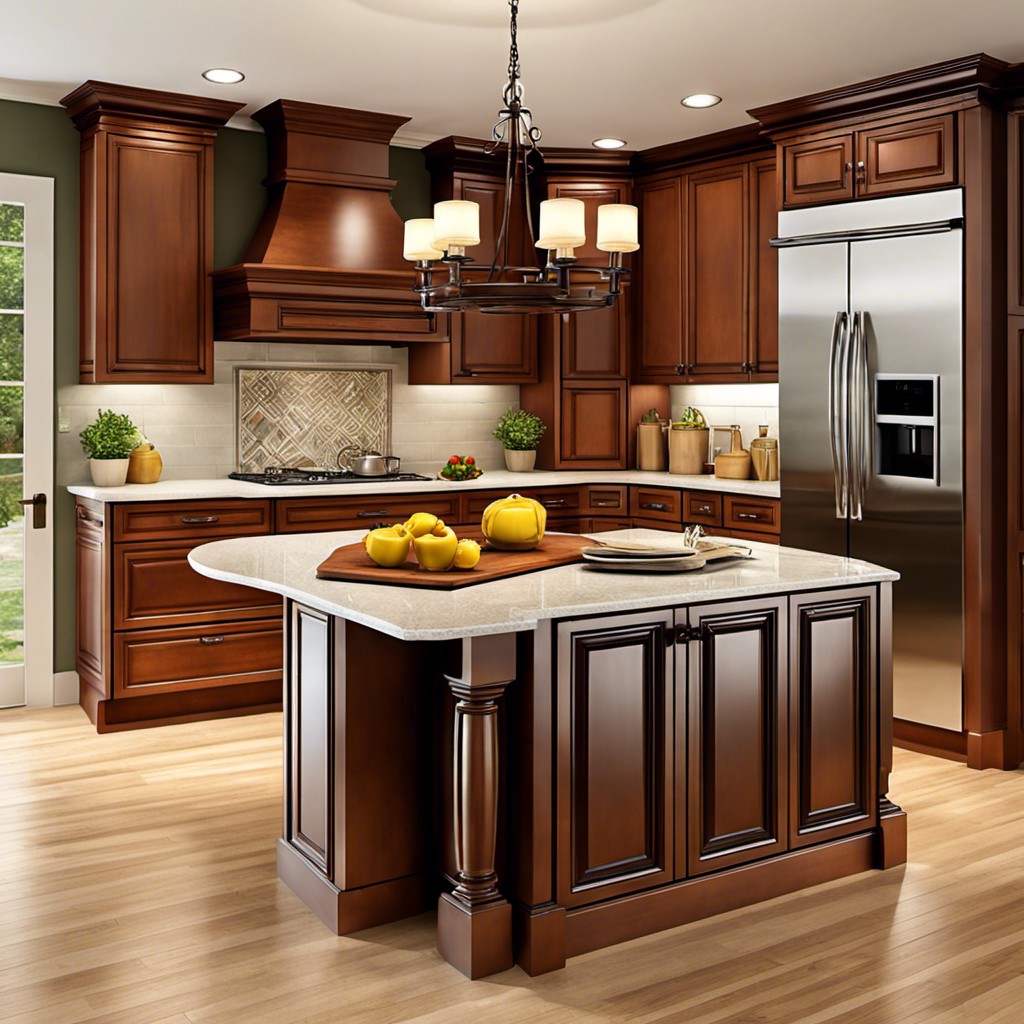 A two-tier design is an ideal choice when functionality is paramount. It offers a clear separation between the preparation and dining areas. The upper level is perfect for meal preparation, housing essential appliances like a stovetop or a sink. Meanwhile, the lower tier can comfortably accommodate chairs or stools, providing a casual dining space.
Additionally, this design maximizes vertical space, ensuring your island serves multiple purposes without taking up unnecessary floor space. Thanks to the distinct functional zones, you can cook dinner without disturbing someone enjoying their breakfast on the lower level. Another advantage is that the raised tier hides any cooking mess from view, maintaining an uncluttered look.
Consider the construction material wisely to ensure the tiers contrast both functionally and visually. A sturdy stone or granite for the upper tier can withstand cooking activities, while a polished wood on the lower tier induces a warm, inviting space to dine. Remember, choosing the right finishes can enhance the aesthetic appeal and infuse a dose of personality into your kitchen.
Rustic Wooden Corner Island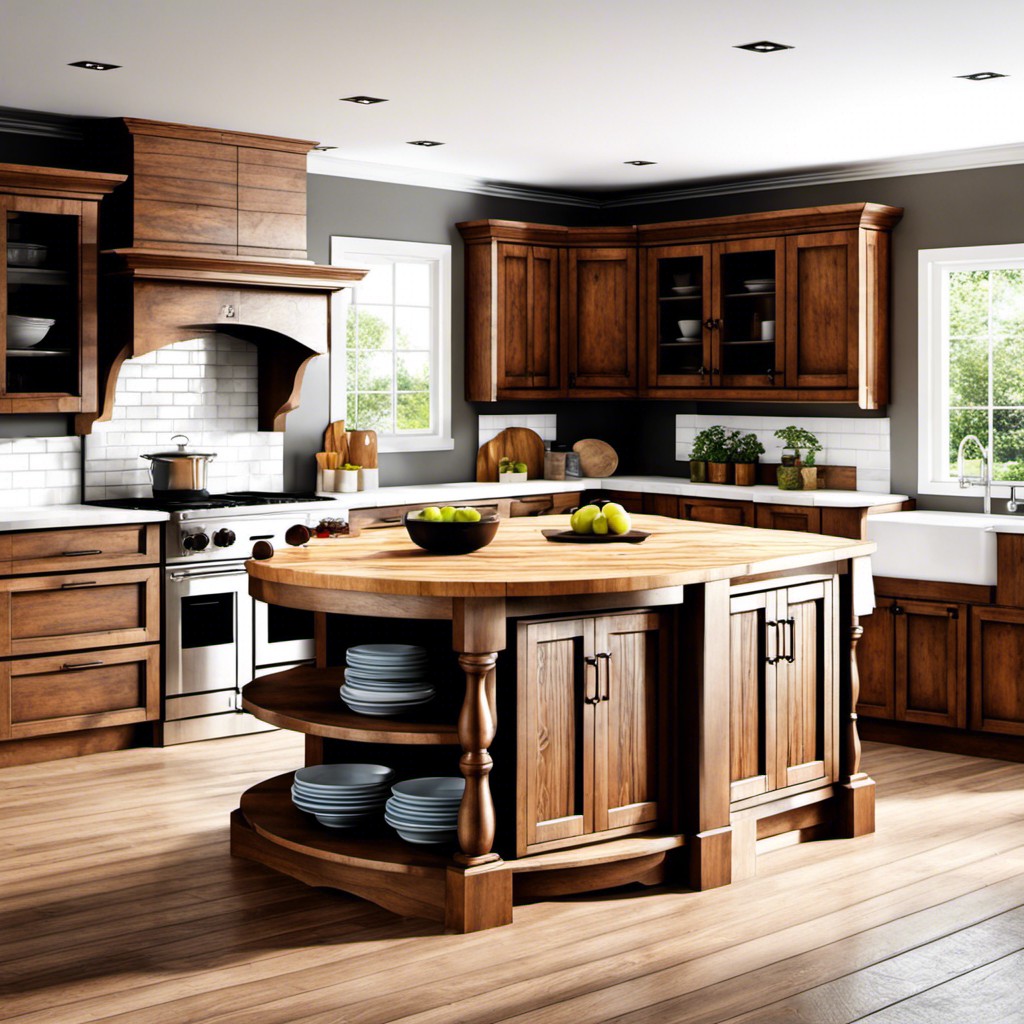 Embodying an authentic charm, this style magnificently captures the essence of warm countryside aesthetics. Choosing wood as a material radiates an inviting homely atmosphere, easily complimented with wrought-iron lights or bar stools.
Previewed wear on the wood surface enhances the rustic appeal and makes each kitchen corner island unique. Add an extra layer of texture with a rough stone backdrop or keep it classic with brickwork.
Integrating niches or open shelves allows for convenient access to utensils, cookware, or the opportunity to showcase beautiful ceramics. A final functional touch could be a pull-out cutting board, blending convenience with simplicity in style.
Modern Minimalist Corner Island With Hidden Storage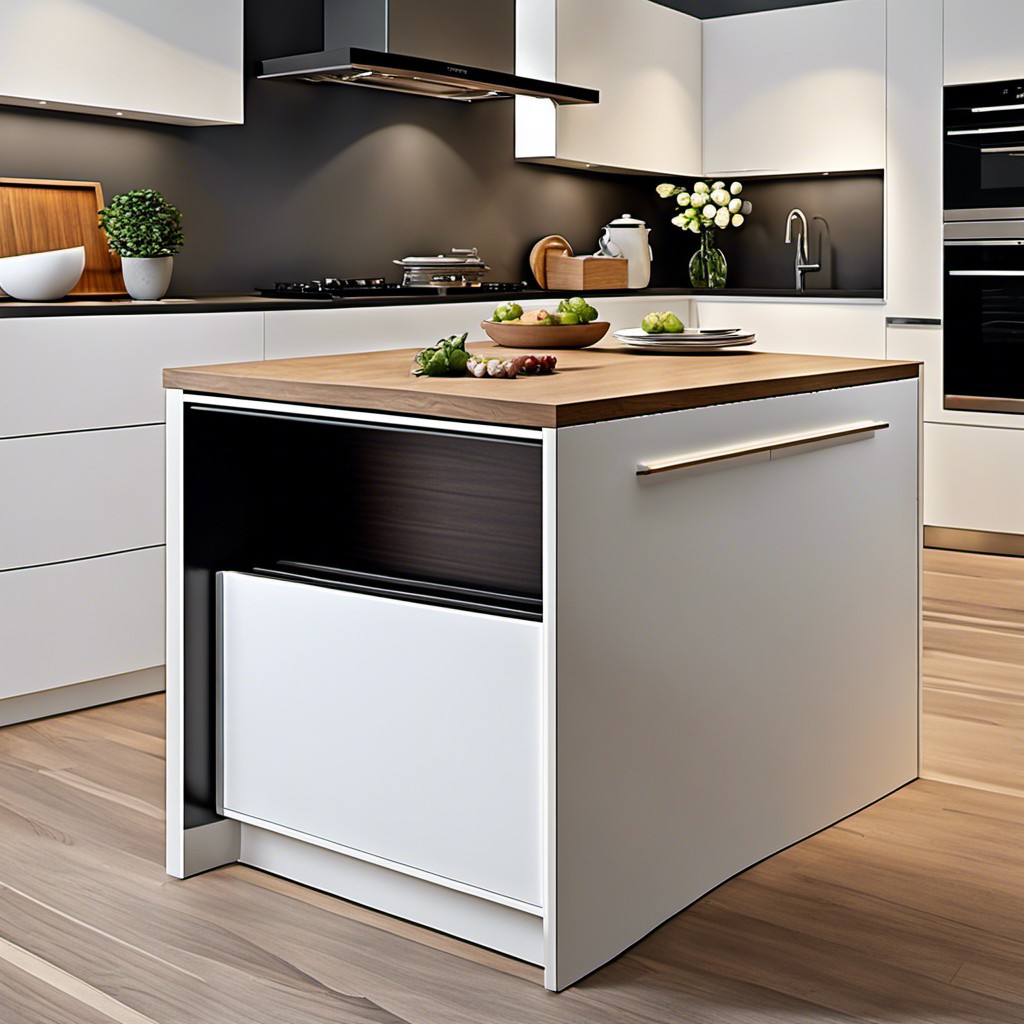 Implementing a modern minimalist design in a corner kitchen island with hidden storage can be practically resourceful and aesthetically pleasing. Its simplistic elements offer an uncluttered and streamlined aesthetic that clears your workspace, making your kitchen tasks more manageable.
1. Hidden Storage: The ingenious use of concealed storage compartments maximizes space. It can efficiently hide various items like small appliances, cookbooks, and utensils, contributing to a tidy look.
2. Streamlined Design: The minimalist style boasts sleek lines and a clean finish, often defined by seamless cabinetry and understated hardware.
3. Neutral Colors: Staying with neutral shades like white, grey, or wood finishes helps achieve the minimalist aesthetic. These colors enhance the feeling of space and harmonize with various kitchen styles.
4. Minimal Decor: Limit decoration to essentials. The minimalist approach favors functionality and simplicity. Each item should serve a purpose rather than merely exist for decorative appeal.
5. Efficient Use of Space: Despite its minimalist nature, this corner island concept doesn't compromise on utility. The design finds the perfect balance between aesthetic appeal and functional design.
Corner Island With Built-in Appliances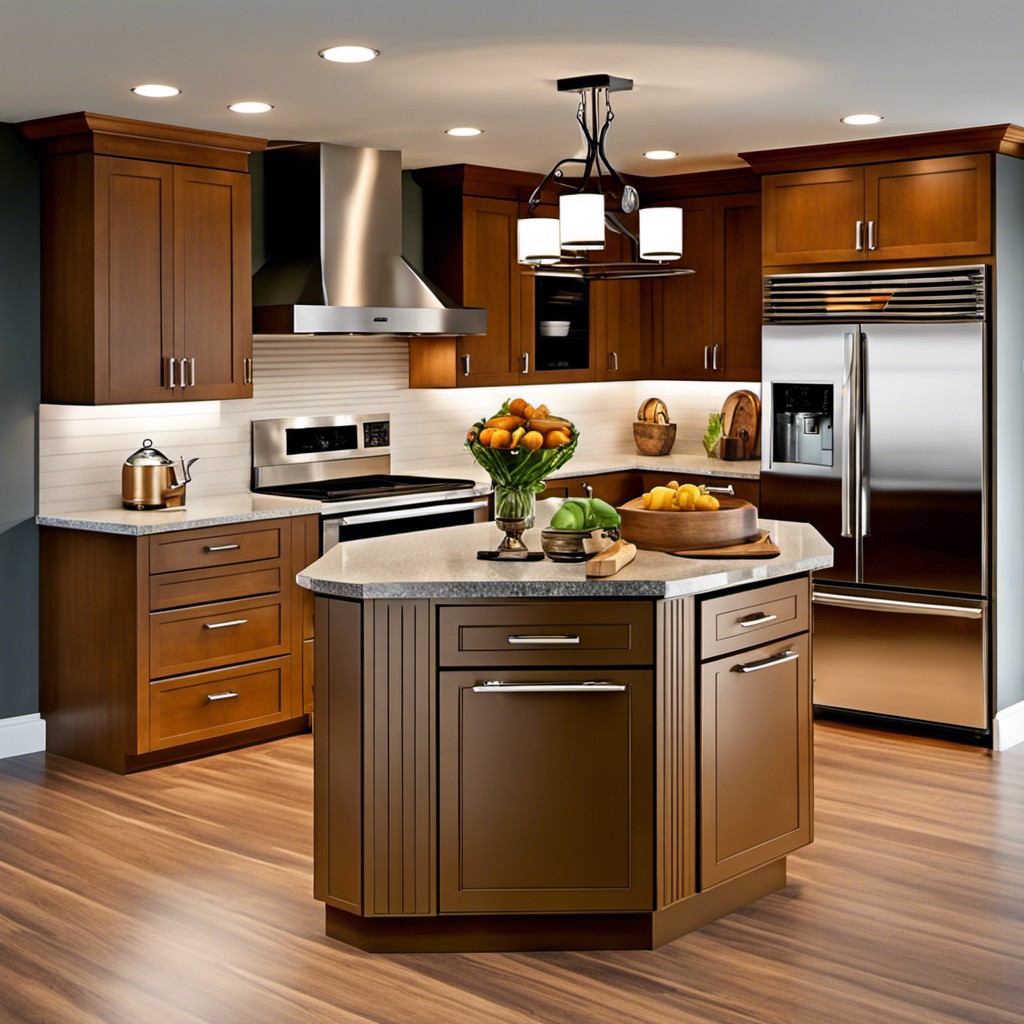 Seamlessly integrating appliances into your corner kitchen island not only maximizes functionality but also enhances aesthetics. Having your oven, refrigerator, or dishwasher tucked underneath the countertop eliminates unnecessary movement, making your cooking zone significantly efficient.
Keep these key considerations in mind while planning:
Appliance Size: Ensure the size of chosen appliances can fit comfortably within the island's structure without compromising its stability or functionality.
Power Supply: Plan for suitable power outlets or plumbing lines if necessary, ideally hidden to maintain visually clean lines.
Ventilation: If installing an oven or cooktop, think about ventilation. An overhead extractor fan or a downdraft vent can easily solve this issue.
Accessibility: Arrange appliances in a way that they're easily accessible, but without obstructing the workflow in the kitchen.
Incorporating built-in appliances can turn your corner kitchen island into an ultimate cooking hub, while also impressing visitors with your sophisticated, ingenious use of space.
Multifunctional Corner Island With Bookshelf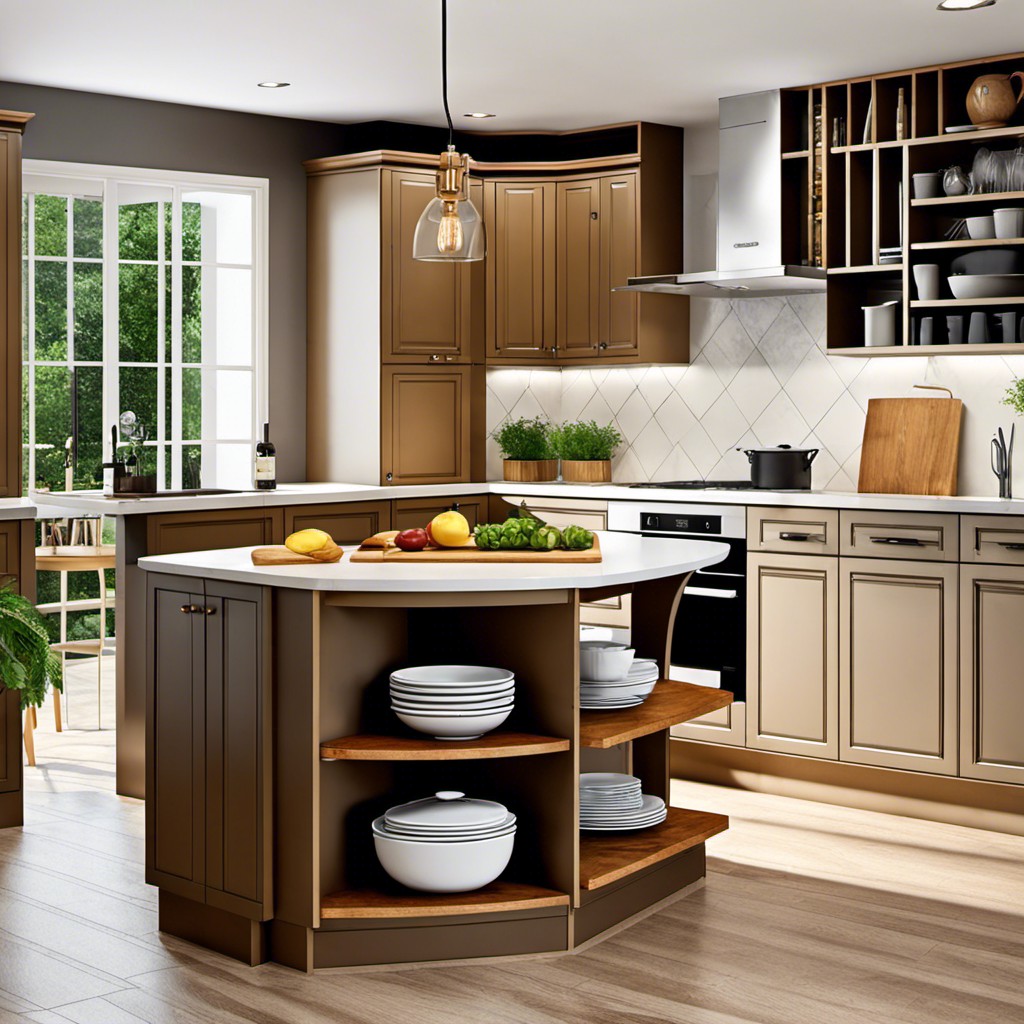 Making your kitchen island multifunctional adds versatility to your space. With integrated bookshelves, it is an ideal spot for housing cookbooks, food magazines, or even your favorite novels. This element elevates the style of your island while serving functional purposes.
To achieve this design effectively, consider the following tips:
Choose sturdy materials like hardwood or metal for the bookshelves to ensure longevity.
Align the design and color of the shelves with the overall aesthetic of your kitchen.
Allow enough space between shelves to accommodate large cookbooks or display items.
Install under-shelf lighting to enhance visibility and add a touch of elegance.
This thoughtful addition turns your corner island into a dynamic hub, bridging the gap between culinary workspace and charming library.
Industrial-style Metal Corner Island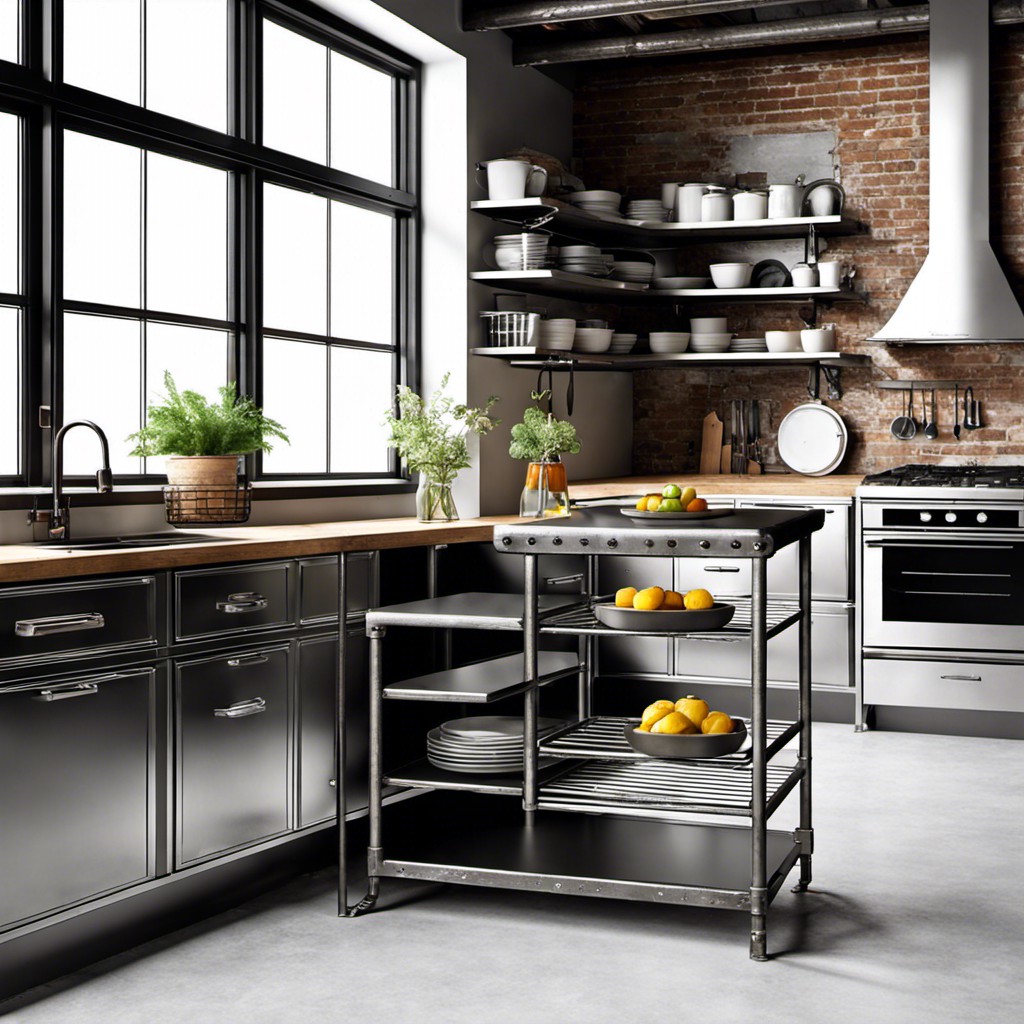 Industrial-style metal kitchen islands provide a modern twist to traditional concepts. Here are some key features to consider:
1. Function and Aesthetics: These islands often feature smooth metallic tops and open storage that make them as practical as they are visually appealing.
2. Flexibility: The hardy construction ensures longevity. Frequently, these islands are on casters, allowing easy mobility across the kitchen floor.
3. Storage: Plenty of open shelf space is an expected feature for storing frequently used cookware or showcasing treasured dishware.
4. Finish: Various finishes from shiny polished steel to distressed or oxidized metal cater to different tastes and themes, affecting the overall look of your kitchen.
Highlight these elements in your industrial-style corner island to achieve a robust and striking centre-piece for your kitchen.
Small Corner Island With Butcher Block Top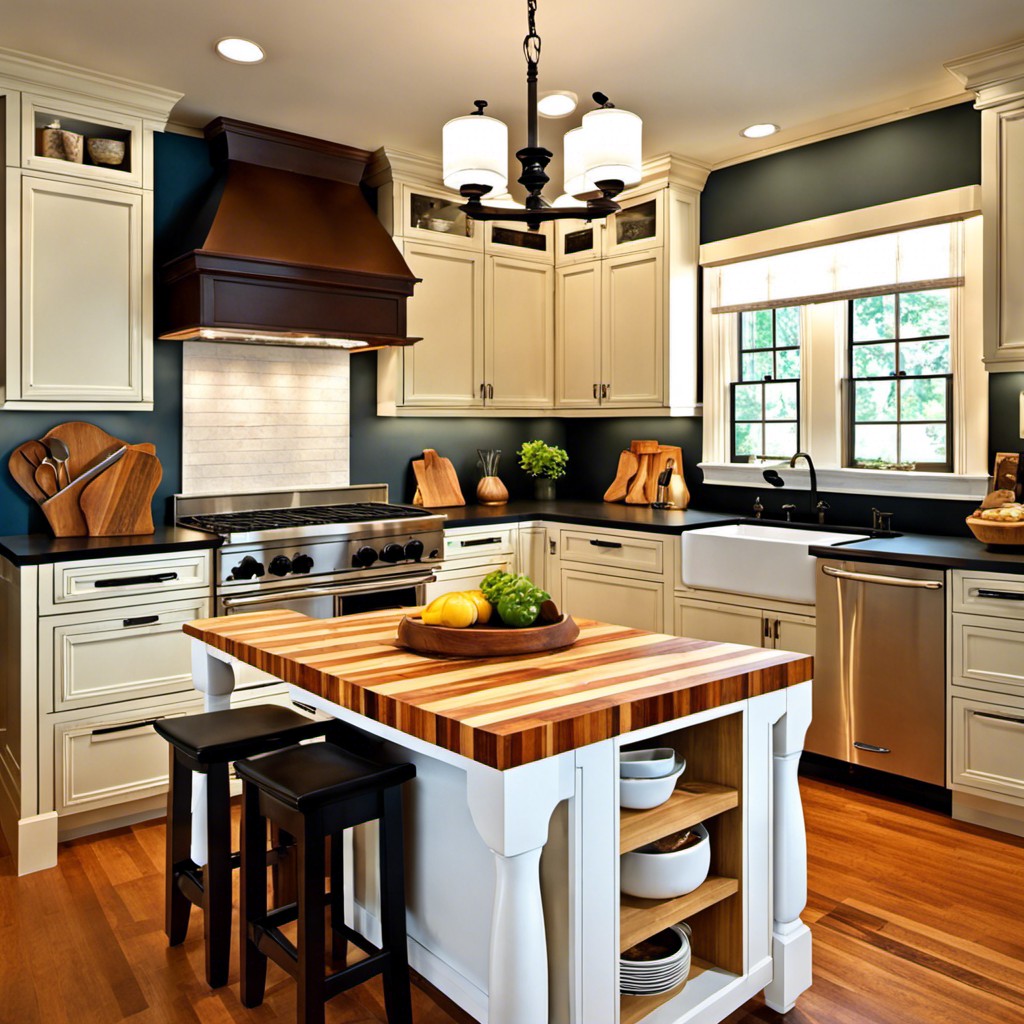 Emphasizing function over size, this configuration caters particularly to compact spaces. The butcher block top serves a dual purpose; it offers a warm, organic touch aesthetically, while its durability makes it ideal for routine meal preparation.
In addition, the smaller footprint does not limit storage ability. Below the butcher block, consider drawers or cabinets to house frequently used tools and gadgets. For added mobility and convenience, opt for caster wheels. This way, the island can be easily maneuvered – perfect for kitchens where space is a premium.
Above all, this style proves you don't need an expansive area to create a functional, appealing kitchen hub.
Corner Island Featuring Open Display Shelves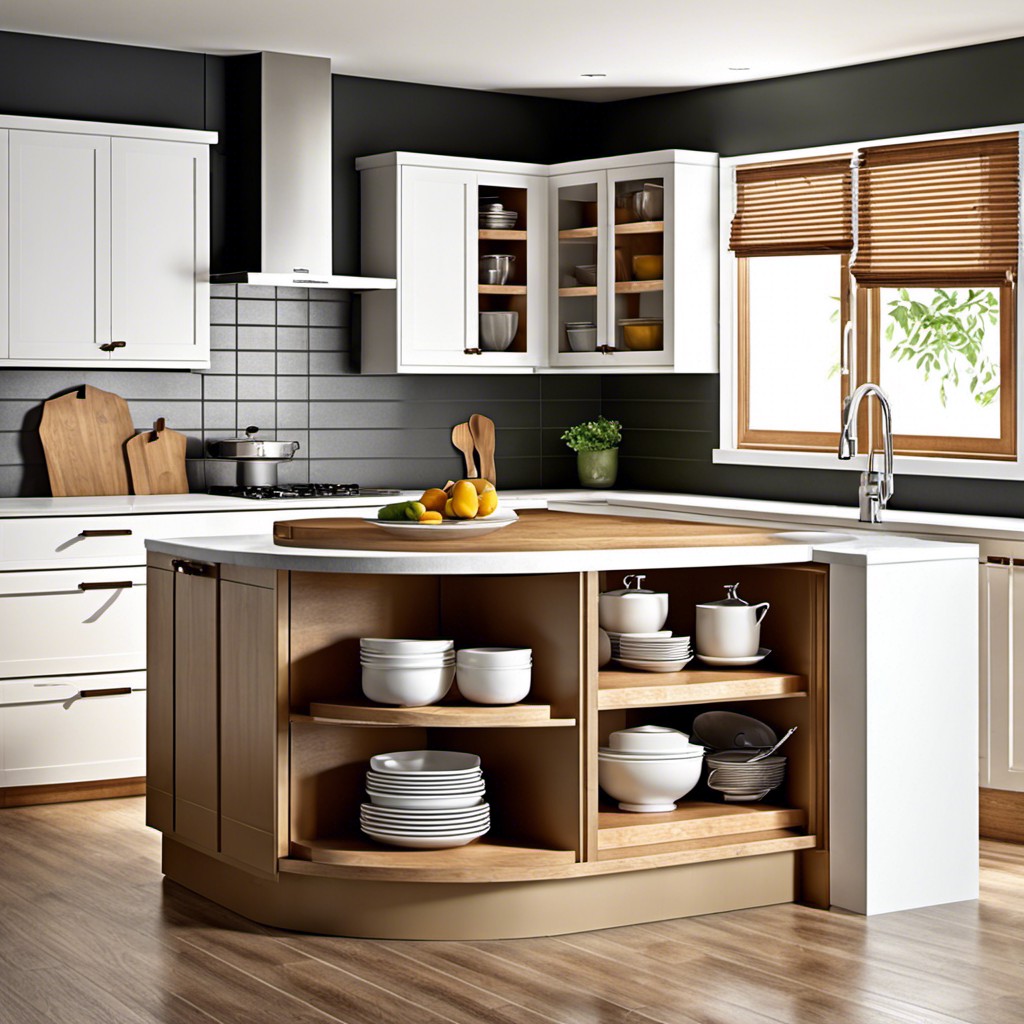 When implementing this concept, the focus is on maximizing visibility and accessibility. Open shelving allows for easy accessibility to frequently used dishes and cookware, making it a practical choice for busy cooks. Aesthetically, you can showcase your most attractive dishware collections, creating a personal and cozy atmosphere.
To get the most out of open display shelves:
Consider placement: High-use items should be placed on lower, easily reachable shelves.
Organize smartly: Group similar items together for a cleaner and more organized look.
Personalize your display: Incorporate unique items that reflect your personal style.
Maintain cleanliness: Open shelves can collect dust, so regular cleaning is necessary.
Remember, this configuration not only elevates the functionality of your island but also its design appeal by adding a touch of personal style.
Farmhouse Style Corner Island With Distressed Finish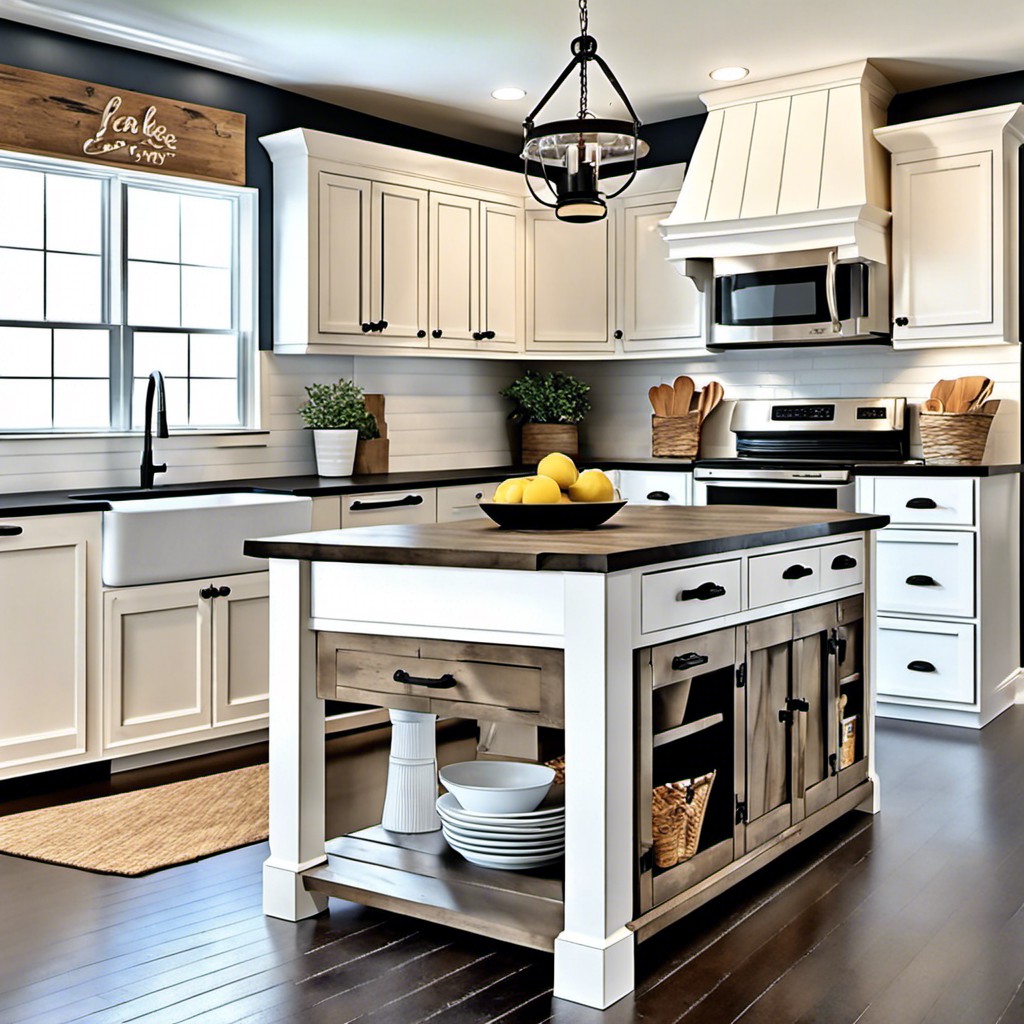 Exuding rustic charm and timeless appeal, these islands are perfect for adding a touch of warmth to the kitchen. The charm lies in their distressed finish – a technique where the furniture is intentionally aged and worn. This not only elevates the aesthetic appeal but also makes each piece unique; no two distressed islands are the same.
Their designs often include utilitarian features such as sturdy wood construction, spacious cabinets, and drawers for storage. Keeping with the farmhouse theme, a mix and match of traditional knobs and pulls can be incorporated. Additionally, a few might sport a built-in rack for storing kitchen linens, aprons, or oven mitts.
For the countertop, consider natural materials such as wood or stone, which align with the overall farmhouse aesthetic. The use of classic, muted shades of paint like cream, gray, or sky blue on the island base can complement various kitchen color schemes. This ensures that the island seamlessly integrates into the kitchen layout while still standing out as a statement piece.
Finally, enhancing the island with a few decor items like vintage kitchen utensils, jars, or a bowl of fresh fruit can complete the country-style look.
Luxurious Marble-topped Corner Island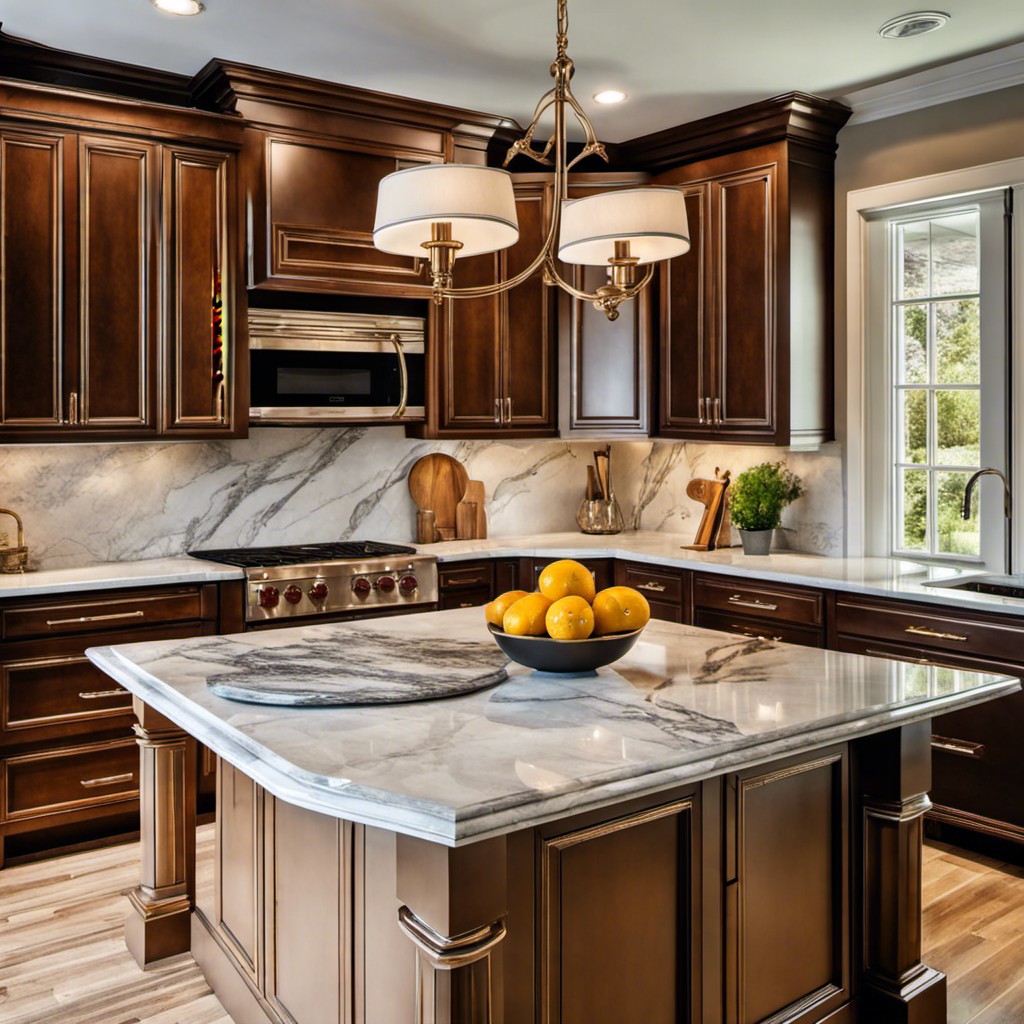 The elegance and timeless appeal of marble make it an ideal choice for a luxurious kitchen feature. Incorporating a marble top into your corner island brings an instant touch of sophistication. Despite its stunning aesthetics, marble is also highly functional.
1. Durability: Marble countertops are known for their durability and resilience. They can easily withstand a busy kitchen environment.
2. Heat Resistance: Marble is heat resistant, making it perfect for a corner island where hot pots and pans may be placed.
3. Unique Patterns: Each marble slab boasts unique patterns, bringing a bespoke element to your kitchen. No two islands will ever be the same.
4. Versatility: The neutral tones of marble integrate well with various kitchen styles, from contemporary modern to traditional.
5. Cleaning: Simple and low maintenance, a wipe with a damp rag is all you need.
Remember, marble can be more porous than other materials, so proper sealing is essential to prevent staining.
The opulence of a marble-topped corner island not only enhances the aesthetics but elevates your cooking experience, combining functionality with style.
Remember to consider your lifestyle, kitchen usage, and budget before opting for a marble island. They are more expensive than other materials, but investment in their luxury is often worth the cost for their elegance and longevity.
Compact Corner Island With Pull Out Drawers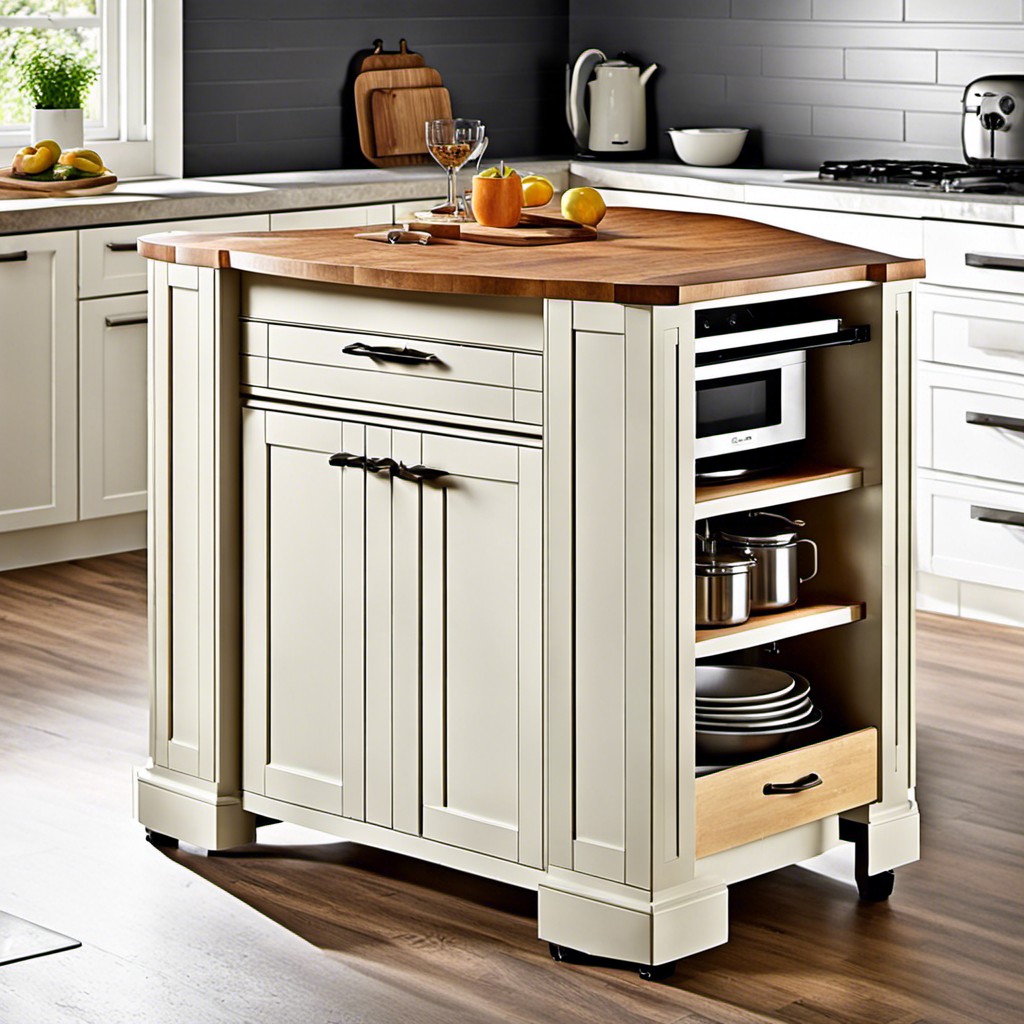 Offering space-savvy solutions, this island design incorporates pull-out drawers, packing a powerhouse of storage into a compact design.
Key attributes include:
1. Efficient Utilization: Drawers are designed to maximize the small space, storing kitchen essentials systematically.
2. Customization: You can opt for varying drawer sizes based on individual storage needs.
3. Ergonomic Design: The easy-to-reach design eliminates the need for bending or stretching, offering easy access to kitchenware.
4. Aesthetics: Hidden storage capacity maintains a clean, uncluttered aesthetic.
5. Versatility: The top can serve as a prep station or dining area, making this a flexible addition.
Remember, every inch counts in a small kitchen, and this design ensures no space goes unused.
Dual Material Corner Island for Contrast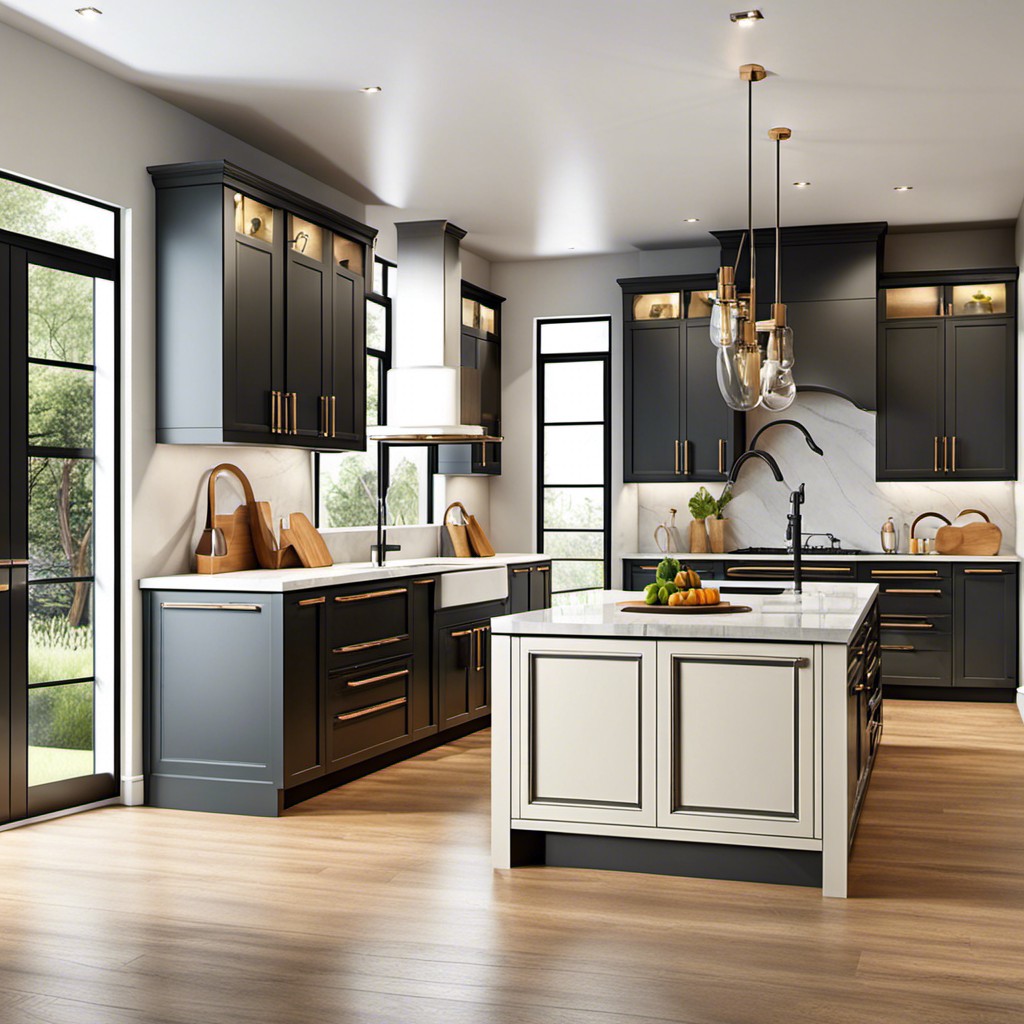 Pairing contrasting materials like marble and wood or stainless steel and glass can create a visually appealing island. This achieves a balance between rustic and contemporary, or polished and industrial aesthetics.
Choose the upper portion in one material while the lower portion is in another. Not only does it add visual drama, but it serves practical purposes too. For instance, having a wooden section for meal preparation and a granite one for serving helps in efficient utilization of space.
A jewel-toned glass base with a neutral quartz top can add a pop of color while maintaining a streamlined look. Also, it has become popular to use luxurious material, like quartz or marble for a waterfall edge, combined with painted wood or laminate for cabinetry. This reduces cost while maintaining a high-end look.
Country-style Corner Island With Hanging Pot Rack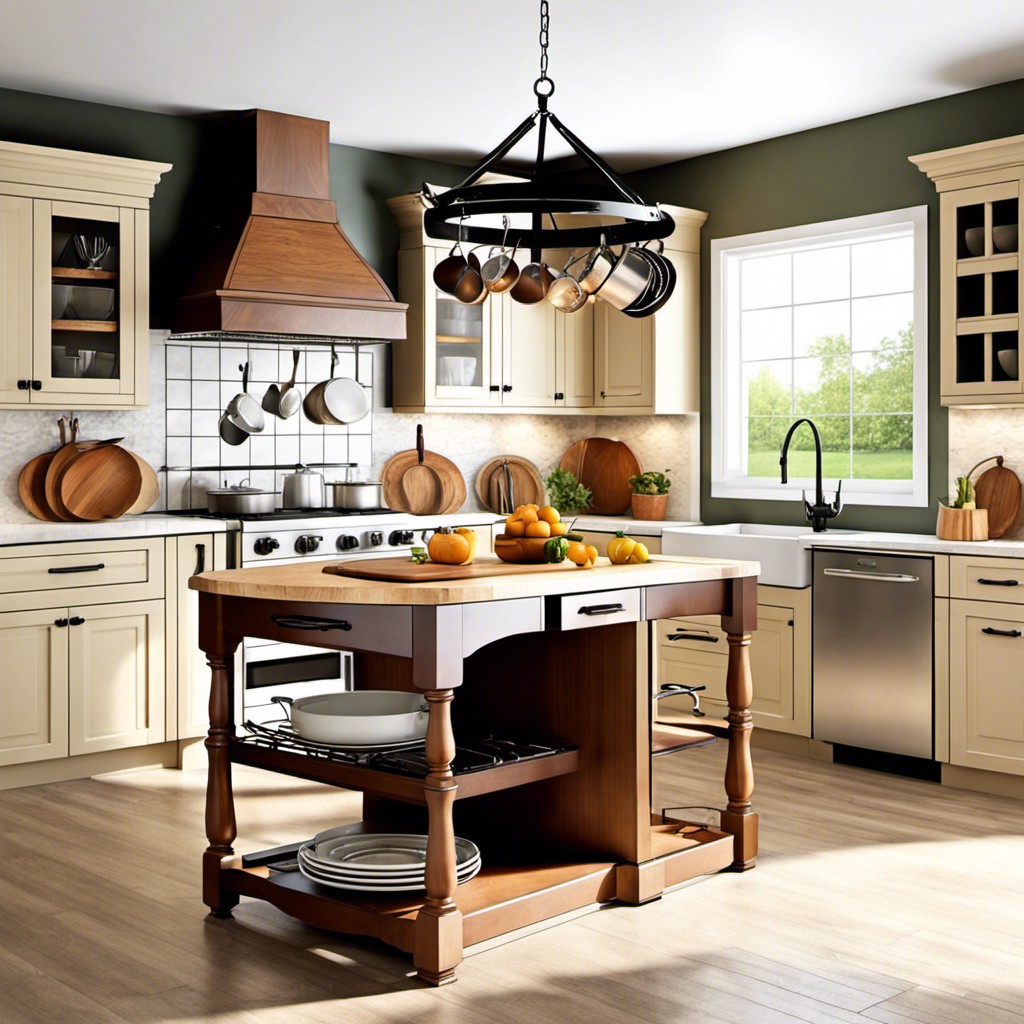 Exuding a warm and welcoming ambiance, this style of island is a quintessential element in any country kitchen. The key features usually include natural wood or distressed paint finishes, often accentuated with beadboard or shiplap details to impart a rustic charm.
Moreover, practicality meets design with the addition of a hanging pot rack. A stalwart in a country kitchen, the overhead rack not only offers additional storage but also keeps cookware within easy reach. This functional element, when coupled with copper or cast iron pans, enhances the overall rustic appeal.
While practicality reigns supreme with sufficient storage and useful features, aesthetics aren't compromised either. Decorative brackets or corbels, ornamental drawer pulls, and vintage hardware add the finishing touch to this distinctive kitchen centerpiece. Finally, the choice of light fixtures can further augment the country charm – think wrought iron, mason jars, or lantern-inspired designs. So, from the careful selection of materials to the detailed accents, this type of island truly embodies the spirit of the country-style kitchen.
Glass-topped Corner Island for a Sleek Look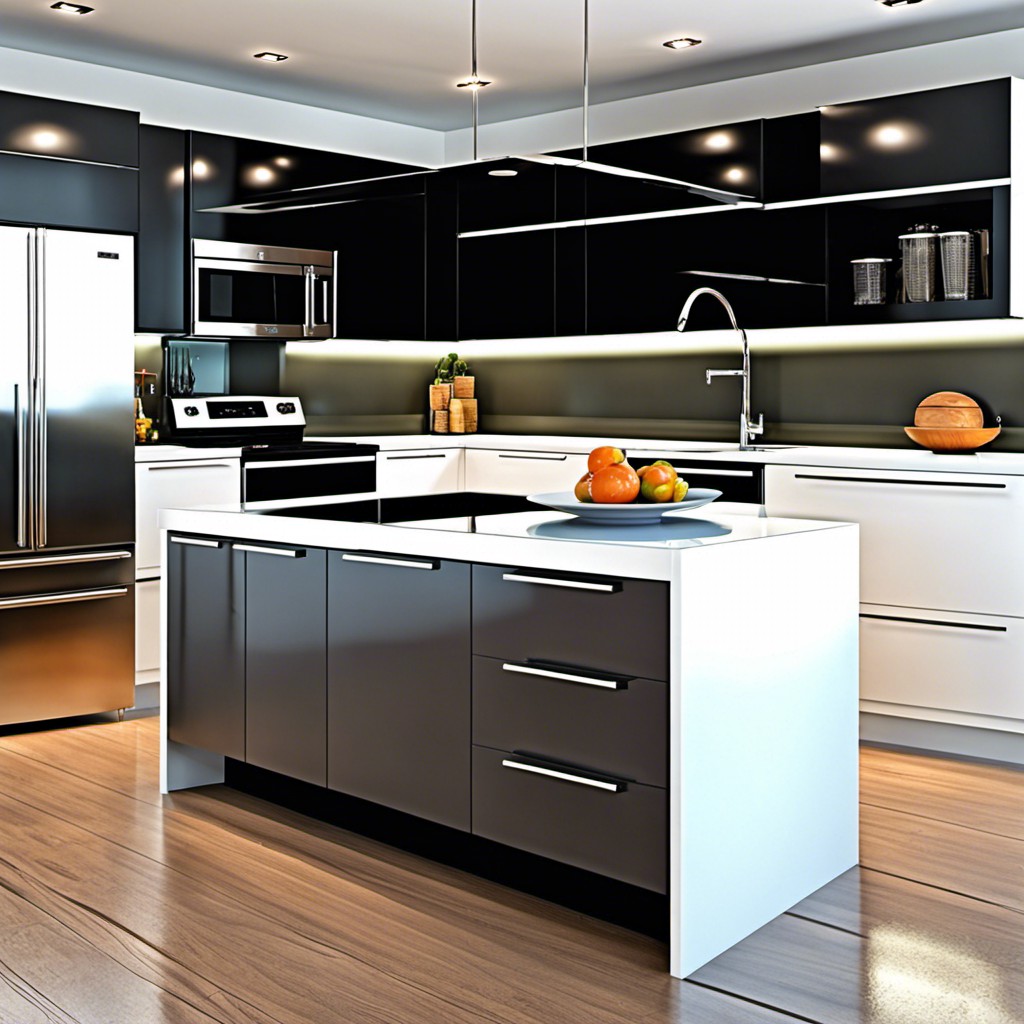 The use of glass brings a sense of elegant modernity to any kitchen. This material isn't just stunning to look at but also functional – it's easy to clean, making it ideal for a busy cooking space. In a corner island layout, integrating a glass top can enhance the aesthetic appeal while providing a practical workspace.
1. Versatility: Glass blends well with multiple kitchen themes, be it contemporary or classic. Different textures and tones, like frosted or tinted glass, widen design alternatives.
2. Light amplification: The reflective nature of glass counters can add brightness, giving an illusion of a bigger space. This is beneficial for kitchens falling short of natural light.
3. Display Feature: Beneath the translucent surface, you can showcase decorative pieces, cookbooks, or high-end kitchen tools.
4. Easy Maintenance: Glass tops are stain-resistant and can be cleaned swiftly, thus simplifying kitchen chores.
5. Customization: With a variety of edging styles, like pencil, beveled, or flat polish, you can customize the look to fit your design vision.
Remember, while glass tops add a luxe feel, they might not hold up well against heavy impacts. But with careful usage, they can alternatively become a distinctive addition to your corner kitchen island.
Corner Island With a Pop-up Counter for Extra Space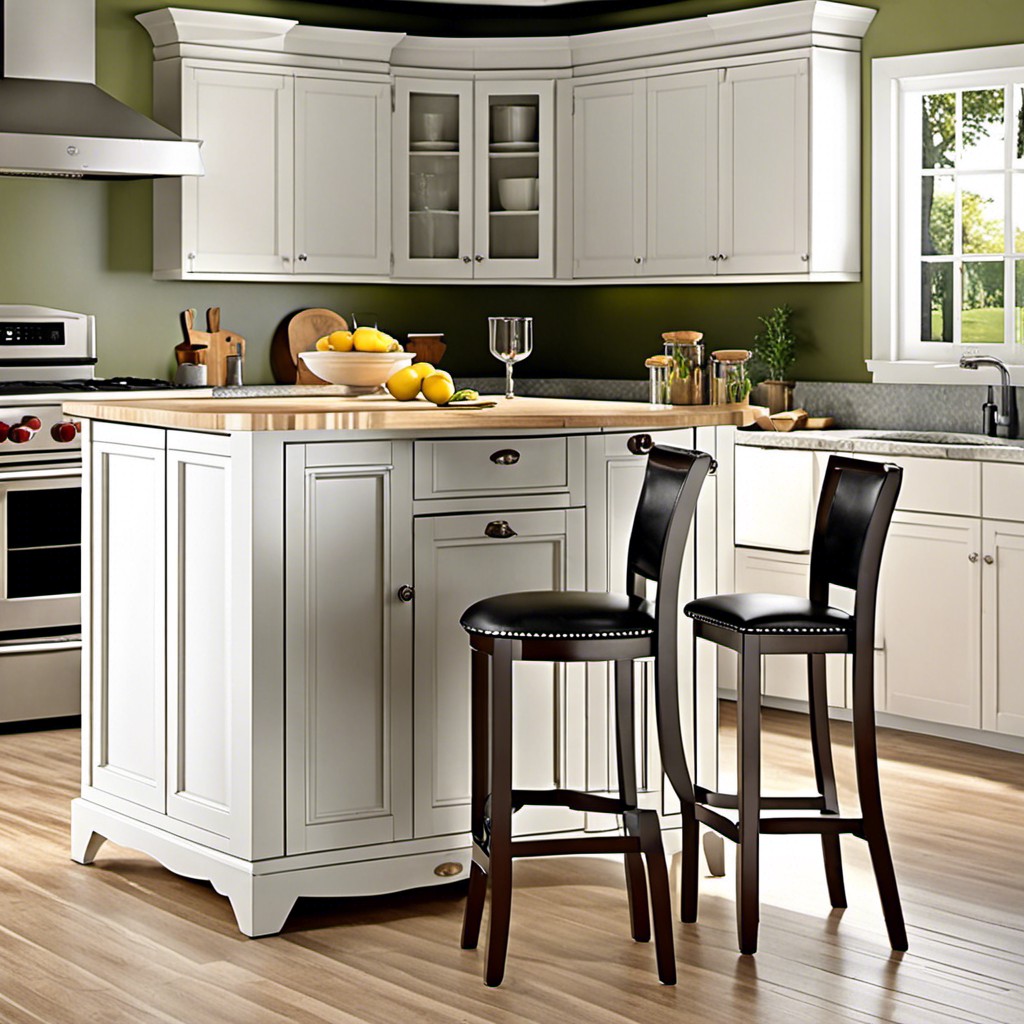 A pop-up counter offers a myriad of benefits. Its pull-out feature ensures a versatile use of space, perfect for smaller kitchens or homes that treasure multipurpose functionality.
With a push, you have extra space for meal preparation. When not needed, simply stow it away for a clutter-free look.
This design provides not only functionality but also a conversation piece, its innovative nature a testament to the blend of aesthetics and practicality.
For an added touch, consider a butcher block or marble finish to cater the surface to your specific needs.
Opting for this feature marries style with functionality and makes a wise use of every square inch.
Antique-style Corner Island for a Vintage Touch
Embracing the charm and elegance of yesteryears, this design influences a cozy, nostalgic ambiance in the kitchen. It often incorporates distressed wood, intricate carvings or turnings, and perhaps a signature patina finish.
A feature like a pull-out breadboard conserves space while keeping the classic appeal. Fitted with modern functionality in mind, it's not uncommon to find cleverly hidden storage, pull-out bins, and even built-in spice racks.
Brass or ceramic hardware tops-off this style for an authentic vintage look. Remember, the goal is a healthy blend of the old and new, intertwining modern convenience with antique design aesthetics.
Continue reading: