Last updated on July 7, 2021
If you've decided to change your kitchen backsplash, the natural question is, what is the best material to use. We've considered the most popular backsplash materials to suggest you the best option.
So what is the best backsplash material for the kitchen? All things considered, it's ceramic or porcelain tile.
Why? It's easy to maintain, the cost is relatively low, and nothing beats the classic look (for example, subway tile).
Consider also that we think the popular peel and stick tile is the second close best material for the backsplash. Its biggest drawback that holds off the number one recommendation is that it may not look as classy.
However, there are other great materials for the backsplash, and you may have different criteria, so let's look at the pros and cons of every one of them.
What's Inside
Ceramic or Porcelain Tile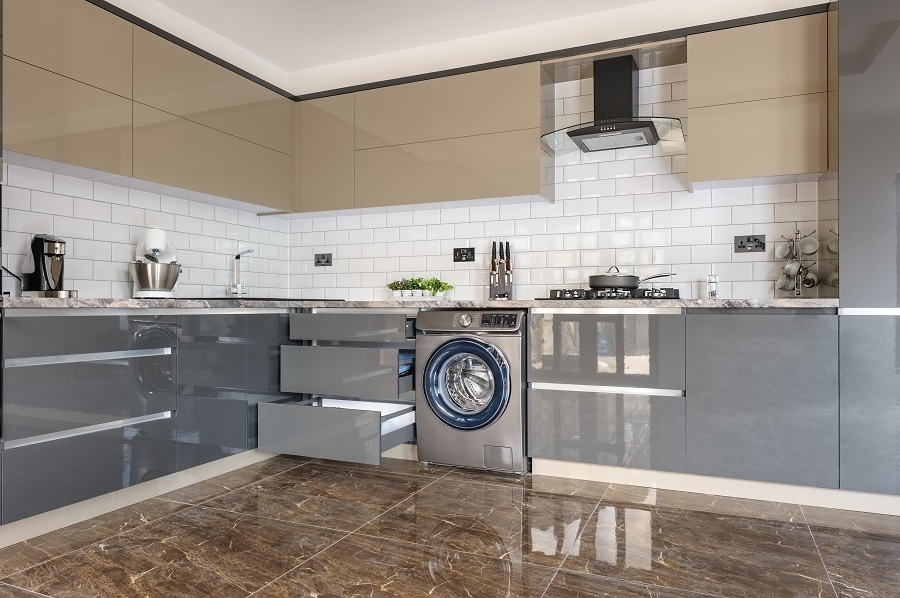 Ceramic or porcelain tile is a material that can be made into one of many textures. It may provide tiles with many colors, such as bold colors, to keep the look clearly different from stone. Tiles may also have edges on them like natural stones, which provide water protection. Tile is also pretty inexpensive depending on what kind you want and how much you spend.
One downside to ceramic or porcelain tile is that it's a difficult material to handle. However, you can avoid the main drawback by avoiding the possibility of damaging them when doing their installation.
Peel and Stick Tile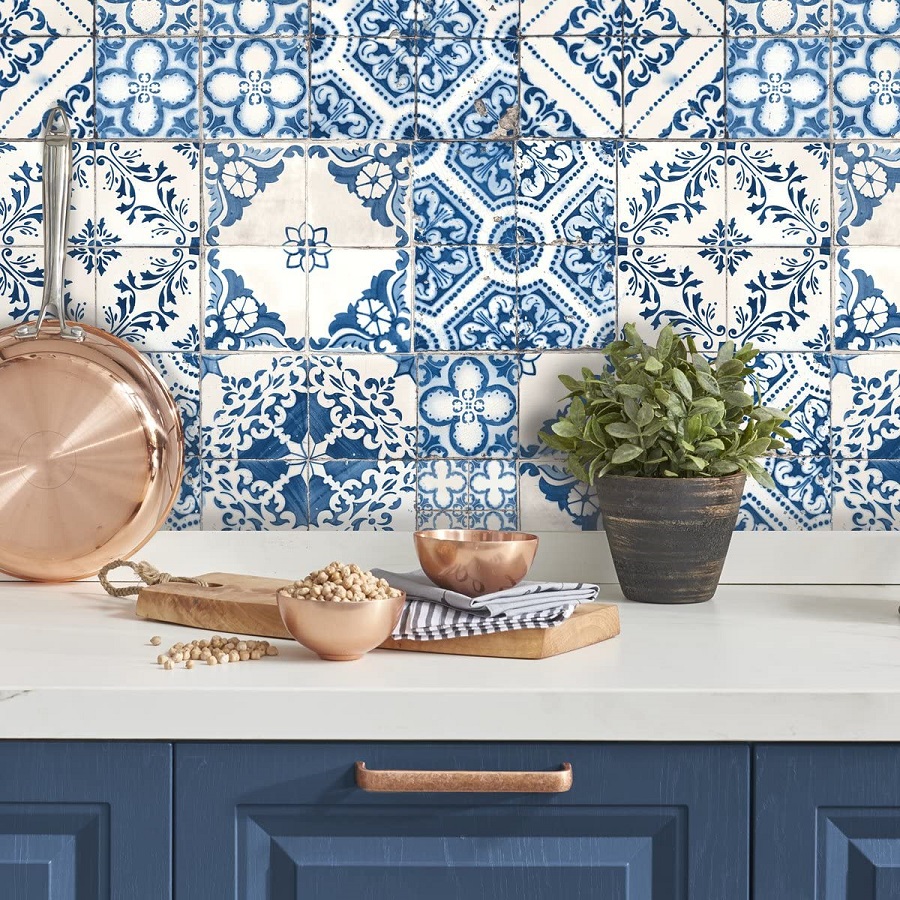 Check Out the Best Peel and Stick Backsplash Tiles
Peel and stick backsplash tiles are easy to install. You can buy these tile stripes at your local department store or hardware shop. By applying plaster, you'll be able to adhere the product to the wall for a seamless look in no time.
Glass Tile
Glass tile backsplashes are the same as ceramic or porcelain tiles, but they are a much cooler material that is both reflective and bright. Glass is naturally non-porous, which means it will never need to be sealed for stain protection. You should seal the grout between tiles if you want to keep the seals clean and stain-free for longer periods of time.
A potential disadvantage of glass tile is that it's a material that has enjoyed it belonging to trendiness for quite some time. While the trend hasn't waned, it probably will before long.
Metal Tile
Metal backsplash tile can be made out of many materials, including tin ceiling tile and, more recently, stainless steel.
Metal tiles making it one of the more popular materials now for backsplashes in kitchen renovations. Rail costs are low, installation is easy, and finishes compared to tile are considered lower maintenance. One downside is that metal tiles can scratch, and scratches cannot be sanded out.
Travertine Tile
Travertine tiles are natural stones that can be used for kitchen backsplash. Travertine is usually lighter and easier to install than manufactured tile because it comes in rectified tiles between 4×4 inches and 18×18 inches. Travertine has pits typically filled with other materials, so the surface is smoother. Natural stone travertine can be used as a backsplash on kitchens; travertine feels lighter and easier to install than manufactured veneer tile.
Travertine is not a practical choice for people on a budget because they are costly, usually starting at about $5 per square foot. Typically with travertine, sealing it with stone sealant occasionally to prevent stain is recommended.
Granite Tile
Granite is well-loved by homeowners because of its durability and its appearance. Granite comes in several different colors and styles, which means that you are likely to find something that fits your home. Putting a granite backsplash together with granite countertops is a good way to finish up any kitchen design.
Thermoplastic Tile
Thermoplastic, also called faux finish metal tile, is less expensive than real metal because plastic panels can be cut with scissors and applied with double-sided tape. This installation method saves the headache of making the mosaics stick seamlessly together on flat surfaces with adhesive. The heat-sensitive tape will not melt during heating – it will only flatten out during baking. Thermoplastic is a less expensive material than actual metal because you can cut.
In some cases, thermoplastic tiles can be ugly because they are really just plastic. These things hurt the perception of a metal that is often romanticized as durable, pure, and rare. The problems come from parts like the ceramic J-trim along the edges and inside edge strips where any flaws can be seen. Despite these, there are still strong benefits to thermoplastic tiles.
Manufactured Stone Veneer Tile
Stone backsplashes often appear in houses that are higher class or expensive. The fake stones called Manufactured Stone Veneer Tile, which should not be confused with Stone Backsplash, will give an elegant look to your kitchen and is less bothersome than real stone. When in better high-quality North American homes, their backspaces are often made from factory-produced stone veneer tiles with very expressive textures and colors.
A problem with veneer stone for the backsplashes is that they are porous and will absorb food splatter. Once it becomes stained, it is hard to clean because they are bumpy, uneven, and exceedingly difficult to wipe down. Just because stains create an unsightly appearance does not mean any easier for you to clean it up.
Despite the popular belief that stone is an easier material to attach to tiles, fake stone backsplashes are not as desirable because it is not as hard for novices. Poor grouting of the stones will lead to poor results.
Hybrid Stone and Synthetic Tile
Hybrid mosaic tile is made by putting together different materials like glass and natural stone, porcelain and glass, or a blend of all three. These backsplash tiles are designed to make the best of two worlds. For instance, if you have one combination that includes natural stone and glass pieces, you get the classic look of the stone with the benefits of the glass tile. As a type of backsplash, they are getting increasingly popular since they're so flexible.
The kitchen backsplash is a brick and glass stone or synthetic material that is either silicone on, adhered with adhesive, or dry fitted. There are two types of "stone" used in this type of project: natural and synthetic. The way you install these materials and the type you choose for your home's backyard depends on your needs and opinion.
The best option is going with a middle ground because this type of material gives you a ceramic/porcelain look without being too flashy.
Wood Backsplash
While wood isn't typically an obvious material for backsplashes, they do exist. They are often cheaper than other especially options but are fragile and leave splinters, and the installation is difficult and time-consuming.
Wooden materials are not naturally water-resistant. They also need to be sealed with special products for aesthetic design, so they are actually used as backsplashes in the kitchen. They do offer many designs that last throughout time but require maintenance on an ongoing basis to keep their aesthetic look. Wood is not naturally waterproof, so it needs a sealant, if not laminate, to make it suitable as a backsplash for kitchens. With paint or by
Wood is a good material because it is inexpensive and can have many different appearances.
Wood is usually not a preferred material for the kitchen backsplash because it will be higher maintenance and less susceptible to water damage. Also, wood does not have a very polished appearance, so it may not fit the decorating style behind your kitchen cabinets.
Stainless Steel Backsplash
One option for design a kitchen backsplash is a stainless steel. Stainless steel is an easy option because it's durable as well as cleanable. Installation can cost around $15 per hour and materials like construction adhesive, framing clamps, screwdrivers, and silicone caulk charge you more than $5 per square foot, making it a more expensive option.
Stainless steel is often selected for the coating of kitchen backsplashes due to its longevity and ease of cleaning. The stainless steel materials also reflect light, which can brighten a space significantly. This material does not stain or crack easily and will save the owner time when they need to clean their backsplash surface, as it is straightforward to do so with this particular material.
Installation is difficult if windows, outlets, or other features are cut into the design. It can also be dented or scratched easily. Stainless Steel shows fingerprints and grease easily; additionally, food residue can get stuck in it despite being non-porous. Stainless steel has many applications for people looking to add a splash of modernity to their homes.
FAQ
Which backsplash is easiest to clean?
Ceramic or porcelain tiles are easiest to clean and are resistant to scratches.
What is the most popular backsplash?
Subway tiles are the most popular style of backsplash. Peel and stick tiles are becoming more popular as the material for the backsplash.
Continue reading: