Last updated on September 26, 2023
Here's your guide on choosing the perfect bedside table. Learn how to choose the right type, style, and design of the table. Read on!
A bedroom is an exceptional place because it is kind of a zen zone for everybody. There, we can let our hair down and simply relax by laying on a bed. However, the bed is not the only substantial element of the bedroom. A bedside table is important as well. It is a perfect decoration for the room and a functional element that may hold our mobile phone, book, glasses, lamp, clock, a bottle of water or a cup of coffee, etc. The bedside table helps us feel even comfortable, having everything important things at a hand's stretch. 
Today, there is a considerable number of different kinds of bedside tables available. Looking at a wide range of items on room service 360, you can see that, in fact, it may be not so easy to choose a proper bedside table suitable for your needs and the style of your bedroom. Here is the guide to help you to make a choice of your perfect bedside table.  
What's Inside
Criteria for Choosing a Bedside Table
There are certain criteria that should be considered while looking for the best bedside table.
These are:
purpose;
type of a bedside table;
aesthetics;
size;
material;
style;
shape.
The Purpose of Using a Bedside Table
This criterion is crucial to take into account. You should think about what you are going to use a bedside table for. You may want to have just a little place for a lamp and phone or you might need a lot of storage for your clothes or other personal things that you'd like to pack into the drawers. You may also wish to have a bedside table with a big mirror and with enough space for cosmetics so that it would be convenient to put on makeup there or you might need a place suitable for work only.
Types of Bedside Tables
There are several common types of bedside tables available in the market:
bedside cabinet (usually with one drawer and enough storage space for big items);
nightstand (used mostly as a decoration);
bedside chest (consists of several drawers);
shelves (usually dedicated to books and plants);
desk (with enough space for work);
dressing table (has a mirror and storage for cosmetics).
Aesthetics
The next thing to consider is the design of a bedside table. For some people, practicality is not really so important. They are rather seeking something stylish, posh, and extravagant. Ever wanted to experiment with color and models of tables to add something unusual to your bedroom where ordinary simple and minimalistic pieces of furniture aren't enough?
Size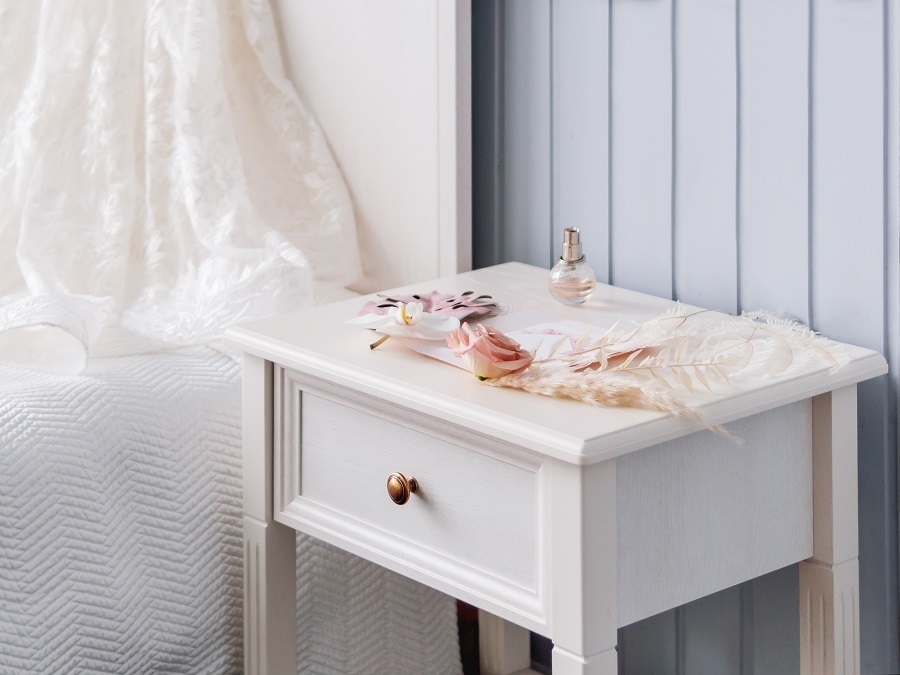 You should measure the space between the wall and your bed in order to make sure which size of the bedside table you will need. Additionally, you need to measure the height of your bed because it should be the same as the height of the bedside table. Then, it will be convenient to reach the things, which are placed on the table, without standing up from the bed.
Consider whether you are going to place something on the table's top and if you need drawers to store your clothes or something else. You should also remember that the size of the bedside table should match the size of the bedroom as a whole. Try to keep it balanced and think about simple shelves if you want to save space.
Material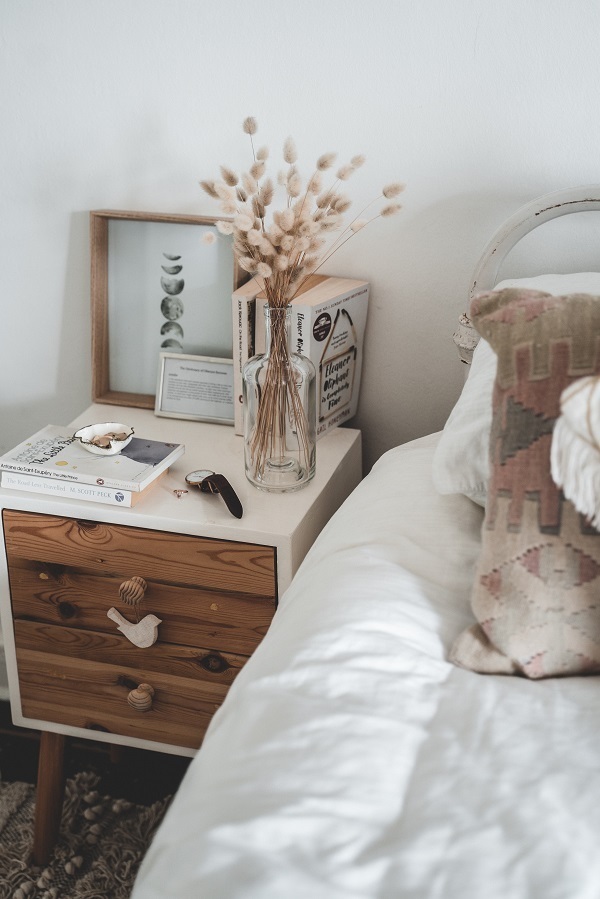 When it comes to basic materials, there are a lot of various options for bedside tables. You can simply choose whichever you like more.
Wooden. These bedside tables look classy and elegant. They are really lasting and don't need to be cleaned regularly as dust is not visible on them
Glass. Bedside tables made of glass look very modern and minimalistic; however, you should remember that they are very sensitive to scratches and gather dust on so they need to be cleaned quite often.
Rattan. Such tables look ancient, exotic, and quite unusual.
Metal. Stylish and contemporary, metal tables are water-resistant and don't need to be cleaned often.
Bamboo. These bedside tables are really fashionable.
Fabric. Great for adding a handmade-esque air to your bedroom.
Style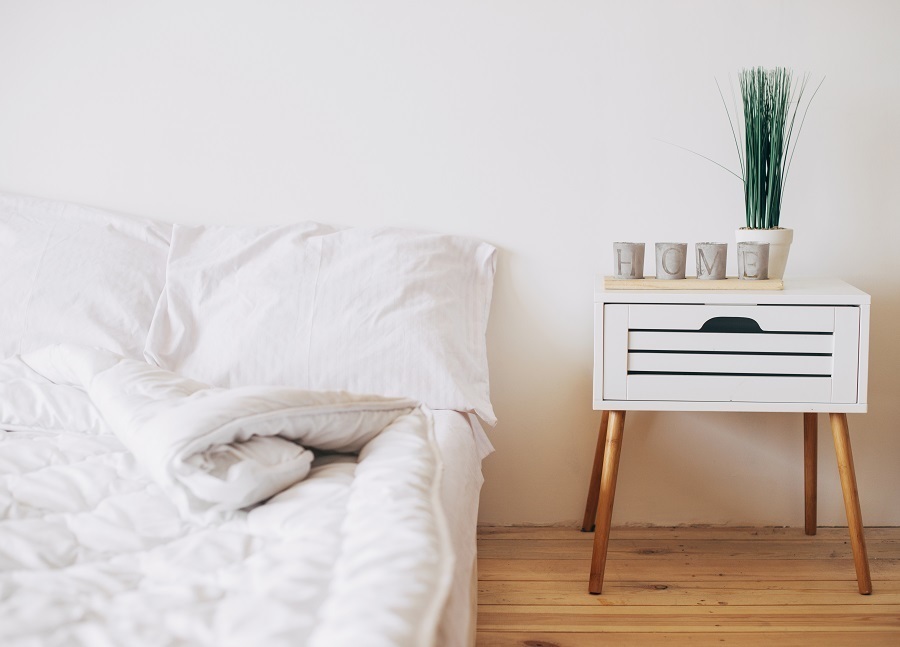 As far as the style of the bedside table is concerned, it doesn't have to match the bed. It can be completely diverse in terms of colors, material, and general bedroom interior to fit. However, it should help create a comfortable and pleasant atmosphere in the room and not look odd because there are such situations when a badly chosen style of bedside table destroys the general appearance of the bedroom.
The mixed styles may look luxurious and extravagant when they complement each other. If you want to find something special for yourself, you should see 100+ best bedside table styling ideas.
Shape
When it comes to the bedside table shape, you can for something symmetrical with respect to the bed. However, you may play with ideas and try something unusual, such as round, multi-level, or cage bedside tables.
If the bed is the main element of the bedroom, then bedside furniture is the second most important one. These two elements must be harmoniously combined in order to create a holistic interior. The bedside table is indispensable for the bedroom. It helps complement the interior of the room and demonstrate the owner's taste. Due to the variety of products on the market, it may be hard to find suitable furniture. We hope that looking through this guide will make the ultimate choice easier for you to settle.
Continue reading: