Last updated on August 13, 2023
Do you have a small kitchen but a lot of spices? Here are 15 great ways how you can organize and store your spices in a small space. Read on!
You may have a small kitchen but your desire to cook is big. That means you have a lot of spices to store in a confined area. How do you go about it? Proper spice organization saves you a lot of trouble and helps you prep food much faster (grouping spices by food you cook is a great idea.)
Luckily there are many great ways and products (spice racks) to organize spices even in the tiniest spaces. We have listed them all here. From floating shelves, tiered racks, to clever use of cabinet doors and hidden narrow pull-out racks. There are a lot more ideas to choose from and you don't even need to use them all.
Get ready to have your spice storage problems solved all at once!
Some of these ideas are attached to specific products so we have attached links to them. These links earn our site a commission at no expense to you.
What's Inside
Floating Wall Shelves
The use of floating shelves is a good idea, and many people may not have thought about storing spices on them. A set of narrow wall shelves is perfect for organizing your spices, or at least temporarily, at least if you feel extra creative and want to arrange them in something other than the order they are usually organized in, such as alphabetically or by sweet versus savory. Narrow wall shelves are always an ideal way to store spices in a small space.
Tiered Shelf Organizer
Keeping spices in a small space is difficult. Deciphering through them to find the cinnamon or cumin at the back of your storage cupboard can be tough. Using tiered shelves allows for easy visibility and removal as well, and they're super simple to install on almost any surface, which makes this an investment worth making. Mixing up your ingredients can be difficult if you don't have a good system. This solution helps you establish one.
Drawer Organizer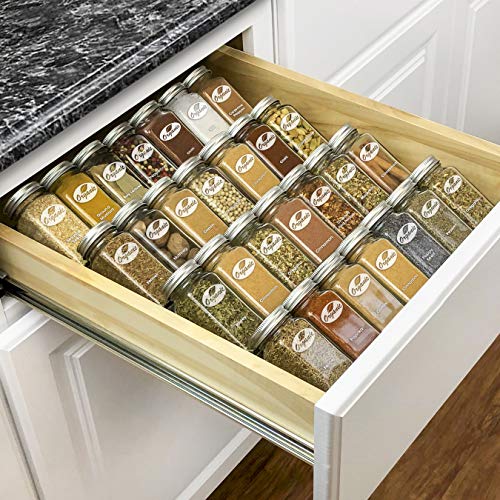 Check Out the Top 10 Best Kitchen Drawer Organizers
Having a dedicated drawer for your spices is definitely a great idea in a small kitchen. But you can't just throw them all together and have a mess. You need a tiered organizer so that your spices are all visible and easy to access.
Lazy Susan
A Lazy Susan makes it much easier to access spices in a small space. Easily and quickly spinning around on the turntable, you can access it at any location on a revolving organizer. You may think that stacking your spices up with a dish rack would take up less room than if you stacked everything in one corner of your kitchen, but you might find yourself shaking and shuffling through them every time you want to cook with them. Using the storage solution that revolves solves this.
Stainless Steel Spice Shelf
An open shelving rack provides space for small items such as your spices on the wall so that you can avoid making a mess in your kitchen. A single stainless steel shelf has the added benefit of looking like an attractive piece of art.
Mini Spice Herb Jars
Putting spices in labeled glass jars allows you to find things easily and give them a uniform look. You can find spices more easily by being put into labeled glass jars that give them a uniform appearance on shelves. Mini jars look aesthetically pleasing too.
Chalkboard Paint Jars
Another way for a small space to store spices is by using chalkboard paint on the lid of the jars. This allows you to change the labels quickly, and they look charming too.
Self-adhesive Strip
To conserve space for the many small spices you have, you can add strips with jar holders so that the jars can all be held up against this strip. Reorganize your cabinet in this way and save yourself time while trying to find spices no matter where they may be located. A great idea on how to get extra use out of your metal cabinets might include placing a magnetic strip under them, which would allow for more jars of spices to stay close by and for easier access.
Hanging Spice Rack
A clever way to store your spices in a small space or under the cabinet is with hooks if you do not have any available space inside the cabinets. Hanging spice jars from hooks beneath provides more storage room inside your kitchen and is an easy way to make this configuration happen should you choose to make it yourself.
Pull Down Spice Rack
A pull-down spice rack helps the kitchen organize spices in a small space and is easily accessible by pulling the rack out and down so you can get to the spice at any time. Using a pull-down design, there is easy access for people to find what they want when they need it.
Tiny Kitchen Pantry
For cooking enthusiasts and baking masters, a small spice organizer won't do. Instead, install a mini roll-out pantry to keep your spices within arm's reach that doesn't take up that much room.
Expandable Spice Organizer
Utilizing an expandable spice organizer will maximize the space in your cramped, overcrowded pantry. An expandable caddy – tops 3 tiers of spices like oregano, rosemary, thyme, and more. You can grow herbs in the front panels of each caddy that are placed in newly-watered recycled containers from your kitchen cupboard.
Cabinet Door Mount Spice Rack
Using the inside (or outside) of the cabinet doors to mount a spice rack is a great way to use space efficiently. When you're short on space, this can be the only option you have to squeeze in more storage for spices.
Magnetic Spice Tins
Magnetic spice tins are small containers that have a built-in magnet in them. So you can put them on any vertical metal surface. You can use the fridge side for this or install a metal panel on the side of the cabinets.
Where to Store Spices?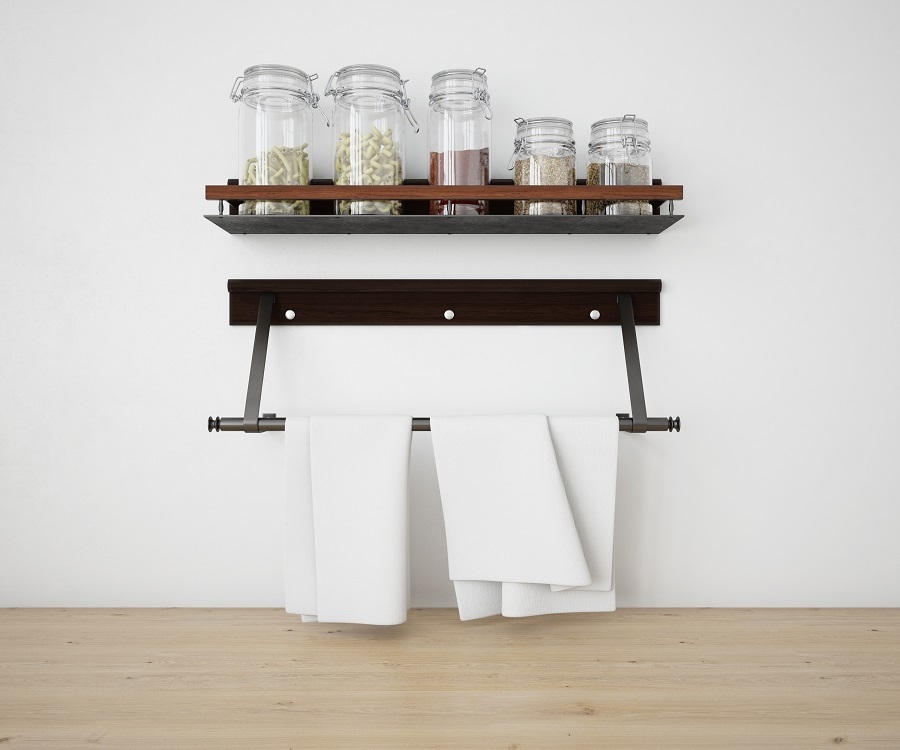 Many people store their spices in the back of cabinets, on shelves and inside drawers so that they are easy to see. You may also take note of where spices are stored so that you can avoid UV rays and heat.
The nice thing about keeping your spices in the kitchen instead of on a shelf in the pantry is if you only need one- or two-taper of sugar then you can grab them from the drawer without encountering any obstacles. If you have difficulty reaching your spice rack, try stacking it with containers or having shelves that are closer to eye level. These little changes will make it easier for anyone standing at their spice rack and looking for something in particular.
Spice Containers
Many people prefer to buy spices in bulk but this can lead to not knowing when the spices were purchased and what all is stored. To try to remedy this issue, we think that presorting jars would be best.
For frequently used spices, like fennel or cumin seed (the two shown below), use 1/2-cup square jars for easy portability. This custom creates repetition which helps with knowing what the spice is inside and understanding how much of it's been bought already.
Less used spices get smaller containers near in proportion to a grocery store size container and the catch-all large storage bin stores at least one of everything so as not to mistakenly throw away some key items while cleaning out ones that are seemingly redundant when they're
Spice containers also come in glass jars, plastic containers, and metal. For a small space, it is recommended to store spices in less expensive options so that you aren't hesitant to buy new ones if your collection expands. And with a few good options, you can fill up all of the available space with spices and still be within the way of having some extra room for more spice shelves.
Spice Labeling
Label your spices and keep the labels visible so you can identify them. Label the jars, too, which will make storing denser spices easier. Labeling your different spices with a marker helps you quickly get to what you are looking for, as some spices look similar, and it is difficult to tell one from another without help. Labeling on top of lids of containers also makes it much easier, and labeling inside the jar itself or using specialized stickers (these can be purchased at arts and crafts stores).
Spice Hierarchy
Label your spices alphabetically for easy retrieval based on usage. Then map the location of each spice on a shelf liner in the drawer to be located every time with ease. There are three types of spices: spicy spices (red pepper flakes, black pepper), savory spices (fennel seeds, etc.), and baking spices. There is a lot of overlapping meaning between some spices- cinnamon, for example, can be used to create both coffee cake or tomato sauce. An imperfect system still provides better than no system at all.
FAQ
How do you display spices?
If you want to display spices, use any open rack that has decorative value. Use floating wall shelves, tiered countertop racks (bamboo looks great), or revolving towers (lazy Susan.)
Continue reading: