Last updated on August 13, 2023
Here's how to pick stools for the kitchen island the right way. Here's how to choose the right size and style, so it fits your island. Read on!
When it comes to choosing the perfect stools for the kitchen island, there are some factors you should think about. The size of the island. The amount of traffic it will receive. The height of the island and counters. And, of course, the look and feel you want to achieve.
The stool needs to coordinate well with your design and provide comfort while also being practical. There are a few different types of stools, but not every type will work in every kitchen space.
These are the considerations and decisions to make.
(This article includes links that earn us commission — they don't cost you anything extra. We use them to illustrate the points we make.)
What's Inside
Comfortable Stools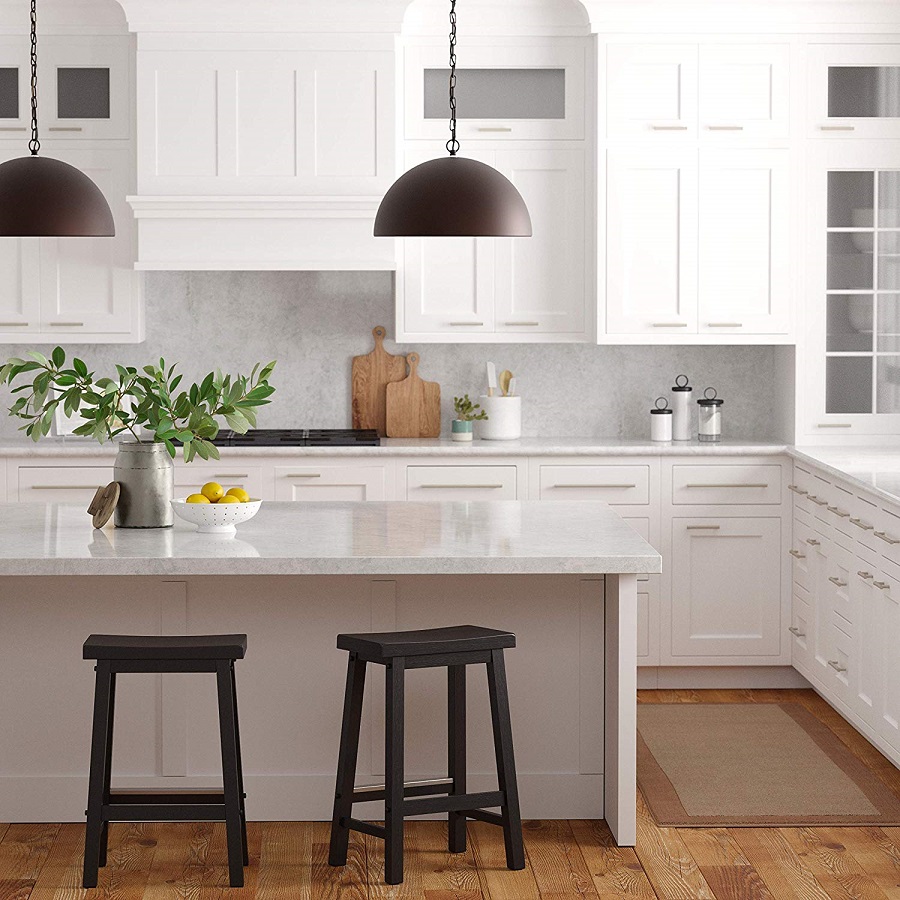 Check Out the Top 10 Best Bar Stools for the Kitchen Island
There are many situations in which you will need a stool in your kitchen. Whether you are doing homework at the counter, holding company, or only staying for a quick coffee, it's important to find one comfortable setting on. There's no point in getting stools to fill up space (and make an Instagram photo) if you're not going to use them.
Stool Height
If you are looking for chairs for a kitchen island you need things to consider. One of the important considerations is the height of the bar stool. You should purchase them at a height that is estimated with measurement and calculation from the floor, and meeting up with countertops height.
Typical kitchen counters (that includes islands) are 35" to 36" high. So the stools would have to be 24" to 26" high to be comfortable and match the kitchen island.
Measure your kitchen and decide how much space you can afford to introduce stools for the island. For example, small kitchens will probably need backless stools, while large kitchens may accommodate large swivel stools.
Stool Seat Size
People should match up the dimensions of their bum and seat to make it most comfortable for them. Seat depth is also important and depends on how much leg room there is under the countertop. These should comfortably match, so a person doesn't have to squeeze in or set back too far. There's no sure way to ensure this (because people are different sizes), so an adjustable swivel chair is ideal if only you can afford space for it.
How Many Stools?
Design the kitchen in such a way that people have enough space for sitting and eating. Find out the measurements of the desired stools and take into consideration how many people you will need space for. If there are too many people coming to your house, it's good to spend more money and buy more stools so everyone has a chair.
However, you have to make sure you can fit the stools around the island with enough room to spare. A general rule is to leave at least 6" between the chairs.
To get the maximum number of stools your kitchen island can accommodate, measure the width of the island and find out the width of the stools you will get. Add the 6-inch gap, and divide the widths. For example, a 10′ island might fit 5-6 stools.
Stool Style for the Kitchen Island
Different types of bar stools come in many shapes and styles. Despite what sort of comfort you might need, armrests are a common feature with many different options for styles that will match your space or kitchen design. Consider making a list of stools that seem like appealing matches, and then narrow your down until you find the one best suited to your personal needs.
Bar stools can come in lots of different shapes and styles, from minimalistic to very curvy.
Make sure to consider comfort first – do you need armrests? A back? Footrests? Height-adjustable features? Think about this before choosing a style as the right visual aesthetic for both can't be chosen at the same time. It clashes and doesn't blend nicely with the other elements in an interior.
Find seating that not only matches your needs but also compliments your space if possible!
You need to select the decoration color scheme of your chairs. If matching the island with stools, target an evergreen material that sparkles for years rather than opting for acrylics which will wear out quickly in contact with food, water, juices, oils, salt, and other substances.
A go-to rule is contrasting the colors between the stools and the island's counters.
Backless Stools
Backless stools are the most compact and space-saving. If you have a small kitchen, these might be your only choice. They are great if you're after function rather than style too (doesn't mean they can't look good, though!)
Swivel Stools
A swiveling barstool will enable you or your guests to turn in and out from a counter without struggling and may work well for those with little children. Beware though that such a stool might be too high for smaller islands. They take up the most space of all stool types so they probably won't work in a small kitchen. The heavy base makes the ma bit cumbersome but there's the added safety from tipping over.
Upholstered Stools for Kitchen Island
Chairs and stools with cushions prove to be the more comfortable option, but ones without do not impede cleanliness. The stool length depends on the counter's shape and may need to be measured before purchasing depending on how many people are going to sit at the island. Unlike swivel stools, these can't be turned so you will need to leave more room between them for people to get in and out without disturbing each other.
Wooden Stools
Which are cheaper, wood or metal? Wood bar stools are a solid, expensive option that can fit with any style aesthetic. For the best comfort, choose an upholstered wood bar stool. These are light and durable so it's easy to move them around and they last long.
Rattan Wicker Stools
Rattan wicker stools are comfortable, casual, and have a timeless quality. They work in a kitchen because they are lightweight, durable, and easy to clean.
FAQ
Should counter stools match kitchen chairs?
Counter stools and kitchen chairs don't have to match. Creating contrast makes the kitchen design more interested and better balanced.
How do I know what size bar stool I need?
Measure the distance from the floor to countertop. Leave about 10" from the stool's seat to the counter's top. Choosing adjustable-height stools will leave you more room for error.
What color bar stools should I get?
Contrasting colors between the stools and the counters seem like a good idea. Conversely, you may match the countertop color if the cabinets are a contrasting color.
How many stools can I fit at my island?
Measure the width of your island and the width of the stool. Leave at least a 6-inch gap between the chairs. This will give you a rough estimate. Err on fewer stools.
Continue reading: