Last updated on November 16, 2023
Explore a myriad of kitchen cabinets without crown molding because their clean lines and modern appeal are transforming contemporary kitchens.
I've thoroughly enjoyed curating these 20 unique kitchen cabinet styles without crown molding for you, and I hope you find as much inspiration in them as I did creating them.
Kitchen cabinets without crown molding offer a sleek, modern aesthetic that's gaining popularity. This style, known for its clean lines and minimalist appeal, can transform your kitchen into a contemporary haven.
In this article, you'll discover a variety of design ideas that embrace the simplicity of cabinets without crown molding. From color schemes to hardware choices, we'll explore how to maximize the style and functionality of your kitchen.
So, whether you're planning a full kitchen remodel or simply updating your cabinets, these ideas will provide the inspiration you need to create a space that's both stylish and practical.
What's Inside
Two-toned Cabinet Design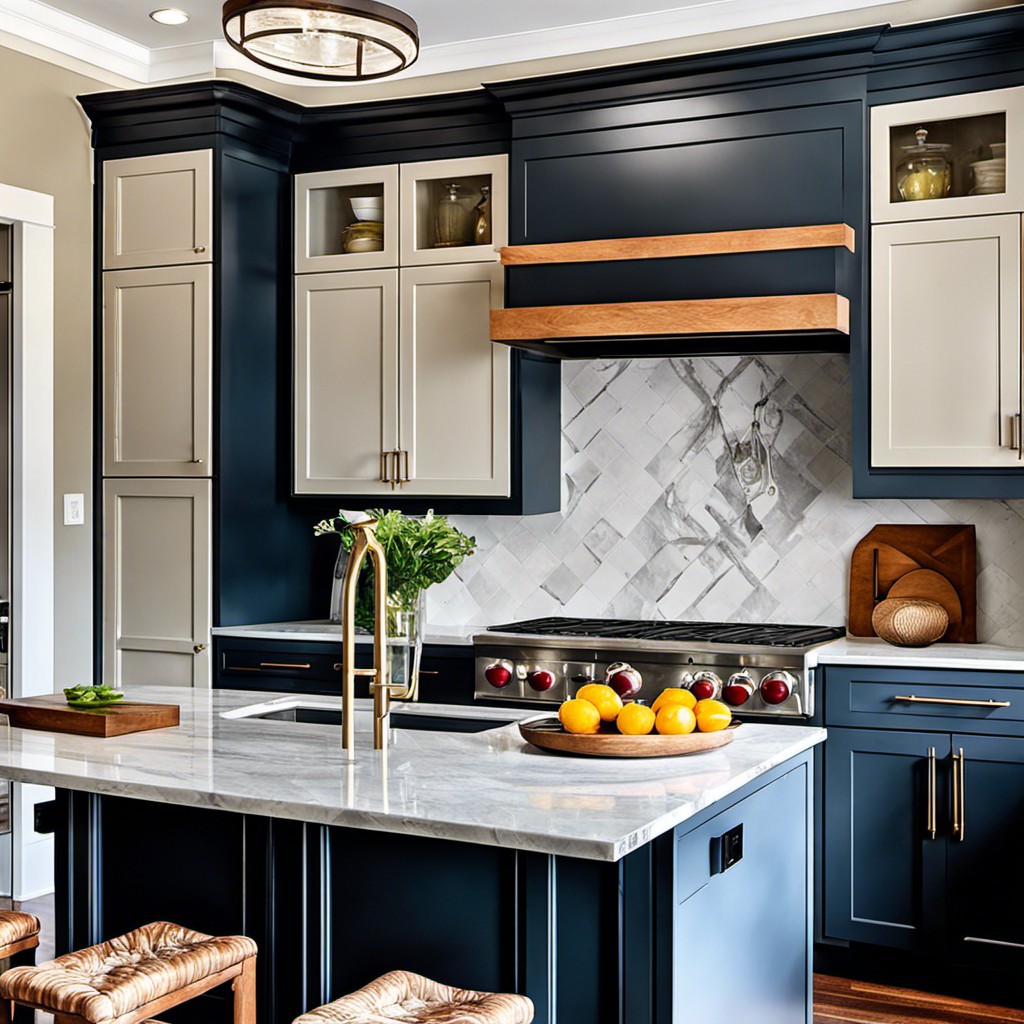 Venturing into the enchanting realm of two-toned cabinets can elevate the aesthetics of your kitchen. This design trick hinges on choosing two complementary colors or shades, offering a striking contrast and adding unique character to your space.
Firstly, think about the balancing of colors – one dark and one light shade cohesively unify the design while emphasizing the space. Secondly, consider the placement. Typically, the lighter shade is used for the upper cabinets to help the kitchen feel brighter and larger, while the darker shade grounds the lower cabinets.
Furthermore, this design strategy can be paired beautifully with either a neutral color palette for a subtle yet impactful look, or with more vibrant colors for a bold, trend-leading kitchen. Lastly, a two-toned approach can also help define zones within the kitchen, making it an ideal choice for open-plan living or kitchens with an island.
Flat Panel Cabinet Doors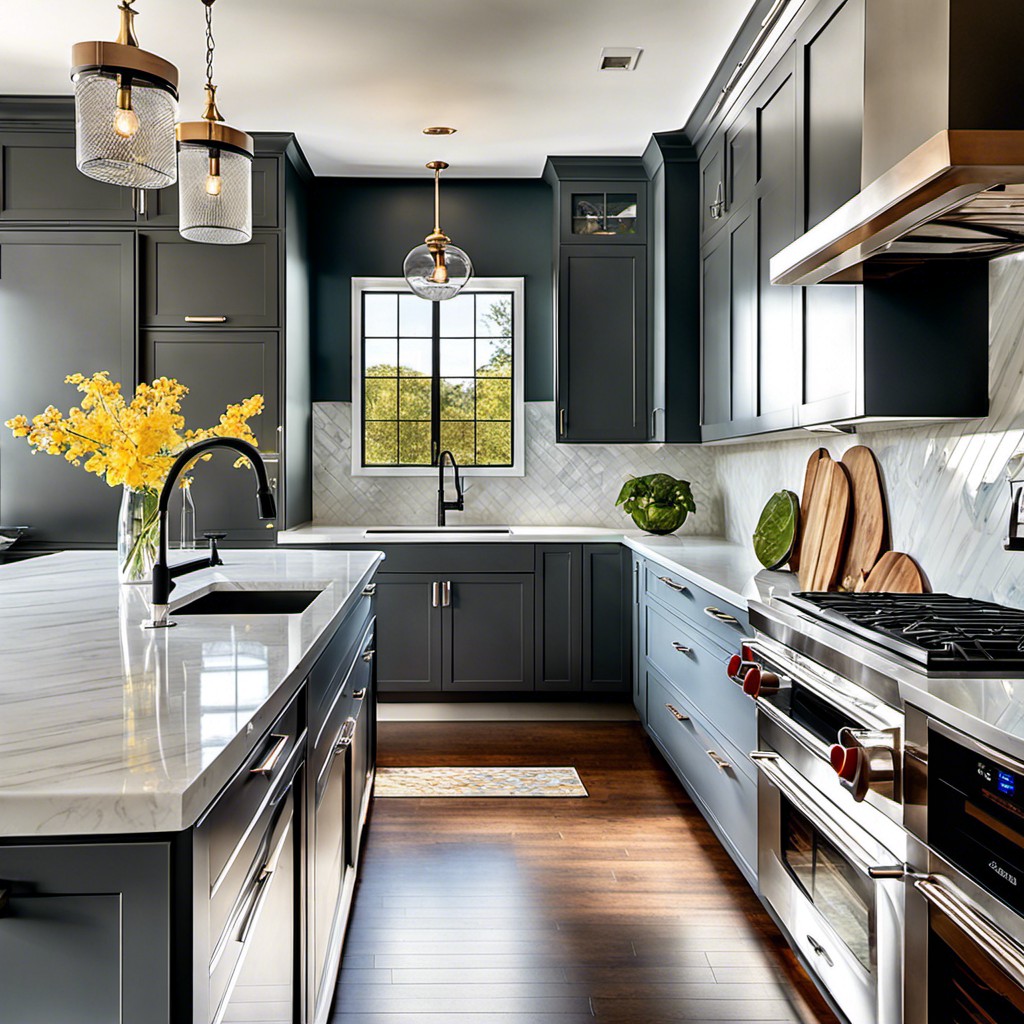 Uncomplicated and clean, these units exude a timeless style. Subtly crafted with a sleek, flush surface, they support the ambiance of modern kitchens brilliantly. Minimalism being the key player here, simplicity becomes the charm of this style.
1. Versatility: With their ability to seamlessly blend in any kitchen style, be it contemporary or traditional, the adaptability of these doors is remarkable.
2. Ease of Cleaning: No elaborate detailing makes for a simpler cleaning experience. Neat freaks find this particularly appealing.
3. Cost-Effective: Less complex craftsmanship implies lower costs. However, this doesn't compromise the elegance.
4. Customizability: Paint, stain, finish, material – all these elements can be easily modified based on personal preferences.
5. Durability: The straightforward design leads to fewer damage-prone areas, contributing to greater longevity.
Gorgeously streamlined, these doors indeed provide a refreshing break from the usual ornamentation, while not sacrificing functionality or elegance.
Rustic Wooden Shelves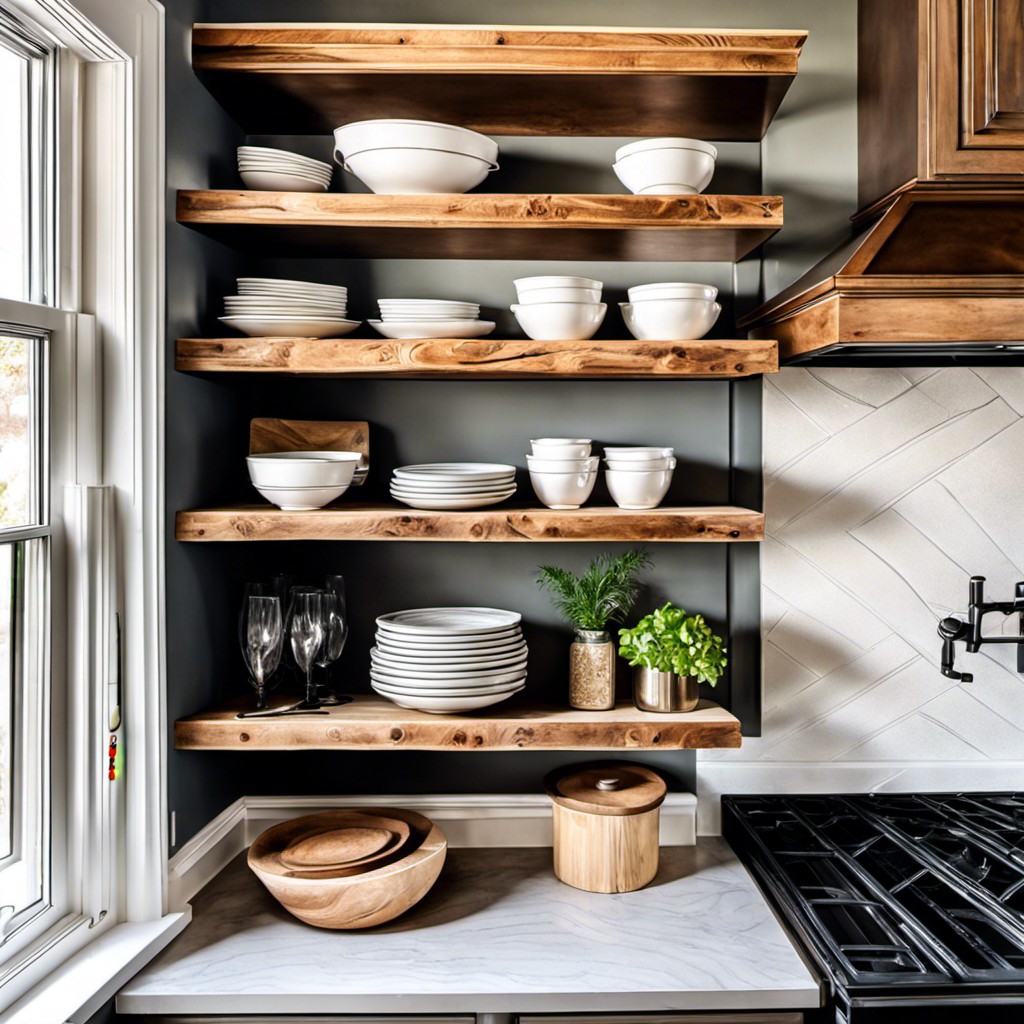 In achieving an earthy, warm ambiance, rustic wooden shelves are an excellent choice. They are not merely functional; they lend character and charm to the kitchen.
Here are a few central concepts:
1. Unfinished Wood: The rugged, raw appeal of wood is maintained, adding a natural flair to your space.
2. Reclaimed Wood: Environmentally-friendly and full of vintage charm, every reclaimed shelf has a unique history.
3. Heavy Brackets: Bolsters the rustic look while providing sturdy support for your essentials.
4. Dim Lighting: Soft, warm lights accentuate the wood's natural grains, enhancing their charm.
5. Layered Shelving: Utilize vertical space and affords room for decorative elements.
These fixtures embrace imperfect textures and irregular shapes, bringing the peaceful essence of the outdoors into your kitchen.
Vintage Metal Cabinets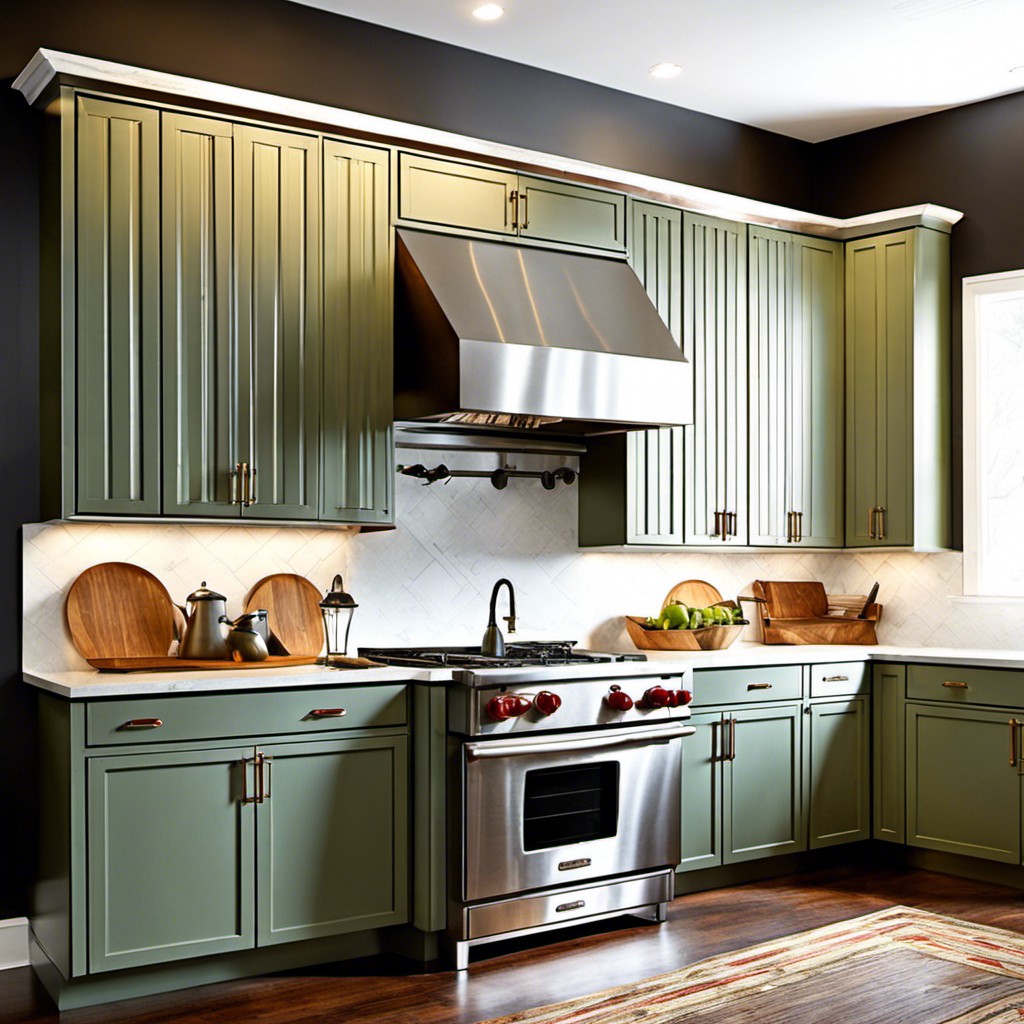 The charm and durability of these cabinets lend an unmatched character to any kitchen space. Dating back to the 1920s and 30s, they add a unique sense of authenticity and history.
The non-porous surface makes them resistant to stains and incredibly easy to clean, rendering them ideal for active kitchens. They're also renowned for their obvious cost-effectiveness.
Their built-in storage options, often featuring dedicated compartments for every item, promote organization. A slight downside might be the potential for scratches and rust, but this concern can be alleviated with proper care and prompt repairs.
Trending colors include pastels like mint green and soft blue, though charcoal and bright red are popular for a bolder effect. Consider pairing them with colorful walls or patterned tile flooring for a complete period look.
Retro-inspired Funky Colors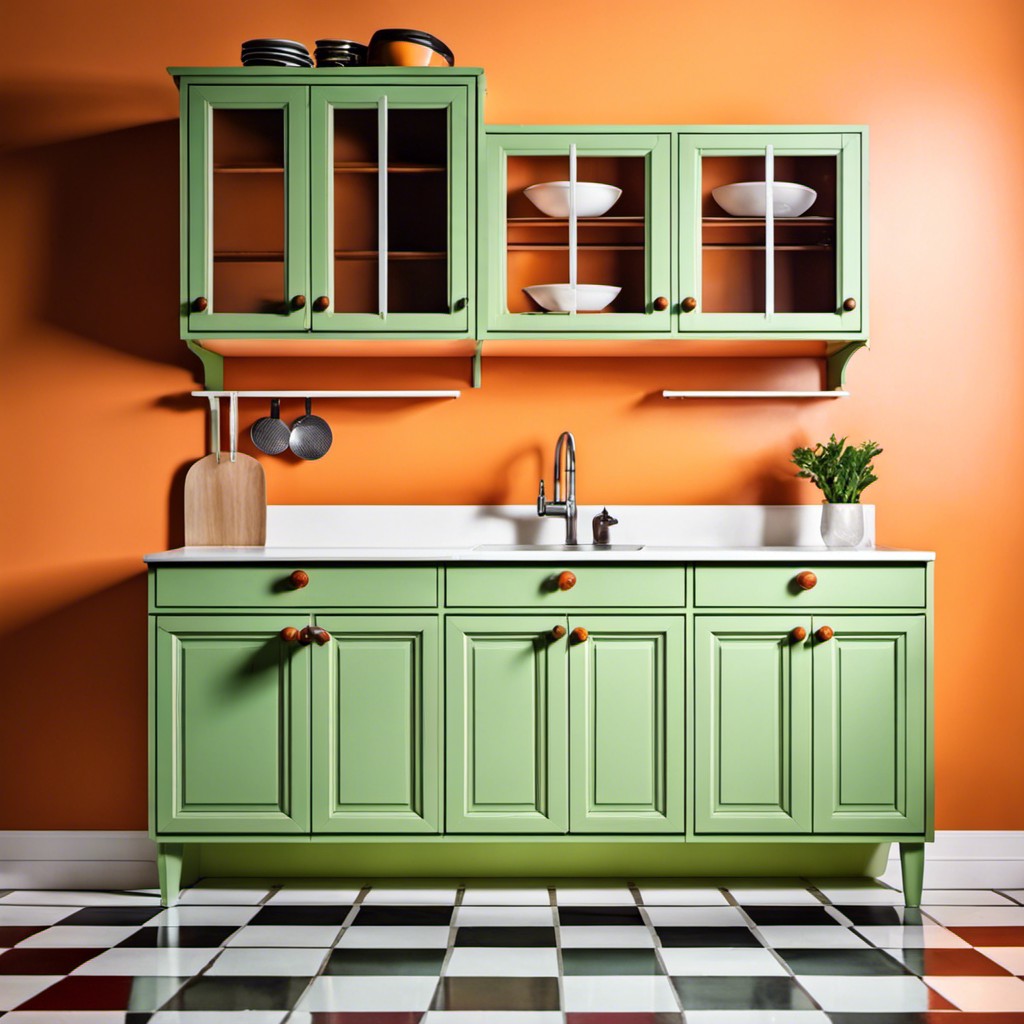 Embracing the retro vibe in your kitchen can be as simple as experimenting with color. Traditional hues like avocado green, buttery yellow, or even subtle pink can instantly give your cabinets a retro look.
Aim for glossy finishes as they were popular in that era and also provide an easy-to-clean surface. Don't be afraid to mix and match different colors to truly capture the essence of this vibrant style.
Be mindful of the overall color scheme in your kitchen to ensure harmony and balance. Remember to complement your fun choice of cabinet colors with matching vintage accessories or appliances.
Sleek Minimalist All-white Cabinets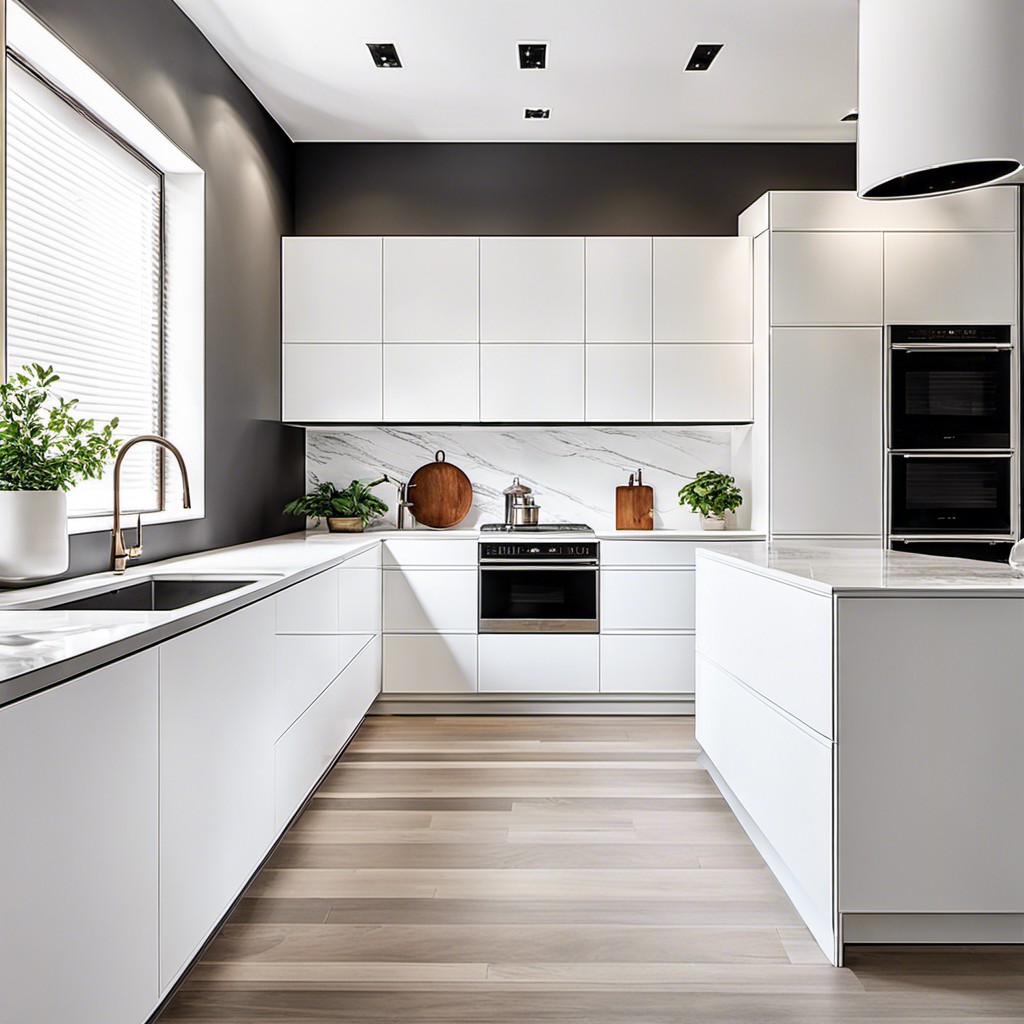 Pairing white with white is certainly no new trend, yet it endures with timeless elegance. This concept emphasizes a clean, unadorned look hailing from Scandinavian and Japanese aesthetics. Fewer kitchen components allow for easier cleaning and a visually spacious area.
Absolutely Clean: Employing a subdued color palette increases visual clarity, creating an open, airy feeling, which can make smaller kitchens seem larger.
Uniformity: Opt for uniform shelving, countertops, and hardware in identical hues. Multiple shades of white can add depth without disturbing the minimalist design.
Simple Hardware: Select straightforward hardware designs. Streamlined metal bars or small, unobtrusive knobs align well with this style.
Thoughtful Lighting: Illuminate your white kitchen properly. Under-cabinet lights or a few strategically placed pendant lamps can add a warm glow without disrupting the minimalist vibe.
Consider expert opinion before making any modifications – as even slight modifications can strip away the minimalist essence.
Open Shelving Concept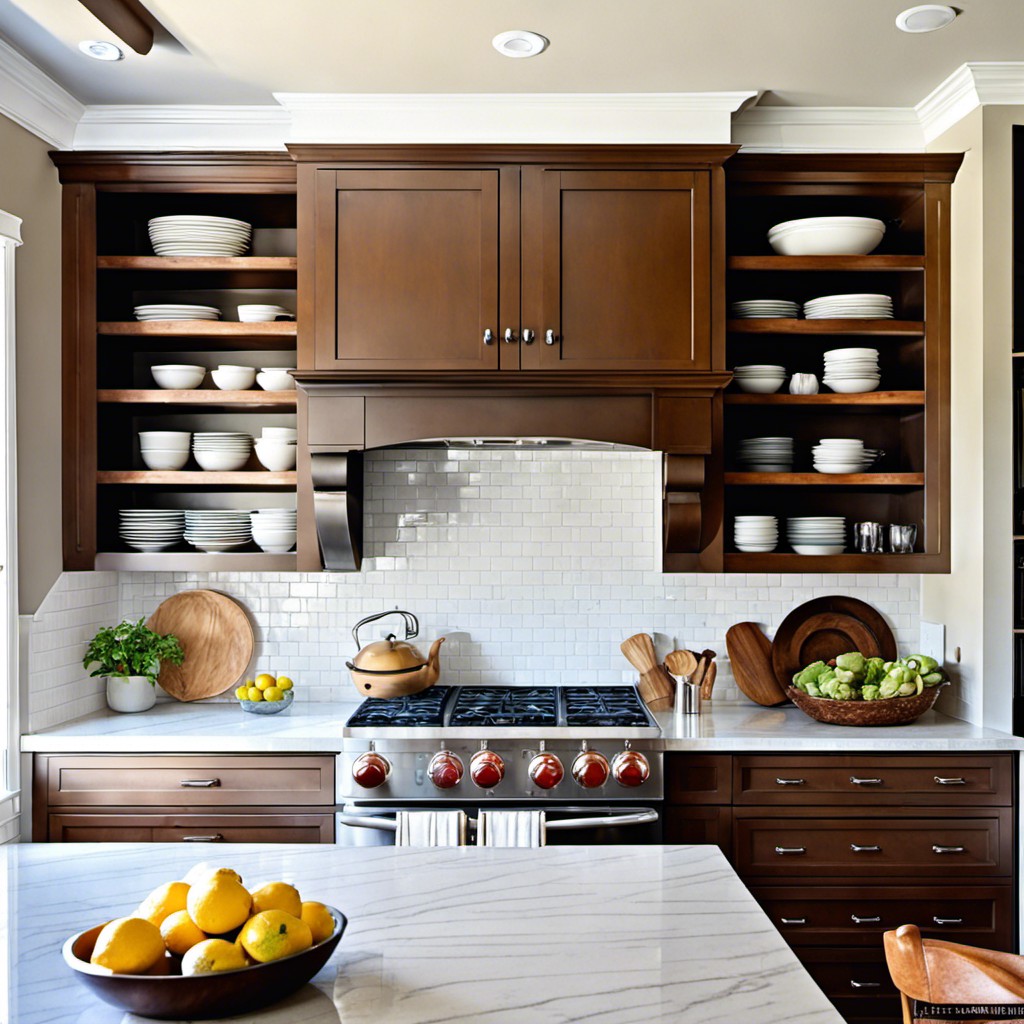 Open shelving transforms your kitchen space into an airy, inviting area that showcases your favorite dishes and cooking utensils. The concept allows for easy access to daily essentials. It creates an illusion of a bigger kitchen and provides options for decorative styling. Add a burst of personality by displaying unique dishware or bright bowls.
A word to the wise, this design does require continuous organization to prevent clutter. Those unused mugs or dishes should be stored away. Lined baskets and labeled containers can add a neat and attractive touch. To prevent your shelves from appearing dull, inject a healthy dose of creativity with a mix of textures, colors, and shapes. This style, when executed correctly, offers a refreshing break from the commonplace enclosed cabinetry.
Industrial-style Metal Cabinets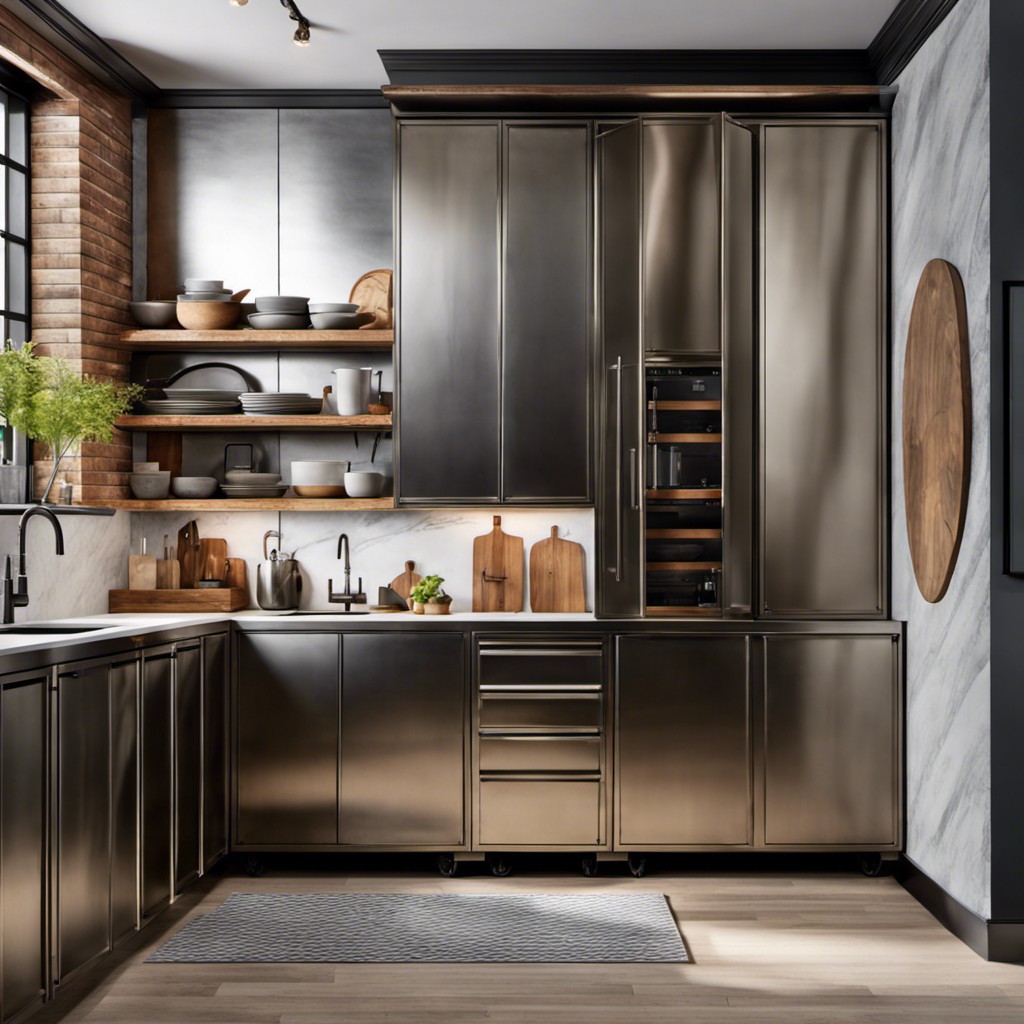 Industrial-style metal cabinets can add an eye-catching edge to your kitchen design. With their rugged, utilitarian aesthetic, they are easily maintained and highly durable, making them an excellent choice for a busy kitchen. Stainless steel, in particular, adds a professional and modern touch.
Here are key features to keep in mind:
Raw and robust: The raw metal look aligns perfectly with an industrial aesthetic. Paired with brick walls and concrete floors, it provides an authentic loft feel.
High Durability: Metal cabinets withstand heat, stains, and water – an ideal trait for kitchens.
Easy maintenance: Dust and grime can be wiped off easily. Scratches, which might add character, can optionally be buffed out.
Variety in Finishes: From glossy to matte, brushed to hammered, there's a finish to suit your individual style.
Environmentally-friendly: Metal cabinets are usually made from recycled materials and are also fully recyclable, promoting sustainability.
Adopting industrial-style metal cabinets can bring an edgy twist to your decor whilst offering practicality for a bustling kitchen.
Beadboard Cabinets for a Country Look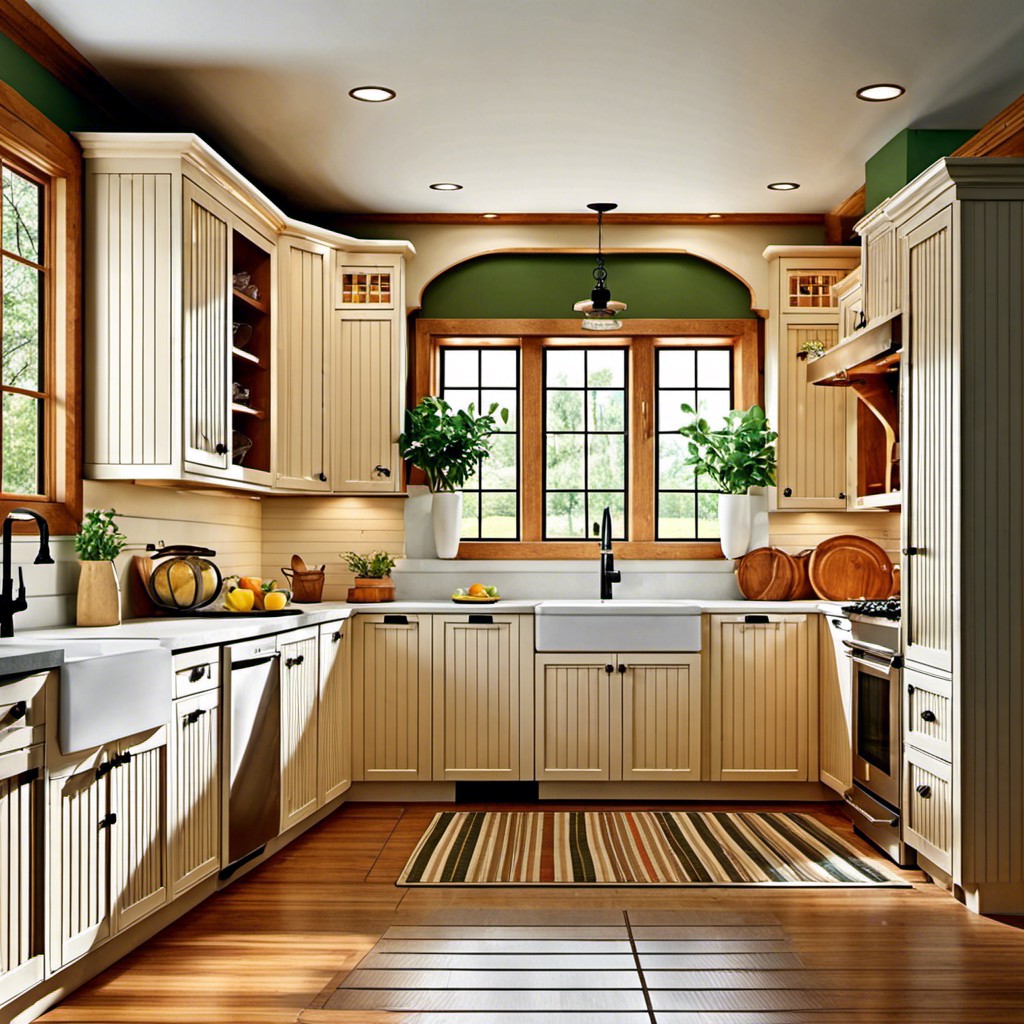 To achieve the classic country style, there is perhaps no better choice than beadboard cabinets. This particular style features vertically slatted grooves that deliver a distinct, charming aesthetic consistent with traditional farmhouse decor.
Beadboard cabinets bring texture and visual interest to the kitchen, acting as a focal point for the space. The linear pattern adds dimension, enhancing the depth of the kitchen. The white painted finish is often a popular choice, postulating cleanliness and helping make the kitchen feel more spacious and open.
The panels can be accentuated with vintage-style hardware handles to enhance the country charm. Alternatively, paired with contemporary hardware, the fusion creates a transitional style kitchen, balancing modern and traditional aesthetics. Lastly, to maintain the traditional country feel, ensuring the cabinets' cohesiveness with the rest of the kitchen, such as wooden countertops or checkerboard tiles, is essential.
Reclaimed Wood Cabinets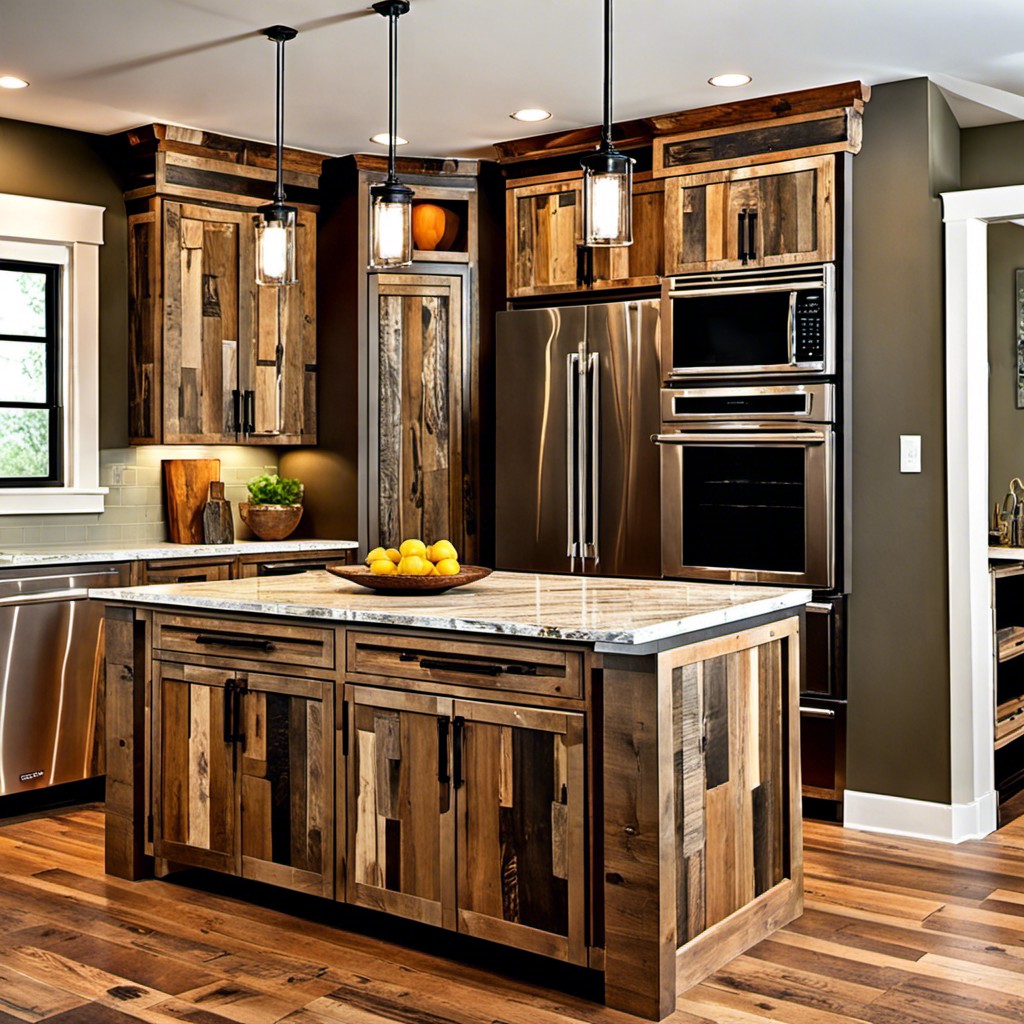 Investing in reclaimed wood cabinets can bring a unique, environmentally-friendly touch into your kitchen. These cabinets are crafted from repurposed timber, effectively reducing deforestation while giving your culinary space a rich and textured aesthetic.
1. Unmatched Aesthetics: The exceptional aging and distinctive markings on reclaimed wood make each cabinet a one-of-a-kind piece.
2. Durability: Older wood species, thanks to being exposed to various climates and weather changes over the years, are typically denser and more robust than new wood.
3. Environmental Impact: Opting for reclaimed wood utilizes already cut timber and helps decrease the demand for new wood.
4. Vintage Appeal: It helps to create a charming rustic vibe which harmonies well with various design schemes.
5. Versatility: This type of cabinet fits well with contemporary, rustic, farmhouse, or any eclectic kitchen style.
6. Improved Home Value: Due to their unique characteristics and eco-friendly nature, reclaimed wood cabinets can enhance your property's overall value.
Glass Door Cabinets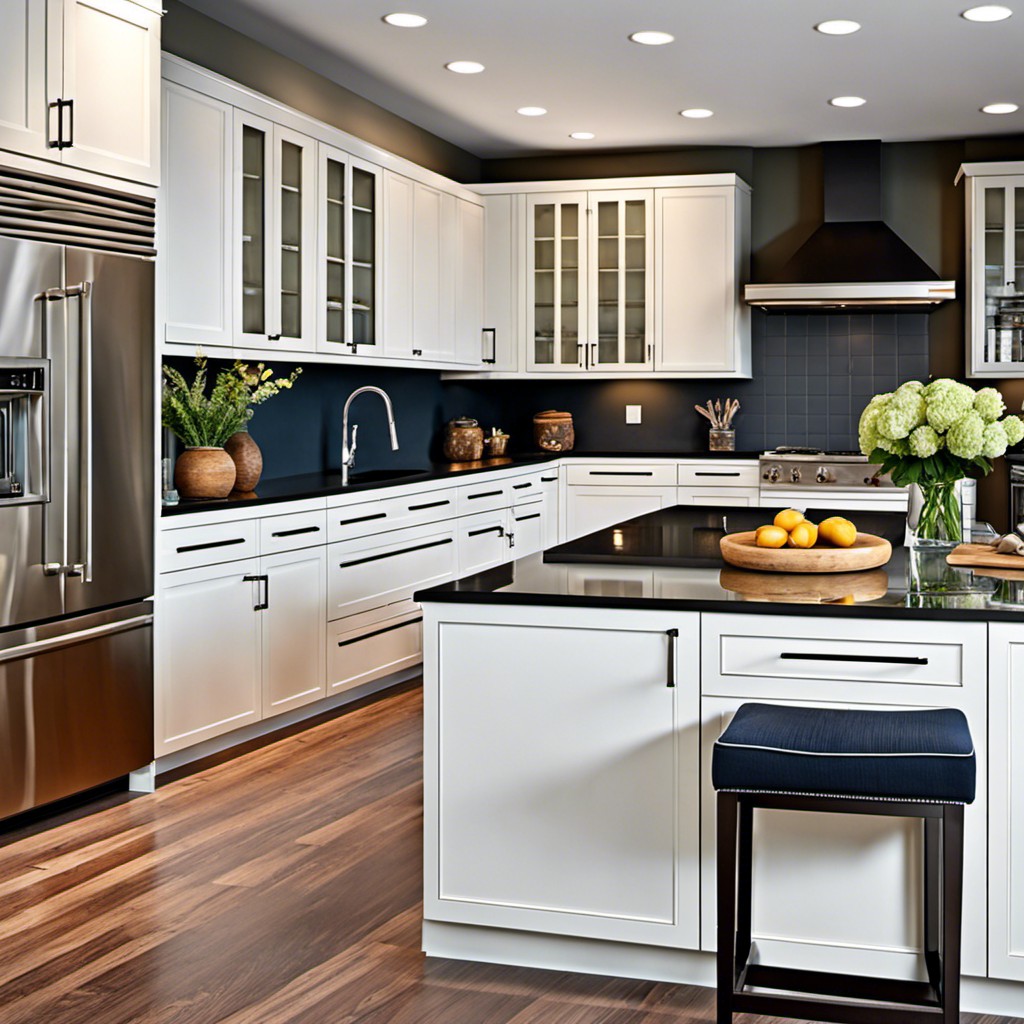 Speaking of versatility, these cabinets offer a welcoming show-and-tell approach to storage. Transparent panels pave the way for exhibiting precious crockery, or simply make it easier to locate daily essentials.
To customize this aesthetic, contemplate on various degrees of translucency, etched or frosted designs. Spicing up the interiors with puck or strip LED lights add a warm, inviting glow. Alternatively, placing vibrant dishware behind the glass doors invokes pops of color, making the cabinets themselves showcases of artistic visualization.
Cleanliness becomes more crucial as smudges and fingerprints depict more readily. Remember, while striking in appearance, these cabinets may not be suitable for those eager to camouflage kitchen chaos.
Distressed Paint Finish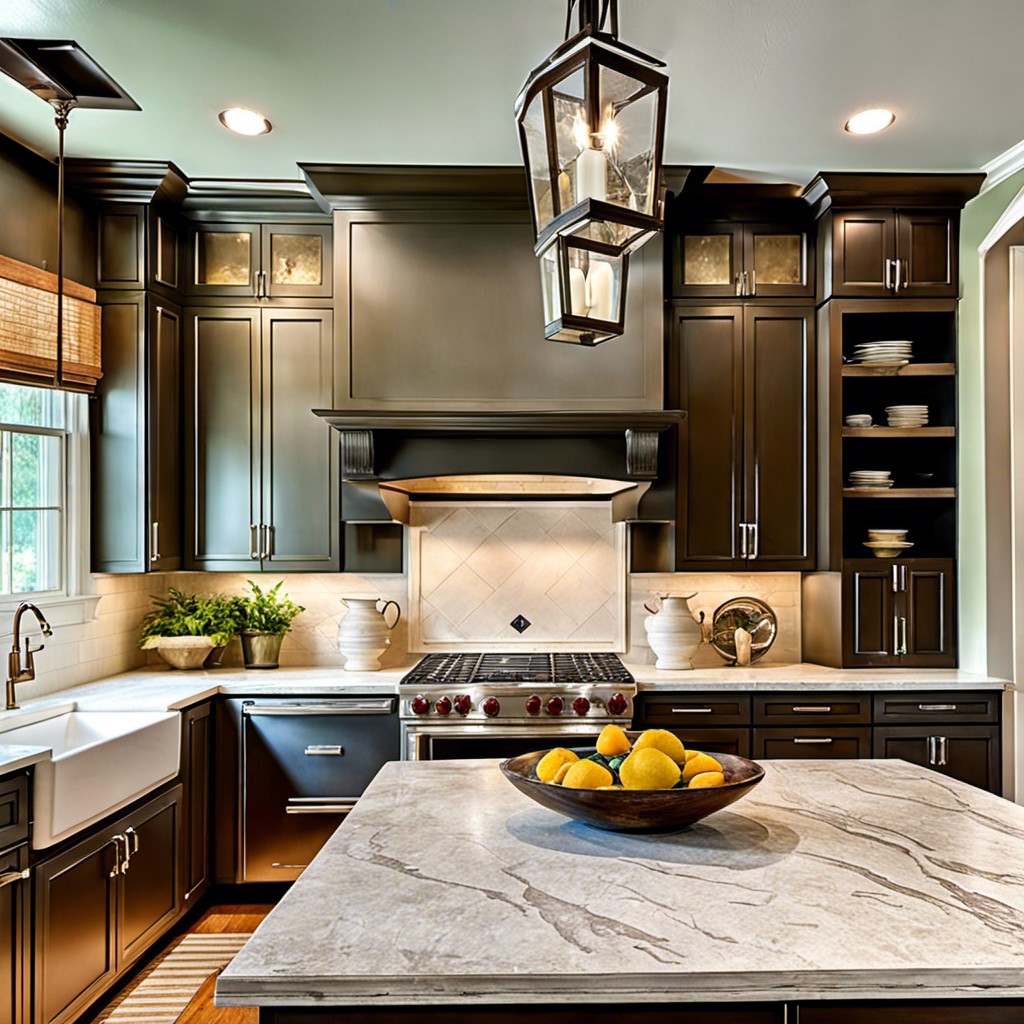 Creating a distressed paint finish on your kitchen cabinets is a great way to add character and a touch of rustic charm. This design technique can render an old-world feel, allowing your space to appear lived-in, yet stylish.
Applying the distressed technique involves a few key steps.
1. The first is a base coat application—the lighter color you want peeking through.
2. The final color layer follows, typically a darker shade for contrast.
3. Once dried, the sanding process begins, strategically targeting areas like corners and edges for the worn-out look.
4. Finally, applying a sealant protects the fresh paintwork, helping maintain its appeal for longer.
The beauty of this method lies in its uniqueness. No two applications look the same, providing an opportunity for individualistic expression in your kitchen. It also pairs well with a variety of decor styles, from farmhouse to boho and even industrial, offering flexibility in the overall design plan.
Quite importantly, keep in mind that it's a messy process. So a cover for your kitchen floors and counters is a smart idea during this cabinet makeover.
Intricate Wood Carving Cabinet Doors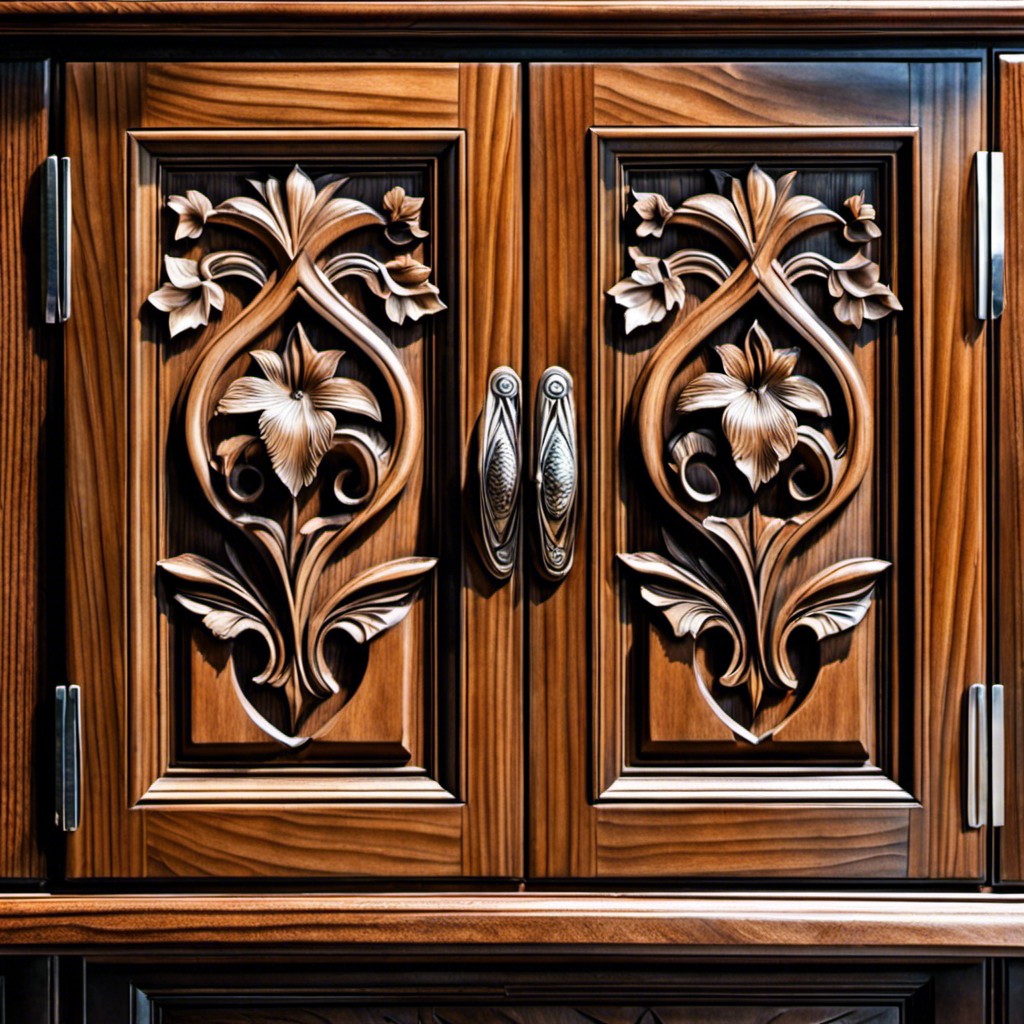 Infusing your kitchen with an old-world charm, specialist craftsmen etch detailed patterns into solid timber. This artistry lends a bespoke look to each door, ensuring your space stands out with unique grace and sophistication.
Contrasting the ornate woodwork with modern appliances can forge a striking balanced aesthetic. Opt for lighter shades like teak or cedar to highlight the intricate designs, or add a sense of drama with darker tones such as mahogany or walnut.
To preserve and accentuate the carvings, a clear varnish becomes the preferred choice, offering the dual benefit of magnifying the fine details and adding a layer of protection.
Pair these captivating cabinet doors with understated hardware. An over embellished handle may distract from the elaborate detailing on the cabinet, defeating its purpose. Simple brushed metal or hidden handles work well to maintain focus on the woodwork.
Remember, such detailed cabinet doors require periodic maintenance to keep the carvings clean and dust-free. A quick wipe-down with a soft cloth and mild detergent should do the trick, preserving the beauty of these designs for years to come.
High Gloss Lacquer Finish Cabinets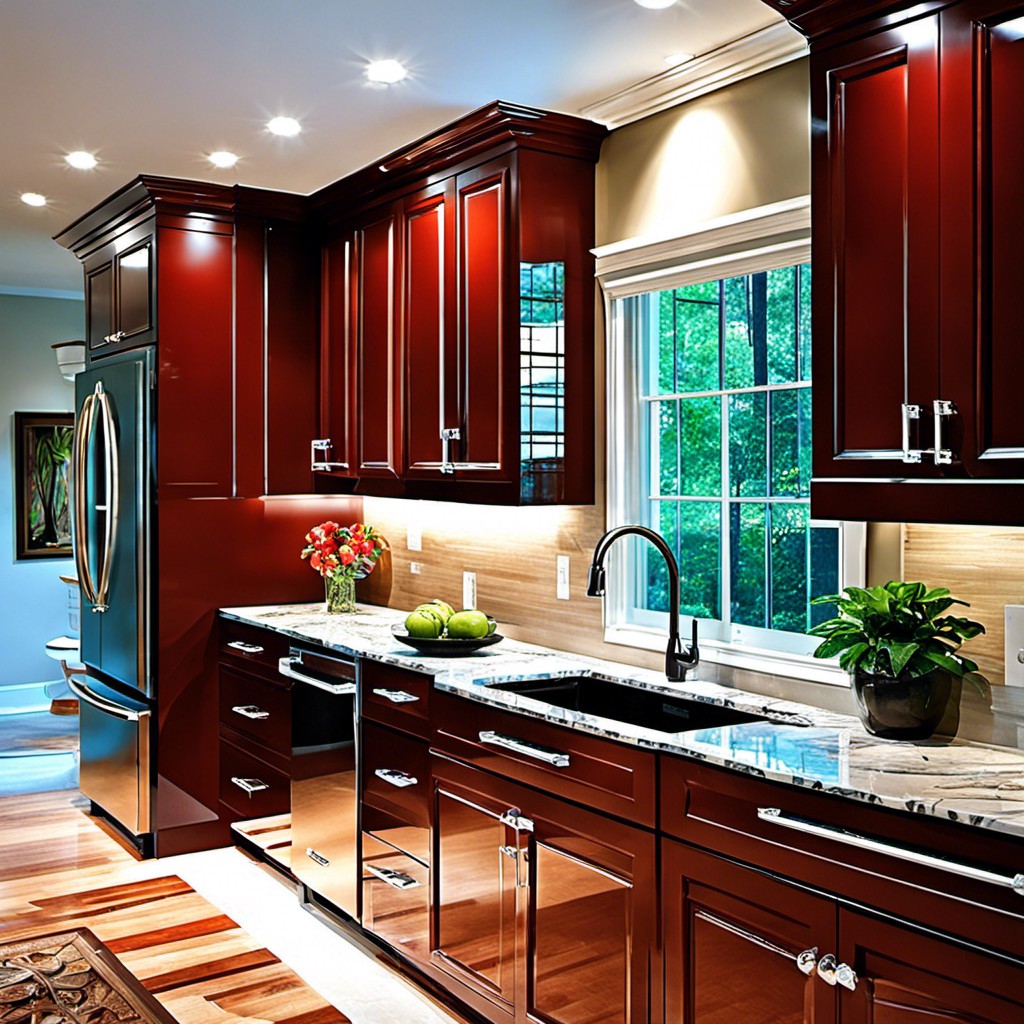 This type of finish is known for its smooth, shiny surface and is achieved by applying multiple layers of lacquer followed by polishing and waxing. They're a striking and luxurious choice, lending a touch of modernity and refinement to any kitchen.
The brilliant sheen creates an illusion of space and reflects light beautifully, making it an ideal option for small kitchens. With myriad color options available, it's easy to match with the rest of your design scheme.
Keep in mind, they require regular cleaning to maintain the gloss. Fingerprints and smudges are more noticeable on this finish, so be prepared for a bit of extra upkeep. Nonetheless, their aesthetic appeal is undeniably attractive.
Floating Cabinets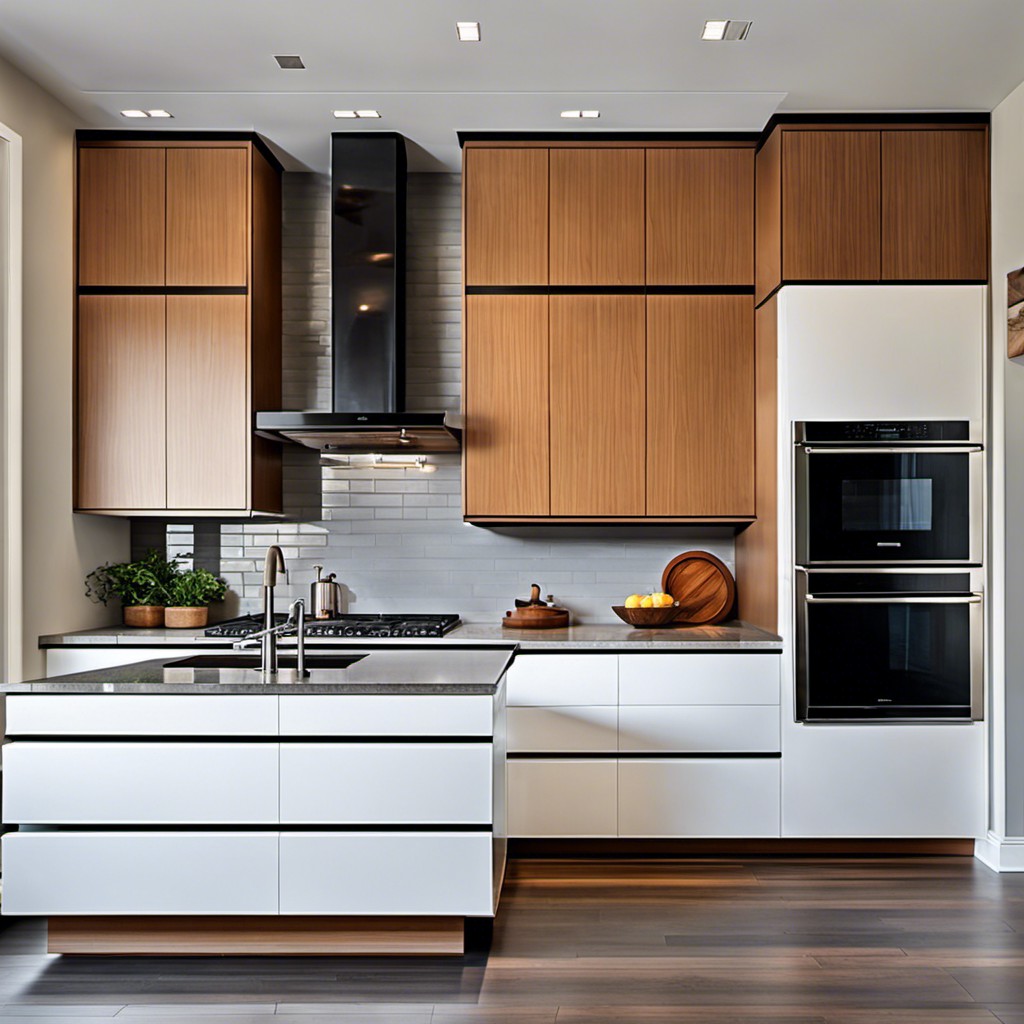 Often associated with modern design, these cabinets playfully challenge traditional concepts of storage by attaching directly to the wall, leaving a clean, uncluttered space beneath. If you're looking for an un-obstructed look in your kitchen or lean towards minimalism, this style is a win.
Here are a few points to remember:
Consider LED lighting underneath to emphasize the 'floating' effect.
They can be made using a variety of materials from wood to metal or glass.
Be mindful of weight restrictions when storing items.
Remember to maintain regular cleaning since the open space is visible.
Best suited for spacious kitchens; cramped spaces may look busier.
Panels can be customized to blend seamlessly into your kitchen decor.
Color Blocking Design Method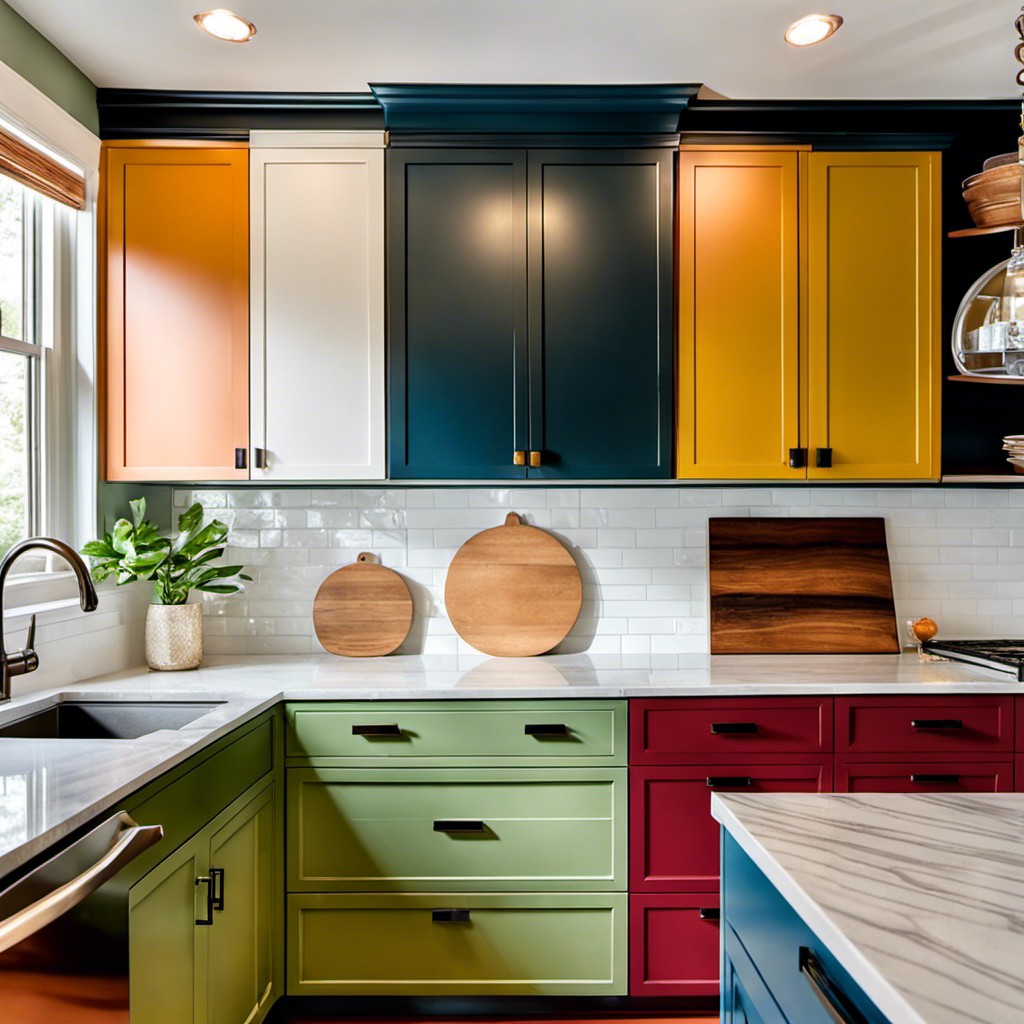 Color blocking, a technique that pairs contrasting hues to make a bold statement, can reinvigorate a kitchen without the need for crown molding.
1. Pair Brights and Neutrals: Bright, vibrant colors like turquoise or canary yellow can be balanced out with neutrals such as gray, white or wood tones.
2. Light vs. Dark: Utilize contrasting light and dark shades to highlight certain areas and provide depth.
3. The Rule of Three: Implement three different colors – one for the upper cabinets, one for the lower cabinets and a third for the island or accents.
4. Pastels: Soft pastels combined with deep tones like navy or emerald green add a modern twist to your kitchen.
Remember, balance is the key when dealing with multiple hues. Let each color have a purpose and a space. This method infuses personality and style into your kitchen by transforming cabinets into an eye-catching feature.
Never feel limited to the palette you choose; the beauty of color blocking rests on its flexibility, and it's this artistic liberty that allows for continuous innovation. Happy decorating!
Integrated Handle Design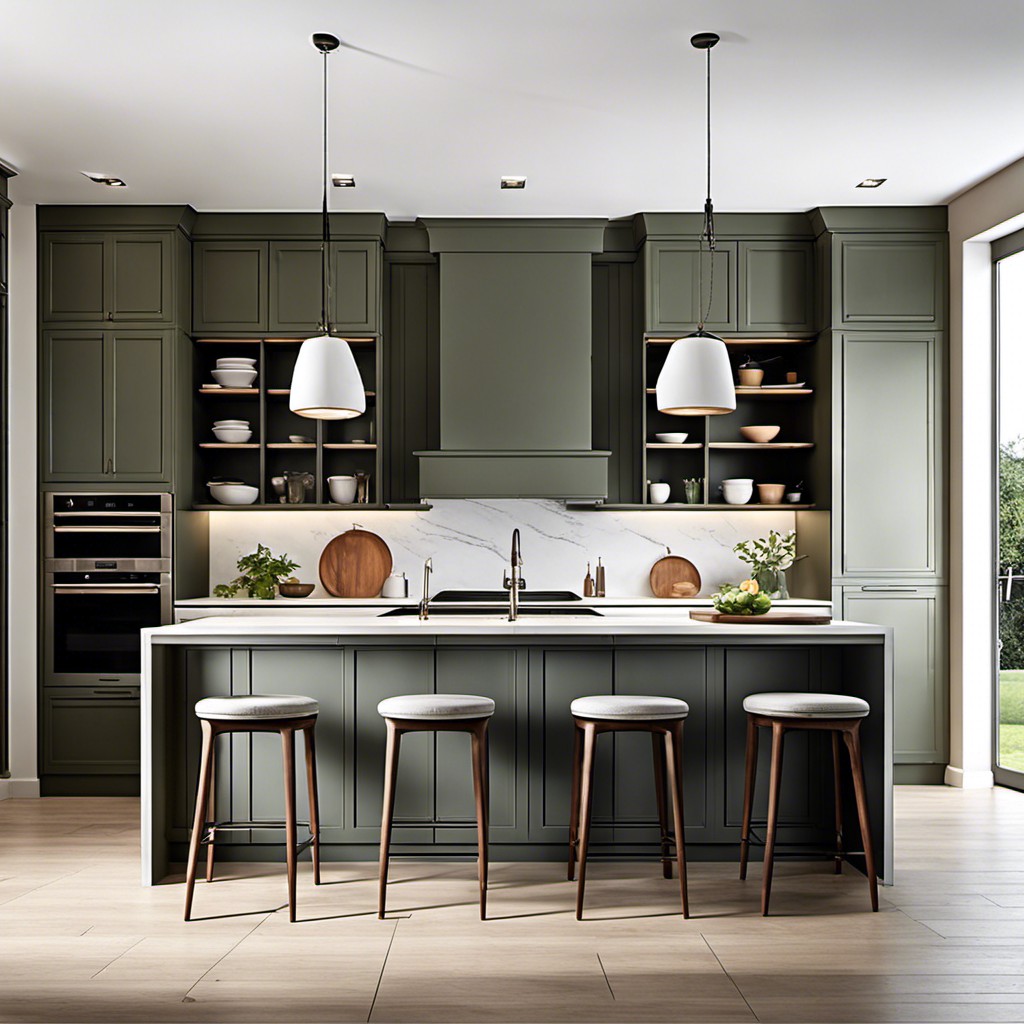 The integrated handle style represents the pinnacle of modernity and crispness in kitchen design. This cabinet design does away with the need for external knobs or pulls, providing an uninterrupted, clean visual line.
1. The design's integrated handles are part of the cabinet door itself, formed through a recess in the top or side of the door.
2. Their construction is often recessed, smoothly flowing with the cabinet lines, which makes them unobtrusive and easy to clean.
3. Designed with ergonomics in mind, these cabinets are easy to open and close, promoting efficient kitchen operation.
4. This innovative style offers a minimalistic aesthetic that easily blends with a variety of kitchen decor themes.
5. Their smooth lines and streamlined appearance create a seamless look and feel that's ideal for a sleek, modern kitchen aesthetic. They allow for a clean, uncluttered look, emphasizing efficiency and ease-of-use.
Push-open Cabinets for a Modern Look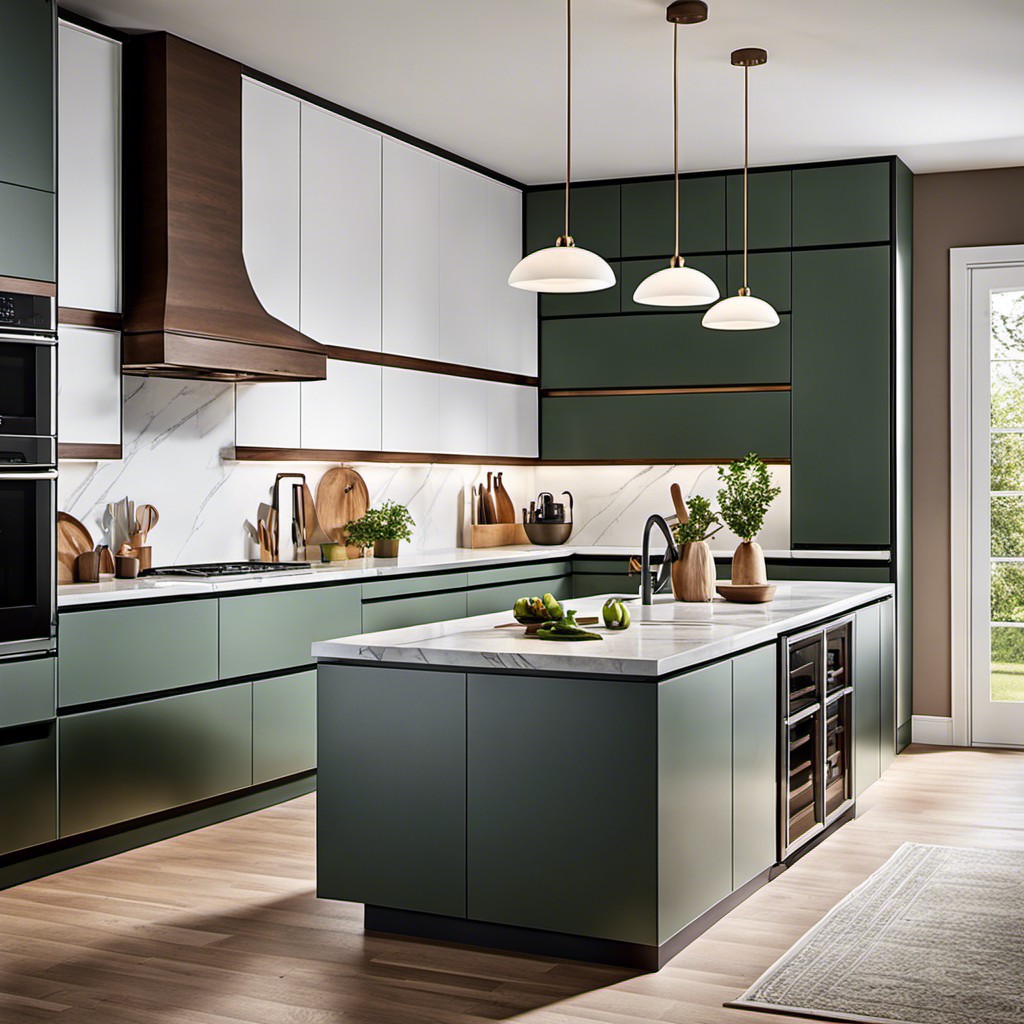 These are a popular choice in contemporary designs, thanks to their seamless appearance and functionality. With a simple tap, the cabinet door pops open, ruling out the need for handles or knobs. It's an ideal design for those who prefer a minimalist aesthetic, creating sleek lines and uninterrupted surfaces.
1. Easy to Use: Even with occupied hands, a slight nudge with the elbow or knee is enough to open them.
2. Enhanced Safety: Without handles or knobs sticking out, there's a reduced risk of clothes getting hooked or little ones hurting themselves.
3. Clean Appearance: Offers a neat, streamlined look that fits in beautifully with any modern style.
4. Customizable: Available in a variety of finishes, it's simple to choose a design that matches your interior décor.
5. Space Efficient: Perfect for smaller spaces where every square inch counts. The push-open mechanism doesn't require extra space as traditional handles do.
Remember, high-quality hardware for the push-open mechanism is key as it endures constant use.
Bold Pattern Backsplash to Shift the Focus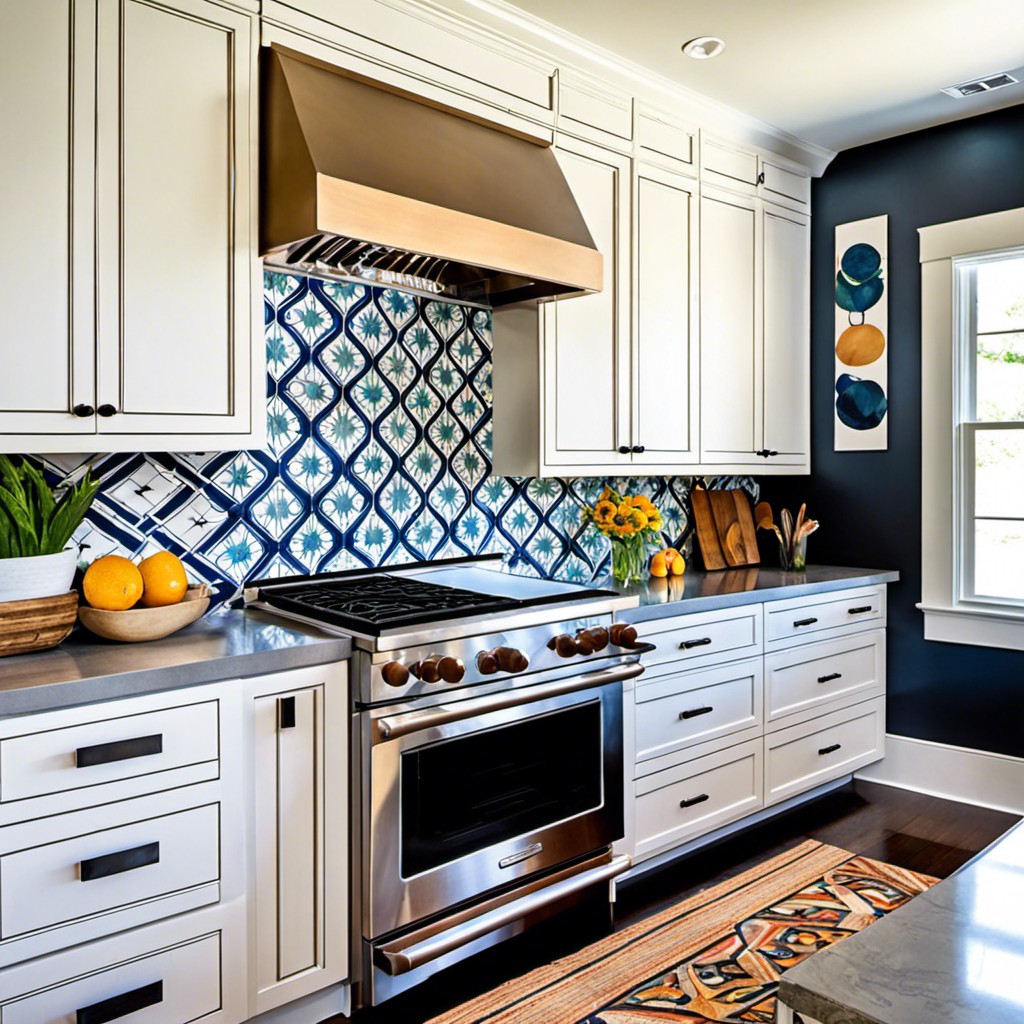 Utilizing a bold pattern for the backsplash effectively diverts emphasis away from the absence of crown molding. This strategy fosters visual interest and infuses character into the kitchen scene.
Here are some points to consider:
Pattern Selection: Choose a design which aligns with the kitchen's overall theme. Geometric or Moroccan tile patterns are a classic choice. For a more modern look, go for a herringbone or chevron pattern.
Color Coordination: The backsplash color should harmonize with the rest of the kitchen. It can either complement the cabinetry color, or offer a striking contrast to make it pop.
Size and Scale: Large-scale patterns can make the kitchen seem more spacious, while smaller patterns can add an intricate level of detail.
Material Considerations: The backsplash material is crucial. Ceramic, glass, and porcelain tiles are popular and easy to clean. Natural stone tiles, though more maintenance, add an element of luxury.
Remember, a bold backsplash gives your kitchen a unique personality, effectively taking the focus away from the lack of crown molding on the cabinets.
Cabinetry With Inlays and Overlay Patterns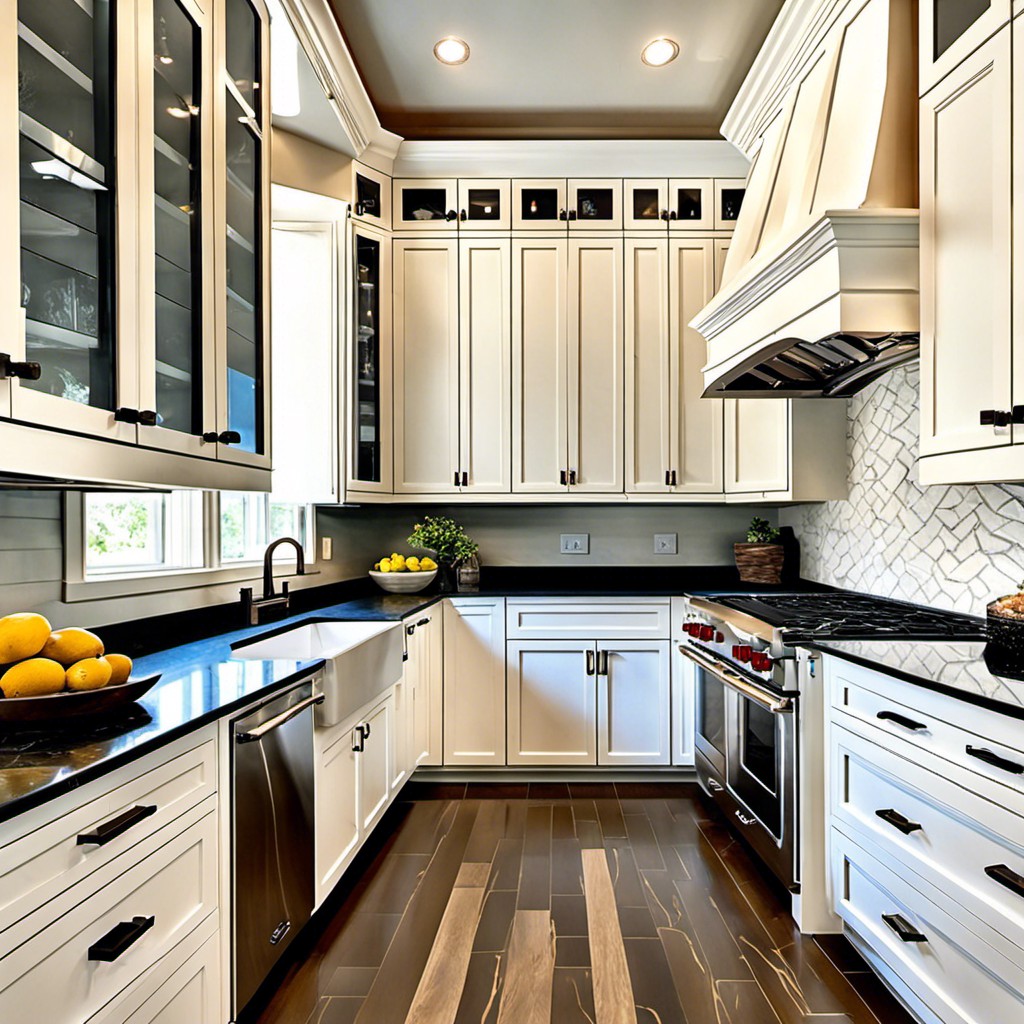 Diving deeper into this style of design, it's important to note how inlays and overlays can significantly impact the overall look of kitchen cabinets. Inlays tend to be more traditional, where the door panel is inset into the frame, giving a clean, tailored appearance. Variations like beaded or non-beaded versions provide further visual interest and texture.
Overlay styles, on the other hand, have the door mounted over the cabinet frame. This can take two main forms: full overlay, covering the entire frame, or partial overlay, leaving some of the frame exposed. These styles offer a more contemporary edge, often leaning towards a modern aesthetic.
Through customized patterns and meticulous detailing, both inlays and overlays inject a distinctive feel into the kitchen space. They bring out depth and dimension, magnifying the visual appeal. With a wide variety of patterns and styles available in the market, you can tailor this concept to fit any design preference from stark modern looks to warm traditional settings.
Whether it's the charm of inlays or the modern appeal of overlays, these cabinet styles offer a delightful way to elevate your kitchen aesthetics, combining utility with undeniable style. When implemented mindfully, they can transform an everyday kitchen into a personal style statement.
Continue reading: