Last updated on September 5, 2021
Santa Clara, California is home to Silicon Valley and so housing is premium with high standards for design in the area. If you're a homeowner here, you have to keep up with your decor!
The following home designs are found in Santa Clara and they are for your inspiration or ideas if you're looking for an interior designer. Besides being modern and high-tech, home designs also tend to keep the traditional style as well as typical California beach elements. A lot of homes have luxury features as they can be often found in the premium estate.
What's Inside
Open-Concept Living Room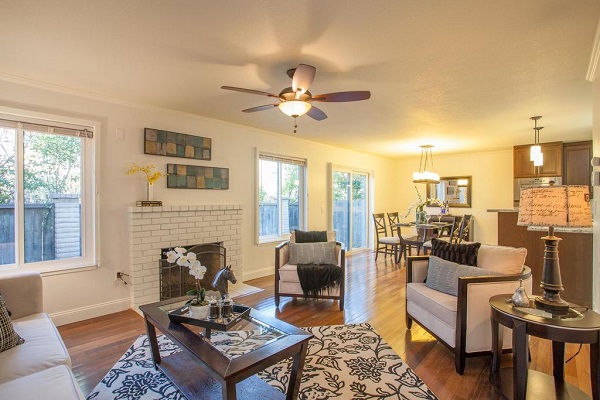 Open-concept design is not for everyone, but when the décor is done right, it can be a both practical and eye-catching. The clear sight lines make it necessary for the different spaces to flow together seamlessly. The furniture and rug are positioned in such a way that there is a clear traffic flow while still keeping the living room space visually separated from the dining room.
Wrap-Around Sink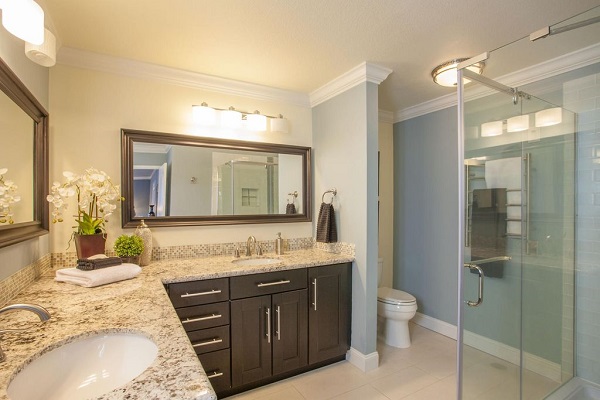 In large washrooms, a wrap-around sink provides ample counter space, room for two sinks, and additional storage in the cabinets below. Two large-scale mirrors above each counter section are perfectly to scale and help unify the space.
Traditional Master Bedroom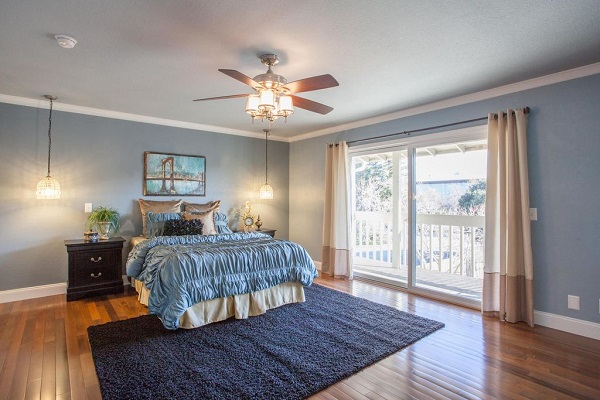 A large traditional master bedroom still gives off an intimate feel as the bed is framed out with side tables, pendant lighting, large artwork above the bed, and a rug. All the accent pieces serve to frame out the bed, creating a focal-point wall that tells the eyes exactly where to go.
Traditional Dining Room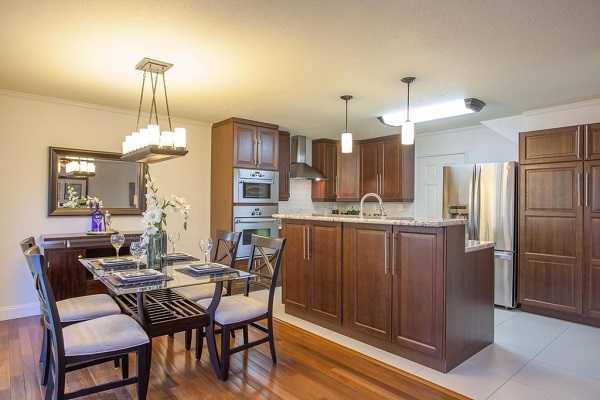 Dining room spaces can be intimate and be inviting when staged to perfection. A luxurious chandelier lighting fixture and a buffet featuring a large-scale mirror over top is the perfect way to unify the space and give it a warm and luxurious feel.
Traditional Kitchen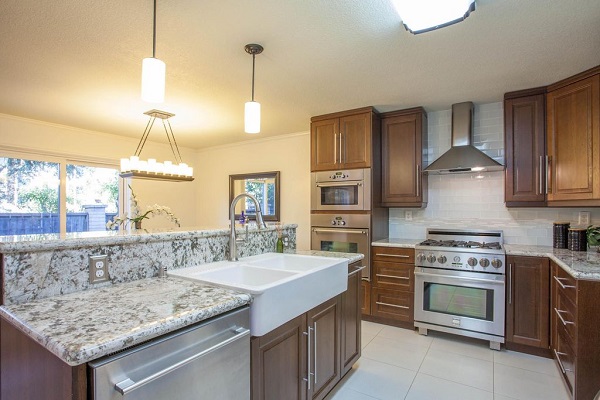 A modern kitchen with a farmhouse sink makes an interesting contrast. The farmhouse element of the large-scale sink helps create some visual interest in the juxtaposition of contemporary and country. The dark wood cabinetry plays off the white flooring and tile backsplash marrying country warmth with cool modern.
Contemporary Powder Room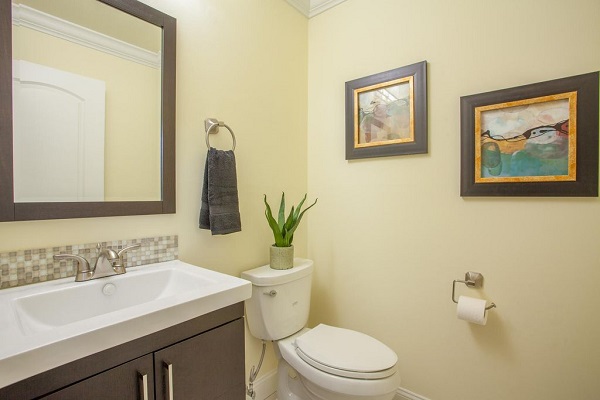 Just because a room is small doesn't mean you can't make a large decorative impact. Powder rooms benefit from an interior design that makes them feel open, and a bright neutral paint color, just the right amount and size of artwork, and a modern sink does just that.
Intimate Master Bedroom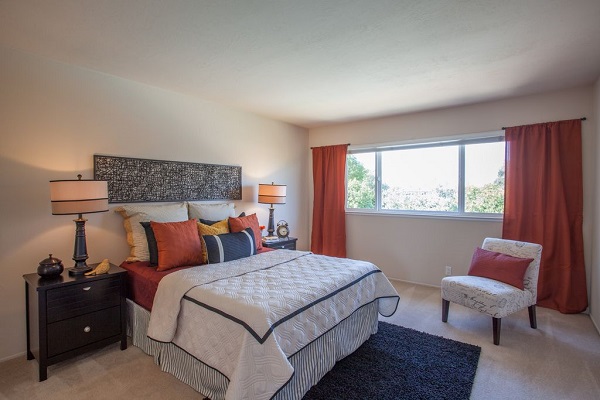 Master bedrooms provide the ideal space in which to create intimacy and comfort. The key to master-bedroom decor is to focus on the main wall that the bed is against. Framing out the bed with some accent tables, artwork and lamps is simple and effective. Placing a rug at the base of the bed adds a nice intimate textural element that helps define the space.
Contemporary Wine Cellar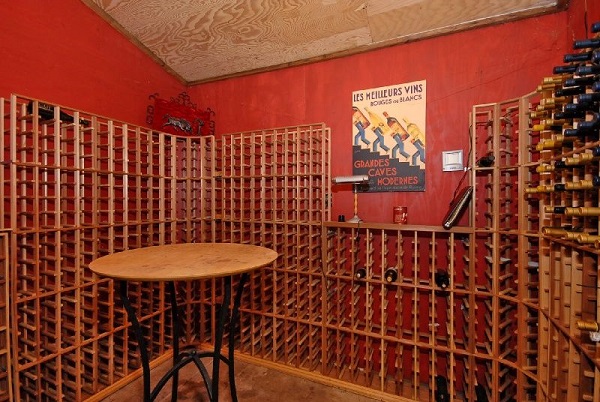 What Santa Clara home would be complete without a contemporary wine cellar. Built with floor-to-ceiling wine racks and paired with a warm orange wall color makes this wine cellar the ultimate in decadence and luxury.
Functional Living Room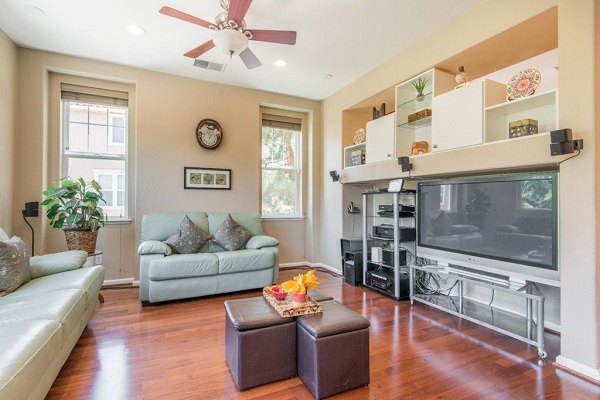 Not everyone has the space to keep their TV out of the living room, but there are ways to minimize a TV's presence when it comes to living room décor. Framing out the TV by adding surrounding built-in shelves is an ideal way to blend the TV with its surroundings, rather than making it the focal point of the space.
Traditional Dining Room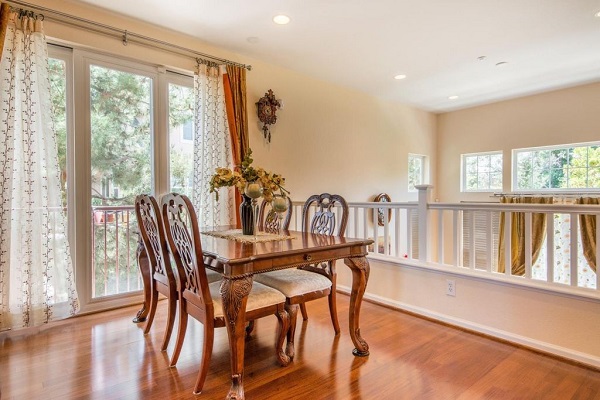 A traditional dining room space featuring an antique dining table and chairs adds instant character. Some dramatic curtains accentuate the screen door and elongate the room, while the old-school cuckoo clock plays off of the antique dining table adding a touch of fun and whimsy to space.
Transitional Living Room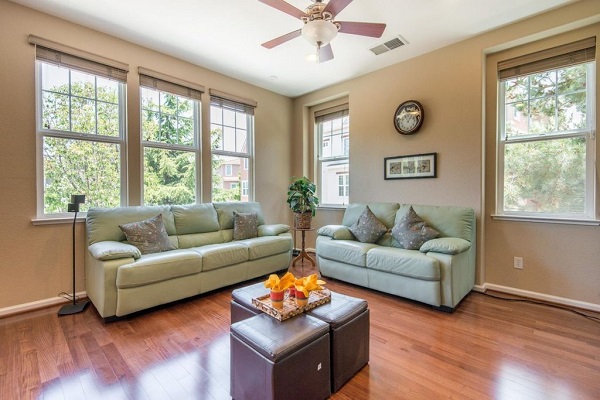 For those hot summer days, a ceiling fan in a living room center provides a point around which to position furniture. The space with plenty of windows and natural light makes this living room feel open and airy without the need for numerous furniture and accent pieces.
Classic White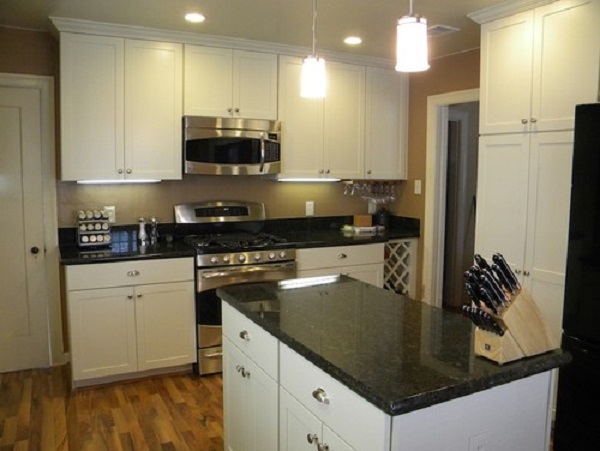 White is a color that is never out of style in the world of interior design. White cabinetry in a kitchen instantly adds a bright and clean look while also lending the space an open and spacious feel.
Small Master Bath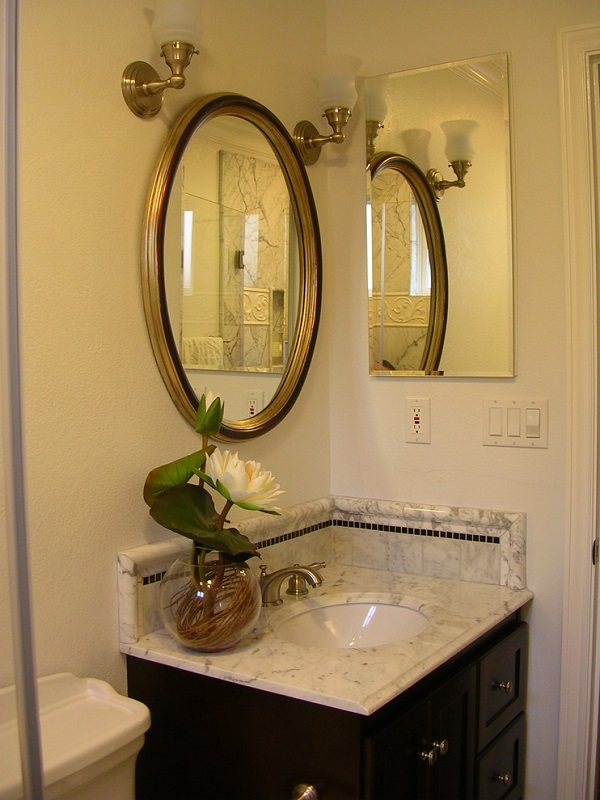 A small master bathroom features a neutral and bright white wall color to help open up space, and the circular mirror and sconce lighting that frame out the sink creates a vignette that is both elegant, intimate and inviting.
Modern Kitchen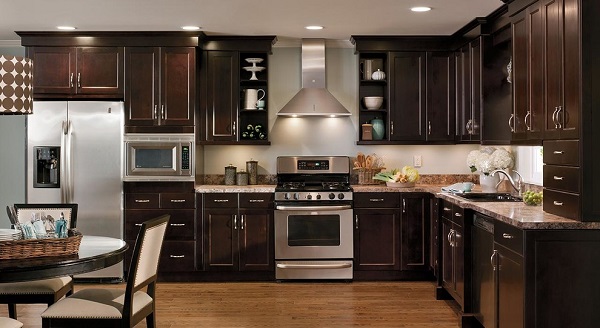 A large kitchen becomes a modern space with its pairing of dark cabinetry and stainless-steel appliances. The warm wood flooring and recessed lighting provide warmth and function in this large-scale modern kitchen.
Vaulted Ceiling with Beams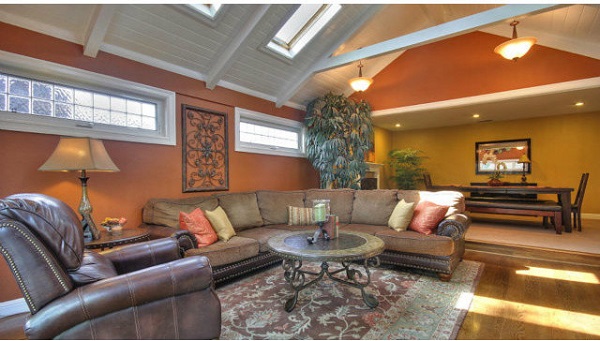 A soaring vaulted ceiling with white planks and beams becomes the focal point of this open concept living and dining room space. A living room and dining room are granted epic status by the architectural interest of the ceiling above.
Large Dining Room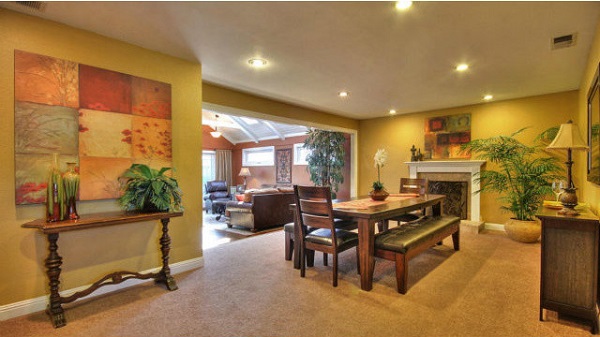 A large dining room space still maintains an intimate feel by its placement of furniture pieces, a fireplace, and large-scale artwork on the walls surrounding the modern dining room table. While the buffet, dining room table, and accent tables are not a matching set, they flow together and create visual interest by placing contemporary and vintage pieces together.
Custom Bookshelves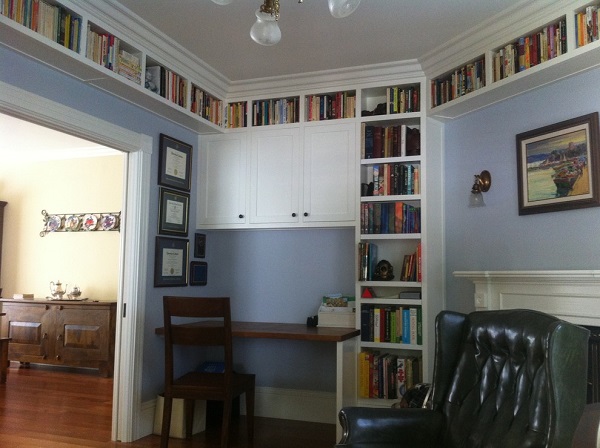 Adding custom wrap-around bookshelves in a space cultivates the library vibe while pulling the walls inwards for a more cozy and defined space. The built-in desk, tufted library chair, and floor-to-ceiling bookshelves would be any book lover's dream.
Contemporary Bathroom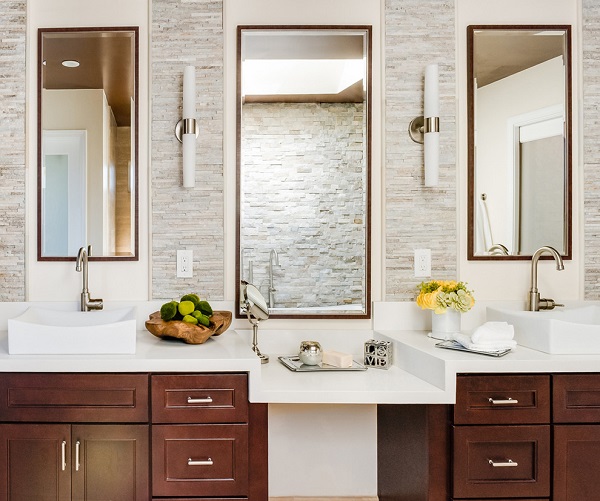 A contemporary bathroom enjoys a cool modern vibe with double sinks, large-scale mirrors, modern sconce lighting, and clean white countertops. The wall tile's look and feel of stone serve to warm up space and add a textural pop.
Modern Master Bedroom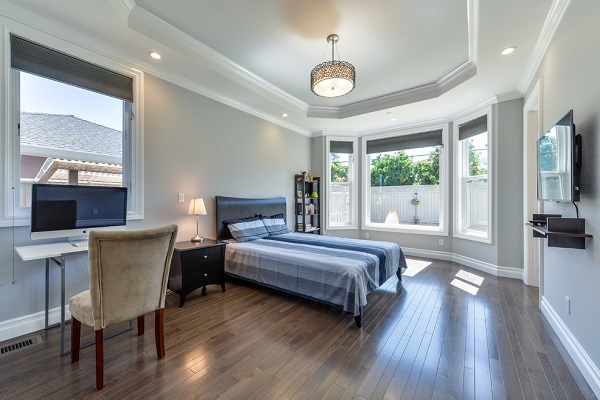 This modern master bedroom is bathed in natural light from the large bay window. The recessed ceiling with pot lighting and white trim draws the eyes upward and adds a huge amount of architectural interest and depth to space.
Contemporary Kitchen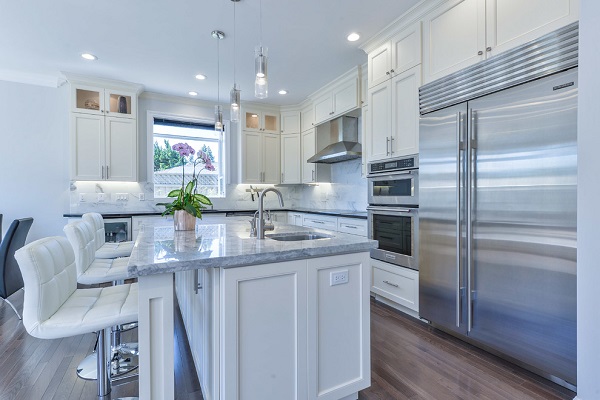 Few things encapsulate the interior design in Santa Clara style more than a clean, bright, and contemporary kitchen. This kitchen space is filled with light and brightness. From the white-and-grey tile and countertops to the modern white counter stools, the stainless steel appliances, pendant lighting and recessed ceiling lighting, this space is both warm and modern.
Continue reading: