Last updated on December 5, 2023
Because sage green is a color that opens up a variety of decorating possibilities, this article will spark your imagination with innovative ideas to incorporate a sage green couch into your interior design scheme.
I am proud to have written and illustrated this article on 20 Stylish Sage Green Couch Ideas and I truly hope you find it as inspiring and enjoyable as I found creating it.
Sage green, a subtle and soothing hue, is a fantastic choice for a couch. Its versatility allows it to blend seamlessly with a variety of decor styles, from rustic to modern, and everything in between.
Whether you're looking to create a calming oasis, a vibrant living space, or a chic and sophisticated lounge, a sage green couch can be the perfect centerpiece.
In this article, you'll discover a myriad of ideas on how to style and complement your sage green couch, including ideal color pairings, suitable accessories, and tips on selecting the perfect wall art and rugs.
So, roll up your sleeves and get ready to transform your living space with the charm and elegance of sage green.
What's Inside
Velvet Sage Green Sectional
An epitome of elegance, the velvet sage green sectionals are an ideal choice for those who wish to add a touch of glamour to their living spaces. Versatile yet opulent, these couches beautifully blend with diverse styles, whether it's contemporary, traditional, or somewhere between.
Let's explore some key points:
Comfort Factor: Owing to the plush fabric, velvet sectionals offer supreme comfort, where you can sink in, read a book, or catch a quick nap.
Luxurious Look: The glossy surface of velvet imparts a luxurious vibe, turning the humble couch into a centerpiece.
Durability: Velvet's density and weave make it tough, ensuring the couch withstands the test of time, pets, and toddlers.
Color Depth: Velvet is known to absorb and reflect light uniquely, giving your sage green sectional a deep, rich, and constantly changing look with shifting daylight.
Easy Care: Contrary to the common misconception, velvet couches are easy to maintain, reserving their charm for years to come.
So, if sophistication is on your agenda, this versatile piece of furniture might be the one for you!
Mid-century Modern Sage Green Loveseat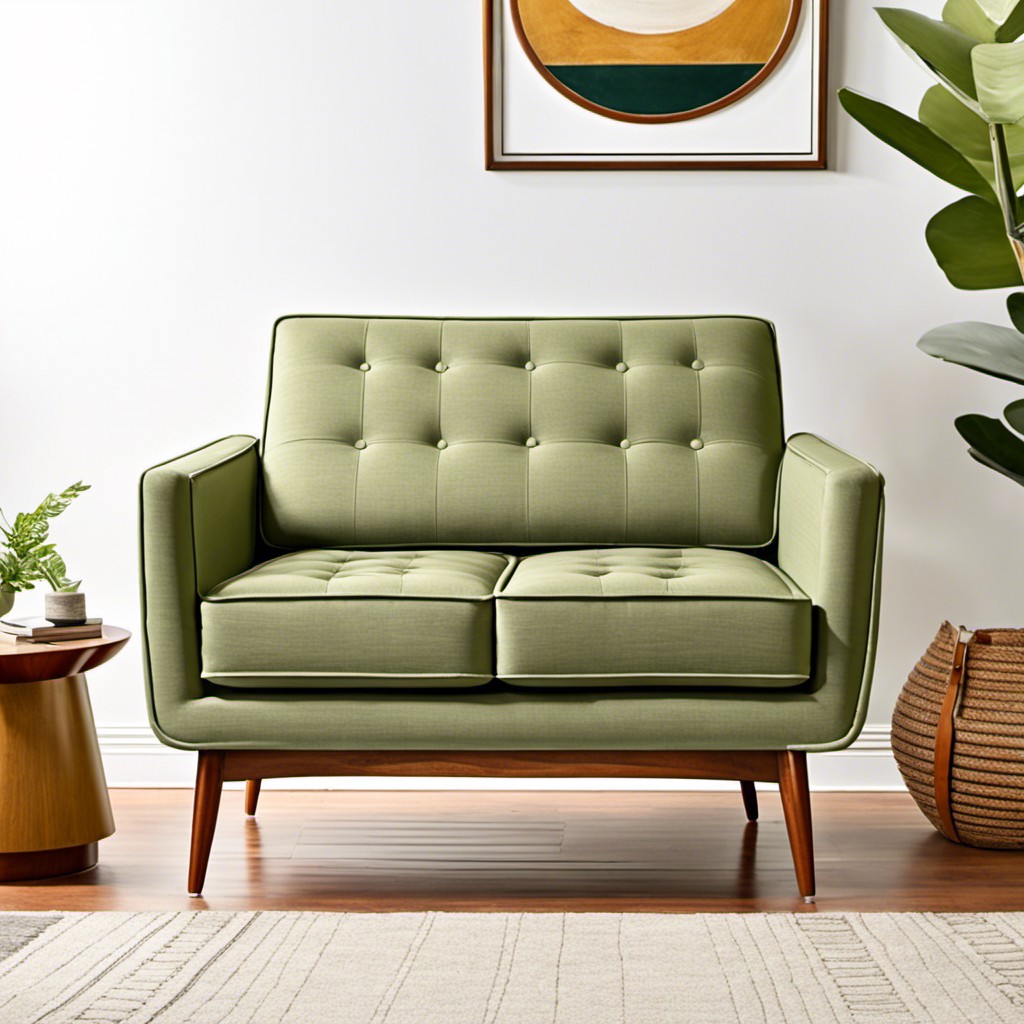 True to its name, a Mid-century modern loveseat offers a nostalgic blend of vintage and contemporary aesthetics. The refreshingly muted tone of sage green adds an earthy charm to it, amplifying the loveseat's appeal as a quaint centerpiece in your living room.
Key features to note include:
Compact Design: Perfect for small spaces or creating an intimate seating area.
Symmetrical Look: Equipped with a pair of cushions, it's great for couples or close-knit conversations.
Tapered Wooden Legs: These give an illusion of space by lifting the couch off the floor, quite advantageous for smaller rooms.
Though the love seat's style is inherently retro, the sage green upholstery allows it to seamlessly blend with a variety of decor themes, be it modern, minimalist, or rustic. To enhance its elegant simplicity, consider pairing the loveseat with geometric patterned throw pillows or a mid-century modern coffee table.
Bohemian Style Sage Green Couch With Natural Fringes
This style is characterized by its relaxed, eclectic aesthetic that favors artistic and unexpected combinations. The natural fringe detail on the underside of a bohemian sage green couch can enhance its free-spirited charm.
Here are a few key points to consider:
1. Enhance the aesthetic: The natural fringes not only contribute to the earthy appeal of this couch but also add texture and movement to the overall decor.
2. Color palette: Pair the sage green couch with warm, earthy colors or contrasting bright hues for a unique look.
3. Accessorize: Add throw pillows with an assortment of colorful patterns worldwide to amplify the bohemian vibe.
4. Materials: Accompany the couch with wooden or rattan furniture to maintain the natural, earthy feel.
5. Layering: Consider positioning a patterned rug underneath the couch to create a layered, lived-in effect.
6. Lighting: Soft, moody lighting works well with bohemian decor. Consider lanterns, fairy lights, or candles to create a subtle, soothing glow.
Buttoned Chesterfield Sofa in Sage Green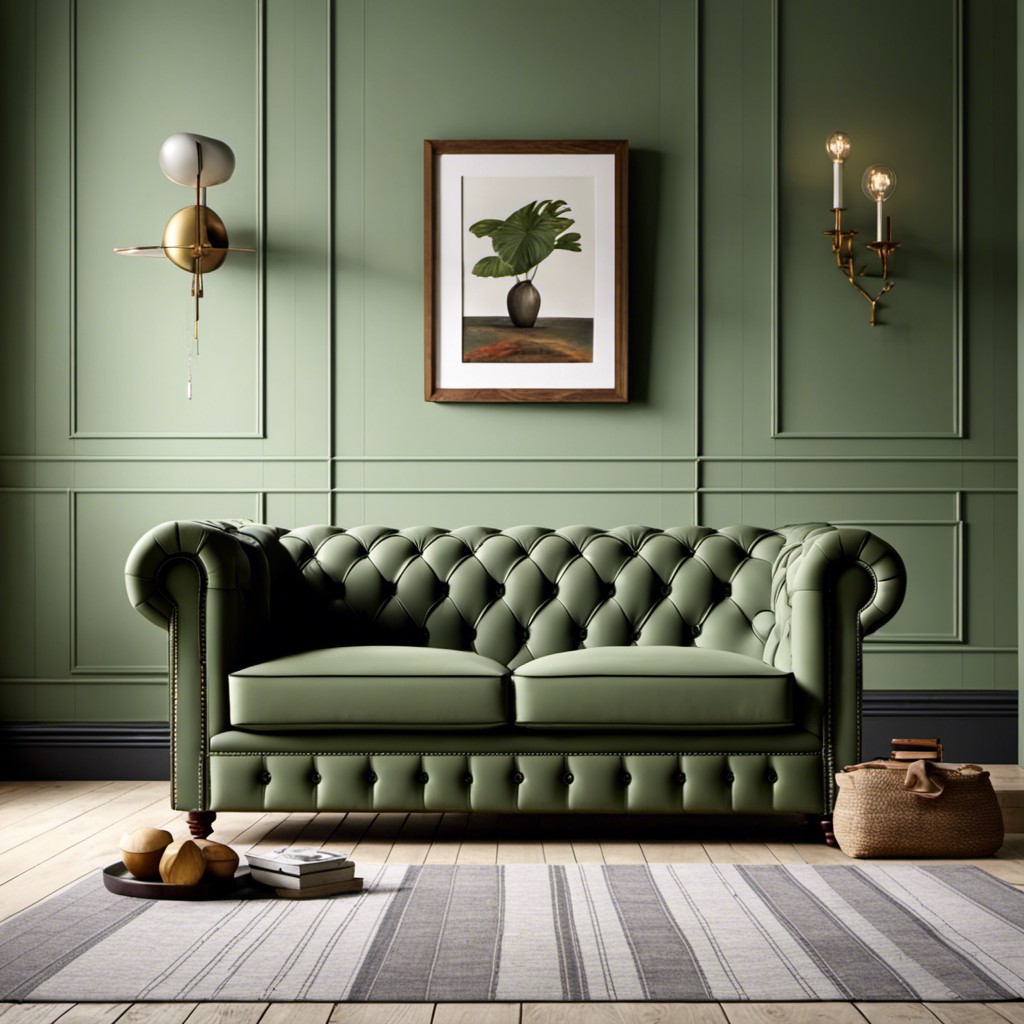 A hallmark of sophistication, this variation on the classic design manifests elegance at every curve. Button-tufting enhances the plush feel of the sofa, while the sage green hue invites warmth and tranquility into the living space.
The high back and scrolling arms create a sheltered feel, making it a splendid choice for both casual lounging and formal entertaining.
Pairing this sofa with natural elements such as a mahogany coffee table or a rustic wool rug can highlight its vintage appeal.
Alternatively, a modern touch like a geometric rug or glass table can create a beautiful contrast.
Metal elements, both warm like brass candle holders and cool like silver photo frames, will pop against the backdrop of sage green.
To maintain the sumptuous feel of the upholstery, consistent cleaning is crucial.
The best method for this is light vacuuming or brushing to prevent dust accumulation.
In case of spills, swift blotting is recommended instead of rubbing to avoid damaging the fabric.
For personalized comfort, toss in a variety of throw pillows in neutral shades or experiment with patterns like floral or stripes, emphasizing the room's character.
Layering a soft throw blanket can further enrich the comfort and aesthetics of this stylish centerpiece.
Sage Green Convertible Futon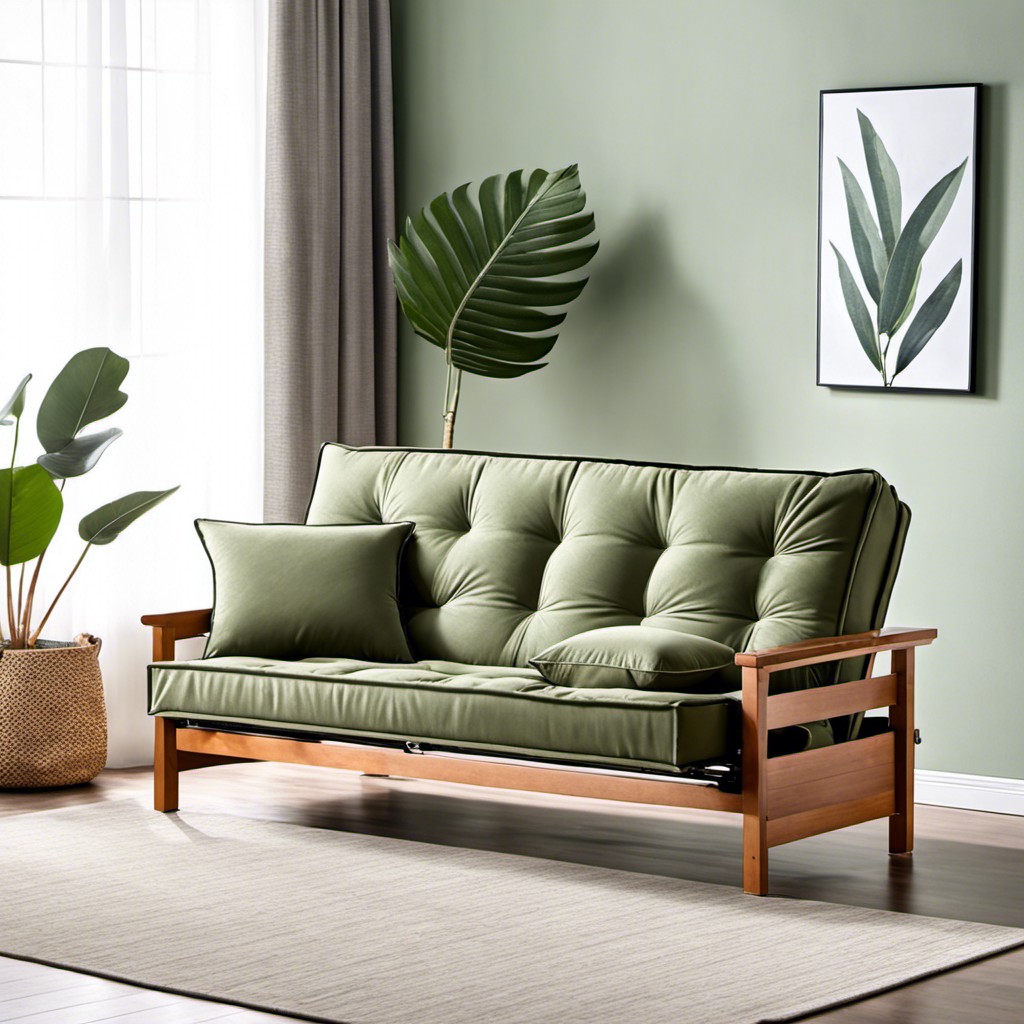 This furniture piece is truly versatile. Not only does it serve as a comfy couch in the daytime but also transforms into a cozy bed at night, making it a practical choice, especially for smaller dwellings.
Its color – a calming shade of sage green – enhances the air of tranquility in the living space, acting as a neutral backdrop for a variety of décor themes.
Depending on your preferred style, you can adorn the futon with vibrant, patterned pillows for a pop of color or stick to minimalistic, monochromatic cushions for a more sophisticated look. Remember, it's all about balance: coordinating the futon with the right accents will result in a harmonious setting.
Moreover, the futon is generally lightweight, so you can move it around with ease to suit your changing décor needs. And even though it's compact, it doesn't compromise the comfort factor, thanks to its plush, cushiony structure. Good news for those unexpected overnight guests!
Sage Green Couch With Chaise Lounge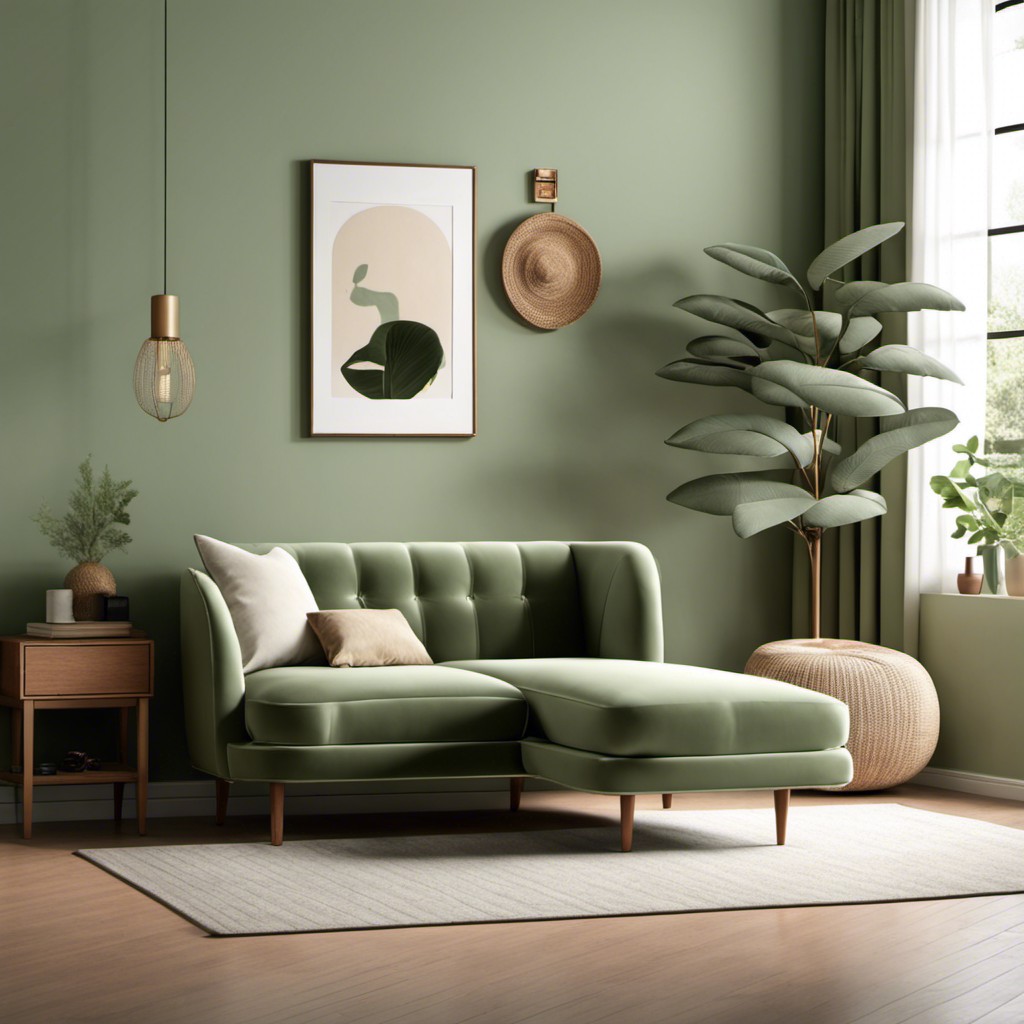 Incorporating a chaise lounge adds an element of elegance and functionality to any sitting area. It instantly transforms the space into a cozy hub, perfect for both relaxing and entertaining. The sage green hue adds a tranquil touch, making it a standout piece without needing much rejoinder. This specific couch style is perfect for those with a larger living space or families that want more seating room.
1. Comfortability: The extra-long seating provides room for stretching out and lounging, perfect for nights in or watching TV.
2. Elegance: A chaise lounge has an inherently sophisticated appearance that helps upscale the aesthetic of a room.
3. Versatility: A couch with a chaise lounge can be multifunctional. It can serve as a lounging spot, a mini day bed, or even a reading nook.
4. Space enhancement: This piece is often perceived as bulky, but actually, it uses less space than a traditional couch and separate ottoman.
5. Flexibility: Depending on the design, chaise lounges can either be stationary or movable. This allows the user to rearrange the furniture layout to refresh the room's look.
6. Statement Piece: The marriage of a conventional couch and a chaise creates a unique shape that can serve as a focal point in your living room design.
Remember, it's not just about the look of the couch, but also the texture. Opt for a material like velvet or linen for an upgraded feel. Don't shy away from adding contrasting colorful accents or throw pillows to create visual appeal.
Vintage Tufted Sage Green Couch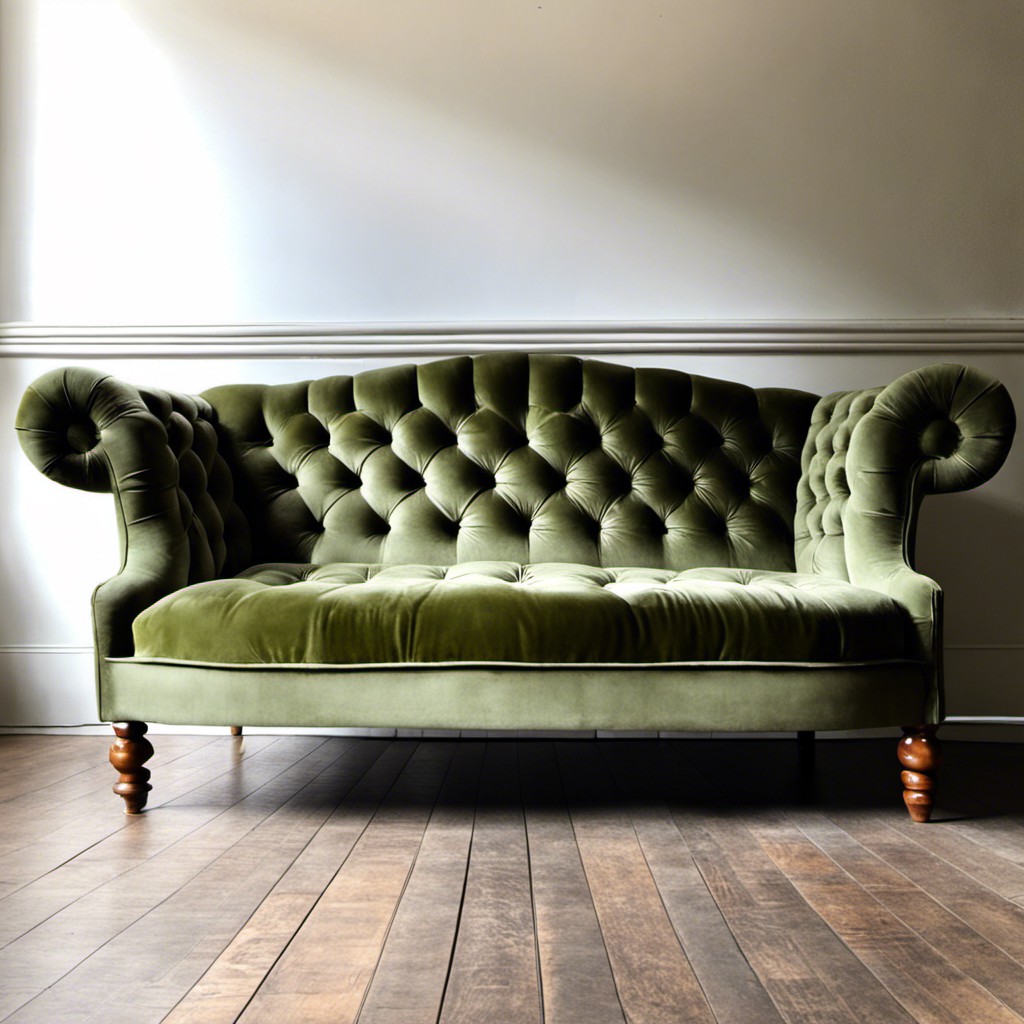 Crafted with a nod to the past, this piece is more than just a seat; it's a statement. With its tufted detailing and rich sage green upholstery, it exudes an old-world charm that can turn any space into a sophisticated sanctuary.
Here are some key characteristics:
1. Tufting: This particularly unique feature is what set these type of furniture apart. Plenty of tiny, evenly spaced buttons create a dimpled effect, enhancing comfort as well as aesthetic appeal.
2. Color: Sage green adds a calming, serene atmosphere to any room. Pair it with neutral colors for a chic look, or make it pop with contrasting bright hues.
3. Versatility: Despite its vintage appeal, this couch can easily nestle into mid-century, bohemian or even modern interiors, adding an air of luxury and class.
4. Durability: Don't underestimate the practicality of this vintage find. Made with high-quality materials, it's not just about looks – it also withstands wear and tear.
5. Comfort: With deep, plush cushions, it's a perfect spot for lounging after a long day or entertaining guests over a cup of coffee.
Incorporating a vintage sage green couch into your decor ensures an inviting space with a timeless elegance.
Reversible Sage Green Sectional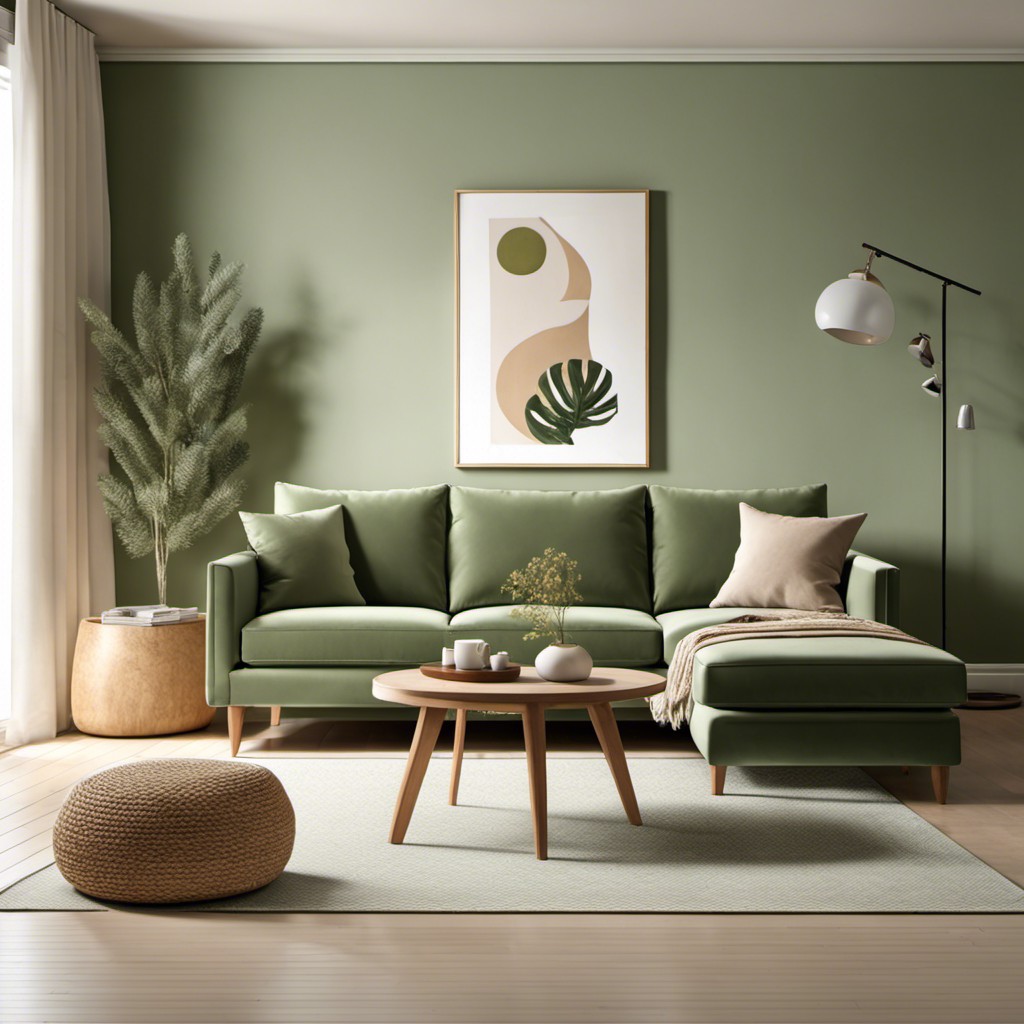 Offering both practicality and style, these sectional couches are designed to impress. Tailored in sumptuous sage green, they can be customized to fit any room layout, thanks to their reversible feature. You can easily switch the chaise from the right to the left, or vice versa, to accommodate different living room structures.
Comfort is another undeniable advantage, as these couches often have plush cushions and wide seating. Add some throw pillows or a soft throw blanket for extra coziness.
Durability is also a factor to consider; these sectionals are typically constructed with a sturdy wooden frame and wrapped in resilient fabric. Meaning, they can stand up to daily use. Also, since sage green is a versatile and forgiving color, it can hide minor stains or blemishes well.
For those thinking of space-optimization, many models come with built-in storage options- a discreet space under the seats to store essential items, making it perfect for small homes.
Finally, the soothing shade of sage green creates a tranquil aesthetic which is in sync with modern trends, making these sectionals an excellent choice for those wishing to bring a sense of tranquility to their living spaces. A few additional accessories in neutral tones can further enhance the look.
Custom-made Sage Green Leather Couch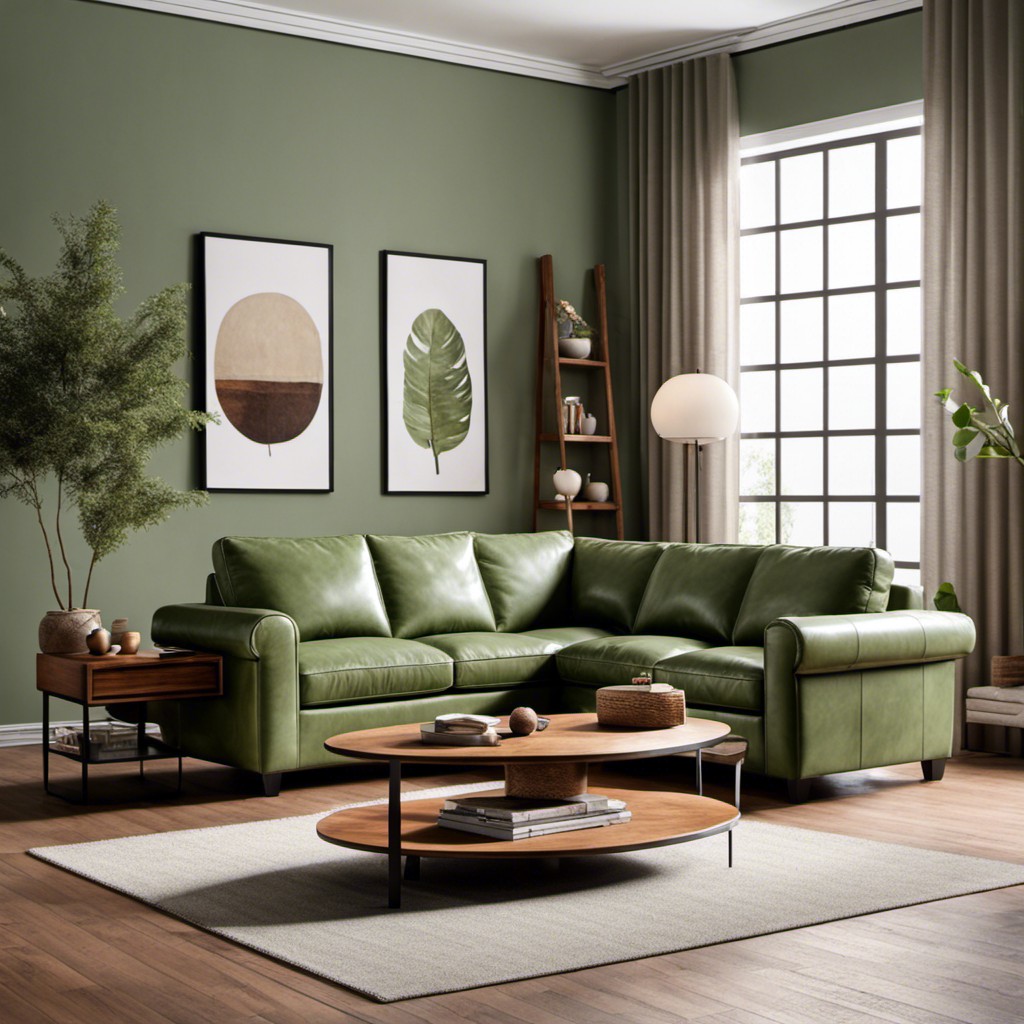 Delving into the bespoke realm, a custom-made leather couch in this subtle color offers a unique blend of sophistication and quiet charm. Not only does this option provide matchless elegance, the detailed craftsmanship enhances any living space it is placed in.
1. Distinctive Aesthetics: Personalize your home with a one-of-a-kind piece, its luxurious leather adding an inviting warmth to the room.
2. Quality and Durability: Leather couches are known for their resilience, ensuring longevity. A sage green hue enhances its appeal by minimizing visible wear over time.
3. Style Integration: Whether your space resonates with a modern minimalist vibe, a rustic touch, or a traditional aura, a sage green leather couch is versatile enough to complement any style.
4. Comfort: The superior comfort that comes with a leather couch is indisputable. It adapts to temperatures, warm in winter and cool in summer, for year-round coziness.
5. Value: While custom-made leather items entail higher initial costs, they prove to be cost-effective over time, especially when considering their extended lifespan and timeless appeal.
Remember, the key to an appealing custom-made sage green leather couch is in ensuring it fits perfectly in your space – consider the size and layout before placing your order.
Sage Green Futon With Built-in Cup Holders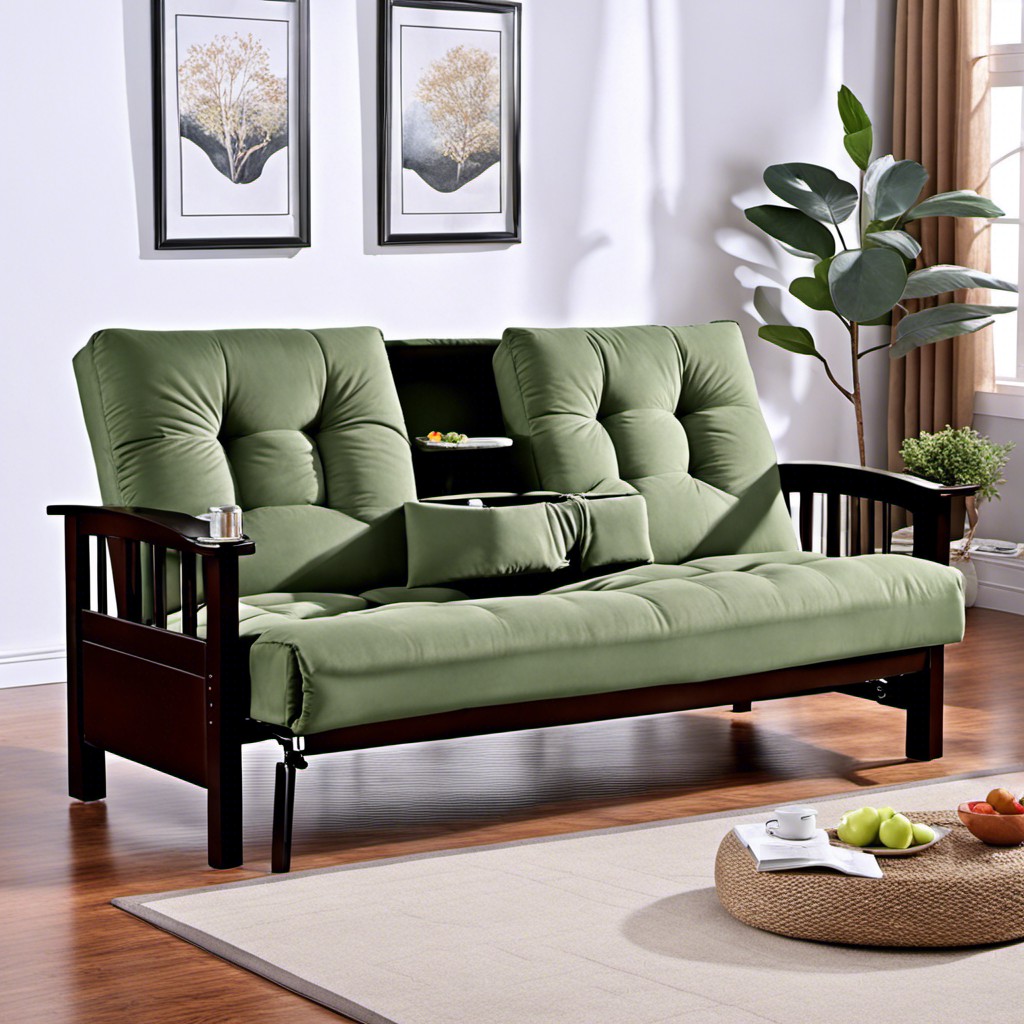 This striking piece works well for small spaces and multi-functional rooms, perfectly doubling as both lounge seating and a cozy sleeping spot. Its sleek, modern design comes with built-in cup holders that effortlessly merge functionality with style. This detail allows for convenience, especially during movie nights or casual get-togethers.
The sage green shade not only exudes calm and tranquillity but also adds a fresh touch to the space. Blending this sofa with neutral or earth tones can create a harmonious look, while pairing it with vibrant colors can provide an unexpected pop. Easy-to-care fabric makes it a practical choice, ensuring longevity.
Additionally, the futon design brings a hint of Japanese minimalism to the scene, appealing to fans of simple, clutter-free spaces.
Sage Green Rattan Outdoor Sofa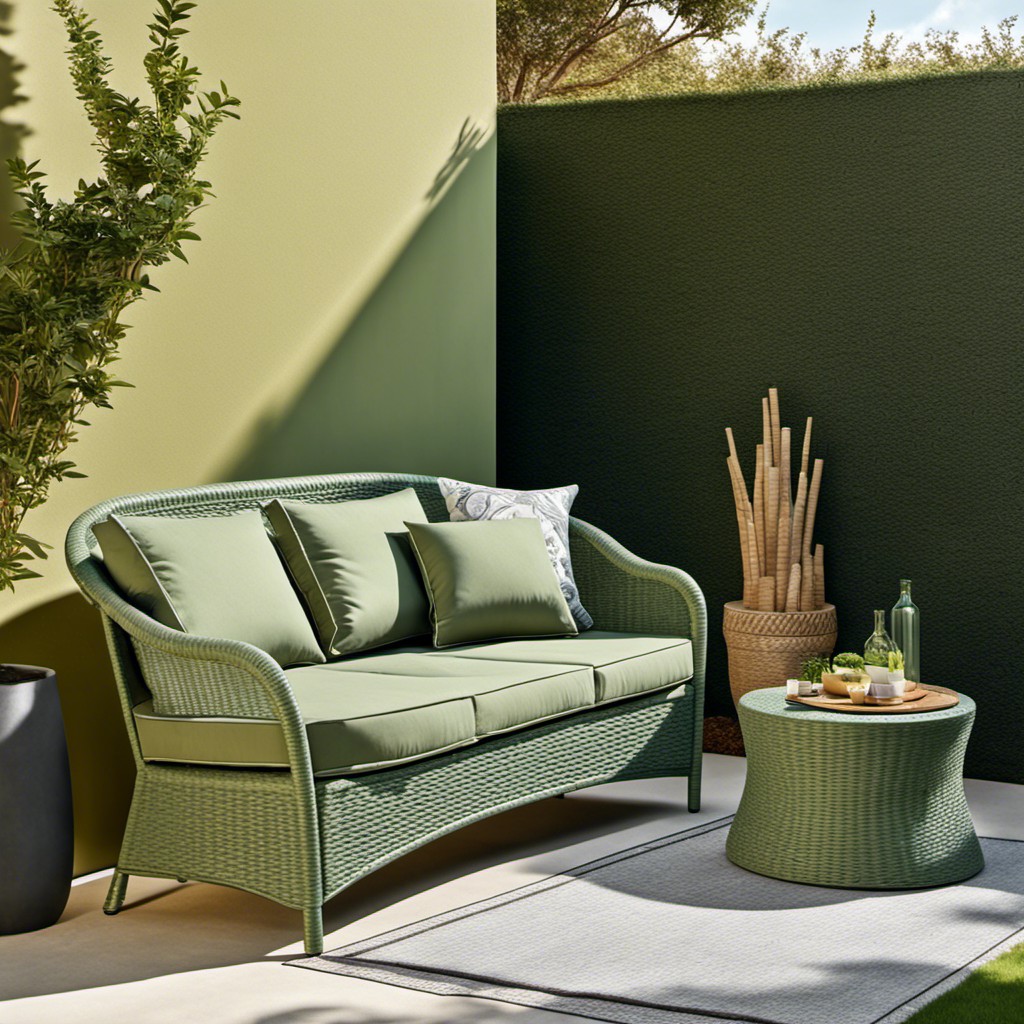 This rattan sofa brings a unique combination of the soothing sage green hue and the natural rattan material, which altogether breathes life into any outdoor space. The resilience and weather-resistant features of rattan make it an exemplary choice for outdoor features.
When adorned with white or cream cushions, this sage green sofa reflects a calm and tranquil aura, bringing that cozy beach vibe to your backyard. Not to overlook the rattan's diverse patterns that create an interesting texture, intertwining with the serene sage green to add a depth of character to your outdoor aesthetics.
The beauty of this option lies in its versatility. Whether you're planning a sunny tropical theme or a minimalistic Zen-inspired setup, a sage green rattan outdoor sofa can seamlessly blend in, adding to the overall visual harmony.
Moreover, some rattan sofas come with detachable and machine-washable cushion covers. This adds to the practicality and effortless maintenance, elevating this piece from just being a beautiful addition to a functional, value-for-money investment in your relaxation.
Convertible Sleeper Sofa in Sage Green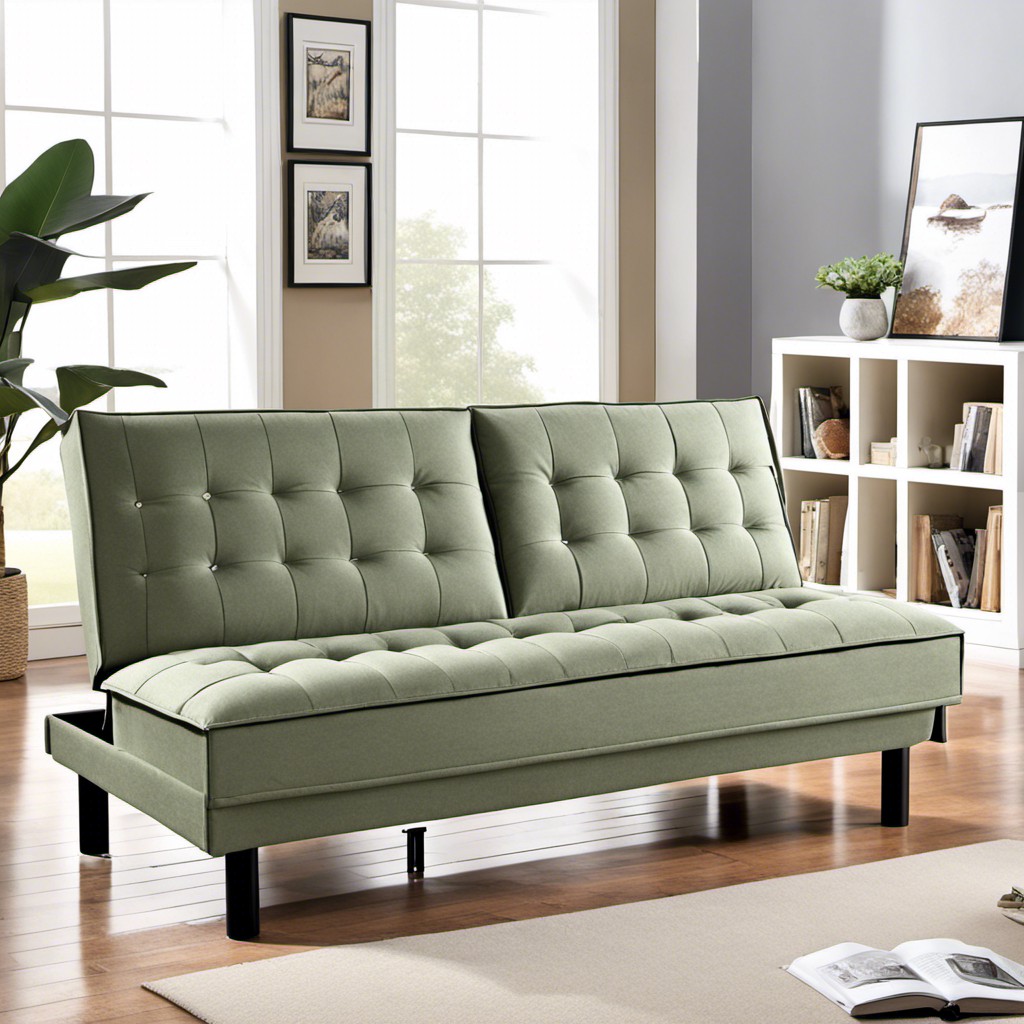 Perfect for homes where guests frequently stay over, this couch offers the advantage of being utilitarian while still adding a stylish statement. Here are a few key features to consider:
Versatility: By day, it's a comfy sofa. By night, it becomes a comfortable bed. A sage green sleeper sofa can seamlessly transition between the two roles, saving you space and offering functionality.
Design: The calm, earthy tone of sage green is known for its tranquil qualities, bringing a sense of relaxation to living spaces. It can easily tie in with existing decor as it complements both bold and neutral palettes.
Material: The upholstered fabric of the sofa can contribute to its durability and ease of maintenance. Choosing a stain-resistant material can ensure your sage green convertible sleeper sofa maintains its attractive appearance over time.
Convenience: Some models come with built-in storage, allowing you to stow away beddings and other small items. This offers added practicality, particularly in smaller homes or apartments.
Remember, functionality doesn't mean you have to compromise on style. A sage green convertible sleeper sofa provides both in abundance.
Sage Green Couch With Hidden Storage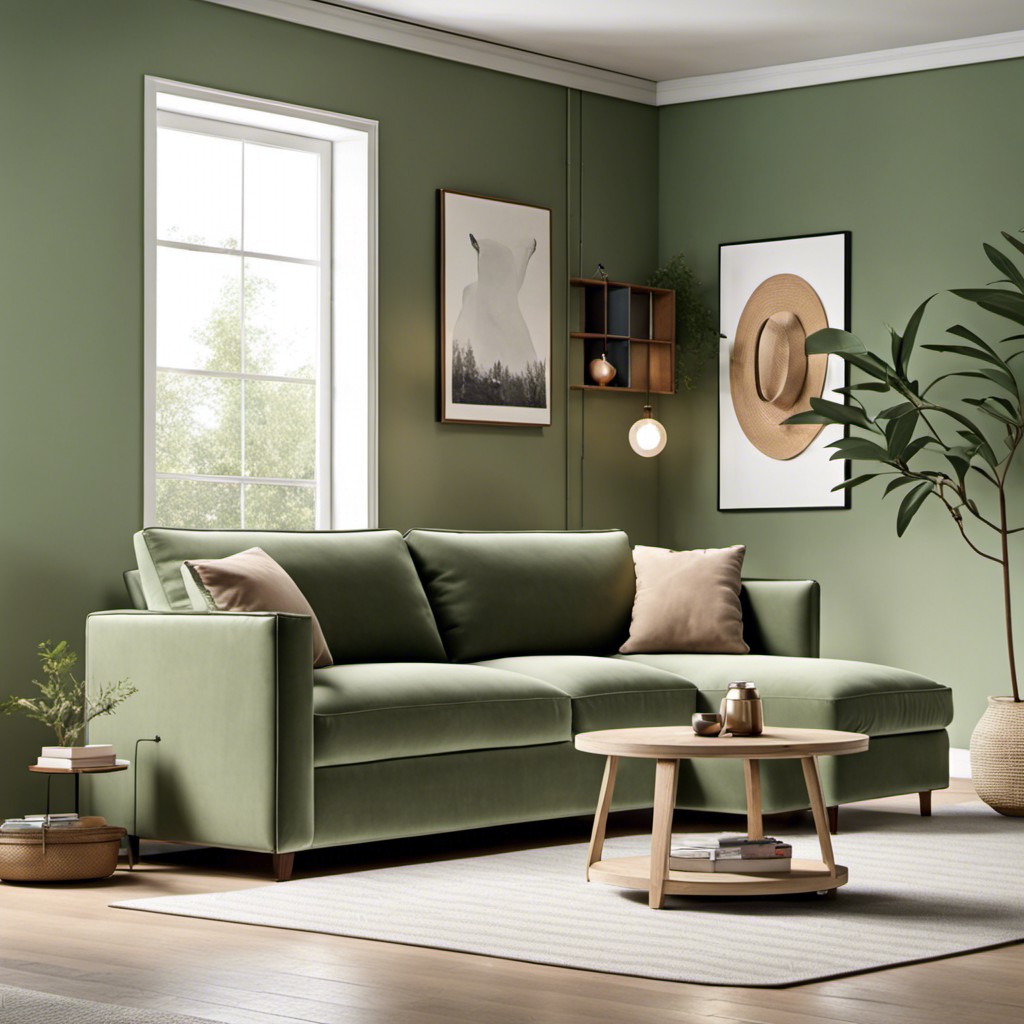 A must-have for multi-functional modern living spaces, this style lets you maximize spatial economy without sacrificing comfort. Its appeal lies not only in its visually captivating hue but also in the smart design eyeing practicality.
The basic concept here is innovation, ingeniously integrating storage compartments into the couch's design. These hidden spaces belie their size, being capable of storing an impressive amount of items, ranging from pillows and throws, to books, gaming consoles, and even some smaller exercise equipment.
This practicality is paired with the elegance of sage green, a color that introduces warmth and serenity into any room. Whether it's microfiber, linen, velvet, or leather, the fabric options are versatile to allow matching with different types of decor themes from rustic to modern.
Such couches serve as a focal point in the space that not only piques the interest of guests but also provides a clever solution to clutter, helping to maintain a neat and orderly environment. Additionally, the youthful, refreshing energy of sage green also adds a beautiful pop of color to the space, creating a harmonious balance between utility and aesthetics.
Sage Green Reclining Sofa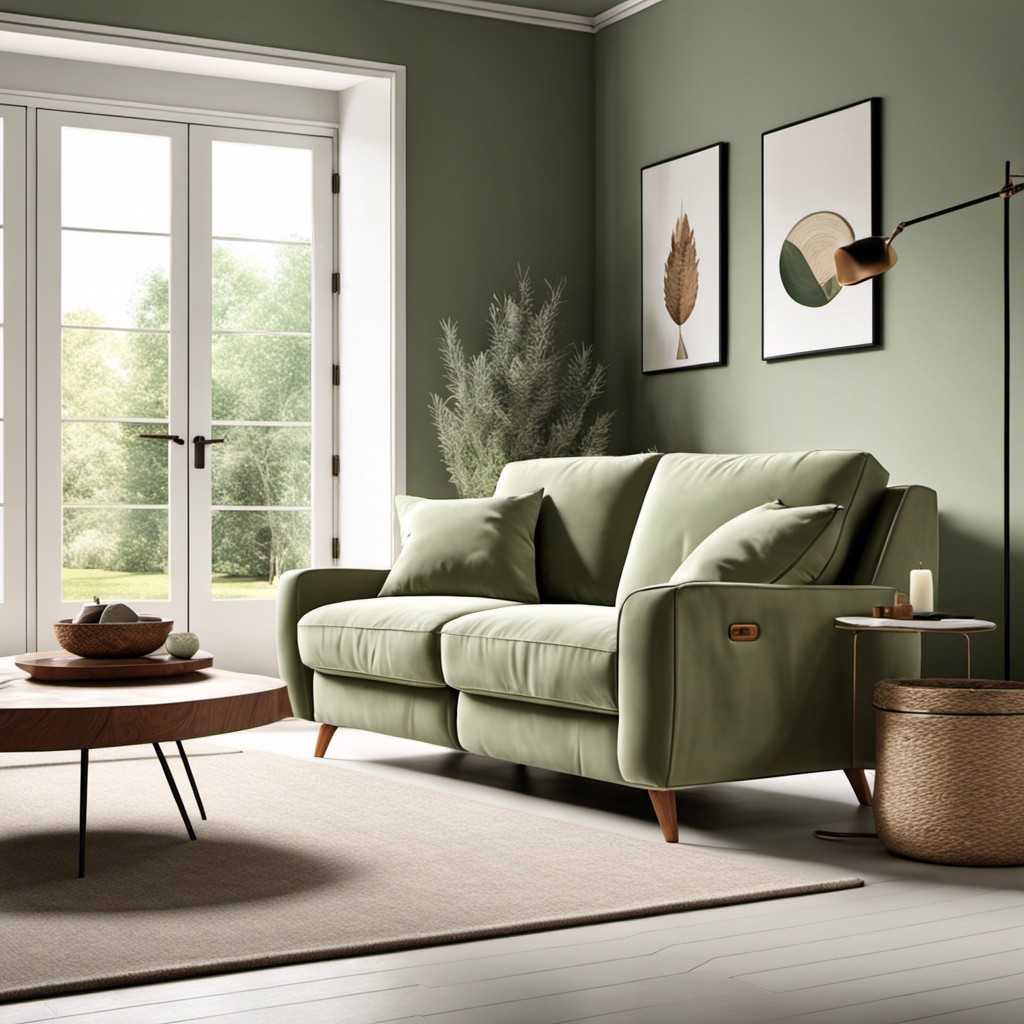 Offering an unbeatable mix of form and function, reclining sofas in sage green can serve as an ideal centerpiece in a living room. This color brings a calming, tranquil presence which pairs well with the comfort of a reclining function.
1. Dual Function: The primary appeal lies in its dual function. Users enjoy the standard seating experience, while also having the option to recline for added comfort. Ideal for movie nights or afternoon naps!
2. Versatile Aesthetic: The sage green color of the sofa adds to its versatility. It complements rustic, contemporary, and classic home décor styles alike, acting as a subtle, yet effective, splash of color.
3. Easy Care: Recliners are typically easy to clean, while the sage green color naturally masks minor stains and wear. This combination makes it perfect for homes with children or pets.
4. Size Variety: These sofas come in different sizes, from single recliners to three-seater options, making it easy to choose based on the size of the room.
5. Accessories: Complement the sage green reclining sofa with neutral or earthy toned cushions and throws, and you have a cozy setup that invites relaxation.
Sage Green Sleeper Sectional Couch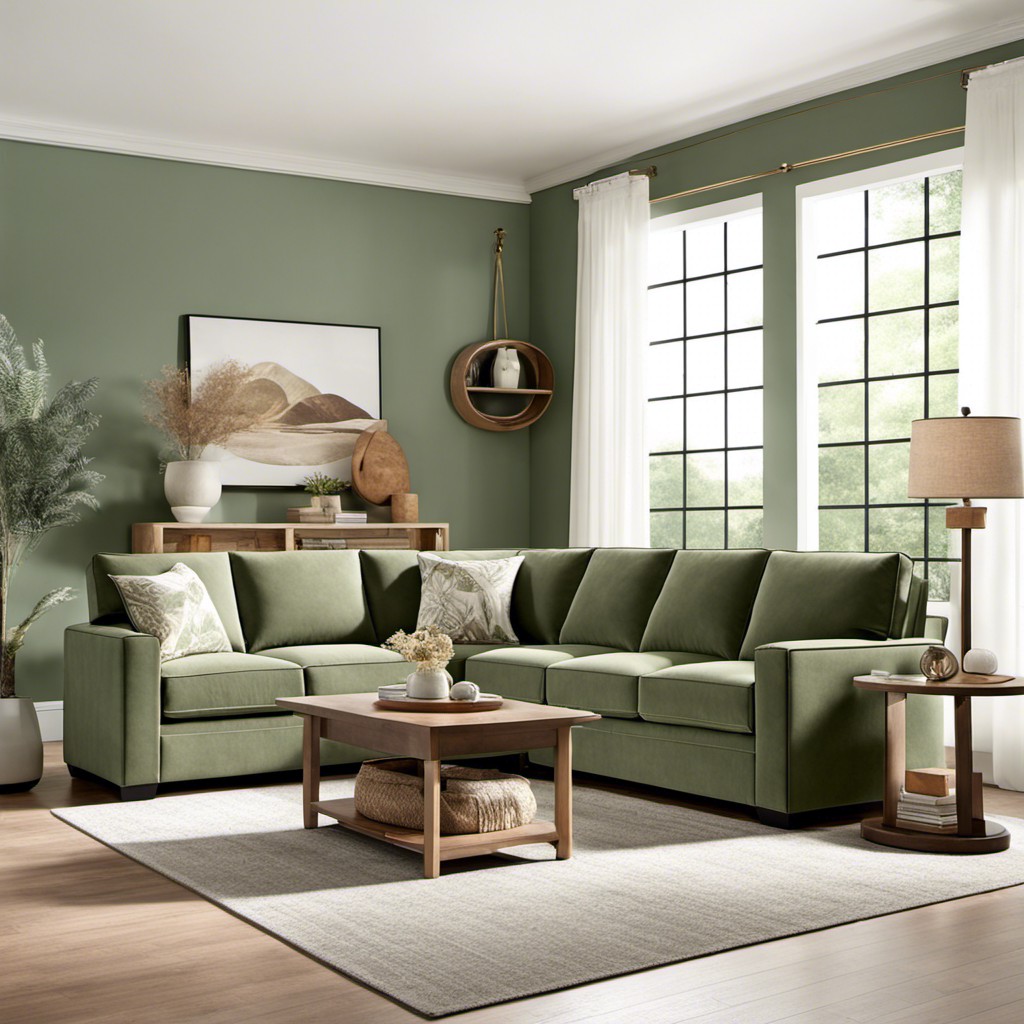 A sleeper sectional in soothing sage green offers dual functionality without compromising style. Ideal for overnight guests, it transforms seamlessly from a luxurious seating area into a comfortable bed. The hue itself exudes tranquility and balance—suitable for any contemporary living space.
Accents like throw-pillows or a throw blanket in contrasting colors such as deep blues or earthy browns can complement the overall aesthetic, while varied textures lend layered depth. Opt for upholstery resistant to wear for longevity or indulge in the opulence of plush velvet for a touch of extravagance.
Lighting plays a significant role as well. Soft, ambient light can accentuate the calming effect of sage green. Meanwhile, the strategic placement of brighter task lights can highlight the couch's features. Consider these factors when integrating a sage green sleeper sectional into your decor scheme.
Beaded Sage Green Couch in Moroccan Style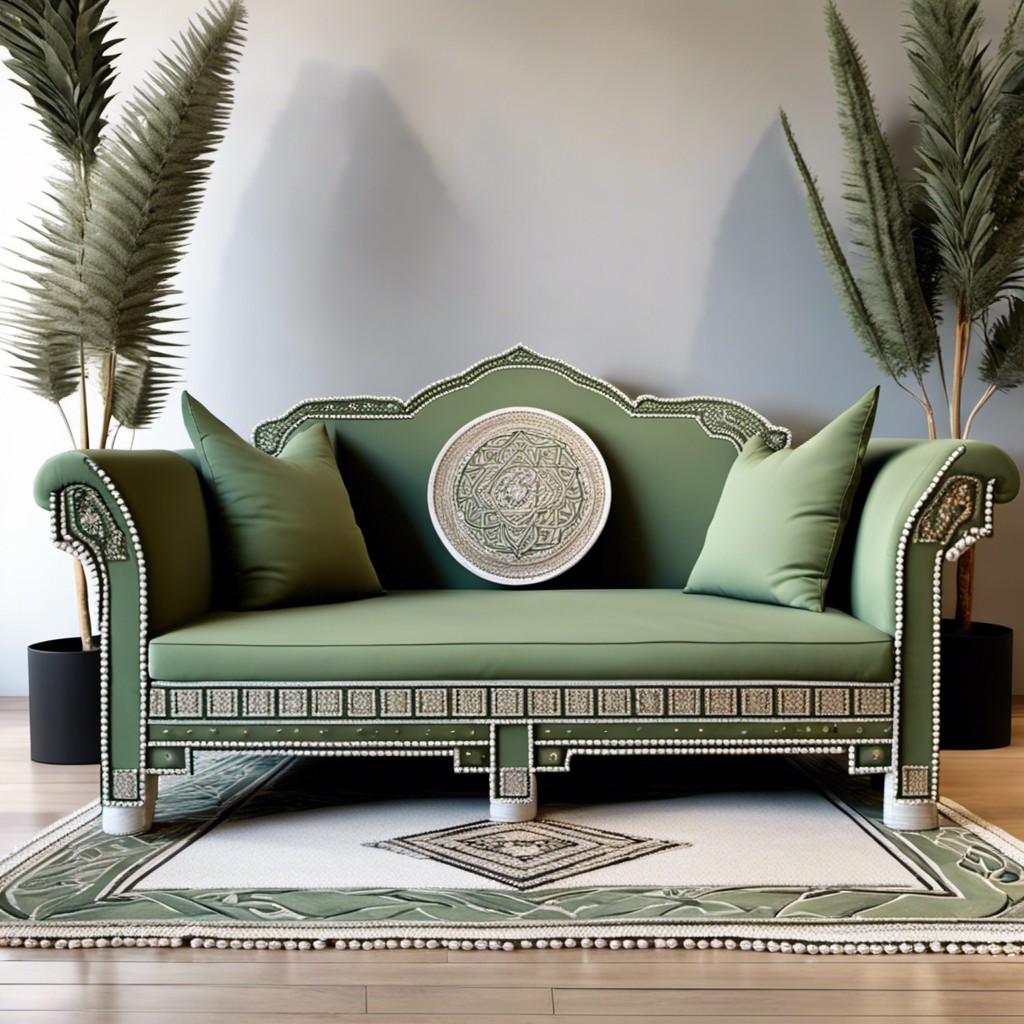 Influenced by rich culture and tradition, this particular variety evokes a sense of old-world charm. Intricately beaded designs, characteristically Moroccan, enhance its allure.
Its carefully curated color palette complements the sage green backdrop beautifully.
Choosing this couch invites a vibrant cultural splash into your living space. It's the embodiment of Moroccan artistry where aesthetics and comfort coexist harmoniously.
Consider surrounding it with neutral or earth-toned furniture to let it shine as a statement piece. Soft, cozy textiles such as wool or silk rugs can supplement the space with an extra layer of comfort.
To maintain the integrity of the couch, avoid excessive sunlight, and clean with a gentle vacuum or soft cloth.
Sage Green Couch With Matching Ottoman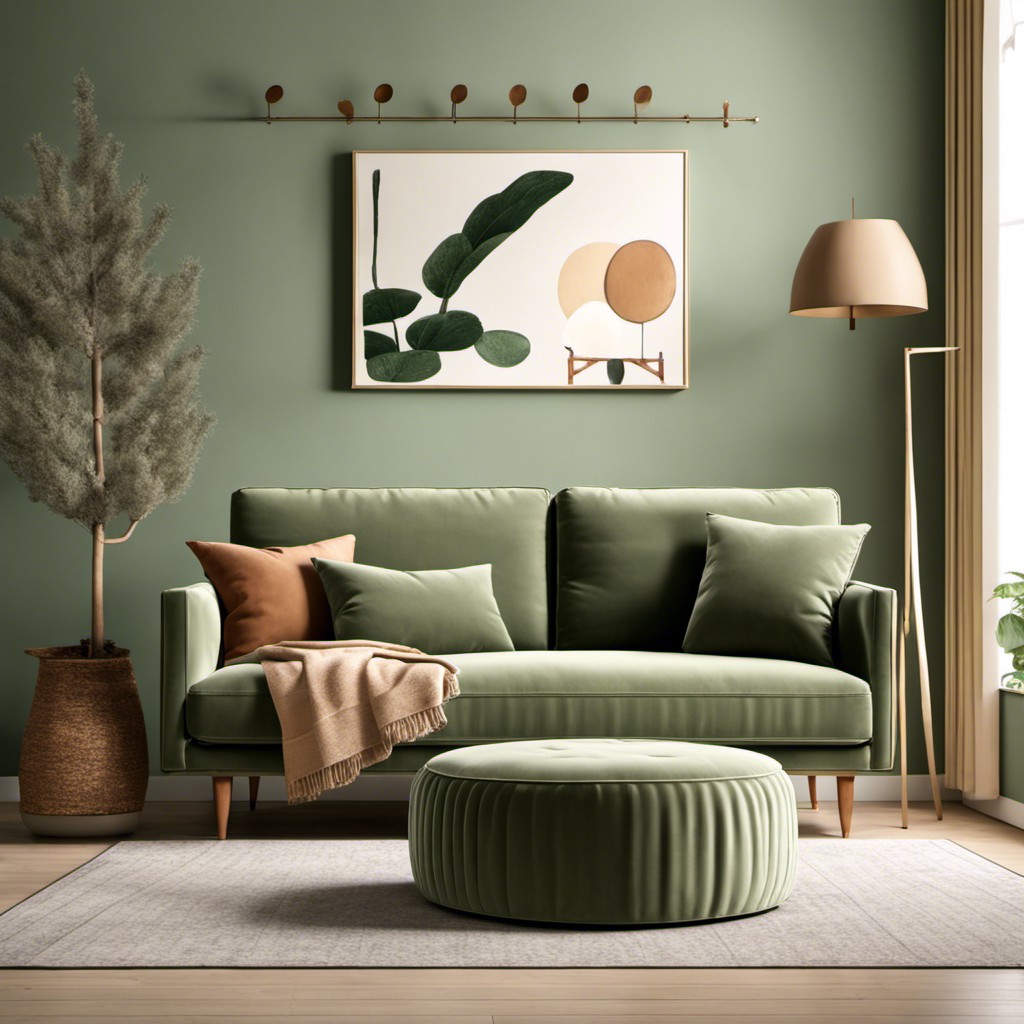 A matching ottoman significantly enhances the appeal of your sage green sofa. It forms a cohesive look elevating the aesthetic appeal of the room. Practical and stylish, use it as a footrest or additional seating when the need arises. Moreover, its uniform colors with the surround makes it a seamless part of the ambiance, fostering relaxation and peace.
Some ways to incorporate it into your design include:
Combining with a similar color area rug to establish a defined space.
Incorporating patterned cushions that feature sage green color to create visual interest.
Positioning it adjacent to the couch, transforming it into a chaise lounge.
Adding a tray on the ottoman to convert it into a coffee table.
Introducing artwork or curtains in the space that include sage green to heighten the visual continuity.
Remember, the goal is to create a balanced, harmonious space using the sage green couch and matching ottoman as the focal point.
Retro Sage Green Couch With Wooden Legs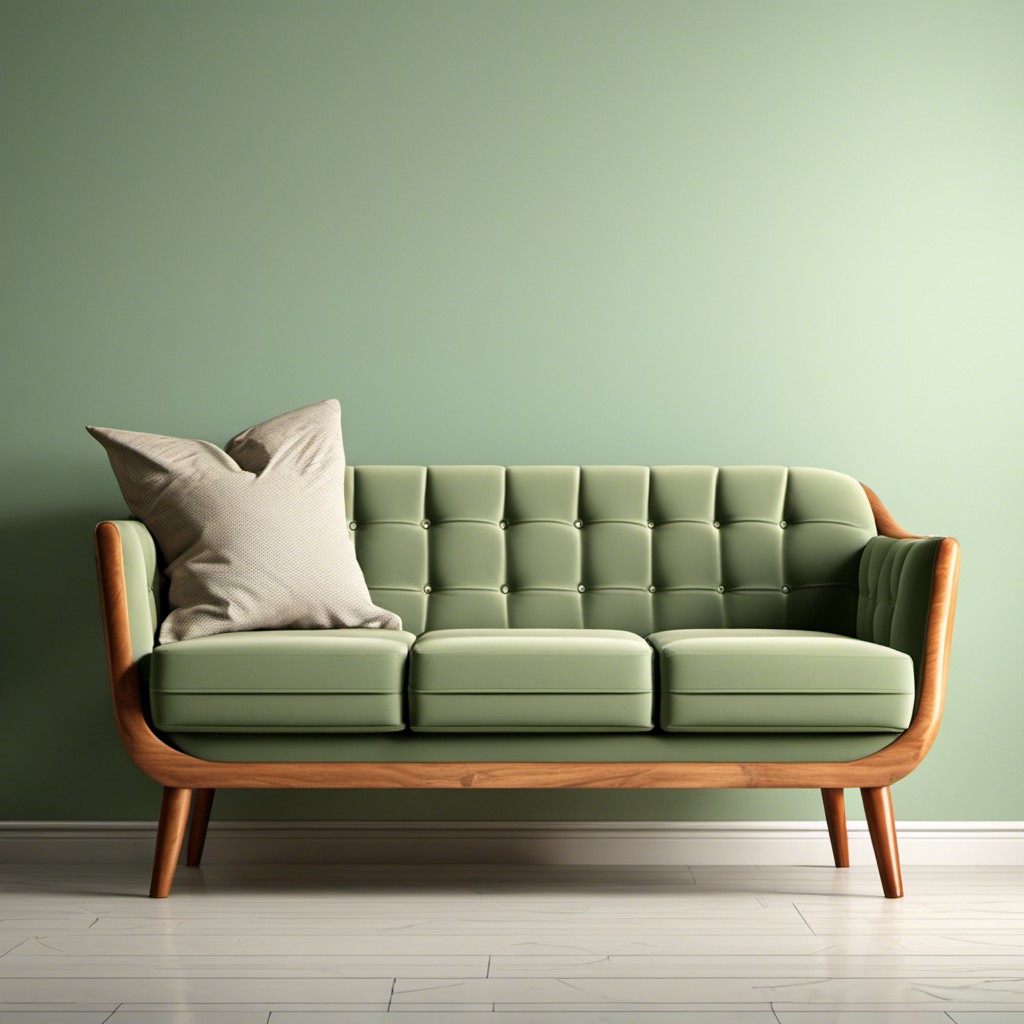 A retro twist pairs perfectly with the comforting hue of a sage green couch. Wooden legs lend a classic touch while mimicking the natural element present in this shade. They create an interesting contrast against the soft fabric, adding depth to the overall design.
The silhouette should recall the '50s or '60s to keep the retro vibe alive; think bold, slightly angular shapes. Vintage-inspired accessories like record players or macrame wall hangings can accentuate this style.
For a more lux appeal, opt for deep-toned wooden legs, while lighter tones will resonate with more rural or coastal themes. This sofa type merges the old and new, making it ideal for dwellers inclined towards eccentric interiors.
Scalloped Edge Sage Green Couch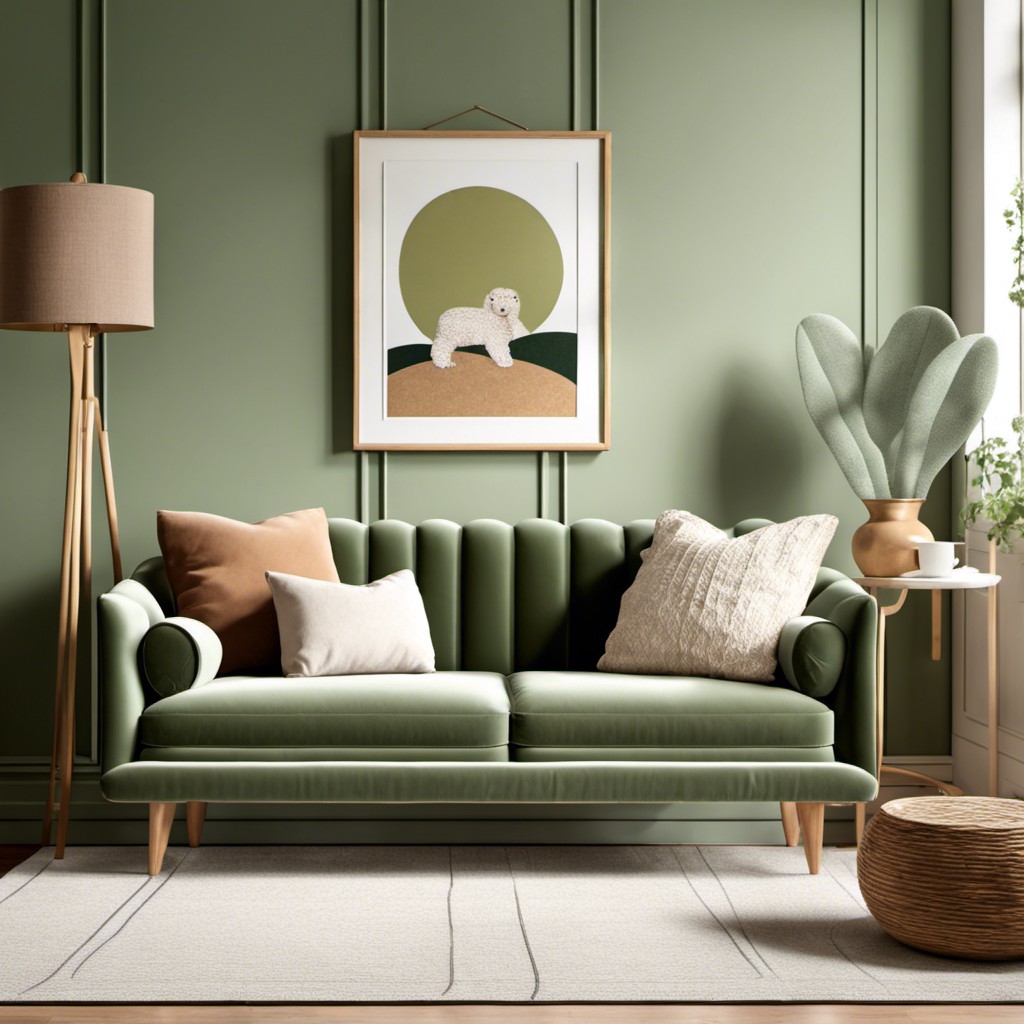 Exuding an old-world charm, this option creates a focal point with its distinctive design. The unique curved lines offer a sense of softness, adding to the inviting allure of the couch. The green shade complements the scalloped edge, reinforcing the piece's elegance. It's more than just a statement piece; it's a functional addition to any living space.
Key aspects to consider:
Material: Opt for a soft and plush fabric to enhance the luxurious feel.
Room style: It's best suited for a chic or vintage-inspired ambiance.
Accent Pieces: Gold or brass accent pieces such as coffee tables or lamps enhance its appeal.
Pillows: Stick with subtle hues for accent pillows to allow the couch to stand out.
Lighting: Soft lightings such as a chandelier or a table lamp would add a dramatic flair to its look.
For a harmonious interior, ensure the hues around the couch complement the sage green, not overpower it. Try the consistent use of pastel or nature-inspired colors to complement its aesthetic.
Sage Green Couch With White Throw Pillows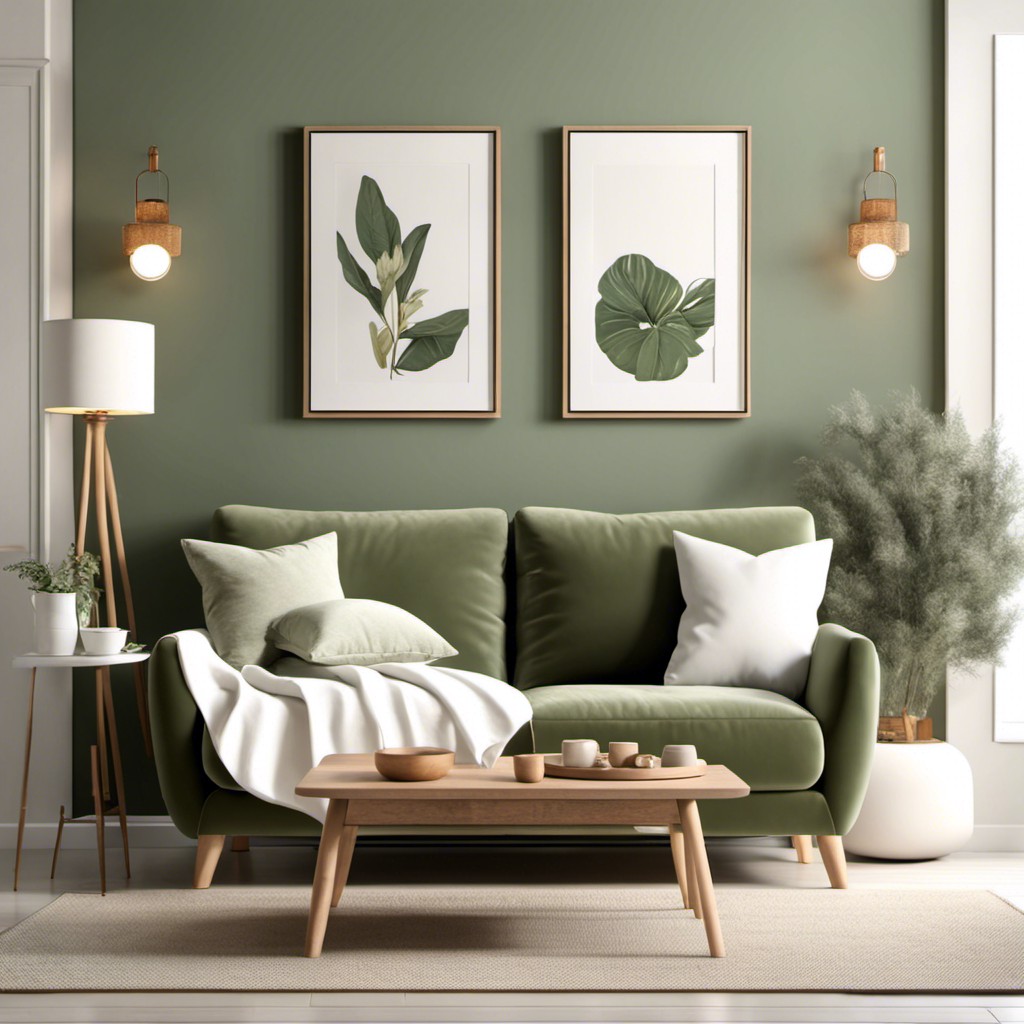 Pairing this piece of furniture with white throw pillows is a charming idea that enhances its overall look. Here are some points to consider:
1. Enhances Contrast: The white pillows serve as a neutral base, highlighting the calm and earthy tones of the couch.
2. Creates Balance: It's not just about aesthetics, but also balance. The simplicity of white offsets the richness of sage green, thereby creating a harmonious blend.
3. Versatility: White is notoriously versatile. Regardless of your room's current color palette, these throw pillows will complement it seamlessly.
4. Easy Maintenance: White pillow covers can be easily washed, and staining issues can be solved with bleach-friendly materials.
5. Opens Up Space: Light-colored accessories on a darker furniture piece can make a room appear larger and brighter.
Continue reading: