Last updated on December 5, 2023
Explore the versatility of a sage color sofa in your living space because its calming nature provides endless opportunities for inventive styling ideas.
These are my unique design concepts made using design tools. I hope you find them inspiring!
The allure of the sage color sofa is undeniable. Loved by many, it's a trend that incredibly blends with various decors.
Indeed, the internet is teeming with heaps of known ideas on using this timelessly appealing hue. While a selection of these excellent resources will be provided to you at the end, the essence of this article is to shed a new light, casting a different yet equally captivating perspective on this topic.
Brace yourself for a swathe of fresh, unheard-of ideas that will revolutionize your notion of the sage color sofa. The aim is to inspire, and to elevate your decor aesthetics to soaring heights, making your living spaces artwork showcases that resonate with your personality.
Let's embark on this exciting journey of unearthing these sage sofa color ideas.
What's Inside
Unconventional Sage Sofa: Boho Chic Decor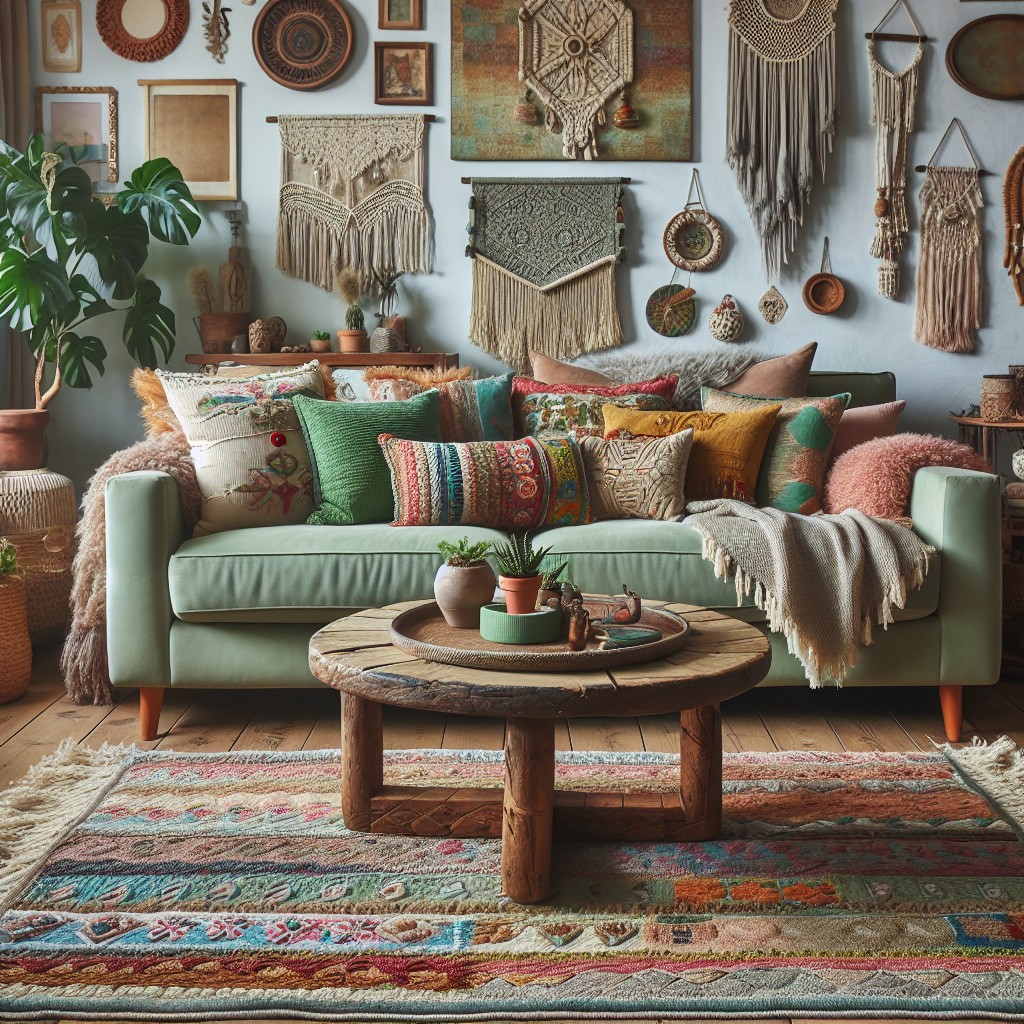 A Boho-Chic decor creates an eclectic yet cozy ambiance by mixing new and old elements. Key to achieving this style is embracing bold, off-beat design choices while maintaining a harmonious arrangement.
A sage green sofa can integrate seamlessly within this decor style, offering an organic pop of color that doesn't overpower the space. The calming, earthy hue of sage pairs well with a range of bohemian elements such as Persian or southwestern area rugs, macrame wall hangings, woven wicker baskets, and eclectic throw pillows.
To keep the overall design balanced, ensure other furniture or large decor pieces do not compete with the sage sofa. Stick to neutral hues like cream or beige for these items. For a visual uplift, add houseplants near the sofa which will complement the green tones and uplift the bohemian vibe. A coffee table, preferably wooden, featuring intricate, ethnic carvings would accentuate the boho feel.
Remember, the beauty of boho-chic decor lies in its imperfections. So don't be afraid to experiment and let your personality shine.
Mid-century Modern Room With Sage Green Couch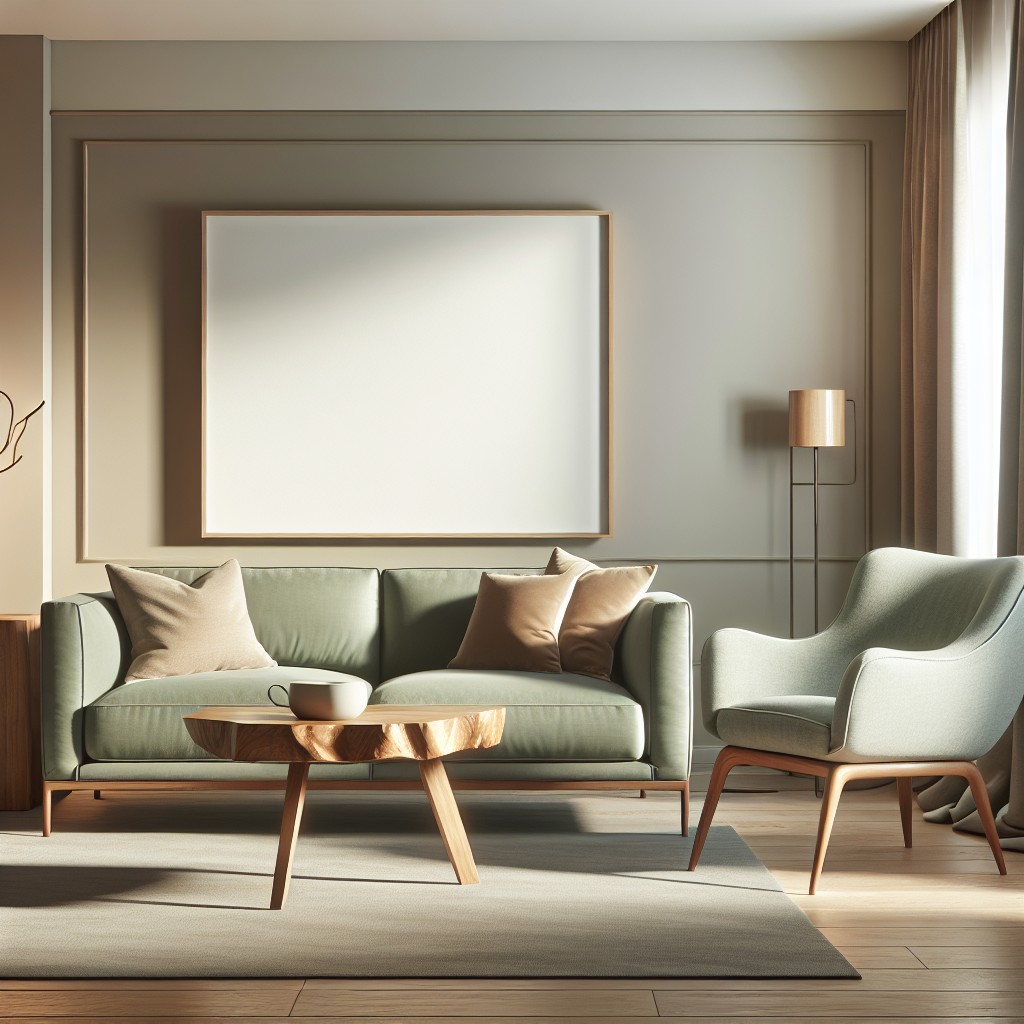 Incorporating a sage green couch in your mid-century modern room can create a harmonious blend of retro and contemporary. The subtle hue of sage counterbalances the strong, geometric lines of mid-century modern furniture, implementing a calming effect.
To create this aesthetic, adhere to these pointers:
Pair the couch with an iconic mid-century piece like an Eames lounge chair or a Noguchi coffee table for maximum impact.
Use textures to create contrast. A shag rug or a sleek wood console table can bring additional visual interest.
Opt for throw pillows in either geometric or abstract patterns to keep the period representation accurate.
Use statement lighting fixtures. Mid-century modern is known for its unique light designs.
Keep walls and floors in neutral tones to let the sage green couch become your room's showstopper.
Remember to keep the color palette earthy and muted, embracing the room's understated sophistication. With simple, streamlined furniture surrounding your sage couch, you'll effortlessly achieve a dynamic mid-century modern room.
Pairing Sage Green Sofa With Metallic Accents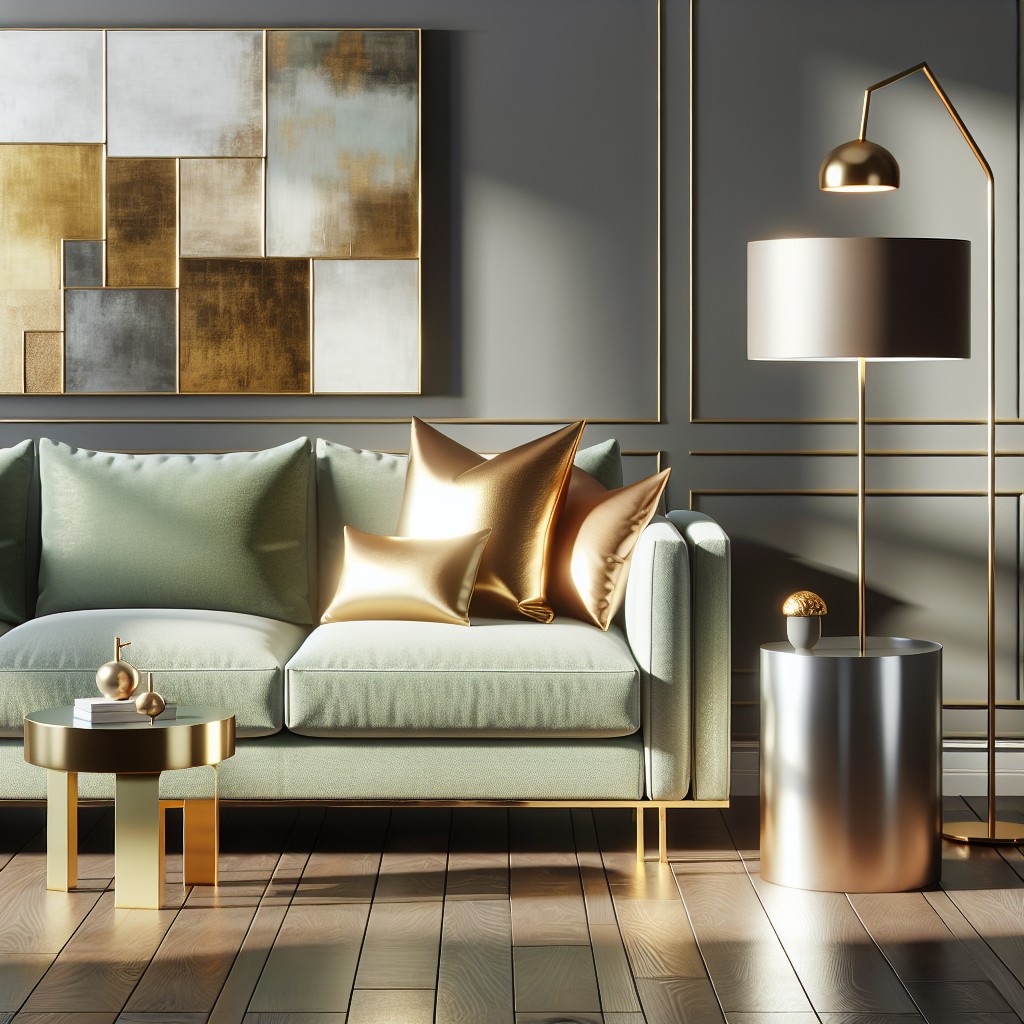 To start adding a glamorous touch, consider combining silver accessories. Silver mirrors, light fixtures, or picture frames reflect light and add a shimmering contrast to the subdued tone of the sage sofa, amplifying its soft charm. Remember to scatter silver accessories throughout the room for a cohesive look.
On the other hand, if you're drawn to warmer tones, gold and brass accents are perfect companions for sage green. A brass coffee table, golden throw pillows, or brass lighting fixtures can introduce a sense of elegance and luxury. These metallic accents not only illuminate the sage couch but also evoke a refined atmosphere.
Mixing metals is not a decor faux pas; it's a chic trend. A blend of silver, brass, or copper can create a dynamic, visually interesting space that draws the eye without overpowering the calming influence of your sage sofa.
There's no need to shy away from mirrored or metal-clad furniture either. A mirrored side table or a metallic-finish television stand can lend a contemporary edge to your living space, identifying perfectly with your sage couch. These pieces won't detract from the sofa; instead, they'll echo its color and add to the room's overall flow. It's all about balance and harmony.
Sage Velvet Sofas for a Luxe Touch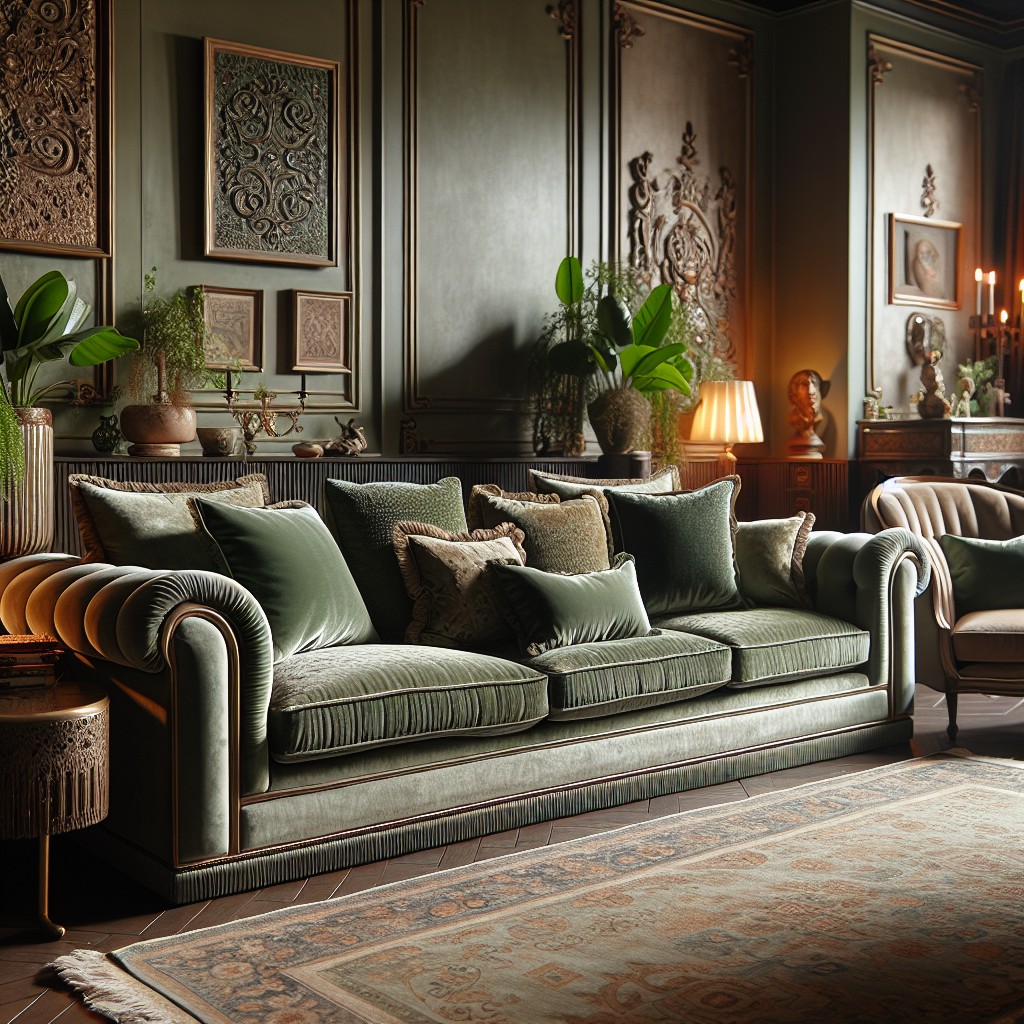 Velvet, the epitome of luxe, brings a rich texture when juxtaposed against the comforting hue of sage. The combination elevates any living space, making it plush yet soothing.
Here are some important factors to consider for achieving this:
Cushion Selection: Complement velvet sage with sleek silk or plush faux fur cushions. Cream, white, and muted gold work well as cushion colors against the sage velvet.
Rug Choices: Opt for shag rugs or Persian ones in muted tones to add an additional layer of luxury.
Accessorizing: Gold or brass accents in the form of side tables, coffee table frames, and lamps enhance the luxe feel. Incorporate mirrored surfaces for that extra glamorous touch.
Wall colors: Neutral walls create contrast, highlighting the opulence of the sage velvet sofa. Soft cream, taupe or pastel pinks would work well.
Curtaining: Keep it simple with sheer or semi-sheer curtains in neutral colors. This will ensure the emphasis remains on the sofa without making the room feel overwhelmed.
Consider these points and your sage velvet sofa can be the plush centerpiece of your living room.
Sage Green in French Country Style Living Room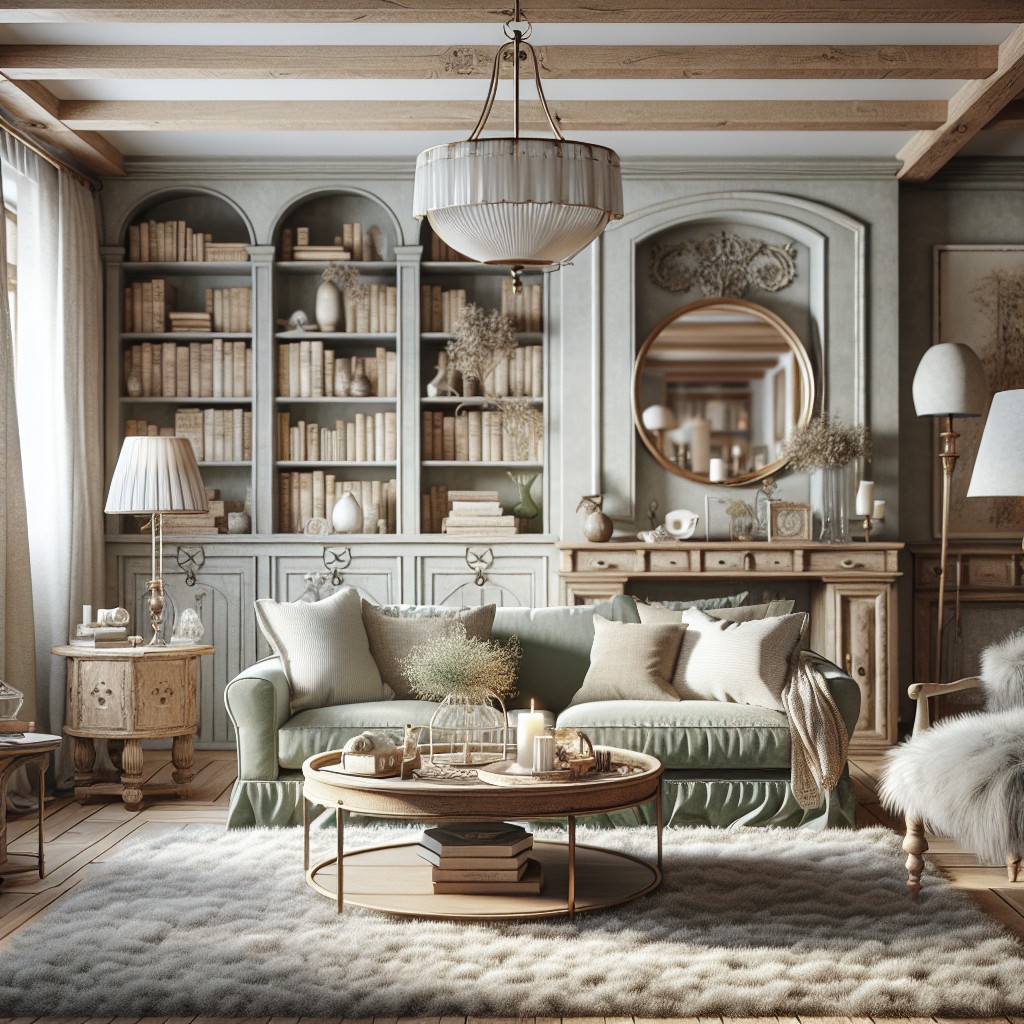 The relaxed atmosphere of a French country style living room provides the perfect backdrop for a sage green sofa. This style effortlessly combines elegant elements such as decorative moldings and oversized mirrors with a laid-back rustic charm. Hence, having a sage color couch associated with the freshness of nature complements it effectively.
Key Elements include:
Combine your sage sofa with antique wooden furniture, which naturally carry earthy undertones to echo with the green hue.
Add a touch of elegance with rich textured throw blankets and pillows utilizing shades of cream, gold, or lavender.
Install vintage canvas art pieces or a large rustic clock above your sage sofa to enhance the French country aesthetic.
Pair with patterned rugs and curtains featuring traditional patterns or floral prints, once again in earthy or pastel hues.
Illuminate the space with a chandelier or wrought iron light fixtures. A well-lit room will uplift the sage sofa, making it the standout feature of the room.
Balance the natural green of your sage sofa with generous use of indoor plants for a fully harmonized interior.
Consider introducing pottery or ceramics with a weathered, rustic finish in your decor to further create the feeling of a homey French country living room.
Sage Green Sofa With Vintage Accessories and Antiques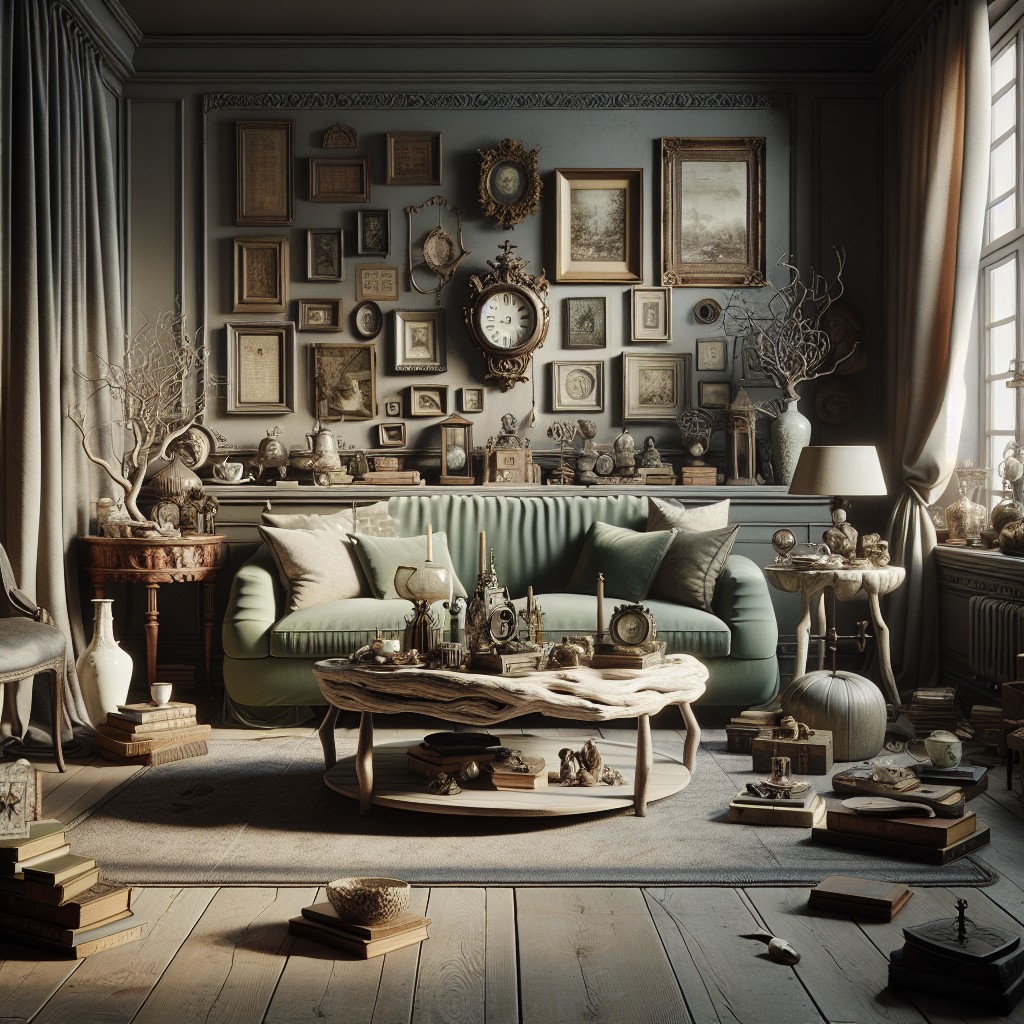 To evoke an air of nostalgia, it's beneficial to pair your sage green sofa with vintage accessories and antiques. Displaying heirlooms and treasured trinkets can infuse your space with a distinctive charm.
Here are some concepts to consider:
1. Dark Wood Elements: An antique mahogany coffee table or dark walnut side tables complement the soft tones of sage green.
2. Patterned Rugs: Vintage rugs in warm tones such as wine, mustard, or caramel can create an appealing contrast to the cool sage sofa.
3. Ornate Mirrors: Elaborate gold or bronze-framed mirrors lend an opulent feel while reflecting light into the room.
4. Vintage Throws and Pillows: Quilted throws or embroidered cushions offer a texture contrast and a touch of history.
5. Old-world Artwork: Choose classical, botanical, or still-life art to further highlight the vintage aesthetic.
6. Antique Lighting: Brass or copper lamps with intricate detailing accentuate the vintage theme.
Remember, make it personal. Vintage doesn't have to mean purely historical, it can reflect any era that is significant to you. Play around with various elements until you arrive at a vintage look you adore.
Sage Green Sofa in Minimalistic Interior Design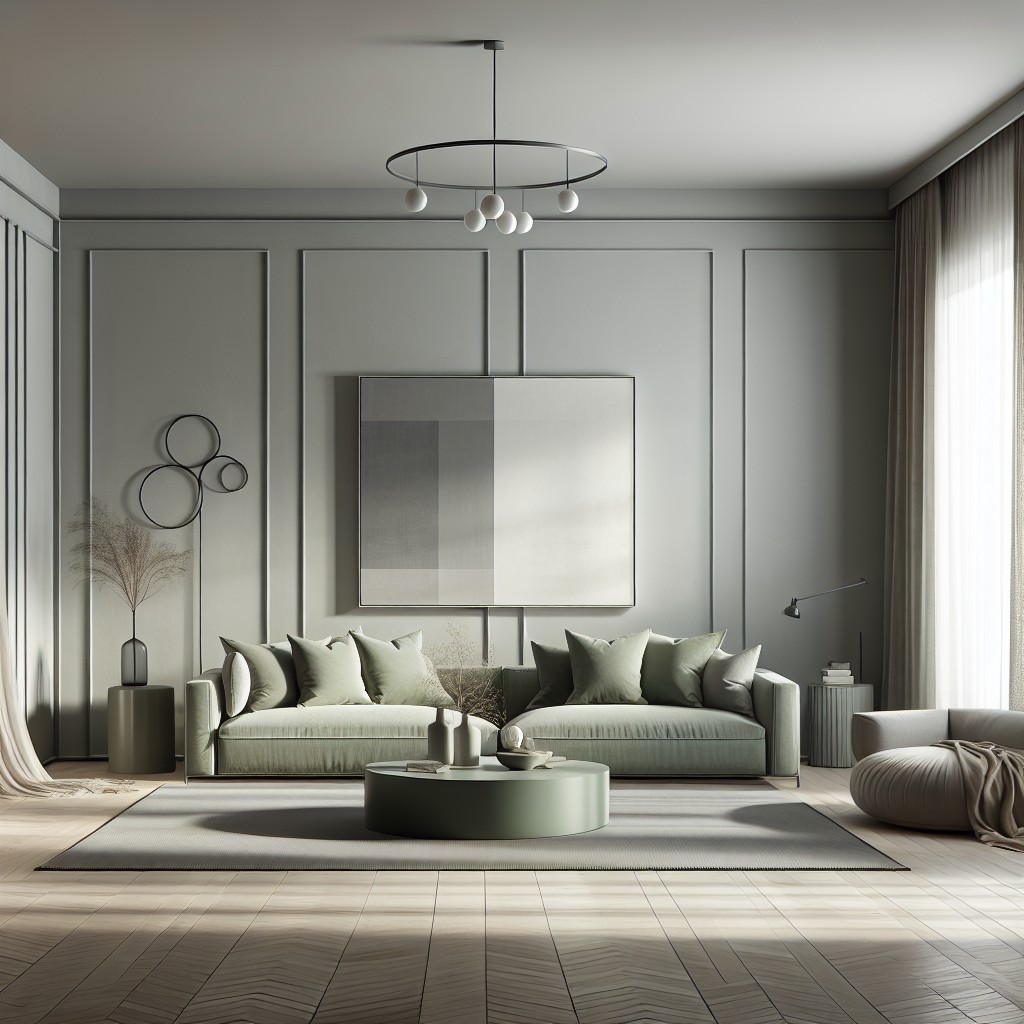 Maintaining the integrity of a minimal design approach is key when incorporating a sage green sofa. Its calming hue brings vitality without overpowering the space, complimenting minimalist principles well.
Here are five concepts to consider:
Anchor Your Room: A sage sofa acts as a neutral that holds the other minimal furniture together.
Balance with White: A subdued sage green pairs excellently with white or cream walls to promote an airy feel.
Natural Materials: Use materials like untreated wood, rattan, or stone in furniture and décor to create a cohesive connection between nature and the minimalist aesthetic.
Use of Negative Space: Let your sage sofa breathe by not crowding it with numerous accessories. This approach makes the area around the furniture part of the design itself.
Subtle Textures: Incorporate textures such as a woven throw or rug, which add depth without disturbing the minimalist pallet.
Remember less is more in a minimalist design. Your sage sofa is the star of the show, so allow it to shine.
Sage Green As an Accent Color in Black & White Rooms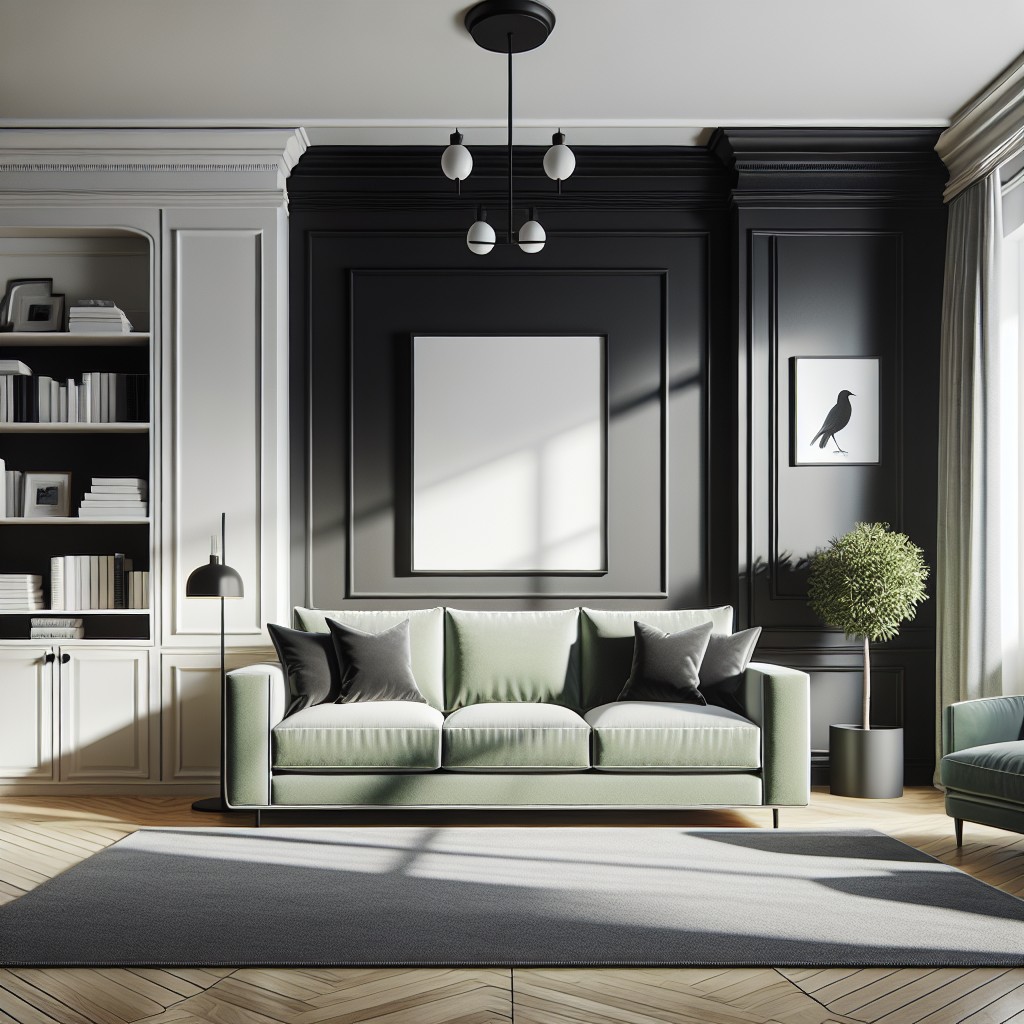 When opting for a minimalistic color scheme, adding a sage green sofa can bring a refreshing hint of color. The subtly of the sage compliments the stark contrast of black and white, ensuring the room doesn't look monotonous or flat.
1. Play with Textures: Upholster your sage green sofa in a rich fabric such as velvet or linen. This enhances the visual interest and prevents the room from seeming too stark.
2. Pillows Matter: Experiment with black and white patterned throw pillows. The monochrome colors offset the green, making it stand out more.
3. Rug Selection: Place a black and white geometric or abstract rug under the sofa. This grounds your seating area while also pulling the room together.
4. Accent Pieces: Use black and white accent pieces to add interesting layers. This can include wall art, ceramic vases or a coffee table.
5. Lighting: Opt for white or off-white lamp shades that throw a warm glow on the green sofa. This can create a cozy and inviting atmosphere.
Remember, the idea here is to use the sage green sofa as a color splash, breaking up the monochromatic palette but not pulling focus from the timeless appeal of black and white.
Tropical-inspired Decor With Sage Green Couch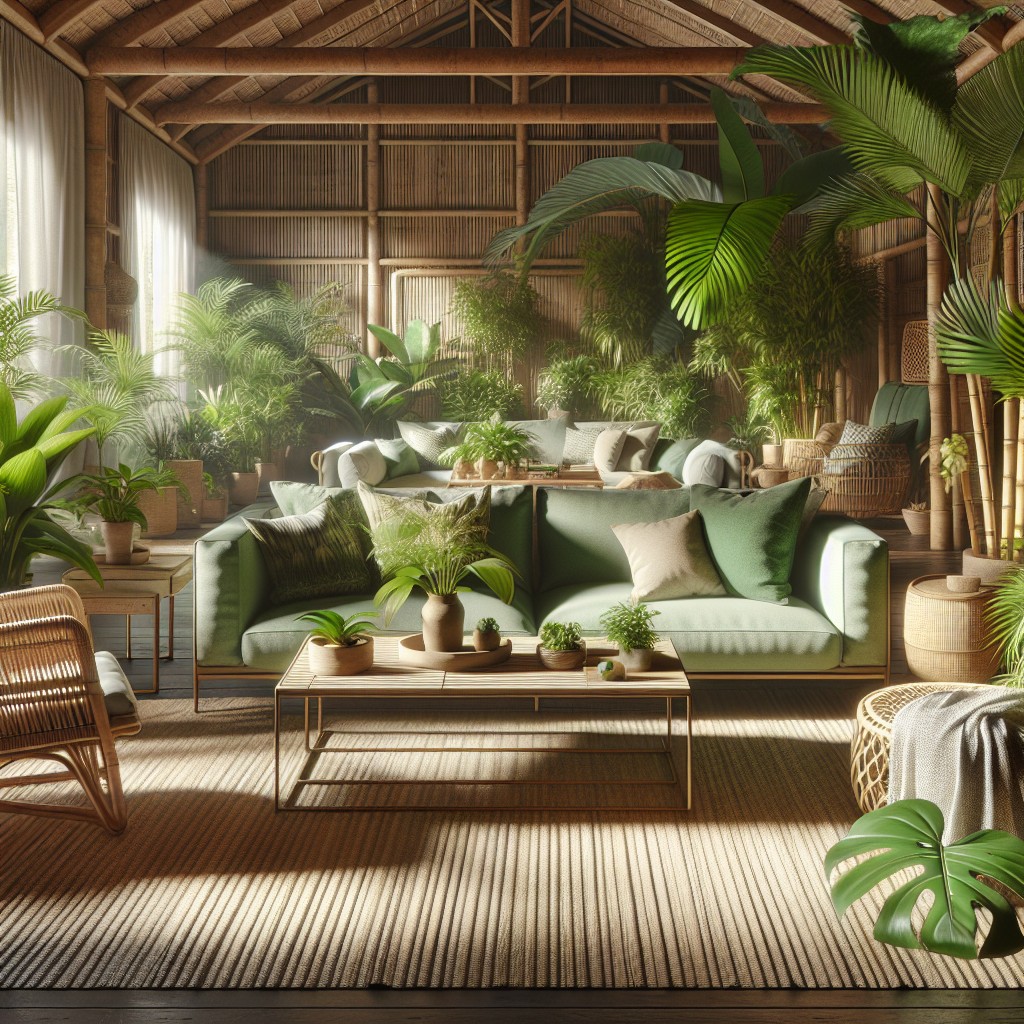 Recreating a tropical oasis at home starts by incorporating organic textures and vibrant patterns around your sage green couch.
Rattan furniture and tropical plants like palms and monstera are excellent complements, providing an immediate burst of freshness into the space.
Natural materials like jute rugs, bamboo blinds, or teak coffee tables can further enhance the island-like feel.
Bold, palm-leaf patterned throw pillows or blankets on the sofa can tie this tropical aesthetic together.
Always remember, ample natural light is key to this theme, making your sage green couch a highlight among sun-drenched, cheerful surroundings.
Beach-style Decor With Aqua & Sage Green Sofa Settings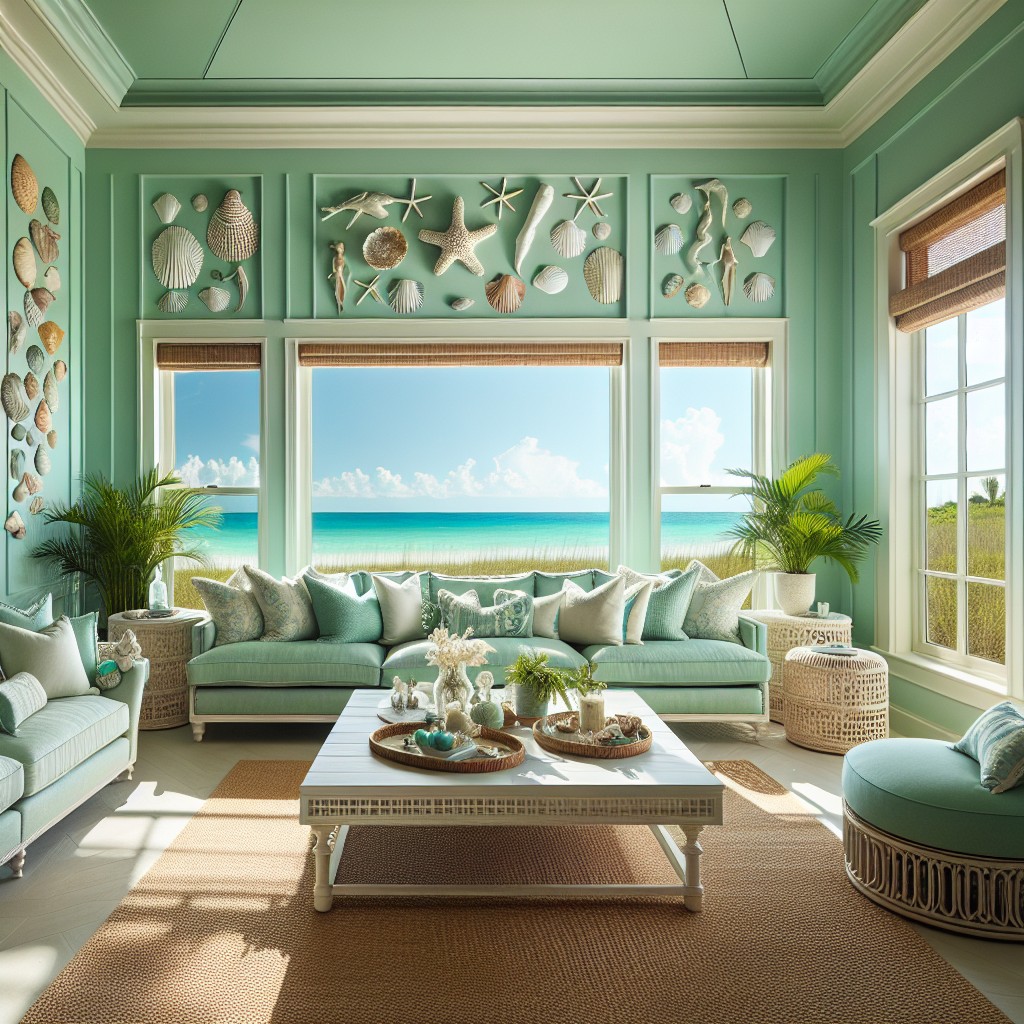 Accompany your sage green sofa with elements of aqua for a refreshing beach-style decor.
Utilize the calming aqua hue in throw pillows, curtains, or rugs to create an oceanic ambiance.
Light wood or white-painted furniture will transfer you straight to a breezy beach house.
Use plenty of natural materials like rattan, jute, and sea-grass for an earthy balance.
Display shells or starfish ornaments for a charming maritime theme.
Lastly, incorporate textured fabrics to mimic the dynamic of seaside nature.
The sage and aqua combination is essentially bringing nature at home, promising a tranquil living room setting.
Sage Green Sofa With Monochrome Decor Elements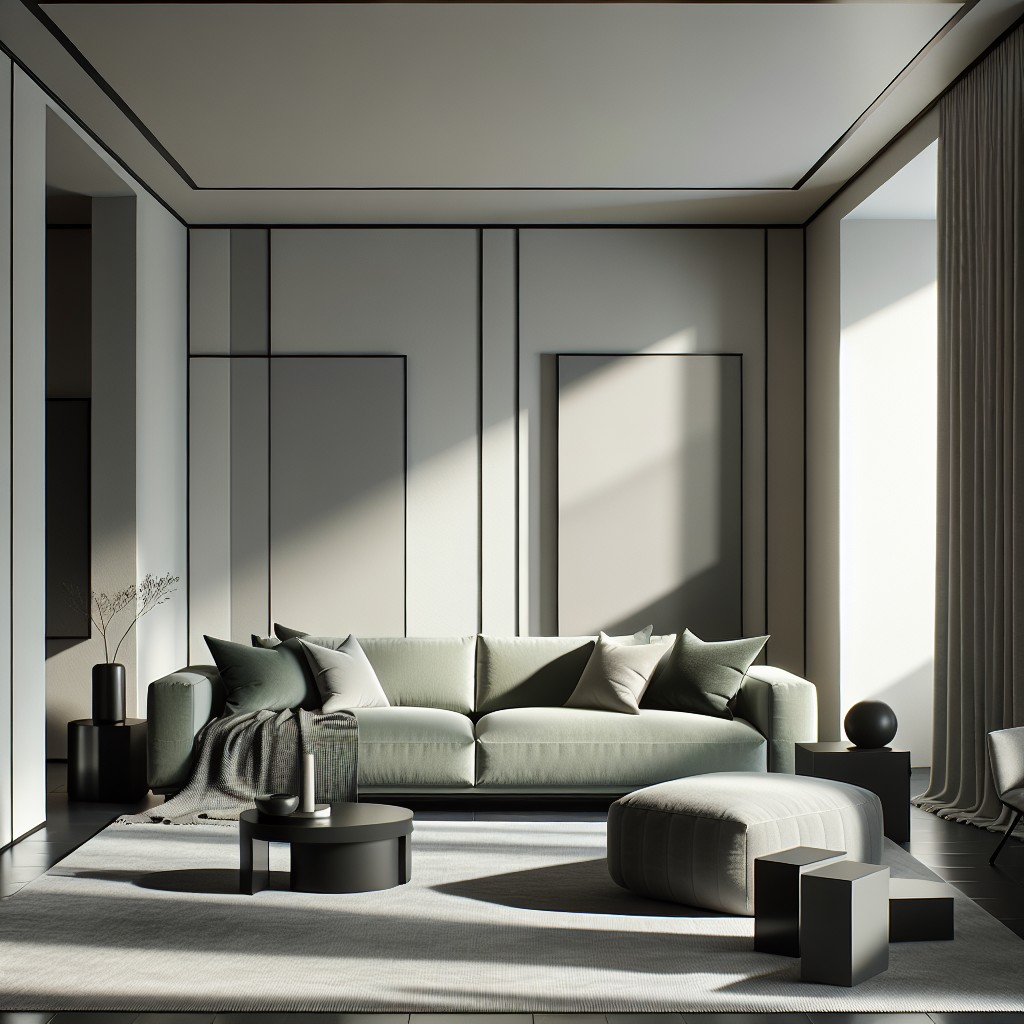 In a monochromatic scheme, a sage green sofa can serve as the primary color. It's all about balance. Here's how to achieve harmony:
Shading and Tinting: Use darker shades and lighter tints of sage green on walls, rugs, and curtains to provide depth. Example: Try a charcoal grey rug for contrast.
Textures: Add visual interest with textures like brushed steel lamps or faux fur cushions.
Light and Shadow: Use the play of light and shadow to create the illusion of different tones. Example: White side tables against the sage sofa will draw the eye with their vivid juxtaposition.
Neutrals: Incorporate neutrals like white, black, or grey. They'll enhance the peaceful hue of the sage green without causing visual chaos.
Remember: A monochrome setup is not about monotony – it's about cohesion. The right balance of tones, textures, and neutrals will make the sage green sofa stand out brilliantly.
Organic Modern Style With Sage Green Couch
Diving right into the concept, the unification of natural materials, earthy colors, and clean lines define the foundation of the organic modern style. The soft, understated hue of a sage green couch emerges as a centerpiece in this design fad.
Primarily, choose furniture with organic shapes and seamless lines to complement your sage green couch. Natural materials such as wood, jute, or rattan for your coffee table, sideboard, or TV stand can add depth to the living space.
The color palette should be based on warm earthy tones. Keep your walls neutral; think ivory or pebble grey. This allows your sage green couch to stand out, but not overly so. Colors from your chosen palette can be incorporated into other accessories and soft furnishings.
Natural light is a big plus in this style. If allowed by your room, large windows or glass doors can exaggerate the organic feel.
Introduce plants to your decor; the green of the foliage connects well with the sage green of the couch. Use clay or wooden planters to maintain the natural feel.
Textiles play an important role too. Opt for linen or wool throws, cotton, or hemp rug, and cushions in natural fabrics. Patterns should be minimalistic and subtle to retain the clean look.
Remember, organic modern design style is all about balance; while your sage green couch is the star, the supporting ensemble must make the setting harmonious and peaceful.
Cottage-core Aesthetic With Sage Sofas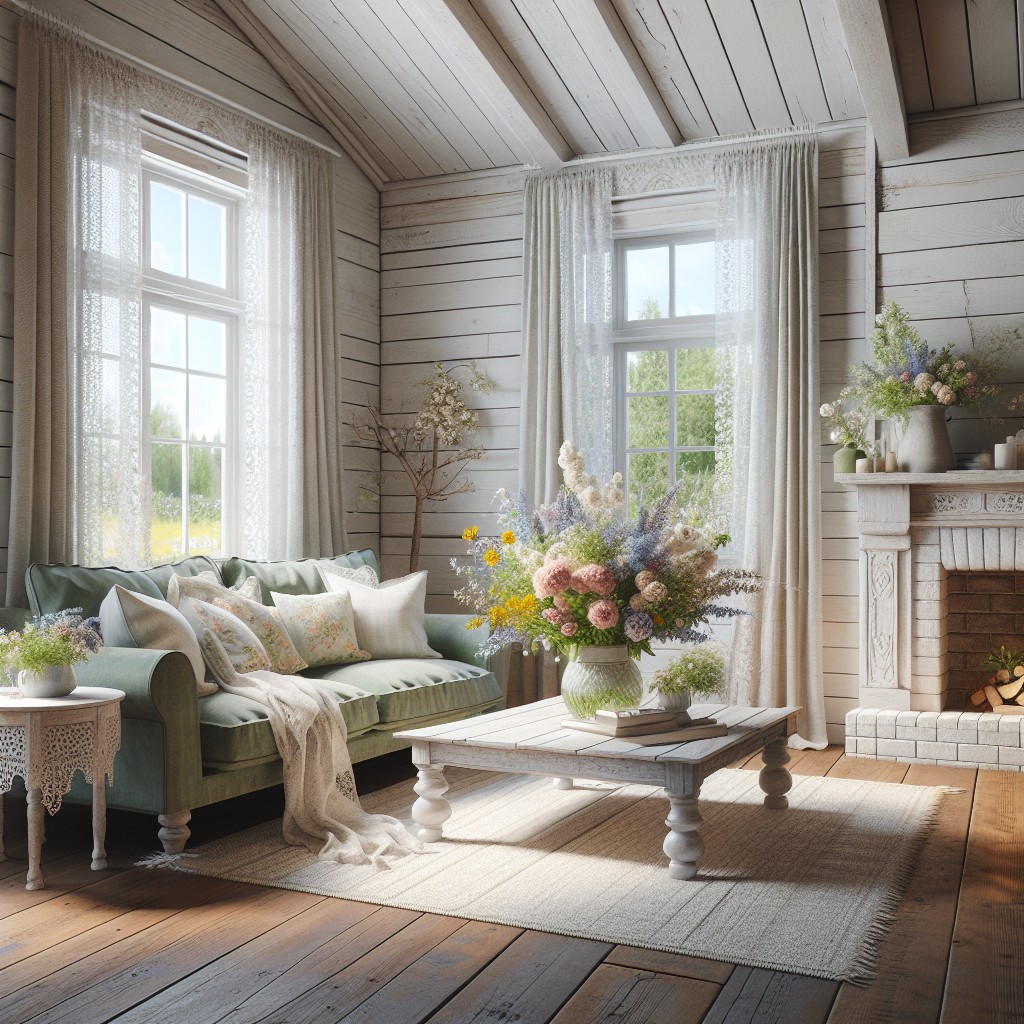 A Sage sofa can wonderfully amplify the cozy and nostalgic appeal of the cottage-core aesthetic. Charmingly rustic yet tranquil, this essential piece acts as the cornerstone of a living space that blends antique elements with nature-inspired hues.
A few ways to further this endearing look include:
Throw pillows in various patterns like florals, plaids, or vintage prints enhance the comfort factor and the mix-and-match nature of cottage-core.
Natural textures like wood, rattan, or stone for coffee tables, end tables, and other furnishings help to increase the earthy feel of this aesthetic.
Add a soft, pastel-colored rug or a traditional braided one to provide a warm, welcome contrast to your Sage sofa.
Complement the space with naturalistic decor like dried flowers, baskets, or antique lanterns for a homespun twist.
White or soft cream curtains draping elegantly can add an airy yet quaint touch to balance the color punch of the Sage sofa.
Remember, cottage-core is all about creating a cozy, vintage ode to bucolic life accentuating simplicity and comfort. Bringing in natural elements harmonizes beautifully with the calming Sage sofa for a quintessentially cottage-core space.
Sage Green Modular Sofas for Open-Concept Spaces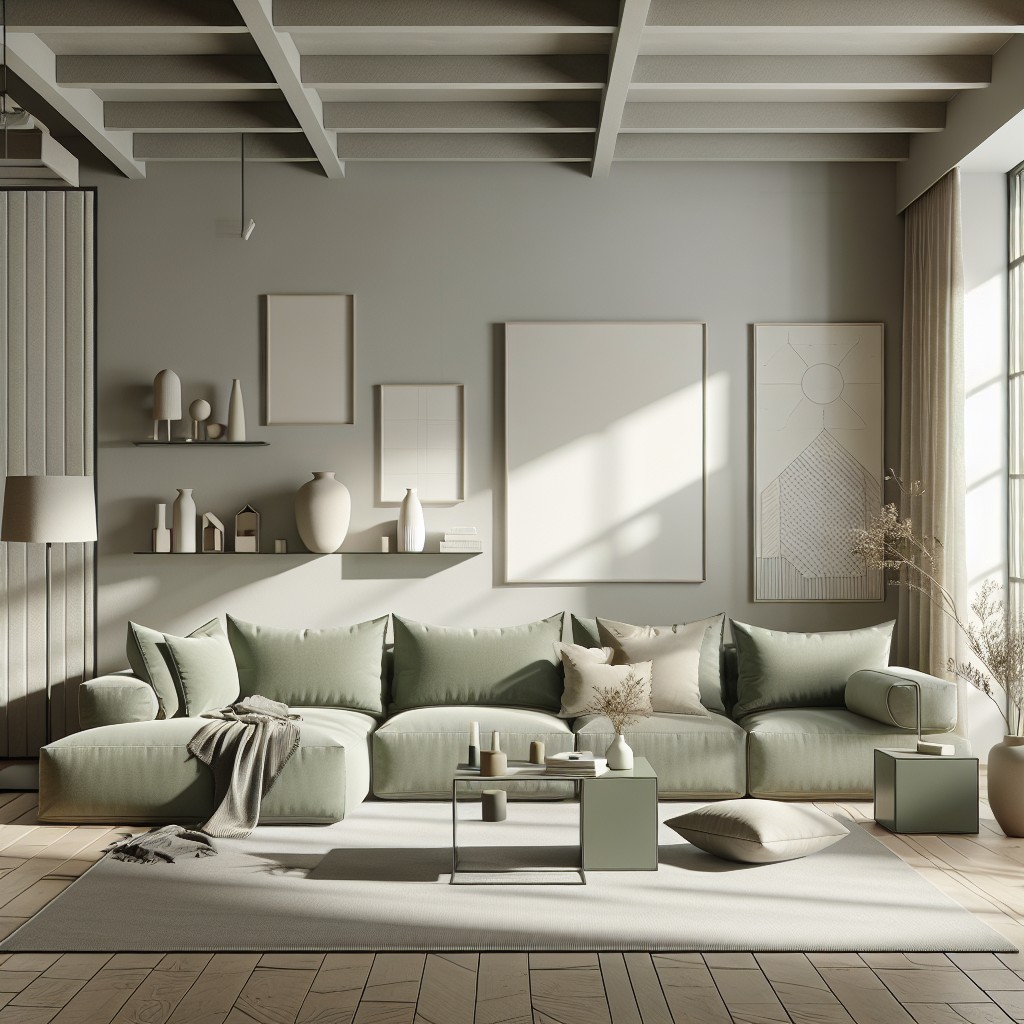 Generously sized and versatile, modular sofas become the centerpiece in any open-concept space. This particular setting reveals the transforming power of sage green as the gentle hue stands out without feeling too commanding.
Choosing a modular version equals customization, ideal for defining zones in an open-plan living. Configure it into an L-shape to subtly separate your relaxation and dining areas, or go for a U-shaped setup for a more enclosed, cozy atmosphere.
Pair your stylish seating with throw pillows in varying shades of green for a monochromatic look, or consider complementing it with muted tones of beige, brown, and white for a more natural theme. Textured rugs, abstract art pieces, and metal finish side tables also work wonderfully to complete the look.
Floor-to-ceiling windows invite natural light in, accentuating the freshness of the sage green. Balance this daylight with warm, soft lighting fixtures for an enchanting evening atmosphere. Remember, flexibility is key in an open layout, so make choices that best complement your lifestyle and tastes.
Sage Green Sofa With Oriental Decor Theme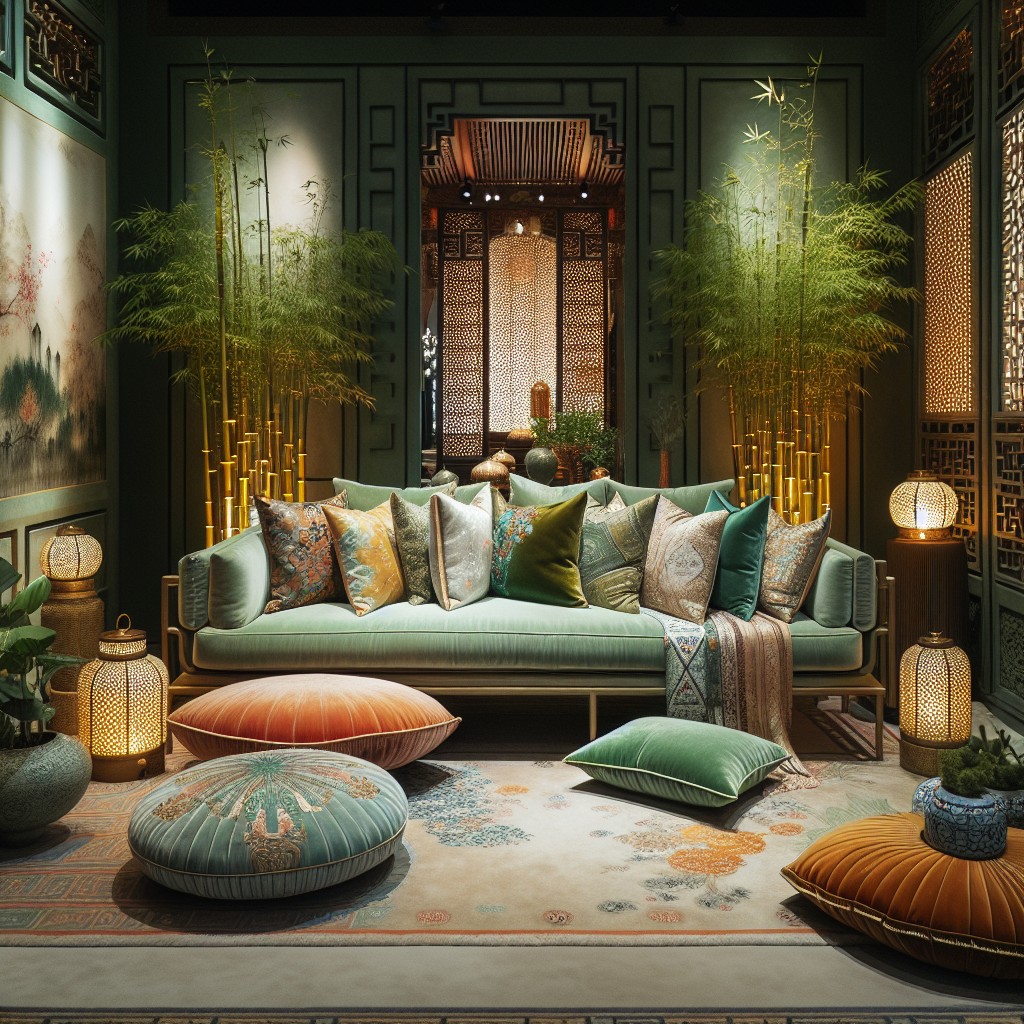 Embracing the beauty of the Orient, the sage green sofa becomes the center of attraction. The color itself symbolizes harmony, a fitting narrative for an Oriental theme.
Here are quick takeaways to make this decor theme work:
Choose oriental patterns for rugs or throw pillows – Style your sage green sofa with accessories featuring oriental patterns. A dragon or peony print can provide a touch of authenticity.
Use dark-wood furniture – Darker shades of wood like mahogany or teak complement the hues of sage green and oriental decor.
Bring in paper lanterns – This traditional Oriental decorative element doubles as warm, subtle lighting.
Include a touch of red – A common color in this decor theme, it balances and accents the tranquil sage green.
Incorporate bamboo or silk elements – These natural materials encapsulate the oriental aesthetic and harmonize with the sage green sofa. Investing in a bamboo coffee table or silk curtains can enhance your living space's Oriental feel.
Display Oriental artwork – Consider hanging a Chinese scroll painting above your sage green sofa. It serves as a beautiful backdrop, enhancing the aesthetic of the room.
Aim for clean lines and less clutter for a modern spin – An Oriental theme can be vibrant yet minimalist. Achieve this by selecting a few impactful pieces of decor.
Remember, the key to oriental decor is balance. It's all about thoughtfully positioning design elements to ensure the sage green sofa and oriental flavors coexist beautifully.
Utilizing Sage Green Sofas in Industrial Design Spaces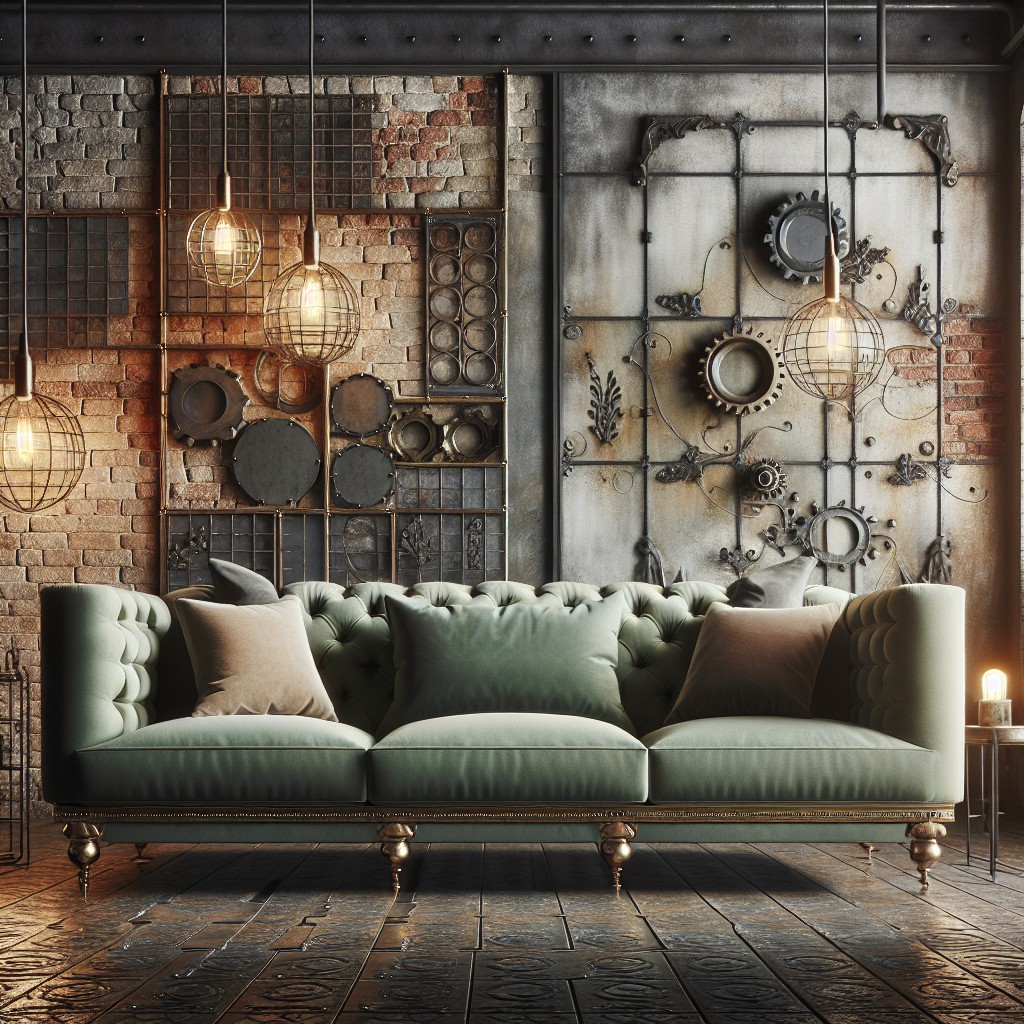 Incorporating a sage green sofa into an industrial design creates a captivating visual balance. The cool, serene sage sofa breaks up the commonly used industrial materials, such as exposed brick or unfinished wood, adding softness to the typically edgy design.
Some key aspects to consider include:
Contrast: The muted green of the sage sofa can provide a gentle contrast against more harsh industrial elements, like exposed metalwork.
Texture: A fabric sofa in sage green adds a tactile element, softening stark industrial surfaces.
Softness: Sage green effectively lightens and warms the room. Its peaceful vibe makes the environment more welcoming.
Pairings: You can pair the sage sofa with elements like metal coffee tables, raw wood shelving units, or leather armchairs to solidify the industrial aesthetic.
Lighting: Incorporate plenty of natural light to bring out the best of the sage green color. Industrial-style pendant lights or metal floor lamps can add to the room's character.
Accessorizing: Pillows and throws in rugged textures or earth tones can complement the sage green sofa while adhering to the industrial theme.
Bold Patterns With Sage Sofa for a Pop Art Theme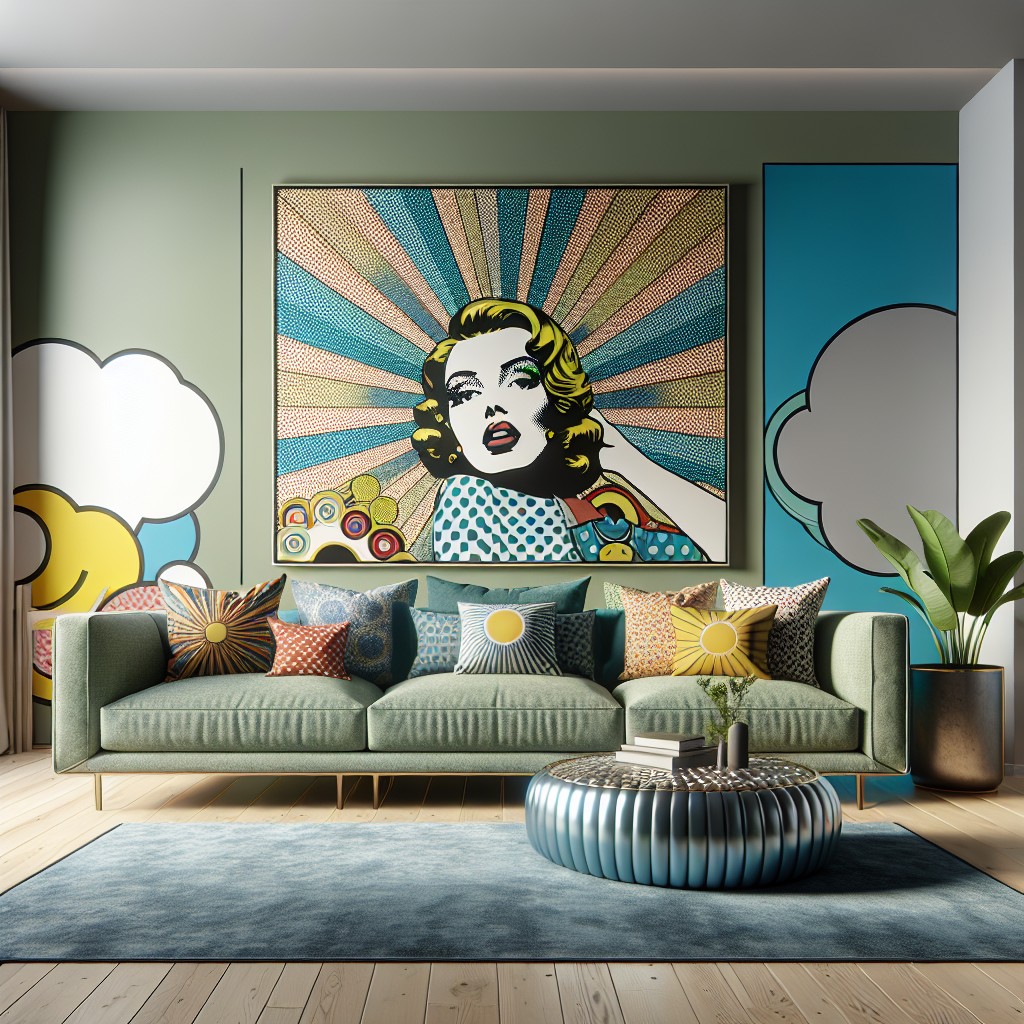 When it comes to pop art themes, nothing beats a kaleidoscope of vivid colors and patterns. Here's how you can pull it off successfully with a sage green sofa:
1. Use cushions with bold geometric designs or pop art prints. Opt for colors that complement the sofa, such as bright yellows, reds, and blues.
2. Incorporate rugs and throw blankets with daring patterns. Stripes, polka dots, or abstract designs will enhance this vibrant theme.
3. Introduce drama with wall art and decor that embody the pop art aesthetic. Warhol prints, comic-inspired artwork, or color-blocked wall hangings can add the perfect touch.
4. Balance the room with neutral-colored side tables or coffee table to avoid visual chaos.
5. Use distinct feature lighting, like a funky floor lamp or colorful pendant lamps, to accent the lively pop art environment.
Remember, the key is to create a visual explosion while ensuring the sage green sofa remains the grounded element in the room.
Sage Sofa With Jewel-tone Decor for Vibrant Color Scheme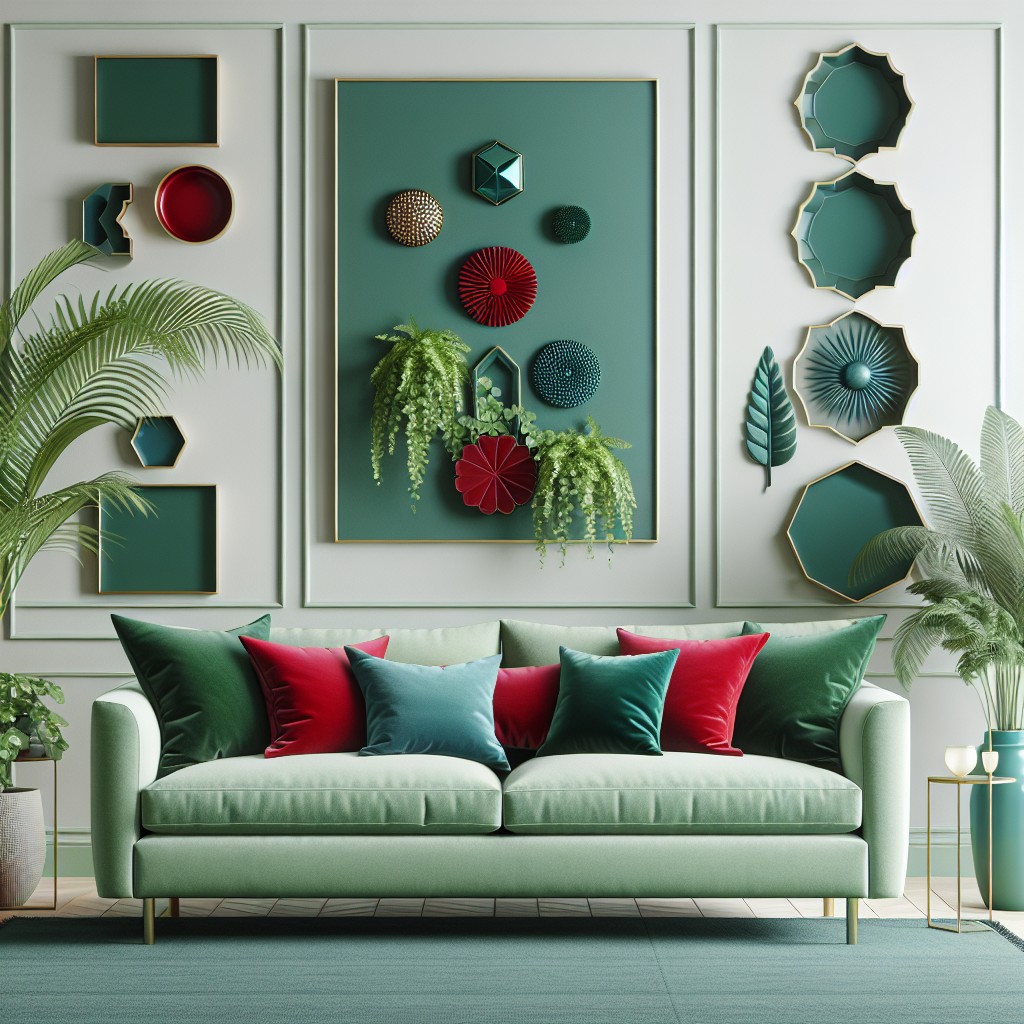 Pairing a sage green sofa with jewel tones yields an exquisitely rich atmosphere. Embarking on this design journey? Here are a few pointers:
1. Bold Colors: Incorporate jewel-toned cushions such as ruby red, sapphire blue, and amethyst purple. The cool undertones harmonize with the sage sofa, enhancing the depth and warmth of these vivid hues.
2. Luxurious Textiles: Opt for luxurious textiles like velvet or silk for your drapes, rugs, or throw blankets. These textures will add a feel of grandeur and amplify the jewel-tone decor.
3. Metallic Accents: Use gold or brass elements to infuse an element of opulence into the space. It could be in the form of a coffee table, picture frames, or even a chandelier.
4. Dark Woods: Employ dark, rich woods as another complement to the sage and jewel tones. This can be achieved through end tables, bookshelves, or flooring.
5. Layered Lighting: Use carefully positioned lights to enhance the jewel tones' glow and add depth to the room. Consider a mix of ambient, task, and accent lighting.
Successfully pairing the soft, natural vibe of your sage sofa with robust jewel tones results in a home space that feels warm, welcoming, but certainly luxurious.
Sage Green Sofa With Rustic Style Decorations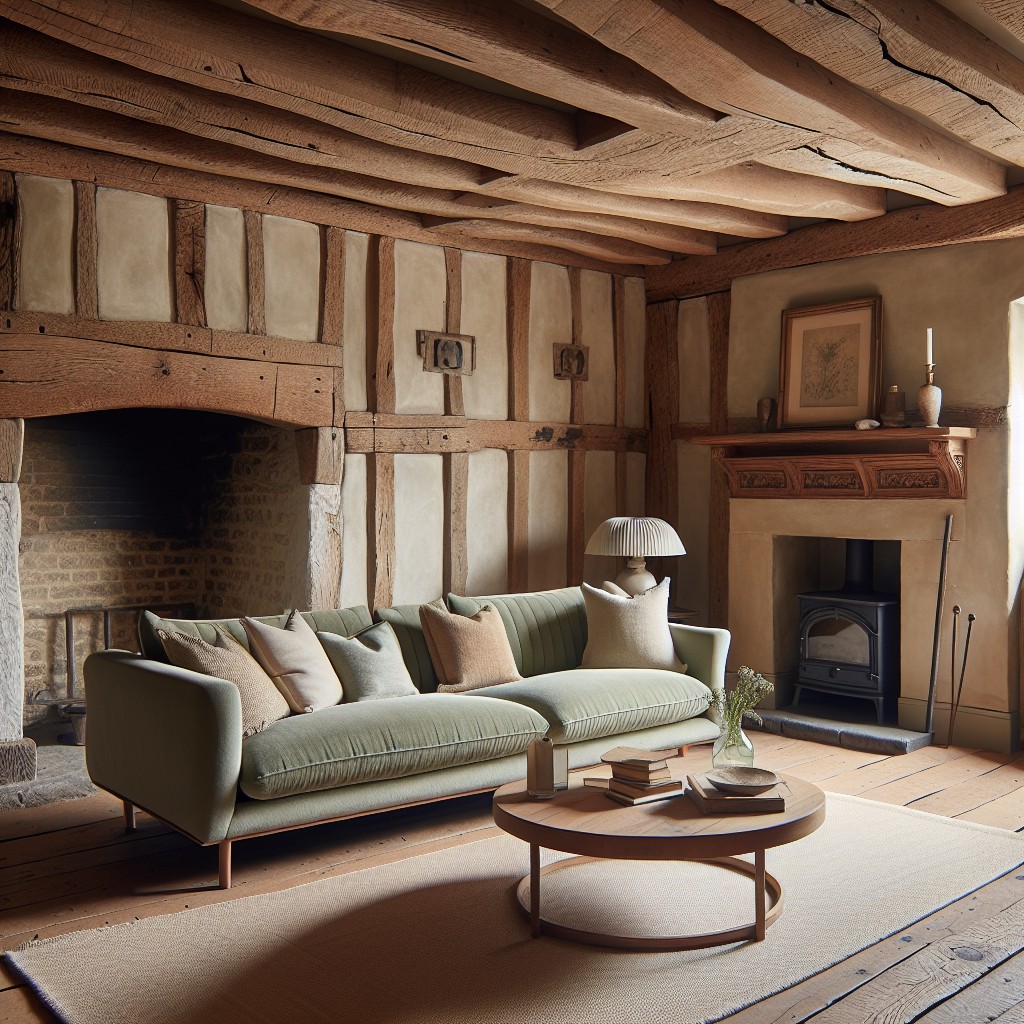 To evoke a rustic flair, consider incorporating natural elements alongside your sage green sofa. Raw, unfinished woods in tones of chestnut or mahogany add a cozy, cabin-like feel. Coordinating the living space with leather accents, such as ottomans or rugs, further enhances the rustic appearance.
A unique mix of textures and fabrics plays a vital role too. Think woolen throws, burlap cushions, or a linen fabric lampshade. An antique wooden crate or a worn-out stack trunk could serve as a charming coffee table.
Wall decor can include vintage frames, old maps, or botanical prints, reinforcing an earthy ambiance. Metallic pieces, especially those with an antiqued or patina finish, can add depth and counterbalance the softness of your sage sofa. Choose warm lighting options to maintain a cozy, inviting environment. Remember, the key is balancing comfort with simplicity.
Sage Velvet Couches With Gold Accents for an Opulent Look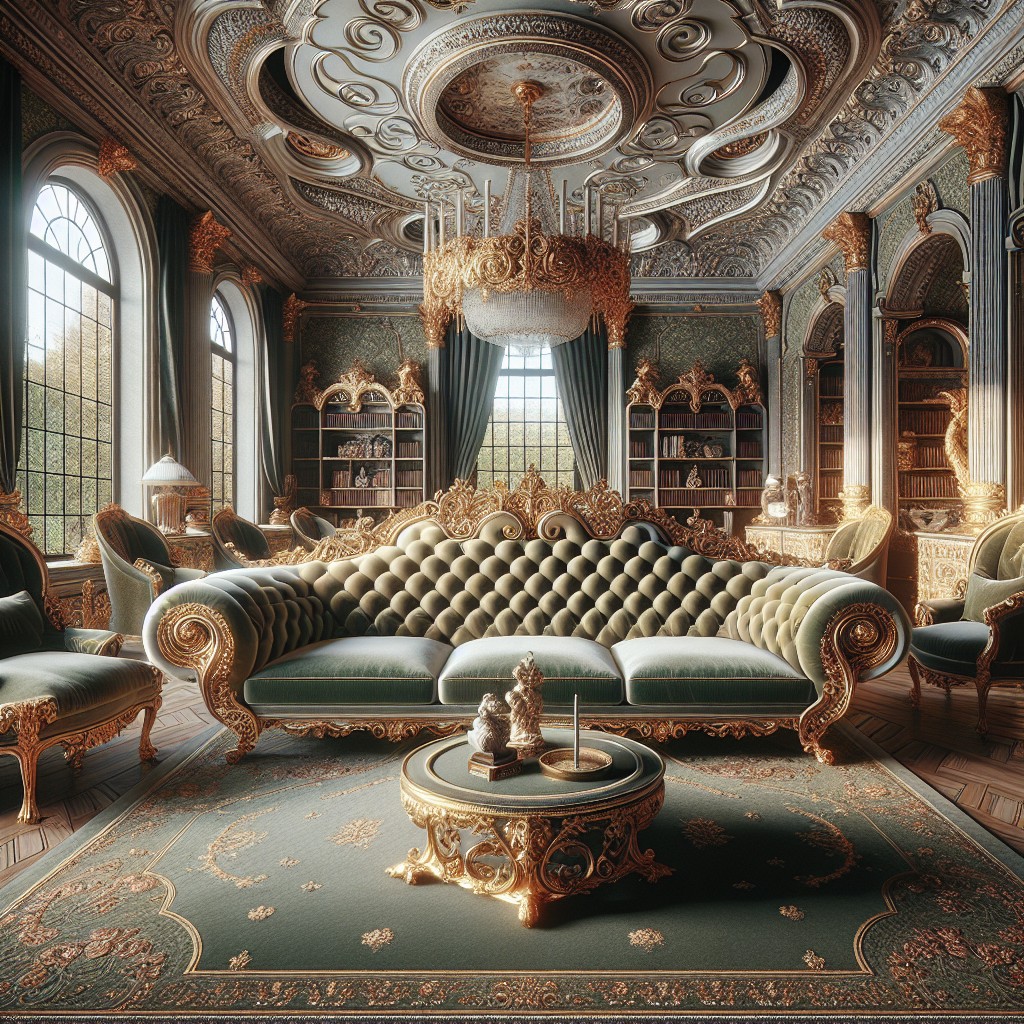 Complementing a sage velvet sofa with gold accents is akin to painting a chic portrait of luxurious living. Start with a few gold-accented pillows, which can instantly elevate the rich, soothing hue of your sage couch.
Consider adding a gold-framed side table or coffee table near the couch. The shimmering gold enhances the opulence while offering a striking contrast.
Wall decor can also make a significant impact. Consider abstract art pieces or mirrors with gold frames. However, practice restraint to prevent a gaudy appearance.
Lighting fixtures in gold can add a warm, inviting glow, in harmony with the green tones. A floor lamp with gold stand or a gold-plated chandelier can tie your opulent decor together.
Finally, texture plays a prominent role in designing an opulent space. Layering your sage velvet with different textures, such as a plush rug or silky curtains, can make the space feel indulgent and cozy. Despite its understated hue, a sage sofa paired with gold accents exudes a sense of lavish refinement. Always remember, balance is key to nailing this aesthetic.
Ideas Elsewhere
Continue reading: