Last updated on November 27, 2023
Because yellow can completely transform the ambiance of your bathroom, exploring innovative vanity ideas that leverage this hue is an adventure worth embarking on.
I'm thrilled to share this article and unique designs on 20 Yellow Bathroom Vanity Ideas, all of which I proudly created, and I sincerely hope they spark as much creativity in you as I enjoyed in their making.
Infusing a splash of color into your bathroom design can transform the space dramatically. Yellow, with its cheerful and vibrant hues, can be a fantastic choice for a bathroom vanity. From pastel lemon to deep mustard, yellow can brighten up your bathroom, making it feel warm, inviting, and full of personality.
This article will delve into various yellow bathroom vanity ideas, exploring different shades, styles, and complementary color schemes. Whether you're looking for a minimalist design or a vintage-inspired look, you'll find a wealth of inspiration here. Stay tuned for detailed insights and practical tips to help you create a stunning yellow bathroom vanity.
What's Inside
Yellow Distressed Vintage Vanity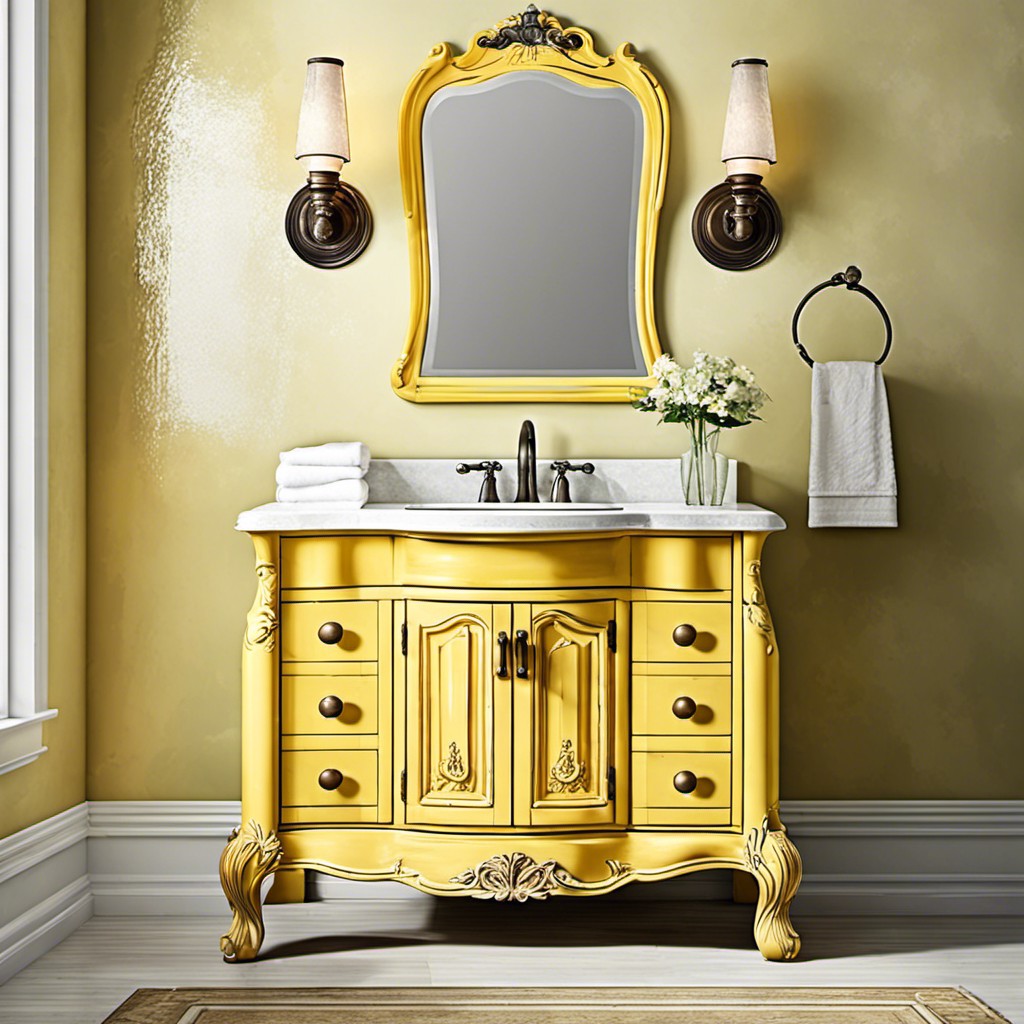 Opting for a distressed finish can infuse an antique charm into your bathroom decor. This finish helps highlight the intricate woodwork and provides a unique texture that's both visually appealing and tactile.
Applying a mellow yellow paint can offset the rough edges and weathered look of the vanity, bringing in a vibrant breath of freshness. Hand-painted floral motifs or vintage prints can add an additional layer of personality.
The right accessories can accentuate this vanity style even further. Consider pairing the vanity with an ornate, an antiquated bronze faucet or a ceramic basin with floral patterns to uphold the vintage feel. A framed antique mirror above the vanity could perfectly round off this decor theme.
Finally, placing toiletries in classic porcelain jars could lend a quaint charm to the entire arrangement.
Canary Yellow Modern Vanity With White Basin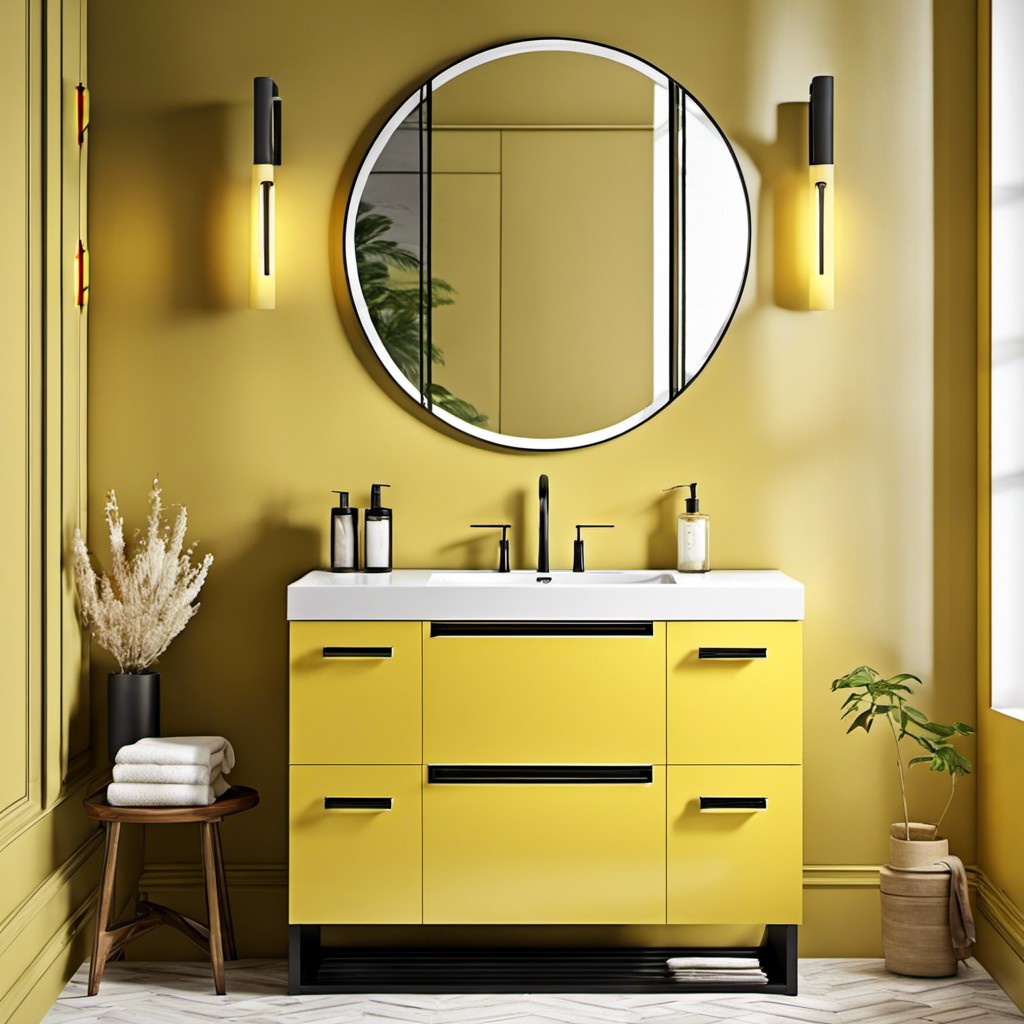 For a bold yet cheerful effect, consider this option. The canary yellow hue lends instant vibrancy while the white basin brings in a balance. It's a striking combination, ideal for a chic, minimalist design blend.
Notably:
1. Canary yellow radiates positivity, making your bathroom seem brighter and lively.
2. A white basin contrasts elegantly with yellow, reducing the possibility of a sensory overload.
3. Modern vanities often incorporate clean lines and streamlined designs, keeping visual clutter to a minimum.
4. This vanity style pairs well with neutral walls and minimal decor, letting the vanity be the star of the show.
5. Opt for brushed steel fixtures for a sleek, contemporary look.
6. The design lends itself well to both small and large bathrooms. Remember, use of bold color in small spaces can create the illusion of a larger area.
Honeycomb Yellow Vanity With Black Handles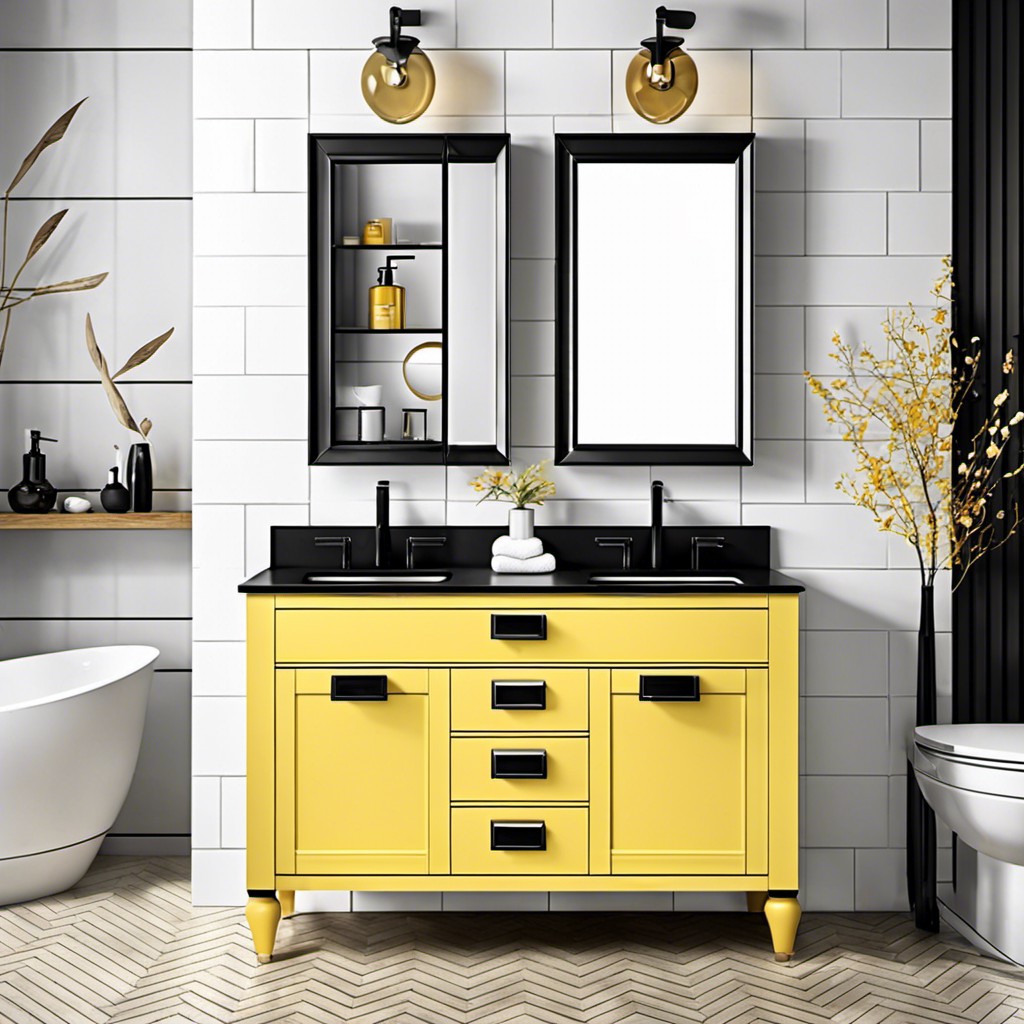 Honeycomb yellow, a deep and warm shade, creates a cheerful and inviting aura for your bathroom vanity. The contrasting black handles add an element of sophistication and luxury, ensuring visual balance. This color choice is lively, yet not overpowering, making it an excellent match for neutral, white, or dark walls.
Consider these points:
Opt for matte black handles for a more contemporary touch or glossy black for a sleek, modern feel.
Spice up the design with a marble countertop, offering an elegant and refined finish.
Consider this vanity style with large mirrors and subdued lighting to create a cozy and welcoming ambiance.
This vanity design is versatile and suits both large and small bathrooms.
Pair the vanity with ceramic or stone sinks in either a matching or contrast color.
Convert a vintage chest of drawers into a one-of-a-kind vanity unit to add a touch of whimsy and unique flair.
For storage, add black wire baskets underneath or to the side of the vanity to carry the black accent through the design.
Yellow Painted Vanity With Vintage Bronze Fixtures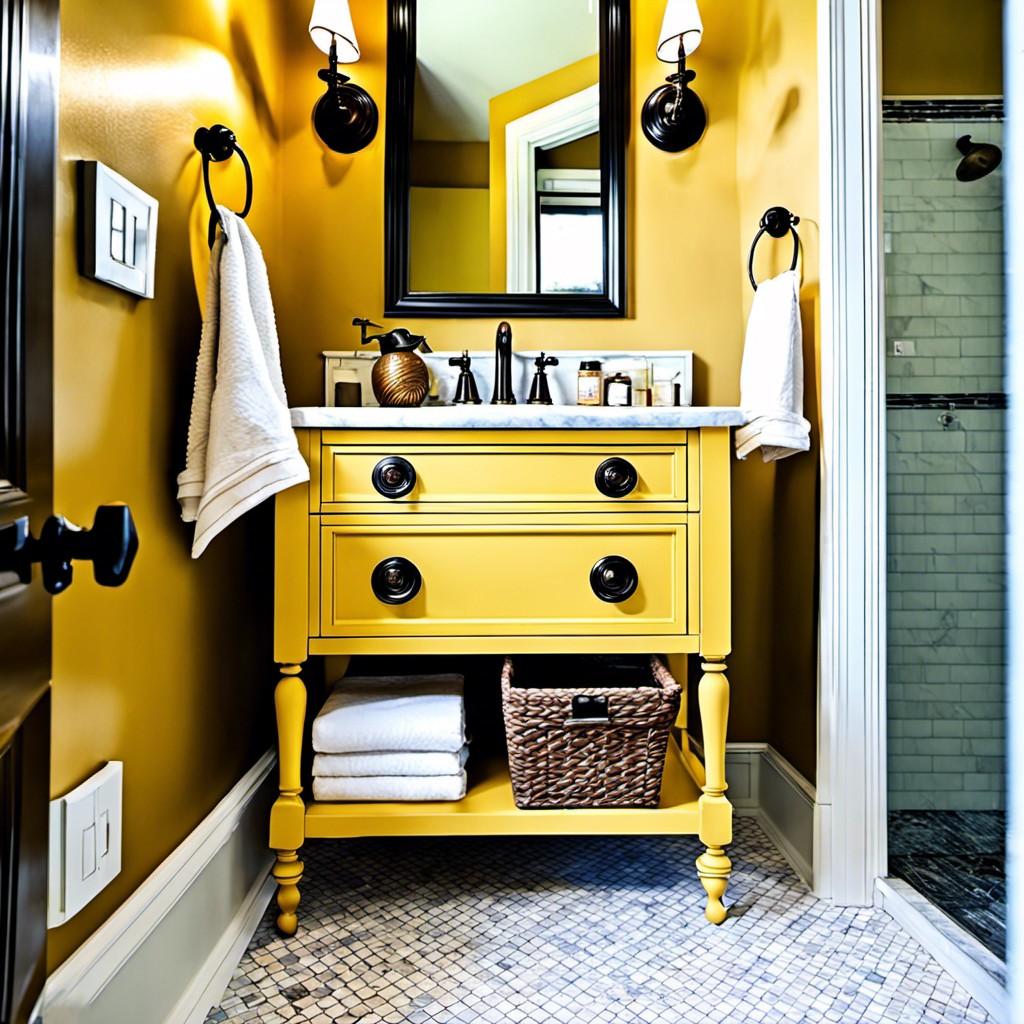 Delving into the visual appeal of this design, the contrasting pair features a modern yellow hue and classic bronze fixtures. An apt choice for those who love an antique touch in their contemporary decor.
Key points to consider:
1. The yellow hue of the vanity presents an uplifting, cheerful ambiance and seamlessly compensates for the lack of natural light in most bathrooms.
2. Incorporating bronze fixtures adds a universal appeal that complements various styles, from rustic to modern. Besides, they tend to get better with age, enhancing the visual warmth.
3. Opt for distressed or matte finish paints to achieve a more earthy, vintage vibe.
4. A vanity mirror with a coordinating bronze frame can tie the look together, producing a harmonious and aesthetically pleasing result.
5. Ensure your bathroom lighting fixtures and accessories feature similar bronze tones to maintain consistency and optimize the vintage allure.
Remember, a balance between the boldness of yellow and the traditional charm of bronze could create a unique, timeless aesthetic center in your bathroom.
Farmhouse Style Yellow Vanity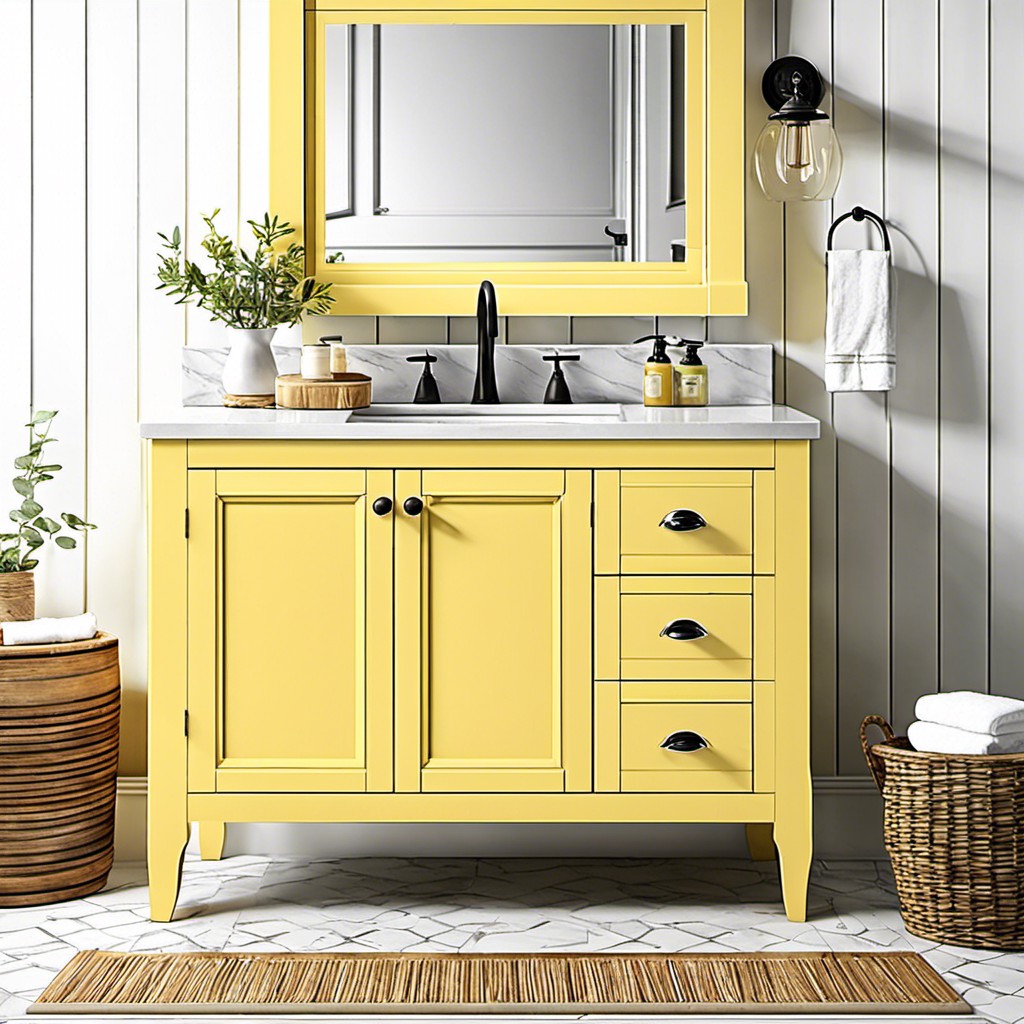 Embracing the charm of rustic elegance, this design conveys a warm and inviting atmosphere. The distressed finish on the yellow vanity asserts character and enhances the authenticity of the farmhouse theme.
Detailed craftsmanship may include antique drawer pulls and a textured surface, reflecting both beauty and functionality. Paired with a white porcelain sink and soft-colored walls, it all works together to create a cozy, comforting ambiance.
An antique mirror or vintage-style lighting fixtures can amplify the rustic appeal. Remember, an unexpected Farmhouse touch, such as a wire basket for towels or mason jar organizers, complements this vanity style splendidly.
Pale Yellow Vanity With Marble Countertop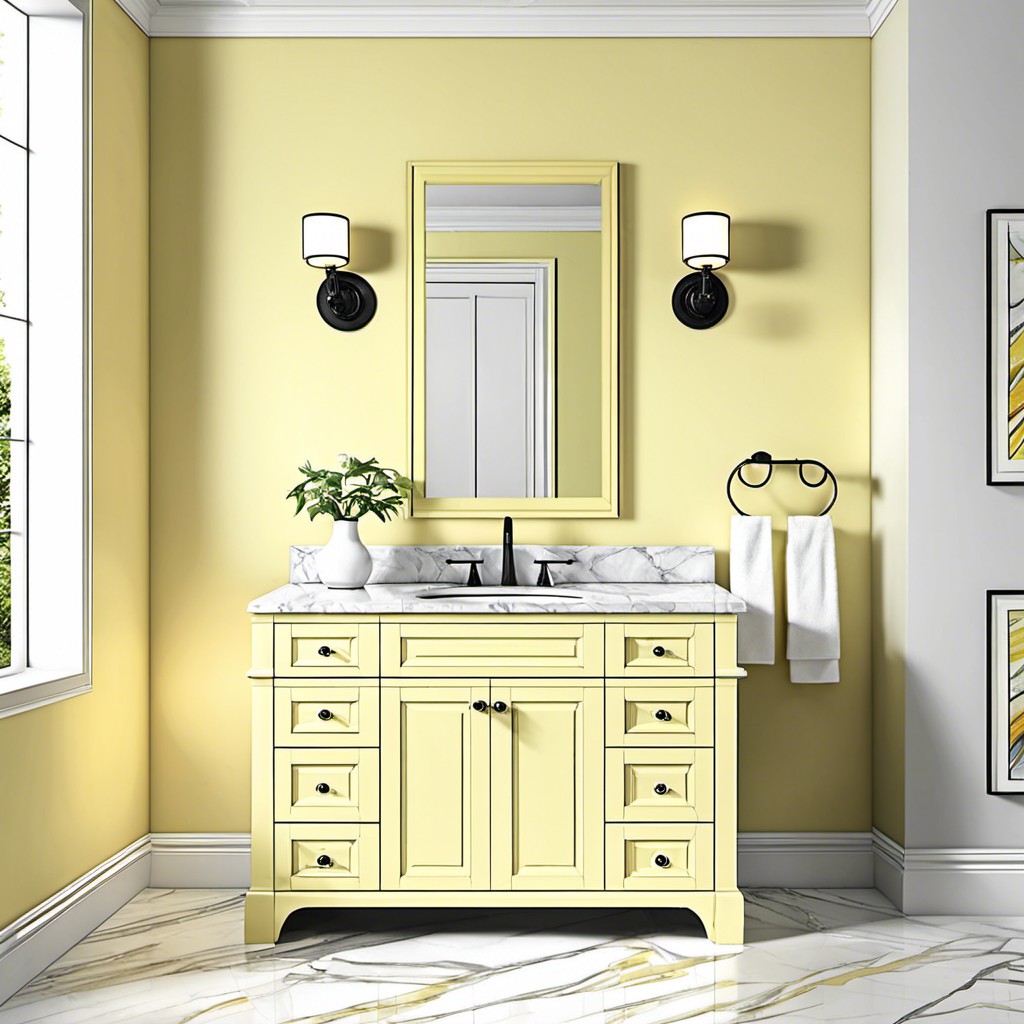 Adopting a calming and subtle shade, this style allows for a peaceful aesthetic without sacrificing elegance. The pale hue emanates a sense of tranquillity, making it an excellent choice for bathrooms where relaxation is key.
One of its greatest attributes is the compatibility with a marble countertop. The opulence and sophistication of marble contrasts gently against the softness of pale yellow, lending an air of luxury. The combination creates a strikingly clean and fresh atmosphere.
In terms of design flexibility, this vanity pairs well with both light and dark tones. You could complement it with white towels or incorporate dark mats and accessories for a pop of contrast. Silver or chrome fixtures add to the sleek and modern allure.
Lastly, storage isn't an issue with this style. Many versions come with ample cabinet rooms and drawers, ensuring you can effectively manage bathroom clutter. Whether your preference is for ornate handles or a seamless front, you have the freedom to choose.
Remember, the pale yellow vanity with marble countertop is all about achieving a balance between relaxation and style – an oasis of calm in an otherwise hectic home.
Minimalist Vanity in Pastel Yellow With Chrome Accents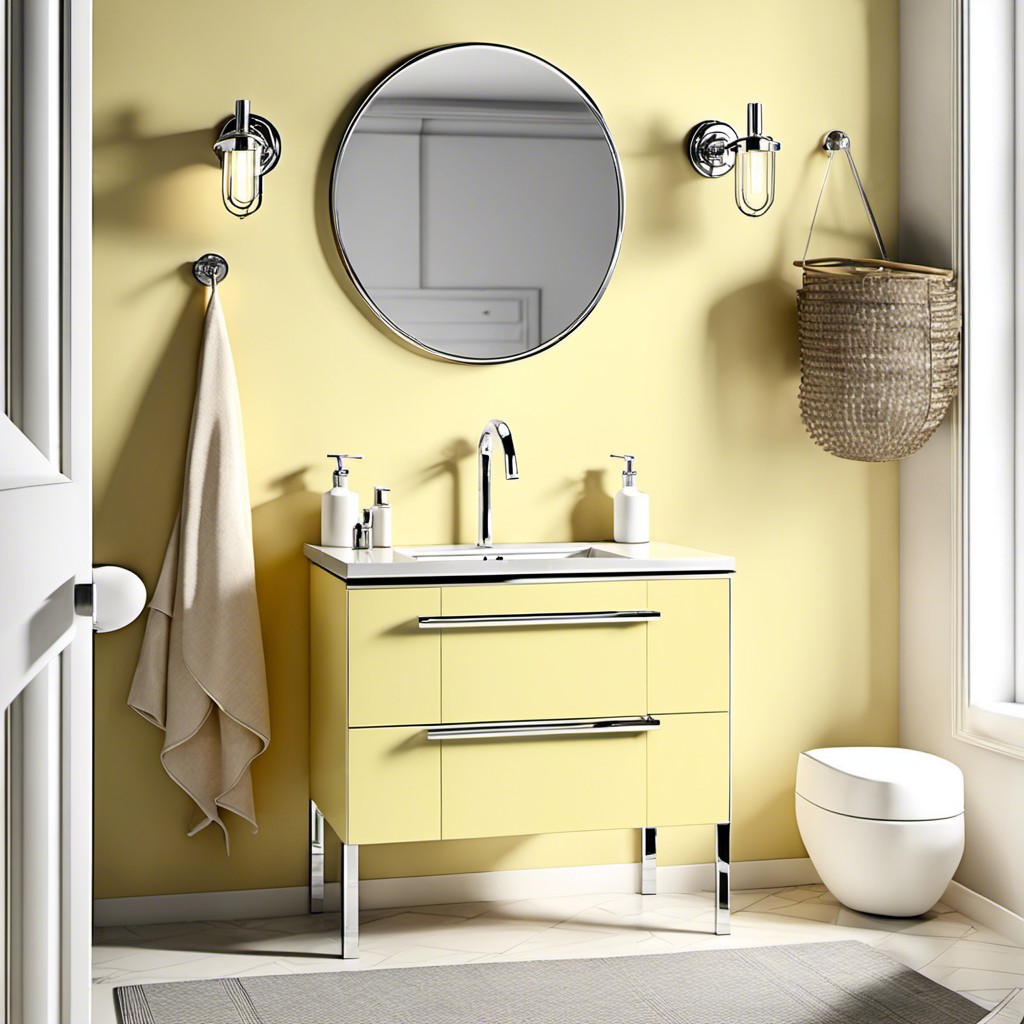 This style truly embodies the "less is more" philosophy. Firstly, the use of pastel yellow offers a soft and soothing tone, setting the stage for a relaxing bath ritual.
The chrome accents create a clean and sophisticated feel, accentuating the fine linearity prevalent in minimalist design. This choice of color and material also ensures easy coordination with various bathroom fixtures.
With space being of prime concern in minimalist approach, this vanity should not be overly bulky. Ample storage, self-contained, in streamlined drawers or behind unadorned cabinet doors is essential. Remember, clutter is a minimalist's nemesis.
Furthermore, keeping decoration to a minimum allows the pastel color and polished chrome to truly shine.
Lastly, balance is intrinsic in minimalist design. You could add a geometric mirror or monochrome bath mat to counter the softness of pastel yellow. Alternatively, pairing it with white or other pastels can maintain a serene monotone scheme.
Bold, Sunny Yellow Vanity for a Kids' Bathroom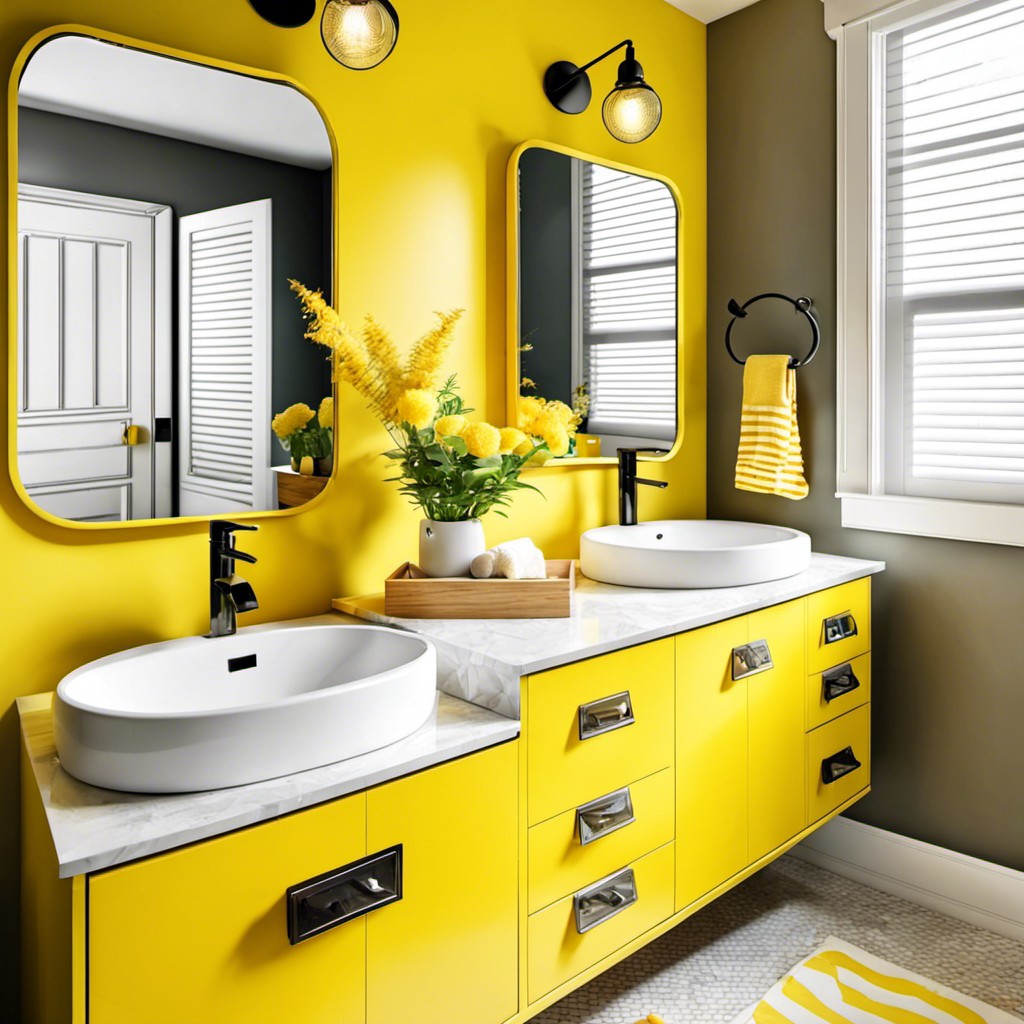 This style is refreshing, youthful, and full of energy, making it a perfect choice for a child's bathroom. Its rich hue creates a warm, welcoming atmosphere that kids will enjoy.
Opt for a glossy finish to reflect light and brighten up the space. Pairing it with contrasting colours like white or aqua tiles will enhance the vibrant look further. Pair it with a white ceramic sink and silver fixtures for a balanced, coordinated look.
Remember to include plenty of storage, perhaps with fun, character-shaped knobs for an added playfulness. Last but not least, ensure it is sturdy and built to withstand regular use.
Illuminating Yellow Vanity Unit for a Fresh Look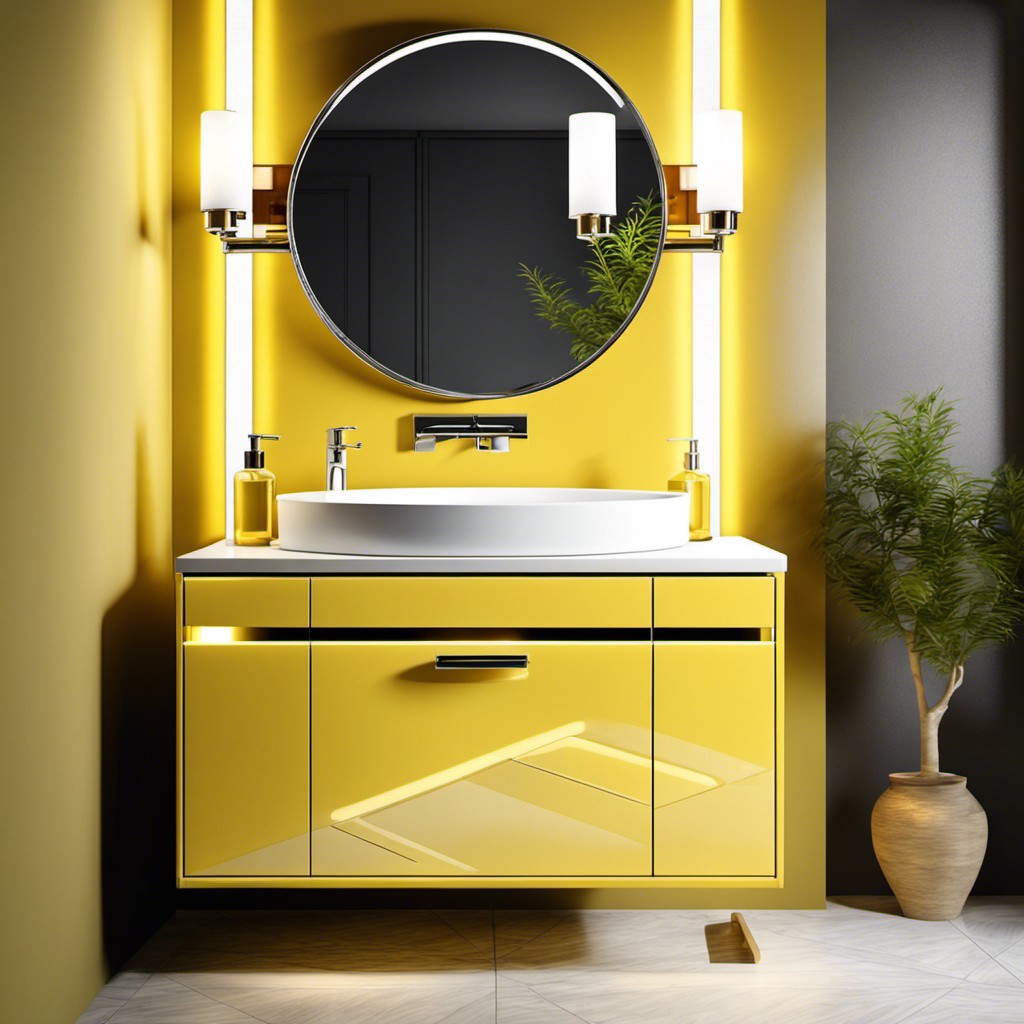 The vibrant shade of this vanity can instantly brighten up the entire bathroom, making it seem more spacious and inviting. With white being the traditional color choice for most bathrooms, choosing an illuminating yellow can make a daring yet stylish impact.
One can balance this striking hue with neutral colors like grey, white, or cream on walls and other fixtures.
This style works incredibly well in bathrooms that get plenty of natural light, as it enhances the yellow's brightness. Furthermore, adding modern elements like geometric patterned tiles or a sleek mirror can bring a contemporary twist to the overall look.
On the functionality front, opt for a vanity unit that provides smart storage options.
To accentuate the yellow vanity unit, use metal accessories. Brass or gold fixtures – like knobs, taps, and lighting, can add to the fresh look.
It's suggested to avoid mixing with other bright colors to keep the focus intact on the vanity unit, providing a chic, fresh look to the bathroom space.
Yellow Vanity With Double Basins for a Couple's Bathroom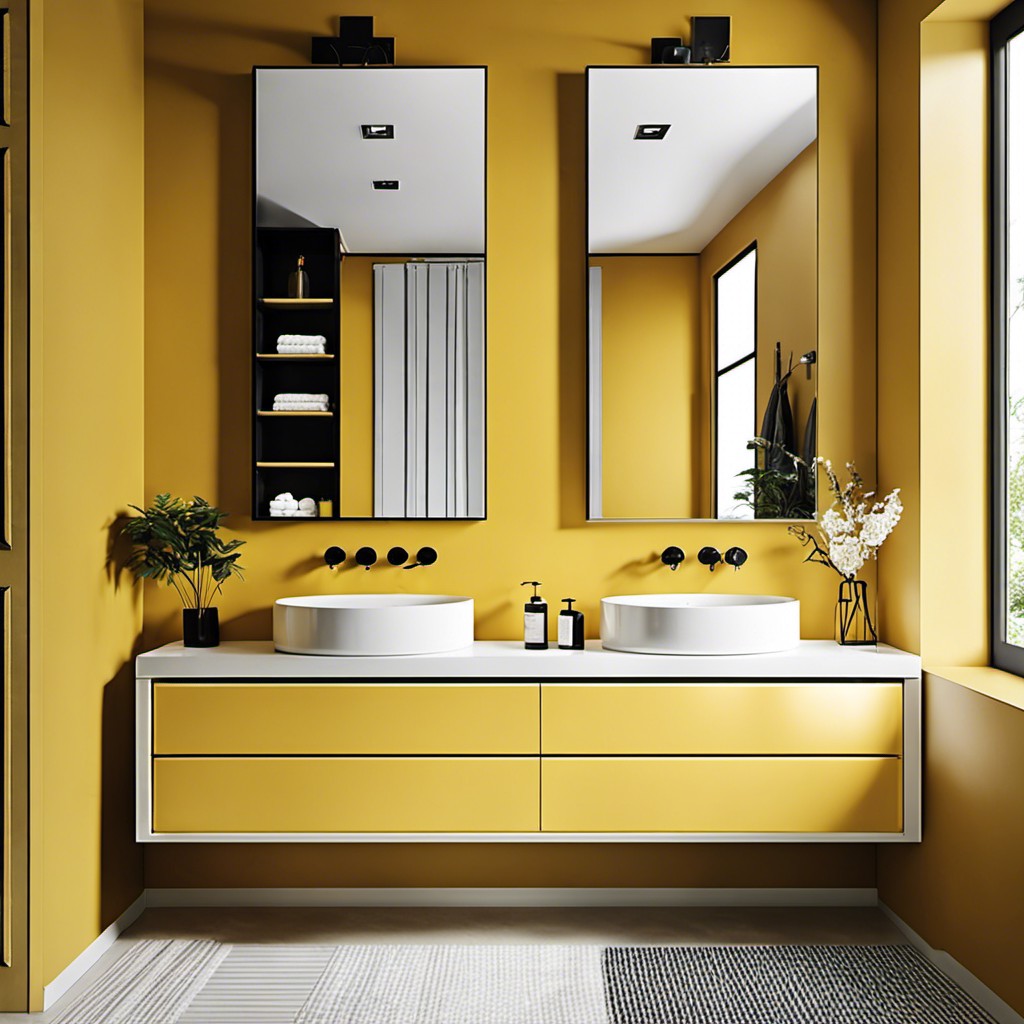 Double basin setups are an ideal choice for shared or master bathrooms, offering ample space for two people to carry out their morning routines without jostling for elbow room. Choosing a yellow finish adds a bright, cheerful ambiance, perfect for energetic morning starts.
The yellow hue works well with a variety of countertop materials. Marble, with its intricate patterns, or a muted quartz can both beautifully complement the shade. Keep the fixtures, such as taps and drawer handles, in muted tones like brushed nickel or bronze to balance the vibrant base.
For a contemporary touch, opt for recessed basins. Top-mounted basins, on the other hand, add a traditional charm. Adequate storage options with under-counter cabinets or side towers ensure a clutter-free space.
In terms of lighting, consider a pair of matching pendant lights on either side of the mirror. They'll highlight the yellow vanity and provide adequate illumination for makeup application or shaving. Balance it all with neutral flooring and walls, so the vanity remains the star player in the decor.
Finally, do not underestimate the power of accessories. A set of yellow or contrasting towels, a matching bath mat, or even a vase with fresh sunflowers on the countertop tie everything together for the vibrant, shared bathroom.
Retro Style Yellow Vanity With Curved Edges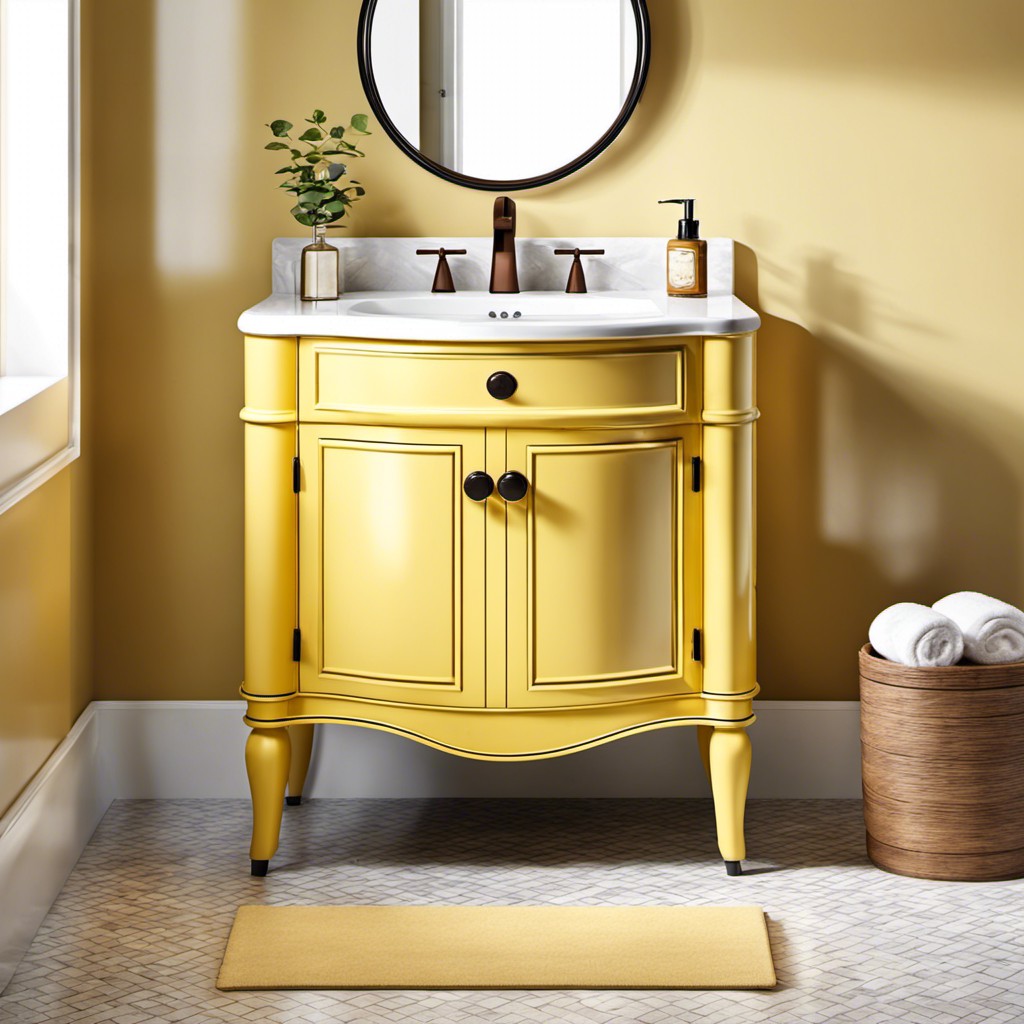 Oozing charm and character, this vanity style stands out due to its distinctive curved edges – a trademark of retro design. The splendid yellow color bolsters its vintage appeal, while also injecting a dose of cheerfulness into the bathroom.
Teamed impeccably with rounded mirrors and matching fixtures, the overall appearance is welcoming and undeniably stylish. To top it all, consider using chrome handles for a touch of authentic retro flair. Remember, balance is key.
So, pair it with light, muted colors on the walls and floor to prevent a cluttered look. Don't shy away from patterns – they were a big part of the retro era. Polka dots or funky geometric tiles can really make this vanity pop.
Yellow and Navy Blue Contrasted Vanity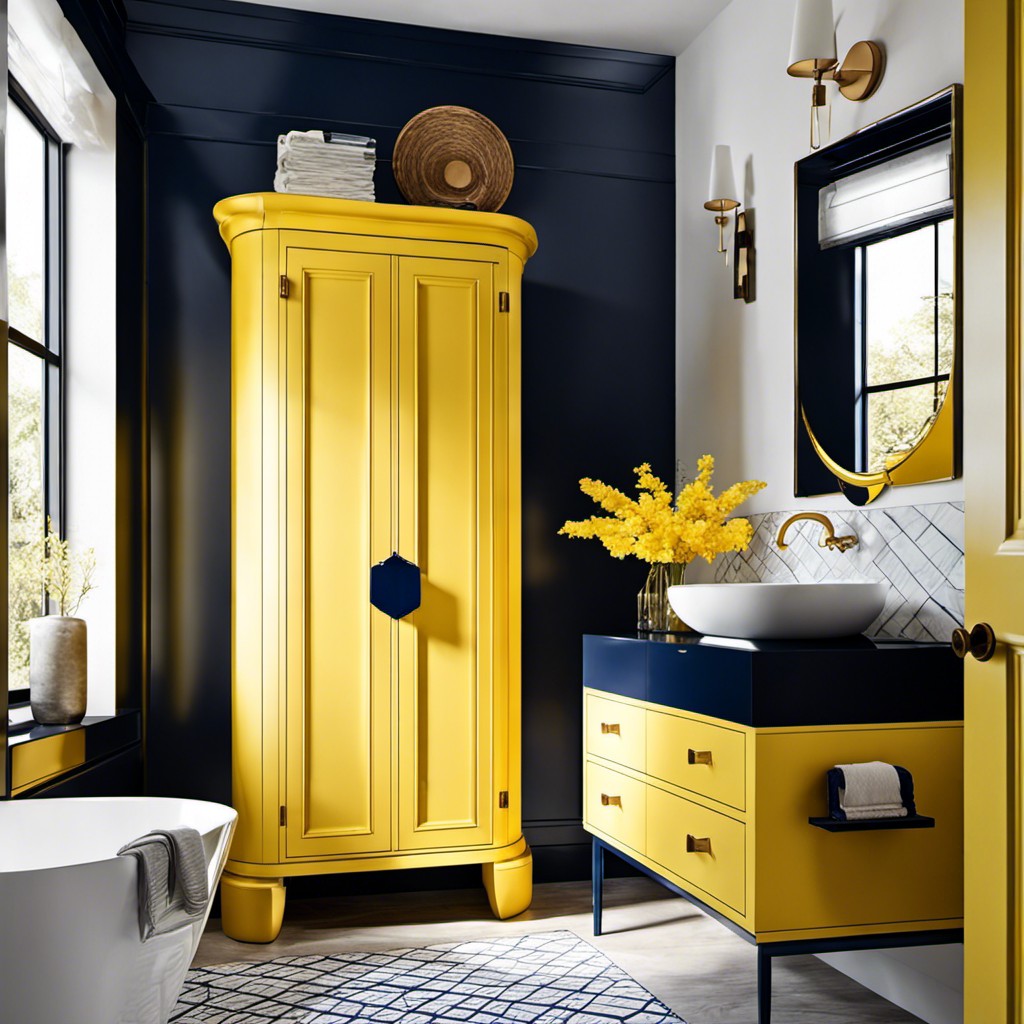 Offering a striking color balance, this vanity choice creates a visual feast in any bathroom. The appealing contrast of the rich navy blue with the cheerful yellow sparks a unique pairing, giving the vanity an element of surprise.
Here are some key aspects to consider with this design:
1. The darker blue offers a sophisticated and calming backdrop against the pops of yellow. It tones down the vibrancy of the yellow and injects a level of maturity into the design.
2. Choosing a glossy finish for both colors enhances their interaction and adds a sense of luxury.
3. Polished brass or silver hardware complements this duo excellently, creating a cohesive look.
4. Using navy blue mainly on the lower half, on the cabinet doors for instance, and yellow on the upper half, say the drawers, can deliver a visually pleasing layered effect.
5. Adding navy blue and yellow elements such as matching towel sets or rug can make the whole room more tied together.
This vanity style is ideal for courageous decorators who aren't afraid to play with colors and create a bathroom space that stands out.
Yellow Vanity With Transparent Glass Basin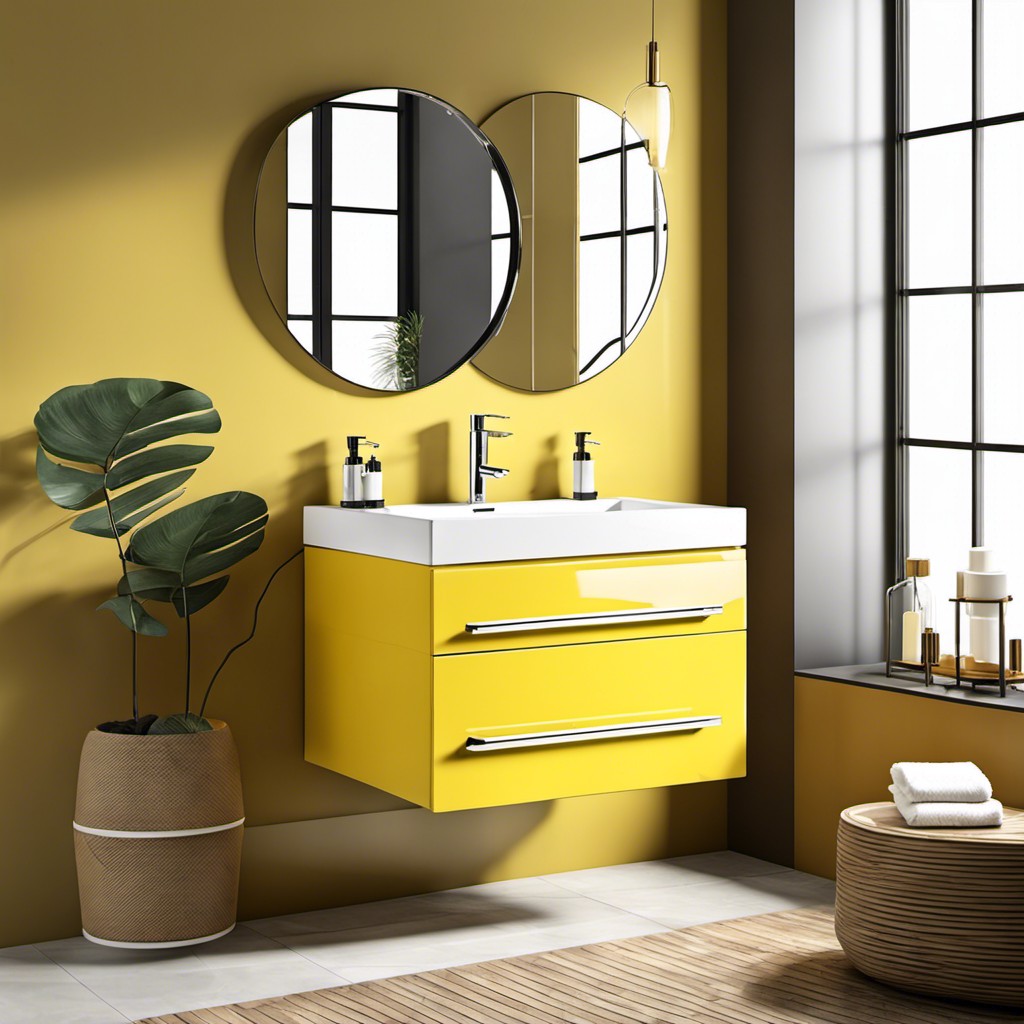 Highlighting the unique aesthetic of a transparent glass basin paired with a yellow vanity, it's important to emphasize the balance of materials and color. The nature of glass brings an element of elegance and sophistication, while the yellow tone provides a pleasant, cheerful ambiance. The radiant glow of this particular hue can instantly warm a cold space and create an inviting feel, especially when complemented with natural light.
This vanity style offers versatility, perfectly fitting into a modern, contemporary, or a beach-themed bathroom. It adds a pop of color without overpowering the space. Furthermore, a transparent glass basin is easy to clean and maintain, making it a practical choice too.
For a cohesive look, ensure the other fixtures and fittings in the bathroom either contrast or match with the vanity. For instance, chrome faucets and clear light fixtures can create an ultra-modern aesthetic. Alternatively, aged brass fittings can cultivate a more traditional and warm feel. Always remember, the key to a well-designed room lies in the delicate balance of color, texture, and functionality.
Traditional Yellow Vanity With Gold Trim Details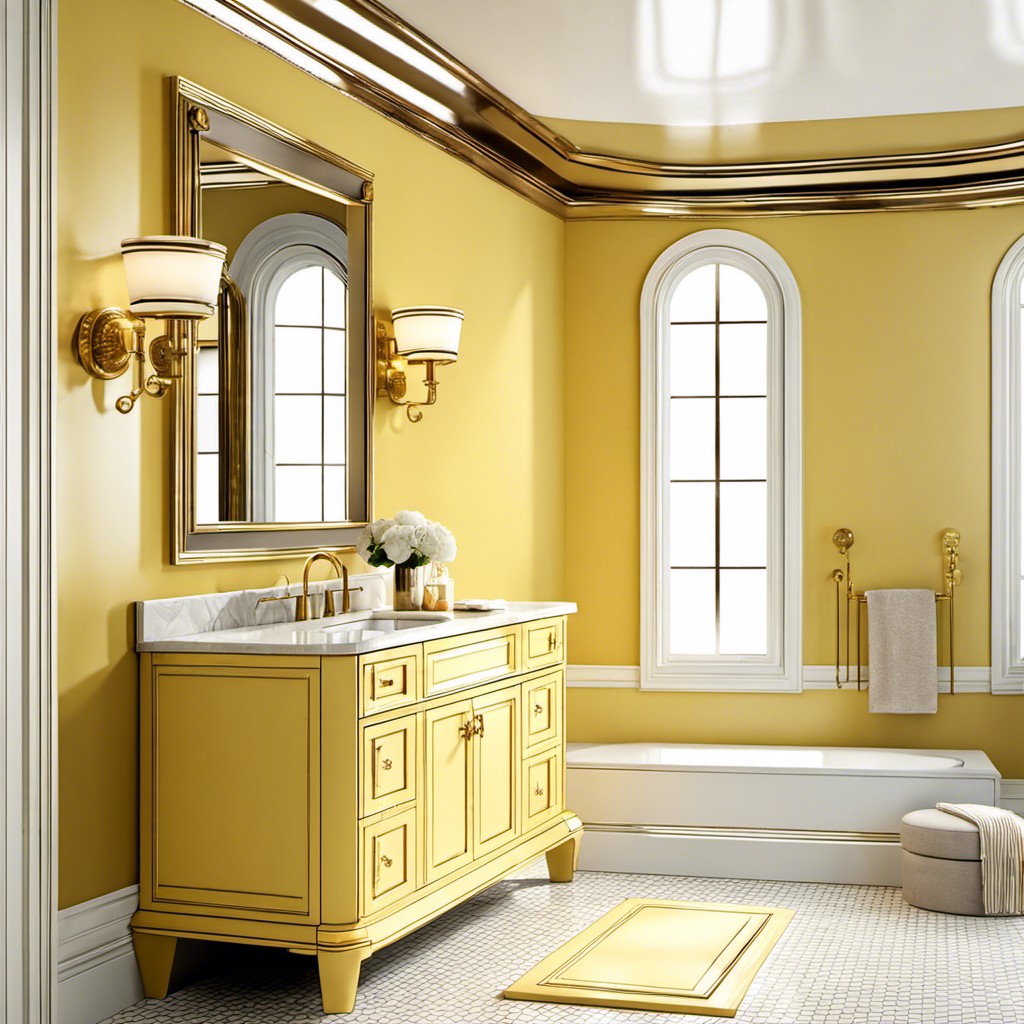 Adorned meticulously with beautiful gold trim, such vanities add a touch of elegance and sophistication to any bathroom.
The royal look provided by the blend of yellow and gold can breathe life into any interior.
The gold trim, often made from high-quality brass, adds durability and luxury.
You can maximize this design by pairing it with matching gold fixtures like faucets and door handles.
For countertops, consider marble or granite to uphold the traditional aesthetic.
Also, incorporating ample storage under the sink area can couple functionality with style.
To enhance the visual appeal, opt for ornate gold framed mirrors and matching wall scones.
However, to ensure the space doesn't become overwhelming, keep the walls and flooring neutral.
Lemon Yellow Vanity With Minimalistic Storage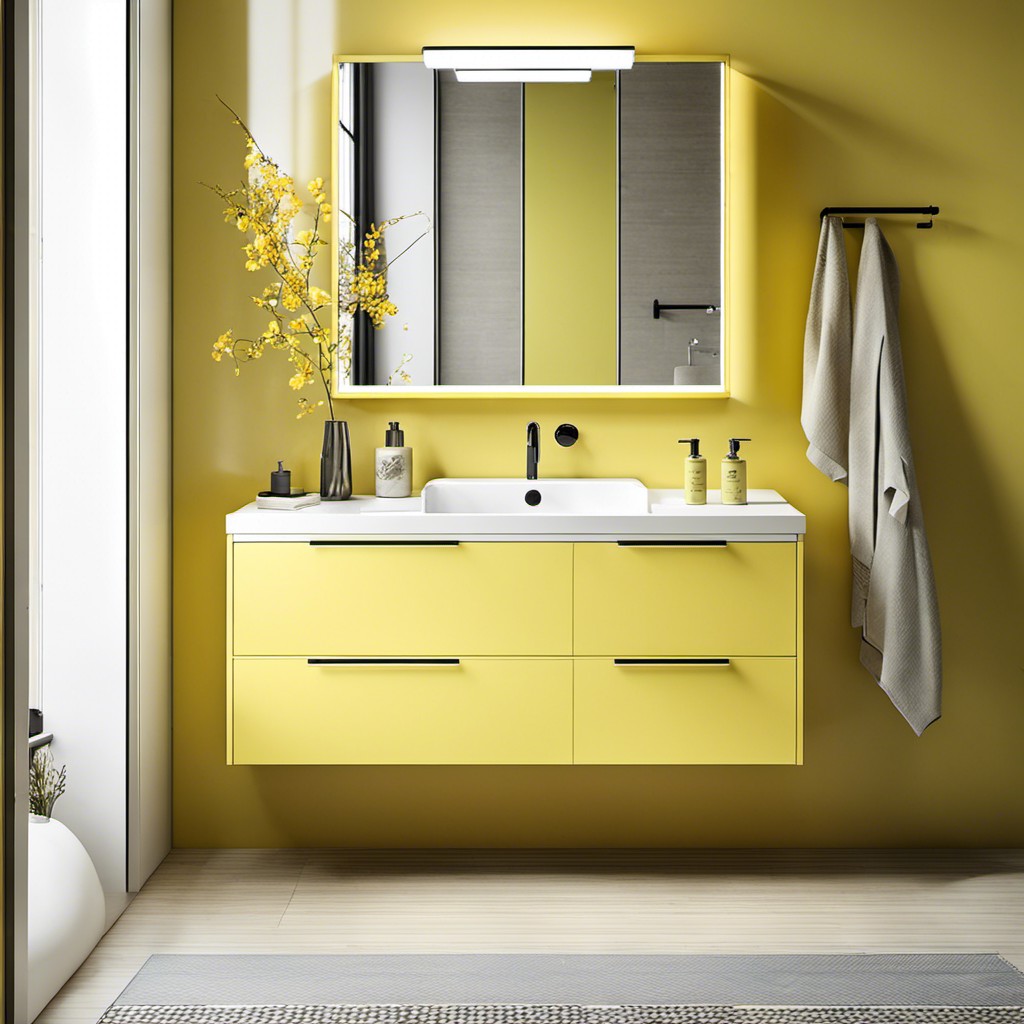 Radiating a soft, warm glow, this approach enhances openness and invites brightness into the bathroom. Minimalism promotes the bare essentials, focusing on functionality and simplicity.
The vanity can have basic shelving or drawers for necessities. Choose a white or light-colored basin to complement the lemon yellow. For a complete look, pair with monotone accents, keeping the overall design neat and uncluttered.
The finishing touch can be a large circular mirror, which subtly reflects the soothing yellow tone, thus balancing the color scheme. This design is perfect for those who prioritize order, neatness, and a touch of vibrancy in their bathroom decor.
Custom-built Yellow Wooden Vanity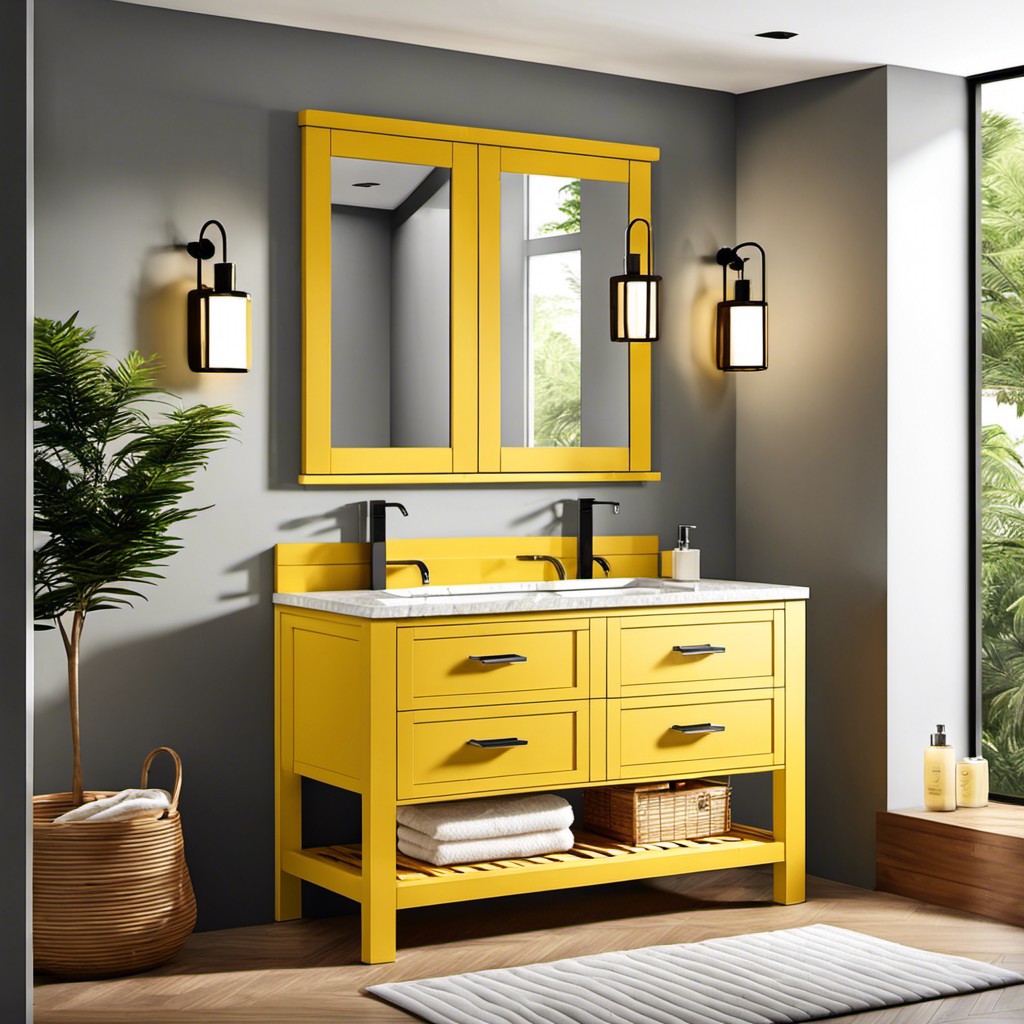 When desiring flexibility in design and size, commissioning a custom-built vanity may be the best option. Choosing wood as the primary material enhances the natural aspect, while a yellow paint finish injects vibrancy into the bathroom.
Uniquely, it allows the possibility to incorporate specific features: extra storage, unusual dimensions, or tailored shapes to perfectly suit your bathroom layout.
Don't forget the importance of coordinating with overall room aesthetics. A wooden vanity can complement either a modern or traditional decor, depending on your chosen accessories and hardware.
For instance, sleek chrome handles will give a contemporary edge, whereas antique bronze fixtures might edge more towards vintage.
Remember, longevity is crucial. Opt for durable, moisture-resistant wood varieties such as teak or cedar to ensure your vanity withstands the test of time.
Lastly, balance your vibrant yellow with a neutral countertop, like a classic white marble, to prevent the color from overwhelming the space.
Careful choices will help you build a stylish and functional custom piece.
Dandelion Yellow Vanity for Small-sized Bathrooms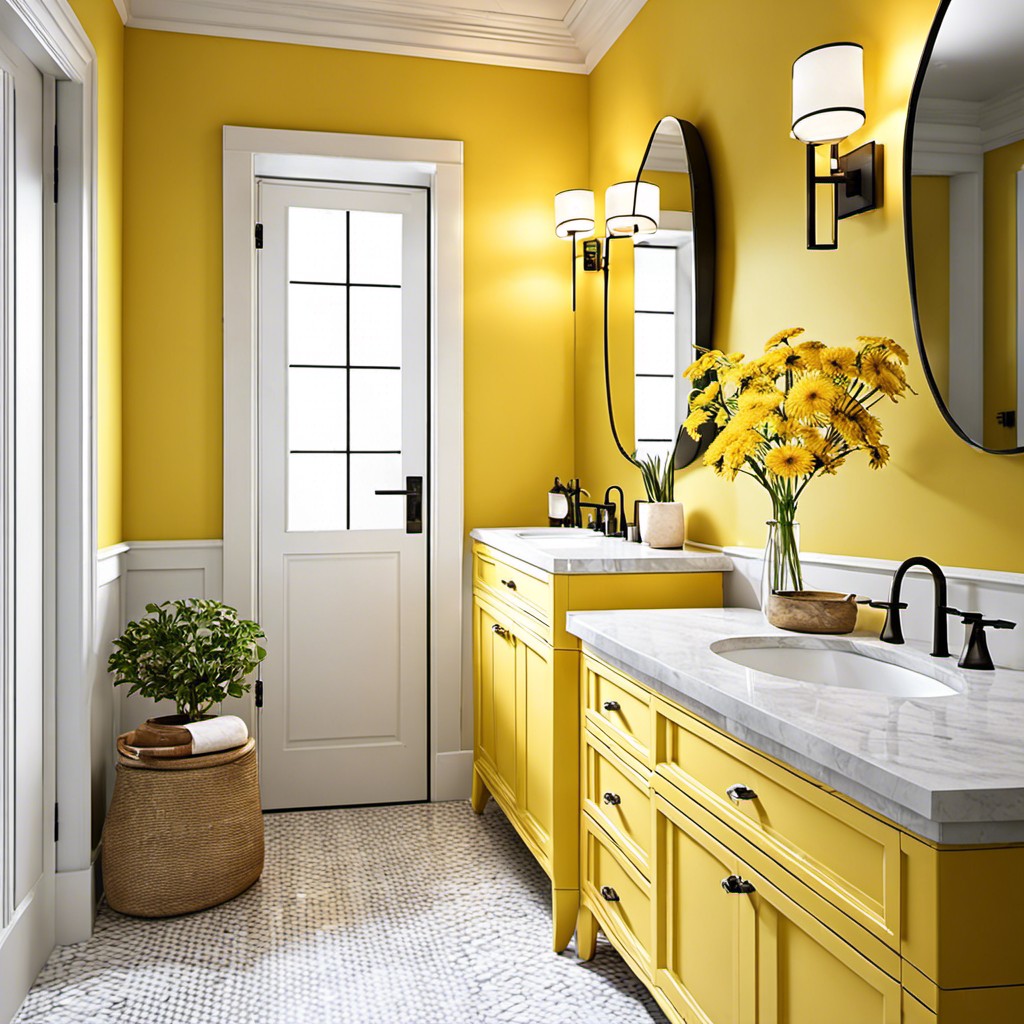 Choosing an optimal vanity size is crucial for smaller bathrooms to prevent crowding, maintain freedom of movement, and uphold an open space illusion. The dandelion shade blends brightness and warmth, thus illuminating the ambient and making it appear more spacious. Opting for a pedestal or wall-mounted style can further save up precious floor space.
Highlight features, such as streamlined designs and functional storage solutions, are essential to balance the need for storing toiletries while maintaining a clutter-free setup. Consider pairing the vanity with sleek, modern hardware and a mirrored cabinet above to reflect light and reinforce the airy appeal.
The color of the walls and floors plays a significant role in harmonizing with this vanity choice. Light colors, such as creamy whites or soft grays, can complement and elevate the dandelion yellow, making the vanity a focal point.
When it comes to accessories, less is more. A couple of daisy yellow hand towels, a modern minimalist pendant, or a sleek shelf with tiny planters can subtly support the ambience without overpowering the importance of the vanity. With these strategies, the dandelion yellow vanity can significantly enhance the small bathroom, bringing about cheerful energy and a welcoming atmosphere.
Golden Yellow Vanity With a Brushed Nickel Faucet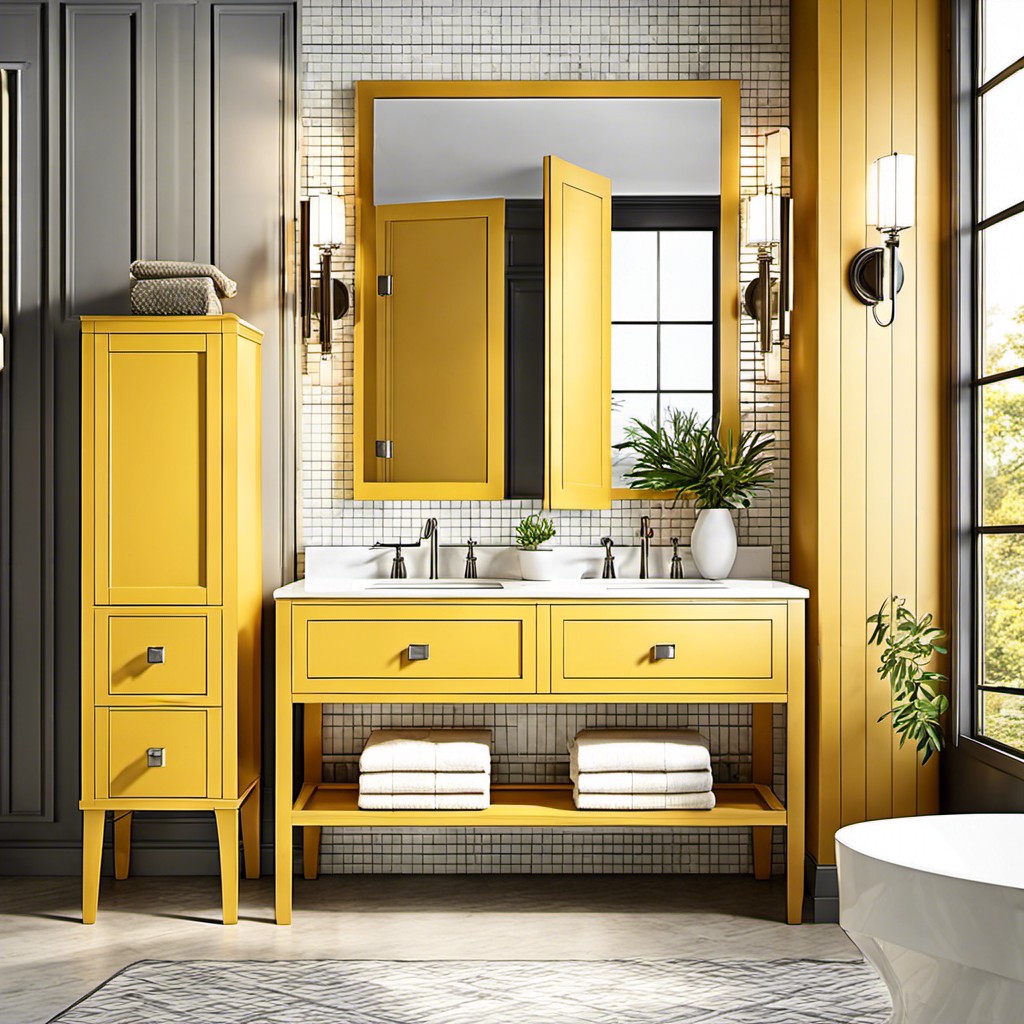 Choosing a golden yellow hue for your vanity not only injects vibrancy but also brings a touch of luxury to the bathroom. The rich, warm tone of gold pairs beautifully with a brushed nickel faucet, which amplifies the elegance and presents an astounding look.
A few points to consider:
1. The golden yellow color of the vanity is a focal point that enhances the space and uplifts its overall mood.
2. Brushed nickel faucets offer a soft metallic contrast, subtly offsetting the boldness of the golden vanity.
3. To further complement this vibrant setup, consider a pale wall color or subtle patterns in soft hues.
4. For a more dramatic effect, use matching brushed nickel light fixtures overhead.
5. Utilize golden yellow accessories like towels and mats to create harmony in your bathroom.
Integrating these ideas will ensue a brilliant balance between bold colors and soft metallics, injecting the perfect balance of elegance and fun into your bathroom.
Trendy Floating Vanity in Mustard Yellow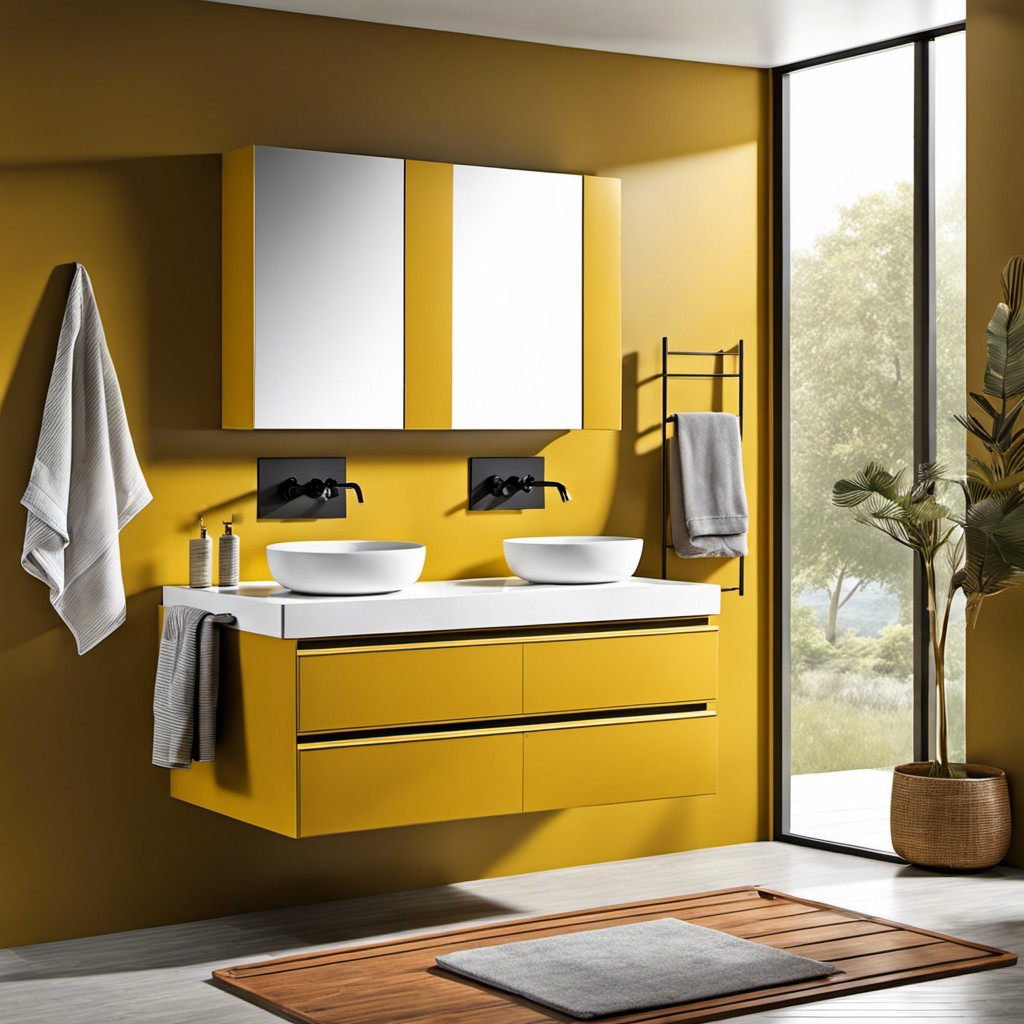 Floating vanities lend a sense of modernity and spaciousness to a bathroom. Opting for a mustard shade allows for a trendy yet timeless aesthetic.
Here are key points to consider about this design:
Space efficiency: This vanity appears to "float" off the ground, providing an illusion of more floor space, perfect for bathrooms with lesser square footage.
Modern appeal: The installation of a floating vanity gives the bathroom a contemporary, updated look. The mustard yellow color then infuses warmth and vibrancy.
Versatility: This vanity's color caters not only to fashion-forward aesthetics but also traditional tastes.
Storage: Despite its compact design, a floating vanity offers significant storage capacity. It's an optimal place for toiletries and decorations without eating much into your bathroom space.
Easy maintenance: Without touching the floor, these vanities make cleaning a breeze.
Remember, though mustard yellow is bold, it can blend seamlessly with neutrals or darker shades for a balanced yet engaging design. When paired with the right materials and accessories, it can transform your bathroom into a stylish sanctuary.
Yellow Vanity With Open Shelving for a Rustic Look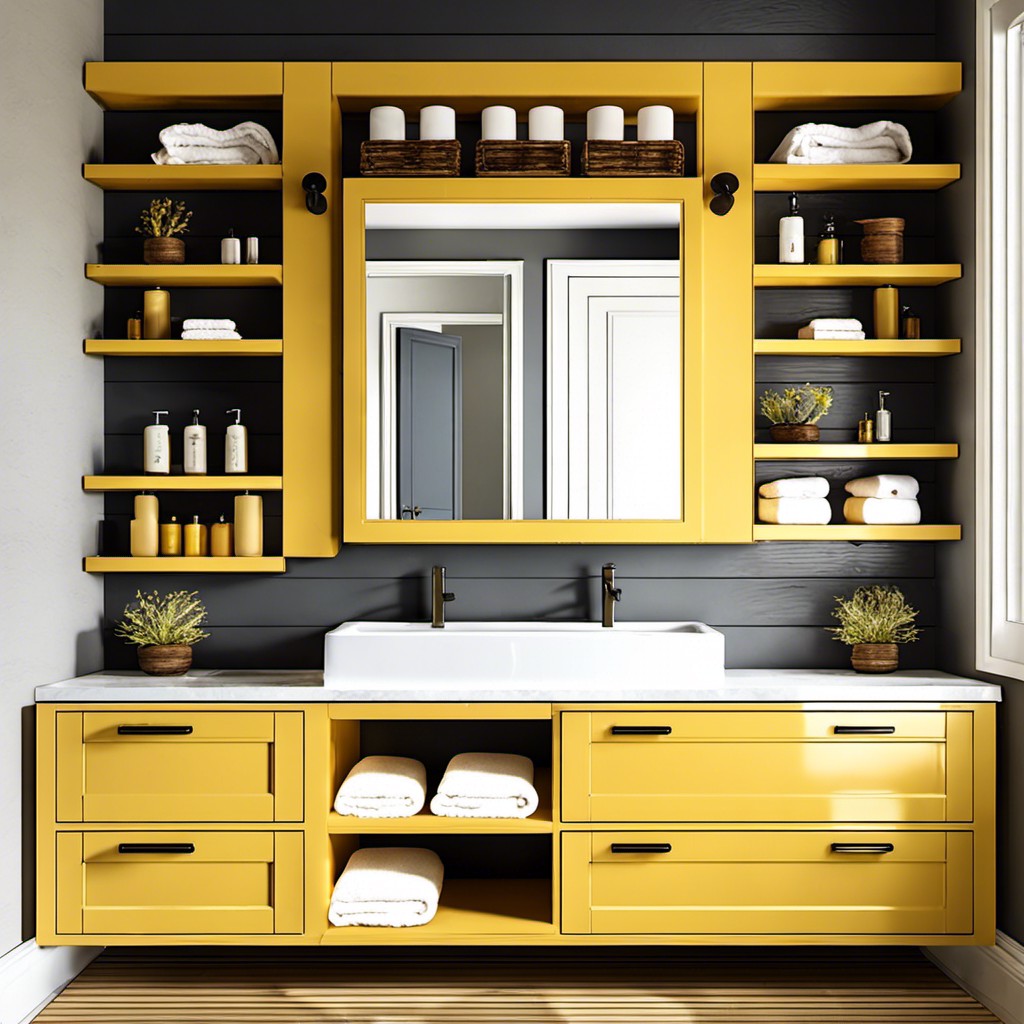 Opting for open shelving beneath the vanity not only provides easy access to bathroom essentials, but it also gives an airy and spacious feel. Painting the vanity unit in a warm yellow hue can exude a rustic charm that blends comfort with style.
Here are some key factors:
Pair the yellow hue with natural wooden shelves to enhance the rustic appeal.
Wicker baskets are a great addition for a farmhouse-inspired look and extra storage.
Metal accessories like a brushed nickel faucet or bronze handle pulls can add an industrial touch, complementing the rustic theme.
The open shelving can showcase neatly folded towels or bath products in glass jars, enhancing bathroom aesthetics.
Consider a weathered or distressed finish on the yellow paint for a more authentic rustic appearance.
Continue reading: