Last updated on September 5, 2021
Are you running out of ideas for tiny living homes? Spark your creativity and check out 15 interesting vertical space-saver ideas to make your home cozier.
Have you spotted a lovely piece of furniture to add to your home? You're oh-so-ready to cash out or swipe the card. But there's just one thing that's stopping you from buying it – not enough space at home. Yikes.
If you're young and single living the vertical life, or tiny house living then this might be a common dilemma. Yes, tiny house living may have offered a lot of benefits, but is it hindering your creativity and decorating needs?
As the tiny living movement continues to gain attention lately, it also opened doors to maximizing every bit of space at home and increasing the functionality of every piece of furniture. Let your creativity run along as we give you these 15 tiny living ideas for a cozier home.
What's Inside
Space-saving Kitchen Ideas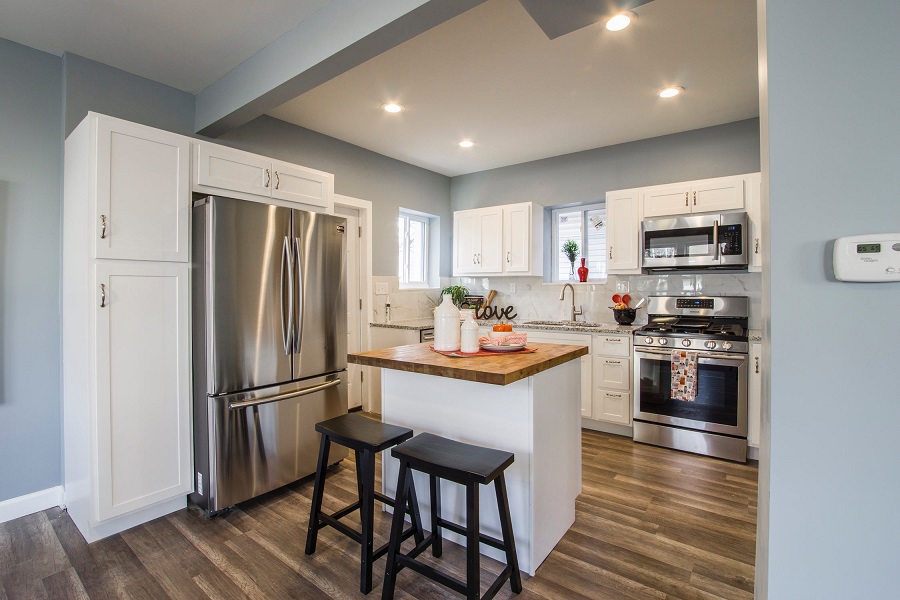 The most cluttered part of the home is the kitchen. This is where tiny living furniture comes in to be able to accommodate all the basic kitchen necessities. Kitchen furniture that is a space-saver can spare you from a whole lot more inconveniences.
Foldable Furniture
Something similar to the space saver dining table from IKEA will be the perfect life-saver for those impromptu visits from friends and families. If you're a family of four, just fold the other end of the table and save more on dining space.
Furniture with Wheels
The kitchen will benefit from a piece of furniture for tiny living such as this table that comes with wheels and can be folded in half. It's very convenient to move around, however, make sure to lock the wheels if you're going to use it and to keep it stationary.
Inner Door Storage
Did you know that you can still utilize the inner portion of the doors of your kitchen cabinet? Yes, you can. Just add hooks or racks and you can use them to hang potholders, place condiments and tissue boxes, etc.
A Space Saver Storage Above The Window/Door
If your kitchen comes with windows, that extra space above it can be one of your storage solutions. You can place kitchen towels, bowls, and other kitchen essentials that you don't often use. If you're looking for a bathroom space saver, placing a shelf above the bathroom's door will add extra storage for towels and toilet papers.
Pegboards
Pegboards are multifunctional pieces of furniture for tiny living spaces that you can add anywhere in your home particularly in the kitchen. Just add hooks to hang those extra pans and cooking utensils or use them for other items that you often use.
Ideas for Tiny Living Rooms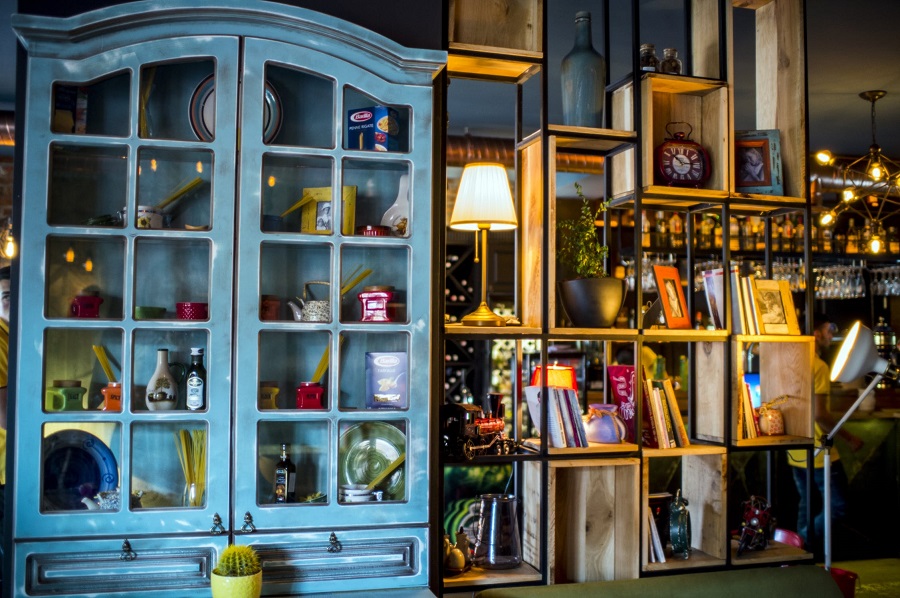 Most homeowners choose furniture for their house based on functionality and design. If this seems like a farfetched idea when living in a tiny house, the following decorating hacks might just change that.
Shelves Built from Floor to Ceiling
A floor-length shelf might sound a bit overwhelming for tiny living spaces. The opposite is true, however. It minimizes the clutter and provides a very artistic appeal. It also serves as an area where you can place books, indoor plants, or any decorative piece you want to add to it. 
See-Through Decorations
One of the tiny living room ideas you can explore is putting see-through decorations, especially in a small room. The decoration won't block the sunlight and at the same time creates an illusion of a wider space.
Space Saver Staircases
One of the space savers best to utilize is underneath the staircase. You can store unused decorations, household cleaning items, umbrellas, magazines, extra luggage, etc. and this storage won't affect the tiny living room layout.
Glass Walls
To delineate the boundary between a tiny living room and the bedroom, especially if living in a bachelor's pad or a flat, glass walls will allow space continuity. It will also make space look wider and longer.
Vertical Green Living Walls
One of the tiny living space ideas you can adopt is the green living walls. This is perfect if where you're staying doesn't have provisions for a terrace or a balcony. With the vertical greenery, you can grow your own indoor plants, and it is just one of the cheap space solutions you can explore.
Bedroom Space-Savers Furniture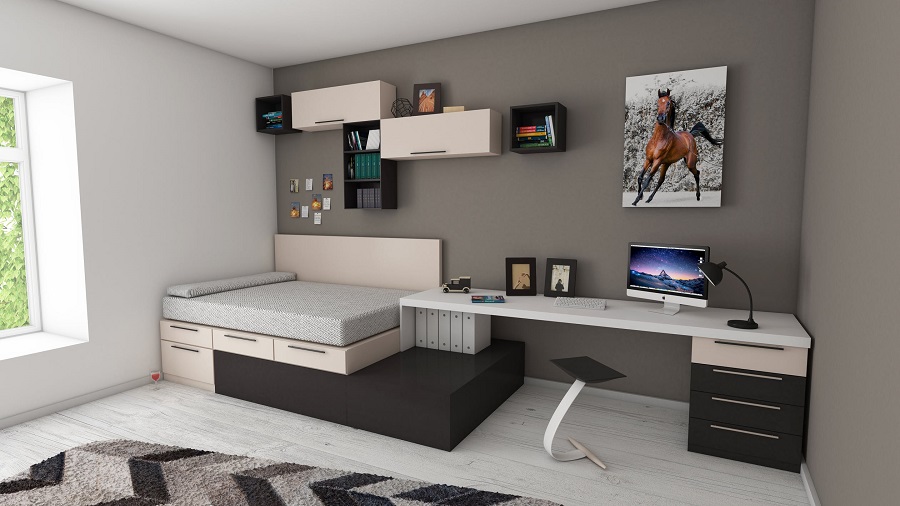 A space-saver table isn't only applicable in living rooms and dining areas. Having one in the bedroom makes those late study nights more comfortable, especially when the bed isn't an option and the living room just has so many distractions.
Wall Beds
Wall beds or Murphy beds keep on getting better and better when it comes to being a space-saver bed. There are designs that come as a 3-in-1 piece of furniture used as a sofa, a bed, and a shelf. This can also be one excellent addition to your tiny living room furniture.
Pull-Out Desk
A space-saver desk will work extremely well as a study table. Trusted family brands, help the bedroom look less cluttered. It is functional and yet serves as a stylish complement for your bedroom's overall design.
Floating Shelves
Do you have a personal collection you don't feel like showcasing as furniture for the tiny living room? The floating shelves are perfectly suited for these bric-a-bracs and mementos that give your bedroom a more personal touch.
Vertical Closet
Fashionistas won't have any problem adding more to their wardrobe collection by having space-saver hangers. These are the ones that come with clips and additional hooks for scarves, neckties, ribbons, and other fashion essentials.
You can also make a custom space saver hanger by attaching a chain to it where you can hang other clothes. The trick here is to adjust your closet rod as high as it can possibly go and leave no space out above.
Loft Bedroom
Tiny living houses that offer more space vertically will benefit more from loft bedrooms. You may ask your contractor to build one above a particular area that strategically complements your home's overall design and will offer easy accessibility.
With these ideas in mind, you'll find that decorating tiny living homes is actually fun, plus it boosts your creativity. You might live small, but nobody says to never dream big and aim high (literally) with your designing options by going vertical.
Continue reading: