Last updated on November 25, 2023
Opt for a vibrant kitchen space instead of traditional white cabinets because these alternative color schemes can breathe new life into your kitchen!
These are my unique design concepts made using design tools. I hope you find them inspiring!
Diving right into the world of kitchen decor, white cabinetry has been the reigning champion for quite some time. But what if there was a twist on the old narrative?
In this article, the aim is to provide a breath of fresh air, exploring alternative concepts and injecting some personality into your kitchen space.
While there will certainly be an index of existing popular alternatives to white kitchen cabinets for reference at the conclusion, the focus here is truly on delivering new, innovative ideas.
Embarking on this exploration together, the goal is unveiling fresh perspectives and unique alternatives that might just inspire your next kitchen makeover!
So let's jump into this exciting realm of endless creative possibilities.
What's Inside
Pastel Yellow Cabinets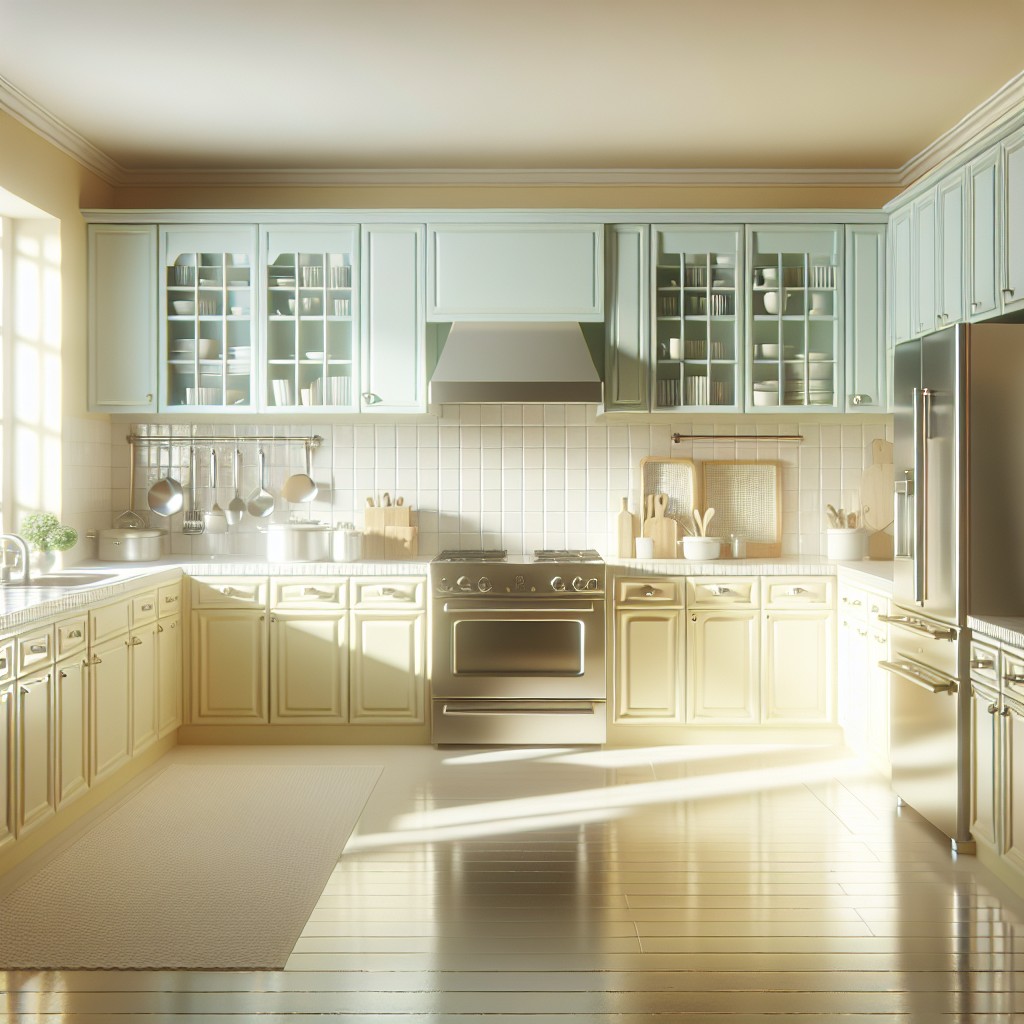 Embracing a pastel yellow hue for your kitchen cabinets can instantly brighten and warm your space. A common pick among enthusiasts of vintage and farmhouse designs, this color easily complements both stainless steel and rustic wood accents. It offers a softened, less formal vibe compared to stark white, and provides a canvas for your artistic expression.
This shade is often combined with off-white walls and ceilings, enabling the cabinets to capture attention without overwhelming. Adding accents such as brass handles and white marble countertops can further enhance their aesthetic.
The versatile nature of pastel yellow enhances its blend with a variety of color palettes. You can pair it with pastel green for a vibrant, sunny atmosphere, or cobalt blue for a more sophisticated contrast. Regardless of the style you choose, a pastel yellow theme for your kitchen cabinets facilitates a cozy, welcoming ambiance.
Silver Metallic Cabinets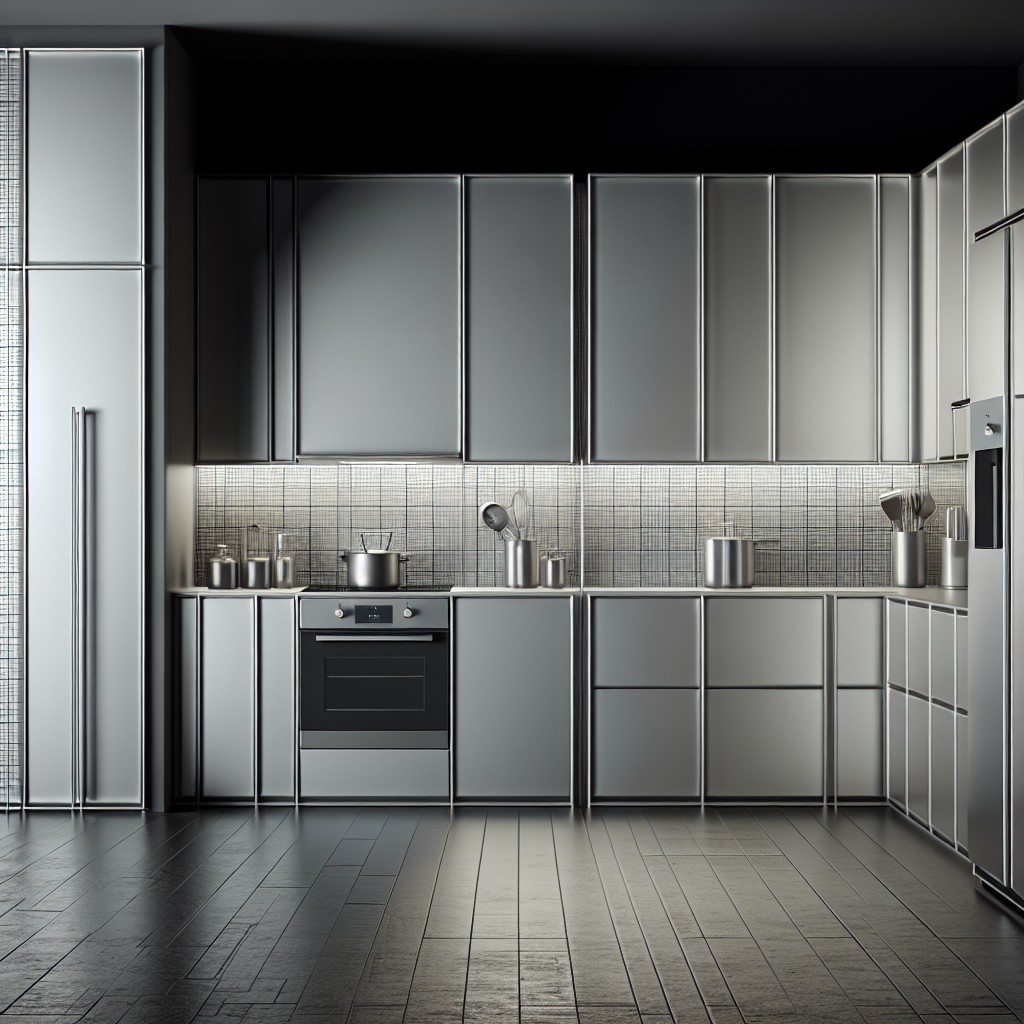 Silver metallic cabinets bring a futuristic, modern feel to your kitchen space. They reflect light beautifully, brightening even the smallest of spaces and adding sophistication.
These cabinets are sleek, easy to clean and highly durable, resisting the damage typical in kitchen environments such as humidity, heat, and stains.
Combining well with both neutral and bold color schemes, they can be paired with a variety of countertop materials and finishes.
With LED lighting and modern appliances, silver metallic cabinets significantly up the ante in style.
Honey Oak Cabinets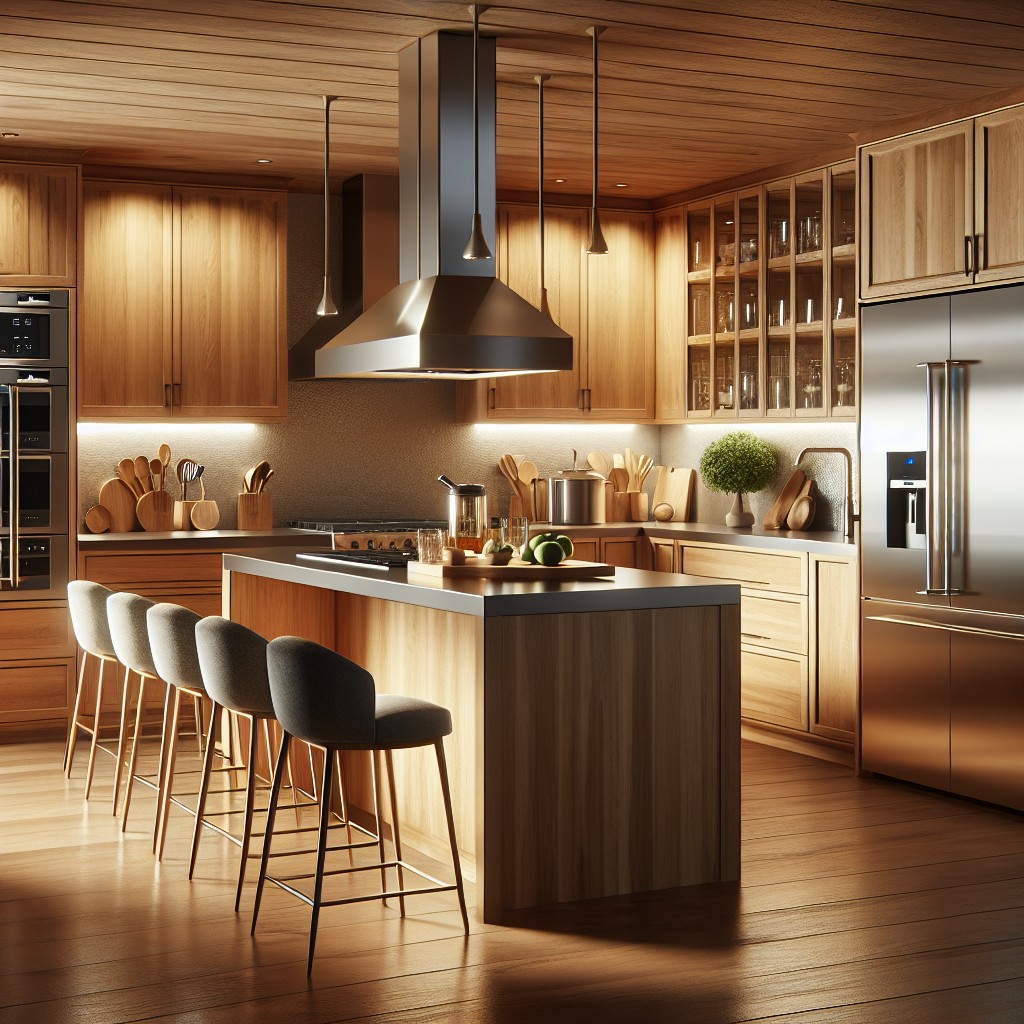 Boasting a natural, cozy aesthetic, honey oak cabinets bring warmth to kitchens. Besides their appealing wooden textures, they're a perfect choice for that country or farmhouse style. Pair them with neutral, white, or cream-colored countertops for a balanced look.
To accentuate their organic vibe, use copper or black matte hardware. Don't forget about the proper lighting as it's vital to enhance the beautiful grain patterns. Traditional pendant lights or modern recessed lighting can create fascinating interplay between light and shadow on honey oak surfaces. You can also place few indoor plants or place green backsplash to cultivate a look that exudes freshness.
Maintenance is smooth sailing; regular cleaning with a soft, damp cloth will keep them vibrant over time. They're a low-key choice for those seeking both robustness and a touch of countryside aesthetic in their kitchen space.
Remember, the beauty of honey oak cabinets lies in their versatility, they can match with a wide variety of kitchen styles and paint colors. With just a little creative effort, they can be the standout piece in the heart of your home that always remains timelessly trendy!
Cherry Red Cabinets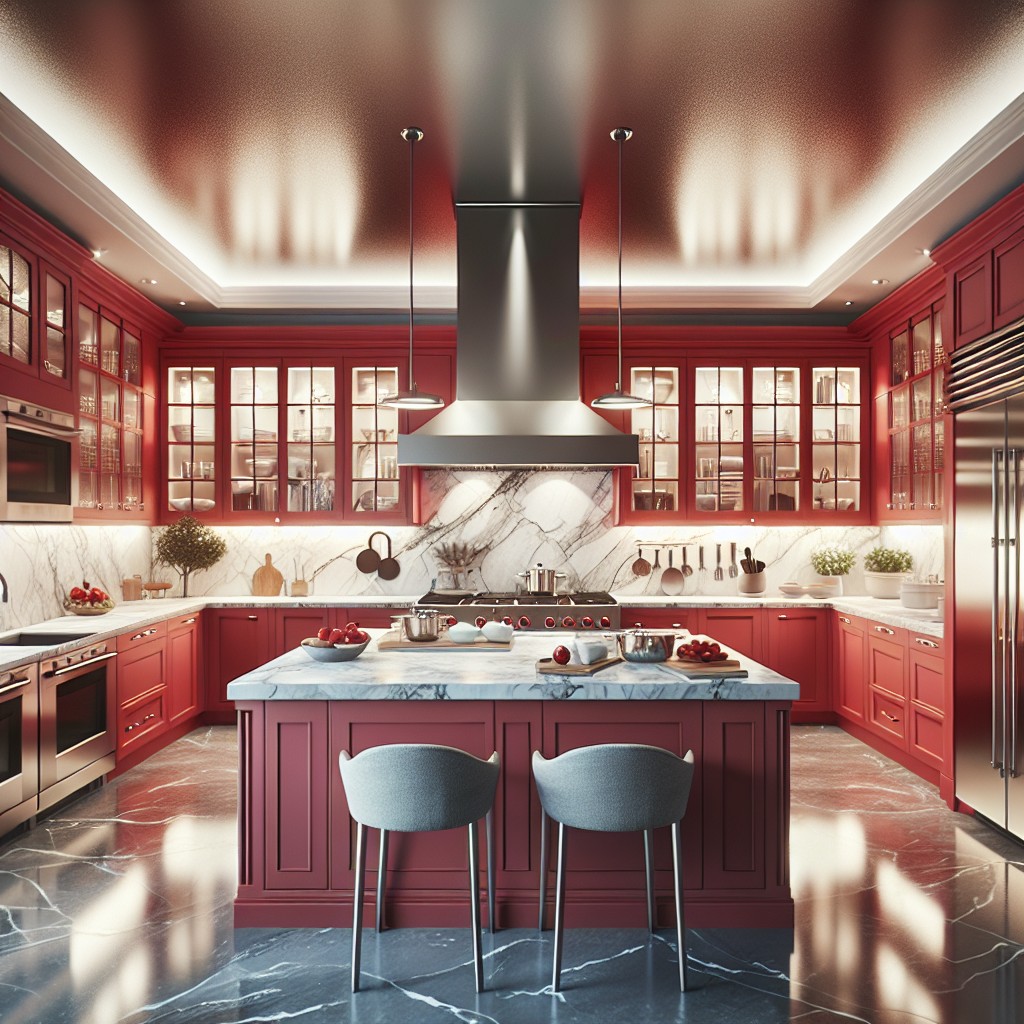 Adding a pop of color, Cherry Red Cabinets bring a vivacious personality to your kitchen, creating a lively atmosphere. Here's what makes them special:
1. Vibrant Aesthetics: With their intense hue, these cabinets can uplift any dull room.
2. Versatility: Complementing various themes from rustic to modern, they ease the interior design process.
3. Visibility: The rich tone enhances visibility, helping stay organized by clearly demarcating storage areas.
4. Durability: Red Cherry Wood is known for its sturdiness and longevity.
5. Easy to Decorate: Pairing well with both light and dark countertops, choosing coordinated decor becomes straightforward.
Balancing color and functionality, Cherry Red Cabinets offer an upbeat alternative to conventional white ones, giving your kitchen a show-stopping look.
Mahogany Brown Cabinets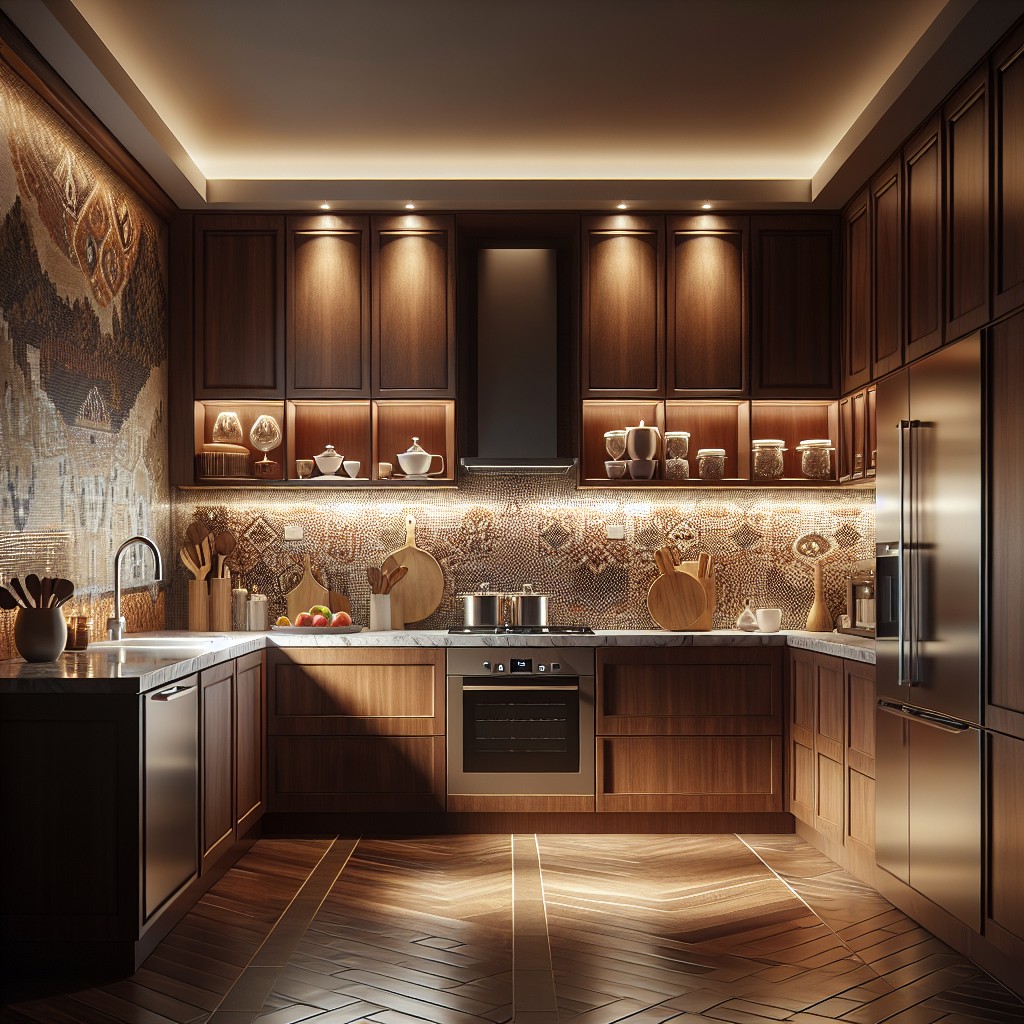 Sporting a rich hue, these cabinets infuse the kitchen space with a warm, cozy feel. The wood's inherent warmth contrasts beautifully with lighter countertops or backsplashes, while also complementing darker shades. A mahogany kitchen cabinet radiates a sense of traditional elegance, creating a timeless look.
More than just visually pleasing, mahogany's strength and durability further set it apart. These cabinets resist warping and rot well, ensuring long-term functionality. If well-maintained, the natural luster of mahogany does not dull, but instead ages gracefully, enhancing its aesthetic appeal. Even better, mahogany's smooth surface takes to staining well for those wanting a custom color.
Consider these points:
Pairing with Light Colors: A light-colored kitchen island or backsplash serves as a striking focal point amidst mahogany cabinetry.
Metallic Accents: Brass or gold hardware against the backdrop of mahogany creates a luxurious, stately ambiance.
Lighting: Soft, warm pendant lights accentuate the depth and richness of mahogany, enhancing its natural glow.
Remember, each kitchen is unique. While mahogany is a fantastic option, it's crucial to consider the overall design theme, natural lighting, and individual aesthetic preferences when making the final decision.
Rustic Barnwood Cabinets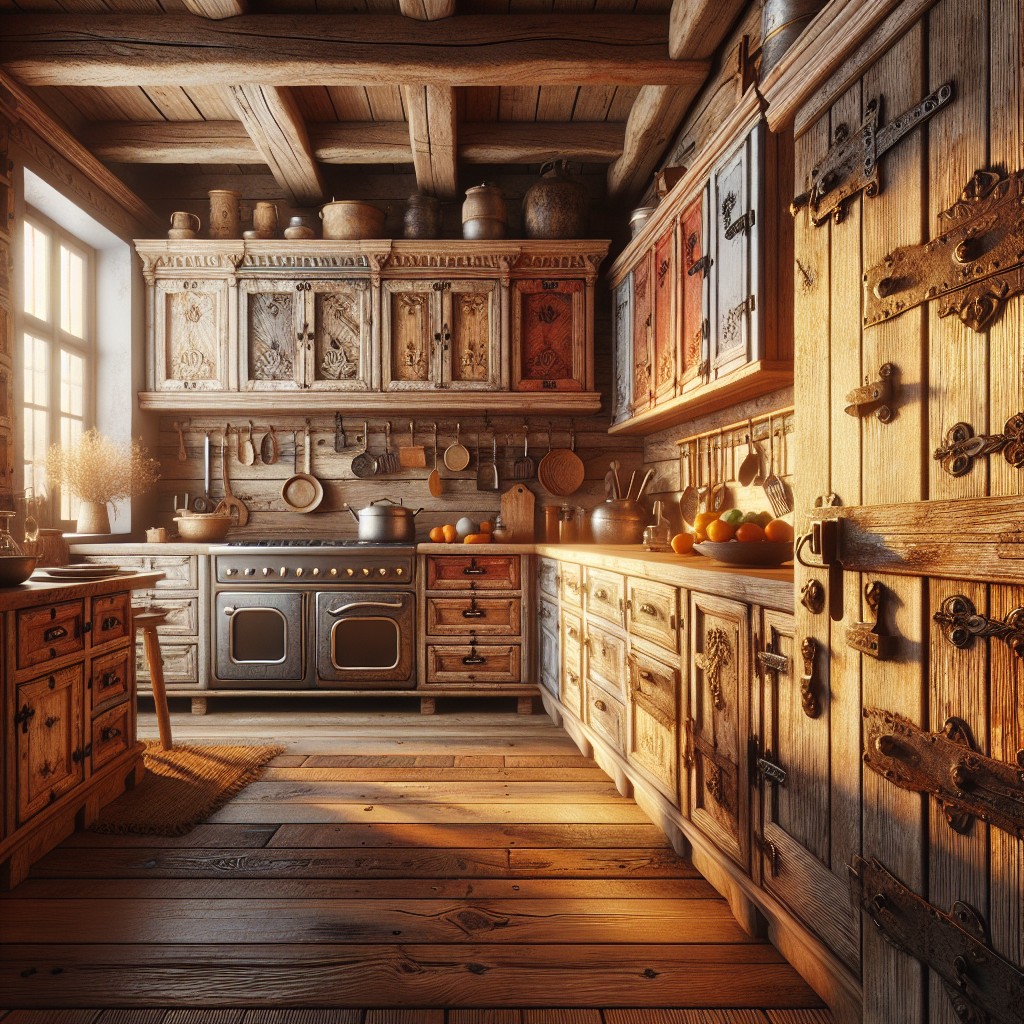 Reclaiming old barn wood for kitchen cabinets delivers an authentic rustic charm. Injecting rugged allure and history in your cooking space, these cabinets create a warm, inviting ambience. Perfect for farmhouse-style kitchens, they add texture and dramatic contrast.
Some aspects to consider when choosing rustic barnwood cabinets include:
Wood Type: Vintage oak, pine, and hickory are popular options offering unique knots and grains.
Finish: Clear or lightly tinted sealant highlights the wood's natural character.
Hardware: Iron or bronze handles and hinges complement the rustic aesthetic.
Maintenance: Due to their unfinished or lightly finished nature, special care is required for cleaning and preserving the wood.
Remember, every piece of barn wood has a story. Its rich, aged patina enlivens your kitchen, making each meal preparation a memorable experience. Embrace the beauty of the past to inspire your culinary creations today.
Espresso Color Cabinets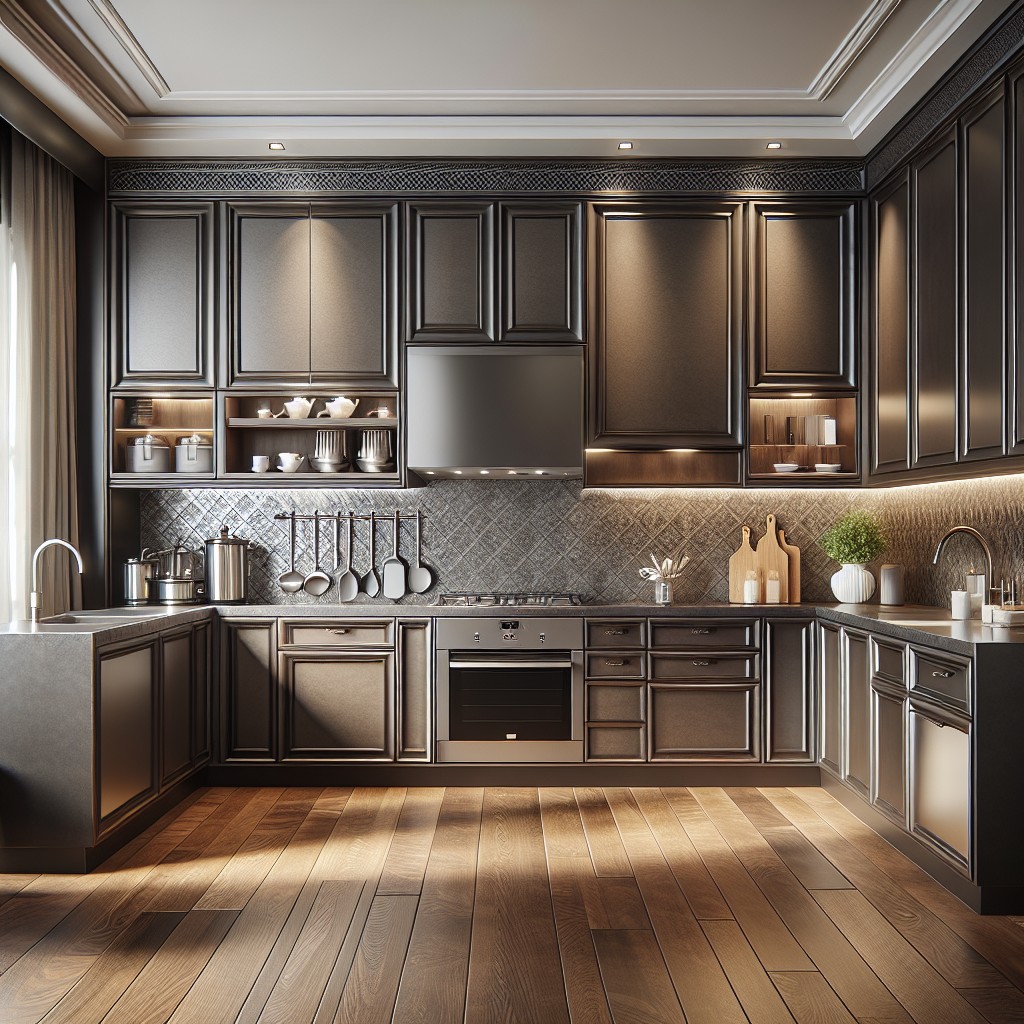 Rich in depth and trendy in design, Espresso Color Cabinets bring an enticing warmth to the kitchen ambiance. With their deep, coffee-like hue, they provide the perfect contrast to lighter countertops and walls, fostering a striking balance in the decor.
Being a versatile shade, it can pair effortlessly with a multitude of colors, metallic finishes, and accessorizing material choices.
Not only aesthetically pleasing, but these cabinets are also practical for a busy kitchen due to their darker tone, as they are less likely to show stains or smudges.
Consider combining these cabinets with glass doors for a touch of sophistication, or matte metallic hardware for a modern appeal.
Moreover, it's a smart choice for smaller kitchens as well due to the darker color creating an illusion of depth, making the space appear larger.
Thus, Espresso Color Cabinets are a stylish and functional choice for an upgrade from traditional white kitchen cabinets.
Burnt Orange Cabinets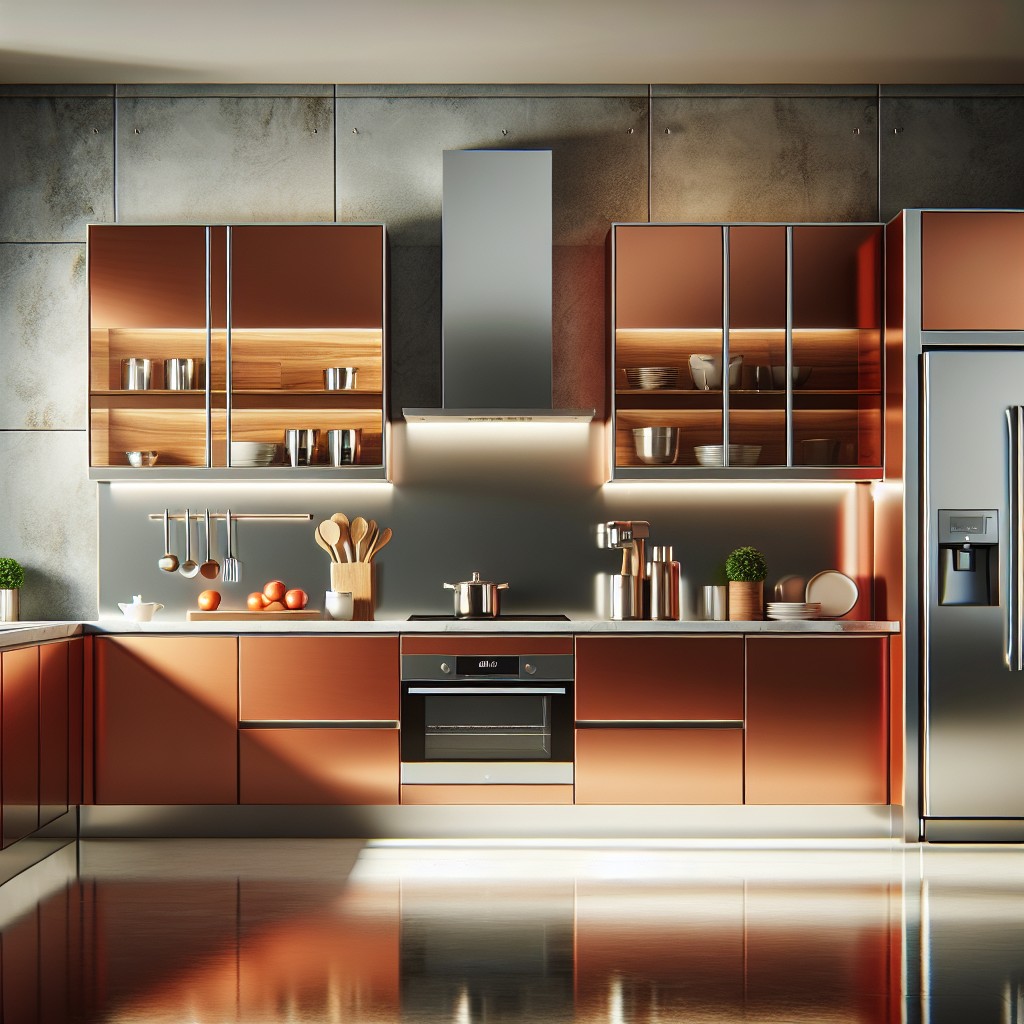 Cabinets painted in a burnt orange hue offer an immediate injection of warmth and vibrancy to the kitchen. This shade works particularly well in spaces that receive plenty of natural light, brightening up the room while still maintaining a cosy atmosphere.
The burnt orange tone can perfectly balance modern stainless-steel appliances, adding an inviting, homely touch to an otherwise sleek design. It's a versatile color that pairs excellently with neutrals, particularly greys and whites, but also coordinates well with darker shades like navy blue or forest green.
Consider a high-gloss finish to really make your cabinets pop and enhance the modern aesthetic. Alternatively, a matte finish provides a more subdued and refined look. For hardware, consider black or bronze fixtures to add an element of sophistication and contrast.
Remember, a kitchen doesn't always have to conform to traditional expectations. There's room for creativity, for personal touches that reflect your taste and style. Burnt orange cabinets might just be the bold statement that takes your kitchen from ordinary to extraordinary. Be mindful of the rest of your kitchen's decor, but don't be afraid to let these bold cabinets steal the spotlight.
Earthy Olive Green Cabinets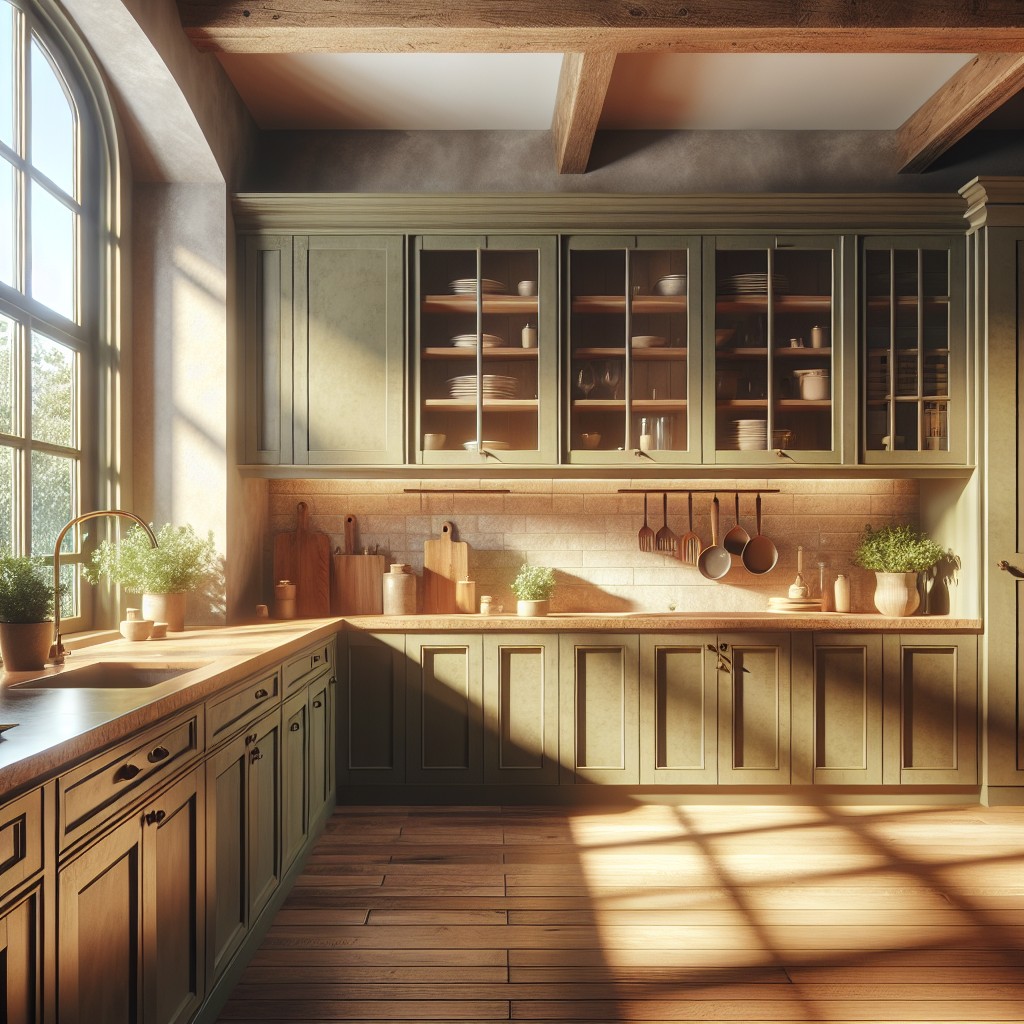 Adding an earthy touch, olive green cabinets can bring a much-needed hint of nature into your kitchen. The muted green shade works well with various materials, from metal to wood. Pair them with light granite or marble countertops to create a warm and inviting space.
For a more rustic look, complement these cabinets with exposed brick walls.
To create a significant impact, consider painting all your cabinetwork in this shade, including the island if you have one. Olive green is versatile and works both in traditional and contemporary settings, lending an atmospheric depth. The color lifts spaciously so it won't make the kitchen feel smaller, making it an excellent substitute for white cabinets.
Remember, brass or copper hardware, like handles or knobs, distinctly stands out against the olive background.
Different shades of olive green can also create different effects. Light olive creates a soft and friendly vibe, while dark olive gives a richer, almost military-like ambiance. These cabinets definitely stand out and make your kitchen eccentric without being too overwhelming.
Remember, it's about balance. Given the earthy feel of olive green, incorporate natural elements like wooden open shelves or plants to establish harmony within the space.
Warm Cognac Cabinets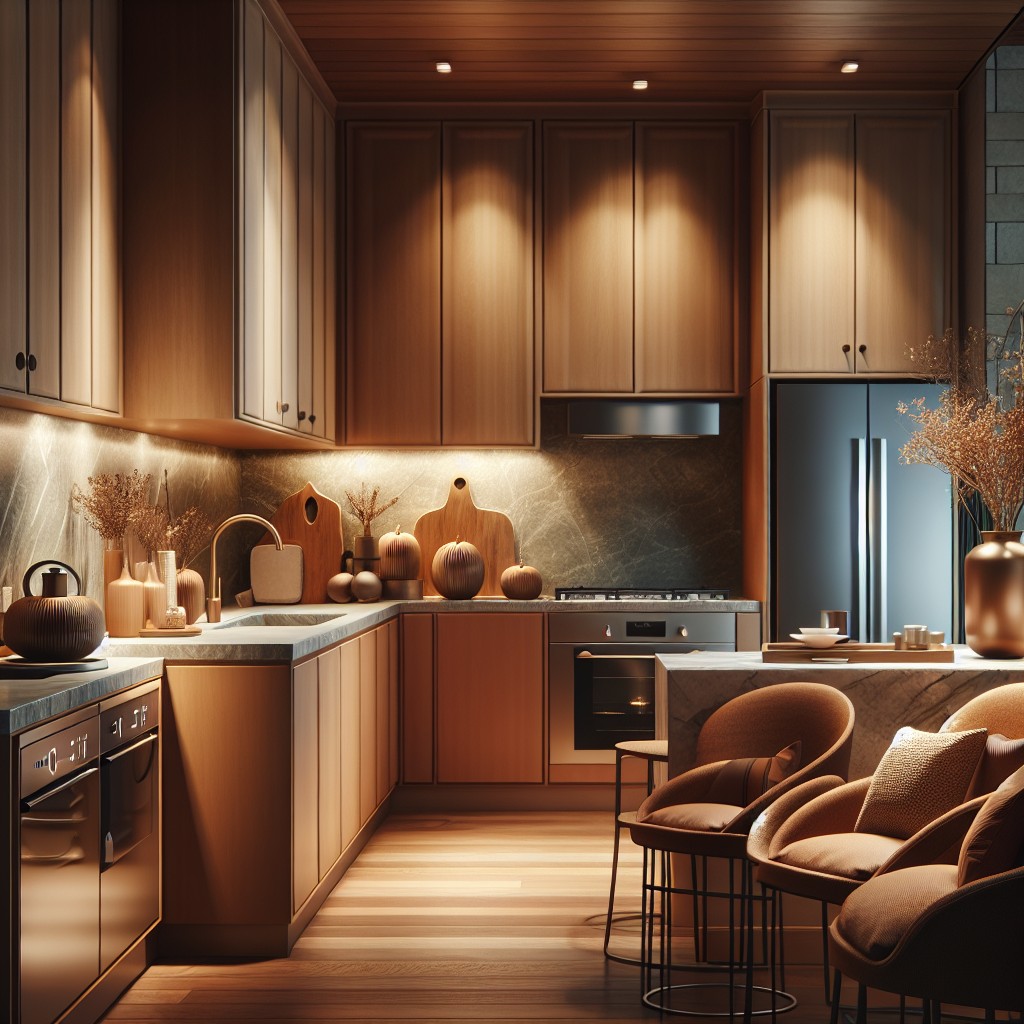 Warm cognac is a favored choice for those looking for a cozy and inviting ambiance. The rich, brown hue of these cabinets quite effortlessly embodies warmth and elegance. Its natural wooden texture is ideally suited for both modern and traditional styles, creating an exquisite combination.
Here are a few points to consider with this color scheme:
Pair with Neutral Backdrop: A beige or cream background beautifully complements rich cognac cabinets. This simple tactic accentuates the stunning warmth of the cabinets, making them a focal point.
Stainless Steel Appliances: Stainless steel appliances seamlessly blend with warm cognac cabinets, giving the kitchen a modern touch amidst the traditional feel.
Earth-Toned Accents: Small accents such as planters or pottery in terracotta, rust, or other earth tones, further enhance the warm appeal of the kitchen.
Natural Light: Utilize plenty of natural light to naturally elevate the warmth of cognac cabinets.
With these aspects in mind, a kitchen adorned with warm cognac cabinets effortlessly curates a warm, inviting, and aesthetically pleasing kitchen environment.
Vintage Teal Cabinets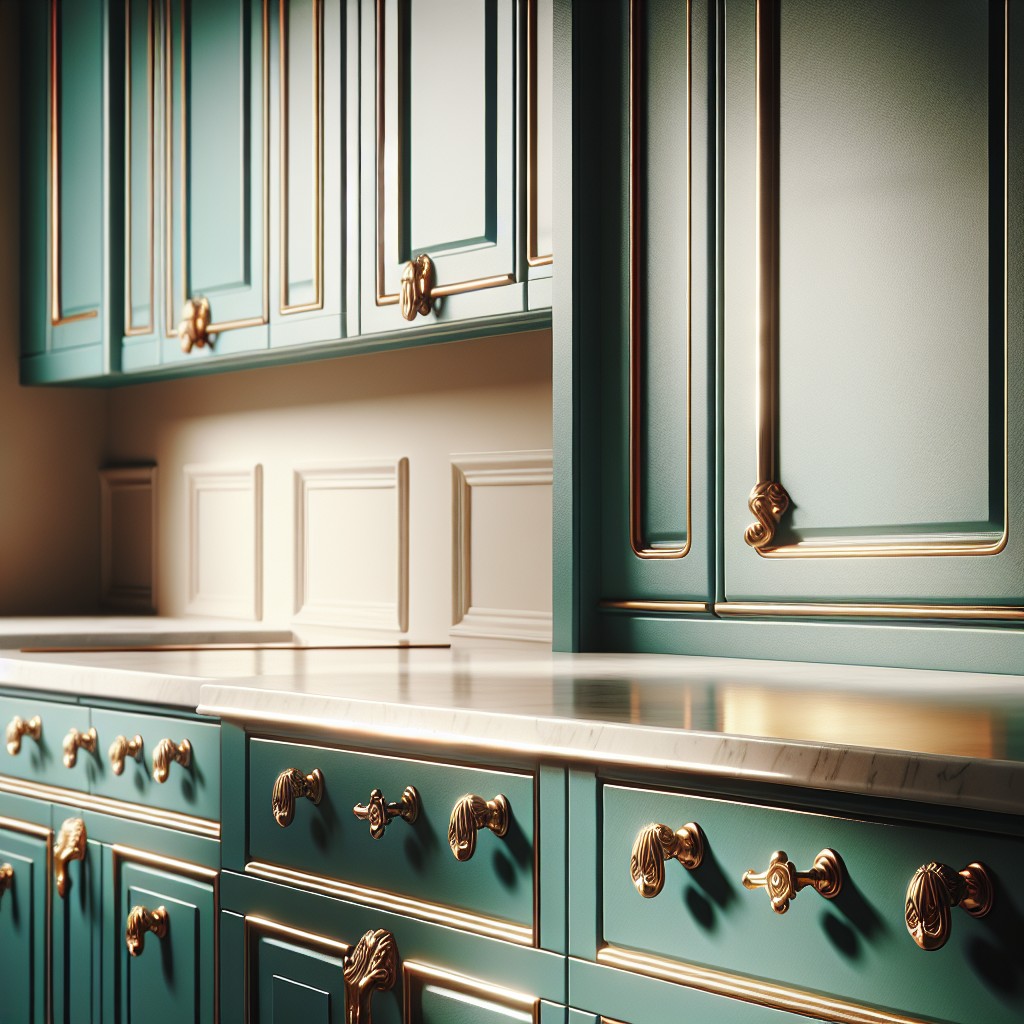 Bringing a refreshing splash to any kitchen, vintage teal cabinets infuse a tranquil yet dynamic vibe to the overall design. Here are a few points on why this might be your next kitchen cabinet color:
1. Playful sophistication: Vintage teal strikes the perfect balance. It's fun yet classy, offering a unique charm that sets your kitchen apart.
2. Versatile Match: This hue pairs exceptionally well with a spectrum of colors, from warm neutrals to vibrant accents, providing countless design opportunities.
3. Timeless Appeal: Teal's retro undertone gives it a timeless quality. Regardless of kitchen trends, this option stays relevant and appealing.
4. Camouflage Capability: Minor stains or splatters won't be as noticeable on teal cabinets as they would be on lighter options, ensuring a cleaner-looking kitchen.
5. Mood Elevator: The calming yet invigorating characteristics of this color can potentially lift moods and stimulate a more enjoyable cooking environment.
So, if you're seeking a shift from conventional white, these stunning teal cabinets could transform your kitchen into a lively, serene, and uniquely stylish space.
Sunny Coral Cabinets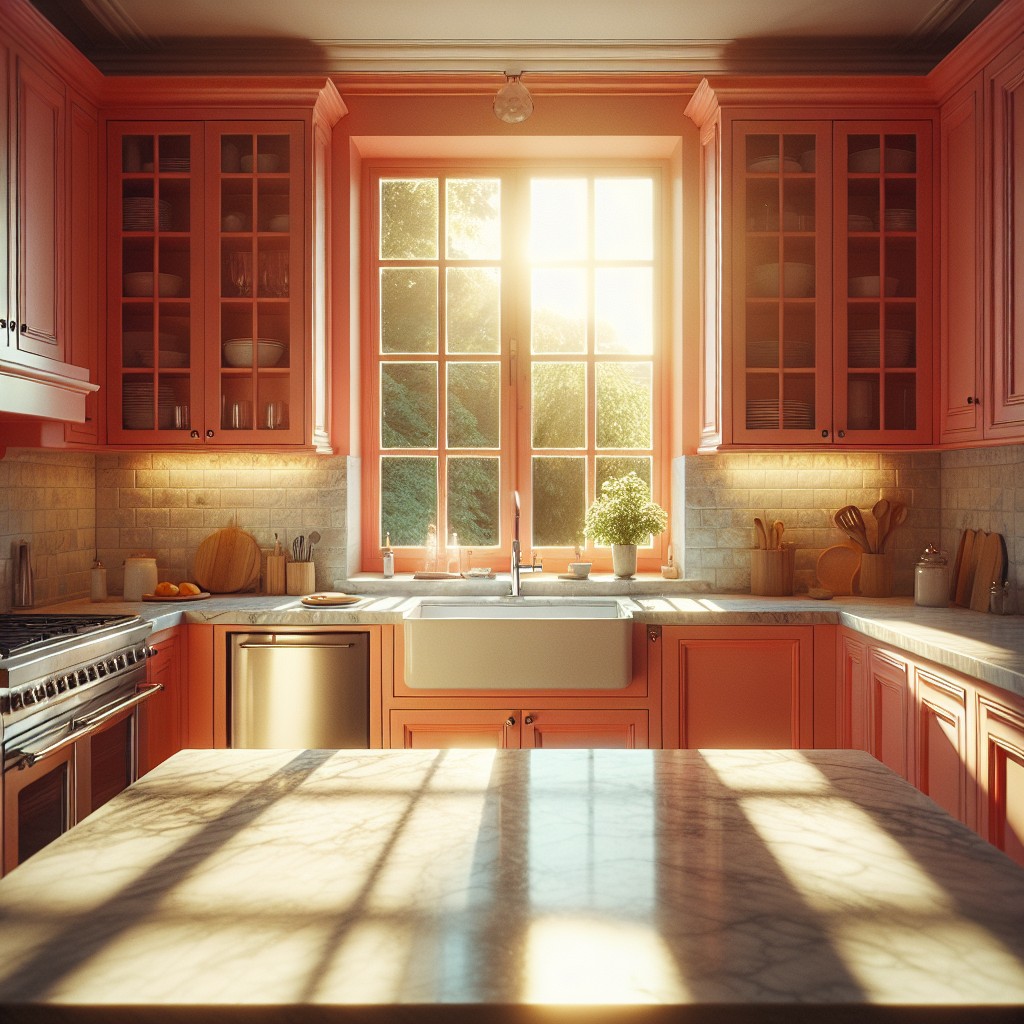 Delighting the eyes with their vivid brightness, sunny coral cabinets infuse warmth into any kitchen. They are ideal for creating a lively and cheerful aesthetic. With their bright hue, they effectively break up the traditional monotony of white and wood, offering an invigorating pop of color.
1. Embrace Playfulness: These cabinets add a playful vibe, making the kitchen feel more welcoming and lively.
2. Accentuate Light: Coral cabinets beautifully enhance the kitchen's light making it appear more spacious and airy.
3. Versatile Pairing: They pair remarkably well with neutrals as well as other bold colors, permitting a variety of design options.
4. Resilience: Apart from aesthetics, coral color exhibits excellent resilience, hiding minor stains while showcasing an always-polished appearance.
5. Impactful Statement: Undoubtedly, sunny coral cabinets make a strong statement, asserting a confident and unique kitchen style.
Consider sunny coral cabinets for an adventurous, spirited, and creative kitchen redesign.
Two-Toned Cabinets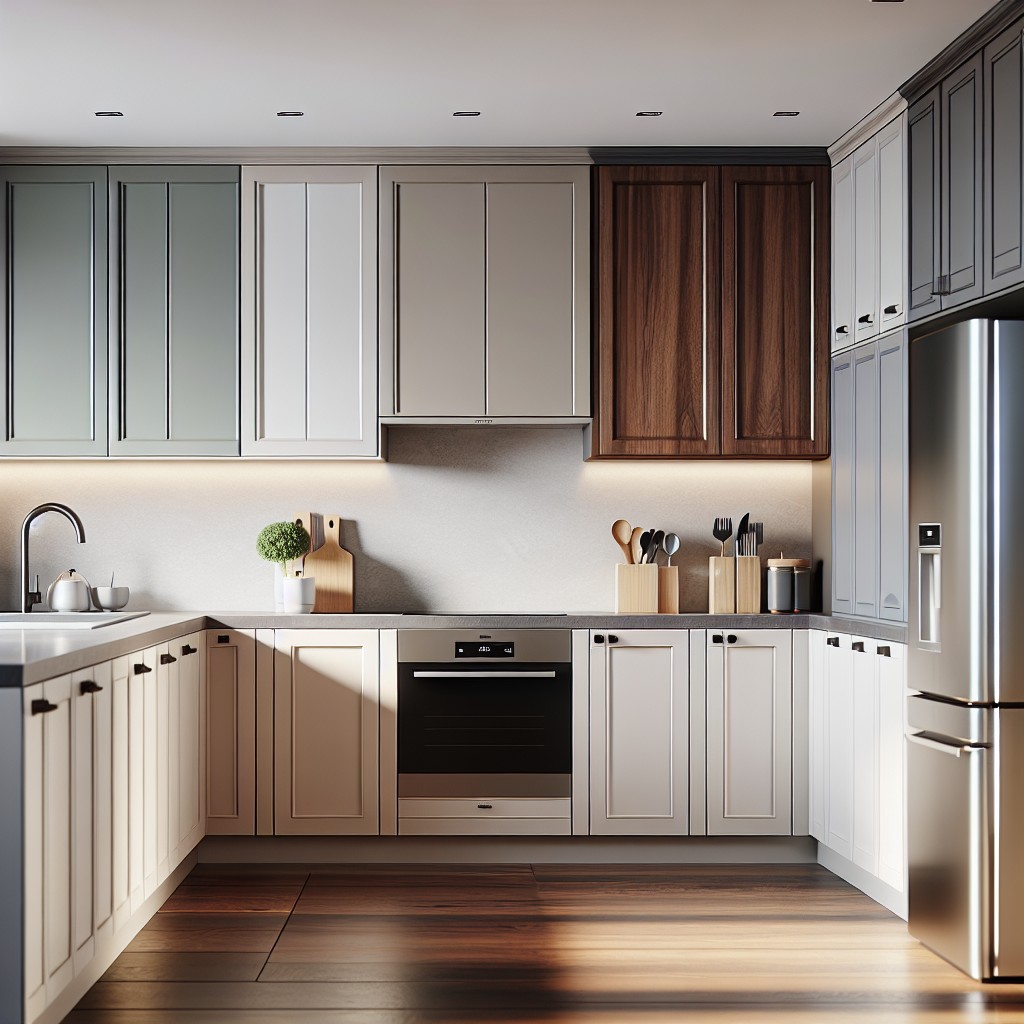 Playing with a contrast of colors can create a unique, eye-catching design for your kitchen. It's not necessary to stick to just one color when deciding on cabinet shades – welcome to the world of two-toned cabinets.
Here are some key points:
1. A useful approach is pairing darker shades on the lower cabinets with lighter shades on the upper ones. This can add depth and dimension to your kitchen.
2. Consider using a bold, vibrant color on your kitchen island or standalone cabinets to create an attractive focal point.
3. Neutral and earth tones never clash. For instance, off-white upper cabinets with taupe or grey lower cabinets blend seamlessly, imparting a chic, contemporary look.
4. Frameless or flat-panel cabinets are perfect for showcasing two-tone designs due to their clean, minimal aesthetic.
5. Understand that two-toned cabinets aren't limited to color. Mixing materials, like wood with glass or metal, can also create a captivating two-toned effect.
Ensure there is a proper balance and the chosen color palette harmonizes with your flooring, backsplash, and appliances. It's all about personal style and what makes you feel at home in your kitchen.
Tropical Turquoise Cabinets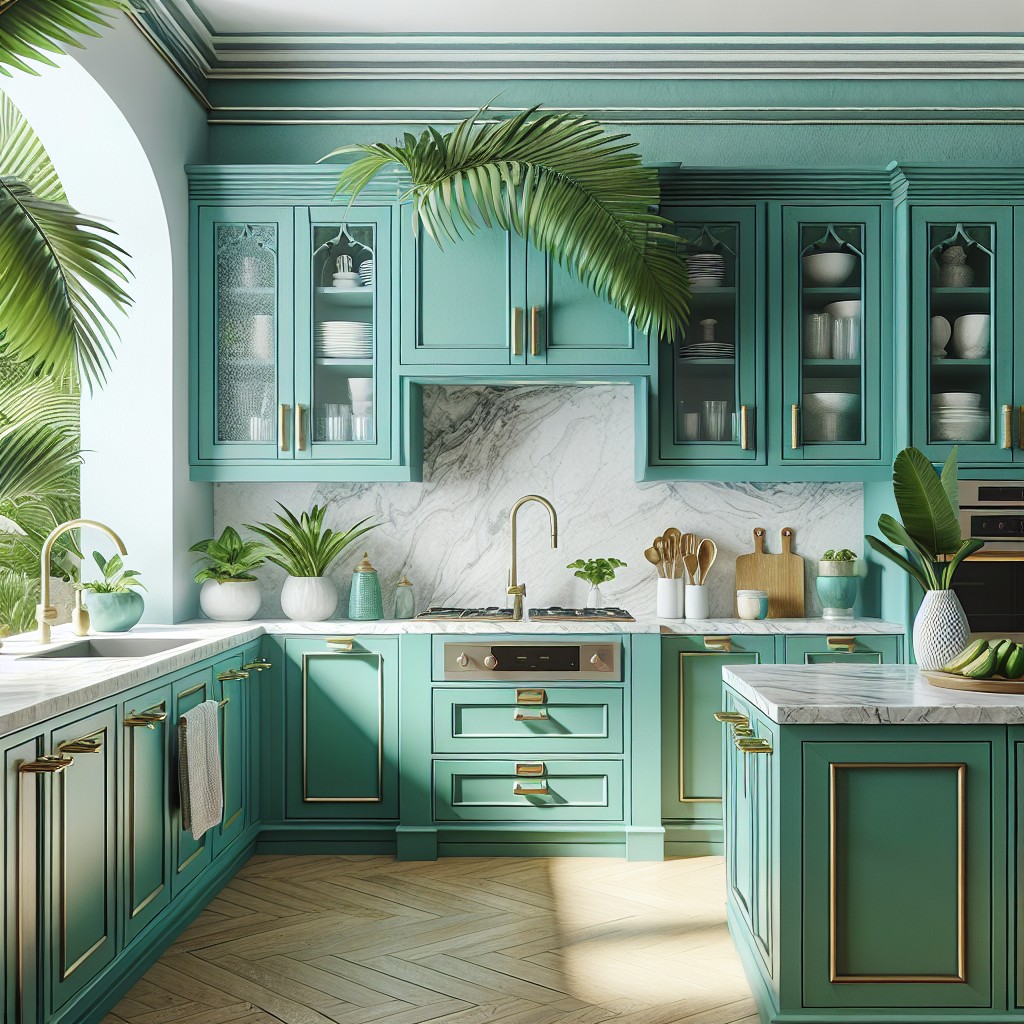 Adding a pop of color to your kitchen design can be game-changing and there's nothing quite like Tropical Turquoise to achieve that. Here are a few points to understand about these standout cabinets:
1. Bright Statement: Tropical Turquoise charges your kitchen with a bright, vibrant energy, lending a modern and cheerful ambiance.
2. Contrast Ideas: Pairing these cabinets with neutrals such as whites or light grays can accentuate the Turquoise, creating an attractive contrast.
3. Retro Theme: They can incredibly embody the spirit of a retro theme. Combining turquoise cabinets with retro appliances or accents could create an authentic older era ambiance.
4. Furniture Choice: To enhance the overall aesthetic, focus on selecting furniture pieces that either complement or contrast effectively with the turquoise.
5. Maintenance: While visually arresting, turquoise cabinets will show blemishes and splatters more readily compared to darker shades, so regular cleaning is essential.
Remember, color choice is subjective, so your decision should ultimately reflect your kitchen usage, maintenance alterations, and the mood you aspire to set in your space.
Midnight Black Cabinets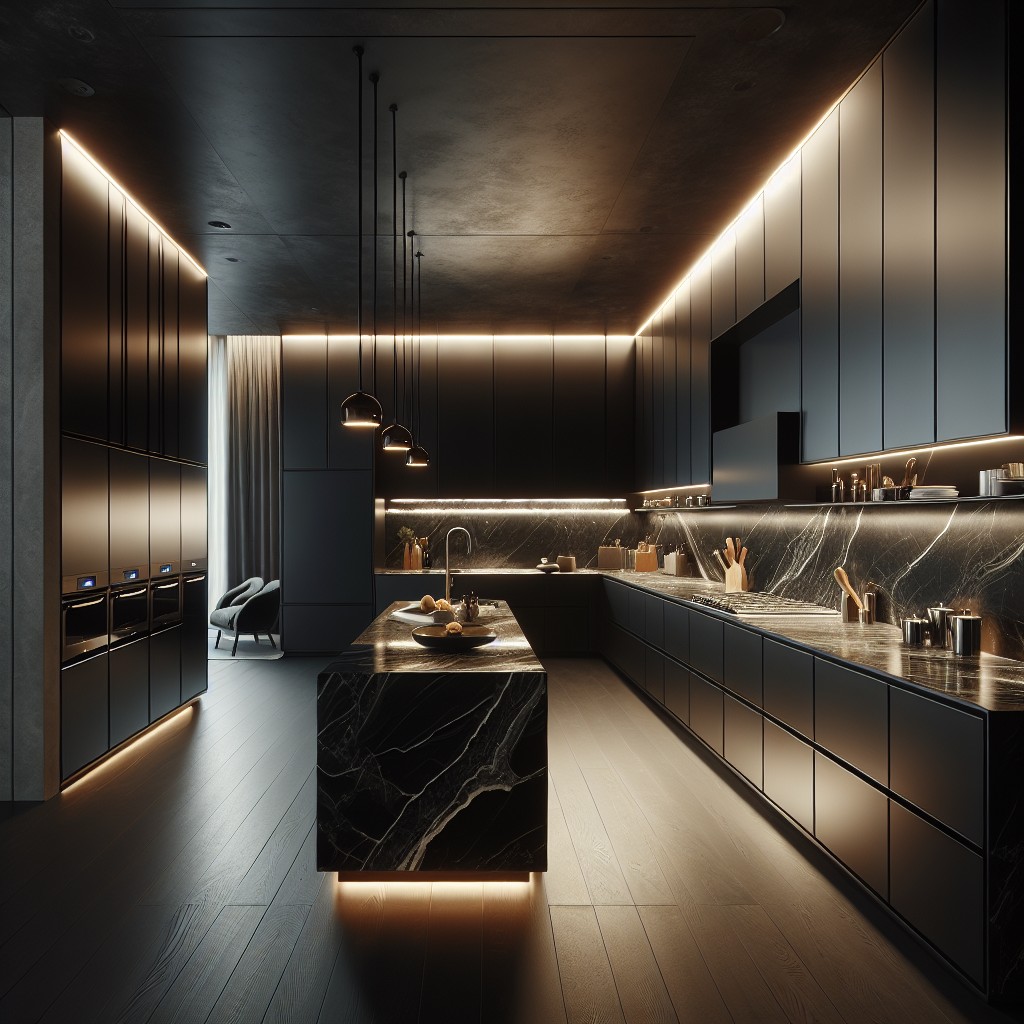 Achieving a luxurious and modern aesthetic in your kitchen can be as simple as choosing the right hues. The intense, rich look of midnight black cabinets provides a striking, stark contrast to lighter walls, countertops, or back splashes. They add a dollop of sophistication, immediately upgrading your cooking space into a stunning, contemporary arena.
1. Deep Tones: The deep tones of black absorb light, making kitchen accents appear more vibrant and shiny.
2. Versatility: Black pairs excellently with almost all colors. Whether your other kitchen elements are silver, gold or colorful, they will stand out against a midnight black backdrop.
3. Resilience: Black cabinets are less likely to show stains or smudges, ensuring your kitchen appears clean and polished at all times.
4. Timeless Appeal: As a color, black never goes out of style. A kitchen outfitted in black cabinets will always hold a certain allure.
5. High Contrast: When incorporated with lighter hues, black cabinets create a captivating high-contrast design. The vibrant interplay can define your kitchen, giving it the attention it deserves.
Opting for midnight black cabinets offers an opportunity for taking a dramatic design risk that yields elegant and sophisticated dividends.
Sleek Pewter Cabinets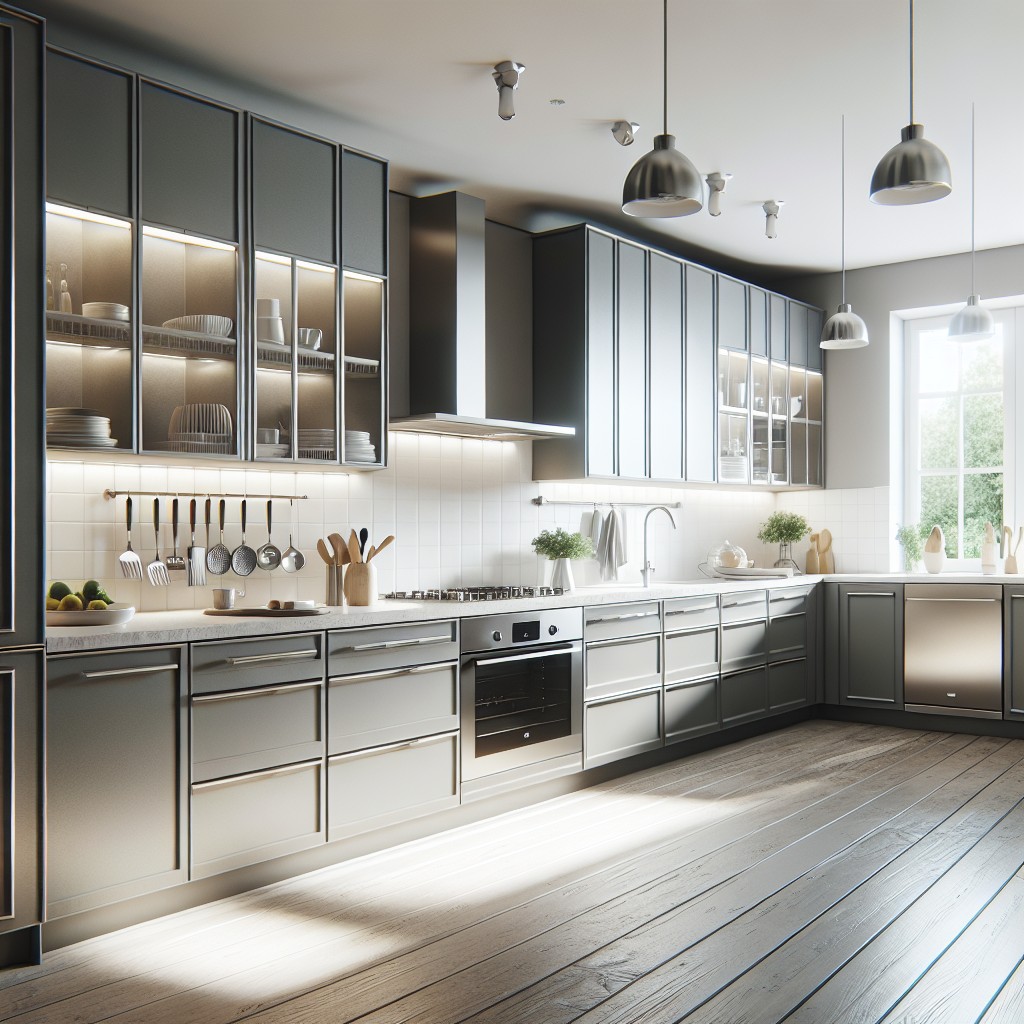 A competitively modern choice, these cabinets offer a resilient finish that stands up to the rigors of daily use. Their soft, lustrous sheen pairs well with stainless steel appliances and other contemporary fixtures in the kitchen.
1. Versatility: They provide a neutral backdrop, allowing you to experiment with bold colors elsewhere in your kitchen decor.
2. Durable: Pewter cabinets are resilient, sturdy, and withstand daily wear and tear.
3. Easy Maintenance: Minimal upkeep is required, effortlessly lending your kitchen a clean and polished look.
4. Chic and Modern: Their cool-toned, lustrous finish breathes life into even the most conventional kitchen spaces.
Opt for sleek pewter cabinets to add a unique and stylish element to your kitchen.
Creamy Ivory Cabinets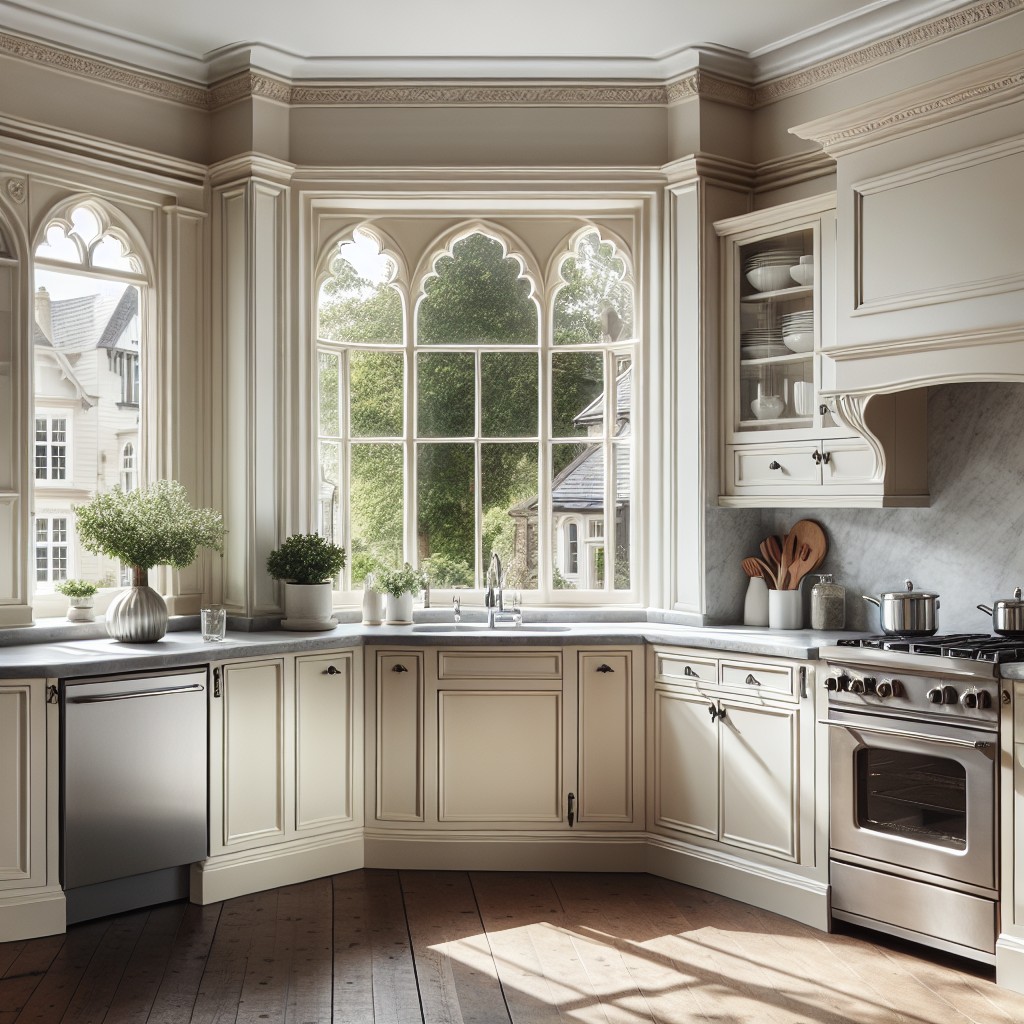 Evoking a vintage sentiment, an Ivory hue adds an understated elegance to any kitchen. It veers away from the stark brightness of white, offering instead a warm, muted backdrop to your kitchen's decor.
1. Versatility: Harmonizes perfectly with both, contemporary and country styles, and effortlessly blends with most colours.
2. Warmth: The Creamy Ivory cabinets brings a cozy and inviting feel because of its warm undertones, a contrast to the coldness of white.
3. Ageless appeal: It brings a timeless charm, resistant to the whirl of kitchen trends.
4. Easy to maintain: Less evident when dust and cooking splatters occur, easier to maintain than stark white cabinets.
Opt for Creamy Ivory cabinets if you're aiming to introduce a clean and light look, but still want to maintain an inviting ambiance in your kitchen.
Deep Pine Green Cabinets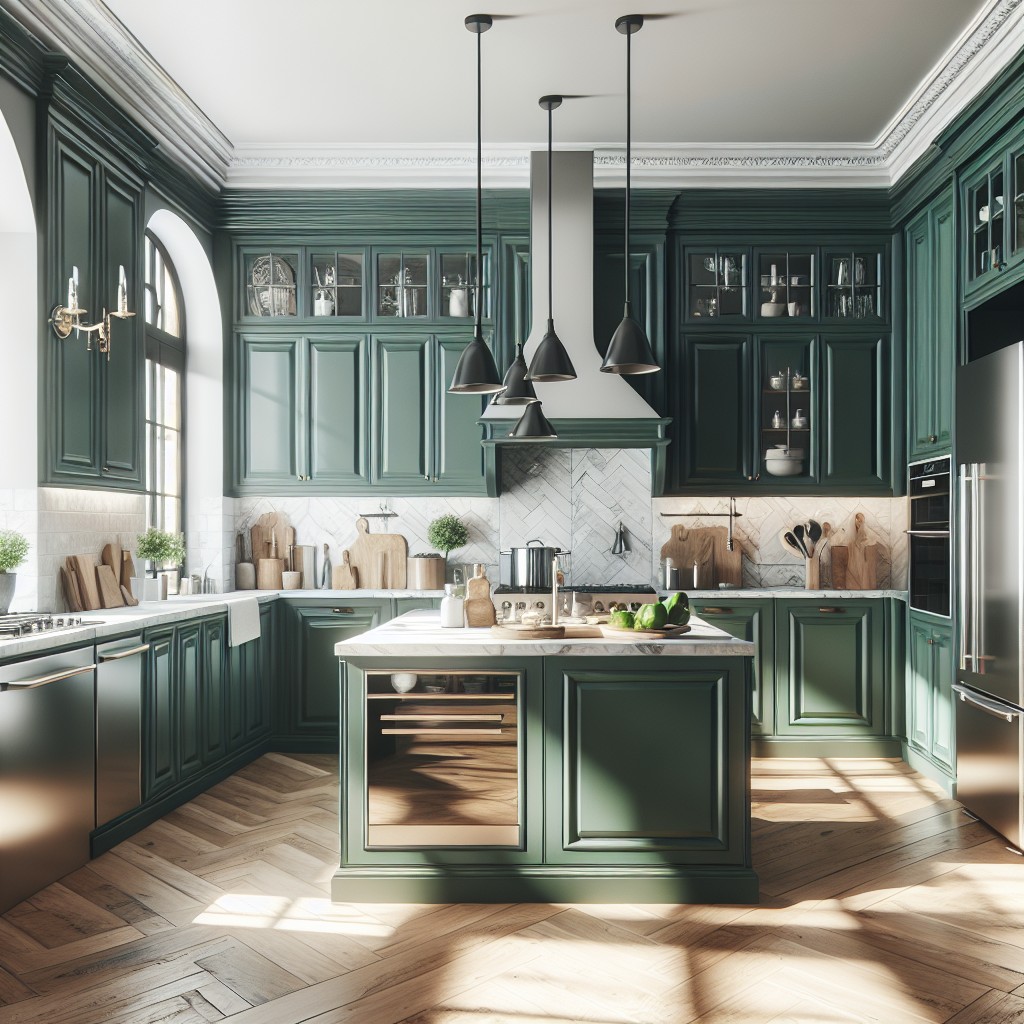 Taking the plunge with this deep, forest-inspired hue can overhaul your kitchen into a sophisticated space. Opting for this rich color adds an unexpected twist and evokes tranquility, bringing in the calm of the great outdoors. It works well with various styles – from rustic farmhouse to sleek minimalism.
1. Versatility: Suits a wide variety of kitchen styles and is particularly bold amongst traditional settings.
2. Pairing: Outstanding when paired with antique brass handles, white countertops, white subway tile backslashes, or stainless-steel appliances.
3. Mood: Introduces an air of calm into your cooking space, ideal for those who love to unwind in their kitchen.
4. Contrast: Provides a striking contrast to lighter or natural elements, enhancing the overall look.
5. Sophistication: Transforms the feel of the kitchen into something more elegant and refined.
Experimenting with appliances, countertops, and lighting can truly highlight the unique nature of deep pine green and create a space that embraces your style.
Elegant Bordeaux Cabinets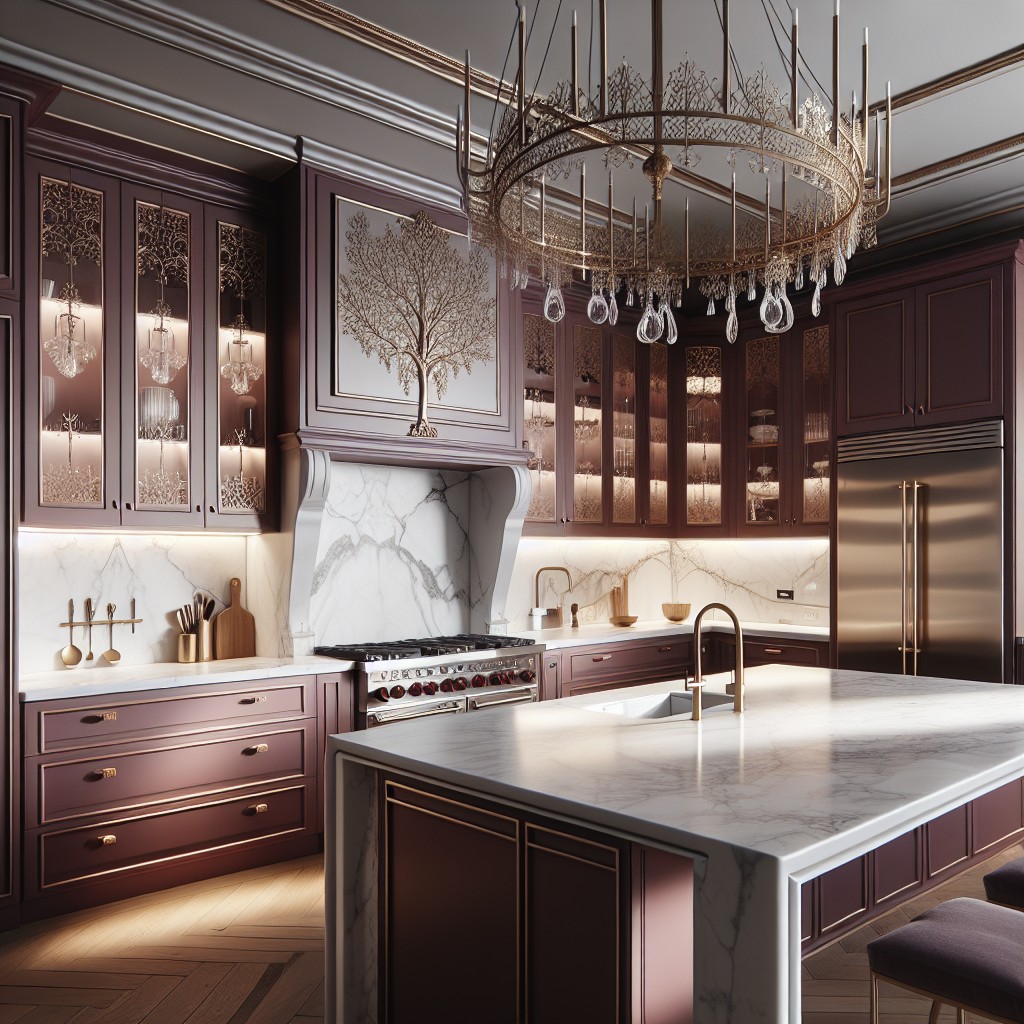 Elegant Bordeaux provides a rich, deep burgundy tone that can quickly become the star of your kitchen. Here are a few engaging points to consider when thinking of this choice:
1. These cabinets immediately elevate the sophistication of your kitchen's aesthetics due to their timeless appeal and attention-commanding depth of color.
2. Due to their dark tone, specks of inevitable kitchen spills and stains may become less noticeable, making maintenance a tad easier.
3. Pairing Bordeaux Cabinets with light-colored countertops or silver hardware can create a provoking contrast, resulting in a striking visual impact.
4. The dark, luxurious hue makes a bold statement and offers unparalleled richness and warmth.
5. The Bordeaux Cabinets provide a flexible canvas for color pairing, allowing for dynamic design combinations with appliances, backsplashes, and islands.
Remember to maximize the natural light in your kitchen to avoid the area becoming too visually heavy due to this choice's deep, dark hue.
Satin Pearl Cabinets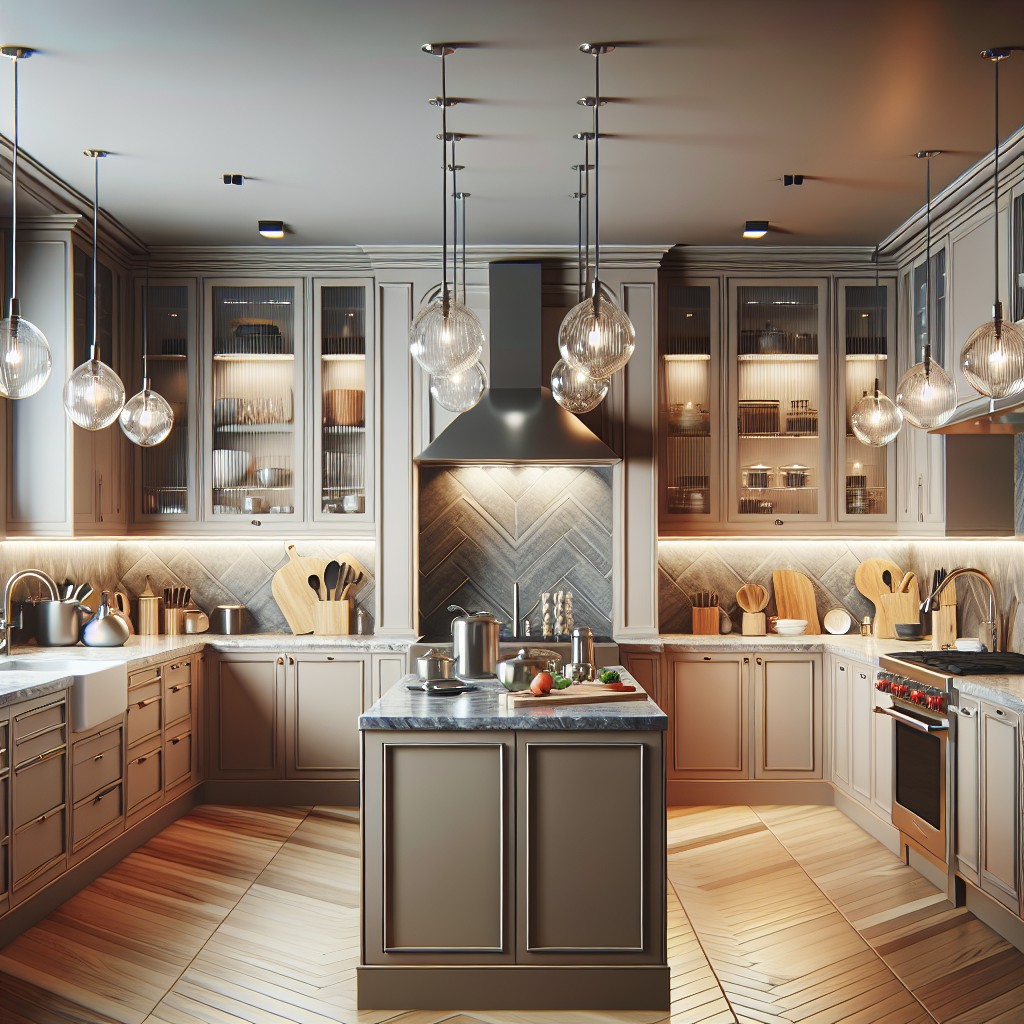 Pearl satin finish denotes a radiant look that elevates the aesthetics of your kitchen. This finish, sophisticated yet subdued, works harmoniously with both classic and modern kitchen designs.
1. Luxury Appearance: The satin luster of the pearl finish exudes elegance, creating a luxurious ambiance akin to high-end design solutions.
2. Versatile: Whether it's a traditional setup or a contemporary kitchen design, satin pearl cabinets seamlessly fit into any style.
3. Easy Maintenance: Unlike glossy finishes, the satin sheen conceals fingerprints and smudges better, reducing the frequency of cleaning and maintenance.
4. Neutral Tone: The pearl hue serves as a fashionable neutral, easily coordinating with various color schemes and decor elements.
5. Enhances Natural Light: Because of their reflective qualities, these cabinets amplify natural lighting, making your kitchen look brighter and more spacious.
Remember, pairing these cabinets with contrasting colors like dark countertops or backsplashes can also enhance their aesthetic appeal.
Ideas Elsewhere
Continue reading: