Last updated on November 20, 2023
White cabinets paired with gold hardware are increasingly gaining popularity in modern homes because they add an elegant, timeless touch to any kitchen or bathroom.
I am proud to present an article and 20 unique designs for white cabinet and gold hardware ideas, crafted meticulously by myself, and I sincerely hope you find them as inspiring and enjoyable as I found joy in creating them.
White cabinets with gold hardware present a timeless, elegant aesthetic that can transform any kitchen or bathroom into a space of sophistication.
This article will provide a myriad of ideas on how to incorporate this design trend into your home.
Whether you're looking for a minimalist, modern look or a more traditional, ornate style, you'll find a plethora of inspiration here.
We'll delve into the different types of gold hardware, how to choose the right shade of white for your cabinets, and how to balance these elements with the rest of your décor.
So, get ready to explore the world of white cabinets and gold hardware, where design possibilities are as limitless as your imagination.
What's Inside
White Shaker Cabinets With Brushed Gold Pulls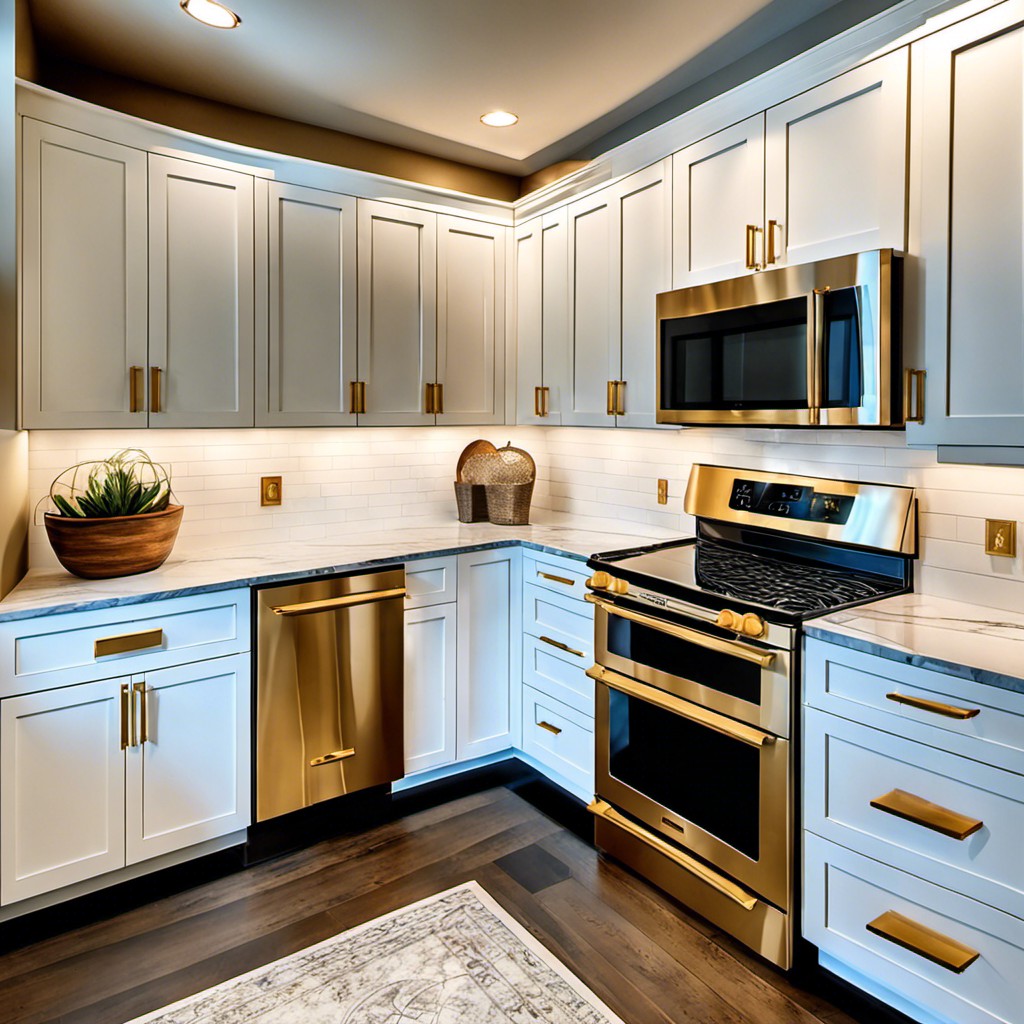 Incorporating brushed gold pulls within white shaker cabinets not only accentuates their classic and timeless design, but it also introduces a luxurious touch. The charm of this pair stems from their complementary attributes.
Here are some key concepts to understand this style:
1. Brushed gold pulls provide a subtle glimmer without being overly flashy, which balances well with the simplicity of shaker cabinets.
2. These types of pulls accentuate the sophistication and minimalism of the shaker design while adding an upscale feel.
3. Given their neutral colors, this cabinet-hardware combo pairs well with various color palettes and interior designs. Whether adorning a modern, industrial, or chic farmhouse kitchen, it undoubtedly adds depth and interest.
4. The durability of both elements ensures they stand the test of time in terms of style and actual resilience, making it a prudent choice for those seeking long-term kitchen solutions.
Thus, the combination of white shaker cabinets and brushed gold pulls delivers an aesthetic that's part classic, part modern, and wholly stunning. They capture interest and add luxe, without overwhelming the overall decor.
Farmhouse Style White Cabinets With Gold Cup Handles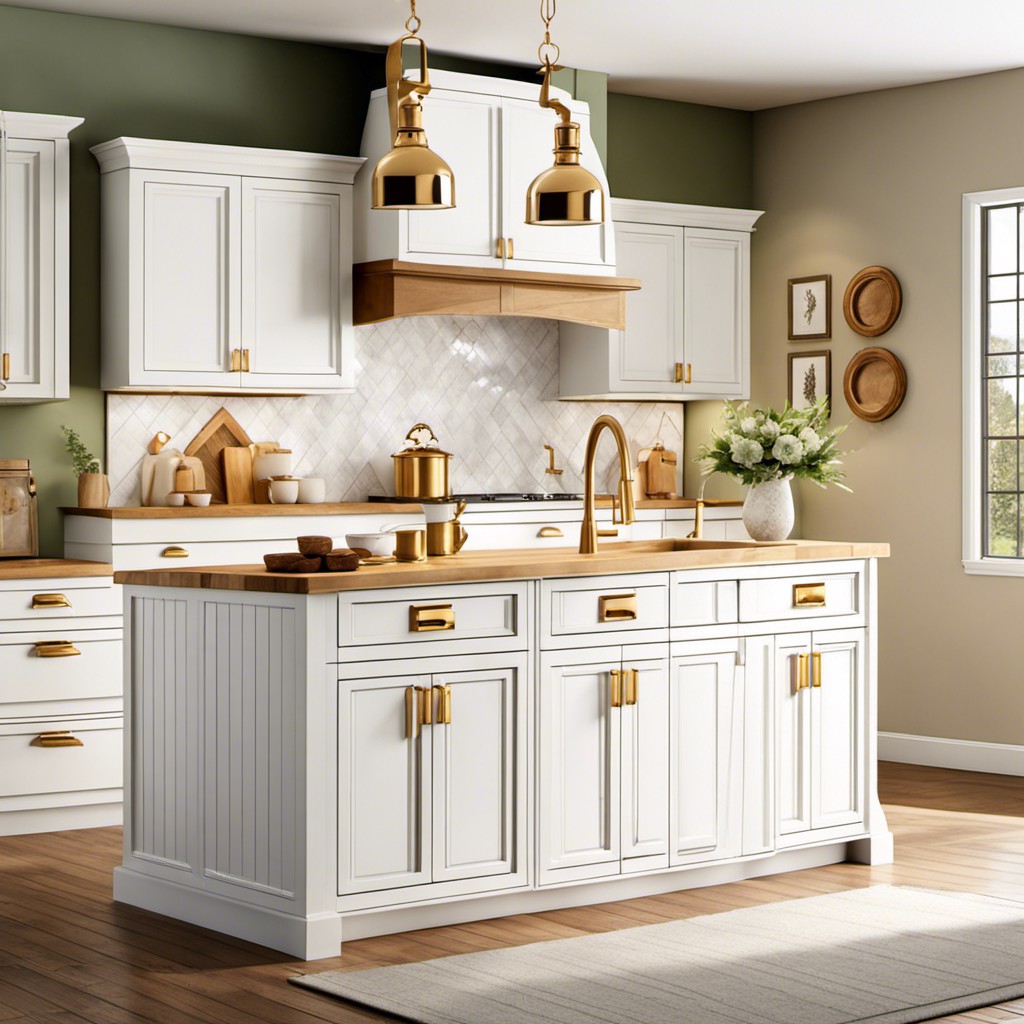 A quintessential feature of this style is the presence of a rustic charm, evoked by using a warm, distressed wood finish on the white cabinets. To maintain the simplistic look, opt for gold cup handles which typically have a more matte finish as opposed to glossy. Due to their curved shape, cup handles are often easier to grasp, offering a functional advantage for high-traffic kitchen areas.
The warm gold hue contrasts beautifully with the distressed white cabinets, giving an overall vintage finish, synonymous with the farmhouse style. Furthermore, pairing with shiplap walls and open shelving can enhance the natural, cozy ambiance inherent in the farmhouse aesthetic.
White Lacquer Cabinets With Elongated Gold Handles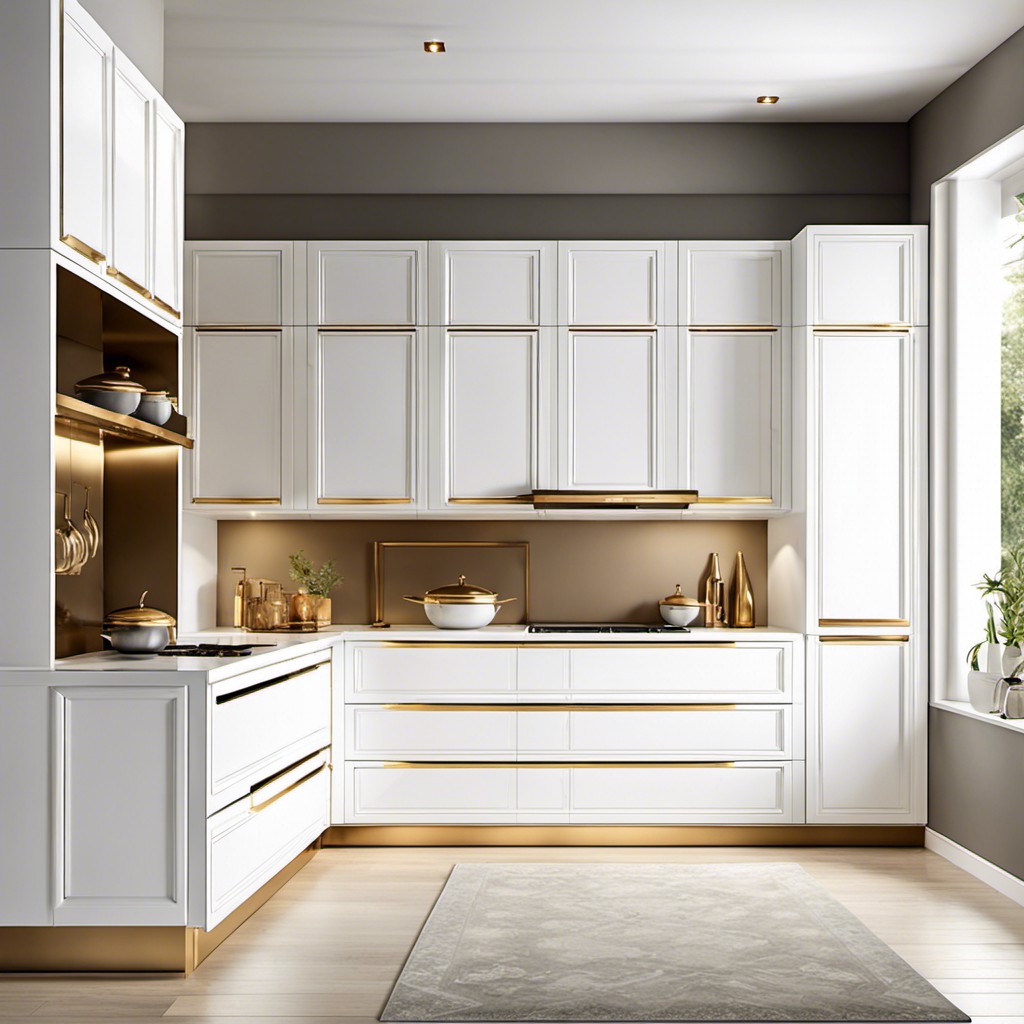 One key to leveraging the sheer elegance of white lacquer finish lies in choosing the right hardware. Here, elongated gold handles serve as a stellar choice. The shiny gold contrasts beautifully with the glossy finish, enhancing the modern aesthetic.
Keep a few things in mind:
Align handles with the natural lines of your cabinet for a pulled-together look.
Opt for slim designs for a sleek, minimalist appeal.
The size should be proportional to your cabinet doors and drawers.
Look for fixings that don't detract from the handle design.
Try to match these handle's color with other gold accents in the room for a harmonious effect.
Remember, it's all in the details, and the right hardware can dramatically elevate your kitchen's look. Your white lacquer cabinets adorned with elongated gold handles could be the shining star of your design scheme.
Marble Topped White Cabinets With Gold Knobs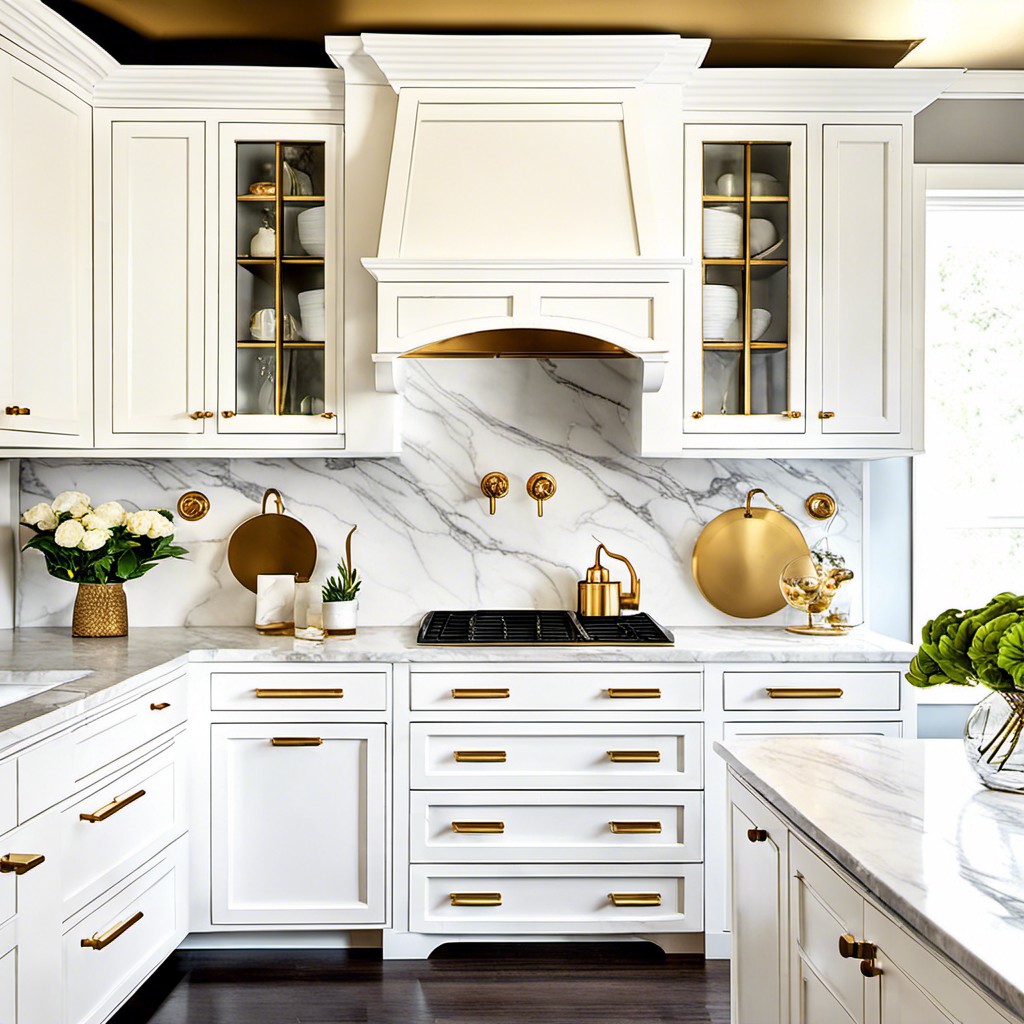 Among the many brilliant possibilities of white cabinets with gold hardware, the timeless elegance of marble-top installations stands out. The combination results in an enhanced visual appeal that is unparalleled.
1. Classic Appearance: A marble countertop paired with white cabinets lends a classic appearance. The stone's natural variations beautifully blend with white, creating an overall aesthetic of sophistication and grandeur.
2. High-End Aesthetic: Possessing gold knobs on your white cabinets accentuates the luxury of marble, thereby infusing your interior space with a high-end aesthetic.
3. Harmonious Blend: The natural lines and veins in marble patterns resonate remarkably with the sheen of gold knobs, thus creating a harmonious blend of elements in your kitchen or bathroom.
4. Versatility: This duo fits into a number of interior design styles seamlessly – from traditional and vintage to modern and contemporary. Therefore, it's sure to match your home's existing decor, offering a cohesive appearance.
5. Practicality: Besides style, the use of gold knobs provides daily convenience, as they are easy to grip and durable for long-term usage. Simultaneously, the marble offers heat resistance, providing a functional cooking or working area in your kitchen.
When opting for marble-top white cabinets, remember to maintain them regularly to uphold their natural luster and charm. Gold knobs, too, will preserve their sparkle with routine cleaning. Following these steps will ensure your kitchen remains impressive and inviting for a long time.
White Cabinets With Vintage-inspired Gold Latches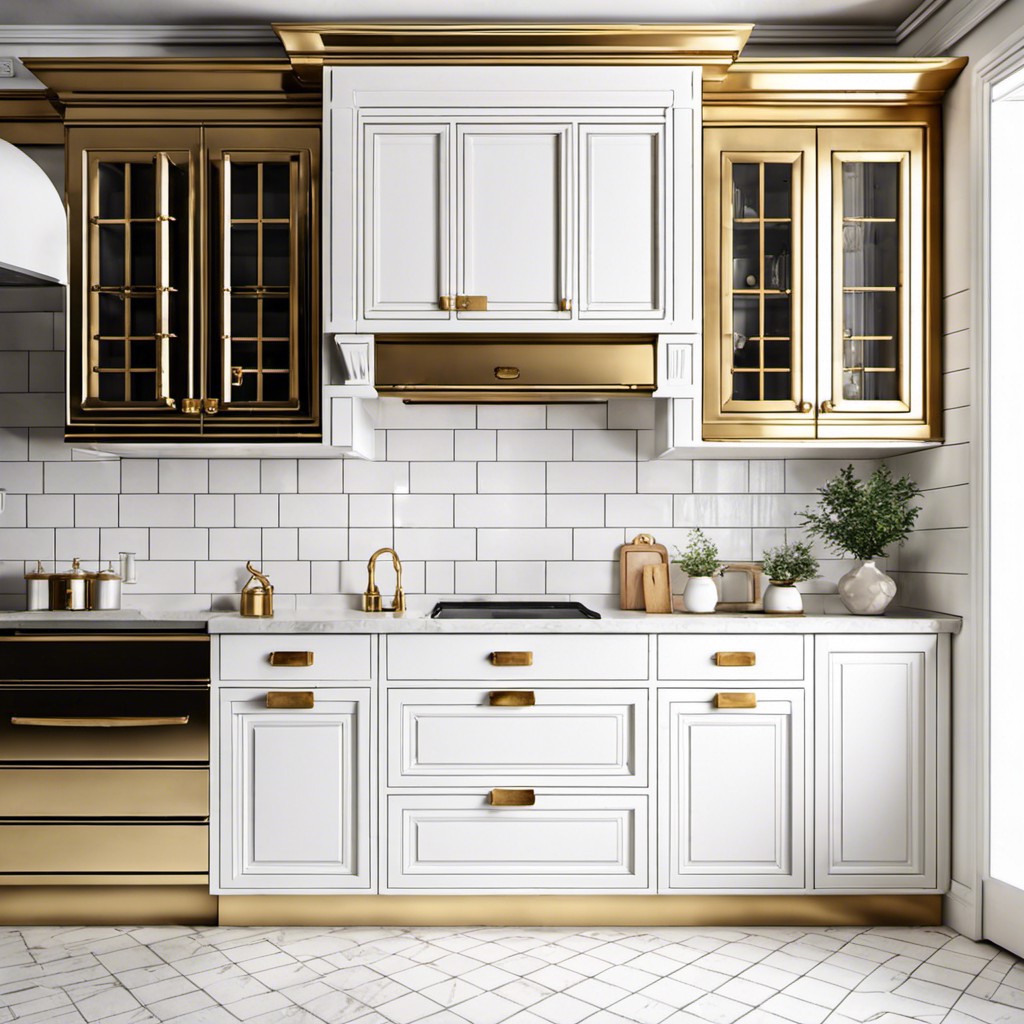 Going for a touch of nostalgia in a modern setting? Consider the charm of vintage-inspired gold latches. With their old-world appeal, they add an element of sophistication and depth to stark white cabinets. Here are a few quick points to enhance your understanding.
1. Retro Influence: Pay homage to the past. Gold latches reminiscent of the bygone era infuse tradition into a contemporary space.
2. Aesthetic Appeal: These gold latches boast ornate detail, enhancing the cabinet's visual charm.
3. Functional Elegance: Besides serving a practical purpose, vintage latches bring a gleam of metallic gold, creating a pleasing contrast to the white cabinetry.
4. Versatility: Diverse vintage designs are handy. For a simple, classic look, latch handles with card holders make a decent pick, while fancy letterbox latch handles are ideal for a more decorative effect.
In selecting vintage-inspired gold latches, take note of the overall theme of your space. Ensure the design complements the surroundings rather than overpowering it.
Coastal Themed White Cabinets With Gold Seahell Knobs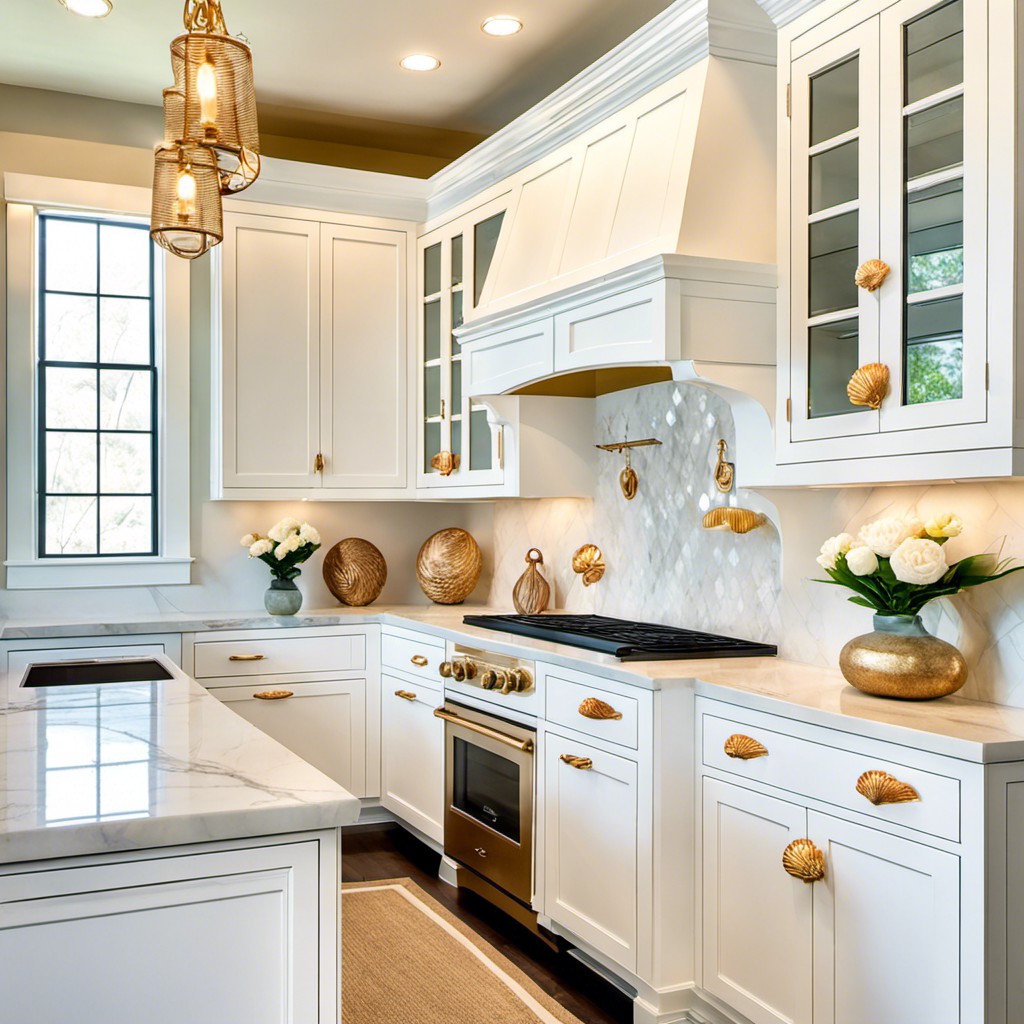 Capturing the soothing allure of the sea, this style combines the elegance of white cabinetry with the beauty of nature-inspired gold seashell knobs. The white symbolizes the crest of an ocean wave, while the golden hardware represents the hidden treasures of the deep.
1. Placement: For optimal aesthetic, place knobs either in the top corner or center of cabinet doors. For drawer pulls, horizontal center gives a balanced look.
2. Pairing: Complement the cabinets and hardware with ocean-inspired nuances in your decor. Think gentle blues, sandy beiges or coral pinks.
3. Shape: The seashell knobs come in a variety of forms, from scallop shells to conches. Choose one that resonates with your style.
4. Texture: The tactile nature of the seashell knobs adds a sensory charm. It's not just about the look, it's about the feel as well.
5. Material: Ensure the knobs are made of durable material resistant to wear and corrosion, important for a kitchen environment.
Remember, hardware is the jewelry of any kitchen. The right pieces can dramatically enhance the overall design, just like the gold seashell knobs bring a touch of coastal elegance to the white cabinets.
White Cabinets With Geometric Gold Pulls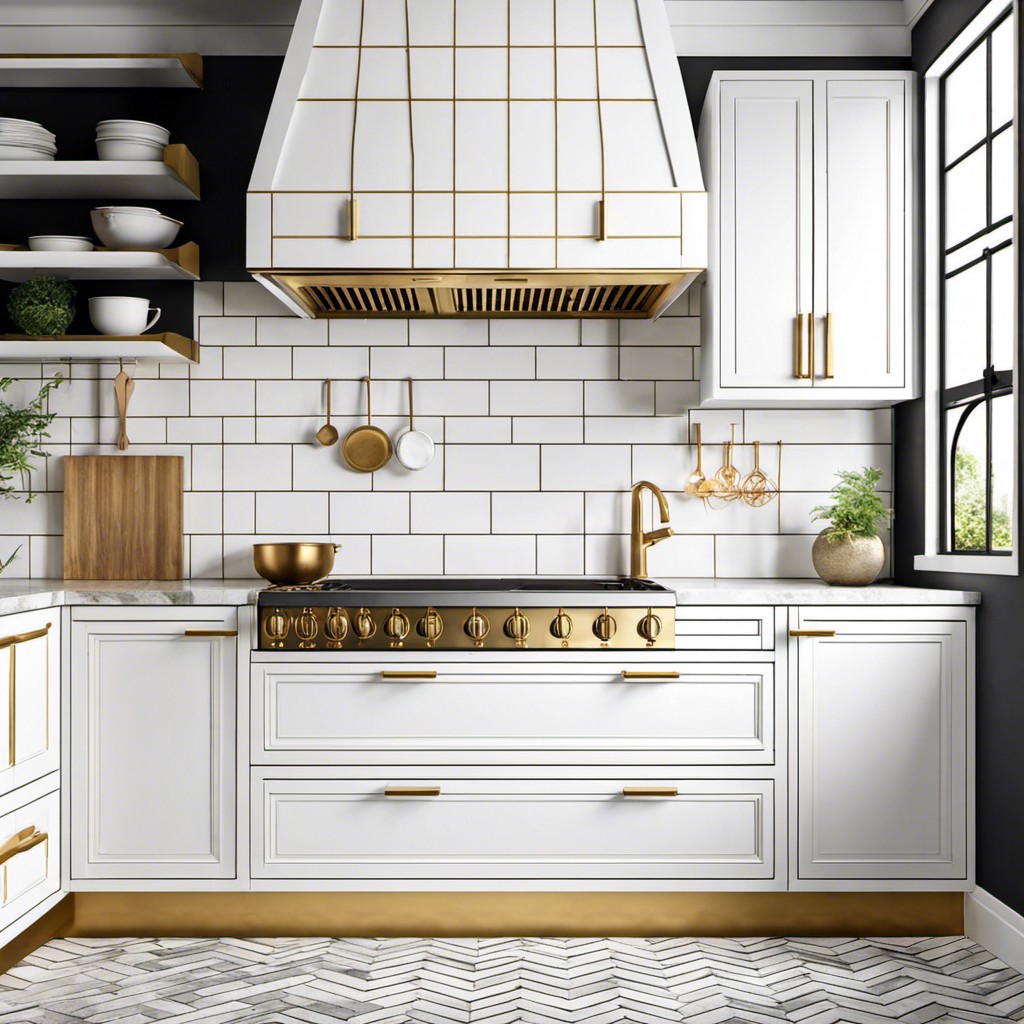 Geometric gold pulls provide a contemporary twist to typical hardware design. Their unique shape can become a focal point, adding depth and detail to a minimalist white cabinetry. They bring an element of bold, modern sophistication, outstandingly contrasting the clean background.
When matching these pulls, considering the cabinet's overall design style, size, and kitchen's general layout is essential. Large, spacious cabinets may benefit from bigger, more abstract geometric designs. In contrast, smaller cabinets or tightly packed kitchens might be better suit to petite, more subtle shapes.
Consider balance while placing these pulls, a symmetrical approach is usually desirable. Lastly, maintain consistency in the finish of the gold pulls across all cabinet units. Mismatched finishes can make the overall decor look haphazard and unplanned.
Glazed White Cabinets With Gold Ring Pulls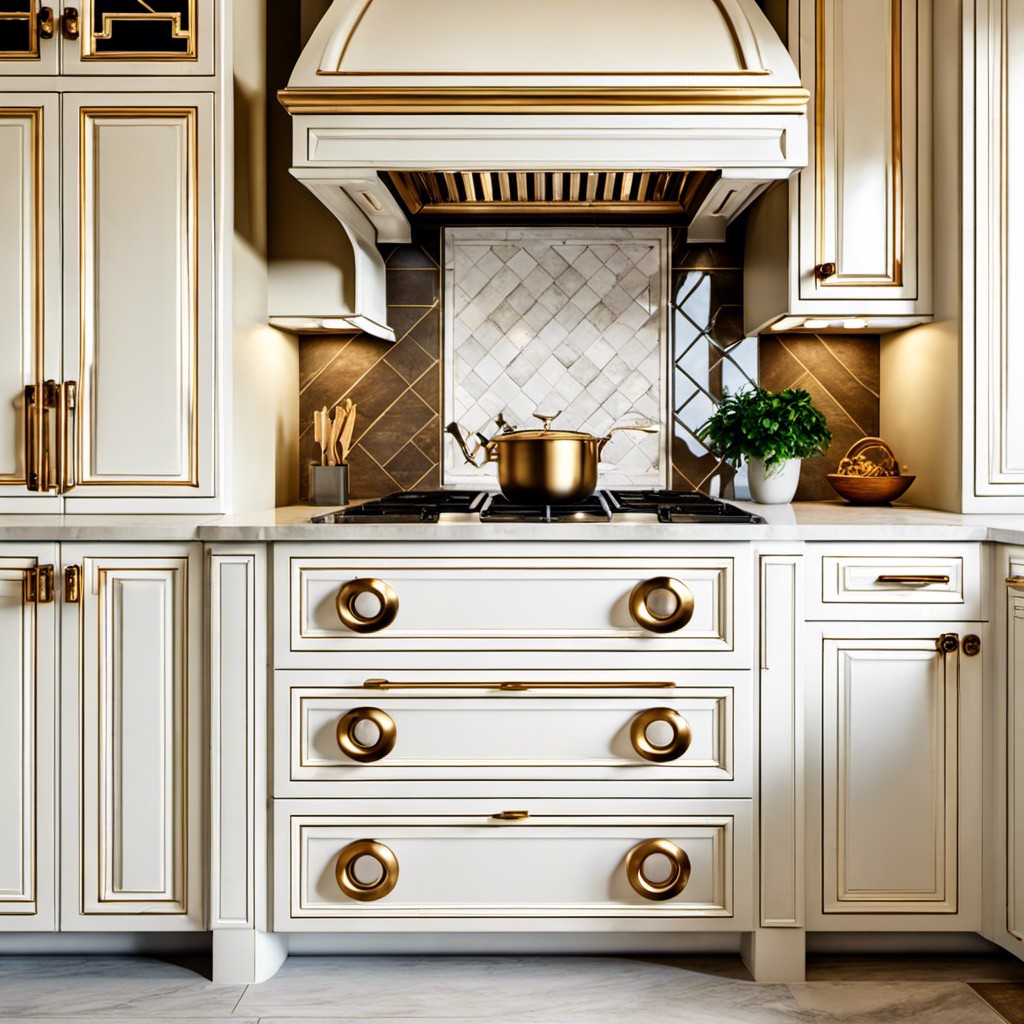 This design perfectly combines elegance and functionality. The glazing technique on white cabinets gives them an appealing sheen, enhancing the brightness and spaciousness of any kitchen. Meanwhile, gold ring pulls add an exquisite touch— a nod to classic, traditional cabinetry design.
1. Glazing Process: In this process, a transparent or semi-transparent glaze is applied to the cabinet surface to create depth and add an antique charm. This can highlight intricate woodworking details that would otherwise be overlooked.
2. Gold Ring Pulls: These hardware pieces are not only decorative but practical, too. Easy to grasp and pull, they facilitate access to your cabinet contents. Their golden hue introduces a rich contrast against the white, making for an eye-catching design.
3. Combination Benefits: The pairing of glazed white cabinets with gold ring pulls results in a design that is both classically sophisticated and fully functional. It brings a timeless appeal to your kitchen, adding warmth and inviting feel, even as it remains contemporary in its usefulness.
Remember: Keeping the rest of your kitchen's décor subtle will allow this standout combination to take centerstage.
Mid-century Modern White Cabinets With Gold Bar Pulls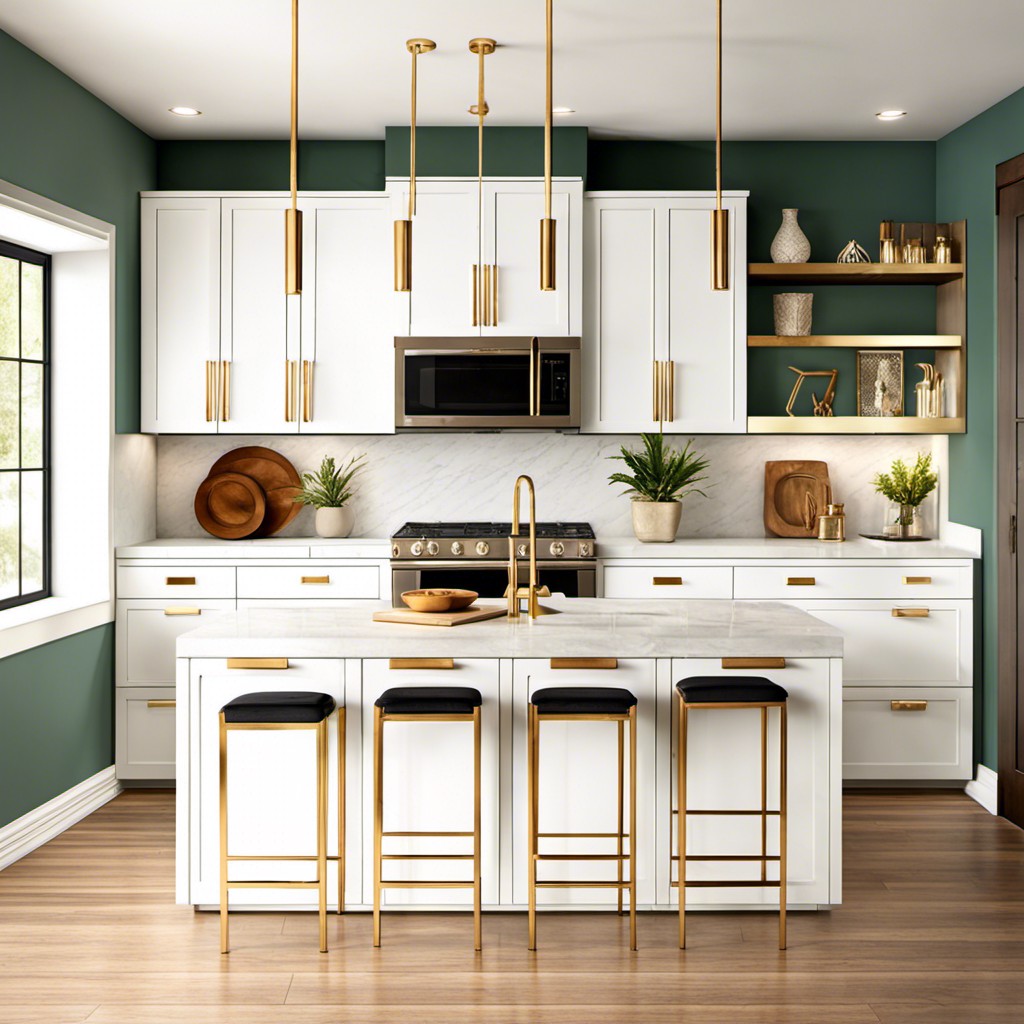 Utilizing gold bar pulls on mid-century modern white cabinets can add a sleek, yet warm element to your kitchen's design. The clean lines and minimalistic design of the cabinets are characteristic of this style.
1. The simplicity of Gold Bar Pulls: Gold bar pulls offer an undemanding and uninterrupted style. These are often characterized by their straight, long design and lack of intricate detailing.
2. Complementing White Cabinets: Gold hardware can provide a striking contrast against the clean, crisp white of mid-century modern cabinets, leading to an engaging and eye-catching kitchen layout.
3. Staying True to Mid-Century Modern: The combination of white cabinets and gold bar pulls aligns perfectly with the mid-century modern palette, which typically includes elements of both warmth and neutrality.
4. Versatility: Despite their uniqueness, gold bar pulls have a remarkable ability to blend into various kitchen styles and color schemes. This makes them a versatile choice that can work well in many different kitchen environments.
Preserving these points, you can achieve a captivating and iconic mid-century modern kitchen look with white cabinets adorned by gold bar pulls.
Glossy White Cabinets With Intricate Gold Hardware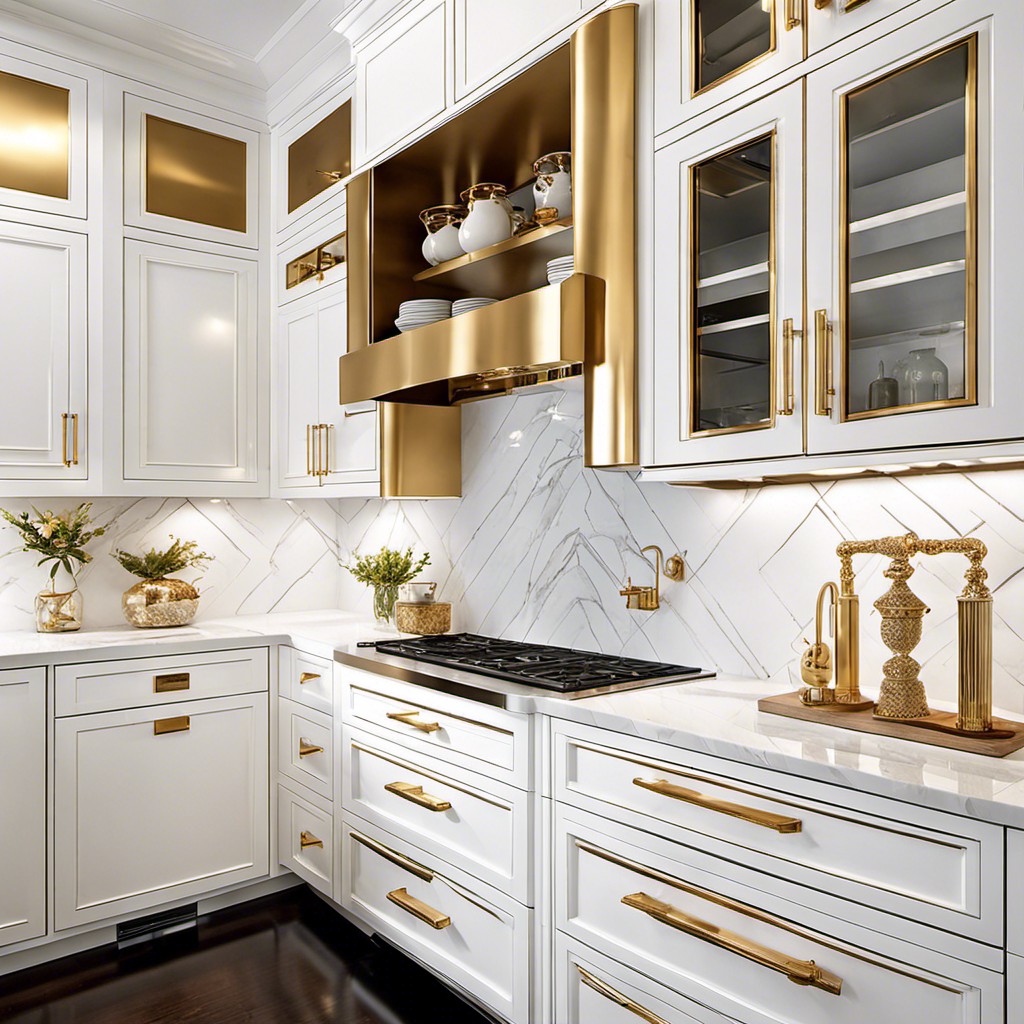 These cabinets are a true showstopper. The high-gloss finish reflects light beautifully, enhancing the overall space and creating a sleek, modern aesthetic. Gold hardware adds a refined and elegant touch, while their intricate design introduces a layer of sophistication. This combination ultimately cultivates a luxurious and polished look.
1. High-gloss finish utility: It creates an illusion of a larger room due to reflection of light. Ideal for small kitchen spaces.
2. Gold hardware aesthetic: Its color offers warmth and a tinge of extravagance, highly suitable for a sophisticated kitchen design.
3. Intricate design advantage: An ornate design adds texture and a point of visual interest, enhancing the style factor of the kitchen.
4. Combination efficacy: The blend of high-gloss white cabinets and intricate gold hardware can complement a range of color schemes and architectural styles.
5. Maintenance tips: Regular wiping keeps the high-gloss look sparkling and the hardware gleaming. Using mild cleansers prevents surface damage.
Antique White Cabinets With Gold Button Knobs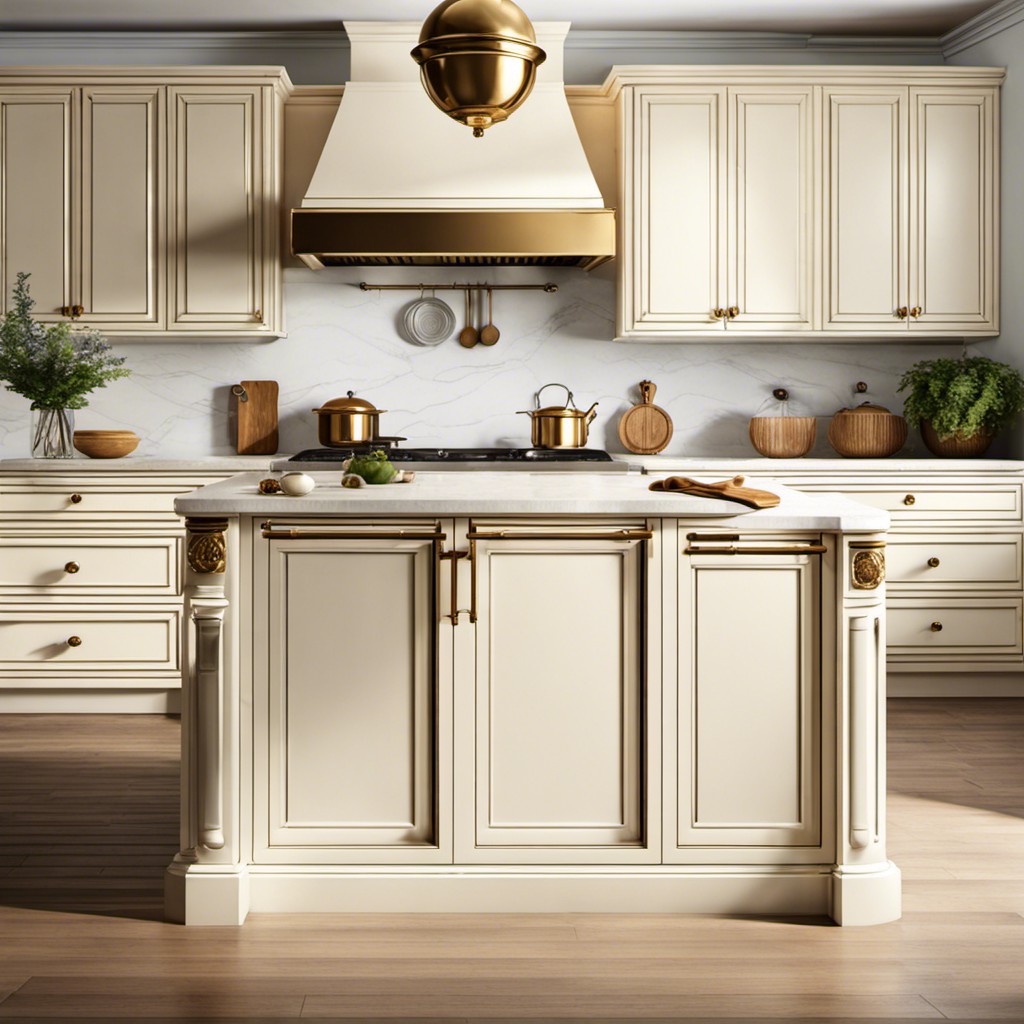 This striking combination brings a refined, vintage feel to any kitchen. Antique white offers a timeless, slightly weathered look that complements the classical simplicity of gold button knobs. Its modest charm lies in its details.
Here are a few key concepts:
1. Antique white cabinets often feature intricate woodworking to enhance their vintage appeal.
2. Gold button knobs provide a touch of old-world flair, resembling decorative creations of an era gone by.
3. This pairing can create a soothing, warm ambiance in the kitchen, especially when complemented by matching antique white furnishings.
4. The muted, off-white palette can bring out the polished gold button knobs, drawing the eye to their classic elegance.
5. To maintain the antiquated theme, consider using subdued shades for the walls, like soft beiges or greys.
6. Gold button knobs stand out against the antique white backdrop, adding a dash of opulence to the kitchen's decor.
7. To complete the look, don't forget to use antique-style light fixtures that enhance the overall kitchen decor.
Remember that updating fixtures is an inexpensive but impactful way to refresh kitchen's overall appearance. In this theme, gold button knobs instantly ramp up the aesthetic, infusing personality into your space.
French Country White Cabinets With Gold Swing Pulls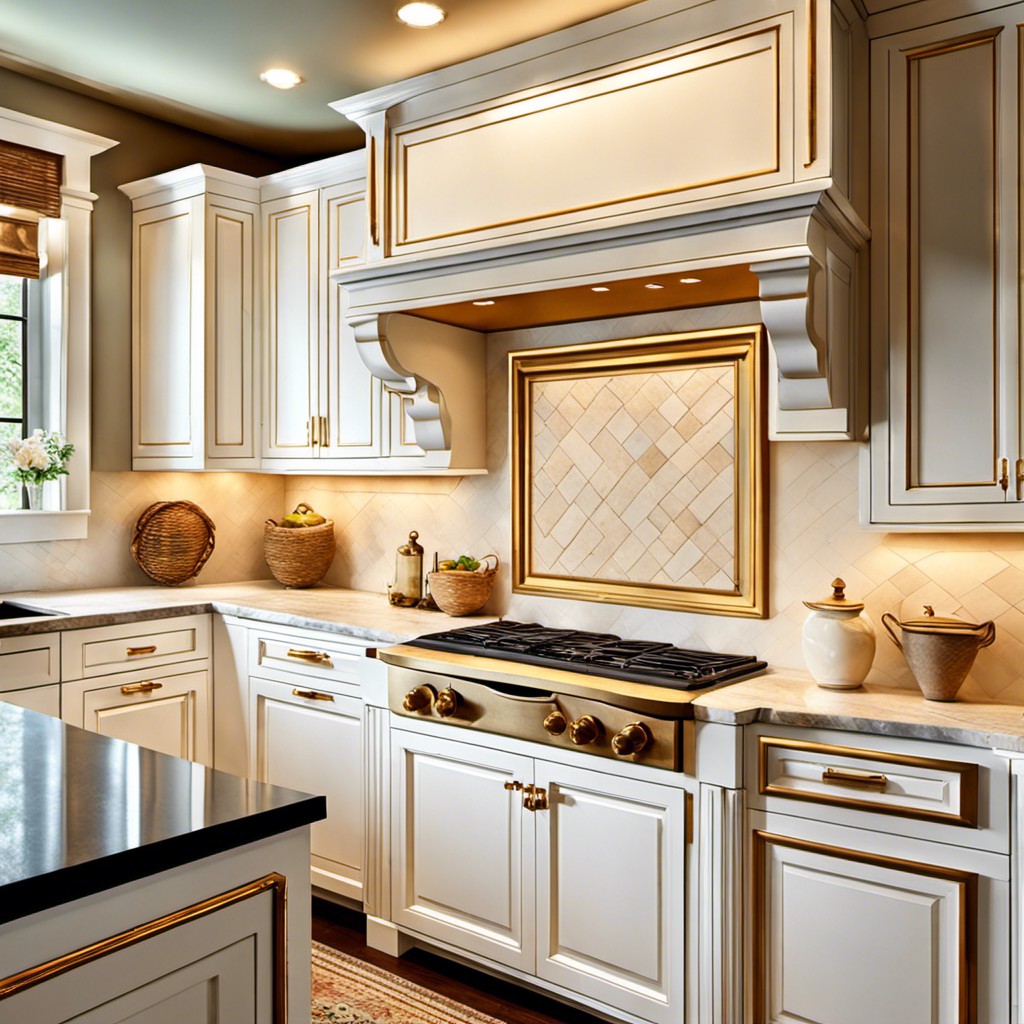 Incorporating gold swing pulls enhances the elegance and charm of French country-style cabinets. They add an exquisite touch to the warm and relaxed feeling of this design, while maintaining its rustic roots.
Here are a few key considerations:
Gold Swing Pulls: These come in an array of styles, often with intricate designs perfect for this style. Their swinging nature is both functional and adds an old-world feel.
French Country Cabinets: Often painted in white for a clean, fresh look, these cabinets typically feature carved molding and ornate detailing for added country charm.
Complementing Décor: Complete the kitchen's overall aesthetic with classic French accessories like porcelain bowls, vintage wire baskets, and dried lavender bunches.
Furniture-Style Design: Consider base cabinets that mimic freestanding traditional French furniture, often complete with cabriole legs or ornate trim, for a more authentic feel.
Lighting: Opt for rustic pendant lights or a wrought iron chandelier that pairs well with the gold hardware.
Backsplash: A stone or brick-inspired backsplash will enhance the rustic charm, contrasting perfectly with your sleek white cabinets and gold hardware.
White Cabinets With Mixed Gold and Crystal Knobs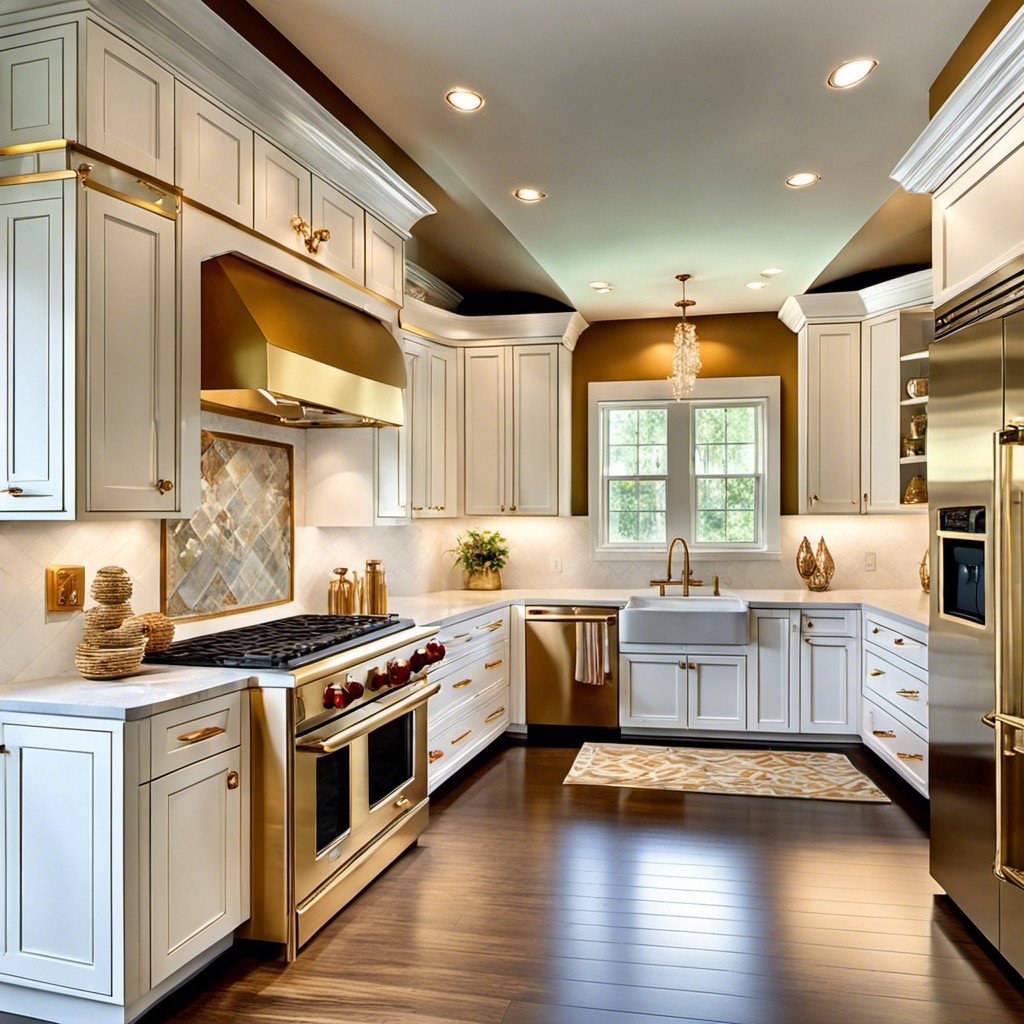 Introducing mixed gold and crystal knobs can infuse a luxurious touch to your white cabinetry. The gold detail adds warmth and grandeur, while the crystal delivers a sense of elegance. This selection is particularly effective in sophisticated decors mimicking a vintage glam style.
Enhancement: The mix of gold and crystal in the hardware acts as a perfect accent to white cabinets, intensifying their appeal.
Luxurious Vibe: These knobs exude luxury, creating an opulent effect without being overly showy.
Versatility: They frequently adorn bathroom and kitchen cabinets, intensifying the elegance of both spaces.
Vintage Appeal: Gold and crystals were prevalent in vintage designs, which makes these knobs a perfect choice for a retro-themed room.
Remember, the knobs should enhance the design, not overpower it. Balancing the size, the proportions with the drawers' size and the cabinet doors are crucial for an aesthetically pleasing result. Also, ensure the gold in the knobs matches other gold elements in the space, for a cohesive look.
Rustic White Cabinets With Hammered Gold Handles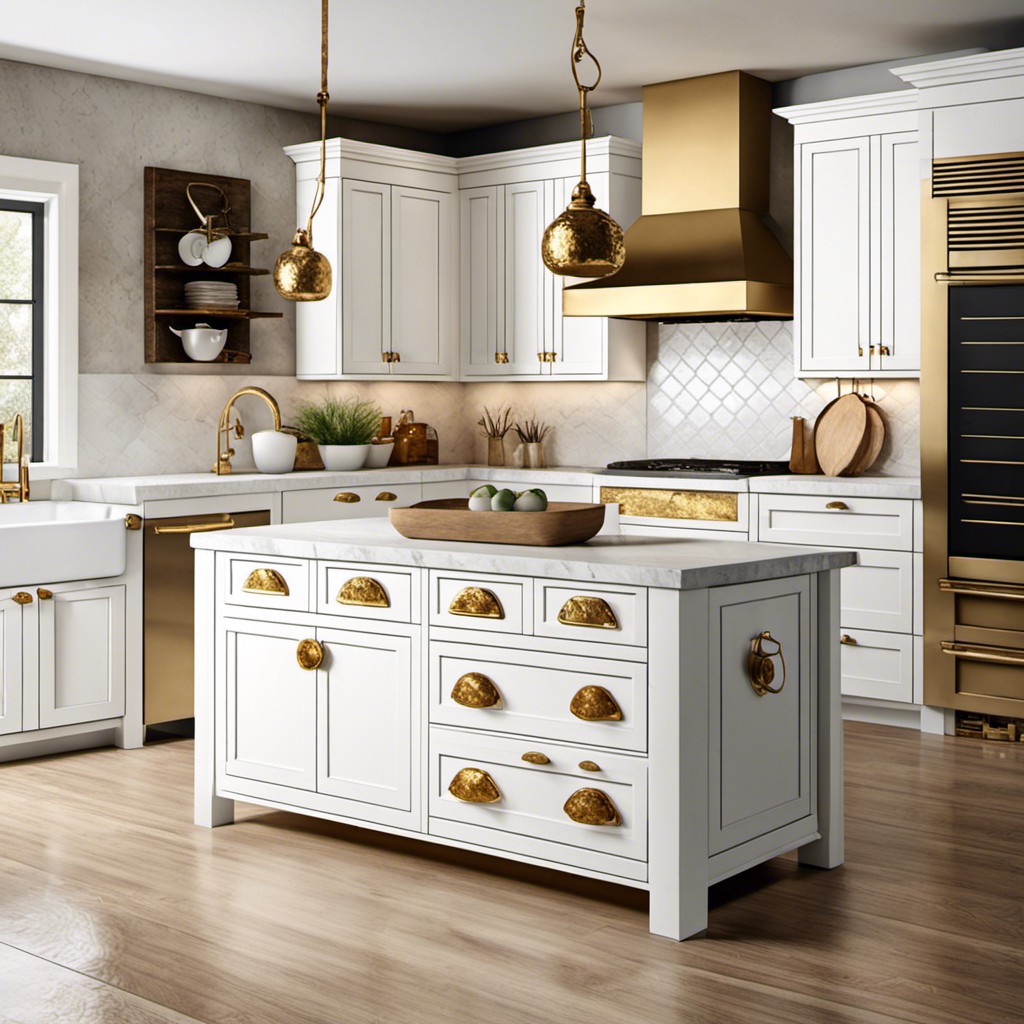 Incorporating hammered gold handles provides a visually appealing contrast to the smooth finish of rustic white cabinets. These handles, often handcrafted, add a touch of organic warmth to the overall design.
Here are some key points to understand this combination better:
Textural Contrast: The textured, uneven surface of hammered gold handles juxtaposed against simple, white cabinetry creates a visually striking balance.
Warm Undertone: Gold has a warm undertone which excellently complements the cooler white hue of the cabinets, making your kitchen seem more inviting.
Handcrafted Appeal: The handcrafted nature of these handles may present slight irregularities in their shape or finish, adding a unique character to each piece.
Durability: Despite their delicate appearance, hammered gold handles are incredibly durable and resistant to wear, making them ideal for a frequently used area like a kitchen.
Versatility: These handles work well with various color schemes and textures, making future remodeling a breeze.
Easy Maintenance: Cleaning these handles is typically straightforward— a soft cloth and a non-abrasive cleaner will keep the luminosity of the gold intact.
Craftsman Style White Cabinets With Gold Bin Pulls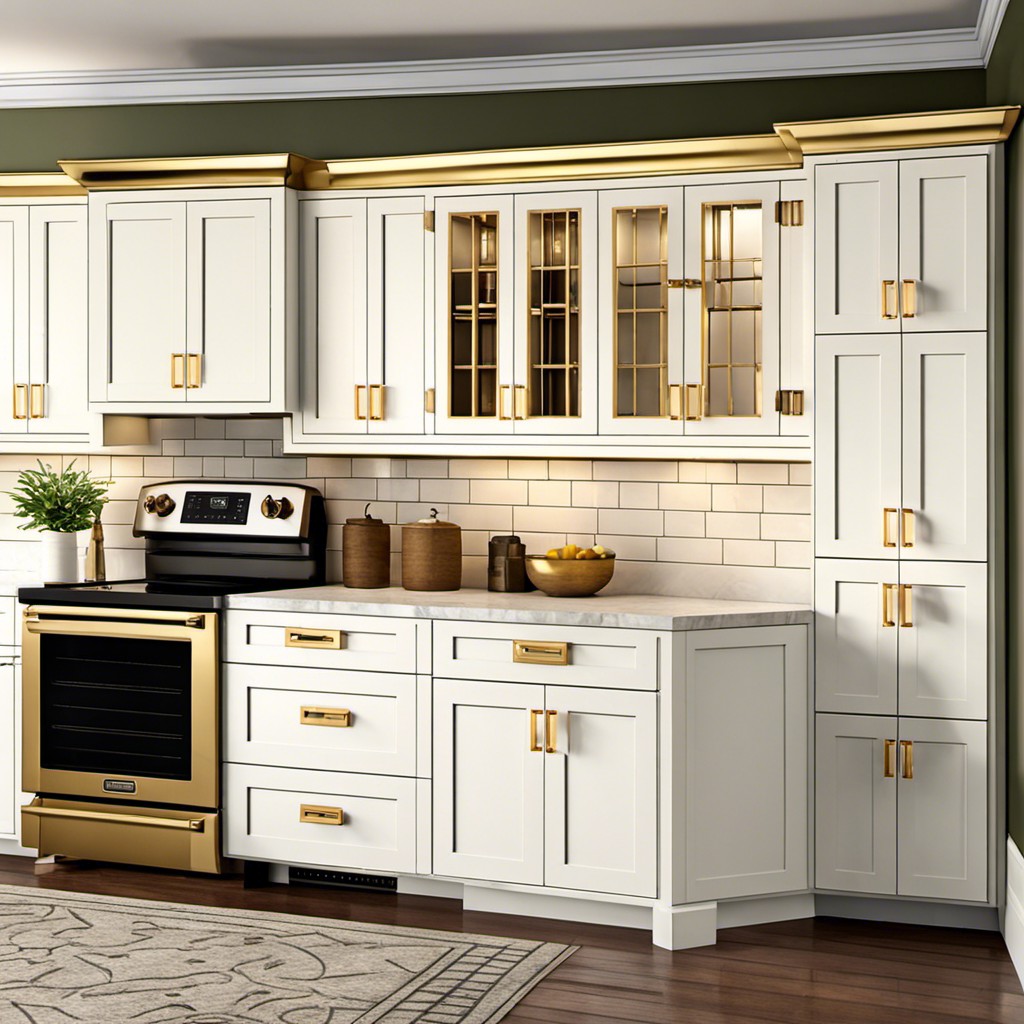 Craftsman style is a balance of form and function. It centers on the use of high-quality materials and intricate craftsmanship. Its inherent simplicity and handcrafted aesthetic make it a prime choice for homeowners seeking character and authenticity in their design.
Gold bin pulls are a befitting choice for this style. They echo the time-honored quality of Craftsman design while adding a touch of elegance and modernity. By installing these pulls on white cabinets, you enhance the cabinetry's clean lines and timeless appeal.
White is a versatile backdrop. It can uplift the gold tones of the hardware and make them pop, resulting in a classy and eye-catching contrast.
Consider using other Craftsman accents around the room for a cohesive look. For instance, pendant lighting fixtures with gold finishes, classic subway tiles for a backsplash, or wood countertop designs would all effortlessly tie the space together. Opt for warm colors and natural textures to balance the crisp white cabinetry and gold finishes and add richness to the overall scheme.
Not only are these elements aesthetically pleasing, but their durability and functionality will serve you well in the long run – staying true to the practical origins of the Craftsman style.
High-gloss White Cabinets With Gold Square Handles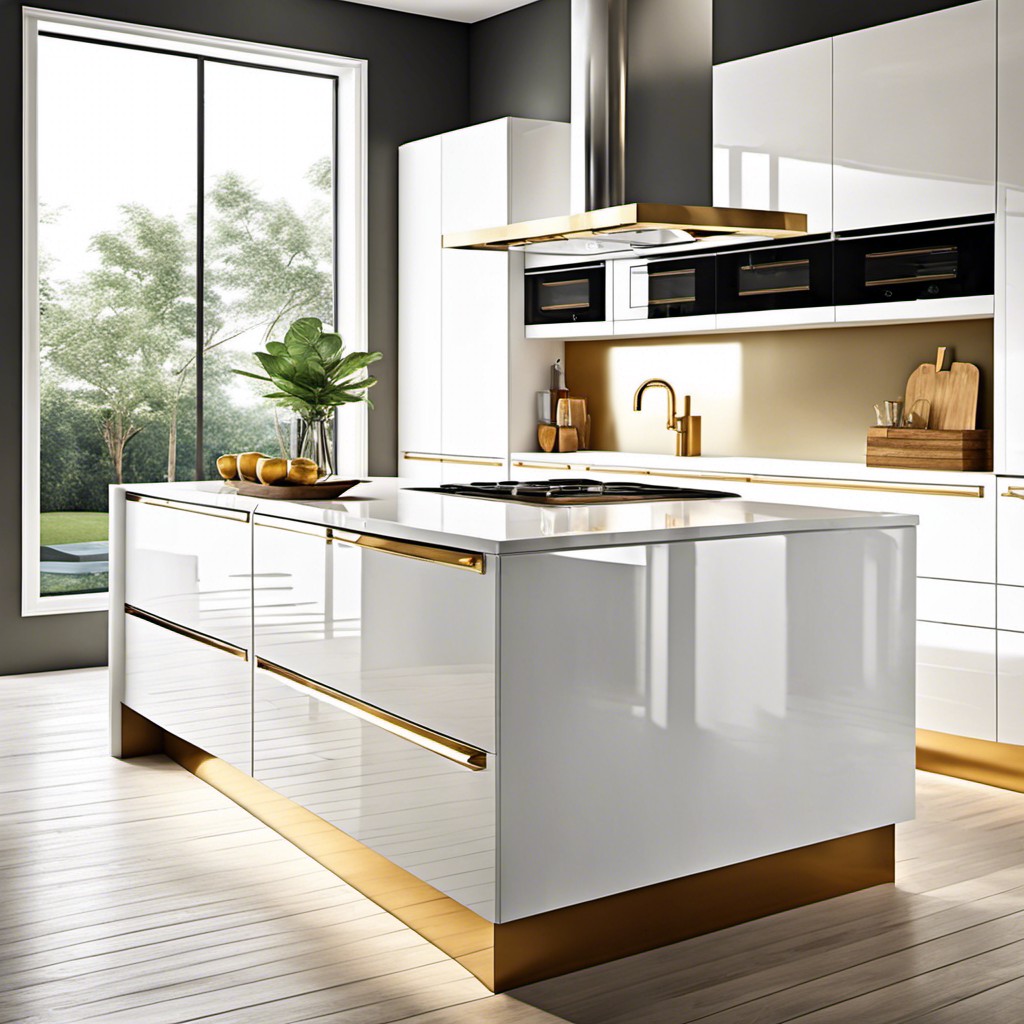 Injecting a generous dose of luxury into your kitchen, the pairing of gleaming gold square handles with high-gloss white cabinets epitomizes sleek sophistication. The glossy finish reflects light and helps open up the space, while the large square gold handles provide a bold contrast, drawing the eye instantly.
1. Color Contrast: The sharp contrast between gold and white adds vibrancy to the kitchen design, making it visually attractive.
2. Textural Aesthetics: The smooth, glossy surface of the cabinets pairs uniquely with the solid hefty touch of gold square handles.
3. Luxurious Appeal: Gold square handles signify opulence, complementing the high-end appearance of glossy cabinets.
4. Enhancement of Space: Glossy surfaces reflect light, making the kitchen appear larger and brighter.
5. Easy Maintenance: Both high gloss cabinets and gold hardware are quick to clean, adding to their practicality.
Carefully selected, this duo makes a powerful interior statement, transforming a humble kitchen into an inviting, ultra-modern space. It's a blend of utility and aesthetics that's hard to ignore.
Contemporary Style White Cabinets With Slim Gold Handles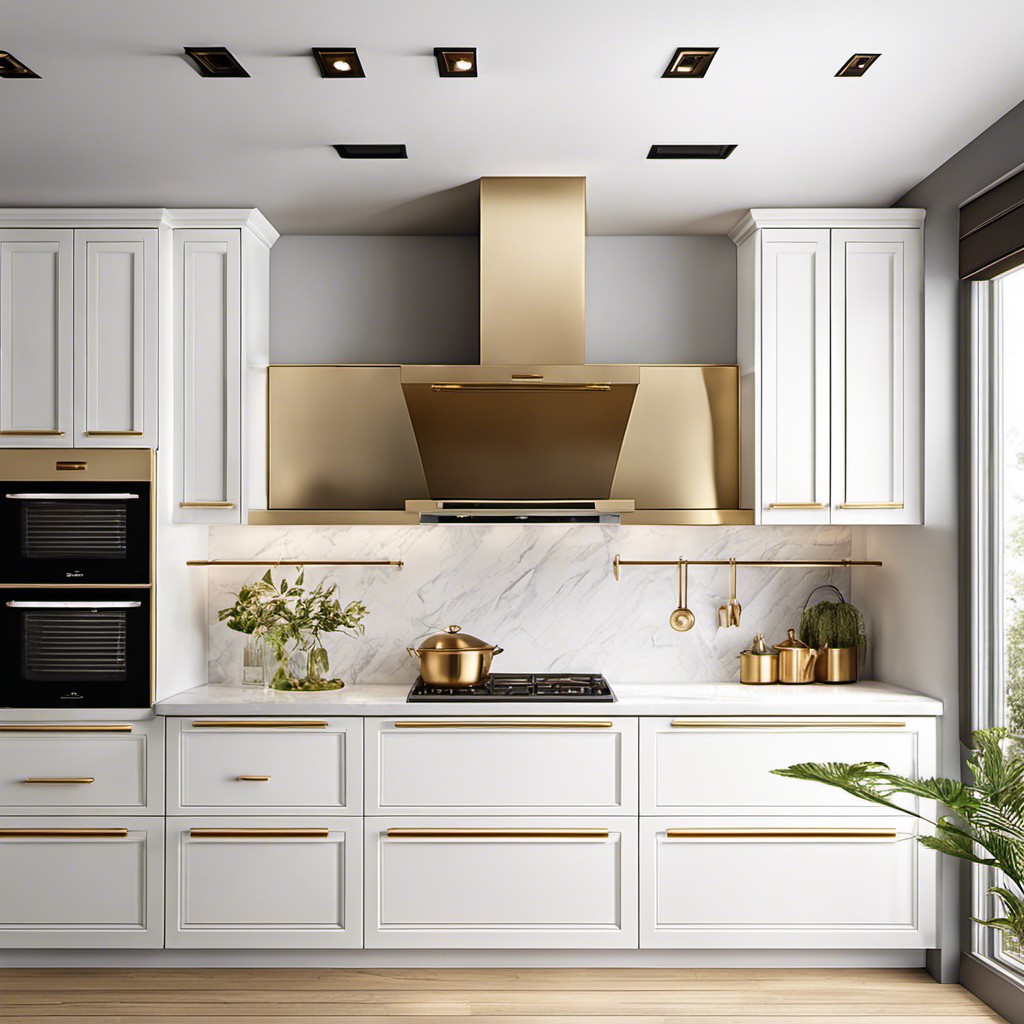 Embracing a minimalist design, the slim gold handles add aesthetic and functional value. They contrast nicely against the clean lines of contemporary white cabinets, bringing a touch of sophistication and elegance.
These unobtrusive handles are not just stylish but practical, allowing easy access to your essentials. Ultimately affording your space a refreshed, chic look.
To implement this concept successfully:
Opt for handles that are subtle yet striking in their golden hue.
The slim design ensures they don't detract from the overall contemporary feel.
Position the handles at heart level on upper cabinets and waist level on lower ones for ergonomic convenience.
Pair these cabinets with modern appliances and fixtures to maintain the contemporary look.
Consider using under-cabinet lighting to highlight the shimmering gold finish on the handles.
In essence, this blend of contemporary white cabinets and slim gold handles can effectively balance modern trends with timeless elegance in your kitchen.
White Beadboard Cabinets With Gold Birdcage Pulls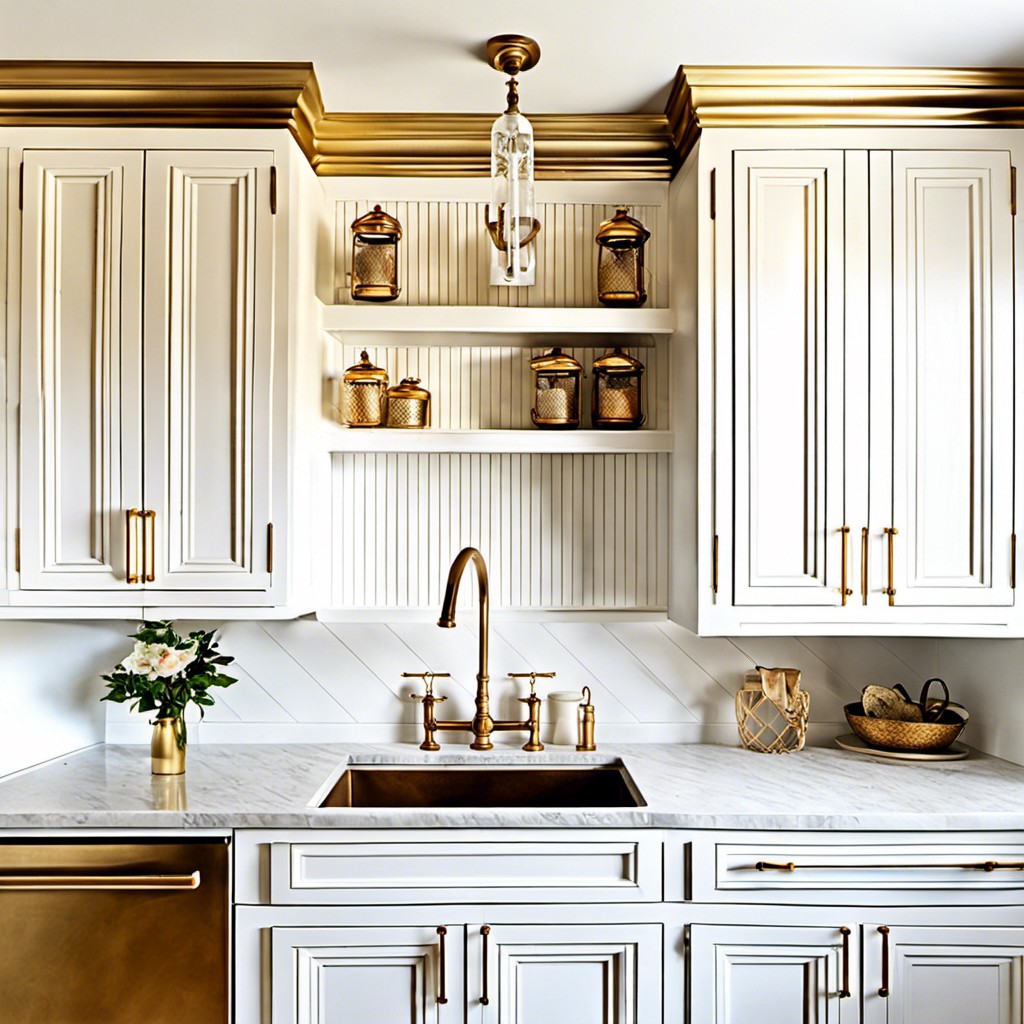 Beadboard cabinets, characterized by their charming, vertical grooves, transport the heart and soul to a serene, cottage-like atmosphere. When combined with the sophisticated allure of gold birdcage pulls, an unexpectedly distinct aesthetic forms, pairing warmth with elegance.
Consider the following components while envisioning gold birdcage pulls on white beadboard cabinets:
Atmospheric Ambiance: They create a cozy, rustic-chic look perfect for those who appreciate countryside charm.
Vintage Vibes: The gold birdcage pulls add a touch of old-world glamour, making the cabinets a functional piece of vintage art.
Textured Touch: The vertical grooves of beadboard cabinets, along with the intricate design of the birdcage pulls, lend layers of texture.
Tonal Harmony: Gold hardware infuses a subtle warmth, effectively breaking up the starkness of white beadboard cabinets.
Versatile Visuals: Despite being characteristic, this combination is versatile and blends with various interior styles, from traditional to farmhouse or coastal.
Cost-effectiveness: Both beadboard cabinets and birdcage pulls are budget-friendly options that do not compromise on the style quotient.
Distressed White Cabinets With Gold Lion Head Knobs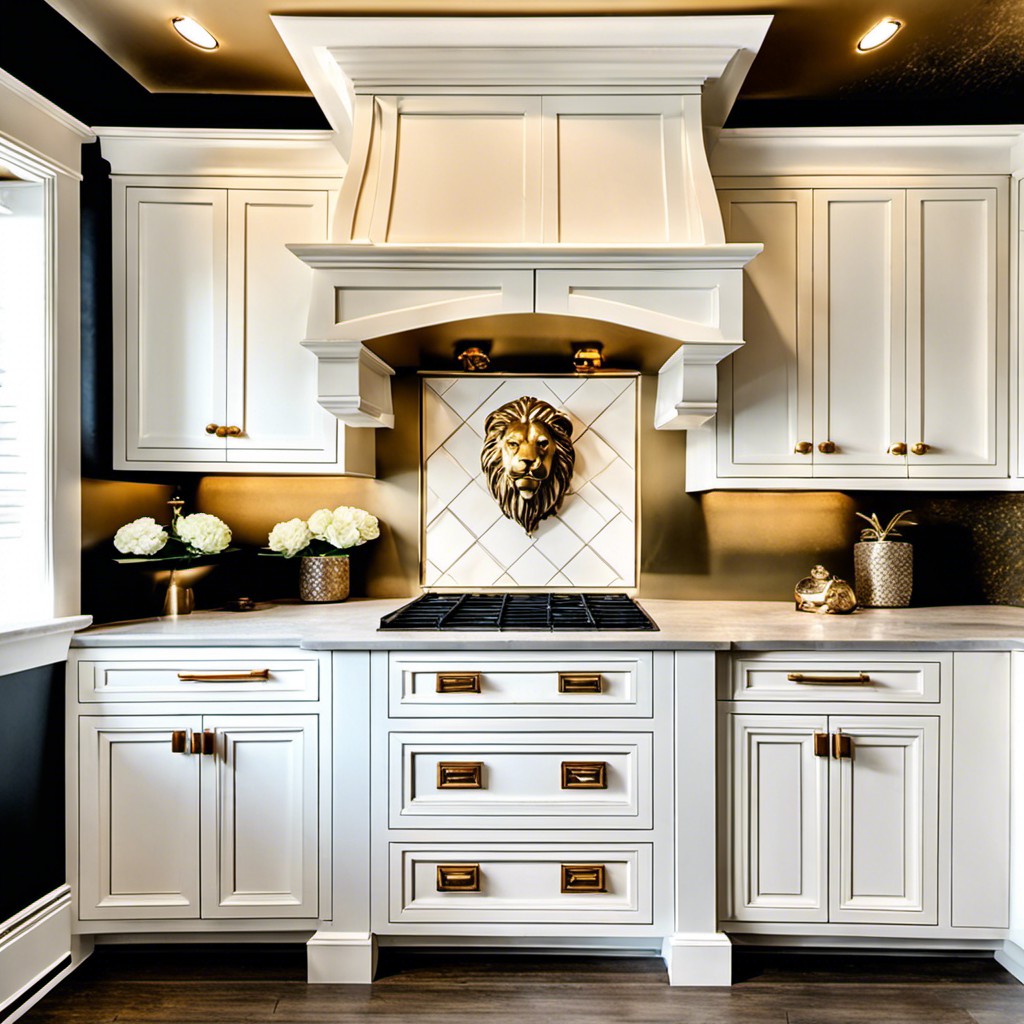 Infusing a classic yet whimsical touch to your home decor, gold lion head knobs are a bold choice for distressed white cabinets. The gold finish shimmers against the texture of the distressed wood, creating an eye-catching contrast. Moreover, the lion detail will stand out, adding dimension and personality to your kitchen or bathroom.
Some key considerations with this style are:
Scale: Opt for proportionate knobs, ensuring they don't overwhelm or get lost on the cabinet fronts.
Balance: If chosen correctly, these knobs can serve as mini sculptures, so don't overdo it with other intricate designs.
Contrast: The visual intrigue lies in the contrast of the worn-out cabinets and the striking glossy knobs. Maintain this by pairing with simple, clean lines in your room decor.
Tone: While the lion knobs have a gold finish, it's important to ensure they sync with the room's color scheme. Gold can range from yellow to rose shades, so select the one that fits best.
Functionality: Lastly, knobs are not just for show; they need to be practical. Hence, verify your chosen knobs feel comfortable in hand and work well with your cabinet design.
Remember, adding such whimsical elements to your home décor illustrates your personality and injects fun into the design, giving your space a unique flair.
White Cabinets With Gold Leaf Patterned Hardware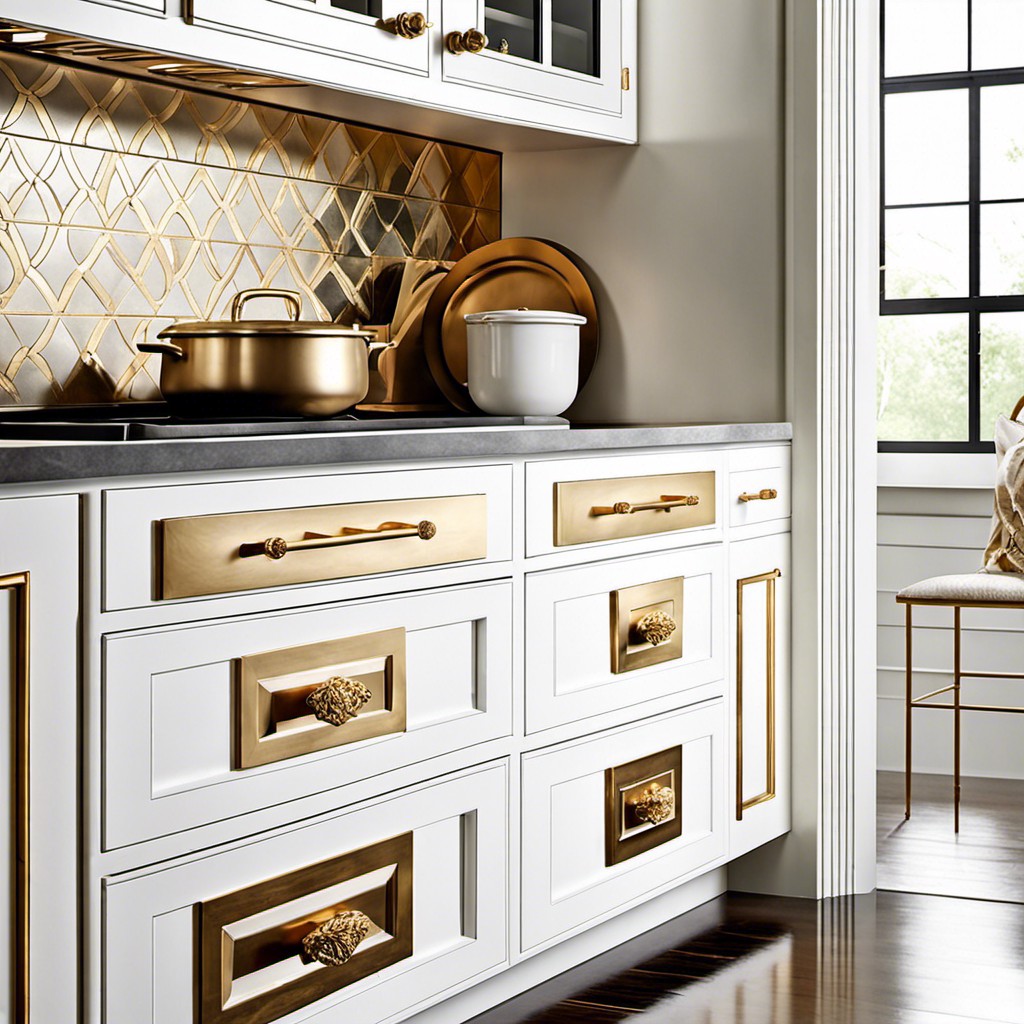 Gold leaf patterned hardware, an exquisite addition to your white cabinets, highlights the elegance of traditional design. This unique option can amplify the class and sophistication of your kitchen, breathing life into the clean white palette.
Here are some points to enable you to envisage the charm these could add:
Intricate Patterns: The intricate leaf designs on the hardware add a striking aesthetic element, enhancing the overall visual interest.
Gold Leaf: It offers a captivating shimmer under light, creating a glamorous appeal.
Versatile Elegance: Despite their intricate design, these pulls are versatile, complementing traditional, vintage, and even some modern décor schemes.
Statement Piece: Gold leaf patterned hardware can act as a statement piece in the kitchen, drawing attention and scoring compliments from guests.
Balance: The vibrant gleam of gold leaf counterbalances the simplicity of white, creating an harmonious blend of simplicity and luxury.
Continue reading: