Last updated on August 13, 2023
Do you want to decorate your living room decor in a beige theme? Here are ten creative ideas for a beige living room that will inspire you.
The color beige is an earthy color that brings warmth to the room design but in a neutral manner. It doesn't pop, and it doesn't clash with other colors. However, it plays with the hues of blue best. One caveat in beige living rooms is finding the correct accents and avoiding a flat design.
To help you with decorating a beige living room, we have picked ten great design ideas. They will show you how you can use different decor techniques to make a beige themed room visually appealing. So check them out and take some notes for inspiration.
What's Inside
Beige Living Room in Patterns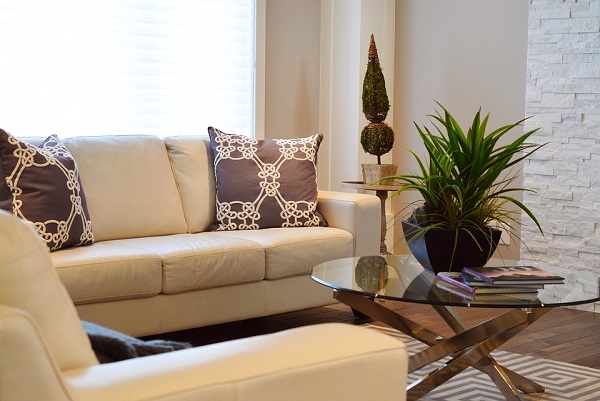 Patterns play a significant role in home decor, and it's particularly evident in this beige living room. The beige furniture and room walls would not provide enough decor interest alone. But the accent rug and pillows add that necessary touch. The accent exposed brick wall helps to increase visual appeal too.
Beige Living Room with Black Accents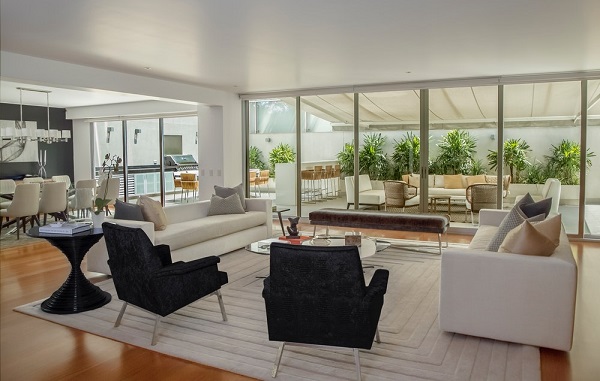 In this room, the furniture and the area rug create the beige theme against a white wall background. But the real accent that makes an otherwise dull decor interesting is the black chairs and side table. This has an effect of moving the sightline across the room and expanding visual space.
Beige and Blue Living Room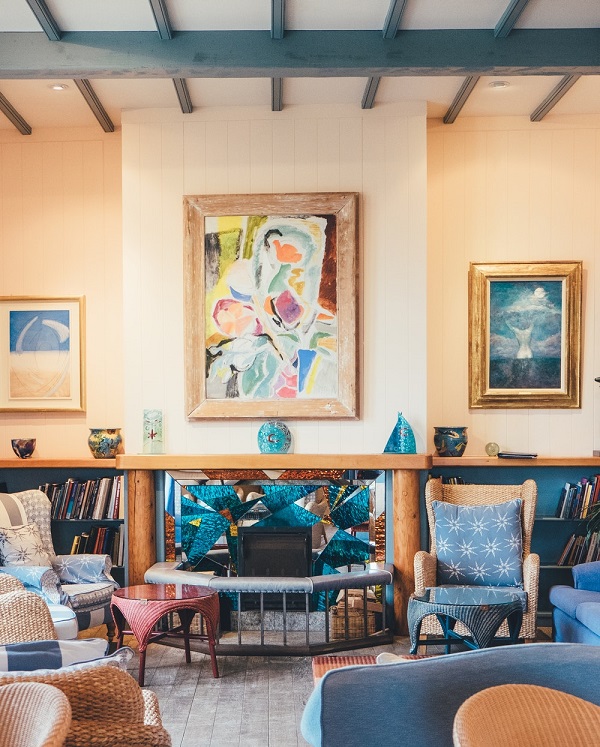 Beige and blue tones work together really well, and it's evident in this living room design in particular. We can see two clear lines that divide space horizontally. First, the upper beige line (the walls, the picture frames, the mantel) sets the background tone. Next, the lower blue visual line (the furniture, bookshelf backdrops, accent art) brings the place together. Together, this contrast creates much decor interest and even drama.
Beige Rattan Furniture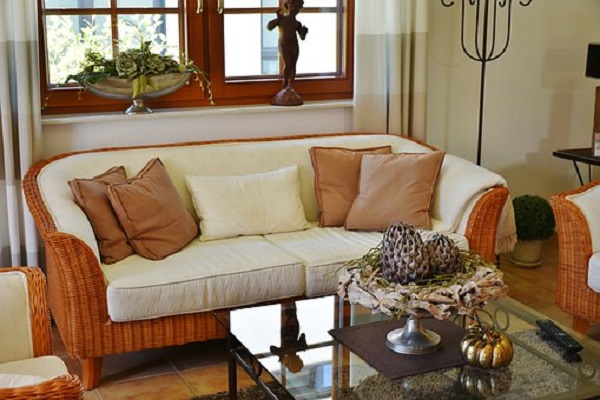 Who says rattan furniture is only for the patio? We certainly don't. And this beige living room is an example of that. The sofa and armchairs work so well in this decor. We can see a warm and cozy country-style decor thriving in this interior design.
Modern Beige Living Room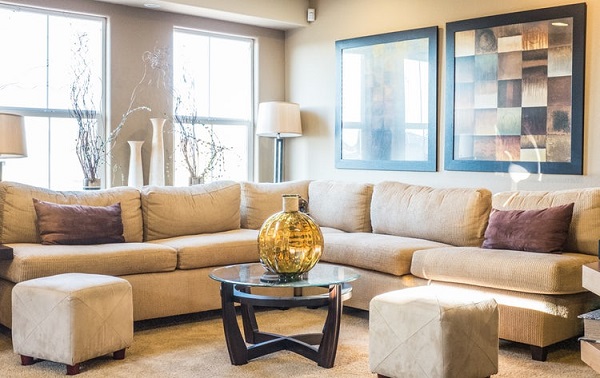 Modern design makes excellent use of beige color theme in this living room. The designer has used oversized wall art (also in beige colors) to add visual interest to this room. The statement coffee table and an oversized gilded vase make an excellent focal point.
Traditional Beige Living Room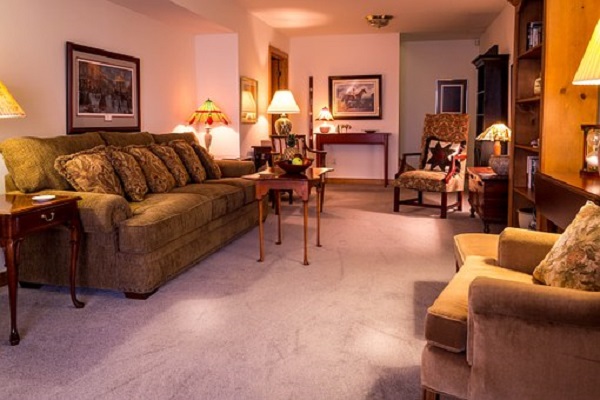 Beige means warmth in traditional room design. And it's evident in this living room. The furniture and the area rug set the tone together. Meanwhile, the decor builds the character with antique items and layered mood lighting.
Luxury Beige Living Room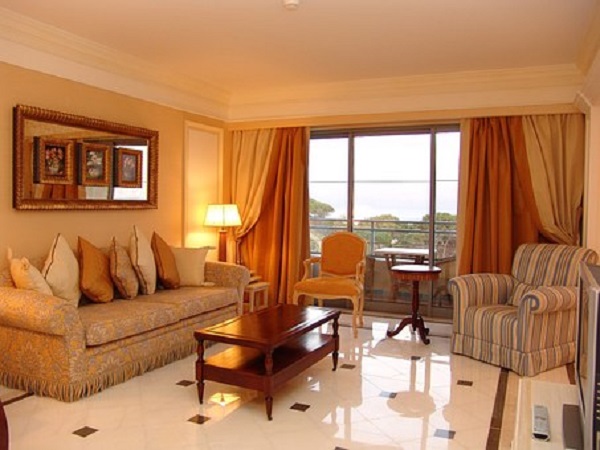 Luxury design can take a lot from a beige theme. The earthy tones make the place a lot more welcoming. Meanwhile, luxe is being carried over with marble floor and antique statement furniture.
Beige with Teal Accents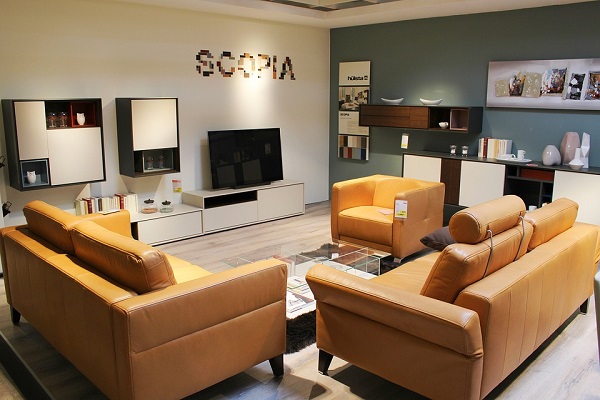 Another accent color that contrasts with beige well is teal. It's evident in this living room as the beige furniture is juxtaposed with the teal accent wall. The room decor is brought together with the clever use of wall art and accent cabinets and shelves.
Beige Accents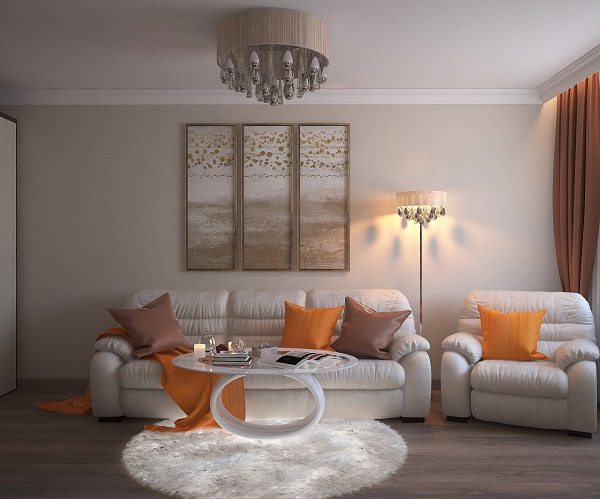 Beige accents can be used in a beige living room too. The solution to making it visually appealing is choosing vibrant hues. Check out how the accent pillows stand out in this living room design. The statement chandelier and coffee table in art deco style help too.
Rustic Beige Living Room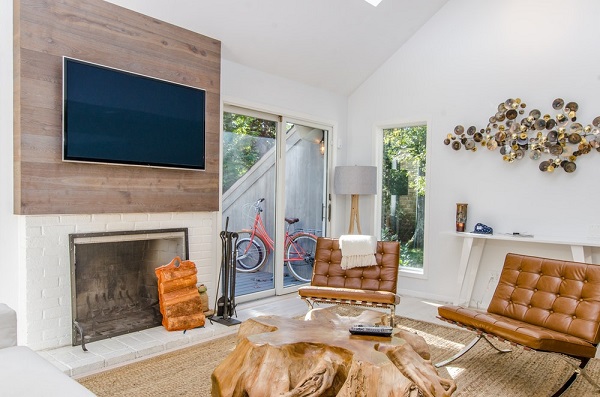 Rustic living room decor benefits significantly from a beige theme. The former accents go well with beige, and it's evident in this room decor. And it's all thanks to the earthy nature of the color beige.
Continue reading: